Buying a designer bag- where do you begin? Do you go classic or it bag? Colorful or neutral? Celine or Chanel? Or? There are so many questions to consider, but these tips will help guide you in getting the right bag for you, and ideally at the best price.
Every season there's a new bag I'm obsessing over…. Welcome, to the fashion world. There's always something bigger and better around the corner. It's the nature of the beast. But, I've bought impulsively and I've bought with consideration, and I'm going to break down how I have managed to get the best prices and the best bags with no regrets.
I've made this easy flow chart that helps you decide if the bag ( or designer item) is something you should even be considering… Because let's be honest- sometimes we get a little caught up. We see the latest it bag on every gorgeous influencer and celebrity, and then we see it on a commercial/brand/ad and feel like its a sign and we HAVE to have it… I get it, I've been there. And I've bought the bag… Only to find that it didn't really live up to the hype and it wasn't really the right bag for me.
So to get the flow chart- sign up for the newsletter, it'll be an invaluable tool for any major fashion purchase and you can just keep it on your phone to reference. It has saved me a lot of money and poor purchases.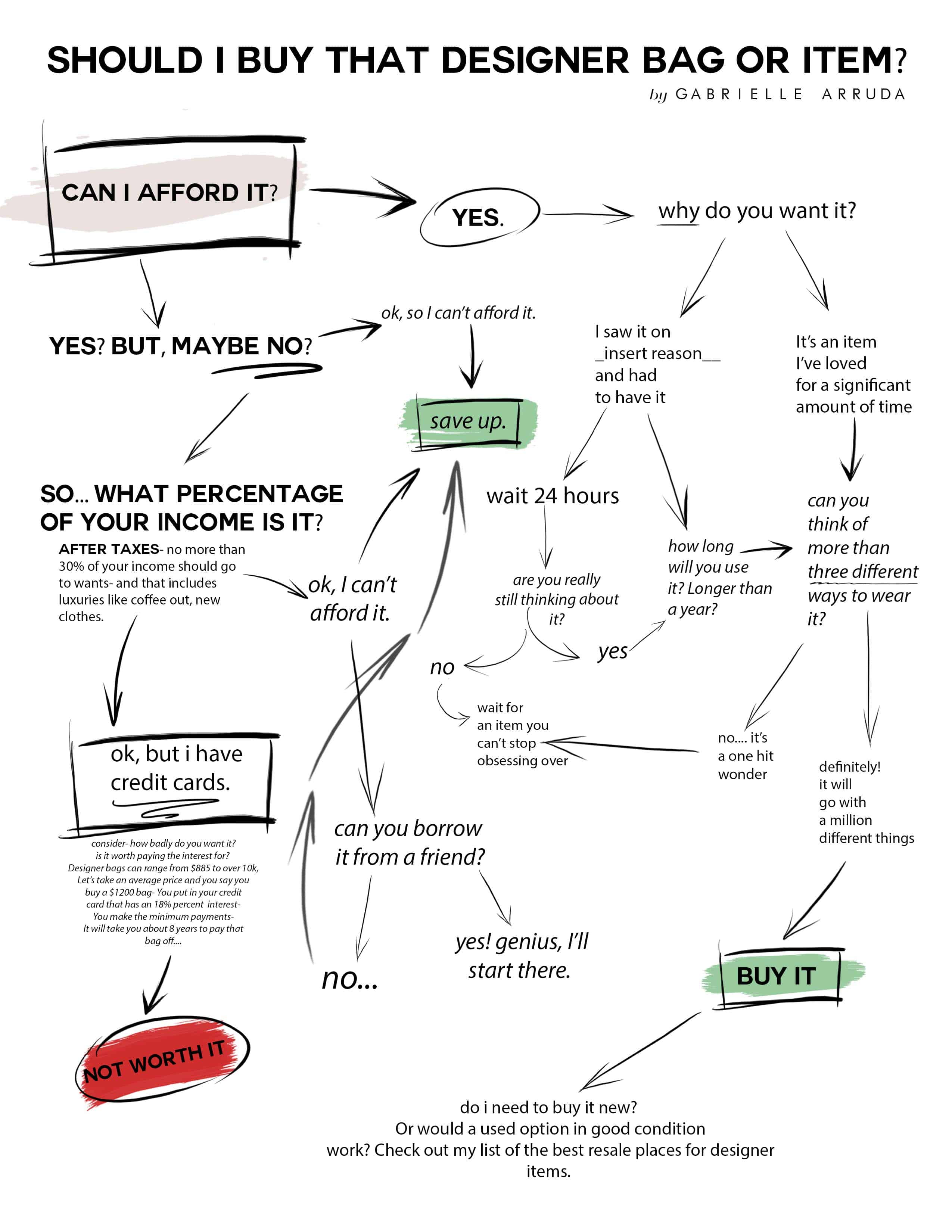 So let's start at the beginning. Before we discuss how to find a great deal on a second-hand designer bag and all the tips you should consider when buying it… We need to ask ourselves- why does this bag appeal to me?
It's really easy to get caught up in social media and feel like we want that person's life and getting that "it bag" is the answer. But, that can be a rat race that will burn through all your money and leave you dissatisfied at the end of the day. And we want to avoid ALL of that.
So let's start with the brand. What is the brand about? Do you know the roots of the company and their aesthetic? I'm not saying you need to have read a biography on the house, but you should be familiar with the company and what they stand for. After all, your hard earned money will be supporting their business and fueling their future path.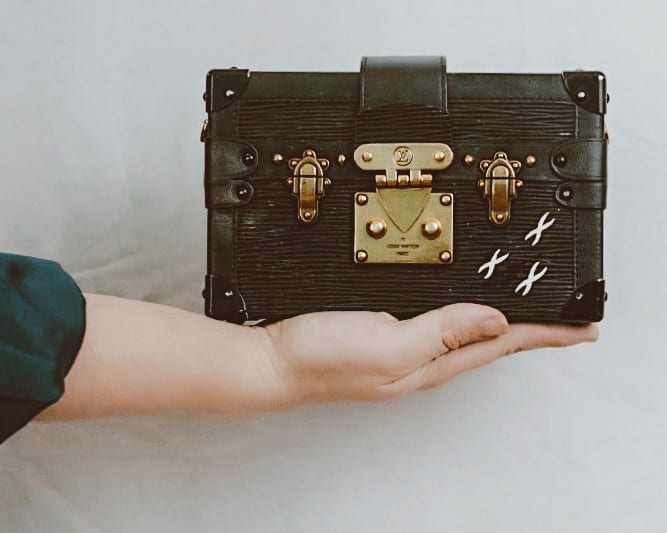 So familiarize yourself with the style of the brand. Can you see their style fitting in with yours? Because the first tip to getting a bag you love, is being able to use it in a million different ways. If the brand is dark and edgy, and you typically wear bright colors and preppy style outfits- is this really the bag for you? Don't confuse the bag looking great on an influencer or celebrity or even friend and assume it is the right bag for you. Think about how it relates to your style and whether it really lines up with your style goals.
Ok- so you've decided that the brand is a brand you want to support and their style lines up with yours. Good, you've passed the first step. Now, that brand has lots of bags, ones that might be slightly more classic and then the newest "it bag". You need to ask yourself what bag will function for you best. For me, I live in NYC and don't have a car to dump extraneous items into. So that umbrella or book or makeup case needs to fit into my bag. If you're looking for a bag that is not an everyday bag- you need to weigh out the cost of that clutch or belt bag (or whatever it is) with how much wear you will actually get out if. I love my tiny box bags, but they can't fit my phone.. So, their practical wearability is pretty low. I try to wear them as much as possible, but financially they probably don't pass the cost ratio test.
The next question is classic or it bag? Sometimes it bags turn into classic bags over time.. But often times- the brand will have a staple bag that has been their go-to bag for years. Every season they tweak it or have different colorways- but the style remains consistent. Then- there is an it bag- that is the hottest bag you can get your hands on this season. These bags are surprisingly easy to buy second hand if you're patient.. Why? Because a lot of their purchasers just want the bag to show off. They buy it, wear it a handful of times (only in places it is sure to be recognized) and then they sell it. It's a showpiece.

Don't buy a bag for this reason. We want to avoid making purchases for other people. Buy that bag that will make you feel good, that will make you happy… That you have to tear from your dead body you love it so much.
I'm not saying you can't buy an it bag- I have quite a few of them and I love them… But, just make sure you are buying it for the right reason.
Secondly, consider the longevity of the purchase. Buying a designer bag, even when bought second hand, is an investment. Theoretically, you can resell them yourself, but it's just better just to buy something you will ideally never want to part with. So consider how much of your income are you prepared to spend on your purchase and if the use warrants the price tag. There is no shame in waiting to purchase it. The longer you obsess over it, the more clear it will be if it's a bag you have to have.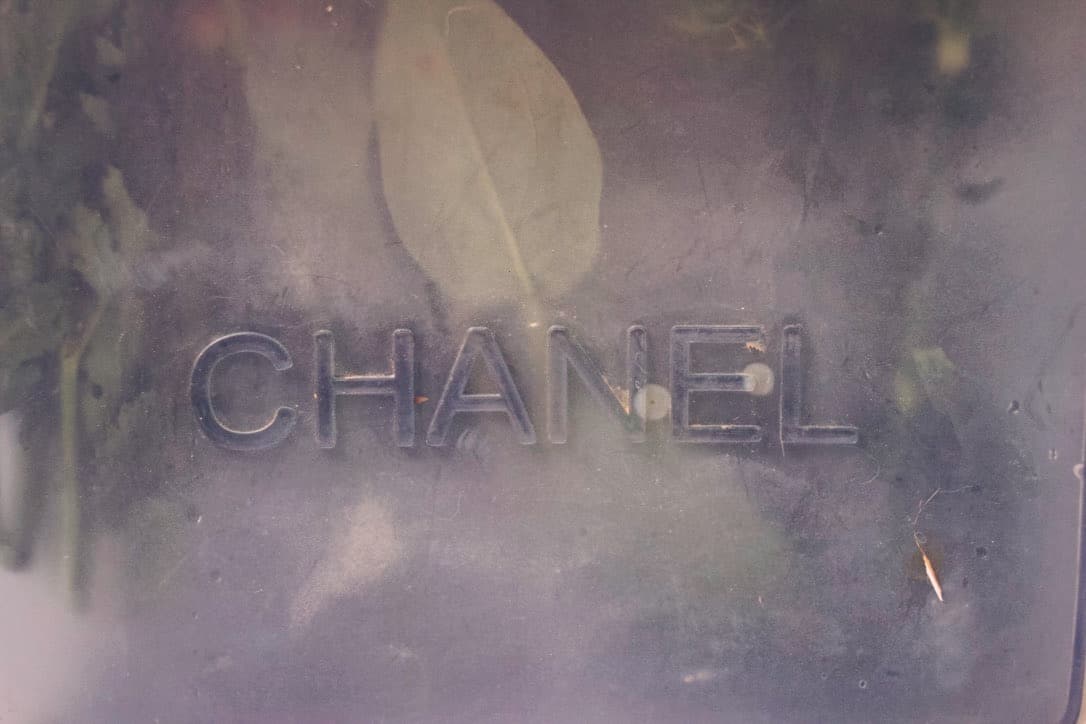 Consider what color or print you are buying. Do you love pops of color or are you more a neutral girl? Colorful bags can be staples, you just have to reflect on your personal style and evaluate what color will work with your wardrobe best. I tend to go for neutral bags with interesting hardware. But, a great printed or colorful bag could be your match. So just reflect and evaluate your choice before you purchase.
Also, consider what is trending. I love the neon trend that is happening right now, but buying a bag in highlighter/neon yellow that costs over a grand- would probably not have a very long shelf life.
Buying second hand. There are tons of great options out there for buying bags in really, really great condition. You have to be careful with eBay and any site that doesn't verify authenticity. There are lots of quality and markers to look for for an authentic bag, but that's a whole separate post. And the reality is, they make really really good fakes these days. But, you are basically paying a premium for something that is worthless then.. And potentially supporting some very very poor working conditions and labor practices. I highly recommend you don't go anywhere near this world.
If it's a bag you will love, invest in it. Support the designer and artist who made it. Don't buy it because it will get you society points.
If you choose to buy from Poshmark or eBay- I suggest asking yourself the following questions first.
is this too good to be true? If it sounds like the deal of the century- then you're probably not getting an authentic bag. Chanel bags retain their value- you won't find a Chanel flap bag for $250… So don't fall for it.

Research where the seller got it and why they are giving it up. I've sold items that were gifts or just didn't work right for me- but I explained that to the buyers, and provided accurate and in-depth photos to show the condition and quality of the item in its current state.

Check measurements, logos, stitching. Very few higher end companies sell their "seconds". A second bag is a bag that didn't meet quality standards, and most high-end companies destroy them over selling them at an outlet store. So be wary of this claim

Compare the bag to the photos on the brand's website. Brand websites often have very detailed photos and sometimes even 360 views.

Is the stitching even?

Do the measurements look correct?

Is the logo in the same pattern/location?

Does the hardware look heavy/substantial?

Is the lining correct?
eBay, Poshmark, and Vestaire are all great places to scour… But, my favorite place to find a designer bag second hand is The Real Real. They have some of the best pieces on the market, and every piece is accurately photographed and very, very well described for any wear or marks. I've bought a ton from them and never once have I been disappointed or felt like the item had been visibly used. In fact, I usually feel as though the item hasn't ever been worn or used at all. They also have a very accurate and thorough quality and authenticity standard that ensures they have done all the hard work for you. And, they are great marketers and often give you a 20% off coupon. So- how can you lose?
So we have broken down how to choose the bag you want and where to shop for it. The next step is should you take the plunge and I buy it.

I have created an easy chart (above) for you to take you through your buying process so you don't regret it. Because buying a designer bag should be a fun process- not stressful.
Want more info on the best bags to buy- In my newsletter, I update you on all my favorite fashion finds- including which bags I think are worth the splurge. Be sure to sign up- this info is only available to my email list!
Be sure to follow me on pinterest! And pin this, for reference.