Buying gifts for the cool fashionistas in your life can be a struggle, especially when you are looking to keep a budget this season. Here is your ultimate guide to under $30 gift ideas for the trendy girls in your life. You are bound to find something that fits her style.
And since these items are so affordable you can treat yourself to a few things, as well. Happy shopping!
we may earn a commission from you clicking a link in this post at no additional cost to you. full affiliate policy, here.
Under $30 gift ideas for her
Pin this image so you have this list of cool affordable gifts on hand!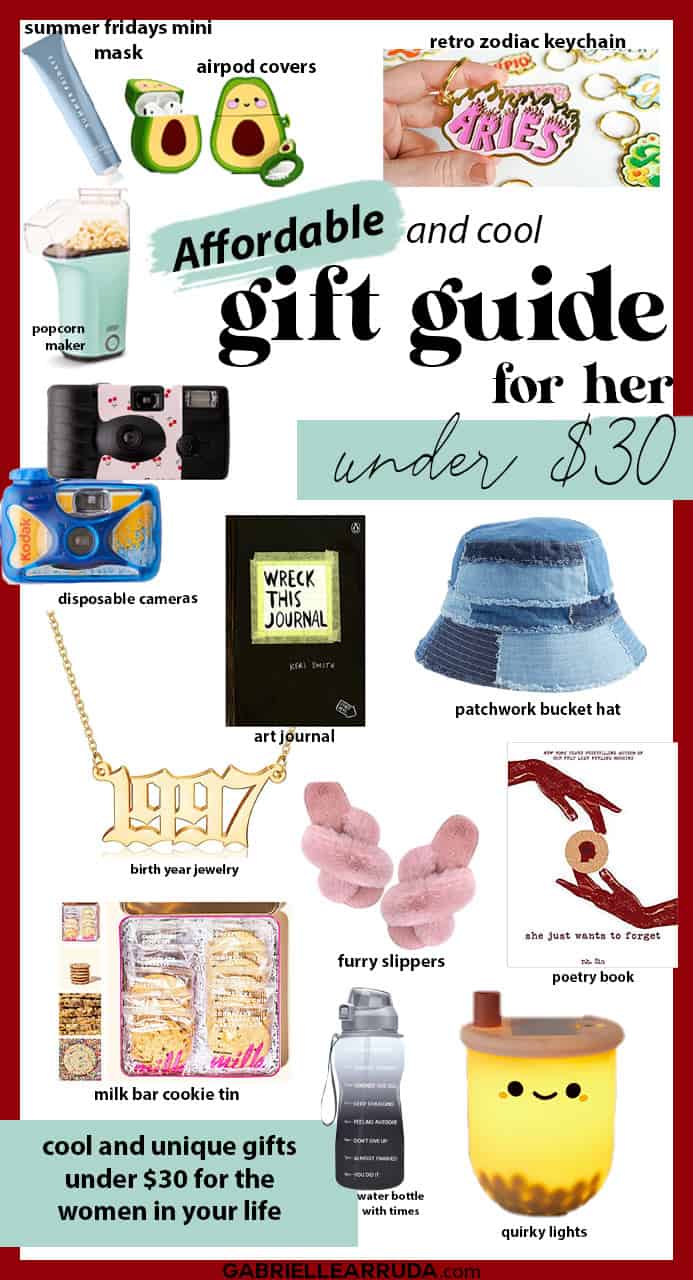 Quirky Lamps
These affordable and cutesy lamps are the perfect addition to any nightstand. Whether it adds a bit of whimsy to your bedroom or is the perfect addition to your workspace, these fun lamps are an easy yes.

Retro Zodiac Keychain
Everyone loves a little reminder of their zodiac signs and these retro keychains are so on point. The fun colors and 70's vibes are sure to be a hit. Plus, it gives everyone a heads up of your sign- so they know what to expect (Scorpios, I'm talking specifically to you).
Fjallraven Kånken Card Wallet
For the trendy girls who still like to enjoy the outdoors but with a fashion twist. I love the mint or acorn colors, but any of the cool shades are bound to be a functional AND fashionable gift your gal uses nonstop.
Chic Tabletop Jewelry Stand
I don't know about the women in your life, but I am guilty of having a dresser top with jewelry tangled to the nines. This chic tabletop jewelry stand is not only visually gorgeous, but helps your lovely friend, lady, or wife organize your jewelry.
In fact, most of their jewelry stands are under $30, check them all out here.
Fun Air Freshener
Need an affordable gift that will give your gal pal a laugh every time she gets in her car? This is the perfect option. These cute and funny air fresheners are a perfect stocking stuffer or add-on gift. Especially for the Regina George fans in your life
Popcorn Maker + fun seasonings
Any movie lovers in your group? Well, they will certainly love this quick and easy popcorn maker. If you want to make it even more special, stop by Trader Joe's and grab a few of their amazing seasoning blends to add on top. I love the "everything but the Elote" on top of popcorn, it is *chefs kiss*.
Chic Disposable Camera
While modern technology has made it easy to capture every moment, we often don't take the time to print out our photos. Give these cool disposable cameras so that your trendiest gal can snap those nostalgic film photos and treasure them for years to come. Trust me, you'll want actual photos to hold in your hand.
And if you have an even more adventurous friend, grab them the underwater disposable camera!
Cool Iphone Case
For the girl that has everything, a cool iphone case is always a great gift idea. This affordable, daily use item will add a bit of trendiness to her day and protect her go-to device.
For any Emily in Paris fans:
For the anime lover:
My go-to
For the quirky friend
We're Not Really Strangers Card Game
From the amazing, and inspiring Instagram account- We're Not Really Strangers; this card game is the ultimate experience to open up to your friends, form lasting bonds, and dig deeper into your friendships and relationships. A must try!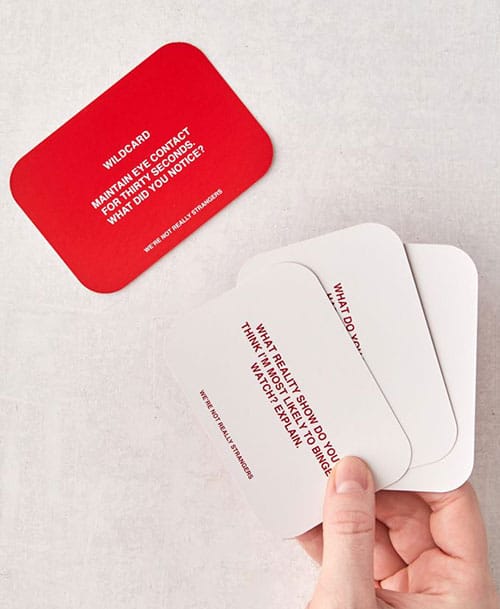 Revlon Hot Air Brush
The perfect gift for her, an easy way to get at-home blowouts. This tool is affordable and will make her look and feel amazing. With tons of great reviews and a system that allows fuss-free perfect hair, it's an easy win.
Fur Purse
For the trendy fashionista in your life, I guarantee she will love this Y2k style bag. Y2k fashion is a big trend this year (just check out my winter fashion trends post if you want to know more) and the style goddess in your life will appreciate your fashion-focused gift. (note: this idea is for the TRENDY girls in your life, not for the minimalist fashion girls).
Birth Year Jewelry
Another great under $30 gift idea for her is any birth year jewelry. Not only is it something that is unique to her, but it also happens to wildly popular right now. So you will be thoughtful and making her more fashionable!
Fluffy Slippers
Every woman (nay person) needs a go-to pair of comfy slippers. And these fluffy slippers are the ultimate cool-girl gift for under $30. They have rave reviews and come in multiple colorways, so go quickly!
Wreck this Journal
This artistic and interactive journal is a great gift that they will treasure! It will help them open up, explore their creativity, and release their emotions in a positive and healthy way. This journal comes with solid color covers or printed covers so be sure to pick one that fits your girl!
Water Bottle with Times
So maybe it's just me, but we all need a reminder to drink more water in our lives. Not only because our body needs it to function, but also for glowing skin 😉
These water bottles with times will keep you drinking throughout the day and avoid single-use plastic bottles!
Frayed Bucket Hat
Bucket hats are a big trend this year, and the fashionista in your life will love this affordable gift idea. For more bucket hat styling tips, check out this post.
Summer Fridays Jetlag Mask (mini)
Have a skincare lover in your life? This mask is the ultimate touch of luxury skincare and is a great way for the woman in your life to try it out and see if it works for it skin ( the rave reviews speak for themselves).
Poetry Book by r.h. sin
The Instagram sensation and poetic genius, r.h. sin has a new book out. "She Just Wants to Forget" is an amazing collection of moving poems for the intellectual woman in your life. These moving poems are sure to hold a special place in her heart for years to come.
Airpods Case Cover
I don't know about you, but I live with my AirPods in, and since they are a daily accessory, might as well make them extra fashionable and easy to find. These cute covers for your case will not only help you protect this precious cargo but will add some flair to your look.
Milk Bar Cookie tin
If you haven't tried these AMAZING cookies, do yourself a favor and order a tin for yourself too. These cookies are the perfect gift- they can be delivered, they satisfy your sweet tooth, and they are a special treat. (technically this one is a tad over $30, but absolutely worth it!)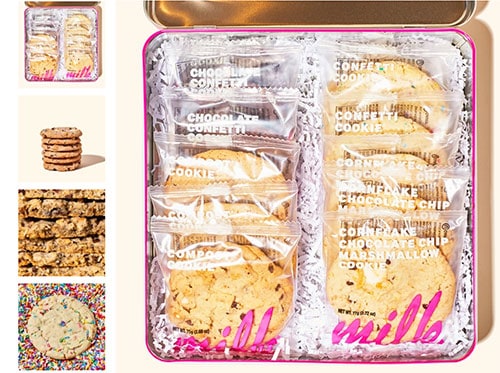 Nail Stickers
Know any manicure lovers in your life? These nail sticks are trendy, cool, and allow your fashionista to get cool nail art designs at home.
Other Gift Ideas
The Ultimate Gift Guide For Her
The coolest unique candles that are the perfect gift
Top Sephora Products and Their Dupes

The holiday season is not about spending a fortune and going into credit card debt just to tell people you love them. Rather, it is about getting a unique gift for a person you love, that is tailored to their interests and likes.
So while these unique and cool under $30 gift ideas are a great starting point, make sure you keep her in mind whenever you're shopping. And if all else fails, write a really beautiful card for her because those words will live forever in her heart.
Happy holidays, and don't overdraft your accounts in the process!