** we may earn a commission from you clinking the links in this post at no additional cost to you, for the full affiliate policy, click here. 
So it's a new week, and I've tried, observed, and loved some new things. Here's my list of weekly whats I'm obsessing over and what trends I see coming our way with fashion week has just begun.
Zimmerman- Unbridled Tempest
I mean the name… It had me intrigued and in love with just a few syllables. And then, then- I saw the dress. The florals, the puff shoulder, and the fun cut out on the side… It is the perfect mix of old world romance, with modern beauty. Floral mixing does NOT get any better than this. And to be honest, I think puff sleeves are going to be making an even harder resurgence this year than they did last. They are around to stay- so why not embrace them in this magical way. I cannot wait to shoot this dress- it is what New York city romance dreams are made of.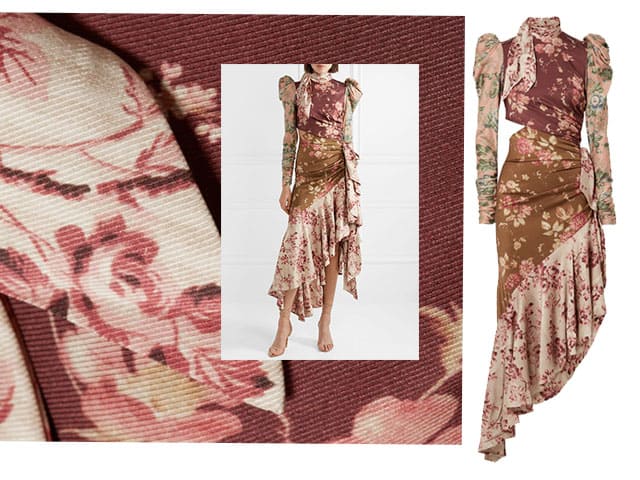 Gold, gold, and more gold…Hair clips, that is.
Hair clips and trends are on fire. From pearl barrettes- hello last week's weekly whats– to gold hair clips of all types. I've collected some of my fave budget finds and a few that are worth a splurge. And let me tell you, with this trend it's all about the more the merrier. For me, I find splurging on a piece that I know will withstand the trends is key. The "extras" that help me achieve the trend- I'm perfectly happy scouring for a budget. And let's be honest- gold is not going away any time soon.
click on the images below to shop
[wds id="1″]
Ice Roller
Ice, Ice, Baby… but for your skin. So, the world is going crazy for all sorts of face massagers- see this post for the other one I use. But, the ice roller serves a different purpose. It is not necessarily to "massage" your face, per se. It is more about reducing puffiness and cooling your skin. It feels fantastic and I love to do it in the morning or before bed. I do it after I clean my face, but before I put on a product. I find the coolness calms down the redness my skin has a tendency to shift towards. And it also just feels so refreshing. I keep it in a small Ziploc bag in the freezer, and I can only imagine it would feel great as part of your after workout cleanse routine, as well.
Retinol Cream
So I've been into trying to improve my skin and prevent aging… But, aren't we all? And I was on a search for ways to help my skin "reverse" or prevent age lines… I tried collagen peptides- which do help- but really, the most effective thing on the market is retinol. Retinol creams are not for everyone and usually, they are pretty pricey. However, I've been trying this budget-friendly version and I love it. Now, I can't say it's perfect for every skin type, that's for your dermatologist. But, I can say it has a great texture, it is affordable, and it has really helped my "worry lines" over the past few weeks. Retinol is your friend, let it help you.
Square Toe Shoes
Fashion week is upon us, and while pointy pointy shoes are going nowhere, they are getting a new friend… Square toed shoes. They have been creeping into runway shows for the past season or two, but NOW, they are officially here. Whether we are talking 90's square toe sandals, hard square-toed boots, or even modern edgy flats- they are ALL coming into the scene. This is not the easiest of trends… However, if you find a shoe you love, invest in them… If not, keep it budget friendly and don't splurge on an item you might find passe in a year or so.
click the images below to shop
[wds id="2″]
So there are my weekly whats 2.13.19 – and what I consider my latest obsessions. What will you be shopping for? Do you hate or love any of these trends? comment below 🙂