Buying gifts for the women in your life can be a challenge for even the most astute gift-givers. So here are some of the best gifts for women in your life, whether that is your mom, your best friend, or just your esteemed girl boss. These are the unique and thoughtful gifts you should be adding to your cart this instant.
We may earn a commission from you clicking a link in this post. And as an amazon associate, we earn on qualifying purchases. Full affiliate policy, here.
Holiday Gift Guide for her
related: Under $30 gift guide for her
Best gift ideas for your best friend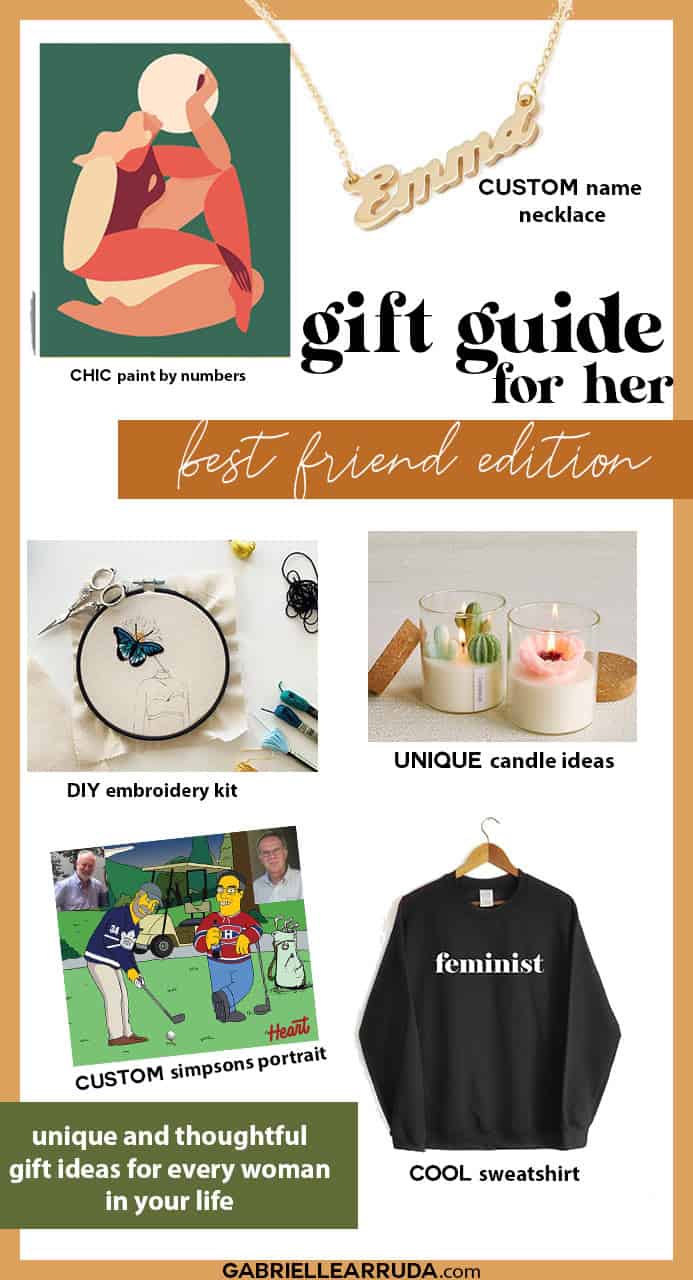 Ok, you probably have a single best friend in your life. And this quirky, and fun love spells book will be the perfect way to spend an evening with wine and witchcraft. note to self: bring the wine and enjoy.
These chic and cool candles are a perfect addition to any gal pal's home decor. They are thoughtful but don't break the bank.
Does your bestie love the Simpsons? Try getting a friendship portrait done in the style of The Simpsons. Not only will it be a fun way to commemorate past activities, but it'll make great art for the house.
NOTE: This one is digital, so you could opt to print it for them or look for a similar option that sends you a hard copy.
Calling all wannabe crafters! This unique design and embroidery kit will not only create an AMAZING piece of artwork, but it will also be the perfect new skill for your bestie.
Just want to tell your friend how much she means to you? This affordable, and sophisticated ring dish will do the trick. The quote says " a true friendship is a journey without an end".
Carrie Bradshaw has nothing on the girl wearing her own name necklace. Customize this chic necklace for your bestie. You could even gift each other necklaces (so while you each have your own name on your necklace, it holds a special place in your heart because of who it came from).
Any besties who like to enjoy their alcohol? These ultra-chic tequila glasses are a step up from any you had in your college dorm and will be the perfect way to start a night out together.
Does your bestie like art, but lack the talent to make it (lol)? These paint by numbers are easy to do and will create GORGEOUS artwork for her home afterward. Consider getting two and doing them together.
Best gift ideas for your mom
For any moms who love to plant and/or cook, this at-home herb garden is not only thoughtful but also a gift that keeps on giving. Give mom those fresh herbs she loves, and bonus points they will look super chic in any kitchen.
Any lavender fans out there, this is the gift for you. With folksy charm and a relaxing mood, your Mom will adore this calming gift.
The "it" olive oil brand if there ever was one. These elite olive oils have been praised by celebrities and influencers alike. Mom will surely enjoy adding these luxury oils to her cooking.
I can personally vouch for the amazingness that is these bamboo pajamas. Not only are they soft, comfortable, and keep you cool, they last forever!
Every house needs a chic oil diffuser, and this one is a steal! Consider grabbing a few of mom's favorites scents to make it more personal!
Is it just me or is EVERYONE air frying right now? Your mom will love this useful and easy gift idea, and it won't break the bank. Just don't be surprised if she starts air frying everything.
A fresh and fruitful gift for mom. This citrus plant will not only look great in her home, it will give the gift of meyer lemons for her tea, her favorite dish, and more.
Want to tell your mom how much you love her? But, get stuck on some of the words. These guided prompt letters will help you tell your mom how much she means to you.
The mom in your life deserves to have her story recorded. This guided journal will help her record all those precious and priceless memories.
The mom to be in your life deserves a little pampering. This is a relaxing treat for her.
Best gift ideas for your savvy business boss babe / female entrepreneur

(more colors available, including tortoise and black)
This is a must-have for any business female. When staring at a screen all day, your eyes will suffer the price. So get these cute blue-light glasses to help protect your eyes and avoid migraines.
When you start a business it is essential to set your own goals. This notebook will help your savvy businesswoman do just that so her business stays on track and she achieves her dreams.
I'm betting the business maven in your life is also a coffee or tea drinker. Well, this cute and motivational mug will be her go-to in the AM.
Ok, running a business can be stressful. This crochet stress ball is perfect for your boss babe… Let's her get those frustrations out!
Is your gal on the go? Then she will love having a pocket polaroid printer to capture all her feed-worthy shots and process.
(comes in gold and silver as well)
Maybe it's just me, but my phone is always dangerously close to dying, and usually at the most inopportune times. This charging bracelet is actually chic and will be a game-changer for the girl boss on the go.
So is it just me or are there FAR too many passwords to remember these days? And it only gets more intense when you have a business. This "shit I can't remember" notebook is the perfect place to store all that sensitive data.
Your business-savvy female is bound to have a hectic schedule. Try this customizable (both with name and the inside components) planner for her to keep 2021 on a roll.
Running a business can be hard! Show the boss babe in your life how impressed you are by her success and dedication. This card is the perfect place to write down all the things you sometimes forget to say: I am proud of you, I am inspired by you, or I knew you could it.
Best under $50 gift ideas for her

Calling all coffee lovers! This cold brew coffee maker is the perfect gift for her, and she will literally use it 24/7. Thoughtful and useful gift? That means it's a winner in my book.
If coffee isn't their thing, try this at-home bubble tea kit. Delicious bubble tea at home is an easy holiday buy.
Do any of the women you know love their hot sauce? Give them the opportunity to make their own sauce. Not only will you be giving them delicious hot sauce to enjoy for months to come, but the experience of crafting it will be super fun too.
Gold link necklaces are a huge fashion trend right, so show the fashionista in your life you know what she wants.
Women are fricking* amazing. This puzzle is a great way to remind her.
Need a fun night with the girls? Or a bachelorette night? These gorgeous, mixed box of temporary tattoos is a creative and unique gift idea. NOTE: Check the Etsy shop for the style of tattoos she creates
You can't go wrong with a pretzel-making kit, when everything you need is in the box. A fun night for you and your partner, best friend, or family.
Flower Resin Coasters
Not only are these coasters (and bookmarks!!) so beautiful, they are unique and a perfect addition to anyone's apartment.
Have a beauty lover on your hands? These retinol-infused eye-masks are a great spa-like touch for her skincare routine.
Give the gift of relaxation with this bath bomb set. It is affordable and will last a long time, the perfect cool gift for the women in your life.
Does your gal love earrings like Maria Tash or have a lot of ear piercings. Check out this post for all the best affordable earrings you can gift her.
related: Holiday Outfit Guide 2020, for EVERY holiday event
Best gifts for the feminist in your life
Want a fun night together? This female empowered puzzle will be an easy gift for any feminist in your life.
Cute sweatshirts are always a crowdpleaser. And this one is the chicest feminist sweatshirt I have seen yet.
The female body is beautiful and these affordable, yet stunning earrings are a cool gift that every fashionable female will enjoy.
For all those RBG lovers, this is the perfect fun gift that not only allows her to get some creativity in, it also provides lovely artwork for later.
Voting is a gateway to change. Your female feminist will love this thoughtful and chic bracelet.
3 book set
Bad Feminist, Men Explain Things to Me, Feminism is for everybody (all sold individually)
Pretty much every feminist should read these three books. Making a feminist book set for her will not only show you are listening but that you respect her pursuits and intelligence.
This has been one of my favorite books from this year. You don't even have to be an Emily Ratajkowski fan to enjoy this book. She talks openly and succinctly about feminism, body issues, and confusion on dissecting power in our current times.
Do you have Cardi B fan on your hands, who also identifies as a feminist? Well, then I don't see how she wouldn't LOVE this poster.
ADD ON gift (or stocking stuffer)
These are the perfect add on gifts or stocking stuffers for the strong female in your life. A cute expression of how powerful she really is.
Remember gifts are not about what you spend, they are tools to communicate to your loved ones and others what you feel for them. So get a cute postcard for the empowered female in your life and spend some time writing down what a badass she is, and how truly impressive and important she is to you.
Best gifts for the NYC girl (or any girls who love NYC)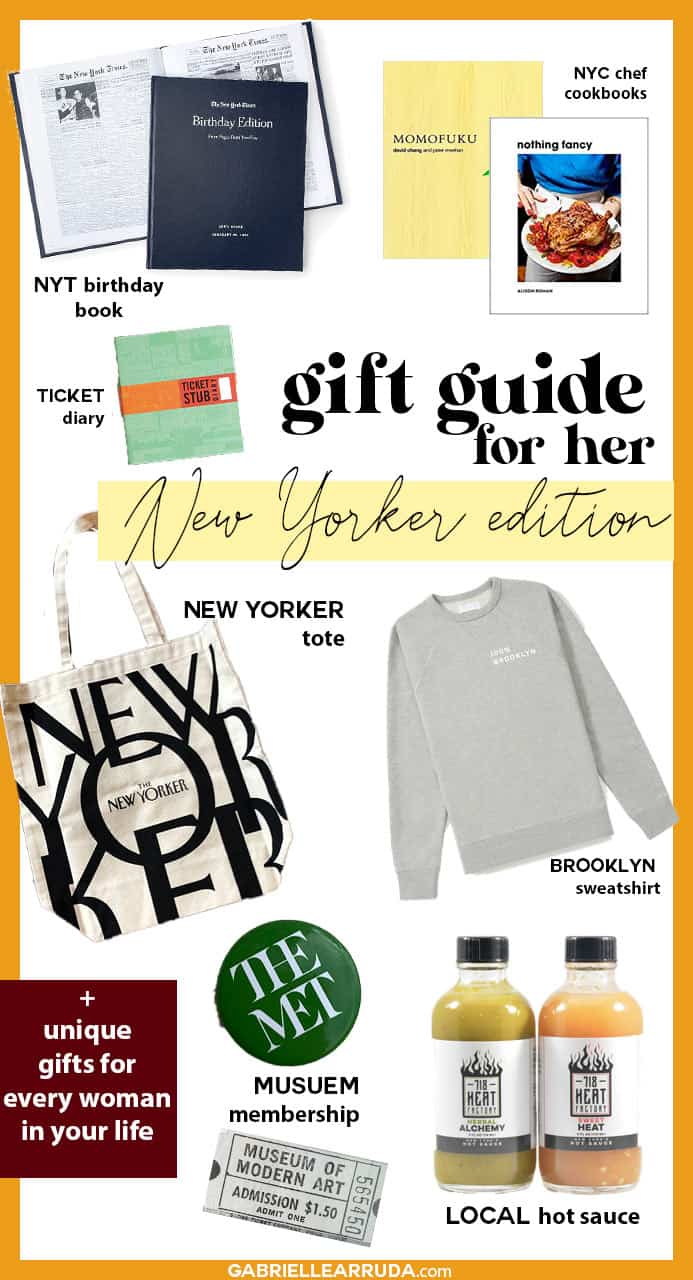 NYC streets might not be known for their aromatic scents, but this candle is perfection. It will look chic on her nightstand and is a sweet memory of the city she loves so much.
Are you even a New Yorker if you don't have this tote? Not only does it go with everything, it is perfect size for all your daily necessities.
For any woman who loves the New York Times, this customized Birthday book is a unique and thoughtful gift. Compiling all the articles from each year of her life is a thoughtful way to say you are special.
Ever feel like you need to step outside your comfort zone? Try a cool class together like glass blowing.
New York Chef Cookbook + a homemade meal
Ok, who doesn't love NYC restaurants? Well, now you can make recipes from NY top chefs and it doubles as an experience. Get your NYC woman a cookbook like the ones below AND make her a dish from the book. It's thoughtful and will lead to a cherished memory.
Ok, so anyone who has lived in NYC or Brooklyn knows that city pride runs deep. So get this chic sweatshirt for the woman in your life so she can be comfortable and show her Brooklyn pride.
Ok, as someone who LOVE Brooklinen sheets, these are the perfect cozy gift for the NYC girl in your life. They are quality sheets that not only look chic but stay cool.
Museum Membership (my personal FAVE!)
Ok, this one has to be on the list. A museum membership is honestly the best gift and it just keeps on giving. Throughout the year your NYC lover can traverse their favorite museum at their leisure. Here are some museum ideas:
MOMA (their new building is great!)
Is it just me, or does everyone like hot sauce? So get a local hot sauce set for the gal in your life, so her food is always the correct level of spicy (which is very spicy, if you were wondering).
Every NYCer I know loves to embrace the city and they spend much of their time visiting museums, concerts, live events, and more. This ticket stub diary is a chic and easy way to store all of those memories for years to come.
I can't tell you how many hours a day I wear my AirPods, but they are a game-changer. Especially in NYC or any metropolitan city, AirPods are the perfect accompaniment for long walks, subway rides, or even bike ride through town. Bonus points for noise-cancellation if you enjoy working in coffee shops.
Need a gift for your new york co-worker?
This is one of the gifts that people actually appreciate. It's perfect for a co-worker you like, but don't want to skew too personal with your gift choice.

These ultra-cool and unique gift ideas for the women in your life will show them that you are impressed by them, know them well, and are amazed by their brilliance.
Gifts are about communicating, and these gift guides for her will do that in spades. So what are you waiting for, add these items to your cart already!