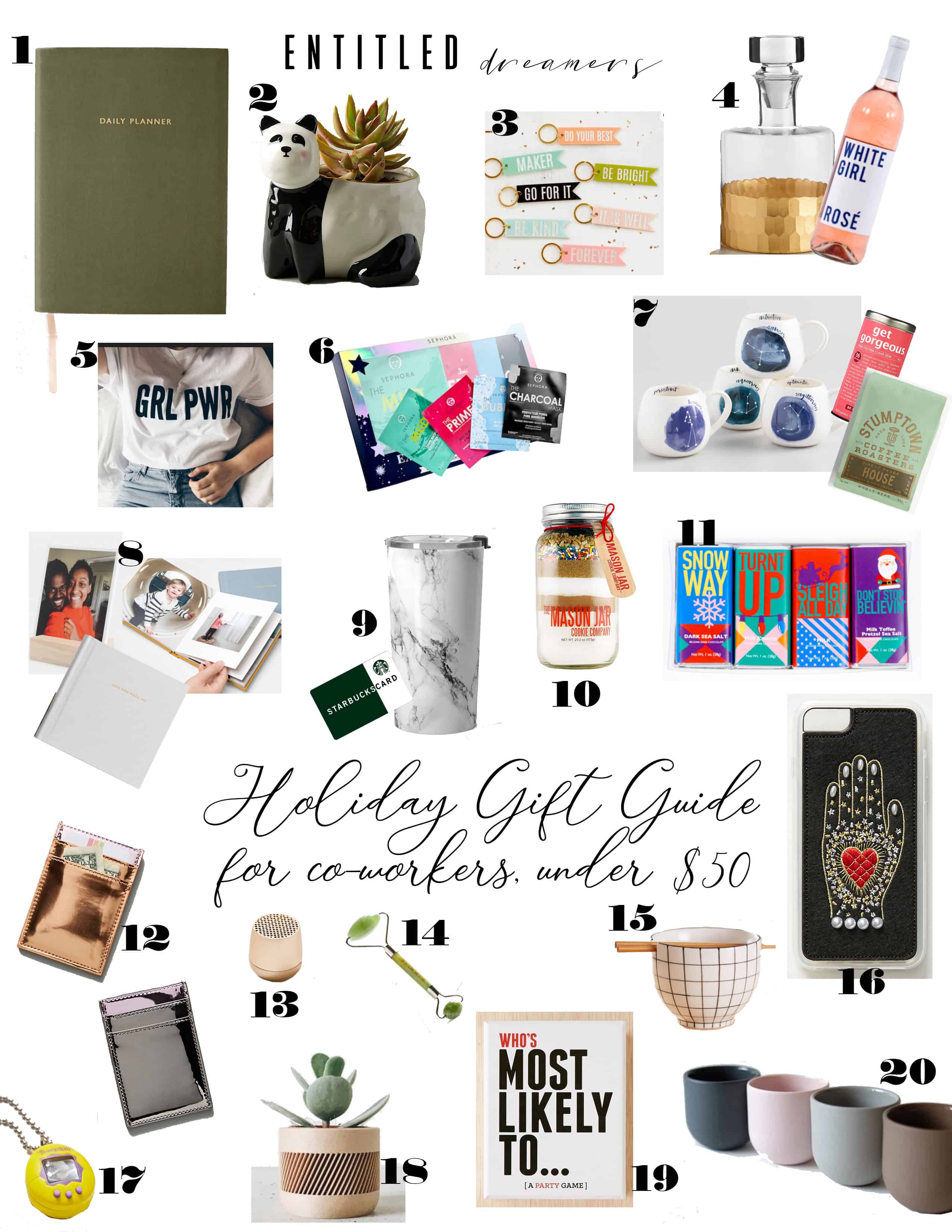 So the holidays can get tricky when you're at work- hence this holiday co-worker gift guide. Who do you buy presents for? How can you keep it all in budget? Secret Santa picks that end up with the trickiest co worker you know nothing about. But I'm here to help. Here are some affordable, unique gifts that are pretty applicable to most people, and won't break the bank. They are thoughtful, they are usable, and they are sure to be appreciated. And they aren't just boring "office supplies"…
So here are all my holiday under 50 dollar picks:
I love a daily planner, and it definitely takes "office supplies" up a notch because they can use it in their personal life as well. It's a good gift for practically anyone, because I have yet to meet someone who doesn't enjoy making and checking off lists!
2. Ceramic panda planter shop here
How cute is this. It's the perfect accessory to any desk or nightstand. And for an extra thoughtful touch, get them a faux or real succulent to go in it! It gives a simple gift that extra nudge.
3. Acrylic quote keychain shop here
So this gift definitely won't break the bank. It's inspiring, everyone can use it, and you can pick which quote you really feel applies. It's a great add on gift, or secret santa option. And it's unique enough that they won't already have one.
4. Gold Faceted Decanter shop here
So this is great for the wine or whiskey lover. It's chic, it's inexpensive, and it looks amazing on any holiday bar cart. For that extra special addition, add their favorite wine or whiskey to the gift to enjoy after work!
5. Girl Power T shirt shop here
So feminism and girl power is certainly sweeping the nation, and what a great gift to give you fellow girl boss. It's totally cute, and the message is powerful. Any girl boss would be sure to love it.
6. Sephora face mask set shop here
Here's another girl co-worker favorite. We all love face masks… SO much so I even wear them on the airplane (NO SHAME!). They combat those harsh winter winds, and hydrate and help make anyone's skin flawless. Plus, its a perfect relaxing routine for the end of a hard work day. Remind your co-worker to take a break with this mask set.
7. Watercolor zodiac sign shop here
So here's a nice "custom" gift that doesn't break the bank. You can most likely find out a co-workers zodiac sign through their facebook, or just ask another friend/co-worker. I think this gift pairs well with a great bag of coffee or an amazing tea (whichever is their favorite)!
8. Artifact Uprising Gift Card shop here
Ok, this is not just a "gift card". Be sure to include what you think they should do with the gift card.. Artifact uprising has an amazing
7 by 7 hard bound book
that includes 30 images they can print (straight from social media!)… If you want to do a slightly less expensive option they also have a very chic
wood block print holder and print
. This is a thoughtful gift that allows the co-worker to choose their own memory to commemorate for the year. I would seriously love getting this myself!
9. Marble travel drink mug shop here
Ok, what co-worker doesn't need this! It's chic, it helps the environment, and it will get a ton of use year round. For an extra special touch include a
$5 or $10 starbucks gift card,
so the first coffee is on you!
10. The Mason Jar Cookie Company Cookie Mix shop here
For the co-worker who loves sweets! Why not give them all the fixings to make their own holiday cookies. It's a great memory making activity, and everyone loves a sweet treat.
11. Dylan's Candy Bar 4 pack shop here
Here's another sweet delight for the co-worker who loves chocolate! This sampler package has amazing chocolate bars and Dylan's candy is a staple of New York. They are sure to enjoy these bars over the holiday!
12. Masie Card Case shop here
This is a staple for any gal on the go. It's a great place to keep your essentials when you're running errands, or going out on the town. It's a more compact wallet, and it'll work with any beautiful clutch. The metallic hues are very on trend, so any co-worker will be in style with this piece.
13. Lexon mini bluetooth speaker shop here
Perfect for the traveler, or music lover. It allows you to take your music with you wherever you go, and gives great sound for such a little speaker.
14. Jade Face Roller shop here
Ok, people are just obsessed with these things. It's a completely natural technique that does wonders for your skin. Give any beauty or skin queen this gift and they will love you forever!
15. Noodle bowl and chopsticks shop here
For the foodie co-worker this cute bowl and chopsticks is perfect. I love the "grid" pattern option, but they have a bunch of other patterns, as well It's perfect for any food connoisseur or novice chef. Or someone who just likes to upgrade their takeout.
16. Azumi Sakata Beaded Phone Case shop here
I adore this phone case. It's unique, it's durable, and everyone needs a good case. It's pretty easy to size which one you need by just scoping out your co-workers phone next time you're around them. They will appreciate the gesture later on, especially when they drop their phone!
17. Tamagotchi Series 4 shop here
Ok, so where are my millennials.. If you grew up in the 90's or 2000's you probably had a tamagotchi. They are fun, quirky, and a definite winner for any secret santa. It will be a fun blast from the past, and maybe as an adult they will be able to keep those darn things alive.. I always forgot to "walk" mine…
This wood planter is gorgeous. The intricate details are amazing, and any gardener will appreciate the bit of greenery around their house or desk. Add a cute cactus to the gift to make it even more special.
19. Who's Most Likely to "game" shop here
What a great game to play at the office holiday party or at any family/friend gathering. It's fun, it gets everyone involved, and it is sure to be a crowd-pleaser. This is especially good for that co-worker who loves to be the "hostess with the most-est". It entertains your guests while letting the host get everything else ready. I'm raising my hand, as a fellow hostess, this is a win!
20. 4 Handmade Espresso Cup Set shop here
Where are my coffee lovers at?! I know you're out there, it's like an unspoken sisterhood/brotherhood of coffee aficionados. So treat that coffee lover with these chic, handmade espresso cups. They look amazing on display, and any espresso lover will be sure to use them religiously. So there you have it! All my picks for holiday co-workers. Do you participate in Secret Santa at work? Or any work gift exchange? What will you be getting your co-workers?