1 sweatshirt three ways. Let's talk about how to style an oversized sweatshirt- it is the key to being lazy but stylish.
That old sweatshirt you have owned since college, or better yet high school, is about to have a spotlight on it once again.
With the new year upon us, we all lived through that awkward 6 days between Christmas and new years. Even if you don't celebrate Christmas, you understand this tragic end that is considered holiday break. Where everyone drinks at weird hours, you wear the same thing for days on end, and morning and evenings begin and/or end in a befogged manner.
It's almost as if those 6 days meld into one and we as a society are simply ok with normal adult practices going out the window.
Well, for about a week straight, (almost consecutively) I wore the exact same sweatshirt everyday. Believe it or not, I was very active in NYC- appreciating all the city has to offer. And honestly, no one would have realized I was being so incredibly lazy with outfit choices because this sweatshirt is so versatile.
( ** we may earn a commission from you clinking the links in this post at no additional cost to you, for the full affiliate policy, click here.)
So first, how do you pick the right type of sweatshirt?
Almost any sweatshirt works. But, ideally, it is a slightly worn-in sweatshirt that is not super tight. You don't need it to be huge, but skin-tight is not what we are aiming for with this look. We are aiming for the perfect balance to style the oversized sweatshirt, not the swallow you whole sweatshirt. For my build, I opt for a men's size medium sweatshirt.
I went with a sweatshirt sans hood. However, a hooded sweatshirt can work too, but avoid a zip-up hoodie. (ie: no front zipper to open and close it).

For the exact sweatshirt I'm wearing (it comes in other colors as well, and is super affordable)
Why should I care about being stylish if I'm wearing an oversized sweatshirt? Isn't that kind of counterintuitive?
That's a hard no. You can be fashionable in pretty much anything you wear, whether it be business casual attire or activewear. If anything, being stylish in a sweatshirt is a double win. You look good and you're super comfortable. [Also, if you need help looking stylish in work attire- check out this post].
Ok, so let's dive into the three ways that you can style an oversized sweatshirt.
Oversized Sweatshirt Look Number 1:
Sweatshirt, Cropped blazer, Jeans, and boots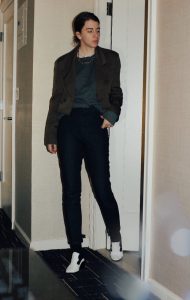 This is a classic spin-off. Everyone wears jeans and sweatshirts but adding the cropped blazer makes it appear just a bit more put together. The more layers we wear the more dynamic the outfit looks and the more intentional it appears.
The boots are a comfortable height, and the jeans are a must for 2020 fashion. [6 ways to style black jeans for 2020] (the jeans I'm wearing here are in that post).
You could also pair this outfit with a pair of Dr. Martens or even a pair of simple tennis shoes.
The blazer and accessories take this outfit from being something you would wear when you run to the grocery store in a hurry, to an outfit you could actually get brunch in.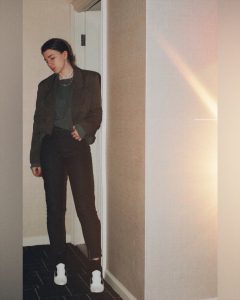 Sweatshirt Look Number 2:
Sweatshirt, Tights, Shorts, Combat boots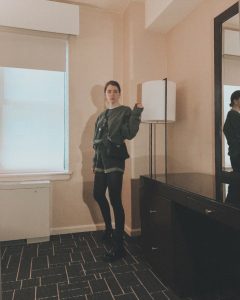 The tights/shorts combo has been creeping up as a trend for winter fashion. You know those influencers, always keeping everyone on their toes to what will be trending next. And, you know, I don't hate this idea.
Also, if you struggle with trying new trends, check out my free style-guide that can help you tackle new fashion choices with ease. (click below).
[eltdf_button size="" type="solid" text="Get Your Free Style Guide HERE" custom_class="" icon_pack="font_awesome" fa_icon="" link="https://gabriellearruda.com/style-guide-book/" target="_self" color="" hover_color="" background_color="" hover_background_color="" border_color="" hover_border_color="" font_size="" font_weight="" margin=""]
Tights and shorts bring a lightness and easiness to this look. It's still warm but also an unexpected silhouette for winter/fall.
The combat boots make it casual, and the crossbody bag makes it trendy. Note where this bag hits on my body. It hits above my hips (and you're bound to see more bags like this one this year). So opt for a shorter cross body, and if you want to get extra fashionable, go for one that has the "mini pouch" attached to it.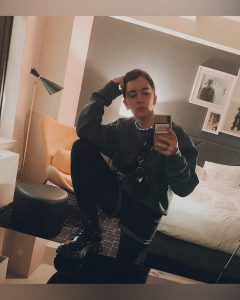 This look is great for a day excursion, a hike, or even a movie night. It's comfortable, stylish, and on-trend. Can you really ask for more?
Sweatshirt Look Number 3:
Sweatshirt, leggings, puffer coat, socks, slightly platform tennis shoes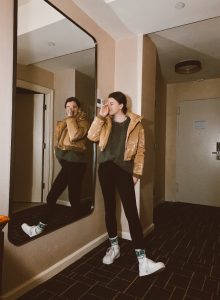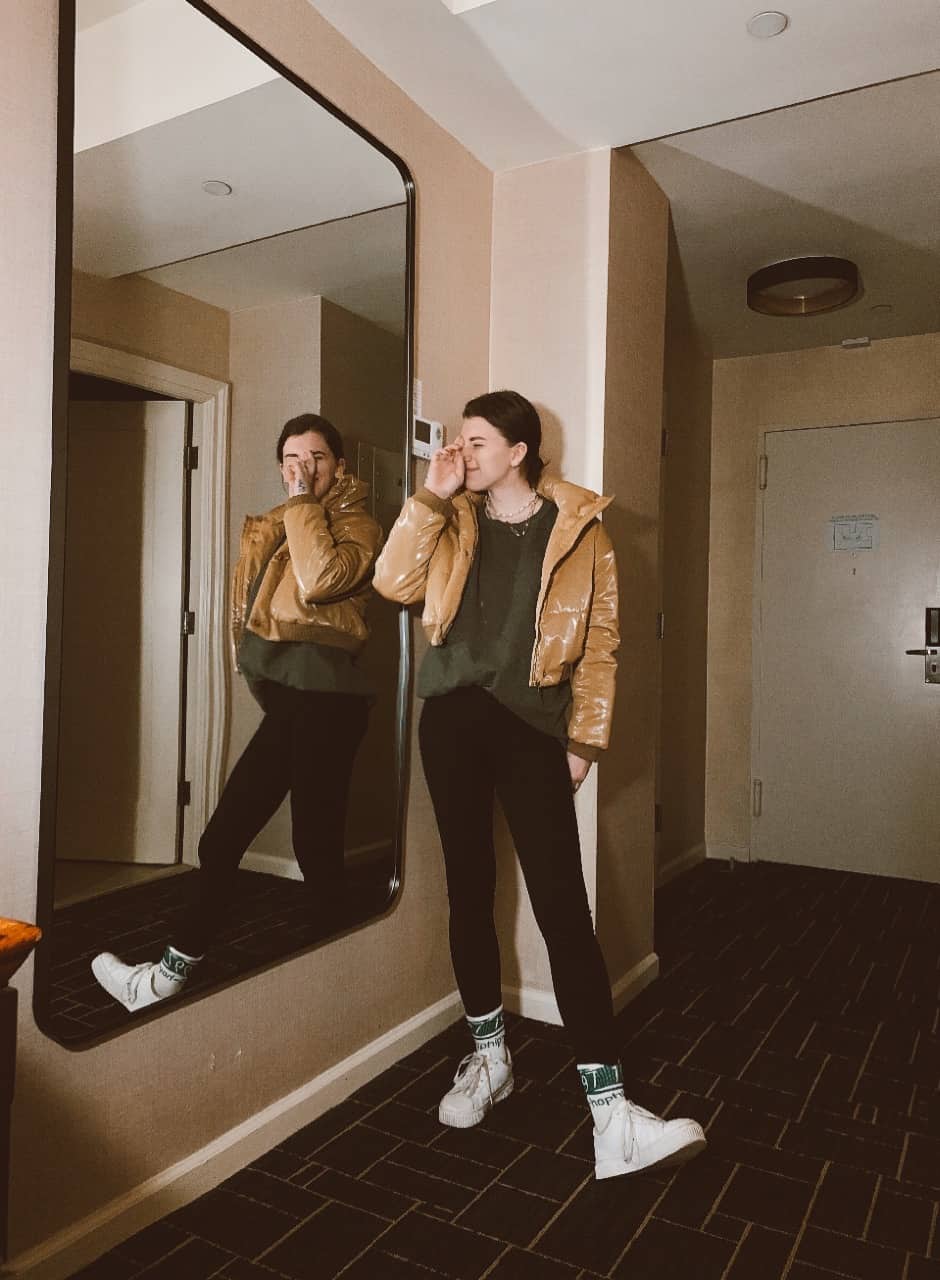 Ok, this oversized sweatshirt look is probably the most casual look out of the bunch, but also an easy go-to style. We all have days where the bulk of our day will be running errands, jumping around town, and just filled with endless tasks. But, taking into consideration the fact we will almost certainly run into people we know doing all the aforementioned tasks, it would be nice to not look horrible while doing them.
This look accomplishes that in spades. It is comfortable, it is warm, and it has just enough details to make it look stylish.
How does it achieve this, you ask? Well, the balance of the outfit is important. Notice where everything is hitting on my body.
The coat is shorter than the sweatshirt, and the sweatshirt is slightly tucked into my waistband. Allowing these visual markers to expose my body and elongate my legs is key. It keeps the outfit from looking frumpy.
The black leggings elongate my legs and everything is else is kept short or allows a peek at my waistline. Therefore the look does not appear to overwhelm my frame.
My favorite leggings that are affordable and perfect for winter months- can be found here.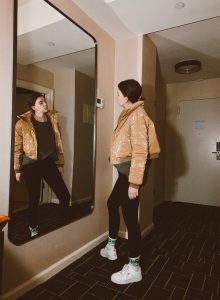 The other key parts to this look, are the details. The socks are over the leggings, with a visible pop of color or design, drawing your eye in. It's a purposeful detail that happens to be very trendy right now. But also, it's a detail that shows effort and makes the whole outfit feel pulled together.

In addition, the trendy necklaces help make it feel like a look, instead of just something I threw on.

PIN ME FOR REFERENCE

+
While we are past those weird 6 days of the holiday break, there will be countless days in 2020 that you might just not feel like trying. I get it.
So try one of these sweatshirt outfits instead.
Guaranteed to make your laziness seem so on-trend, and if you happen to run into your ex while you're at the grocery store you won't have to hide behind the display.
Now, go be lazy and stylish with an oversized sweatshirt and make me proud!
—–
For more style inspiration- follow me on Pinterest, here.