Can we all praise the benevolent fashion gods that skinny jeans are currently out of style? Finally, enter in a comfortable and effortlessly chic jean trend, the baggy jeans, also known as oversized jeans.
These baggy jeans outfit ideas will not only make you the most stylish gal to walk the streets but will also make you fall in love with a perfectly balanced world of comfort and trendy fashion.
The best part about this denim trend? Baggy jeans work for any body type and easy style tips can help you master this cool-girl denim style.
Are baggy jeans in style 2020?
If my glowing praise of oversized jeans in the first few sentences didn't convince you, let me re-iterate that baggy jeans are a huge denim trend and pant style for 2020. They started creeping in popularity in summer and will cement their fashion status within fall/winter 2020/2021.
For now, the most popular baggy jeans are mid-rise and high-rise jeans. However, low rise denim is making a comeback (despite some pushback), so it's possible low rise baggy jeans could start creeping into style in later fall or early winter. But, let's not panic until that happens.
we may earn a commission from you clicking a link in this post, at no additional cost to you. full affiliate policy, here.
What are oversized jeans?
Specifically oversized or baggy jeans are loose-fitting from the hip down, or the waist down. There are two popular styles right now and both work for this trend.
The first is a pair of loose, baggy jeans that fit around your waist but are loose through your hips and down to your ankles. They have a straight leg or very small wide leg to them. These are a great pair for this exact example.
The second style of oversized jeans is loose from the hip down, but above the hips is more fitted or body-conscious. This style is a little easier to transition to if you're hesitant to dive headfirst into the baggy jeans trend.
Here's an example of this style:
What do you wear with high waist baggy jeans?
In order to master baggy jeans, you must be conscious of your proportions and pay attention to what body parts you are highlighting.
For most body types you will want to highlight your waist. This can be with a slight tuck of an oversized top, a belt that draws attention to your waist, or even a crop top.
If you are confident in wearing baggy clothes, a popular trend is baggy jeans with a baggy top. This can be harder to pull off if done incorrectly, so I suggest watching the video for more information and make sure you have a few feminine accessories to balance the more oversized silhouette.
We will go over some baggy jean outfit ideas for every style type next.
Style tips: how do you make baggy pants look good?
1. Watch your proportions. Dressing with a rule of thirds in mind is incredibly important for the most flattering and effortless style.
But a quick synopsis of it would be that you don't want the hems or visual "ends" of your clothes to cut you up in halves or quarters. They should be in thirds. Here are some examples: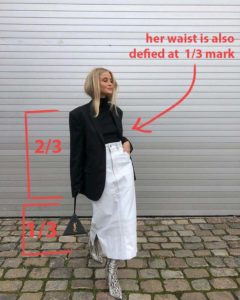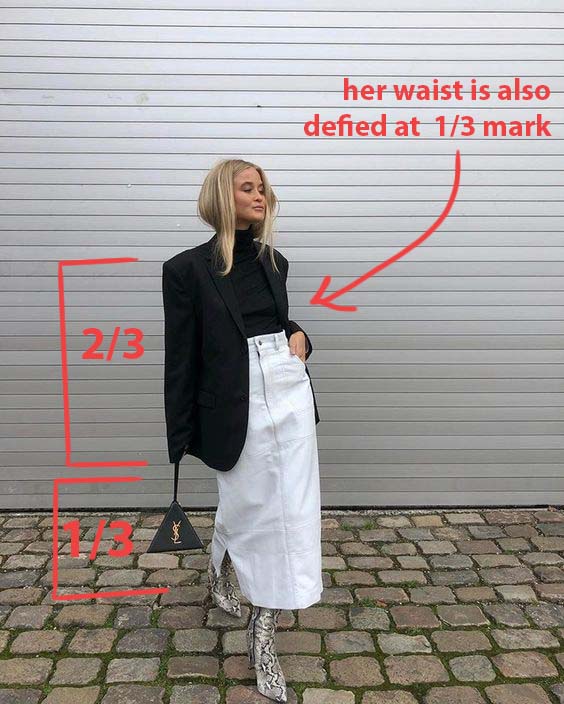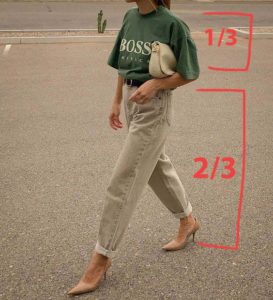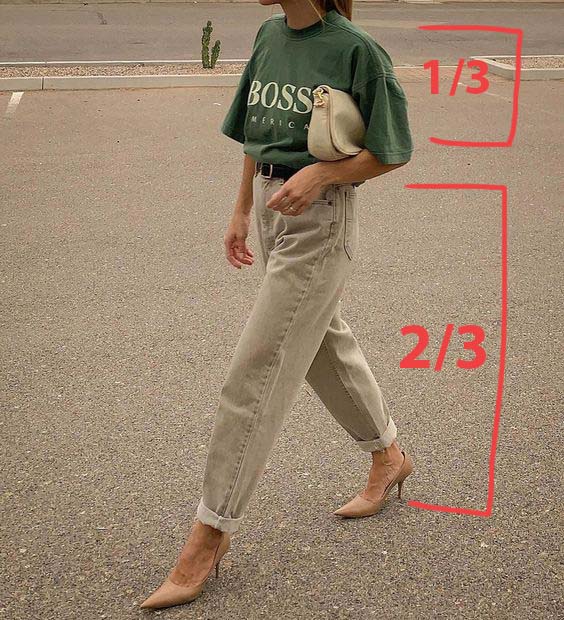 2. Try to have a fitted piece in your look. Baggy jeans do look great with other baggy items, but it can look even more sophisticated if you pair it with one fitted item as well. This could be a fitted turtleneck, a slim cut trench, or even a crop top.
3. Add a few feminine details. Baggy jeans can usually skew traditionally masculine. So it can help immensely to add a feminine detail or two to your look. This could be a pair of hoops, a gold link necklace, or a trendy handbag.
4. Review and adjust. If you're just not digging your oversized jeans outfit, and not feeling "cute" in it you need to evaluate it critically. Adding a pair of heels will help elongate your proportions and slim you out. This is a great way to balance out a more oversized style.
Outfits with Baggy Jeans
Baggy Jeans outfit idea 1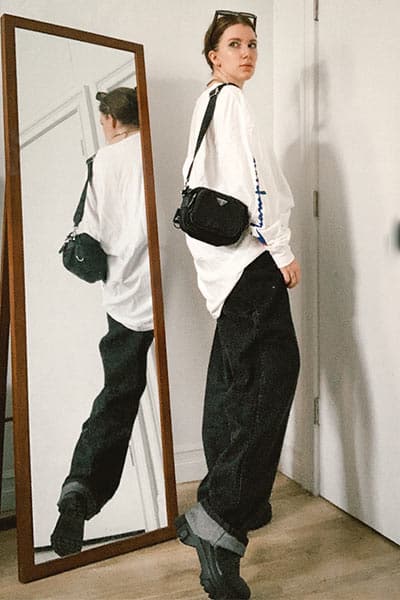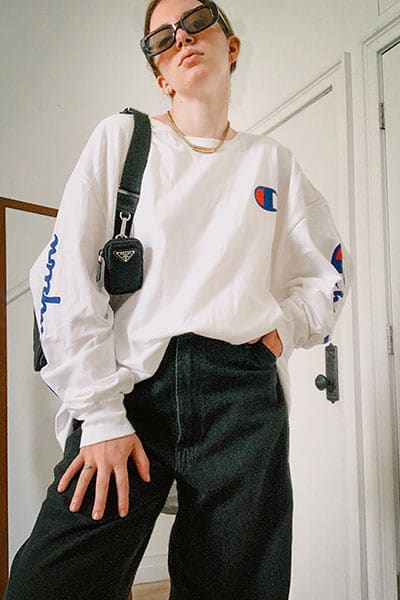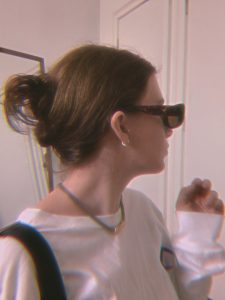 what you need: Baggy jeans, extra oversized shirt, chunky boots, or Dr. Martens
This look has a more sporty, 2000 vibe and is a very trendy look (so it may not be for everyone). The platform boots help elongate your legs and the bag, huggie hoops, and a flip clip add some much-needed femininity to the look.
Some feminine accessories or 2000 style hair clips are a great way to make this look complete.
related: hair accessories you need to try in 2020
Baggy Jeans outfit idea 2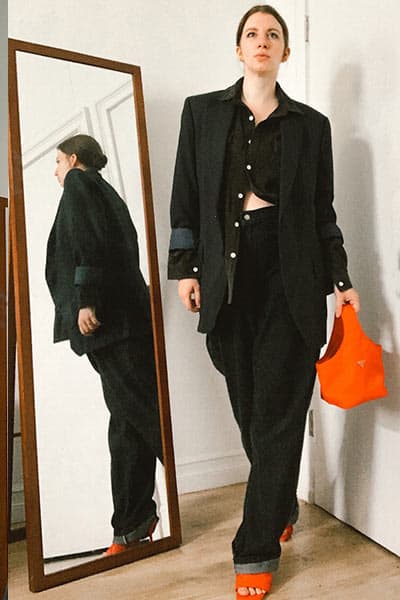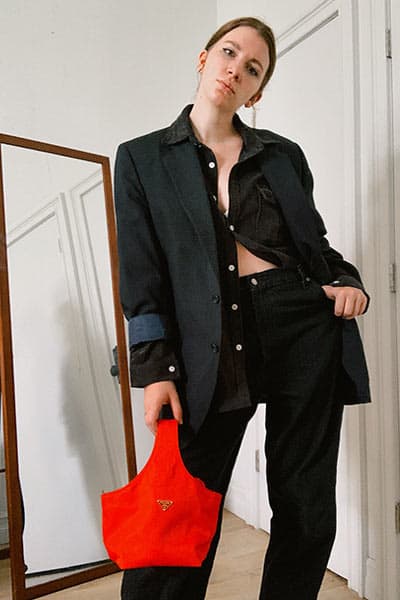 what you need: Baggy jeans, oversized blazer, and a baggy shirt
While this look doesn't include a "fitted" piece, the shirt is not buttoned all the way which allows a peek of skin and avoids overwhelming my (and your) frame. This look also has a pop of red in the handbag and square toe heels; which hints a bit of sex appeal.
related: Elevate your style with this one item; the oversized blazer
I think these are a great alternative to the Bottega Veneta Mule:
related: how to wear square toe heels, the it-shoe!
Baggy Jeans Outfit Idea 3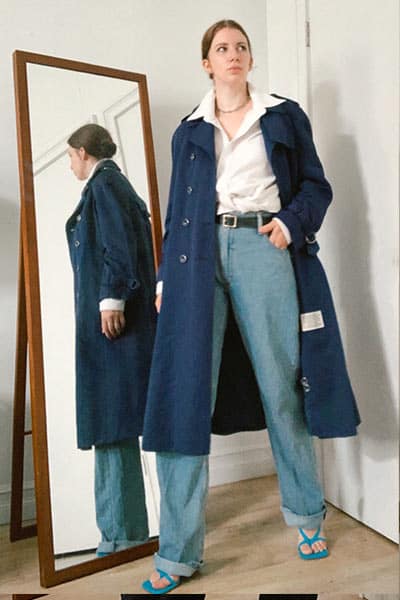 what you need: Baggy jeans, men's white shirt, heels, slim fit trench, belt
For this look, the heels and the slim fit trench add a polished look to the baggy jeans outfit. The oversized jeans and men's shirts are a classic combination, and I consider the men's white shirt to be a fashion staple. If you need more help with styling men's pieces as a female, check out this post.
Baggy Jeans Outfit Idea 4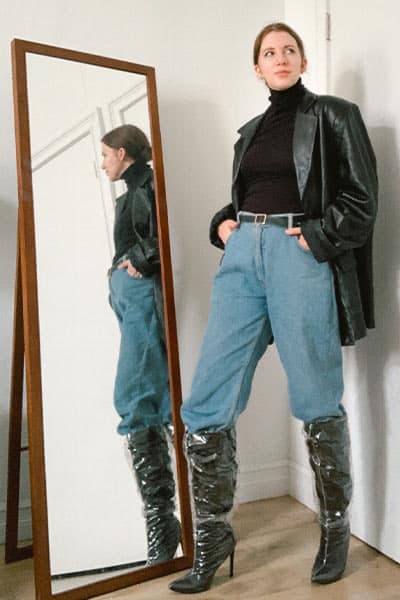 what you need: baggy jeans, turtleneck, leather blazer, knee-high boots
If you can combine two popular trends in one outfit you will have mastered a stylish look on your hands. This look has slight 80's vibes but has been modernized with accessories and styling details. The leather blazer is a fall/winter essential this season, and you can read all about them here.
Tucking your baggy jeans into knee-high boots as long as the jeans are not too bulky and/or the knee-high boots are not too fitted is a great way to make baggy jeans more polished.
Baggy Jeans Outfit Idea 5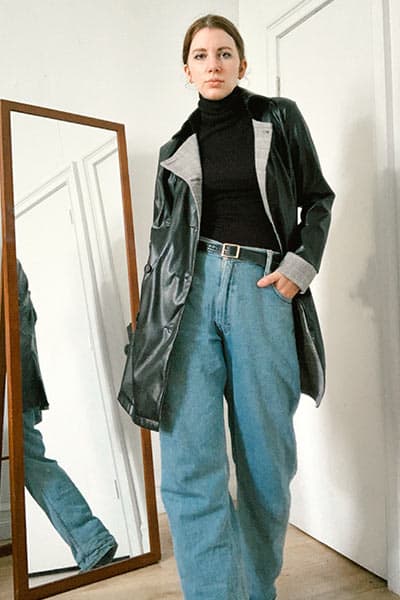 what you need: baggy jeans, turtleneck, leather jacket/trench
This is a different way to style the baggy jeans outfit idea number 4. Instead, here, we are untucking the jeans from our boots for an elongated effect. We have also switched out our oversized leather blazer for a more slim cut leather trench.
Turtlenecks are a total fall staple and if you want more proof, here you go:
All the ways to rock a turtleneck this season
Fall Capsule Wardrobe 2020 essentials
Baggy Jeans Outfit Idea 6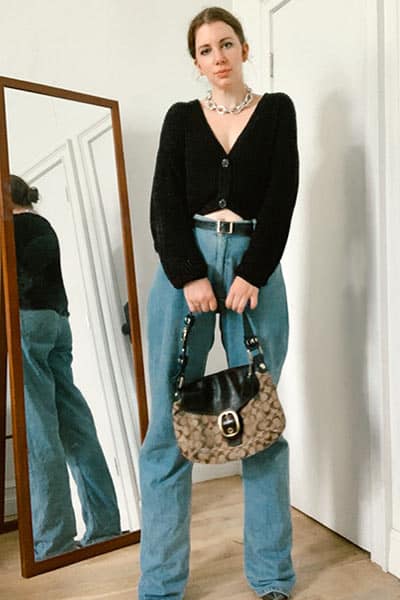 what you need; Baggy jeans, cardigan, heeled boots, 90's or 2000 style bag
This outfit with baggy jeans has been worn by top style icons like Bella Hadid, and Hailey Bieber.
Be sure to watch the video above to get the proper styling for this loose cardigan. I like pairing this look with heeled boots to create a tall, lean silhouette.
90's and 2000 trends are a huge decade to pull from this season. Adding a bag from this decade is going to give you a fashion-forward vibe and complete your outfit effortlessly.
Baggy Jeans Outfit Idea 7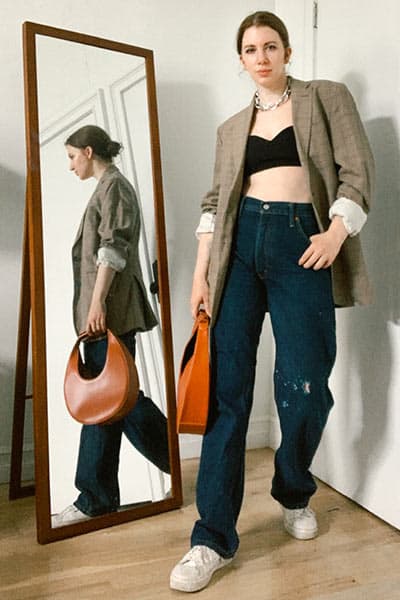 what you need: baggy jeans, oversized blazer, crop top, and classic sneakers
optional: chunky chain necklace
This look showcases the second style of baggy jeans we talked about earlier, which has a more fitted waist to hip area. This style of baggy jeans creates a slightly more polished look. Adding a crop top and an oversized blazer is an easy way to incorporate trends without losing your femininity or figure
BEST Baggy Jeans
OTHER Outfits with baggy jeans
Baggy jeans with a sweater
View this post on Instagram
Baggy jeans with a polo (oversized or fitted)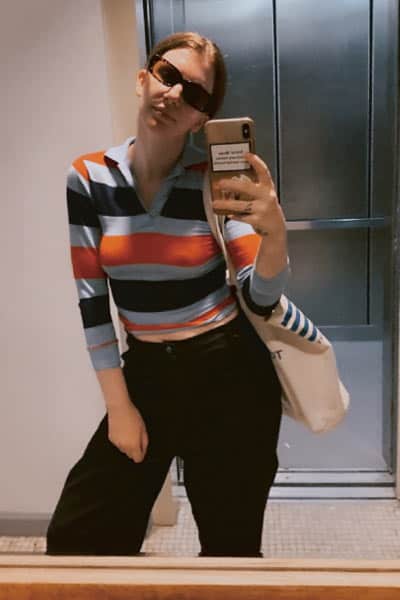 Baggy jeans with a 70's style blouse
Baggy jeans with a patchwork top:

The oversized jean trend should be embraced with open arms, and hopefully, these baggy jean outfits will help you master the trend.
Honestly, I just love this denim trend because for once I'm not itching to tear off my jeans the second I get home. And I don't have to suck in to zip my jeans up after a big meal.
So huzzah, for baggy jeans and their infinite outfit possibilities.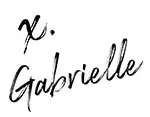 pin the below image so you don't miss out on this ultra-cool denim trend