How To Wear a Casual Jumpsuit with Style
So, how do you wear a jumpsuit and not look like a service worker? It can be tricky, but I'm about to lay out everything you need to know to style your casual jumpsuit properly and how to look pulled together and stylish while doing it.
The casual jumpsuit is definitely a thing. It's an easy go-to piece that everyone should have in their wardrobe… Not because we all love sitting half-naked in a bathroom stall, but because its ease and chicness are a staple that every closet demands.
Let's back up here, first.

 

I strive to tell you the roots of fashion so that you can understand and embrace the style beyond just its aesthetic function. So, where did casual jumpsuits come from? Well, most people attribute them to blue-collar workers- but really those are coveralls. A close, but slightly different iteration. The jumpsuit- is exactly what it says it is. It was rooted in the suit that parachuters would wear to jump. But for this post, we will be interpreting the style elements, instead of the historical definitions. If you want a more in-depth history of the jumpsuit, check out this site.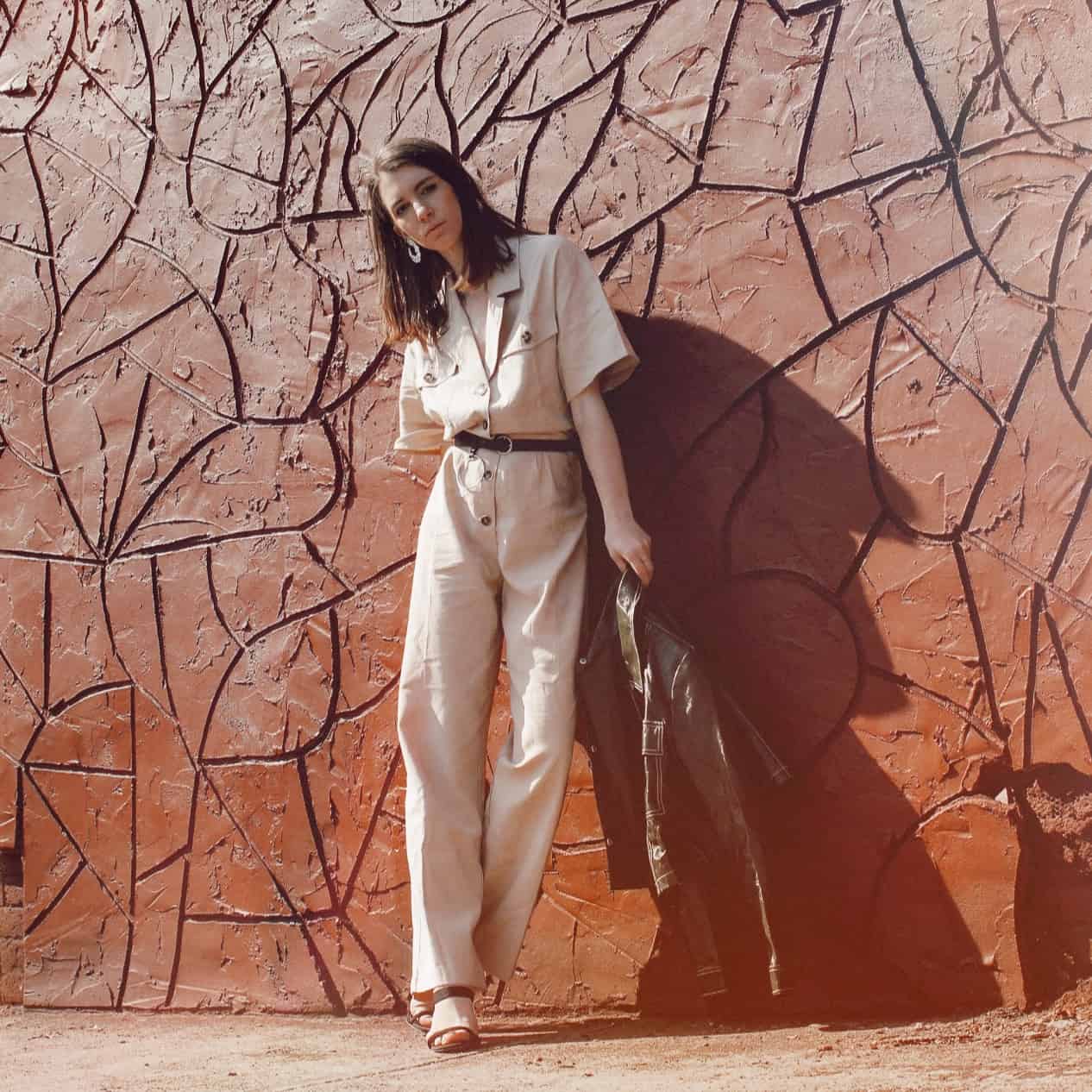 Jumpsuits can be elegant- they can be Tom Ford vibes with statement earrings and sky-high heels.. That's a look- but not the one we are discussing here.
We are talking about your military-vibe, casual jumpsuit that is a perfect transition piece and makes getting dressed really, really simple.
Embracing a more masculine look- does not mean you can't make it feminine. In fact, I have a post on exactly that if you want to dive deeper into that concept.
With a casual jumpsuit- the balance is key. Luckily, because it's an "outfit in one" it has done a lot of the hard work for you.

 

Because of the slightly more masculine vibes of this casual jumpsuit- I believe that keeping the accessories simple yet generally feminine help.
There is one exception- your shoes. Jumpsuits work with pretty much any shoe. You can dress the casual jumpsuit up with heels- like I did here.. Or you wear sneakers or combat boots. All work because the style of this look has already set a juxtaposed look skirting the line between masculine and feminine.
So- with your shoe choice- there really is no wrong answer.
However- if you want to avoid looking like a caricature or too "themed" I like to sway more feminine with my jewelry.  It still allows a casual vibe- but adding a pair of earrings allows it to feel more put together.
Just because the jumpsuit is a full outfit- doesn't mean it shouldn't be completed with simple but selected accessories.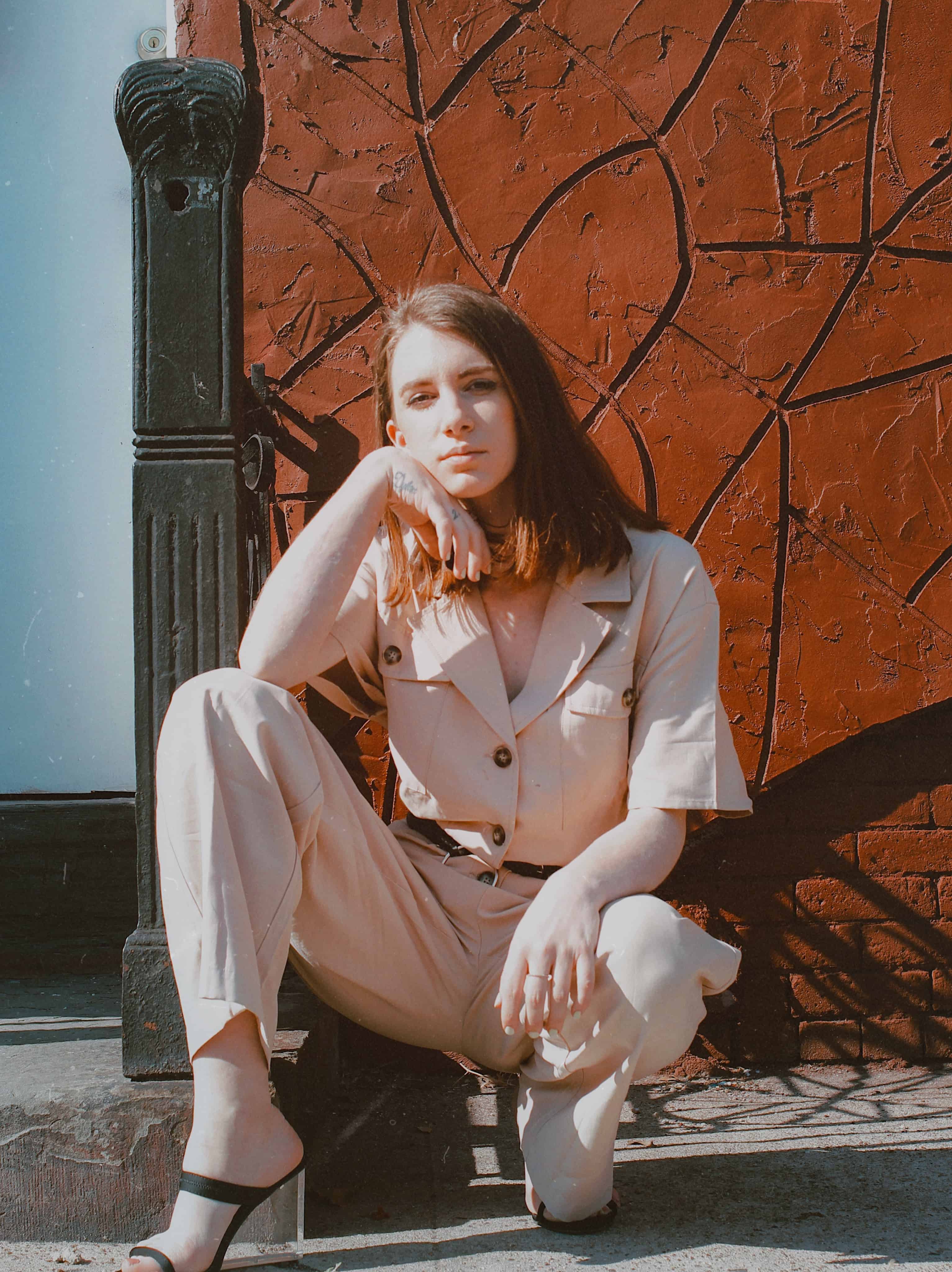 My advice is either pair it with hair clips (which are incredibly on trend right now) or a pair of earrings like the ones I'm wearing, here.  Don't do both- pick one. It will give you a more chic overall appearance. The key with styling a powerful overall vibe like the casual jumpsuit is to not have too many competing juxtaposed elements. The earrings or hair clips are adding a feminine edge to a masculine silhouette. We want to edge it closer to feminine, but not dismiss the powerful structure and message the casual jumpsuit has innately. So do not add too many accessories to this look, they end up canceling each other out and looking overly done. It takes it from casual to trying way too hard. 
ALSO- if you need help with implementing trends and finding your fashion sense, I have a FREE style guide. Just sign up below to have it sent directly to your inbox. It will help you gain more confidence through your fashion choices and develop the eye of a true fashionista. These are the thoughts and steps I personally always use to make my fashion choices, and I'm giving them to you!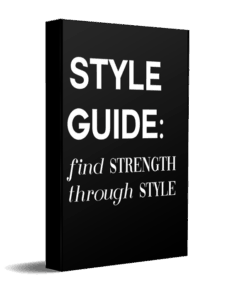 My philosophy with accessories is simple- let them do their job. They are accessories, they just enhance, not compete with your look. Try not to add statement earrings with layered necklaces, and eye-popping shoes. They will end up canceling each other out.
Instead, choose a vibe- here we are going with casual- but modern and put together. That means we are not piling this look up to mimic a non-functioning, editorial advertisement.
Coco Chanel famously said, " Before you leave the house, look in the mirror and remove one accessory".
She was right.
Casual jumpsuits are important to your wardrobe because they become a very flexible piece. They look put together with ease and they can function at a variety of different events. They also are a pivotal item for that transitional weather.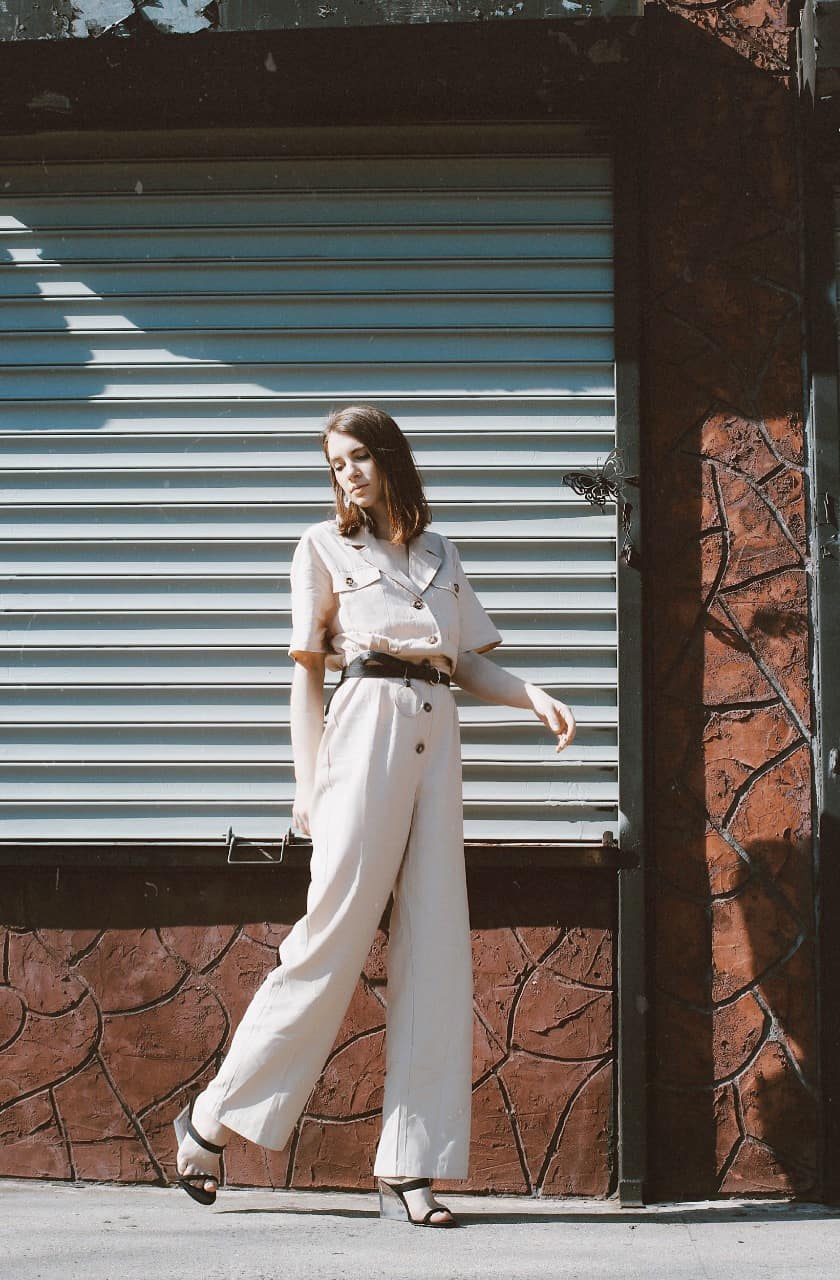 Spring and Fall are most people's favorite seasons- but the in-between can be challenging you to start the day with a sweater and seriously regret it by the afternoon. 
The jumpsuit solves that problem. It can be easily layered with a structured coat on top, and it's breathable, yet still covering enough skin for those awkward season days.
But, how else do you style a jumpsuit? Belts can be your friend when it comes to a slightly baggier silhouette. This belt allows my jumpsuit to be more flattering, and the simplicity of the black belt ties into the style of the shoes I chose. All the elements you use to style your jumpsuit should be "friendly" with one another.  The jumpsuit already provides the juxtaposition you need to make a statement. So the accessories you choose to add need to be stylistically familiar with one another.  For instance, you do not want to add an elaborate chain belt, and then wear a set of classic Louboutins with your look.  The belt doesn't mesh with that style of heels, and the jumpsuit will, therefore, feel out of place with those accessories.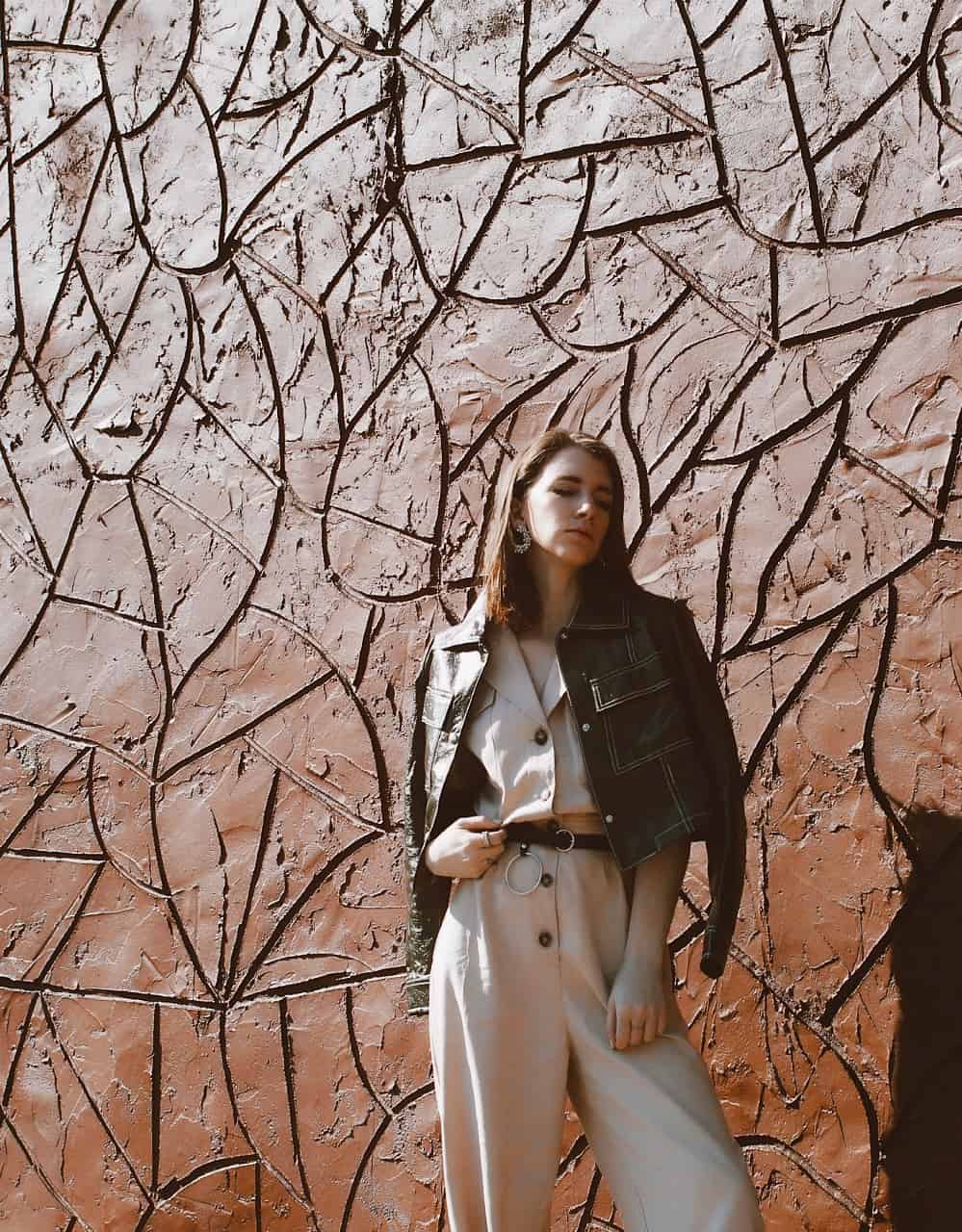 For spring, I find cotton and linen jumpsuits the best option for the transitional weather and the goal of being able to move from day to evening seamlessly. You can add a structured or cropped jacket on top of your jumpsuit if the weather is unpredictable.  I think a structured jacket is key to layering, and a flowy or silky option will look messy and not pair well with the jumpsuit. Furthermore, you should consider where your jacket hits on your body. The jacket I added to this outfit, was both structured and slightly cropped. It hit at or slightly above my waist. It didn't overwhelm my jumpsuit look and the proportion still allows my legs to look long and not truncated.  Avoid jackets that fall too low on your body, this will not get you a transitional look, nor will it add the length to your body that jumpsuits innately provide, visually speaking.
We, as women should feel blessed that we are finally seeing some of the many changes that need to happen societally speaking in our lifetime.  Often times we focus on our impact with words and bigger picture campaigns gaining traction or respect. Taking control of your image is another element to gaining more power, appearing more confident, and aesthetically surpassing everyone else. The jumpsuit, with it's more masculine vibes, plays off a women's femininity and her flexibility. The ability to wear and own a casual jumpsuit, like this, sends a powerful message of strength and balance. 
Our society opening their minds and perceptions of women being everything they are is extremely powerful, but it doesn't stop there.   I am a firm believer that fashion is one of our most taken for granted voices… Despite whatever changes happen within our world- first impressions will likely never cease to exist.  So why do we put so much emphasis on handshakes or eloquent intros when our clothes can do this for us? 
They can tell people who we are without us having to say a word.  I think that the casual jumpsuit is a great first word.
It says I am powerful, I am strong, and even if I don't always feel this way- I can do anything.
** we may earn a commission from you clinking the links in this post at no additional cost to you, for the full affiliate policy, click here. 
Here are my picks casual jumpsuits

Be sure to save this to pinterest, so you can refer back to it!