It seems like every time you open Instagram or peruse a fashion site, there are some familiar faces. Emrata (Emily Ratajkowski), Bella Hadid, Kendall Jenner, and now even Hailey Bieber. They just seem to show up on our screens, looking effortlessly chic in…. wait, basic pieces?
We see them in ballgowns at the Met Gala, and walking red carpets and runways looking glam and gorgeous. But then, they look just as chic and gorgeous wearing an oversized sweatshirt.
So how do they look so stylish?
Well, let's not discount the fact they do actually have a team of people choosing their outfits and adjusting them for trends and events.
But, that doesn't mean you can't master the model off duty look by using similar pieces and following these style tips.
How do you dress like an off duty model?
You'd probably be surprised at some of these tips. These are models who wear the top designers in fashion and the latest and greatest trends. However, most of their street style is based around keeping it simple, and adding trendy details or tweaking the styling in small ways. [ 6 outfit ideas to steal from Hailey Bieber, ASAP]
Often times the difference between a wildly successful outfit and one that is so-so is the details and finishing touches. Think about a cake with no frosting, it doesn't have the same effect as a cake with frosting, a birthday message, and candles. While they may taste almost identical, one has a very clear and finished message. And guess which one you would probably pick for your celebration.
So my rant on paying attention to details is over, let's get down to some actionable tips for mastering model street style.
1. Keep it simple. Use pieces that you feel amazing in and are classic. We will get into the pieces I recommend for this next.
2. Master the no-makeup makeup look. Here is a guide to doing that. Models look effortless because they appear as if they "just woke up like that". But, they are probably wearing subtle make up that enhances their beauty without appearing as if they tried. The best part? It's really easy for you to do too.
3. Don't be afraid to play with proportion and style. Oversized pieces can actually make you appear thinner. Mastering the balance of this can take some time, but once you get it you will never go back. My suggestion would be to start with an oversized men's shirt or an oversized blazer. [ how to style an oversized blazer]
4. Add trendy or distinct details. A bold red lip or trendy handbag are some of the easiest ways to elevate any outfit. Models know the power of this trick and use it frequently.
we may earn a commission from you clicking a link in this post, at no additional cost to you. Full affiliate policy here.
Here are the 7 items you need for mastering the off-duty model look
1. Cropped Tee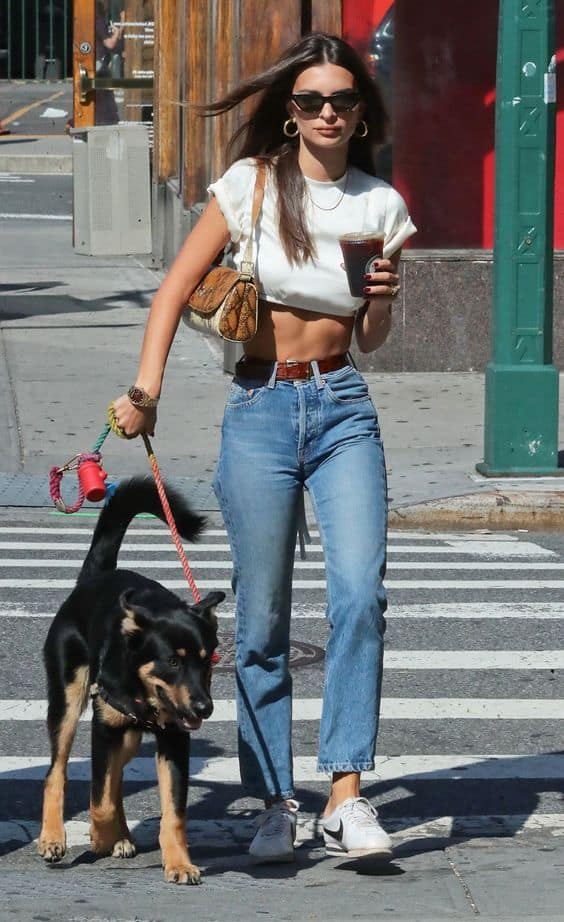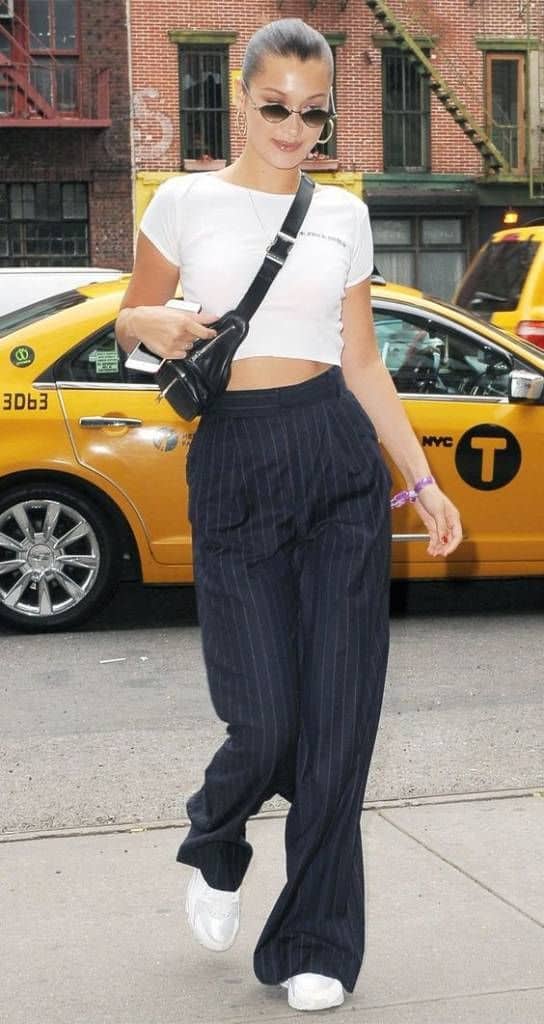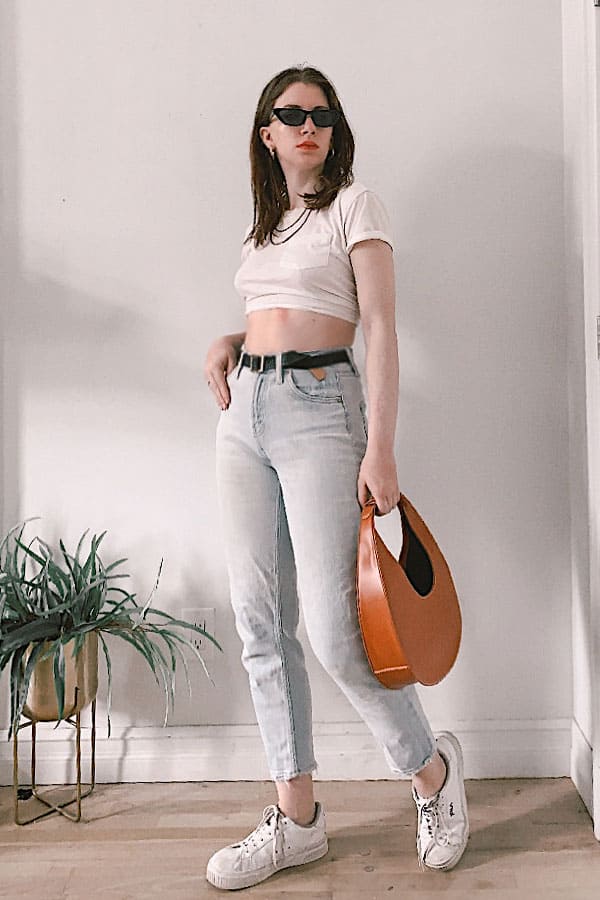 I mean, models work hard for that ab line, and that perfect stomach, so why not show them off? Now, if you're about to skip this section for the next item, just wait. Cropped tees also look great with high-waist jeans and trousers. So we are not endorsing that you go on a massive diet and exercise regimen to be able to wear a trend like this.
Instead, look at the proportions of these outfits. You will notice that most of them are wearing mid to high rise trousers and jeans. This elongates your legs and makes you appear taller.
When pairing the cropped tee with jeans, I think a slightly looser jean works best. Skintight lycra jeans are not as popular anymore. Pairing a cropped tee with skin-tight (painted-on) jeans becomes overwhelming. Instead of making you look tall and lean, it will make you appear larger as everything is clinging to your body. You need to balance it out with a relaxed tee or relaxed pair of pants.
A belt can also help you define your waist and draw your eye in. So if you try this off duty model look and you can't make it work- try adding a belt.
2. Low top Sneakers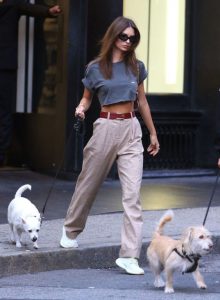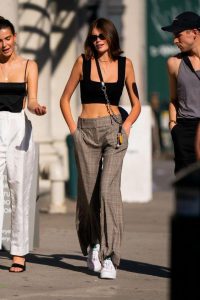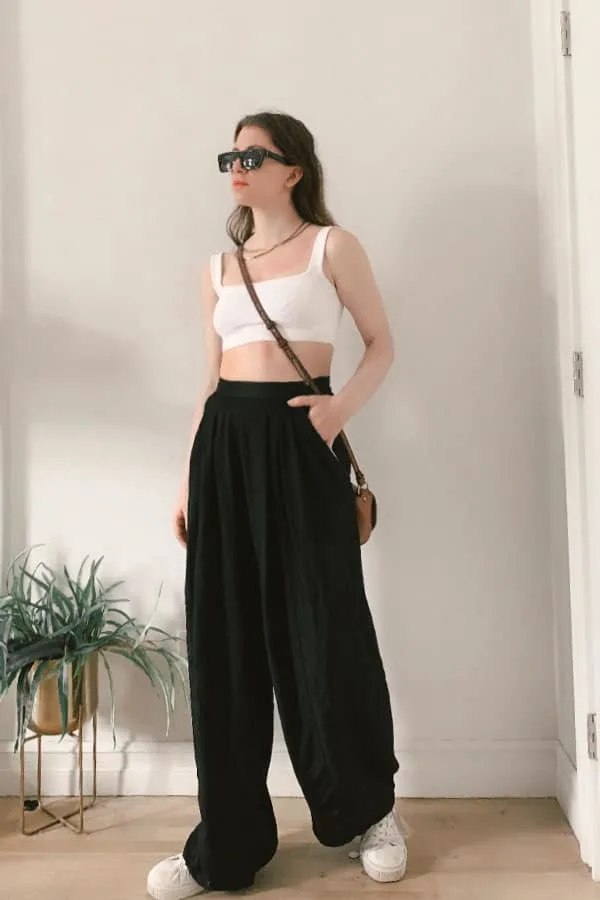 Classic sneakers are classic for a reason. While the most popular iteration may slightly change with each season, they always look great with any outfit and give you major model vibes.
You might be thinking, well ya, of course, Kendal Jenner can wear classic sneakers and look like a goddess, she's 5ft 10 in.
But, there are tons of style icons who are not as tall and they rock this look flawlessly. The key is to watch your proportions and highlight the "best" parts of your body.
You need to dress with thirds (or possibly sixths) in mind. You never want to cut up your body in half, as that will make you appear stouter and shorter. This is a general rule, but one you should probably keep in mind until you've become a fashion guru.
Loving this model content? Check out these posts too:
3.

Oversized pieces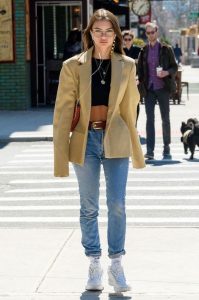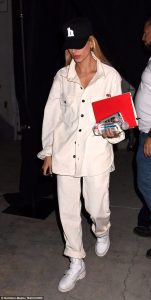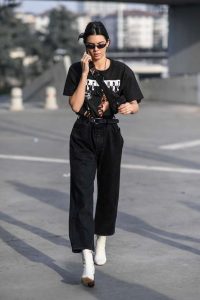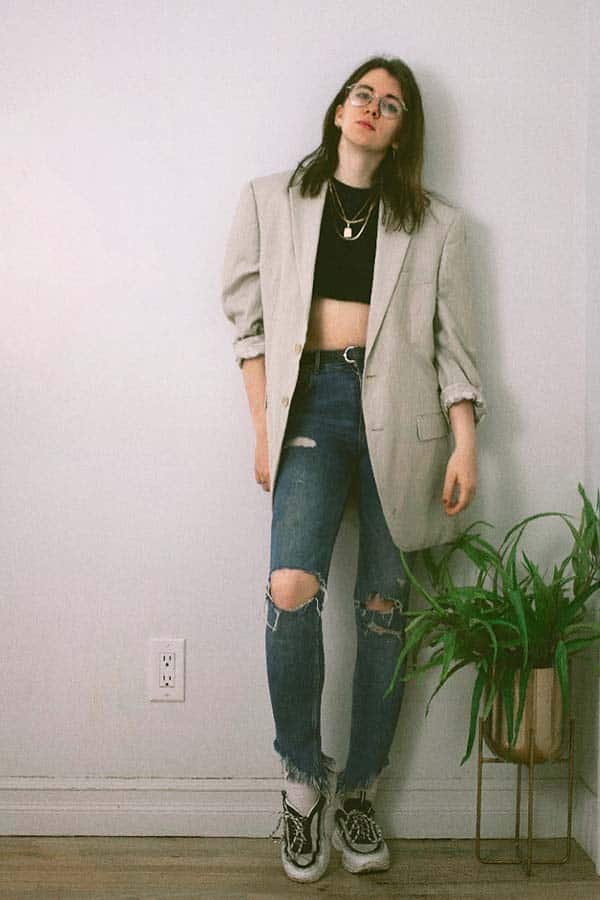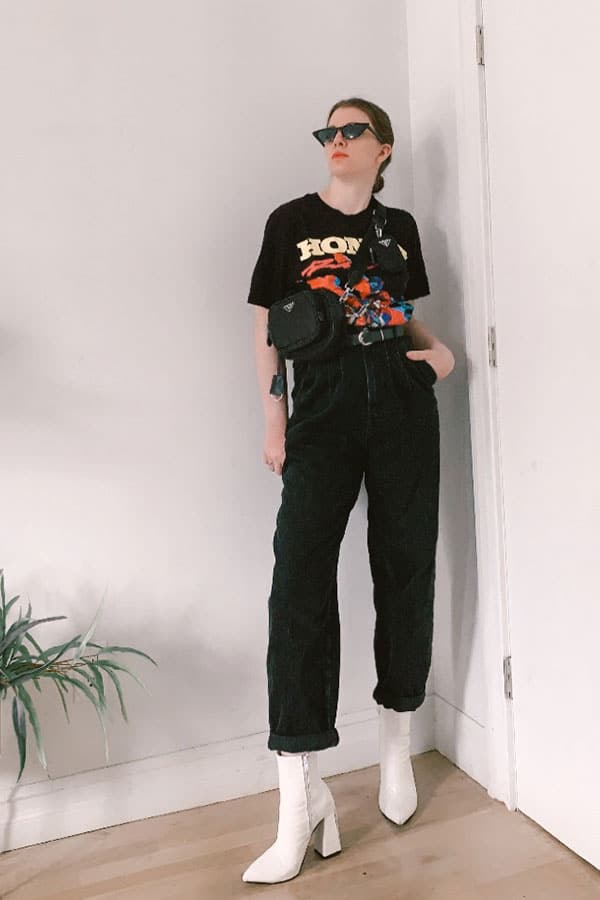 Whether it is an oversized blazer, oversized tee, or an oversized sweatshirt, adding a larger piece really helps balance an outfit out. The Parisian style has enthusiastically embraced oversized pieces for years, and I think it is why they are touted as being classicly stylish yet always look so modern. [14 ways to wear an oversized t-shirt]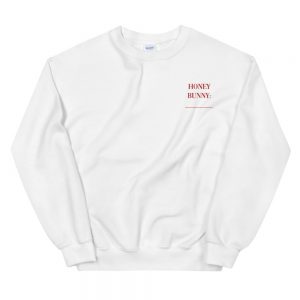 4.
Athleisure elements with Structured clothes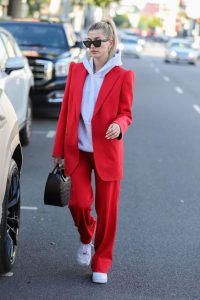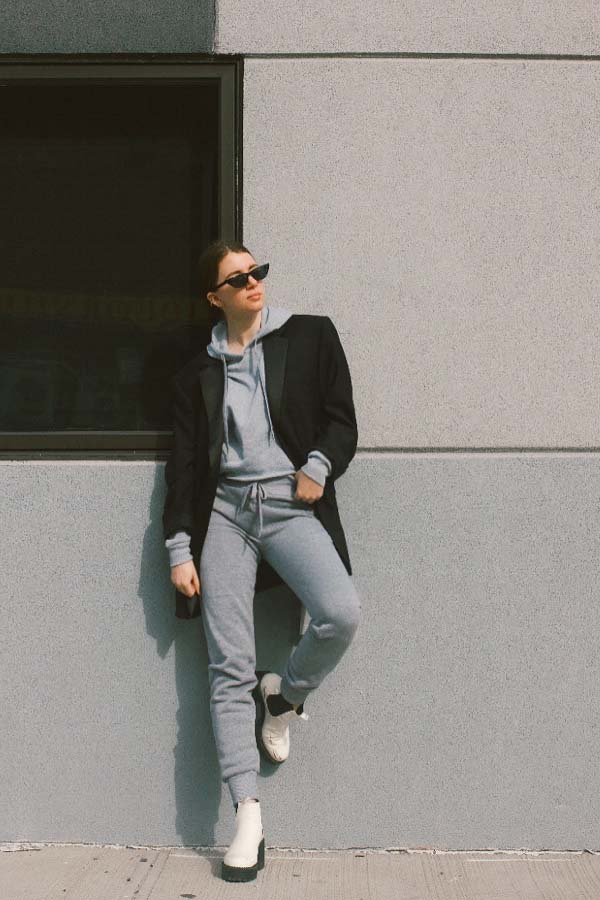 Models off duty are effortlessly chic. They look like they just rolled out of bed, yet still, seem so put together. That's because they have mastered the ability to pair an athleisure piece (like sweatpants or a hoodie) with structured elements. [ how to make sweatpants look cute IRL]
Pairing these two categories together creates a very balanced look when done right. To do this well, don't be afraid to play with oversized items, as mentioned above. [ Rocking Athleisure style like an influencer]
Monochromatic outfits also really help you elevate an outfit. [how to master monochrome]
5. Bermuda denim shorts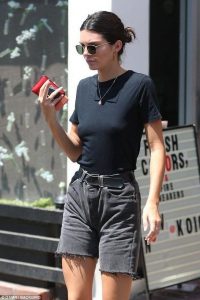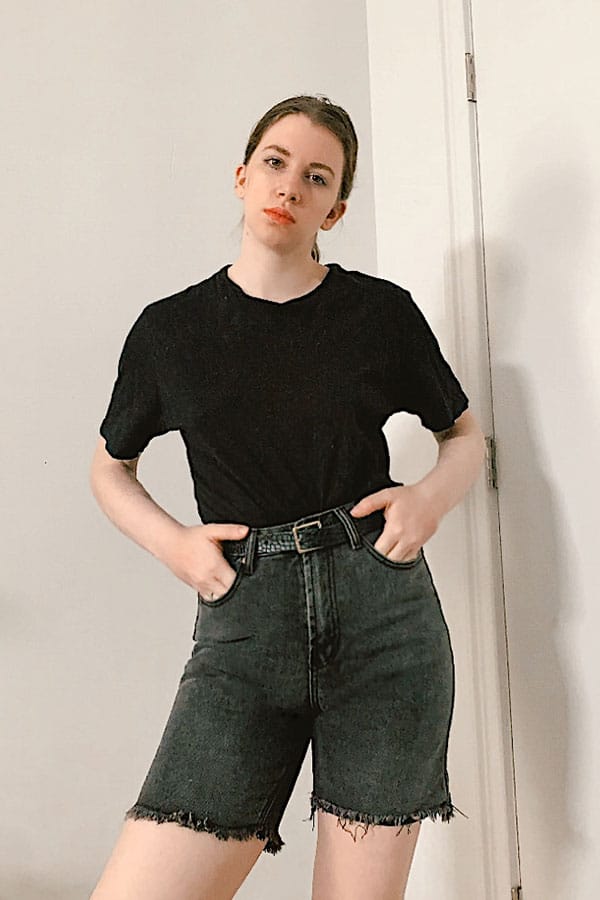 Short shorts are not topping the charts when it comes to summer trends right now. Instead we have seen just about every fashion influencer, stylist, and off duty model rock the Bermuda length denim short. [ Everything you need to know about this summers short: the Bermuda denim short]
That's because they are both stylish and casual. The longer hem length elevates the denim short, but because they are denim they seem to give off an easiness. This combination is outfit gold.
6. Moto Leather Jacket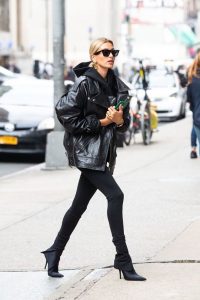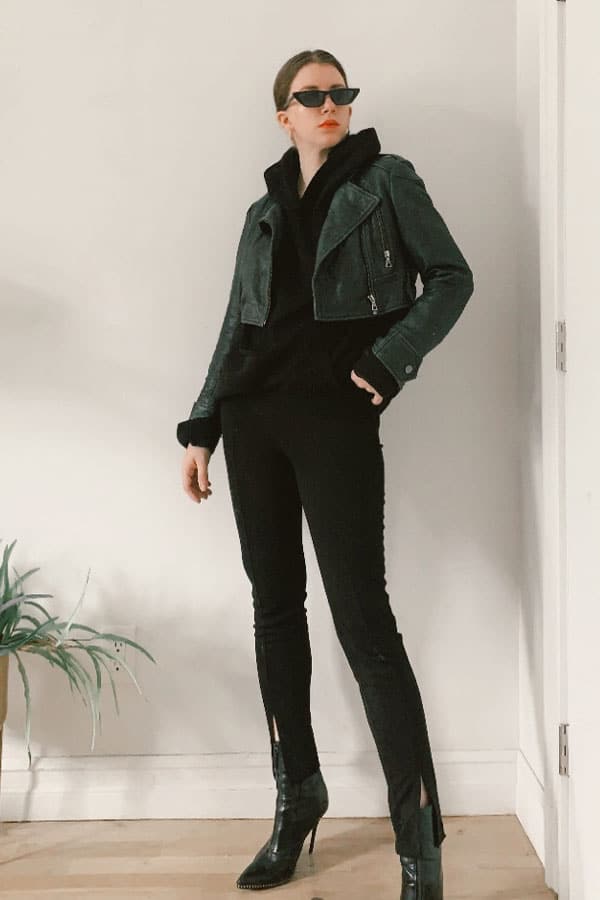 A good leather jacket is a style staple every closet needs. And if you need help building your wardrobe check out my post on how to build a chic wardrobe from scratch.
Depending on what look you are going for, your options are practically endless with a moto jacket. Slightly cropped and oversized seem to be the two leather jacket options that are most popular among models. Probably because the cropped jacket elongates your legs, making you appear taller. And an oversized jacket can make you appear thinner.
It should be noted I am in NO WAY endorsing the fact that we should want to be taller or thinner. Rather, I believe we should wear clothes in a way that makes us feel like our best selves and gives us the most confidence. It is not about losing weight or trying to be a "model" size. Embrace your body and learn how to show it off in the best way, instead of trying to change it. This mindset shift will help you so much when tackling new styles and finding your fashion voice, and it will also help your relationship with yourself.
Want to tackle trends better and appreciate YOUR own distinct fashion voice? Check out my free style-guide here.
related: Split Ankle Leggings, the legging you need to try now
7. Trendy Details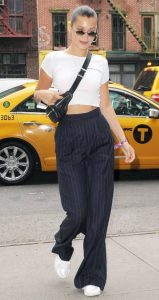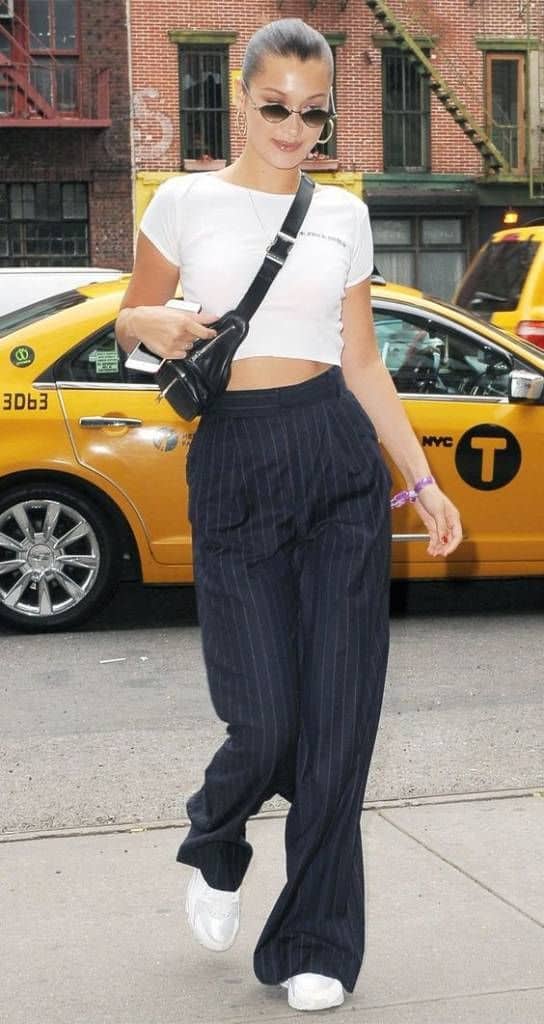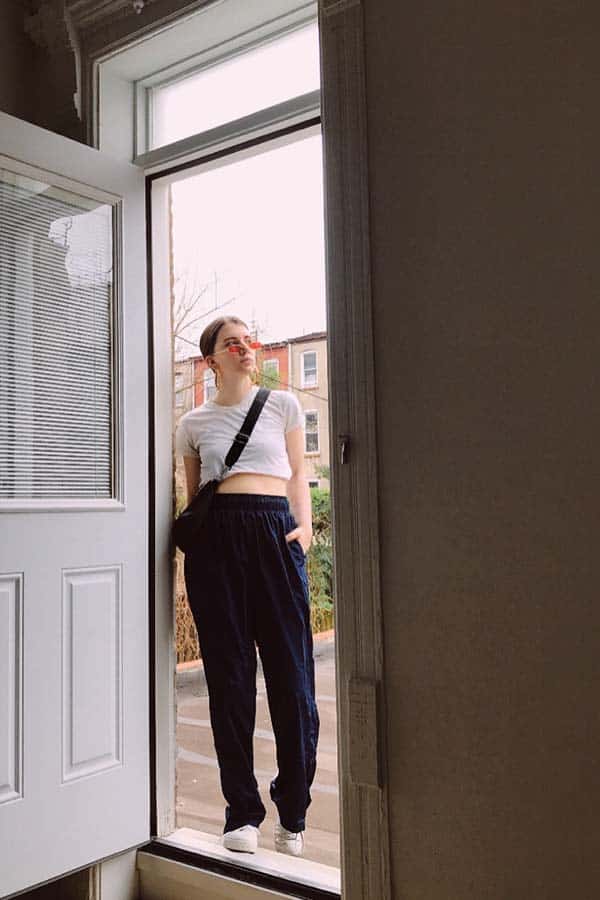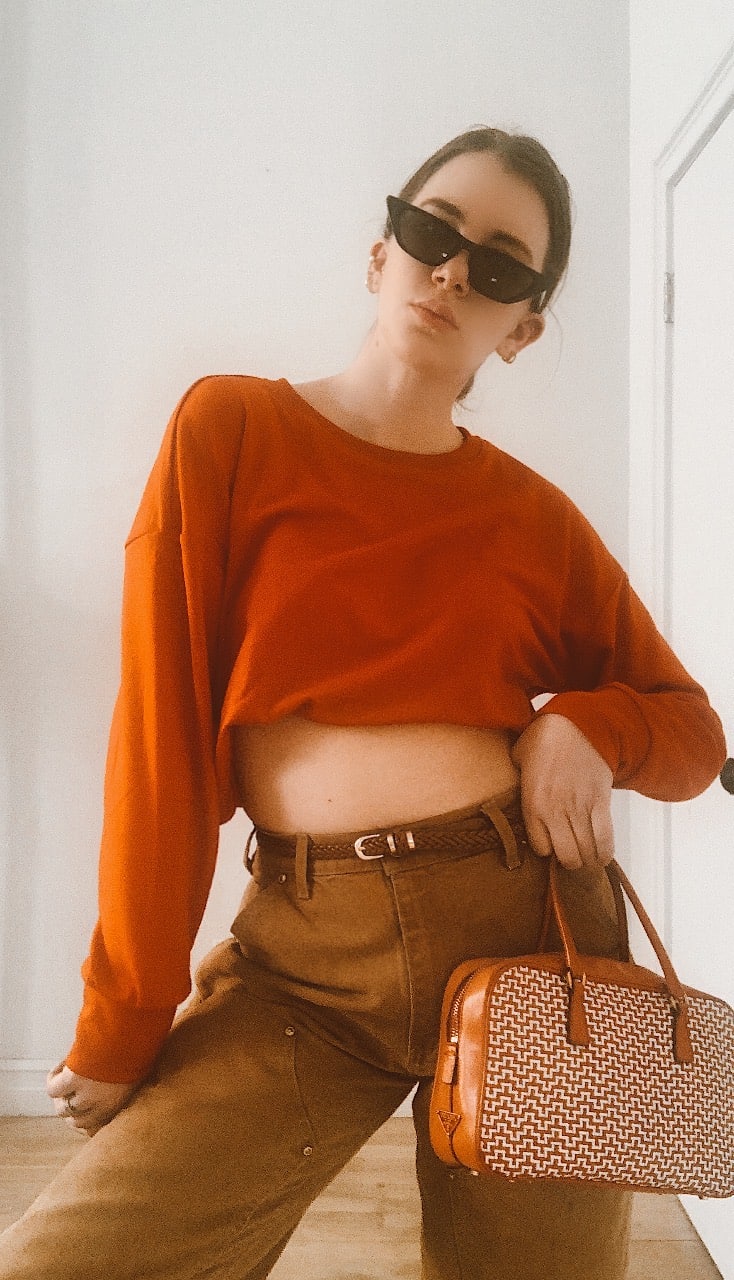 Whether it be a super trendy bag, a unique styling piece, or even just a cool pair of glasses, these details can MAKE or BREAK your model off duty look. Adding them creates a fashion-forward interest to the outfit and makes you more of a "fashion authority".
A funny thing happens when people know you for being fashionable. It's like your success rate for outfits skyrockets... But, really, people have just accepted your authority in this arena and now accept that if you are wearing it, it must be popular. Think about an Oprah list out there. We know her to have good taste, and that she recommends great products, therefore we trust pretty much any "list" she puts out there.
So, adding these little details can up your fashion game in an easy way. You don't have to look like you stepped off a Balenciaga runway, instead add a trendy item or detail to a classic look (like the ones we mentioned above) and it will elevate it completely.
related: Certified Chic, 6 easy outfits from today's top models
Accessories you need:
Medium Gold Hoops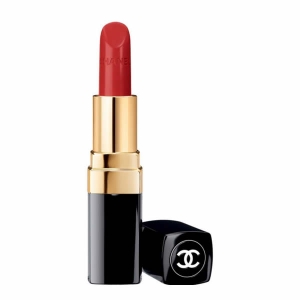 Cute "Tube" Socks
-check out this post for cute sock ideas
Trendy Bags
Go-to Black belt with metal buckle
Black Angular Sunglasses
Tip: Models love a simple slicked back bun. It's easy and looks so chic. Here is a quick tutorial for how to get the perfect bun.
Products I use:

Ok, we have broken down, examined, and theorized what makes the perfect off duty model look, now go forth and prove our hypothesis.
But, don't be a cake without frosting!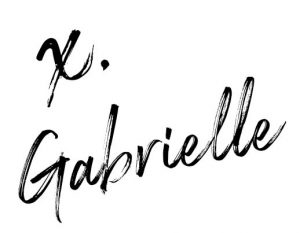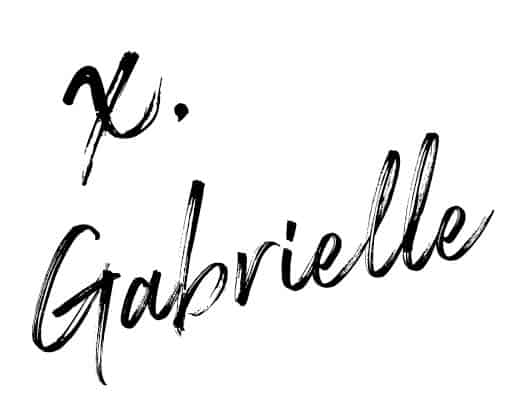 Pin this for reference, because there are a lot of quality looks in this list