When the weather is hot, the concrete could cook an egg, and the air seems a bit more humid than your hair would like- a romantic summer dress is the item you need to survive.
Summer dresses are that perfect breed of light, airy, romantic, and easy. My favorite version for this year's trends are off the shoulder dresses. They add a bit more romance to your overall vibe and let's be honest the shoulder is an underrated element in desperate need of showing off.
So what should you look for in a summer dress?
Fabric weight. Try to go with more natural fibers— cotton, linen, silk- they will all breathe better than polyester or man-made fiber. And that is key when surviving muggy summers.
Overall coverage. So a summer dress doesn't have to be full coverage and it doesn't need to be skanky either. What should it cover you ask?
This depends on where you are going and a few different factors.
So for the office- your go-to summer dress should have a bit more coverage and maybe not be too skin tight.
A shirt dress option is the best summer dress for the office you can find. Another great option is an A-line dress or slightly more volumed dress. No, I'm not suggesting you wear a ball gown to work- but you can experiment with a more flowy dress that has coverage and maintains a casual vibe. This silhouette stands out and has a professional yet stylish approach, while still being romantic in nature. Try pairing it with a block heel or pointed mule.
** we may earn a commission from you clinking the links in this post at no additional cost to you, for the full affiliate policy, click here.
These are my picks for summer dresses that you can wear to the office

Try pairing them with these shoes

So now let's say you are lucky enough to not be stuck in the office this summer, what dress style should you be wearing?
Well, let's take it one event or activity at a time.
Off the shoulder summer dresses, like the one I'm wearing, are easily a flexible option for day activities. Whether that be brunch, sight seeing, or simply running errands- they seem to work for it all. I paired this dress with Dr. Marten's so that it would add a bit of edge to the overall vibe. But simple strap sandals or even converse could work as well. The dress is romantic and simple. The key is to not add too much with your accessories. That enables it to stay daytime friendly and still be comfortable and workable for your tasks.
If off the shoulder dresses are not your thing, then there are other options for a romantic summer dress vibe. Try a fit and flare dress that hints at your femininity but stays firmly in the romantic category. You can also try architectural straps that draw attention to your collarbone or back. These are all great options to get the romance going in summer yet still maintain an air of sophistication.

Here are my romantic dress picks including off the shoulder summer dresses

And if you want to up the romantic vibes, try adding a pearl belt like the one I'm wearing. It's the perfect subtle detail.
And last but not least the summer dress for the evening.

Here is where simplicity can be a shining star.

A simple strap slip dress is your best friend for nighttime summer activities.

Maxi dresses have a been a bit played out and while it's still hot out, the air might be a bit more comfortable allowing you to layer.
I recommend for night time BBQ's, dinners out, or even going to a movie night/bar to wear a simple strap dress with a layering piece over it. Leather jackets will always be a popular choice, however this season we have seen a shift away from them (especially now that the warm weather is coming in). Try a strong shoulder blazer, or even a bright colored blazer or trench instead.. It will make it more on-trend.
Here are my nighttime summer dress picks

When dealing with a casual nighttime event in the summer, these picks still work. The key is to accessorize in a more relaxed way. Instead of high heels opt for a mule or flat. Instead of a clutch add a crossbody bag or mini backpack. And for a layering piece, you can add an oversized denim jacket instead of a blazer, to create a less "glamorous" vibe. Most dresses fit the trope of "day to night"- the key is to garnish them appropriately.
Dresses have an ease about them because they don't require a lot of thought. This ease is especially inviting in the summer months. But I have to say that summer dresses go even further than that; they give off a romantic, breezy vibe that allows you to look beautiful, put together, and like you didn't try.
There is nothing worse than wearing an outfit that is too complicated for summer. Tugging at your shirt, sweating in that suit, or just having makeup drip off your face- are all thing you want to avoid in these sweaty months. So if you're struggling with going make up free this summer, check out this post.
Summer should be about chic ease.

You want a fresh-faced look, with an easy, yet gorgeous dress. This combination is so powerful and the perfect outfit for any summer event. It exudes confidence and certainty with your inner and outer beauty.
Dressing for the correct event is a priority. I'm not suggesting that you don't wear bold choices or dress how you like- but I"m encouraging you to consider the facts as well. Wearing a loud dress to a party- totally great! But! If you are wearing a dress that is way too hot for the weather, too tight to sit down in, and doesn't allow your day to progress normally- then maybe that dress should be saved for another event.
ALSO, if you're struggling with styling yourself and adopting new trends get my FREE style guide. It will help you with your style, adopting new looks, and finding confidence through your fashion choices. Sign up below to have it sent directly to your inbox!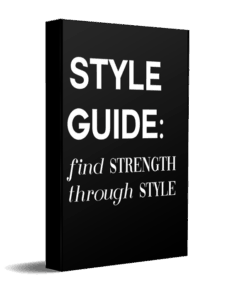 Summer is about being outside in the sunshine, watching movies in the park, going to brunch or the beach with friends and most of all enjoying the world around you. And the romantic summer dress compliments that perfectly.
Be sure to pin this, so you can refer back to it!