Let me tell you how to get that no-makeup makeup look that is Oh So trendy, I promise you can do it too.
While beauty influencers are all the rage and watching someone do a 500 step, multi-colored eye may fill your beauty fix on youtube. The reality is that most of us, do not have the energy or skill to do these tutorials.
Luckily, for us average folk, the no-makeup trend is just as popular as those Euphoria driven aesthetics.
We can all thank our Gen Zers for the no-makeup trend and I for one am especially grateful for an easy, attainable and flawless look is all the rage.
But, you may be thinking, how on earth can I go from wearing an average amount of makeup to barely any at all?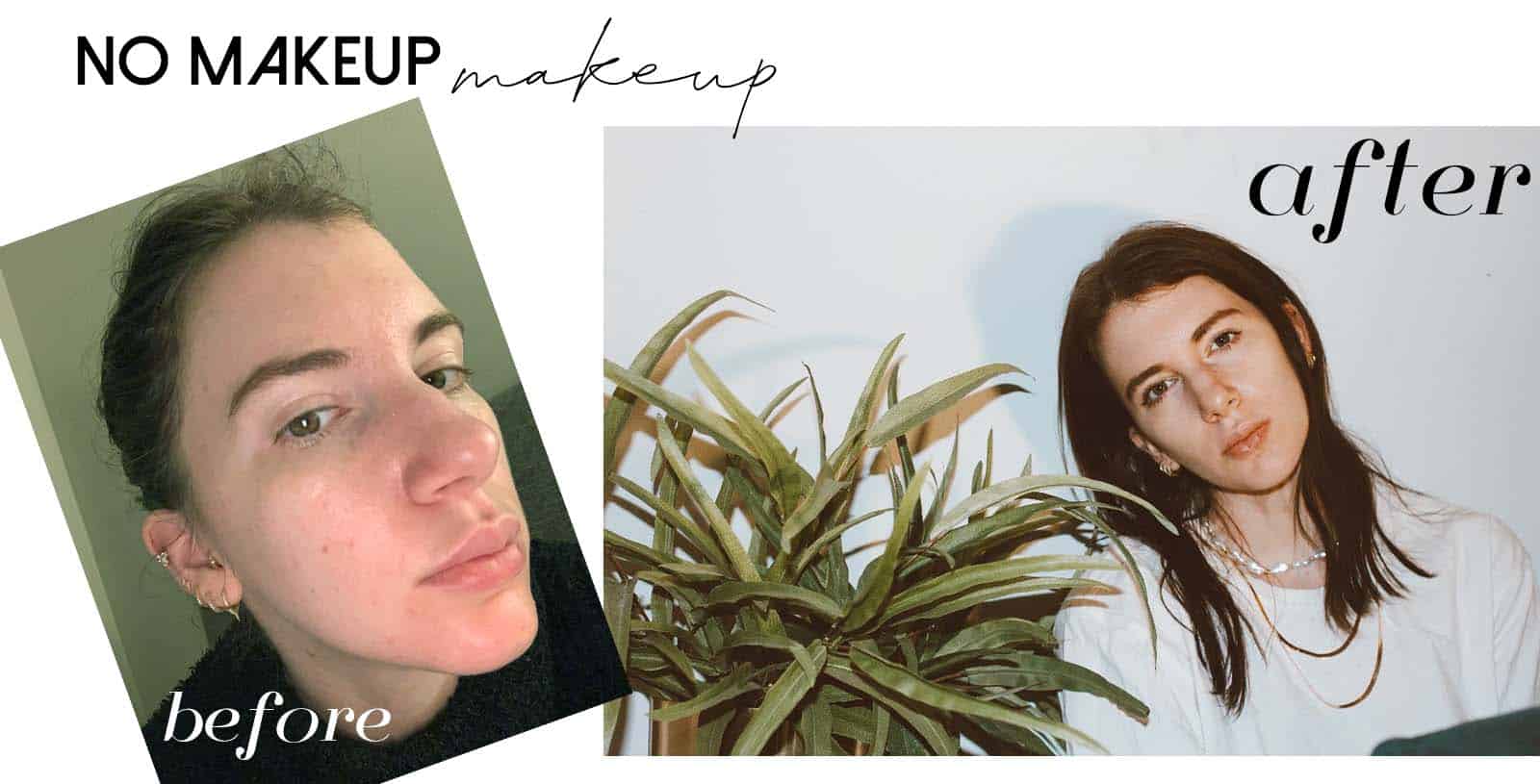 It's not that hard, I can show you how to do it with ease.
Take it from me. I used to wear makeup everyday. Now, I barely leave the house with anything on and not only it is a timesaver but I feel infinitely more comfortable in my own skin.
Touching up, mirror checking, and faded eyeliner are all things of the past for me, and they can be for you too.
Not to mention, if you struggle getting ready in the morning this will also save you so much time.
To watch how I apply my no-makeup makeup, check out the video above. The general steps are listed above, but you'll see in the video I do a slightly different order. Either order works, it is what is natural to you. Try to make a general routine to stick to, but go with the flow as well.
** we may earn a commission from you clinking the links in this post at no additional cost to you, for the full affiliate policy, click here.
No Makeup Makeup Steps
Step 1. Skin Care
Ok, I know you really really didn't want me to bring this up. Because this is the only "involved" part of the process. In order to the no-makeup makeup look, it is imperative that you treat your skin properly.
I get it, you haven't let your skin breath and you don't know where to start or even if your skin can get clear enough to make this look happen.
But, I was in your shoes and guess what, my skin looks great now without makeup.
Check out this post and supplemental video for all the skincare steps you need. It takes less than 5 minutes and I can personally attest to how well it works.
And for the exact skin refiner that I use in the above video, click here.
Step 2. Face rolling
Ok, I know, you're like I can here for makeup tips, not a whole new skincare routine. So I'm going to say this step is optional, but I STRONGLY recommend it.
Face rolling is a new trend that has cropped up in the past few years. It is so popular there are even places you can go to get your face massaged by a professional. Like this.
The science behind face rolling is a mini-facial of sorts, but way less involved. The goal of face rolling is to increase blood circulation to your skin and encourage your lymphatic system to process the toxins in your face. Increasing blood flow allows oxygen to reach your skin and brightens it.
And detoxifying it (hi lymphatic system) will diminish the puffiness and the bloated face feeling.
And if we are being honest here, a lot of things we are trying to cover up with makeup is usually directly related to puffiness, tiredness, and general texture of the skin.
By face rolling in the AM before you tackle this no-makeup makeup look, you are hedging your bets for a flawless, fresh-faced look.
I often keep my face roller in the fridge (the coolness helps reduce redness and puffiness) and I face roll for a few minutes (more than 1 minute, less than 5) while my coffee is brewing or my breakfast is cooking.
Here are some face rollers (including the one I use in the video)
Step 3: Very light coverage
So for the no-makeup makeup look a little bit of coverage doesn't hurt. I personally focus on skincare to avoid having to use any, but if you need something then a tinted moisturizer is your best bet.
And if you have an angry zit or blemish, spot treating these with a medium concealer is ok. The goal isn't to look 'rough" but to look low maintenance beauty-wise and fresh-faced.
If you are shaking in your boots right now and think I can't possibly go without my heavier coverage, click here for a slower-paced transition to give up heavy makeup. Hint, it involves gradual skincare.

Step 4: brows
Ok, one of the pieces of makeup I am still readily dependent on is brow makeup. Full brows, a la Brooke Shields, seem to be all the rage right now.
Now, if you are determined to go completely makeup-free some days- then I suggest brow tinting. Benefit brows have this service and I've found the experience to help reduce the time of getting ready and on days I really want to go completely makeup-free, the tinting has helped immensely.
But, for the no-makeup makeup trend, brow tinting is just a saving time measure.
Next, I follow it up with a bit of brow pencil. This one is my favorite.
I simply fill in my brow where it looks a bit "weak" or sparse. And use the brush to make it look more natural, less defined.
Next, use a brow gel to brush your brows into place and create a more full look. I prefer this one since it has a slight tint of color to it.
Again you don't want to be too heavy-handed but a full brow is our goal.
Step 5

Mascara (with a light hand)
I won't deny that a bit of mascara can go a long way in giving you a fresh-faced look. But, in order for the no makeup, makeup look to be successful you have to have a light hand.
For this beauty look, we are not going for extreme lashes or heavily clumped/extended.
We are going for a light coating to darken the lashes and bring out their natural-length and texture.
I typically find one of two light coats suffice. Followed by a q-tip to remove any clumps or smudges.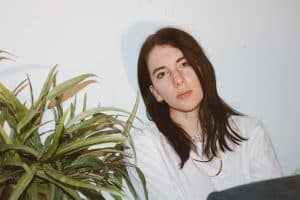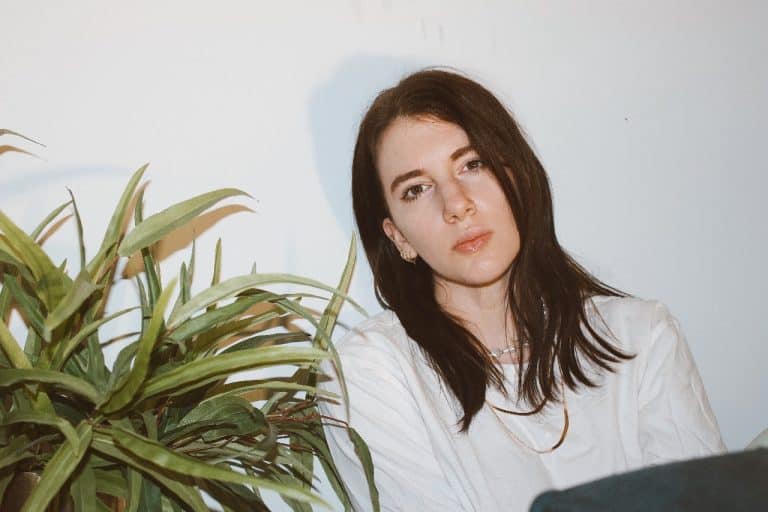 Step 6:

Lip Balm
Adding a bit of lip balm is my last step, especially in those winter months. I prefer Glossier's Balm Dot com, because it is the best at moisturizing my lips while giving me a subtle shine. They also have some tinted versions that can work as well. [ the best Glossier Dupes you can find]

If you choose a tint I would avoid anything too dramatic, since we are trying to look like "oh hey, I just wake up this gorgeous". Can't give the secret away 😉
And that's it… Now, you may be horrified and thinking, what about blush and eyeliner and illuminating my cheekbones so that I simultaneously look like I am glowing AND made from marble.. Well, I'm sorry but that is not the goal of this look.
This look is flawless, low maintenance, and simple. Save the blushes and contours for your day off because this no-makeup makeup look will make your weekday beauty routine flawless and easy.
Now, as a note, we all have our insecurities. For a long time, my skin was an insecurity of mine, but I took steps to change that. I recognize, that you may have an insecurity too. So if you can't go out without some under-eye concealer, or you need a bit of bronzer- it won't ruin the look. Simply limit how much you apply, and try to move past the insecurity with time.
Deviating from your norm may take some time, but I promise you once you do that it will be such an exciting and beautiful result.
___
And not to be a broken record, but this whole beauty routine took less than 4 minutes.
Go rock that no-makeup makeup trend, and convince everyone that you just wake up that gorgeous.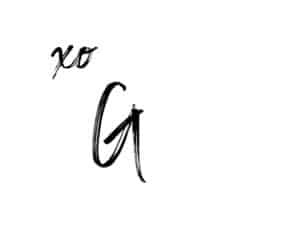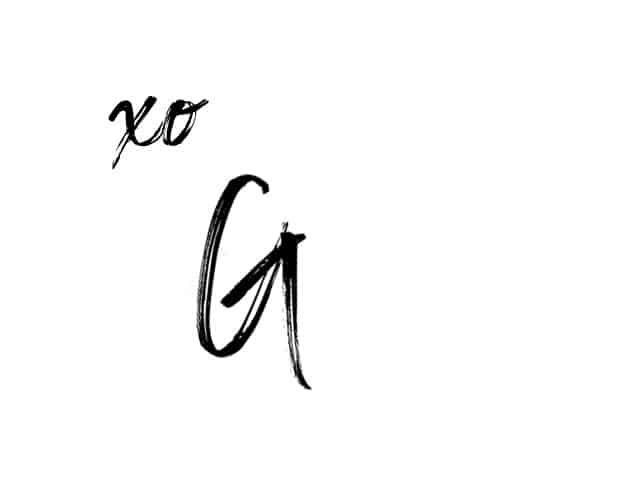 P.S. BE SURE TO PIN THIS FOR REFERENCE