Whether it's Bella Hadid, Kendall Jenner, Emily Ratajkowski or Kaia Gerber, I bet you have a Pinterest board full of their amazing looks from over the years. Learning how to dress like a model off-duty is about highlighting your body shape, investing in chic wardrobe staples, and adding in subtle notes of trendiness.
Models may wear the latest and greatest on the runways, but for their everyday style they usually keep it refined and streamlined. Mixing wardrobe staples with some unique styling techniques and trendy details is the easiest way to dress like a model.
13 outfits to copy if you want to dress like a model in 2021
1. Straight leg pants, cropped tank, boxy blazer, and classic sneakers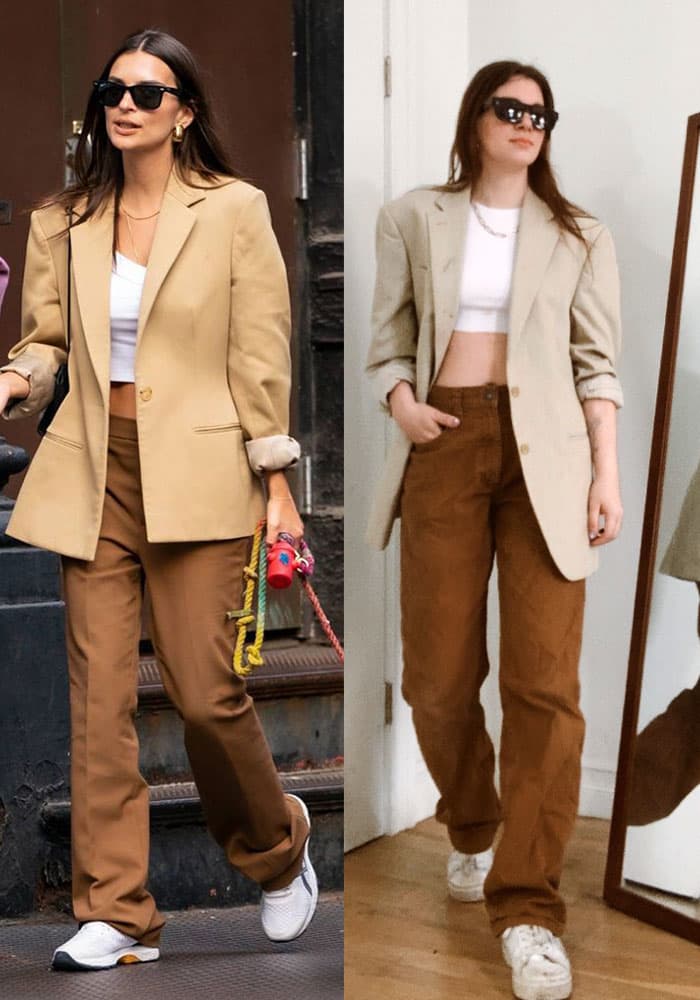 Emily Ratjakowski is known for her ability to seamlessly wear oversized pieces or men's pieces, and this is a great example of how to do it.
These are all pretty basic fashion items that you probably already own, but the combination of the brown color trend, and the chic accessories and styling makes it feel current.
This look is extremely balanced as the crop top allows the outfit to feel feminine, as do the accessories (sunglasses, hoops). If crop tops aren't your thing, opt for a form fitting bodysuit to keep a similar vibe.
The pops of white (in the tank and shoes) help lighten up the tonal browns and keep it feeling easy-going. This is a great outfit for brunch, hanging with friends, or casual daytime outings.
2. Leather pants, cropped white tank, sheer blouse, strappy sandals, and shoulder bag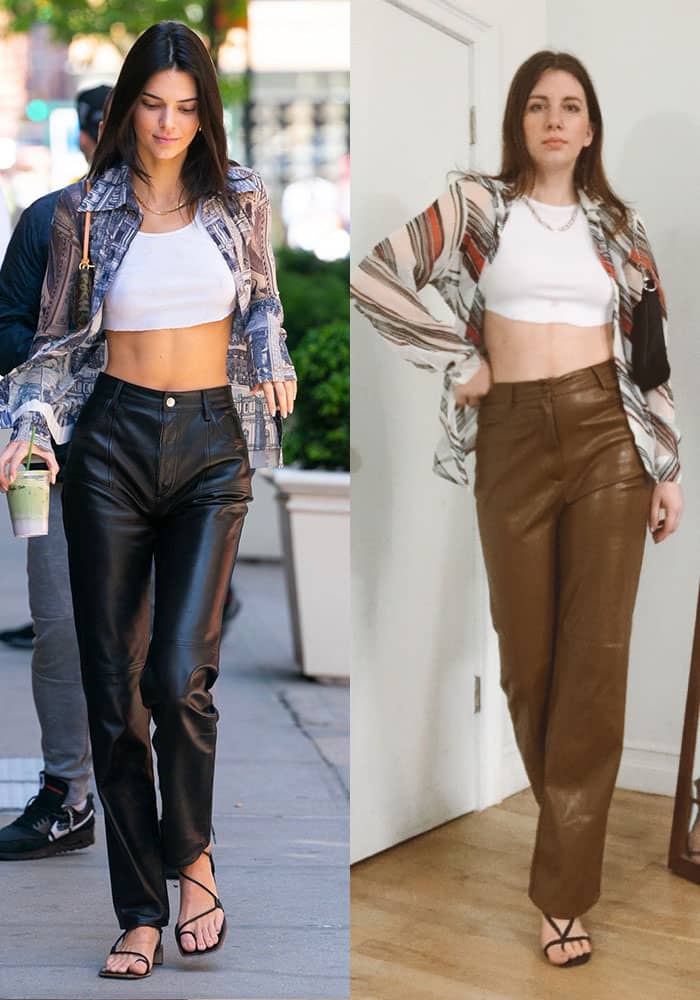 Kendall Jenner never misses a beat when it comes to easy-going yet modern feeling outfits. Her model off-duty style is never fussy, but always feels "new".
The straight leg leather pants are definitely in style for 2021, and the fitted blouse is also a big trend right now. However, the outfit doesn't appear overly trendy or unapproachable.
Keeping your accessories simple and your styling details minimal will help keep this outfit cool and casual.
Also you'll notice most of these model off-duty outfits don't include high heels. If there is a heel involved its usually a lower option. Model-off duty style is about combining basics that feel easy and chic, and because models are always on the go (and wear heels during their job), they often opt for very comfortable shoe options.
Loving this model content?
check out these posts too:
3. Cardigan/bra set, jeans, belt, gold necklaces, low heel sandals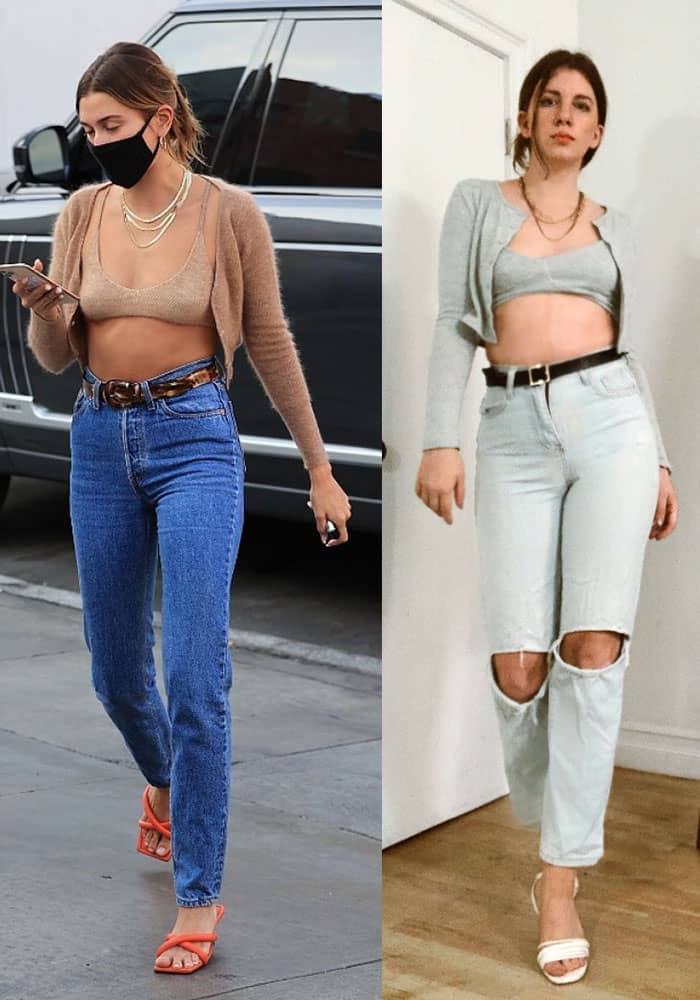 Hailey Bieber's style has only helped her career sky-rocket. When she first came on the scene and showed an interest in modeling, the fashion world did not welcome her with open arms. But after she cemented herself a style icon, her modeling opportunities only continued to grow.
Her style includes a lot of basics, like slim jeans and cardigans and occasionally involves some oversized pieces for interest.
These are a classic jean shape that you probably own, and not only are they incredibly flattering, they are also very versatile.
The belt and belt buckle help add interest to this look and make the jeans highlight her waist. A well-fitted pair of jeans is a must if you want to dress like a model.
The details of this model off-duty style is fairly simple and Hailey opts for a few gold necklaces to add some interest.
related: how to layer gold necklaces
4. Leather jacket, straight leg jeans, cropped tank, classic sneakers, baseball hat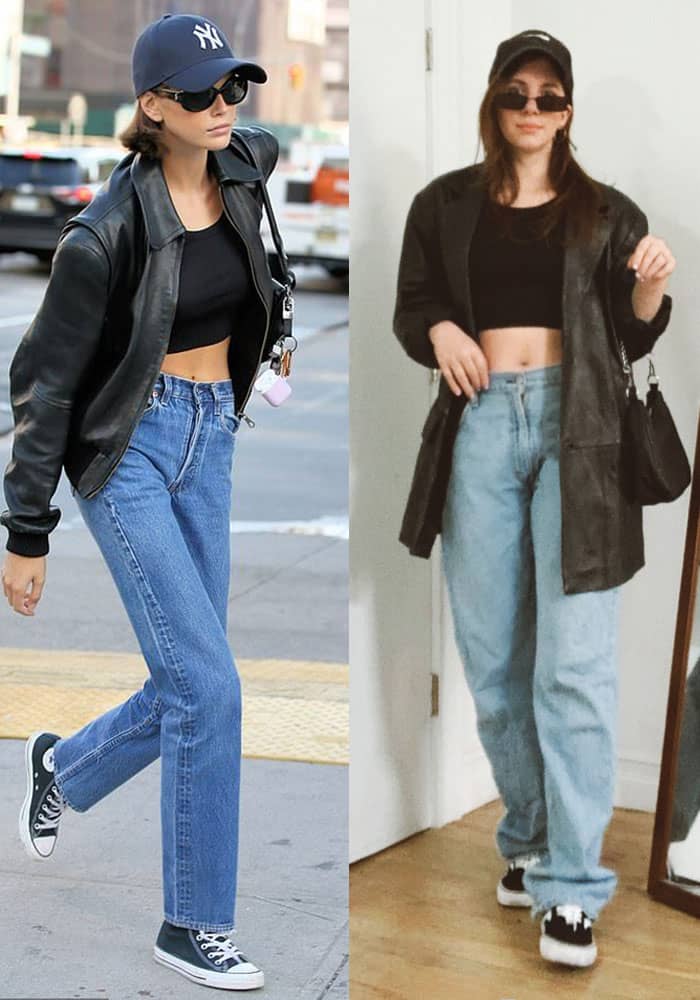 Kaia Gerber is known for her tomboy chic style, and it is a great example of how model style doesn't have to be overly fussy or feminine.
Her leather jacket really makes this outfit feel "cool" and interesting. Instead of a moto-jacket, the bomber (or leather blazer in my outfit) feels more trendy.
Classic sneakers are a must if you want to dress like a model. Classic sneakers like converse, reeboks, or lace up vans are a great easy shoe option that goes with practically every fashion choice. Add to a simple model outfit formula like this one, or pair it with a dress to make your look easy-going.
5. Oversized button-up, denim shorts, classic sneakers, tube socks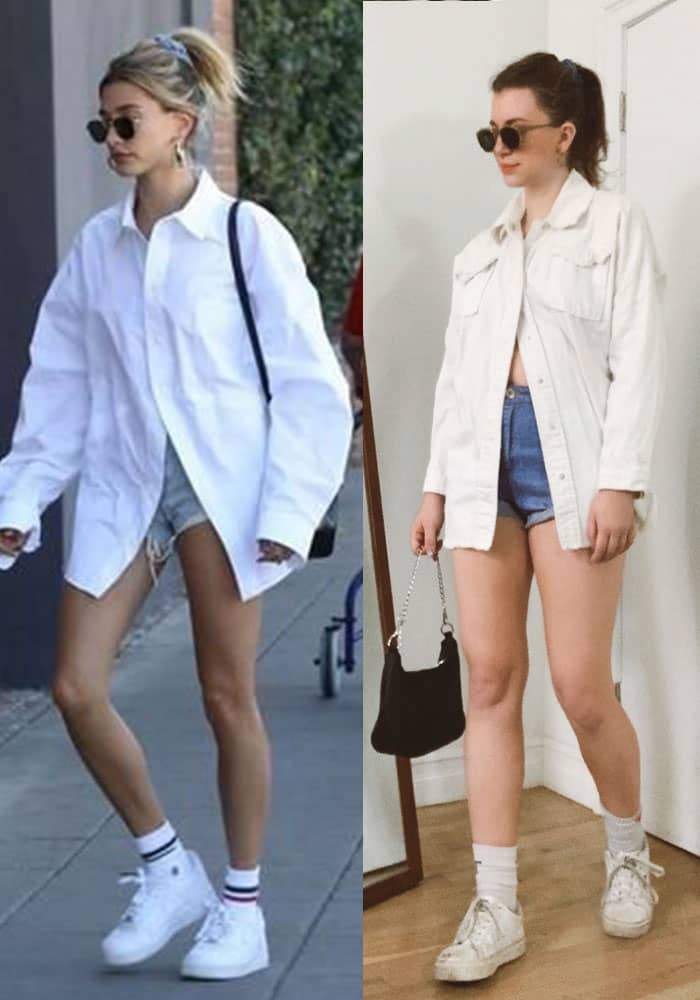 I can almost bet you have these items in your closet already and can easily master this Hailey Bieber look.
Oversized men's shirts are one of my favorite wardrobe staples, and if you want to learn more about wearing menswear as a female, check out this post.
This outfit is great for spring or summer and would work well for any daytime excursions, brunches, errands, or shopping trips.
The accessories add a lot to this look. While the sunglasses, hoops, and bag feel very classic, the striped tube socks and scrunchie add a bit of fun, trendy vibes to the entire look.
But the biggest takeaway is to add a men's button up to your wardrobe. It's a chic layering piece, a fun top, or even a dress.
6. Leather coat, printed blouse, leather pants, sneakers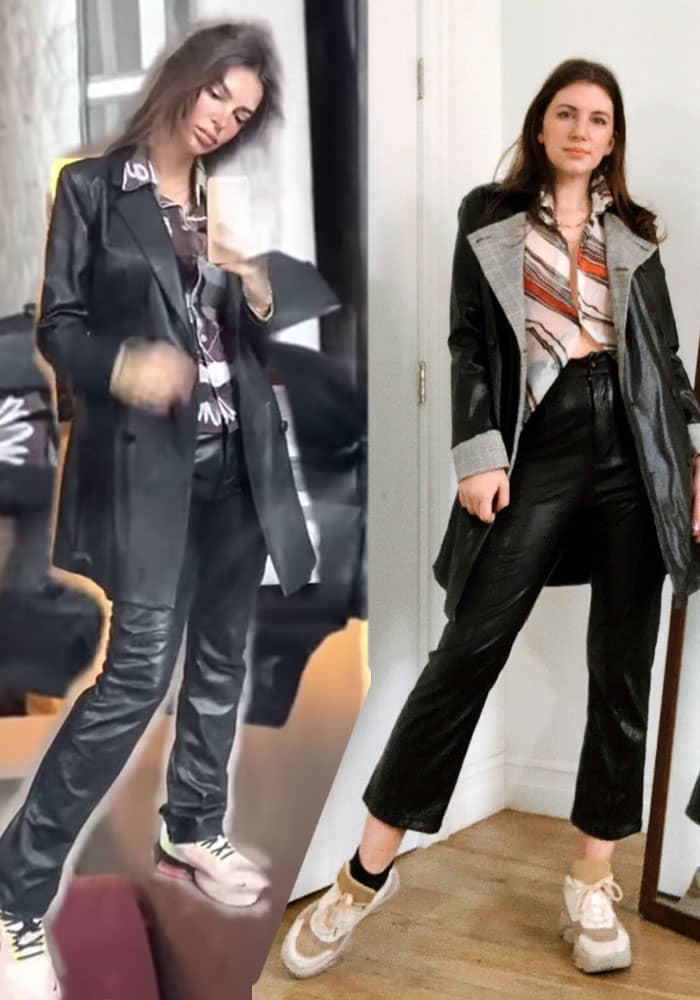 Emily Ratajkowski loves a good retro-print blouse, and her brand Inamorata has some great options for this.
The leather pants and jacket are classic staples that when paired together feel super trendy and modern.
And once again, we see a classic sneaker as the go-to shoe choice for the model-off duty look.
The sneakers make this Emrata outfit feel more casual and daytime than if she had paired it with a heel or sandal.
The lack of extra accessories in this model outfit makes it perfect for everyday style. It looks polished and trendy, without looking overly done or like you "tried too hard".
7. Cropped white tank, high-waist wide leg jeans (white), white boots or heels, shoulder bag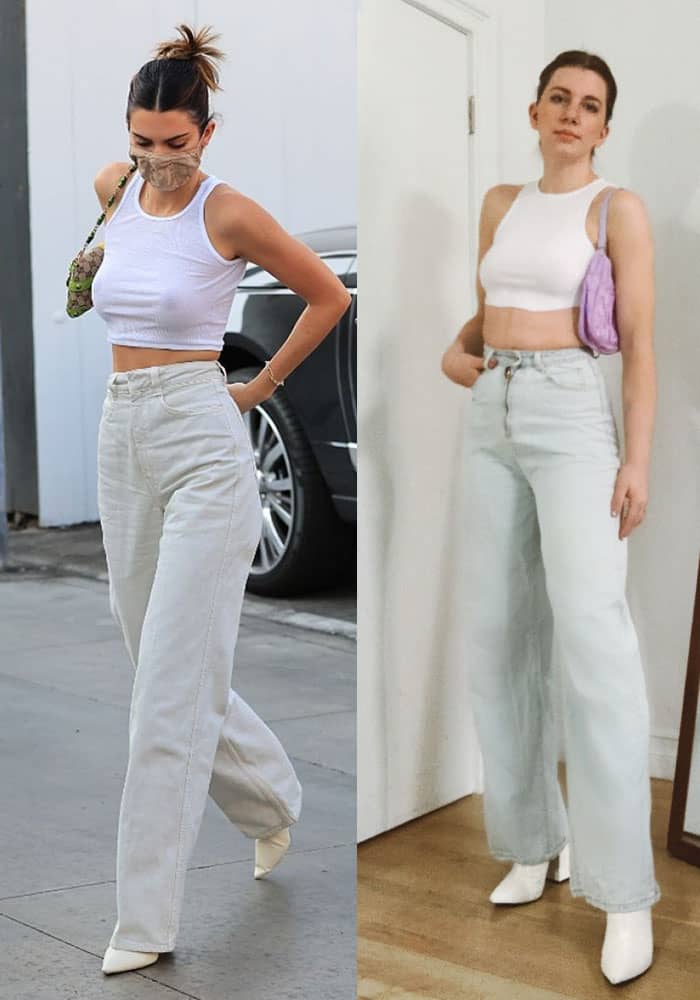 Leave it to Kendall to create outfit perfection with this monochromatic look. This outfit is incredibly simple, and feels very put-together.
Monochrome is a great way to elevate even your wardrobe's most basic pieces.
The pop of color/print in the shoulder bag is a nice way to add some interest without detracting from the overall looks' simplicity.
In order to dress like a model you need to let go of the impression you need all designer pieces, or all trendy items. The model off-duty look is best mastered when elevating simple pieces and applying the latest styling techniques.
And, if you need any more evidence for a white cropped tank, this Kendall outfit should cement that decision.
we may earn a commission from you clicking a link in this post. And as an amazon associate we earn on qualifying purchases. full affiliate policy, here.
8. Sweat pants, cropped tank, shacket or utility shirt, high-top sneakers with socks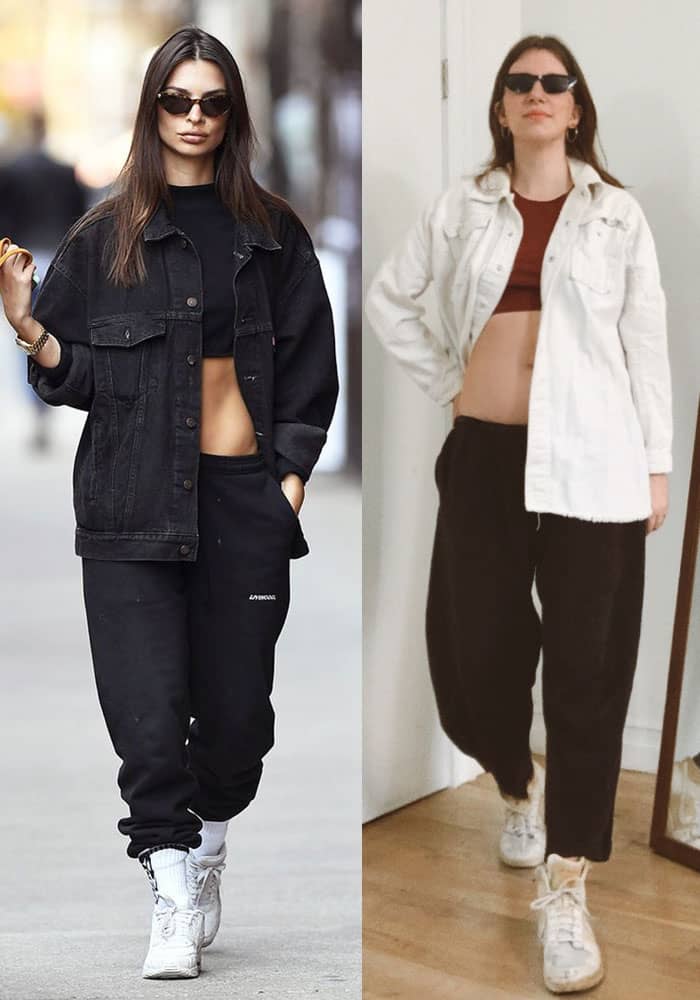 Emrata never shies away from showing her stomach. But, if that's not your thing opt for high-rise sweatpants or swap out the crop top with a fitted bodysuit, like this one.
This look is the perfect athleisure model look that is comfortable, trendy, and put-together.
Do you have errands to run on a Saturday, maybe you're grabbing coffee with friends, or taking your pup for a walk- this is the perfect elevated casual-wear outfit.
Model style always feel complete, even if the outfit is athleisure or loungewear inspired. And the styling details in this outfit make it feel finished. From her hair being down, the perfect pair of sunnies, and the sock details, this outfit feels intentional.
9. Wide leg trouser, flip flops, boat-neck bodysuit (or tank), and belt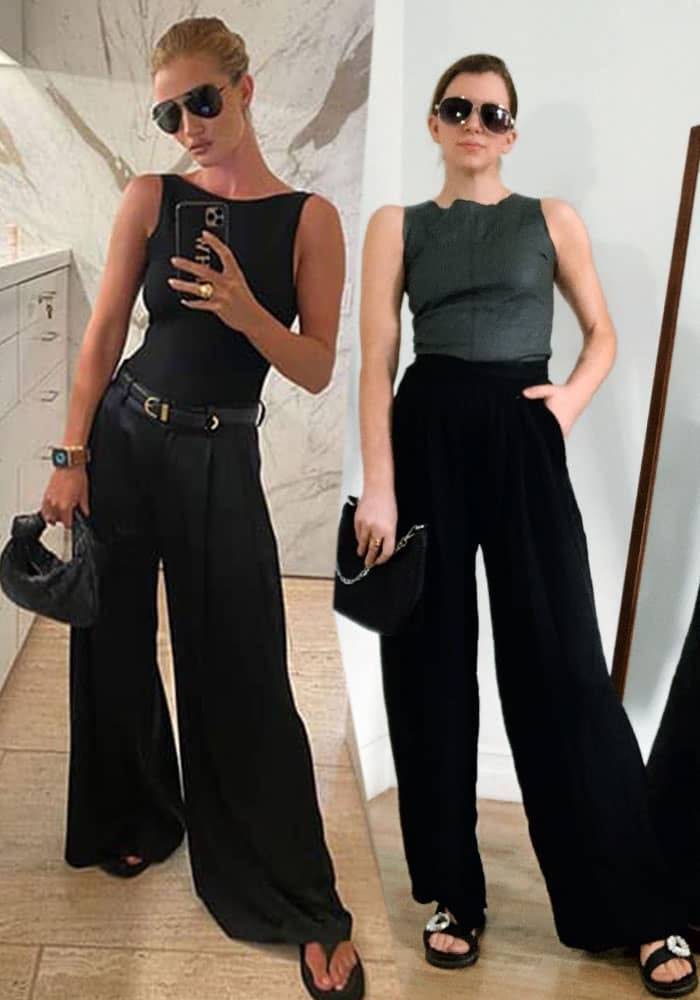 Rosie Huntington-Whiteley is the queen of elevated, minimalist style. Her outfits feel timeless, but also trendy.
This monochrome outfit is perfect for dinners out, or more formal daytime outings. Despite the casual sandal option, this outfit feels put-together and sophisticated.
Again we see model style incorporating flat shoes, monochrome/tonal outfits, and a great pair of sunglasses.
Rosie is a big of aviators and they definitely give this look a bit more edge.
10. Oversized white shirt, denim jacket, knee high boots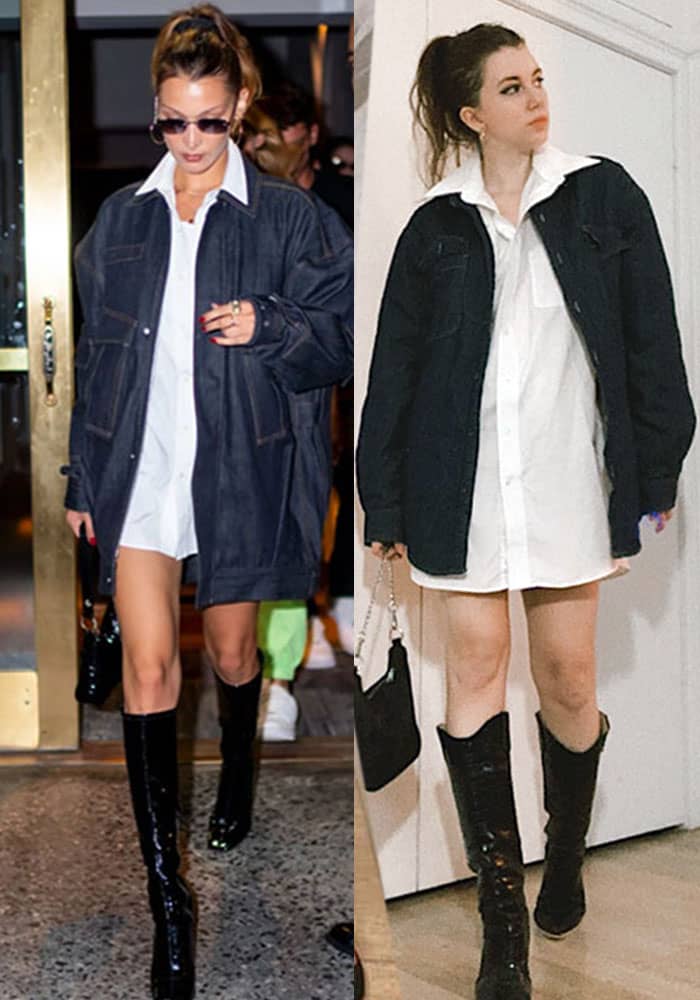 Leave it to Bella Hadid to make any look feel trendy and cool. She probably has the most fashion-forward model off-duty style out of all the models in this list, and I love her for it.
However, this a more toned down outfit of hers and one I love for a casual night out.
Again, we see the oversized white button up as a model-style staple, this time worn as a dress. The denim shacket or utility shirt makes the "dress" feel more complete and polished.
This outfit includes knee high boots with a heel, which makes it an outlier in this list. However, this outfit could easily be paired with classic sneakers or flat sandals for a more casual look.
Add in Bella's signature ponytail and you've got a sleek outfit to meet your friends on a Friday night.
11. Straight leg pants, cropped collared top, and classic sneakers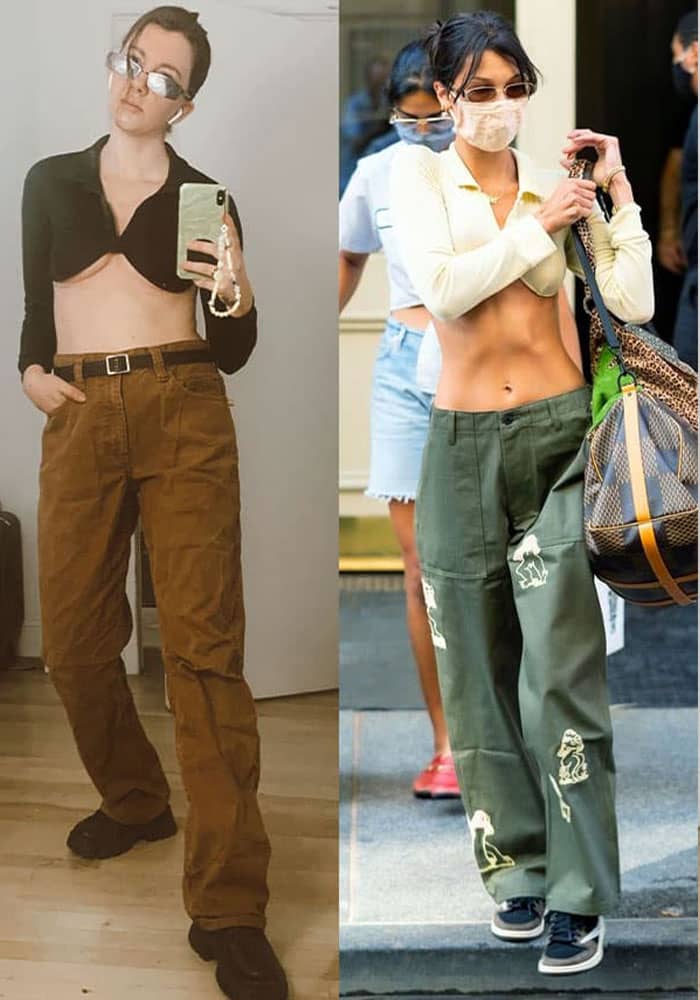 Another Bella outfit that feels very trendy, but still implements wardrobe basics. The straight leg trouser (think dickies, chinos, or cotton trousers) is a big model style trend for 2021.
For my lifestyle, I opted for a higher rise pant than the ones on Bella, but that's a personal choice.
The silhouette of this specific top is unique, but when paired with the trouser and classic sneakers feels laid-back.
Bella loves her rectangular, y2k sunglasses, which adds a particularly trendy twist to this ensemble. While sunglasses are definitely a model style staple, feel free to opt for a pair that works with your face.
12. Slim jeans, cropped white tank, sweatshirt, combat boots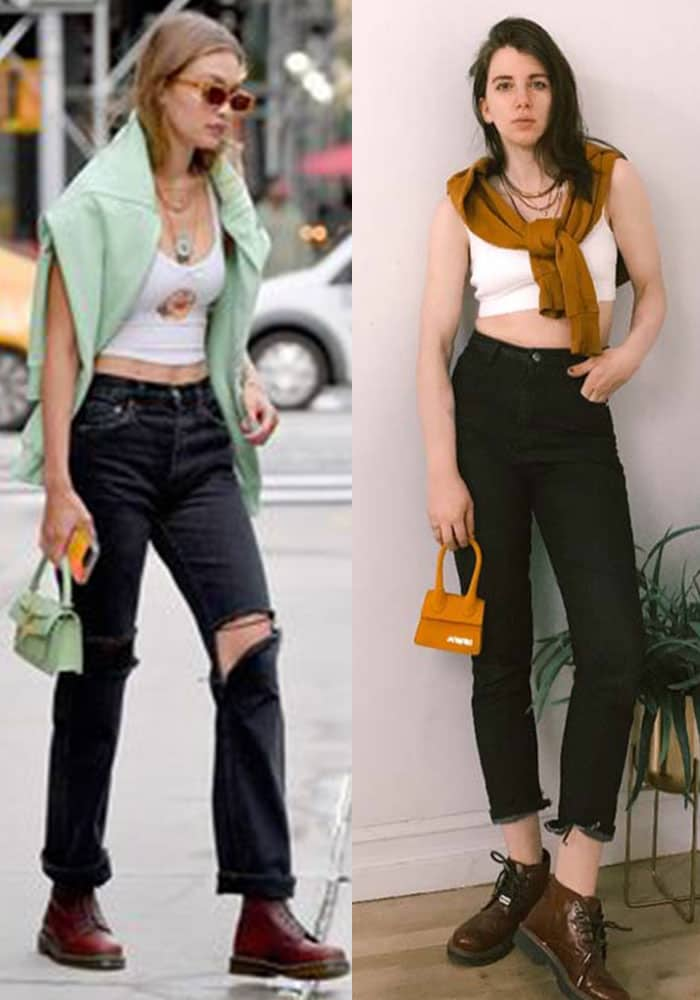 Gigi has a fun, and unpredictable fashion sense. However, she always looks put-together no matter what vibe she is going for.
This outfit is completely composed of basic pieces, however the trendy micro bag and the sweatshirt draped over her shoulders, along with the cool rectangular sunglasses makes this outfit a winner.
Subtle trendy notes- like the micro bag and sweatshirt styling, keep this outfit interesting and elevated.
The addition of the mint color (in my outfit the orange color) adds a much needed pop to the look.
While most model off-duty outfits are composed of neutrals, they are never afraid to add some pops of color (especially in supplemental pieces) to make their outfits have more depth.
13. Jeans, Shacket, sneakers, and a baseball hat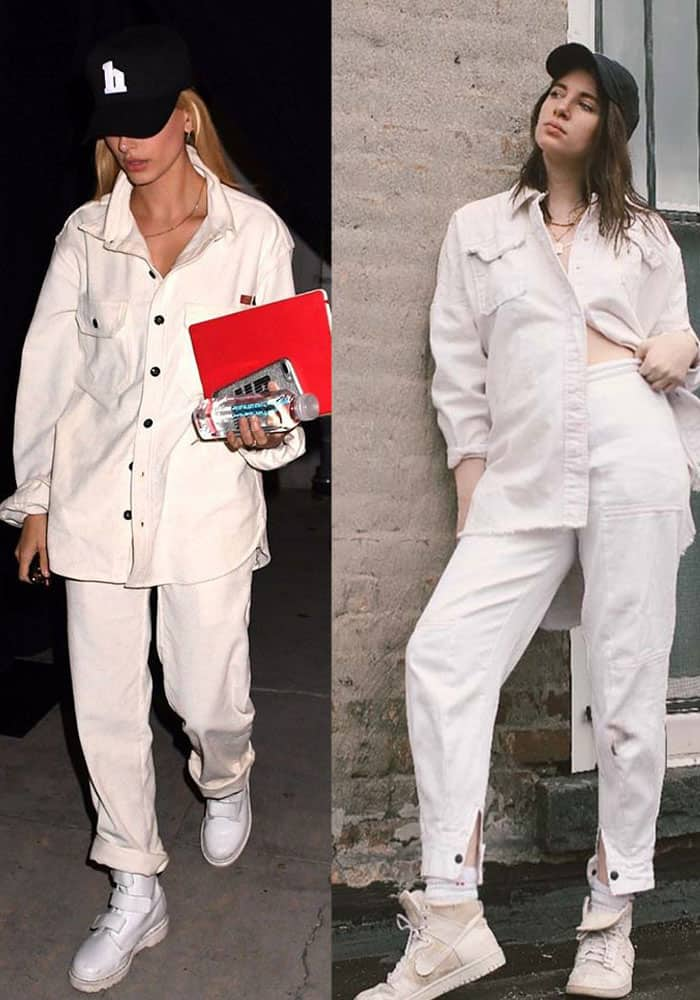 This Hailey Bieber outfit is cool without even trying. The all-white ensemble feels modern and easy-going and would be perfect for casual outings with friends, errands, or even chasing your kiddo around the park.
The oversize white shirt, or shacket is clearly a versatile piece and can be worn in so many different ways.
What's interesting about this look is it still feels balanced even though both pieces are baggy. I think the subtle styling details- like the cuffed jeans, and the proportions of the shirt really help to not overwhelm her frame.
If this outfit feels too baggy for you, you could try a french tuck to add a bit more definition to your shape.
The baseball hat and high top sneakers also feel very intentional and set this outfit firmly in the "casual" category. Sometimes the best outfits really speak to one specific style.
Tips to dress like a model
Keep your outfit composed of mostly basic pieces
Use trendy styling techniques
Try a monochrome or tonal outfit
Don't be afraid of simple accessories
Definitely find a go-to pair of sunglasses
Classic sneakers and high-top sneakers always look chic
Straight-leg trousers need a place in your wardrobe
Cropped white tanks are a must-have model staple
Don't overdo it
Keep your hair simple and find a no-makeup make up look

Dressing like your favorite model doesn't have to be expensive or impossible. In fact, once you master some of these model outfit formulas, your style will naturally improve.
Struggle to find your personal style or make your closet work for you. Check out my Craft The Closet of Your Dreams Playbook to achieve the style you were always meant to have.
Now, go give the world your best model off-duty look!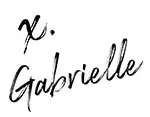 Pin the below image so you can always dress like a model and crush your everyday outfit game!