Spring is here and that means spring shoe trends are upon us. No matter your fashion persuasion, most women love shoes. Maybe that's a generalized stereotype but one rooted in truth. Shoes are flexible, they can be more adventurous without going majorly out of the box. Even designers feel comfort with pushing boundaries when it comes to their shoe designs. So let's face it- shoes are probably the first step in expanding your fashion boundaries.
There is this apocryphal tale we have been told that in the 1920's men designed heels for women because they didn't want them to run away from them. If that was true I would tell you that man designed heels to make women stronger so that they could, in fact, walk away from them, and do so looking hella sexy.
However, that story is not true. Heels date back way farther than the 1920s. There have been versions found in ancient Egypt (most likely worn by higher status individuals), And in the East- where Emperors were crowned wearing platform shoes.
The more modern iteration of the heel comes from European "chopine" style. Originally attributed Catherine of Medici in Paris in the 16th century, and almost certainly due to her short stature sans heels.
In the 17th century, women were marked as witches for wearing heels and punished by English Parliament for seducing men to marry them (ya, like that isn't a concept we still use to say- I say they were forward thinkers).
But, the art of the heel was not for seduction- it was for warfare. To allow warriors in stirrups to stand higher when shooting their bow. And if that isn't a bold vote for heels, I'm not sure what is.
So my point in telling you all of this, is that heels don't have to be something you fear. They don't' have to be something you equate with a little black dress. They are a creative, expansive style trend that you can embrace in your own way.
Now- some people claim they are uncomfortable. And to that, I say- a lot of life is uncomfortable but we persevere. And to be honest, when you find a well-made heel that fits the shape of your foot- they are no more or less comfortable than any other footwear.
Not everything should be about comfort. Discomfort can sometimes lead to change and growth and I believe embracing your style of heels could equally give you a boost of confidence or at the very least really up your fashion game.
So this spring/summer is upon us and our boots are being tucked away for winters to come and our flirty sandals and heels are coming out to play. But when picking your shoes this season I'm here to give you a breakdown of the trends you need to be eyeing and taking into consideration, if not whole-heartedly loving and embracing.
Clear Elements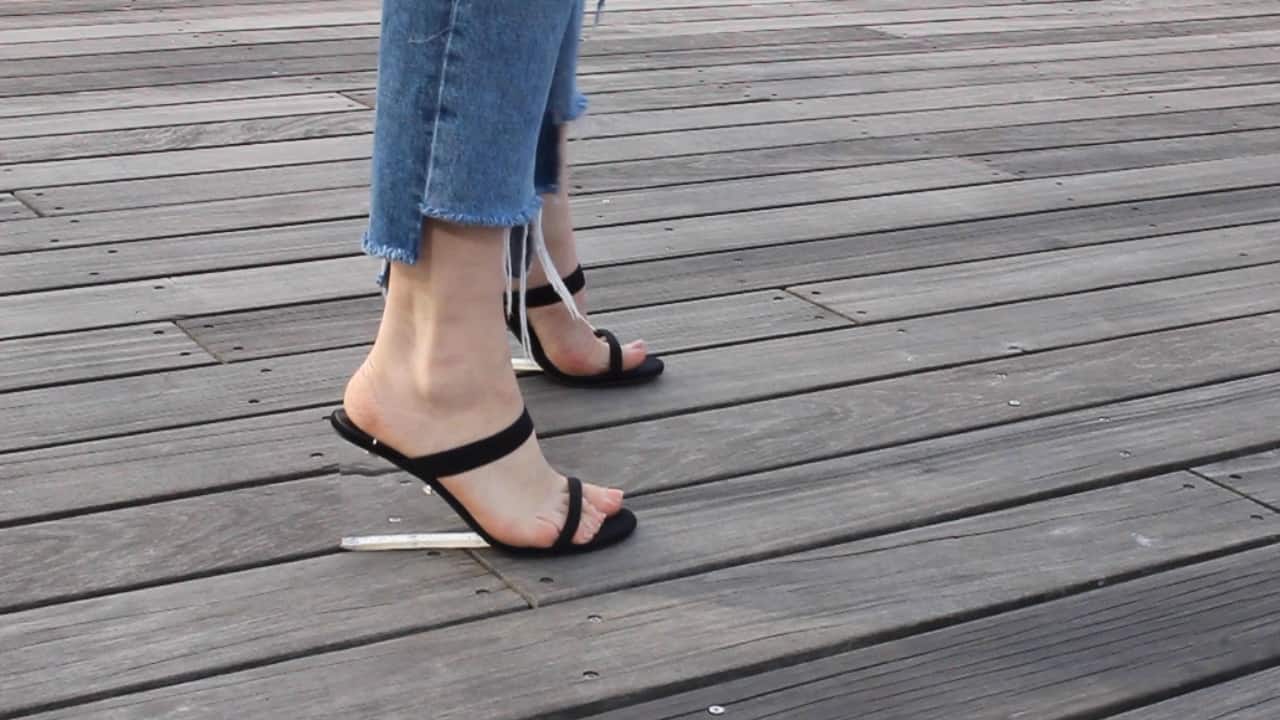 So we discussed the importance of heels and their roots (that they were actually first worn by men, and their role in keeping women closeby is a fairytale as far as history is concerned). But, clear heels or other clear elements on shoes can inevitably remind me of Cinderella. Poor Cinderella, fleeing the castle and losing her one shoe… Well, these clear heels are not Cinderella's glass slipper. They will neither fall off if you happen to be running from a ball/prince nor will they potentially maim your foot if they break.
Actually, if you want to discuss Cinderella's slippers- some believe the original fairytale had her wearing squirrel fur slippers ( a luxury item at the time) and that glass slipper was a mistranslated mistake. Oops.
But clear elements have been popping up everywhere. The first clear shoe done in this decade was by Salvatore Ferragamo in 1947 and he used transparent strands of nylon to create straps around a wedge or F shaped heel. He won the Neiman Marcus Award for this endeavor. And we can all thank him that Yeezy and Tom Ford have taken that inspiration and run with it.
So we can all agree clear heels have been in our history, but they are taking a hard and firm stand in fashion today, as well.
How can you implement this trend? Clear elements on any part of the shoe fit this trend… Whether it is clear straps, clear wedge, or even a clear heel all together- they all nod towards this ever-growing trend.
I suggest you try these shoes on in person to make sure they are comfortable. Most of these heels will either be made with plastic or perspex and it should be noted that they will conform to your foot after a few wears. The first time I ever wore my Yeezy vinyl heels my feet almost died- but after that day they have been very comfortable.
** we may earn a commission from you clinking the links in this post at no additional cost to you, for the full affiliate policy, click here.
So here are my picks for clear heels:

---
90's Inspired Heels
The '90s are bigger and better than ever these days. Bucket hats, bike shorts, hair clips, and now 90's inspired shoes. The 90's square toe strappy sandal (a la Carolyn Bessette Kennedy) made famous by Gucci has had a major resurgence.
These heels are simple and comfortable. There should be a few markers to look for for this trend (not all shoes have to have all of these elements, but they should have some to fit this trend)- square toe, small multiple straps, simple by design, woven textures (think huaraches re invented), interesting heel shapes, flip flop straps, and toe straps).
These heels look amazing with jeans and a tee shirt, but my favorite way to style them is with a simple midi dress. It can be a simple silk slip or a knit piece, either give a welcomed nod to the '90s without looking like a costume. Check out my post on slips for more information on how to wear them IRL.
Here are my picks for 90's inspired shoes

it should be noted that some of the above style heels are inspired by even earlier decades, but the purpose of this post, I am using their reference point as the 90's since they were resurged and reinvigorated within that decade.
---
Simple Straps
So yes, simple straps can fall into the 90's inspired heel trend category… However, it can be broader or more specific than that. So for the purpose of this trend, we are specifying simple straps as its' own spring shoe trend.
Simple straps, muted tones, toe straps with varying heel heights are all very popular right now. They are easy to style and look elegant and modern whether you dress them down with jeans and blazer or whether you rock a fun summer dress. They add a modern touch to an outfit because they are well designed and proportionally simple. Their lack of detail is what makes them beautiful. They say simple things are the hardest to design because they can't hide behind flashy features, and these shoes have been thoughtfully, strategically designed.
Here are my picks for simple straps

---
Cowboy Boots
You might be wondering why a boot made the spring shoe trends list… Well call it a bit of Coachella fever, or maybe just the simple fact they look amazing with the more masculine styled pieces/blazers… But cowboy boots and other equestrian style boots are going to be popping up everywhere this season. We've seen Dior do versions on the runway, we've seen countless influencers investing in their own pair… But the real question is how do you wear them in summer?
Boots can totally be worn in summer…. You just have to style them the right way. I think traditional cowboy boots look great with a pair of jeans and an easy top, but you can also go further and pair them with a shorts and military blouse or blazer. They also look great with pants tucked into them and a blazer thrown over your shoulders. The key is having balance. If it's sweltering out, keep the clothes more minimal- a pair of high waist denim shorts and a belted blazer or vest would look great with a pair of cowboy boots.
There are varying degress of this trend as well. You can go full force Equestrian cowboy boots complete with leather stitched flowers etc, or you can keep it more cowboy inspired for a more versatile investment.
Here are my picks for cowboy/western style boots

---
Pointed Sole (open-toe) Heels
So I'm not talking about pointed pumps. I'm talking about sandal based heels where the actual sole accumulates into a point. It's a hit or miss trend for some people. You really have to try these shoes on in person (or buy with a flexible return policy) because the shape of your foot and the acute angle of the point dictates whether they will be a success or a failure.
It's a great way to bring the pointed pump trend into spring and summer and its definitely a more sexy vibe. These shoes are great for going out. You can pair them with any military style dress, or any blazer and jean combo.
The latest iterations of these shoes often have other trend elements we have talked about- pvc/clear elements and/or simple straps.
I love this option for a night out on the town. But if you plan to wear them during the day I suggest you pair them with denim so that the vibe is daytime appropriate.
Here are my picks for Pointed Sole Heels

---
So there you have my spring/summer shoe trends. There will be a follow-up post on the biggest sandal trend I see coming for summer- and if you want to get the latest updates be sure to sign up for the newsletter below
[mc4wp_form id="7172″]
And for more video content, subscribe to my Youtube Channel, here.