The 90s have been filtering in for awhile now, and trends sometimes make a brief appearance and then slowly slink away… But this trend, has staying power. The 90's are back, and I'm here to tell you how to embrace these trends the right way… You can add 90's elements, and YET still look modern. By no means does this mean it is ok to rock cornrow parted hair and embrace the "hit me baby one more time" look…
** we may earn a commission from you clinking the links in this post at no additional cost to you, for the full affiliate policy, click here.
For more 90's outfit ideas, check out this post.
90's Fashion Trends
Lets begin with Dr Martens….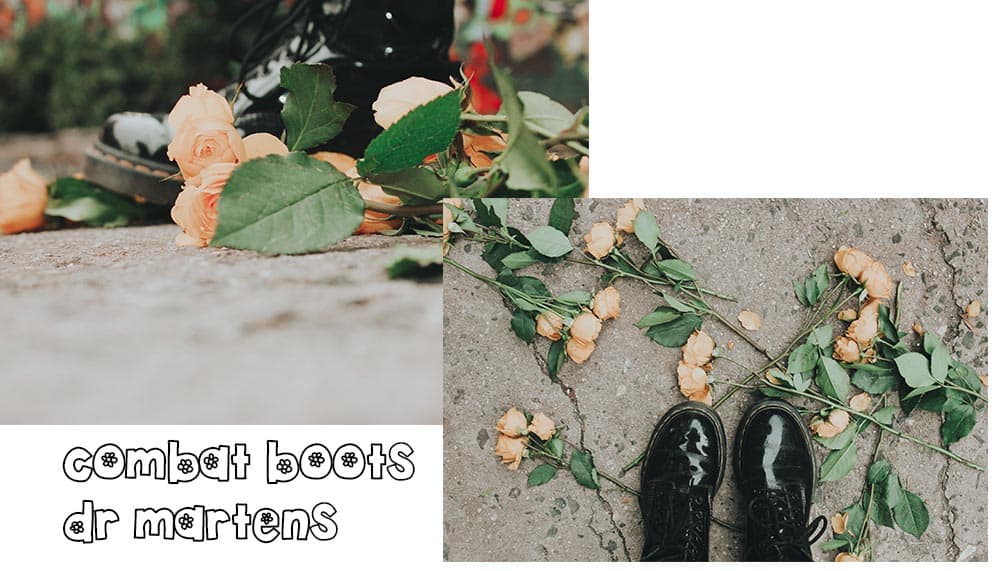 Doc Martens.. Grunge really never disappeared but these bad boys are definitely finding their groove once more. They are the perfect harder element to add to a slightly feminine outfit. Or rock them with your favorite pair of jeans and a military jacket and REALLY commit. They are comfortable, they can handle any weather, AND they make you look badass. Really, my feet appreciate this trend… I can tackle the world and look cool.
If you want to be adventurous pair them with a feminine maxi dress to edge up a girly look.
Below are my picks, but you can also click here for to shop all options.
[wds id="6″]
Barrettes and Hair Clips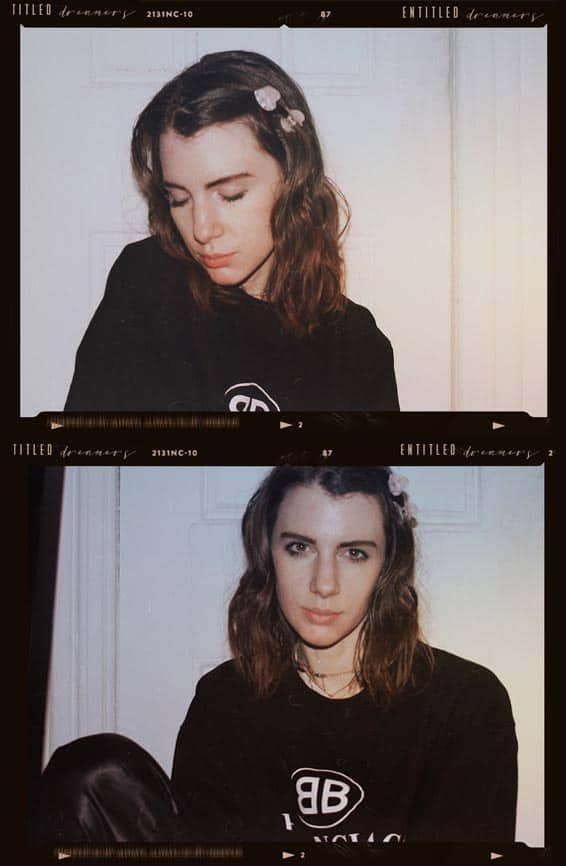 On this front, less is NOT more, more is more. However, there is a careful balance between looking like a 5 year old and looking like you are on trend. I suggest pairing extra girly clips with more grunge style look to add some contrast. I also suggest avoiding the 90s hair trends, and just using the clips. IE no twisted cornrows or zig zag parted sections with butterfly clips.. Instead opt for a "now" hairstyle with 90s clips. You can overdo a trend by being TOO authentic to its' origin. The point of trend resurgence is to bring back a fad in a new and modern way.
Sneakers: Ugly Ones at that…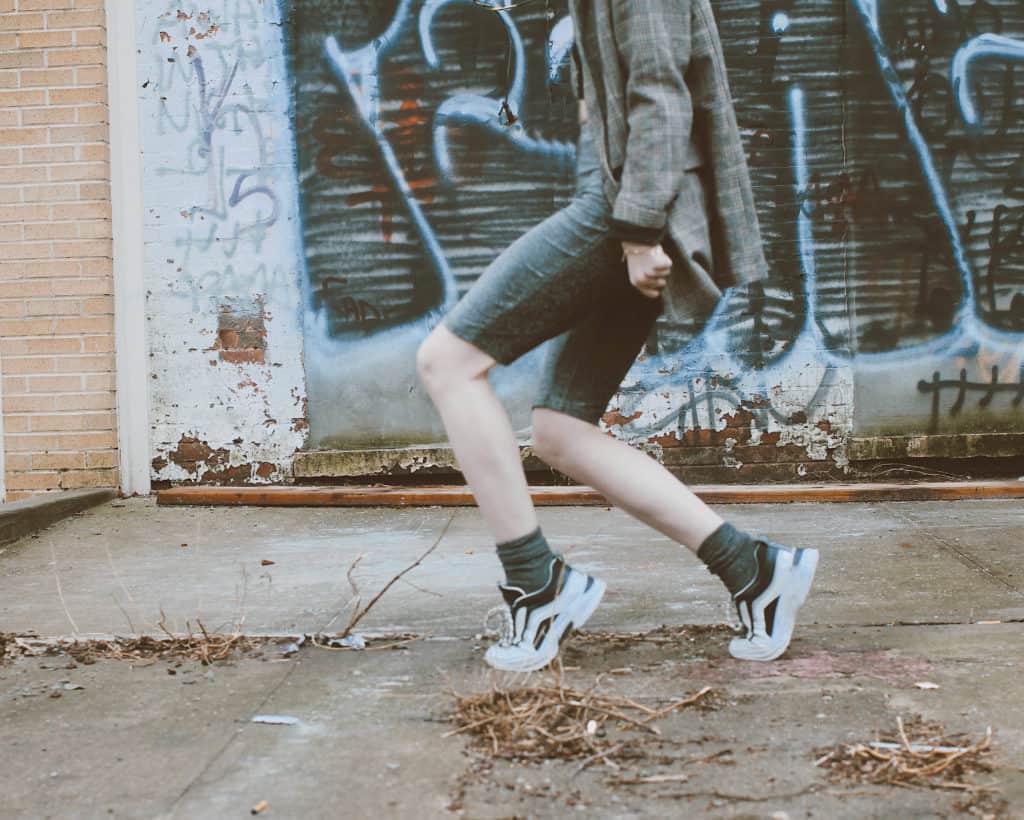 Ugly trainers are back and so are filas, new balance, and adidas. The chunky sole trend applies for sneakers AND dr martens. The chunkier the better. The key to this trend, in my opinion, is just embrace the fun. It's not something that will be around for seasons, and it's not a style staple, but it is a fun way to edge up a classic outfit, or a unique way to dress down a more elegant outfit.
Plus, lets all be thankful for once fashion is allowing us a walking friendly shoe that is ACTUALLY comfortable. So for that reason, among others, I'm loving this look.
Glitter here, Glitter there, Glitter EVERYWHERE: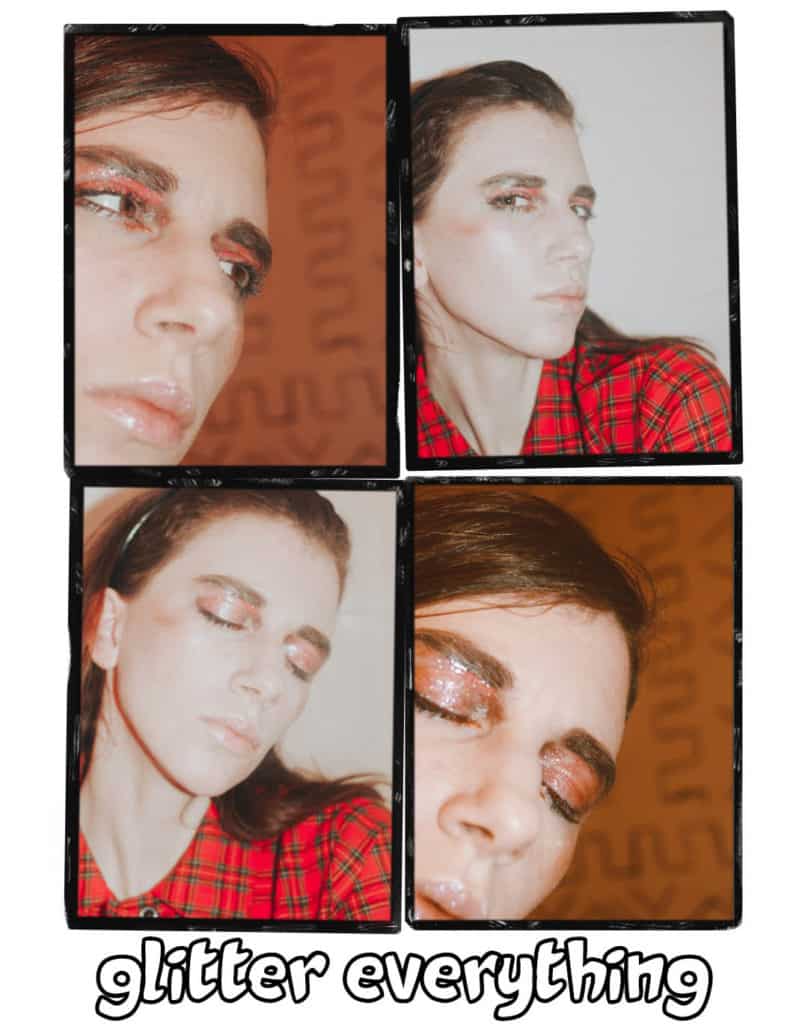 From glitter lip gloss, to glitter highlights on cheeks and eyelids, it is back. This is a fun, non committal way to do the 90's thing. If chunky sneakers and hair clips aren't your thing, try adding a little glitter to lids or lips to add that 90's fun. Any drugstore has super inexpensive options for this trend ( wet and wild is a great option for disposable trends).
The 90's were really about glitter with gloss. So the clear glosses or slightly tinted glosses that have lots of glitter in them fill this trend the best. Also, the multi use glitter options that can be used to add a bit of shimmer on your cheeks is also a fun execution. Although, be prepared to get glitter on any and all people in your life. If they complain, tell them you're helping them embrace the 90's.
Crop tops and Bike Shorts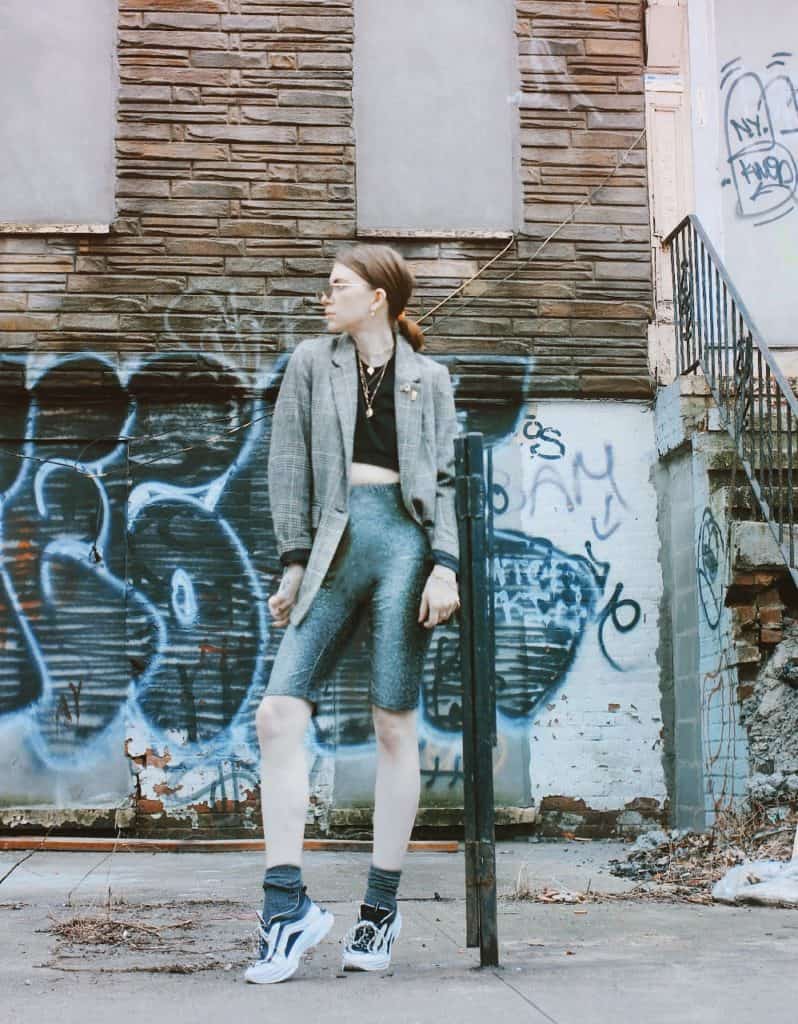 Bike shorts! WHO? Who would have thought this revealing and slightly cringe worthy item would ever be a major trend again. But, they are. And to be fair, I love the comfort element to these. They pair great with a crop top, or with an oversized tee or sweatshirts.The key with this trend is to embrace it, and wear it to the right event.. Would I wear a crop top and bike shorts to a birthday dinner or night out? NO!!! Would I wear it out to grab coffee with a friend, or on a daytime shopping spree. YES! It is a casual way to stay comfortable and trendy. Love it for specified moments, but don't get too obsessed.
As you can see I dressed up this outfit with a blazer, a great way to add a bit more "adult" to this trend… if that is even possible…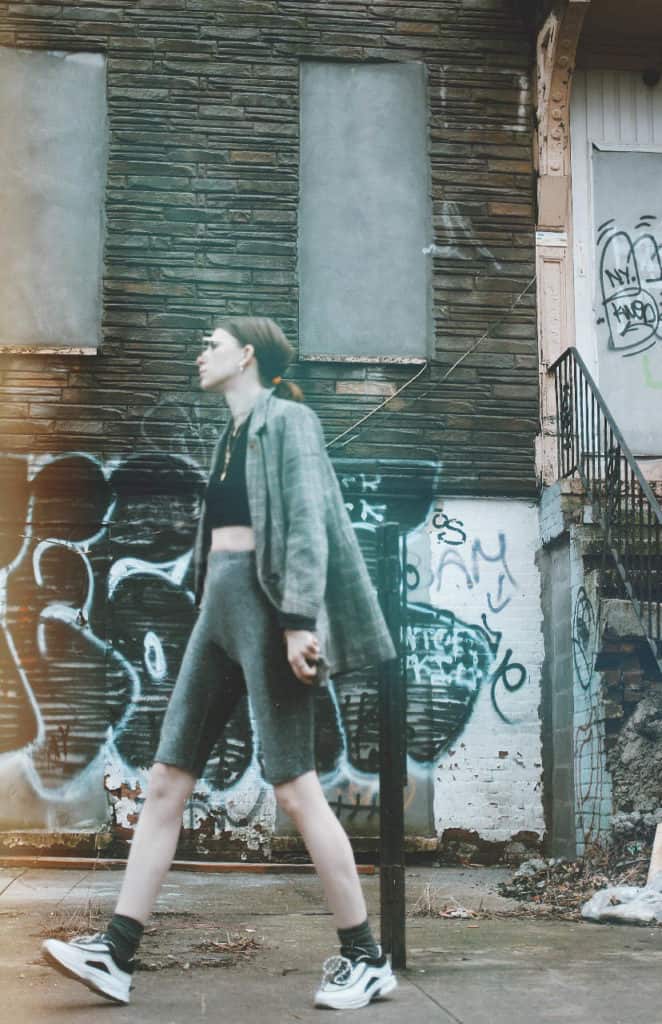 90's accessories: Whats the deal?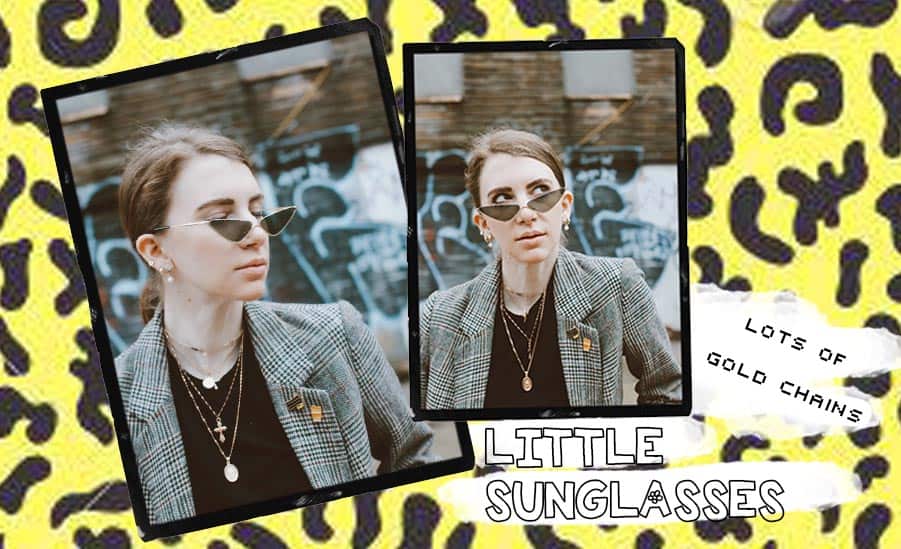 Lots of gold chains, Layered to be exact
So gold necklaces and chokers have been a thing for awhile. But now more than ever the layering of chains is back.. The 90s was famous for rappers sporting large gold chains, and girls wearing chokers, and now we have the fusion of these trends into one. The more chains the better, and it's nice if you can get them to have a seemingly scattered variety of length.. (A necklace spacer helps with this)
As you can see I have 5 separate necklaces on in this photo and they vary in length but are not too disparate. You don't want it so cluttered that your neck is tangled mess, but you also want the illusion of layers. I love the religious undertones of this necklace collection, and I think regardless of religious preference you can admire the aesthetic value of the iconography. But there are many other ways to get this trend with absolutely no religious undertones.
Small Sunglasses
The Audrey Hepburn shades are out (as of now, don't worry they will come back), and small sunglasses of all sorts are back and "bigger" than ever. Whether they be small angular frames, like these, or small round John Lennon frames, all are up for grabs with this trend. I suggest trying this style of sunglasses on in person- they are sometimes hard to pull off. It's all about getting the right style and size for you face. I tried on several frames before landing on this slightly larger "small" frame. It worked better with the angles on my face and didn't make my face seem massive in proportion. Which, is definitely not the goal.
I would suggest trying them on in person and avoiding them if they either don't overhang slightly past the edge of your outer eye socket, or if they don't actually block out sun. Not that they HAVE to be totally functional, but I find that a good gauge for whether they work with your face proportionally speaking. If I can see a lot of sunlight with them on, I've probably gone too small.
Now, if you are bold and daring and have bone structure like Bella Hadid, go as small as you like. This is just for people who struggle adopting this trend, and feel they can't pull it off. You can, there is just a bit more trial and error to do it right.
So there you have my trend watch for the 90s. Do you hate or love these trends? Which ones will you be sporting?
For more styling tips check out this page