So- we've all started to put our skinny jeans to the back of the closet and slowly, you will forget these jeans were ever a trend. Not, to say you can't wear your basic black skinny jeans ( I mean they ALWAYS look good)… But, for this fall you are going to be seeing a different silhouette pop up. So here are all the denim trends you need right now!
So let's start with what is replacing the skinny jean. It's going to be the more relaxed straight leg. This jean is an evolution of the quintessential mom jean but is a bit more modern and even tomboy at times. More masculine shapes are definitely popping up on the runways and IRL- so this is an easy way to dip your toe into a more masculine shape without actually feeling like a boy.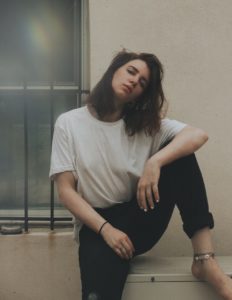 The relaxed straight jean is easy to wear- comfortable- and pairs well with basically anything. I prefer a mid or high rise because I think these jeans look fantastic with a crop top or oversized tee shirt. Platform sneakers are coming back and they are the perfect daytime pairing with this style of denim.
If you feel this jean isn't feminine enough for you, then I suggest you pair it with a romantic, off the shoulder top, or something equally girly. The juxtaposition between these two creates a casual, but sexy vibe and is perfect for brunch with the girls or date night.
** we may earn a commission from you clinking the links in this post at no additional cost to you, for the full affiliate policy, click here.
Here are my picks for the relaxed straight leg jean

And here is my mood board for styling it: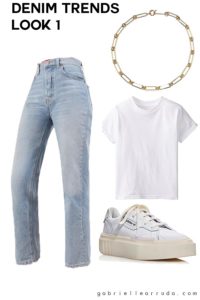 For the necklace, click here.

Ok, next up for denim trends- we have the slightly flooded wide-leg jean. Now, girls have been successfully rocking this style for a while, in everything but denim.

I've seen this shape in twill, linen, and even corduroy- but somehow, it can feel a bit harder to pull off in denim.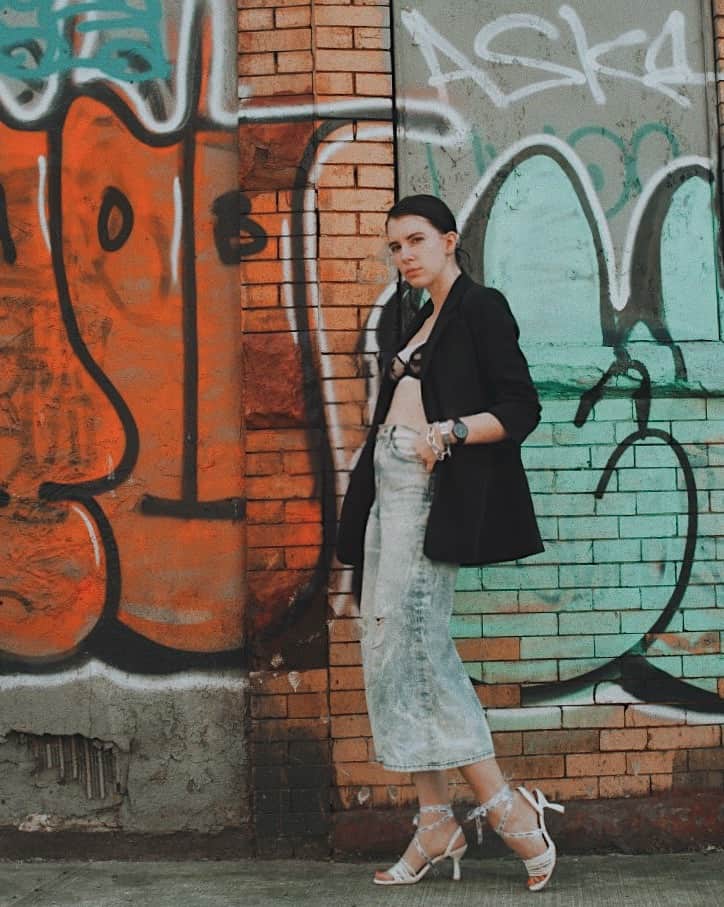 But- this is a great jean to wear with the ever trending bralette tops and if that is too much skin for you it also looks great to throw on a blazer on top of it.
This look is best implemented with a high rise waist (especially if you are on the shorter side).

The high rise elongates you and prevents the cropped length from truncating your body.
I love this style paired with the string wrap heels that are everywhere at the moment. Something about the wide, cut off hem and the delicate string wrapped around your ankles, creates the balance that great fashion looks are made of.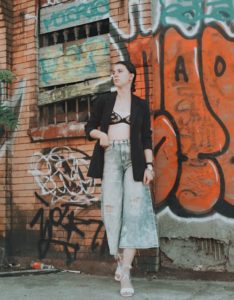 It is also a look that pairs exceptionally with another popular trend- layered gold necklaces. To check out my favorite, affordable necklaces- check out this post.
The gold necklaces add texture to this look and interest that really completes the look.
This is a trend I recommend you try on in the store (which you should know, is my least favorite thing to do). But! It is imperative that you find the right length for your shape and the right tightness around your hips. There is nothing worse than high rise jeans that are too tight that make it uncomfortable to sit down in. So when you are in that fitting room, can you do a squat comfortably? if not, size up or try another pair.
Clothes should never be uncomfortable!
Here are my picks for the cropped wide leg:

Here is my moodboard for how to style it: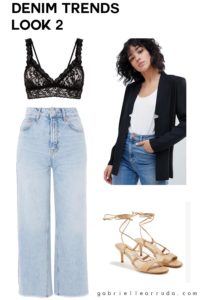 And last but not least for our fall denim trends- the Long, Loose Bermuda Short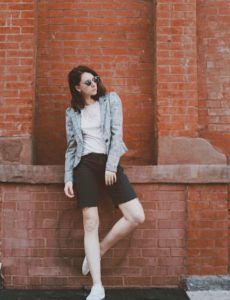 Bermuda shorts have been around all summer- but, we are trending a bit more masculine with this style and this trend is sure to transition into the fall months as well.
It is comfortable, chic, and definitely a style anyone can pull off.
I love this option with an oversized blazer, the duality of casual and business balance each other out very well. Not to mention, it also screams fashion aficionado.
This length often makes your legs look long, which is great (provided the hem hits slightly above the knee). However, if you want to make this look a bit more "date night" friendly or just more feminine in general, try a 90's style heel, a heeled flip flop (yes, these are crazy popular in the fashion world right now), a string wrap heel. These are dainty, minimal heels that allow the rougher shape of the short to be neutrally in sync.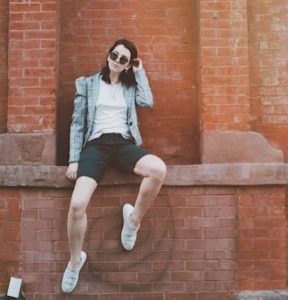 Here are my Bermuda style short favorites.

Here is my styling mood board for the bermuda style shorts: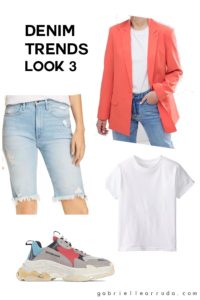 If you are bolder or are going for a daytime look- then I suggest you pair it with ugly, dad sneakers (yes, they are still around) or even a slightly platformed sneaker like this one.
Plus, all these styling pieces work well with every one of these denim trends, so it's worth the investment.
ALSO! If you need styling help and want to expand your ability to pick and implement trends such as these, get my free STYLE GUIDE with 8 actionable tips on how to use fashion to improve your look and gain more confidence.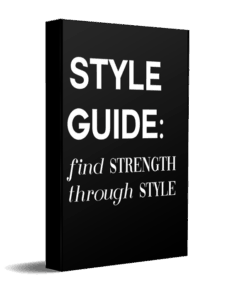 Denim is perfect for fall. And these are the perfect, on-trend transitional pieces that will make choosing your outfit easy. They look great on all shapes and as long as you watch your proportions they look great styled in many different ways. So get on these denim trends, now!

P.S. If you're struggling with styling and adopting trends for your own style, check out my FREE style guide, Sign up below to have it sent to you!