Badass blazers are always going to be around, so you should probably learn how to get the most out of your blazer. This post will tell you exactly how to style a blazer in the chicest of ways.
So blazers are like your badass best friend, when worn correctly. They give you that extra power edge that you need to go conquer your day.
Now, blazers can make or break an outfit; they have this special skill to look good on practically anyone and with practically anything, within reason.
So let's talk about our first foray into styling blazers.
Blazer Style Option 1: Belted as a dress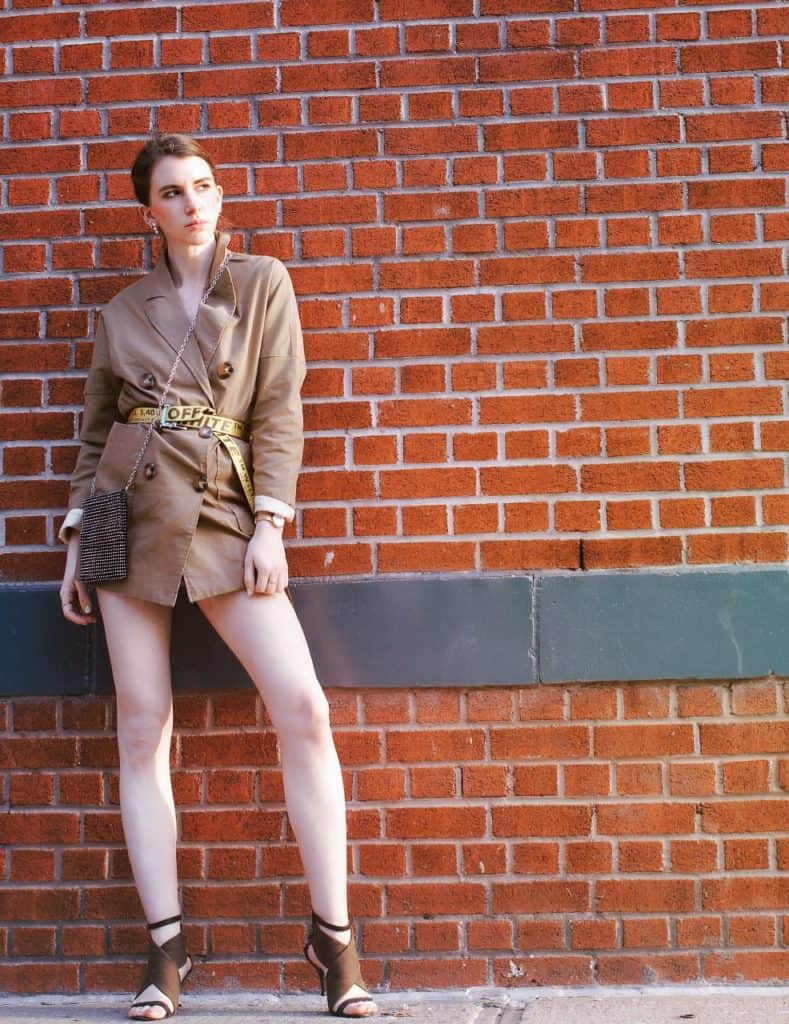 So this look allows the blazer be the shiny star. In fact, you are basically wearing it as a dress. I highly suggest wearing a small tube dress (or one piece romper, click here) underneath it, so that it functions as clothes are meant to throughout the day (meaning you don't flash people).
The best way to turn a blazer into a dress, is to belt it. But you also have to consider length I prefer to use more tailored blazers for this look and to make sure their length hits at least the very top of my thigh, past my butt. This is where that under layer can protect your modesty, keep the illusion of the blazer dress look, and proportionally be your friend.
Proportion is important with this look. I prefer to have the blazer hit my upper thigh, not middle. This length allows my legs to look longer, and the outfit does not appear frumpy. Go too long with your blazer and it can swallow you. So, invest in an underlay-er, either the dress or romper, for more flexibility on blazer choice.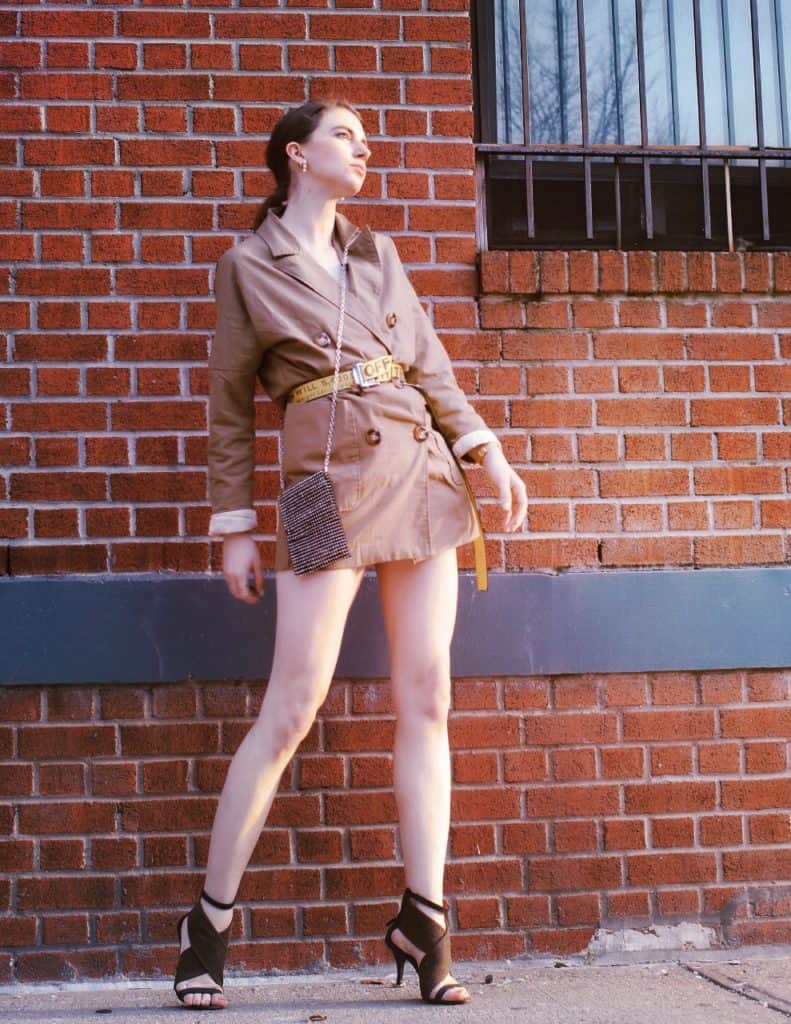 This look works best with a more structured cut of blazer. I personally don't like the loose silk blazers with no lining for this trend, it doesn't have the same vibe. However, a strong enough linen blazer works, as does the right double breasted blazer.
Pair it with one (or even two) belts and a great pair of ankle boots and you are ready to rock.
It's a great take on casual but still looks put together.
---
Blazer Style Option 2: Blazer with jeans and graphic tee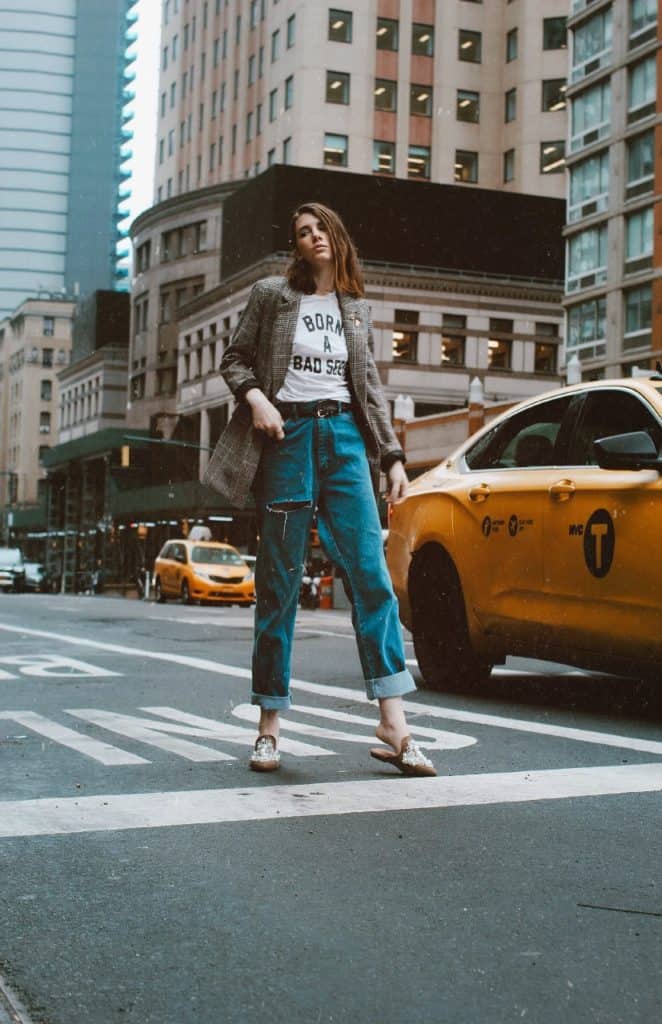 We all have days where we rock a tee shirt and jeans, and I get it- sometimes that's all we can mentally manage. But, adding a blazer to this outfit brings it from, Oh hey, i really didn't try to polished and perfect. It's the simplest way to make it look like you tried. I also love a good pair of ripped jeans and a blazer makes them verge into the world of business casual, instead of " hey, do you know you have holes in your jeans. My literal least favorite question, and I swear if one more person makes this joke/question/attempt at me- I might just scream.
This blazer can have a more relaxed fit, if that's what you prefer. It's a flexible trend. But, my favorite blazer to pair with jeans and a tee is one that is rolled up. Whether by design or by me rolling the sleeves up, it helps with the proportion and the vibe. Also, feel free to take a more unusual chance with a unique blazer for this style. A slightly bolder print blazer, a leather blazer, or a pop of color blazer all really pair well with simplicity of this outfit.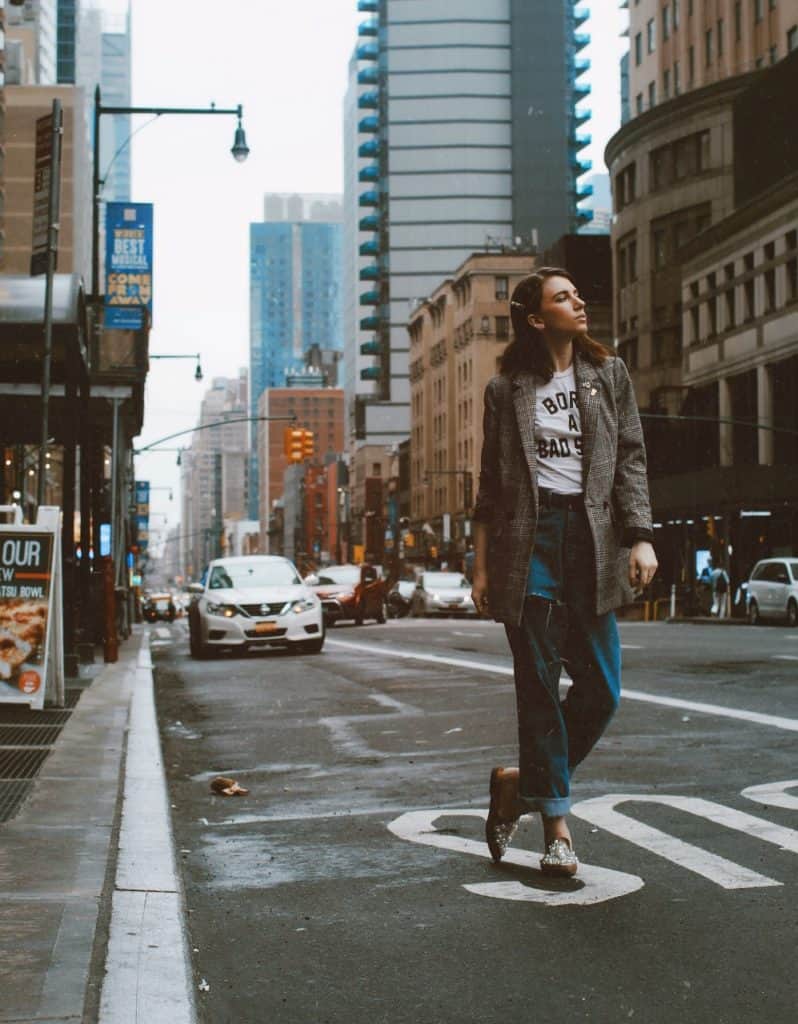 The other thing that can add oomph to this outfit is one or two pins on the blazer. Put them on the lapel or the chest. Those details make the outfit look complete.
---
3. Blazers as casual suits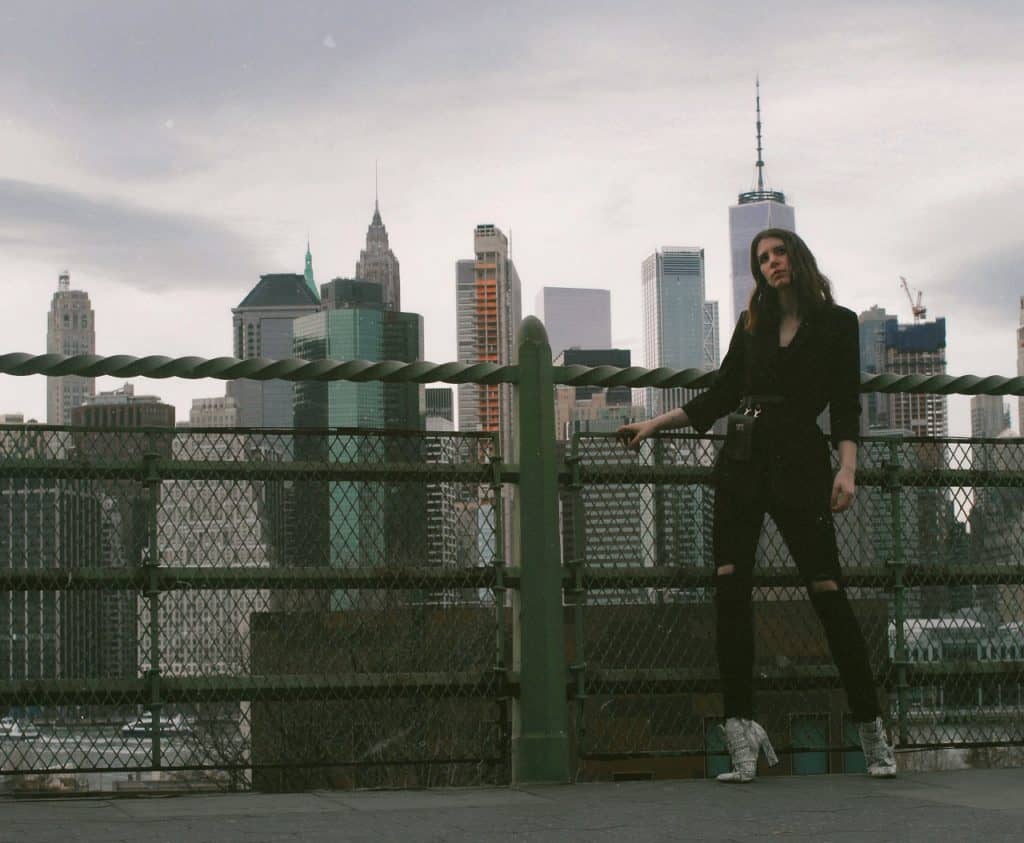 So a good power suit should never be discounted. And whether it's a full suit with pants or a suit with a skirt- they are both amazing options. They make you look powerful. They make you feel powerful. And it's an instant outfit. You don't have to add a lot to a suit, to make it work.
So for those days you need to look professional, but you want to feel cool- the power suit with a blazer is your friend.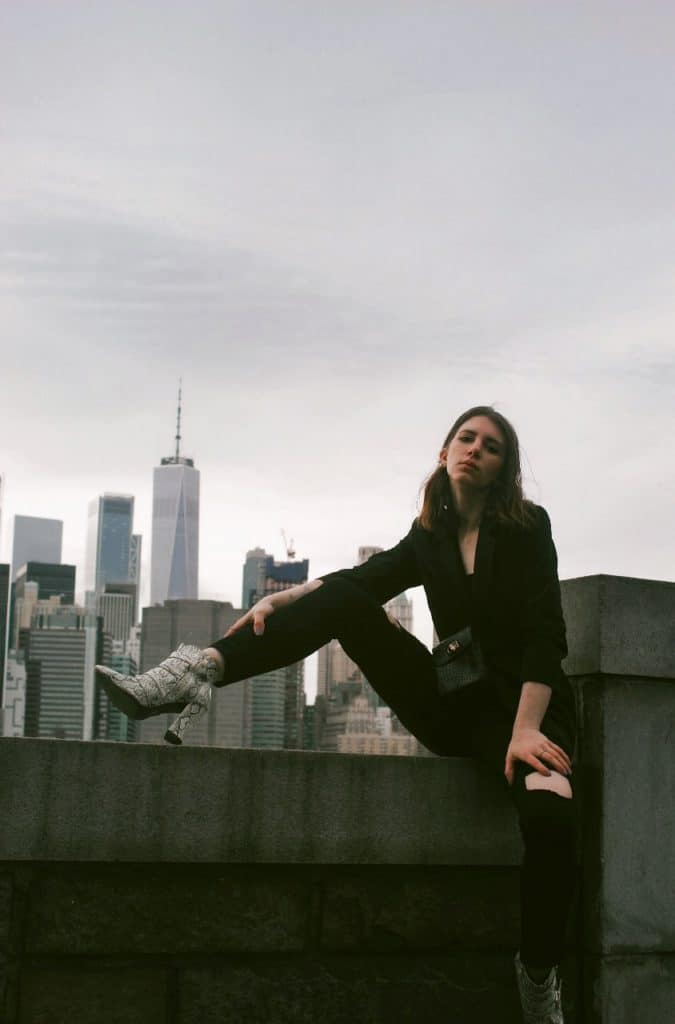 Now, you can make it more casual. I'm using the term suit, but what I really mean is a more matched look with this blazer. Don't want to wear black dress pants with you black blazer? Try black jeans instead. It is definitely a cooler vibe. Don't have pants to match that structure plaid blazer? Try a neutral skirt instead.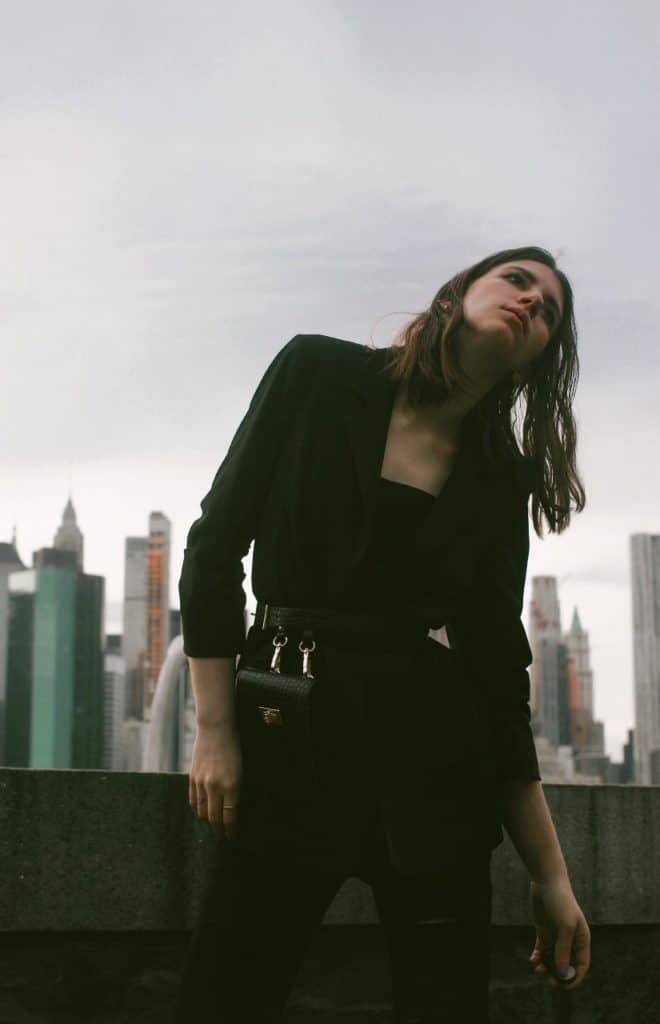 The key is proportions with these pairings. So you really need a full length mirror to accurately access whether or not this trend is working. It's very important that neither the blazer nor the skirt be too short or too long. I think a 3:5 proportion works best. That would be a blazer that hits just below your spine, and a generally fitted skirt that hits just below the knee, at the lowest mid calf.
In the look shown above, I simply used black jeans as my power suit pairing. It's casual, yet fits for most business settings. I would also feel comfortable grabbing brunch or a having a drink in this. It feels fluid.
If it feels frumpy, belt the blazer. Whether with a belt bag here or just a normal leather belt- it adds a fitted look to the outfit and it makes it look more chic all around.
---
4. Blazer "suits" with shorts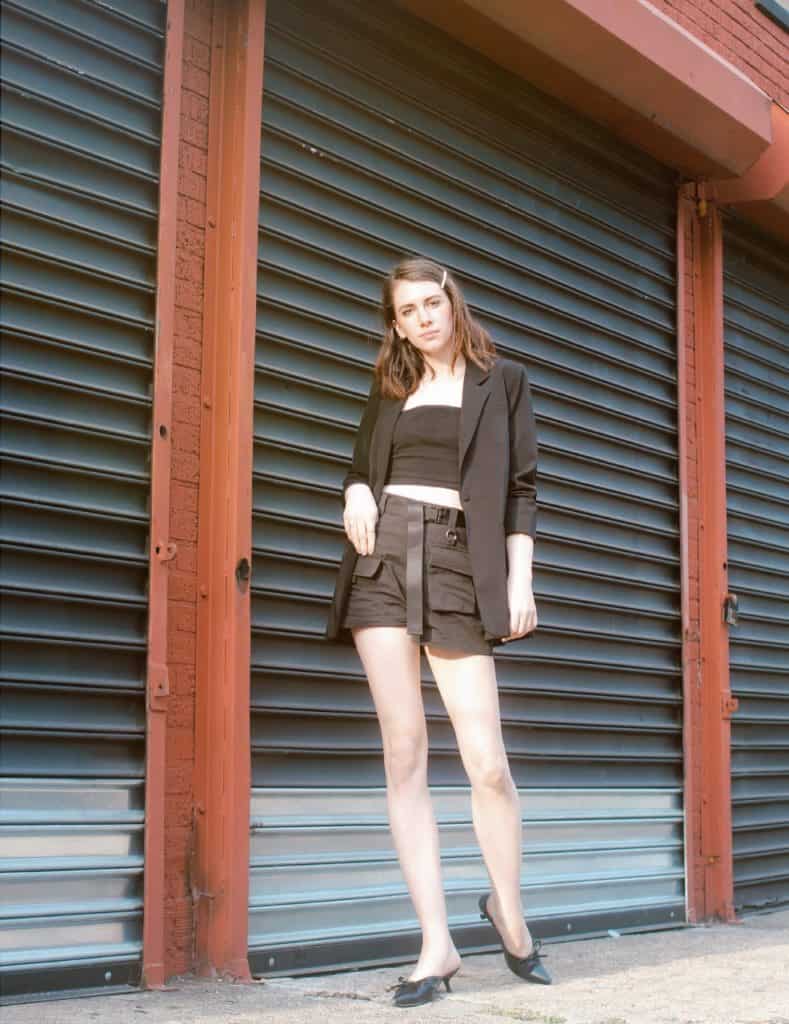 So our last look this a warm weather favorite, and a very hot trend right now. Blazers with shorts, either in the vein of a suit (matching) or complimentary colors. Here I used my same basic black blazer with a pair of high-waisted shorts. It feels summery, but still casually professionally.
This outfit looks like I tried, but its not really average office attire. It is perfect for any day time outings or events.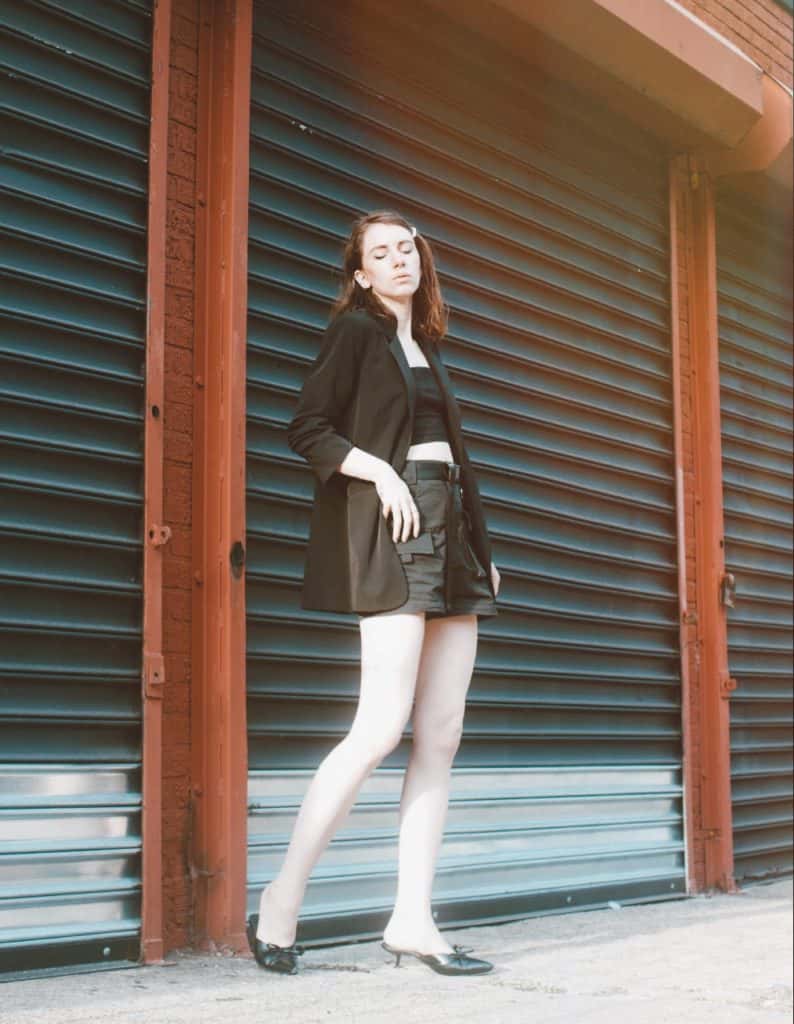 If you don't want to match the color like I did you can also do complimentary colors. Something like a denim short with a tee shirt or tank and a tan jacket would work wonderfully well. As long as the colors don't compete, and you let the blazer take the focus- you will be good.
However, right now the trend is a high-waisted short with this trend. Low waist shorts will not proportionally give you the same look, they will make you look shorter and can go frumpy very fast. Stay, high-waisted.
---
And here are my favorite pearl pins from amazon. I wear them all the time, they go with any and all of these styling option.
So why not break out your blazer, give those should pads the old dust off and let them have a new life. I'm not kidding, shoulder pads are also a huge trend right now. But, if that's not for you, try the above blazer styling options to make your outfits look more impactful, and just more chic.
What styling item do you need help with next? Comment below and let me know! And to join our wonderful community, be sure to sign up for our newsletter, here; you get access to everything early and get extra special deals. Now, go forth and style a blazer.