Can we all agree interior design has come leaps and bounds from fake grapes in a painted bowl and plastic flowers shoved carelessly in your great aunt sally's vase? Modern interiors span practically every decor style from bauhaus, minimalist, boho modern, retro 70's, midcentury, and more.
But, re-doing your house every time you see a new drool-worthy interior on Pinterest is not feasible. The quickest and chicest way to elevate your home is with cool unique candles for the home.
Cool shape candles add instant interest to any home, they make perfect vignettes, and work with practically any decor style.
These are the coolest unique candles out there and make excellent housewarming gifts as well. Plus, everyone loves a good candle, so you can't go wrong with one of these.
The coolest unique candles for the home
Cool Shape Candle : The Twist Candle
I love the color options and funky but elevated shape of this candle. It would look fantastic on a minimalist console display or in the center of a cool dining table.
This candle has a strong presence and would work best on its own (so don't add any other candles to distract from its dramatic shape).
Cool Shape Candle: The Bubble cube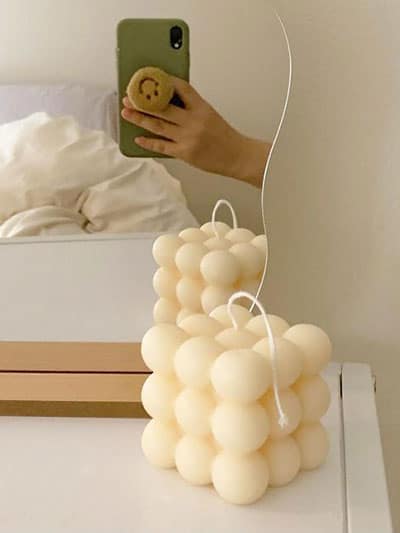 I love the bubble cube candle for a nightstand vignette or coffee table decor. It comes in several sizes and scales so you can add a few candles to create a more detailed relaxed look or use a single candle for a minimal design.
related: Ultimate Expensive Candles Dupes List (like diptyque and Santal 33 for less)
Cool Shape Candle: Seashell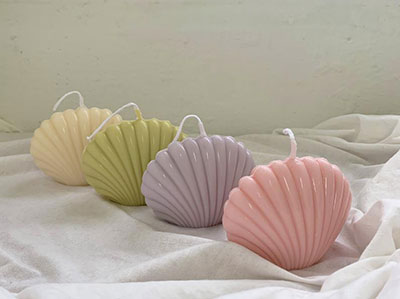 For all my 70's style babes or mermaid lovers, this seashell candle is the perfect touch of retro, but not your grandma's retro. (unless you have an incredibly chic grandma).
This candle would look great on a bookshelf, in a bathroom vignette with a vase and some pampas, or even mixed with a few different height cool-shape candles.
Cool Shape Candle: Zig Zag Or Wave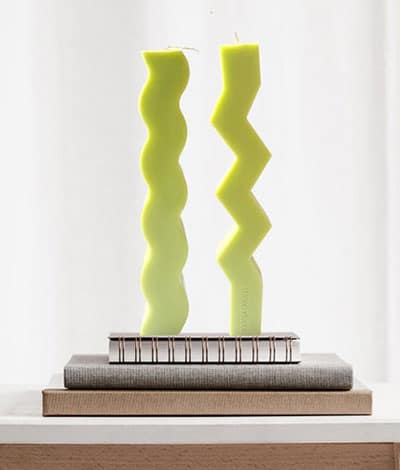 Talk about an upgrade from those boring taper candles! These quirky and unique candles would look amazing on a small table display or front and center for a holiday meal.
Let your candles command some attention and keep the aesthetic simple. Table decor doesn't have to be elaborate with a constant changing of large scale floralscapes. Instead, let these candles do the wow-ing and add a bouquet of simple stems if you want some fresh florals. Simplicity with interest is never boring, and always sophisticated
Cool Shape Candle: Stacked Candle
These candles look great in pairs or triplets and take it from me, they really liven up a kitchen shelf. If your space needs a pop of color the orange is a great modern touch, but they also come in a neutral off-white and black as well.
Unique Candle: Striped Roman Candle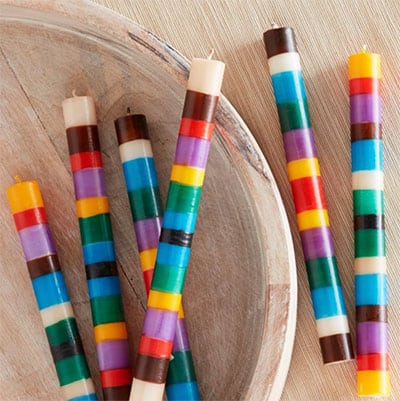 Sometimes a space just needs a pop or color, and these striped roman candles are it. Add them to your dining room table with a modern holder, or to an entry way for maximum effect.
Plus, the colorful design would add some contained color to a minimalist decor, or fit nicely with a boho modern decor.
Unique Candle: Terrarium Candle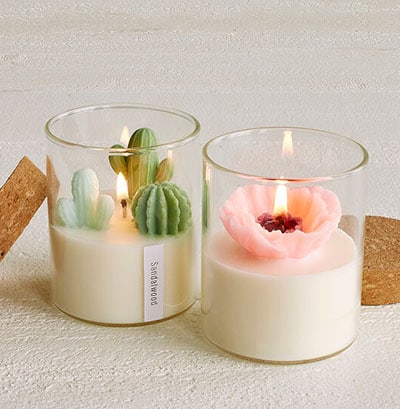 This candle is a great option if you want a unique poured candle. It would work well in a bathroom for some added aesthetic vibes, or in a living room coffee table vignette. Plus, the detail on this candle is amazing and a work of art in it of itself.
This is a great candle gift idea for a housewarming party or hostess gift (especially if they tend to kill real plants ;))
related: ULTIMATE gift guide for her that is guaranteed to please
Unique Candle: 60 hour candle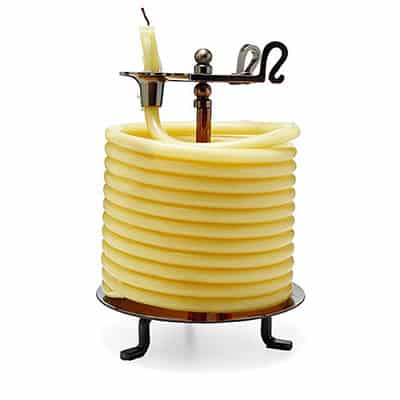 I love the shape and holder of this candle, not to mention it lasts so long! This is great for a hallway, a bookcase, or anywhere you want to add a touch of light academia vibes.
Cool Shape Candle: Modern Pillar Candle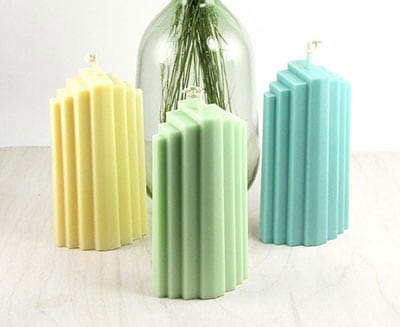 I love the abstract shape and size of this candle. It isn't huge but it is hefty enough aesthetically to stand on its own.
This unique candle is especially good for a small apartment that can't handle a large scale candle or multi-candle vignette.
It comes in a variety of hues (including some major pastel vibes), and you can choose your scent!
Unique Candle: Spirit Candle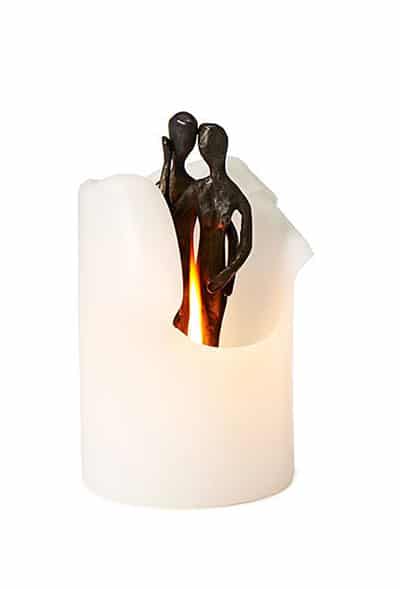 Ok, there are not a lot of candles that exist that look even cooler once they have burned, but this one is it.
I love the reveal of the cast iron sculpture within the candle and think it would look amazing on any nightstand, fireplace mantle, or side table. This doubles as a work of art, yet keeps it simple and elegant.
Cool Shape candle: Goddess Body Candle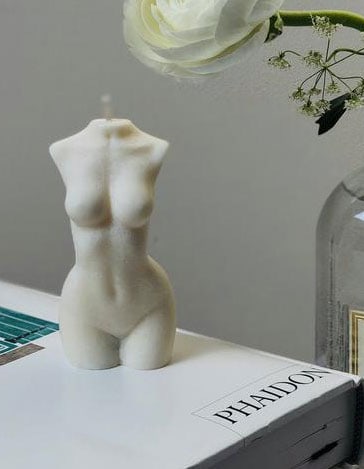 I love the elevated vibes of this candle and how it is the perfect touch to any modern vignette. This unique candle is the perfect touch to a bathroom vanity display, placed on some stacked books in the living room, or simply as an added touch to a tray table.
Cool Shape Candle: The Venus Candle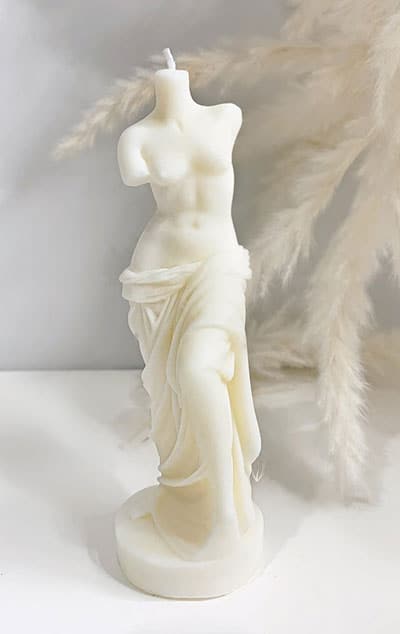 Well, if you haven't seen this candle yet then you don't spend much time on candle tiktok. I myself, have seen this candle more times than I can count and it still doesn't lose its beauty.
This candle is elegant art that doubles as a candle. And the best part it looks great when you burn it as well.
I love this candle for a living room coffee table display, or a bedroom aesthetic touch. A definite must for any art history lovers, too.
Unique Candle: Fruit Can Candle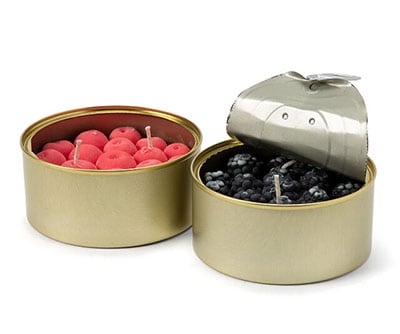 For anyone who loves to bake, or just loves a quirky decor touch, this fruit can candle is for you. The container is so unique, and the candle itself an unexpected decor touch. (major cottage core vibes )
I think this candle would look amazing on a kitchen counter or paired on a breakfast table with some fresh flowers. This homey vibe is a great candle gift idea for the bakers or fruit lovers in your life.
Cool Shape Candle: Mixed Shaped candles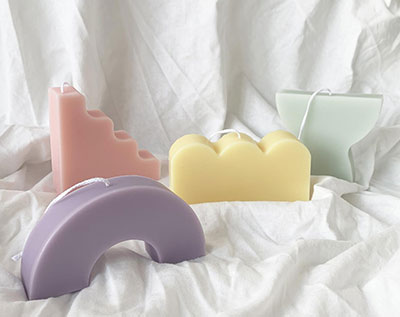 Is it just me or do these cool candles remind anyone else of kids blocks? The simple shapes, the pastel colors, all create a dreamy aesthetic for the girly girls in your life.
These candles would look great mixed together, or as a single added touch of unique style. Also, bonus points for being able to choose your own scent for each!
Cool Shape Candle: Spine Candle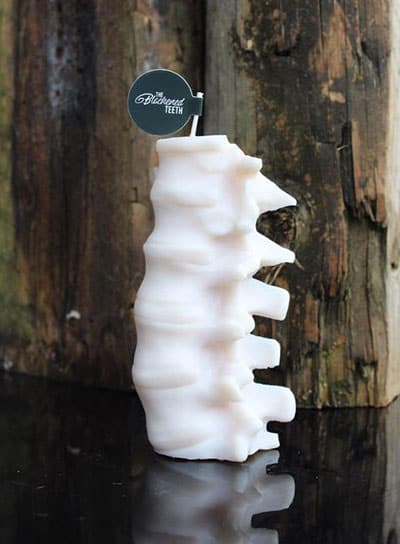 Any doctors in the house? Or anyone obsessed with anatomy? This slightly macabre but insanely cool spine candle is an easy decor choice for the dark and dramatic interiors.
This candle would sit well on a stack of books, or on a work desk. It's a pretty distinct design, so I would only opt for a one candle display.
Cool Shape candle: Wavy texture pillar candle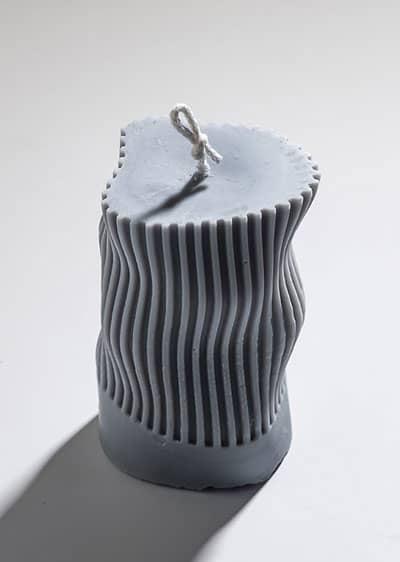 If some of these candles were a bit too much for you, this wavy texture candle is a perfect introduction to unique candles for the home. It has a unique shape but still generally looks like a pillar candle. The texture is interesting, but not overwhelming.
This candle is perfect for minimalist spaces or with the accordion candle below.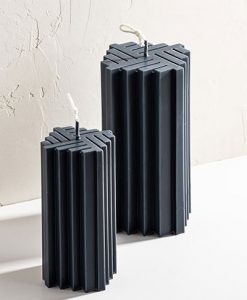 Unique Shape Candle: Butt Candle
Now, this is a statement. Not only is this a very large candle, it is a strong aesthetic. It looks fantastic as the centerpiece of a nightstand or as a work of art on a console table.
Want to keep your decor simple, this large scale candle will not only last a very long time but it will act as a piece of art for your interiors.

Have i just blown your mind with how many unique candles for the home there are? These candles not only make your home aesthetic goals but they also help to warm up the space.
Adding small details like these cool shape candles can make your home truly feel like YOUR space. I get it, you might not have the budget for that 4k sofa you've been lusting over, or your landlord won't let you paint your walls… But, these cool shape candles will make your home speak to you.
Now, go add a little bit of spice to your decor with one (or 4) of these cool shaped candles.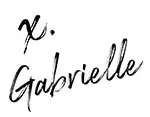 pin the below image so you always have the best candle gift guide (or just so you can stock up for yourself)