Hey guys, here's the advice you were never given…. Build a capsule wardrobe. Not only will this efficient and stylish wardrobe give you outfit ideas for every event in your calendar, but it will also hone your style, and make getting dressed a breeze.
And, if you need some extra help on how to put these men's capsule wardrobe items together, I have some great outfit ideas for you as well.
Don't sleep on your fashion! It's a tool to communicate to the world who you are. Before you get an opinion, pick up line, or even an elevator pitch out the world has already made an assessment of who you are based on your appearance. So, don't let your clothes hold you back.
What is a men's capsule wardrobe?
A capsule wardrobe is a set of men's clothing essentials that can be worn year-round and eliminates the extra pieces in your closet. You are streamlining the number of items you own, while trying to maximize the function and outfit options. Basically, a versatile closet that never fails you.
Why should I have a men's capsule wardrobe?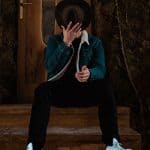 Having a capsule wardrobe is efficient and the best "bang for your buck". Whether you want to invest in high-quality items, or you want to simplify getting dressed every day; capsule wardrobes make getting dressed simple, stylish, and efficient.
we may earn a commission from you clicking a link in this post, at no additional cost to you. full affiliate policy, here.
Men's Capsule wardrobe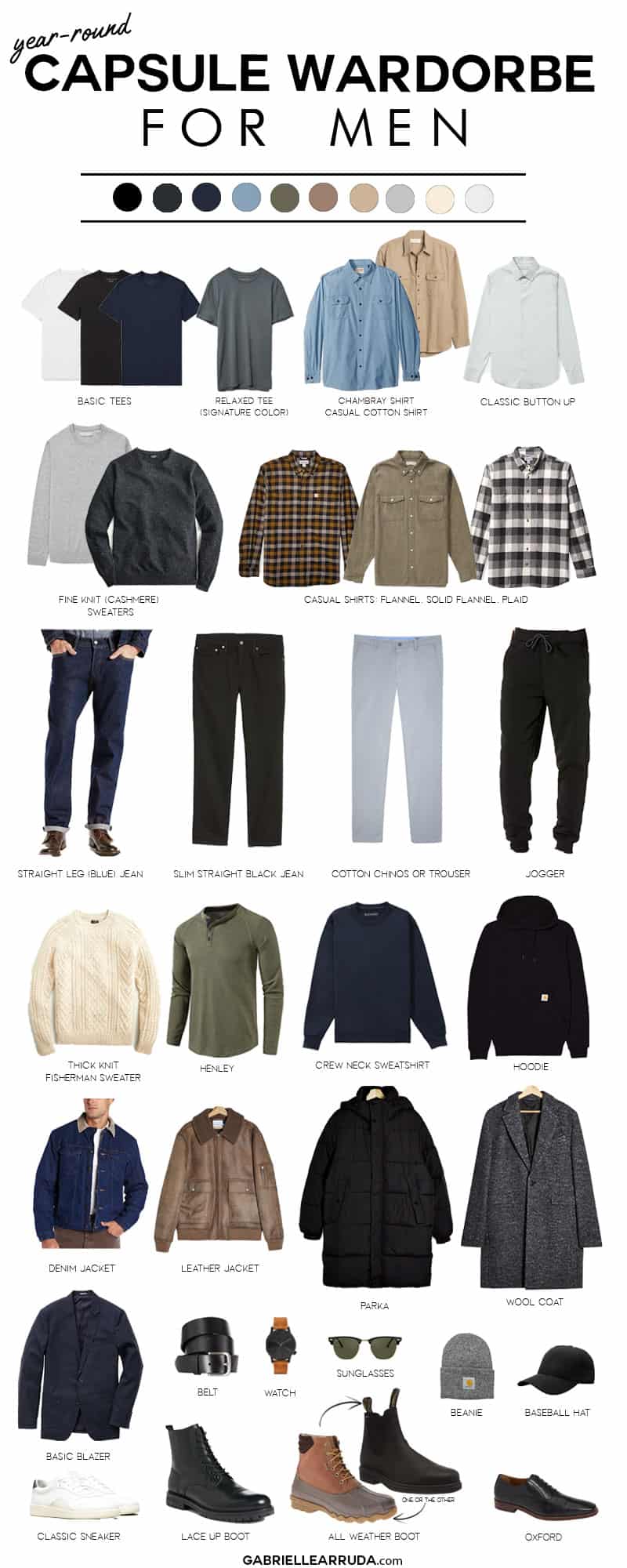 Building your wardrobe
So what I've given you is a men's wardrobe checklist (scroll to end) and an idea of the items I think you should have in your closet.
However, you need to potentially tweak this list or items based on a few of the following things.
Purpose
What is the purpose of your day on average? Your wardrobe needs to reflect this. The person who works everyday woodworking is not going to have the same capsule wardrobe as the man who works at a law firm.
A lot of offices these days allow business casual which generally includes jeans and casual pieces like knitwear and does not require tailored suits.
But ask yourself, what does my wardrobe need to be able to manage on a week-to0week basis. And add or eliminate pieces based on your answer.
At least 40% of your capsule wardrobe should be functional for work. So generally speaking at least 2-3 bottoms that are work appropriate, and at least 5 tops that function. From there you can make many different outfits mixing and matching and adding some accessories.
Let's not be the type of man who wears the same thing every single day, ya?
Inspiration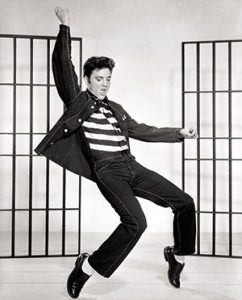 A lot of men can see an item in a store and like it, but when it gets to them actually wearing it the execution can get muddy.
This is where knowing your style comes in handy. I'm going to suggest something that might seem kinda wonky to you… But join Pinterest and start a board of men's fashion you like. You can see my men's fashion board here if you need somewhere to start.
Now, pin a bunch of images and use them as a reference book. See what styles of looks and what outfits you gravitate towards. Notice the styling, the proportions, and try out these ideas on yourself. ( note, you can make your fashion board "private" if that helps)
Your second option, if you refuse to start a Pinterest account, is to look at men's fashion through the decades.
Find a great reference on men's style through the past 100 years here.
Go through the different styles and note which ones you like. From there, notice different elements that are popular or have a similar theme.
For instance, if you like Elvis Presley's style or James Dean you might notice these trends; straight leg (dark blue) wash jeans, white socks, and cuffed jeans, or rolled t-shirt sleeves.
If you like the suits from the 30's you might gravitate towards a slightly higher rise (loose) pant or adding an accessory like suspenders.
Only you can figure out what style you want to exude, but these two steps should help you start to narrow it down. And don't let fashion failings deter you. With every day you gain more information on what your style actually should be. And, it will always be evolving.
Color Palette
Capsule wardrobes are easiest when they have foundational neutral colors in them. This leads to more versatility with your outfit.
However, that does not mean you can't or shouldn't add a pop or color or integrate some color into your wardrobe.
Before you start buying green pants or mustard color sweaters, let's start off with the basics in the capsule wardrobe.
If you really crave color add it through your lighter top options, like your t-shirts, casual shirts, or sweaters.
Also, having a capsule wardrobe doesn't mean you STOP building your wardrobe completely. It is the foundation to your style and your outfits, and over time you can add a printed or colorful option to your wardrobe. As mentioned previously, your style will always be evolving, but any additions to your wardrobe should be well thought out, and not impulse purchases.
Shopping tip: Can you think of three (minimum) outfits you could wear this item with? If not, then skip it.
What pieces should I invest in and what pieces can I buy cheap?
This men's capsule wardrobe should last you a long time, so you can invest in any items you really feel hold value.
Personally, i think you should invest in items that align with your purpose and priorities. If you love to hike, then investing in a good boot is essential.
If you love to relax at home and read, then a higher quality tee and joggers should be prioritized.
Also, your go-to pair of jeans (whichever you feel you will wear the most) should be of better quality. You've gone through the hassle of finding jeans that you love and that fit you perfectly, so invest in a pair that will last.
Men's Wardrobe essentials:
Here are all the items you need for your capsule wardrobe. Remember this list can vary slightly based on your job, your climate, and your ultimate daily necessities. So use this as a guide, and swap where necessary.
Basic Tee x 3
Basic tees are not only great layering pieces they are essential for easy fashion. You need to have at least three different t-shirts. This will allow you to rotate them easily and create a variety of looks from them.
I suggest white, navy, and black for the most stylish and flexible outfits. Heather gray is also an option.
Signature Tee
Not every item should be "basic". So, find a more stylized tee that you love and make that a cornerstone of your wardrobe. I suggest a more relaxed fit or a more unique color.
Henley
You don't have to be chopping down wood to wear a henley. They are easy long sleeve shirt options that can be worn on their own or with a layering shirt over.
Casual Shirts
Chambray Shirt
You want a good "casual" shirt option. One that doesn't scream "I came from my office" but still gives off easy and put-together vibes. This type of shirt is great for those hinge dates 😉
Heavier Weight Cotton Shirt
A heavier-weight cotton shirt, like this khaki option, is great for layering and provides a different look than your chambray shirt. This shirt has more structure to it and can be dressed up or down.
Flannel and/or Plaid Shirt
No cabin in the woods is needed, but a flannel or plaid shirt is necessary. If flannels veer too "woodsy" for you, opt for a plaid shirt instead.
Not only are these great looking for fall or winter weather, they are also stylish AF.
NOTE: If you live in especially cold weather, try a sherpa-lined flannel like this one. It can double as a lightweight jacket in fall.
There are also some great solid-color flannel options, like this one, if you want a more minimalist look.
Classic Button Down
slim fit button-down (color celadon)
Ok, but you need at least one classic button-down. Chances are even if you don't have a work environment that requires them, you will have some* events in your life that do. Meeting your future wife's family? Yes. Going on a new job interview? Yes. Trying to impress the world with your go-get-em-attitude? Yes.
Plus, they can be made casual by layering a sweater over them.
Straight leg jeans (blue wash)
A medium to dark wash pair of straight-leg jeans is probably the most timeless style. In my mind, these will be your go-to pair of jeans (but only you can figure this out).
The darker wash makes them more versatile and hides the dirt better ; ) … No one washes their jeans every time they wear them (not even us girls). This is not permission to never** wash your jeans, though.
Slim Fit Jeans (black )
Generally, I would advise avoiding skinny leg jeans (the super stretchy kind) as this veers more rock n' roll and is less popular, currently. Instead, opt for a slim-fit pair of black jeans that will help broaden your outfit options.
Chinos or khakis ( slim not skinny)

chinos (color : smooth slate)
I know you thought you might be able to avoid this one… But, let's get on the same page, we are not talking about the same khakis your grandpa used to wear.
We are referencing a trouser style pant in a neutral color (which could be gray, tan, dark brown, or navy). You want a slim or straight leg cut.
Joggers
I think gray sweatpants are like the male equivalent to the white t-shirt. But, it doesn't have to be so sexual. They are also great options for hanging with friends, lounging around your house, or even running a few errands.
Thank you to whoever created that gray sweatpants thread. #greysweatpantschallenge pic.twitter.com/xyBg6r22vS

— May C. Black (@MayCBlack1) October 15, 2020
Crew neck sweatshirt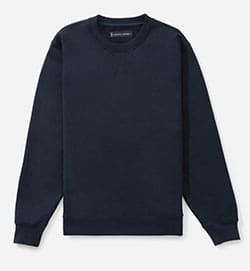 A crew neck sweatshirt is one of those wardrobe essentials. Your crew neck sweatshirt does not replace your hoodie, but it does provide an equally comfortable option to your casual outfit.
Generally, for your capsule wardrobe foundation, I would opt for a neutral-colored sweatshirt that does not have any logos, teams, or patterns on it. You can save those options for your bonus clothing items and rotate them in appropriately.
Hoodie
The hoodie is an easy-going, comfortable piece. I do think the classic hoodie skews a bit "younger" than the traditional crew neck sweatshirt… So I'm not saying don't rock it, just don't wear it on a first date. It's more of a Saturday coffee option or watching the game with friends (you guys do these things, right?)
Knit Sweaters
Fine Gauge Cashmere Sweater
dark gray sweater | heather gray sweater
You need at least one knit sweater. I actually recommend you invest in two knit sweaters- one fine gauge sweater, and one thicker knit sweater. Each will provide a different look and work for varying weather demands. Also, because these sweaters will last you a long time (the point of a capsule wardrobe) treat yourself to cashmere. There is a reason women love it, and I think you deserve the same luxury.
These are great layering pieces and can look stylish with very minimal effort.
Cable Knit Fisherman Sweater
These sweaters are the perfect "easy" piece when the colder weather creeps in. It adds instant style to your look and keeps you warm. If this isn't your style, you could swap it out for an argyle sweater or intarsia knit. However, I think the heavy cable knit is the most classic option.
Blazer

Ok, you might not need a full suit. But you probably need one decent blazer. For this item, make sure it fits correctly. Nothing will ruin your look more than an overly tight or too boxy blazer.
You don't have to spend a fortune on this item. In fact, thrifted might be a good place to start. The style and fit of the blazer you select should reflect your inspiration images work mentioned above.
Denim Jacket
You need a denim jacket. Opt for one that is timeless and doesn't have "too much going on". Unless you're secretly trying to be a rock god, opt for a classic barn jacket or classic levis denim jacket for the most flexible transitional-weather coat.
Leather Jacket
Leather jackets come in many different styles, as I'm sure you already know. The style of your leather jacket should be dictated by the inspiration step we did previously.
However, a leather aviator (shown above) or leather moto-jacket are always classic choices.
Wool Coat
A nice wool coat is essential, even if you don't live in a frigid area. It's the perfect coat for more formal/semi-formal nights out and can dress up any casual outfit.
Camel or gray wool coats are usually the easiest to find and the most versatile.
Parka
While not every climate will demand a parka, many do. And this cozy, versatile coat is a necessity to look stylish in frigid temps. The parka is also great for a more casual look.
It is especially important if you live in a very cold area to get a longer length parka. Parkas that sit at the top of your jeans will not be enough, and I want you to be stylish AND warm.
Classic Sneakers
Athletic sneakers are great for running, but they are not your go-to shoe choice. You definitely need a pair of classic sneakers that are not only comfortable but also versatile.
Lace up Leather Boots
A classic leather boot is non-negotiable. Whether you veer more towards a combat boot or prefer a Chelsea-style boot is up to you. But you need a leather boot to elevate those more casual outfits. These are also great for dates or evenings that require a bit more effort.
All-weather boots
duck boot | chelsea style boot
So, the all-weather boot is a functional item. You want your other shoes to last you a while right? So, don't beat them up by wearing your leather boots in heavy snow, or getting your classic sneakers covered in dirty street water. Have a pair of all-weather boots that look nice and function.
You certainly don't need both of these boot options, but I wanted to include two (very different) all-weather boot styles. First, we have a more traditional all-weather boot that works for ALL weather conditions but has a casual vibe.
The second is these Blunderstone Chelsea style boots. They are insanely durable, last forever, and are completely waterproof. Bonus points that you can wear them to work and still look put together.
Being stylish is not always about having the "coolest" items, it's also about looking appropriate. Ya know when you see a girl trying to walk in stiletto heels in the snow and she looks like a baby deer learning to walk? She looks silly because she's not dressed for the weather!
Let's not be that. Dress for the weather, add your own flair and look put together (it's really that easy).
Oxfords
Oxford's shoes are a classic wardrobe staple. Depending on your lifestyle you could choose a slightly more casual shoe option like a loafer or boat shoe. However, oxfords have the ability to be dressed up or down depending on your entire outfit choice, which is why I recommend them for your capsule wardrobe.
Accessories for your capsule wardrobe
baseball hat
beanie
sunglasses
belt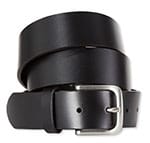 watch
I would actually put this in the optional category because we all have phones these days, that do in fact tell us the time. But, I've been informed by men, watches are necessary.
Optional Items: Men's Capsule Wardrobe
tailored suit
For affordable tailored suits I would check out Zara or Asos Men.
pullover
Pullovers are a great "extra" fall/winter option. A classic option is this pullover.
vest
A vest isn't necessary for every wardrobe, but they can be a great layering piece. They can also work for hipster, preppy, and even streetwear styles.
raincoat
Depending on your climate, and your ability to remember your umbrella, a raincoat may be a good addition to your capsule wardrobe. You could also add a trench coat to your wardrobe and commit to the umbrella lifestyle.
shorts
Shorts for men seem to be slightly controversial, so I put them in the optional category. I think they are a useful part of your wardrobe especially if you like the outdoors or live in humid climates.
tie
You will probably need a tie in your wardrobe eventually, even if you don't have a work environment that requires one. However, I did not include it in the main wardrobe as I think it is best to buy it when the occasion occurs, and when you've flushed out your style inspiration.
Men's Capsule Wardrobe Outfit ideas
Remember those Pinterest accounts I encouraged you to create? Well, feel free to pin any of these outfit ideas for reference.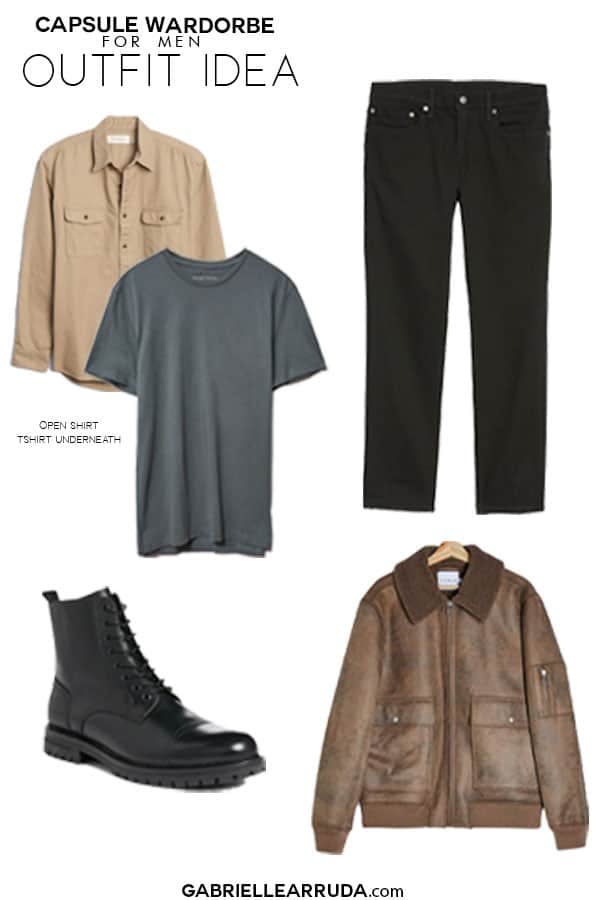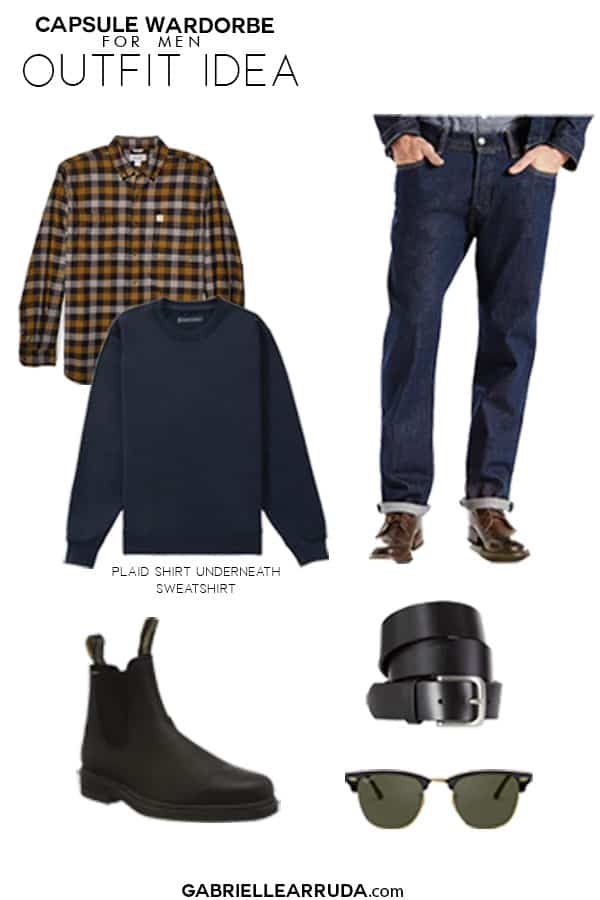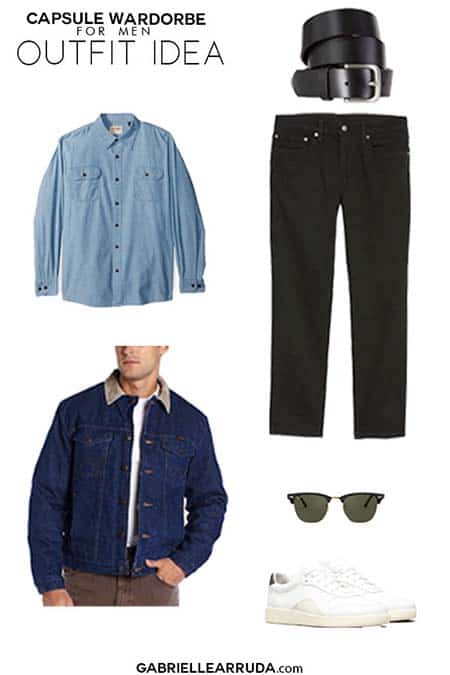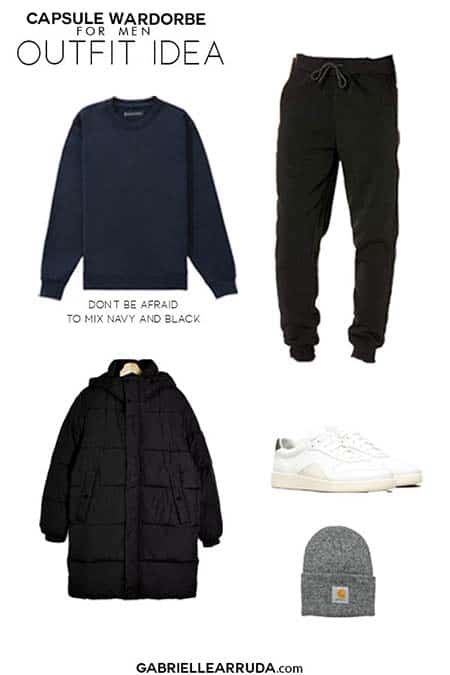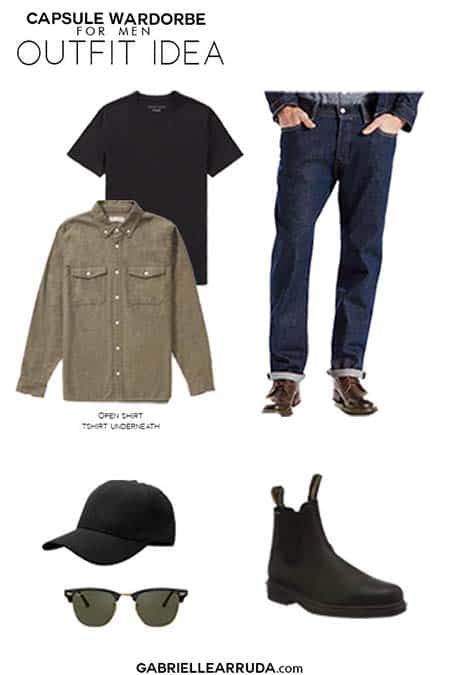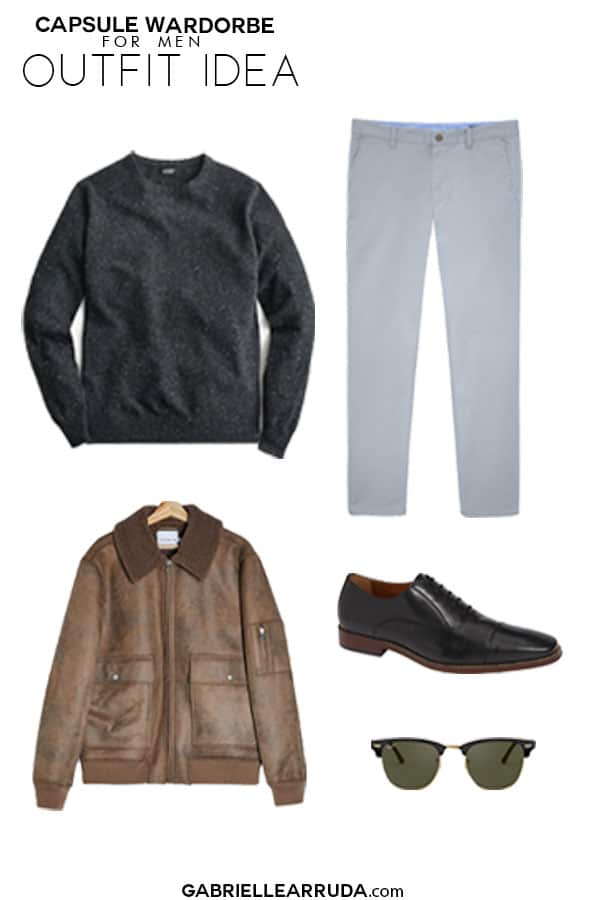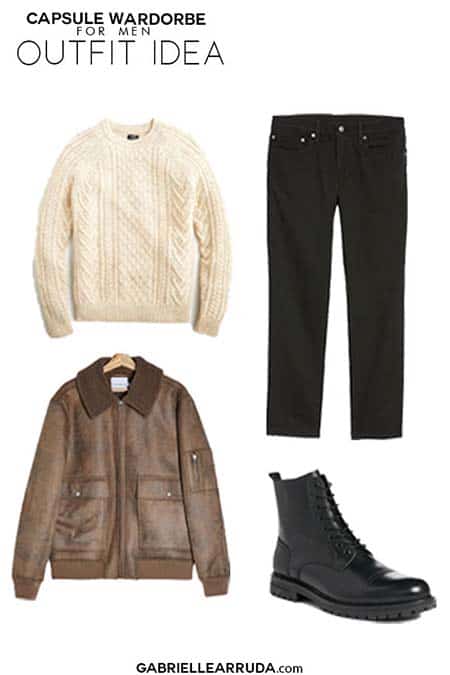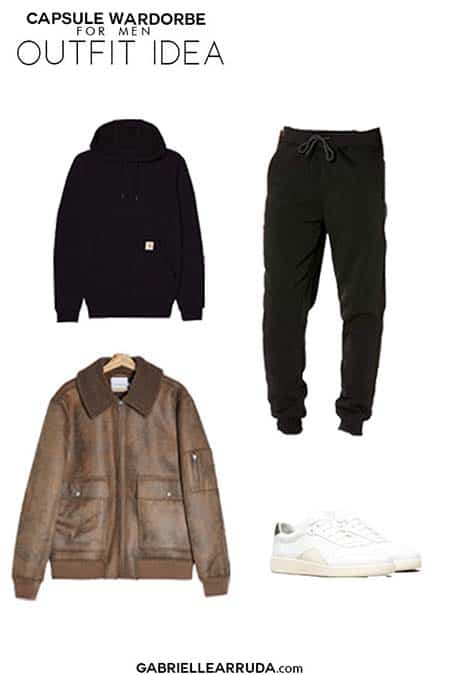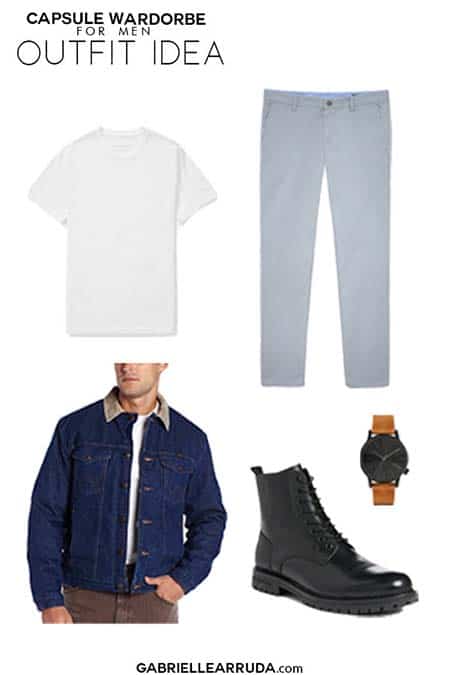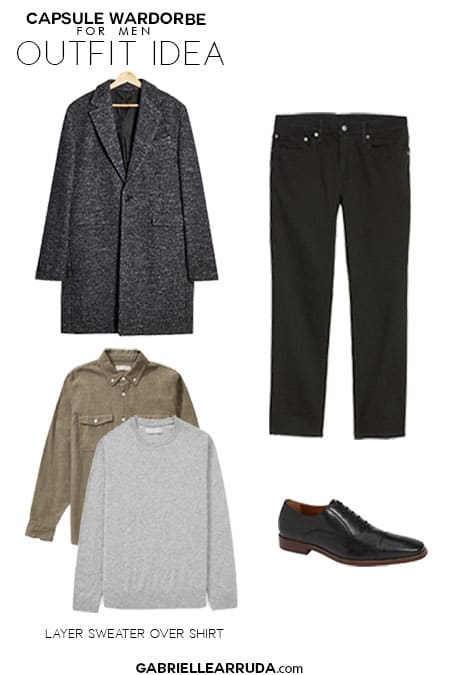 How do I dress to impress a girl?
Dressing to impress a girl (or boy) is actually simpler than you might have imagined. So here are some tips:
1. Look well-groomed. This means clean clothes, freshly showered, and brushed teeth. Avoid looking like you just rolled out of bed.
2. Know your style and embrace it. I've mentioned how important it is to develop a personal style and it is even more important in this context. Your clothes should be an extension of who you are and express this to the girl in question. You don't have to be extreme about this and wear your craziest outfit, but rather pick an outfit that embodies you. Would you really want to impress a girl who hates rock n' roll if that is what your entire vibe is about? Probably not…
3. Avoid showing off. Here's a hot secret… Most girls don't care about money. And the ones who do, won't be impressed by labels everywhere. Skip the gaudy and over-the-top looks that try to feign wealth. If this is actually a girl you want to impress, be yourself. Plus, it looks a little desperate to find an opportune time to flash that Rolex.
4. Don't overthink it. Sometimes when we date or want to impress someone we tend to overthink it. If you need help call up a friend or even DM me on Instagram. But generally speaking, your outfit should be a slightly more elevated version of your everyday look. This can be easily achieved by adding a nice accessory, putting a bit more effort into your hair, and adding a layering piece (like a great jacket/coat).
5. It goes both ways. She's most likely trying to impress you too. So any judgments you have on her outfit or look, put them out of your head and enjoy your time together. While clothes are the gateway to a person, they are not the only defining factor. Dig a little deeper. (said from an actual girl).
Men's Capsule Wardrobe Checklist
Now if you plan to do some in-person shopping, here is a nifty capsule wardrobe checklist for you to take with you.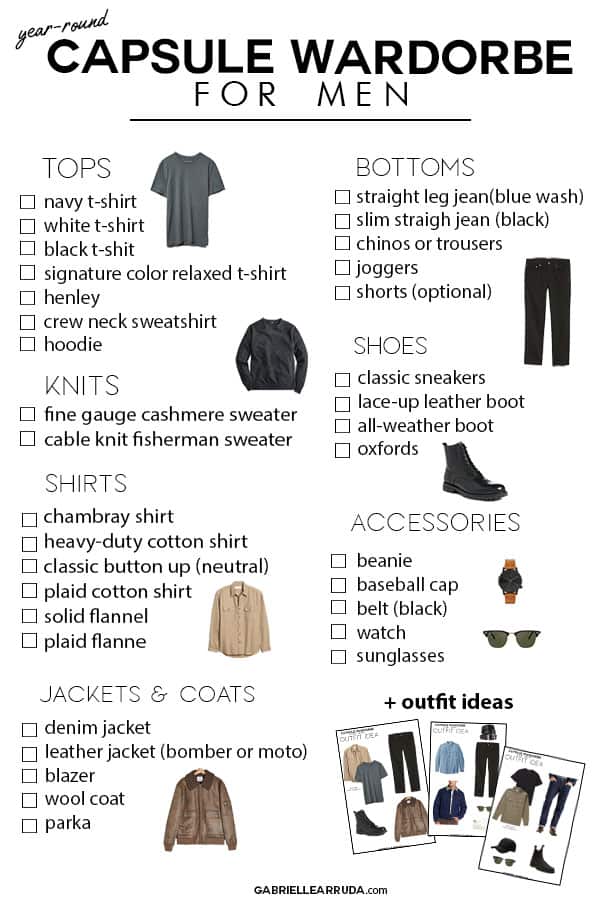 Men's shopping tips:
Fit is important. Not every brand has the same sizing. So try things on, and make sure you like the fit.
Don't go shopping with your friends. Your guy friends will most likely not be supportive shopping buddies and your girlfriends will have too many opinions. Eliminate the noise. Bring a family member if you must.
Start learning what brands you love. With this capsule wardrobe and your style evolution, start noting the pieces you love and wear the most. From there, develop a list of your favorite brands.
Pick some style icons. We touched on this in the inspiration portion above, but it is so important to have some guiding style icons. See how they pair things together, how they layer, and accessorize and try these techniques. Don't copy the look, but rather be inspired and make it your own.
Know your body type and work with it. Here's some advice on that.
It's not about brand names, it's about style. Don't blame your style on the fact you can't afford Prada. How you put your clothes together will hold so much more weight than a brand label ever could.

My handsome man, I can't believe you've made it all the way to the end of this post. I'm actually so proud of you. Your style will thank you.
Go start your capsule wardrobe, and level up your style with this comprehensive men's wardrobe and outfit ideas.
Any questions? Feel free to DM me on instagram or comment them below.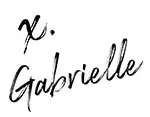 AND since you now have that Pinterest account, go ahead and pin the below image so you always have some grade-A style advice.