You probably have a massive amount clothes you don't wear clogging up your closet, or maybe just an astute eye for thrift and vintage finds. Well, if you're not selling on Poshmark you are missing out.
Whether you are a complete beginner or have already dipped your toe into the poshmark app process, this is your ultimate guide for selling on poshmark.
Why should I sell on the Poshmark app?
Poshmark is an easily accessible app with a built in audience, which makes it an ideal place to start selling on. You can do the entire sales process from your phone if you like, which makes it a fairly maintainable side hustle or income stream. And with over 6 million active users on the site, it's a gold mine for reaching targeted buyers. They also oversee any returns that are requested, which limits scammers and customer service responsibilities.
Selling on Poshmark Drawbacks
Now, selling and earning a side hustle or income from Poshmark has a lot of benefits that we will continue to dive into. But, before we begin, there are some fees and drawbacks to be aware of before you commit.
Poshmark fees:
So what are the fees selling on Poshmark?
| Sales over $15 | Sales under $15 |
| --- | --- |
| seller fee is 20% of total | flat rate fee of $2.95 |
Why are Poshmark fees so high?
These fees are charged to cover any credit card fee charges, sales tax, shipping, and the added benefit of Poshmark dealing with customer support. They also provide you with a highly relevant buyer pool that is easily accessible through their app.
RESOURCE: Here is an easy to use Poshmark fee calculator that you can use to help you gauge your potential profit.
How to sell on Poshmark: the process overview
There are a few things you will need to set up before you start earning on Poshmark, and this step-by-step guide should help you get going. This only covers the basics, and we will dig deeper into what items work best on Poshmark, and ways to elevate your listings soon.
Download the Poshmark app
Set up a login- email, name, and password. Pay attention to the tips below to avoid a username mistake.
Set up your profile
Choose your profile image and header image
Examine what brands and items do well on Poshmark
Take photos of the item you would like to sell

Lighting tips for better images

Decide on a price (which includes the items original price, as well)
Seo for Poshmark (it's not complicated, I promise)
List your item! 😉
Let Poshmark magic happen
Accept or counter any offers
Once the offer is accepted, print your shipping label
Package and ship your item
The buyer then has 3 days to mark an item as received, or Poshmark will mark it automatically complete
Get your money, hunny. (you get paid)
How do I choose a poshmark username?
First, make a list of all the names you are considering. This will be a brain dump of just ideas that you think might work. If you're just using poshmark as a casual seller, you can of course go with something like your name. However if you want to turn poshmark into more of side hustle or income stream, I would suggest a username that reflects your store/closet or style.
Things you need to pay attention to:
Is the name already in use? Type it in and see, but if there is already a closet by that name, you're out of luck. I also recommend not having too close of a name to someone else, because "classicloset" and "classiccloset" might be mistaken for each other and you could miss out on traffic.
Keep your name consistent across all platforms: If you already have an Etsy, eBay, or other store, or have plans to sell on multiple platforms, it is best to check all platforms for your name availability and lock in that name across those platforms. Even if you don't plan (or are not sure) you plan to expand, this is an easy and quick step that could save you a lot of headache later on.
Avoid super common phrases: Words like "posh", "fashion", or "boutique" are really common within usernames. And while they are ok to use, some alternatives might be a better fit. Instead of "gabriellesposhboutique" I might consider " gabriellesdesignerstyle". Both mean the same thing, and by using designer and style I have set myself apart and also communicated to the buyer that these are MY picks and my designer pieces.
How long will this name last you? You can only change your posh username once. So while you can change it, it shouldn't be something you plan on doing. If y2k fashion is trending right now, do you want to build your entire store on that basis? You will have opportunities to designate your items as a "y2k fashion trend" in the title or description, don't pigeon hole your entire closet with that a name that might not reflect your future items.
Can users find you again? I don' know about you but I've scrolled poshmark and forgot to favorite or like an item. Cursed by this, I try to frantically go back and search for the shop. If the closet username has weird characters like an underscore, or extra letters or symbols, it will be difficult to find again. For instance, if "ashleysfashion" is taken, don't go for "ashleysfashion_" or "ashleysfashionn".
Will it turn a buyer off or potentially deter an audience? Words like second-hand or thrifting, while informative, can give people pause. If you then want to sell your higher-end or non-thrift items they might not do well, because your name has left an impression. Think of it like a restaurant name- you probably wouldn't be eager to try the salads at a place called "fried chicken and waffles".
Avoid giving too much information out. While a lot of people's go-tos are just their first and last name, remember people can use that information to find out more about you. Which, maybe you have no issue with. But, do you really want random strangers watching your family Instagram stories? Judgement call, but something to be mindful of.
Double check your intention: You may think your name is super clever or representative, but double check there can be no confusion on the name. This is true for social media handles and websites, as well. For instance, if you chose "wintersexpress" you think people will read it as "winters express"… But, there is another way to read it that conveys something much different. So, just double check.
Poshmark Profile Picture
You poshmark profile picture should be at least 170 X 170 pixels. You will most likely upload a square image that is cropped to a circle for your profile image. So be thoughtful of composition.
If you have social media clout, or a recognizable face that could be an asset, feel free to use your own picture in your profile.
Or, if you have a great headshot, that speaks to your closets style and vibe, feel free to use it.
You can also go with a logo that represents your closet/store. But, be mindful that your username and profile feel cohesive. You don't want your username to be cheapyfindsss and your profile an image of a chanel bag.
Your profile image should illicit trust, and not make buyers question your listings.
I would not recommend using any photos that are filtered, like snapchat or instagram filters. Bunny ears or butterflies on your face probably won't be taken very seriously.
Be careful of overly generic stock photos. If you sell outdoor clothes, a profile picture that reflects that is fine. But a pretty flower stock photo might cause some buyers to be wary.
Having a personal, yet professional photo is your best bet to gain buyer trust and closet followers.
Poshmark Header Image
Your header image is a great way to tell your potential buyers more about your store/closet. They say a picture can paint a thousand words, so use that header image to communicate the vibe, aesthetic, and overall style buyers will see reflected in your items.
A header or banner image should be professional, and not blurry or overly cropped.
Your Poshmark header image should be at least 320 px by 160 px (minimum). But, I actually prefer a larger image resolution and would do any 2:1 ratio, like 1200 by 600 or 1920 by 1080. Canva is a great, free resource to make a professional header image.
Here's an example of a great header image: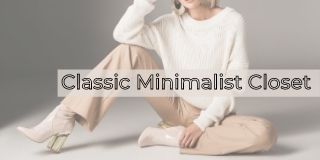 And here's a quick video on how to make a Poshmark header image in canvas:
Quick disclaimer: do not pull watermarked or copyrighted photos off of google for any of your images. This is illegal and bad for business.
What brands do well on poshmark: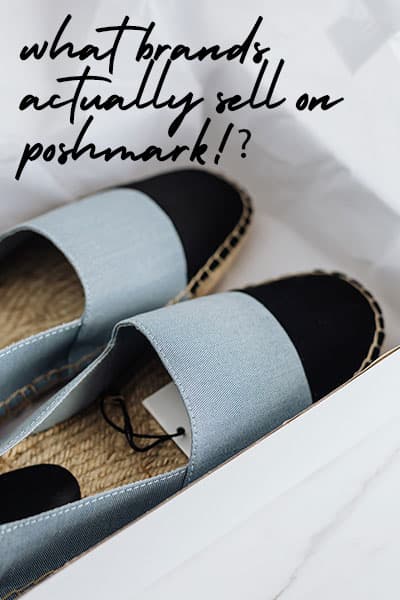 So, not all brands or items are going to do well on Poshmark. And not all items will be a good fit for the platform.
As of 2021, these are popular brands on Poshmark:
Lululemon athletic
Nike
Free People
Coach
Victoria's Secret and Pink Victoria's Secret
J. Crew
Michael Kors
Ugg
American Eagle Outfitters
Louis Vuitton (only authentic!)
Tory Burch
Patagonia
Trending brands (as of 2021):
Chic Nation
Mara Hoffman
Gal Meets Glam
Club Monaco
Peloton
Taylor Swift
Star Wars
Obermeyer
David Yurman
Kensie
And if you go to the Poshmark website, they have a list that is updated regularly. ( go to the site not logged in to see it).
So, while there are men are the app, the majority of Poshmark users are women. And the top selling categories on Poshmark are shoes, purses, and wallets. These items require less fit concerns than lets say a pair of jeans, and are an easier online purchase. (because Poshmark does not allow returns for fit!).
Staying relevant with your audiences needs will greatly help your listing choices. If you are targeting Gen z and happen to have listed a brown north face in 2021, you probably did very well. Know your audiences likes, dislikes, and latest obsessions.
Some popular categories on Poshmark: (note, these do fluctuate with each season)
Shoes, purses, wallets
leggings
sweatshirts and hoodies
sneakers
skinny jeans
ankle boots
cardigans
mini dresses
rings
puffer jackets
What items should you not sell on Poshmark?
Poshmark has a list of prohibited items, here, that they do not accept listings for. In addition to that, any fake or unauthentic brand name items should NOT be listed. Poshmark is a place for fashion items, accessories, un-used personal care or beauty products, selected home goods, and selected pets' items. Other items do not belong on Poshmark.
Anything counterfeit should not be sold on Poshmark, even if it is labeled as "inspired by". This can get you immediately suspended.
I don't think I should need to say this, but used underwear is also not allowed to be sold.
And, nail polish and perfume cannot be sold on the platform, even if it is brand new and un-used.
Also, items need to be in really good shape to list them on Poshmark. Any holes, stains, or excessive wear marks and the item will probably not be a winner on the app. You also need to make sure the item is clean and ready to be shipped. (no odors, excessive wrinkles, or unclean items should be listed or shipped).
Pay attention to what condition you are listing your item as. And, I recommend before you ship any items to take a quick video of the item, from all angles and showing any visible wear or tear marks. This is good for posterity and any buyer claims that might crop up.
Take photos of the item you'd like to sell on Poshmark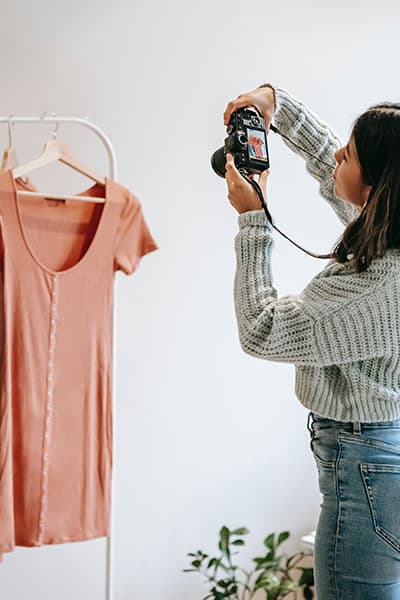 Depending on time and personal preferences you can do the photo process in two ways. You can take photos using your iPhone (or any high quality camera), edit them, and then upload them to the app.
Poshmark works with square photos, or a 1:1 ratio. You can adjust your iphone to shoot in this ratio so that your images are composed properly and need less tweaking.
Heres a quick video on to change that setting in your iPhone:
You can also just take photos of your items directly in the poshmark app. This great if you're short on time, or have a well established store that people already trust.
What photos do you need on a poshmark listing:
You can add up to 8 photos in a listing and a "covershot". Your covershot is the first photo in the listing and that picture will be used in the app feed. The covershot should be an overall image that accurately explains the item and draws the buyer in.
The following listing photos should be detail shots and the image from every angle. You will also need to include explicit photos of any damage or potential item attributes the buyer needs to be aware of. You can also include images of the items tag, next to another item for scale, or any close-up photos of textures or details.
we may earn a commission from you clicking a link in this post. As an Amazon Associates member, we earn on qualifying purchases, full affiliate policy here.
Lighting for poshmark listing photos:
I recommend keeping your background light and bright for your listing photos. You do not want a lot of other items distracting the buyer. While some stores use composed flat lays, or props to help brand their closets and stores, this should be done strategically and only after you have mastered the basics of the app.
Proper lighting is the key to getting great listing photos. Natural light is great if you have it. So take your photos near a window or even outside in a contained setting.
If you don't have much natural light you can try a ring light or a this powerful and compact light option.
Bright, an easily discernible photos will do best.
Decide on a listing price
When deciding on a listing price it is best to see what the market value is. So head over to the app and search not only the brand name but also the specific item and see what the average price listed is.
Next, compare your items wear and size to the items listed. A more niched sized item (like a shoe size 5 or 6) might be harder to sell than a shoe size 7 or 8.
You may also want to set your listing price higher than the lowest offer you would accept. This will account for some negotiating or offer flexibility. So if the comps say your item should be listed between 20 and 35 dollars, and you won't accept anything below $22, I would set your listing price at $28-$30.
Seo for poshmark overview
Seo- or "search engine optimization" will absolutely help you get your listings in front of the right buyers.
Seo is about using the right keywords to properly identify your listing and match it with buyers who are searching for those items.
For instance if you want to buy a "brown puffer jacket" on poshmark, you don't want blue trench coats coming up in your search results.
In order to use SEO on poshmark, your title should include the brand name of the item, and style name if possible. Don't use any emojis, abbreviations, or generic terms.
"Cute brandy top" is not going to do well, but "Brandy Melville daisy crop top" will.
The more (accurate) details you can put into your title, the better. For instance " Tory Burch Miller sandals in black" is much better than " tory flip flop logo sandals".
Make sure brand names are spelled correctly, add the product style name if possible, and any defining color or material details.
Your description should include all relevant details. It should include all the details from the title, sizing information, and attributes. If you can track down the original item's description online, this could be a good place to start (but do not copy it word for word).
Style names and numbers can help facilitate your poshmark SEO as well.
DISCLOSING DAMAGE
So, it is incredibly important to include photos AND text about any damage the item might have. Do not try to sugar coat it, or give your opinion. State it clearly, and succinctly. This will avoid any cases of "item not as described" or "INAD". I also recommend taking a video of the item right before you pack it that gives a 360 view and zooms in on any damage that the item currently has. This is good for posterity and issues that might arise and takes less than 30 seconds to do.
Do I need to include measurements?
While poshmark does not allow for returns based on fit, this is a hotly-debated topic. Measurements are great, if they are accurate and you have time to do them.
They are necessary for items that might be vintage, where sizing labels would be drastically different. A vintage 6, does not equate to what we know as a size six today.
I would look at the current listings for item you plan to sell and see if they include them. For leggings, they are not necessary. But, for jeans they could help seal the deal for your purchaser.
Use your discretion, and adjust if you see a lot of buyers having issues with the fit.
What is an "offer to liker" ?
A term you will need to know if you plan to sell on poshmark is "offer to liker". Many platforms, including Poshmark, allow a potential buyer to watch and/or like an item listing.
From there, you can send the watcher a special deal. This is usually a one-time, limited-time discount available to just them. (instead of a discount for everyone viewing the item listing).
Poshmark allows the potential buyer 24 hours to use the "offer to like".
From the seller side, your offer must be at least 10% discount and also include a shipping discount or free shipping. This can help encourage sales and is a great "fomo" incentive. But, make sure you keep this in mind when pricing your item.
How does shipping work on Poshmark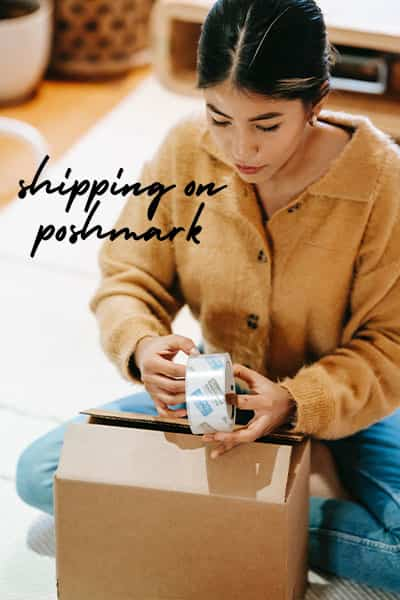 After your item has sold, Poshmark will send you a pre-addressed USPS Priority Mail shipping label. You must use this label, and have the package scanned into the USPS tracking system so that you will be fully covered by Poshmark (in the event an item gets lost in transit). I recommend saving any receipts, taking a photo of the label on the package, and potentially even a video of your dropping the item off (if you want maximum protection or ship many items).
A thermal label printer, like this one, is a must have to make your workflow easy.
When you package your item, make sure the item is clean, has no odors, and is generally wrinkle-free. Make sure the package does not have too much empty space, and add some bubble wrap, tissue paper, or padding if the item moves too much within the box.
Some buyers include custom branded stickers, tissue paper, and business cards in their box. This is a thoughtful detail, especially if you plan to take your selling seriously, but not necessary if you are just starting out.
Help, my items aren't selling on Poshmark
So, there are many reasons why an item isn't selling on Poshmark, but if you've followed the above advice on how to sell on Poshmark, try these tips to help boost your sales.
Is the item in season? Sometimes we overlook basic details of a listing that might make it a harder sell. Winter coats are not going to be selling a ton in summer, and certain times of the year people do less shopping. You need to be patient, especially if you're newer.
Is the item right for Poshmark? We went over this briefly, but if an item hasn't sold and its been listed for awhile, re-do your research. Is it a brand that is popular on Poshmark? Is the item properly described? Do you have enough information to make your buyer feel comfortable purchasing- measurements, photos, multiple photo views.
Try making offers to likers. This limited time discount offer can help push buyers to buy. And, if you've properly priced your item for some negotiation or discounts, your bottom line won't be impacted negatively.
Try offering discounted shipping. We all love free shipping, right? For high priced items or a large cart purchase try offering free shipping to entice more sales. And for lower priced offers, work in a bit of padding into your price so that you have some discount shipping flexibility.
Consider changing the item listing cover photo. For whatever reason, maybe that image just isn't working. Make sure the cover photo is clear and full length, but perhaps you try one on a body, or with a different crop if your listing is stale.
Expand your photo presentation. Maybe your photos are just not highlighting the garment in the best light. Consider different styles of display- flat lay, on a hanger, on a person, or on a dress mannequin. I like to look at similar listings and see what they do for some ideas.
Does your listing title say everything it should? It should include the brand name, the items style, size, colors, and condition. If you can't fit all that information that is ok, but make sure it is in the description.
Check your newsfeed. Make sure you haven't missed any questions or comments from followers.
Try promoting your closet items on other social media channels. Instagram, and Tiktok are great for promoting and can help get more eyeballs on your Poshmark account.
Look at the top Poshmark ambassadors in your niche and see who follows them or has written lovenotes to them. Then, go follow those people. They are active buyers and could check out your page if it's a good fit. While, this can be labor intensive and can be a "time-suck", if you've exhausted all other revisions, this might be worth a try.
Evaluate your sharing strategy
Attempt to be "host picks" for parties. Look at upcoming parties on the site, head to the hosts page and go to the listing for the event. Some will give instructions to be considered for a host pick, follow them and submit. New poshers can and should be doing this. This will help you get more followers, as well.
Poshmark Sharing Strategy
Part of being successful on Poshmark is to get more eyeballs on your listings. So, you should absolutely be following all the selling guidelines I've listed above.
But, sharing also needs to be part of your strategy.
I suggest sharing your closet 2-3 times a day. Stay organized and pick a system to your sharing, so that you don't overdo an item.
You could try a slow trickle share which means you share out a dozen or so of a particular category at once.
These will all be considered "self shares". Which means you are sharing your own listings.
Next, are community shares. This is when you share other seller's items. Those will only be shared to your followers. You can also experiment with doing the slow trickle self share and then doing a community share right after, to expand your potential reach. (although this only from personal experience).
Why are shares important for selling on Poshmark?
Sharing is critical for success on Poshmark because it allows your listings to end up on your followers feeds. This tells your followers that your closet is active and that you are open to offers. This also provides an opportunity for one of your followers to share the item to their followers, which will get your listings seen by more people.
It also moves your listing to the top of the search results feed. Poshmark wants to know the closet is active and the seller ready, willing, and able. And they love to prioritize newly shared items.
Poshmark Sharing Strategy Option
Now, the goal on any platform is to not exhibit overly spammy behavior, complete the same action over and over again, or use gimmicks to game the system.
However, nothing is preventing you from exploring alternative strategies to find more actual buyers.
So if you are planning to sell Nike sneakers. Search "nike sneakers" and then from there find the stores that have sold many pairs of Nike sneakers. The larger stores will have a section of "love notes" from purchasers. Search the love notes and follow/share listings from those people. Ideally, this will cause them to go to your closet and see your listings. While, it is labor intensive, it can have positive results if done sparingly and without expectation.
Poshmark share jail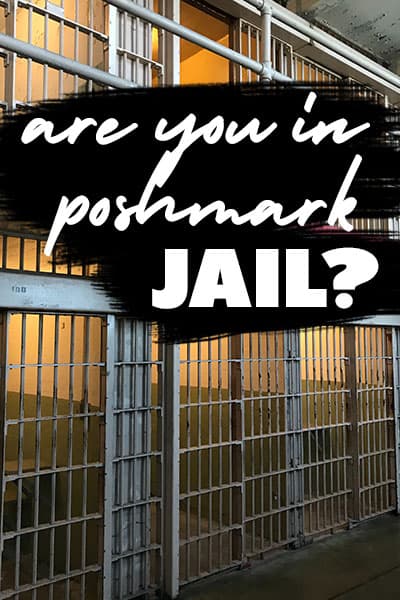 Poshmark share jail is Poshmark trying to deter spammy or bad behavior off the platform. It essentially restricts your ability to share for a specified time period, usually about 24 hours.
If you've shared more than 10,000 times in a day, you will probably end up in Poshmark share jail. It does not mean you have been suspended, or banned. It has also been coined as "Poshmark shadow-ban" or "Poshmark soft-banned".
If you continue to try and do the spammy behavior (like sharing or following) after you have been in jail, it will delay you getting out of jail. So, stop sharing and/or following immediately.
How to tell if you're in Poshmark share jail:
Head to the website and log in. Go to an item in your closet and press the share button to share it with your followers.
You should see a gray pop up that says "share successfully" which indicates you are NOT in share jail.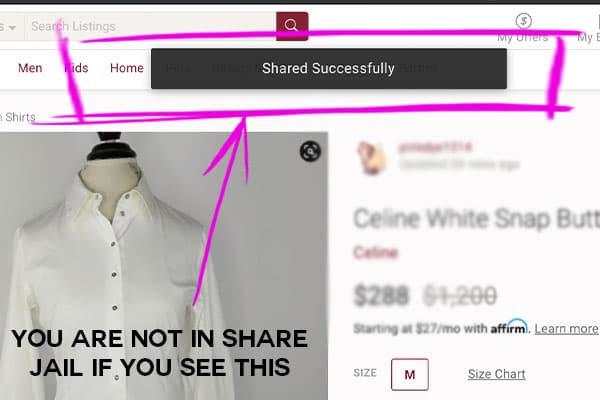 If you see no pop up, discontinue all sharing and following for at least 24 hours. Do not continue to test this within that time frame. Let your account be.
Once you are out of Poshmark share jail, or to avoid it all together- be sure you don't share over the threshold in 24 hours and be sure you don't share too quickly. If you're triggering googles captcha or you're sharing faster than a regular human could, Poshmark will get suspicious.
I would stay under 3500 shares a day, ideally.
Yay for poshmark keeping spammers off the platform, but let's avoid getting our legitimate accounts flagged.
Poshmark stories: What are they and how to use them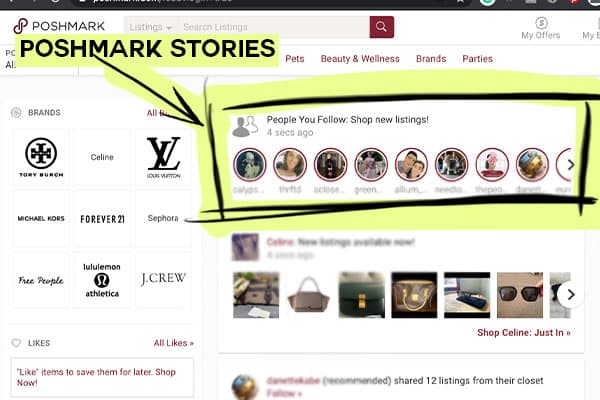 So, just like Instagram, and then Pinterest, Poshmark has added the story feature to their platform. The recording, text, and process is basically the same as instagram.
Poshmark does have a social component and followers are important to get your listings sold. So while stories may not be a necessity, they could potentially help your exposure.
I would consider doing "business-only" stories that help entice sales. Don't show you're friends birthday party or a casual snap shot of your day like you might on instagram. Instead show new listing items in video format, and provide extra information to your audience.
Throw on that great mini dress and show where it hits on your body, so followers know it isn't too short. Wear that uniquely draped blouse so a potential buyer might see your new listing and see how the shirt actually works.
You are limited by how many photos or how much text a listing can have, so use stories to provide extra information on an item. And get it exposed to more buyers.
I recommend not using stories too casually. Don't show yourself dumpster diving for items, complaining about customers, or making bold statements.
Instead use stories to highlight sales, new items, or show off the items in a new/unique way. Show off the beaded fringe and how flirty it can be when it moves, or how to style that trendy jacket, but keep it professional.

Now, I don't know about you but you are probably tired from just reading this whole post! Poshmark can be a lucrative way to make money, and clean out your closet of unworn items. But, it does take some time to set up properly and implement the correct strategies.
You can absolutely make money on Poshmark, but it won't be overnight. Accept the learning process and use this ultimate guide to selling on Poshmark for the fastest results.
Now, go forth and sell!
Anything I missed? Comment it below!