I probably don't need to tell you that the dating landscape has changed a lot, and hinge, bumble, and tinder are now a staple on your app screen.
But, just because your potential perfect-someone is now available at the touch of a button, doesn't mean that what you should wear on a first date has gotten any easier.
There's a fine balance between looking attractive, cool, and interesting versus looking inappropriate, like you tried too hard, or too high-maintenance. You want your clothes and outfits on a first date to help communicate who you are, NOT give the wrong impression.
So, what should you not wear on a first date?
Do not wear super high heels that you can't walk in
Don't wear anything that shows too much skin
Anything that is out of character or you wouldn't wear normally
Don't wear a brand new outfit
Don't wear anything that doesn't fit well
Avoid outfits that require high maintenance styling that could wrong (complicated lacing, straps that might fall down or untie, etc)
Athletic wear (unless it's an pre-planned active first date)
Too much makeup (because you never know the lighting of a date and it could end up looking awful)
Overly ripped or worn in items. Avoid the majorly ripped jeans or anything with holes, tears, or wear marks.
Dramatic silhouettes- avoid the feathered dresses, the large scale ruffles, or any dramatic silhouettes that can take away from the focus of the date- which is you. I love a great fashion moment, but the first date is about expressing yourself through fashion AND getting to know each other. So definitely wear an outfit that speaks to your style, but avoid the super over the top choices.
Any new trends you haven't fully mastered
Generally I avoid clutches. While they are incredibly chic they tend to be a bit high maintenance and impede any hand holding 😉
Off-the-shoulder tops are great, as long as they stay up and don't require too much fussing!
What Should I Wear on a First Date For Every Scenario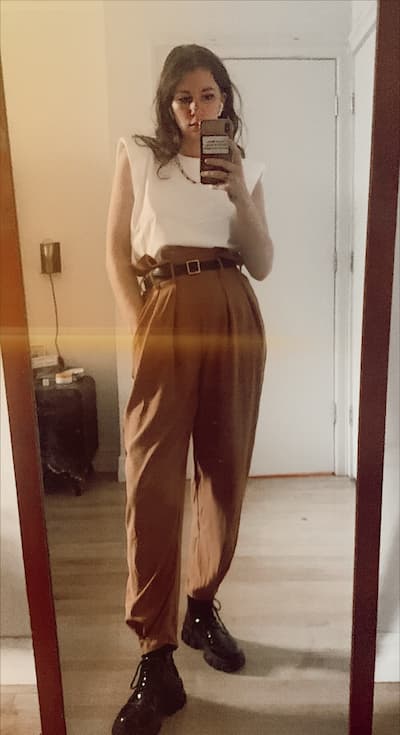 What should I wear on a casual first date?
A casual first date is any date that involves daytime activities or a very clearly casual evening setting. A low-key bar or relaxed restaurant in early evening would also qualify.
For a casual first date I advise to keep your shoes very walkable, your makeup simple, and jewelry streamlined. You want to look polished, but not high maintenance.
Casual dates (especially during the day) can end up moving around the neighborhood, especially if they are going well.
Things I love for a casual first date: Easy dresses, jeans with a chic top or blouse, dress with tennis shoes, non-jean shorts with a blouse, or a blazer with leather pants.
Things I would avoid on a casual first date: Body-con dresses, pencil skirts, super short anything, plunging necklines, outfits with lots of volume, and t-shirts without a layering piece over them.
we may earn a commission from you clicking a link in this post. And, as an amazon associates member we earn on qualifying purchases. full affiliate policy, here.
First Date Outfit Ideas
Casual First Date Outfit Idea 1
Outfit Formula: Fitted Jeans, Silk Camisole, Boxy Blazer, Heels or Heeled boots, small shoulder bag, gold chain link necklace
Why this works: This is a great first date outfit idea, especially when you have to come from your office/work. The silk camisole is flirty and fun, and the blazer can be taken off if you want to show a little more skin. The heeled boots are casual, but help you lengthen your body and proportions. Plus, they are easy to walk in (as opposed to stilettos).
Where to wear this outfit: This outfit is great for casual dinners (especially when you have to go straight from work), drinks at a relaxed restaurant, a day at the museum, or any casual eating environment.
Where this outfit doesn't shine: I think this outfit is a little sophisticated for coffee or park dates, and probably a little too fussy for any outdoor dates that involve a lot of walking or potential movement.
Semi-Casual First Date Outfit Idea 2
Outfit Formula: Loose t-shirt, boxy blazer, leather pants, belt, beaded handbag, hoops, and heeled boots
Why this outfit works: This outfit is effortless, flirty AND sophisticated. The t-shirt is casual and doesn't show a lot of skin, but the leather pants adds a touch of sexiness to the look. I would pair it with your hair down and a great lipstick for a chic first date look.
Where to wear this outfit: This outfit works best for evening activities. It will work for a dinner, drinks, and is flexible enough to work for most evening dates where the activities are unclear.
Where this outfit doesn't shine: This is probably not suited for most daytime dates. I would not wear this for any outdoor dates or coffee dates, as the leather pants might feel over-the-top.
First Date Outfit Idea 3
Outfit Formula: Square neck knit dress with trench coat, heeled boots, statement earrings and shoulder bag for an evening outfit. Same square neck dress with shacket, classic sneakers, gold link necklace and tote for a daytime date
Why this outfit works: Here you can really see the flexibility of foundational fashion pieces. This body con knit dress is sexy, but because of the knit material it is not overly revealing. The neutral color and length help it be versatile to be paired both for evening dates and daytime dates.
related: spring capsule wardrobe 2021 (these items are part of my spring capsule post)
Casual First Date Outfit Idea 4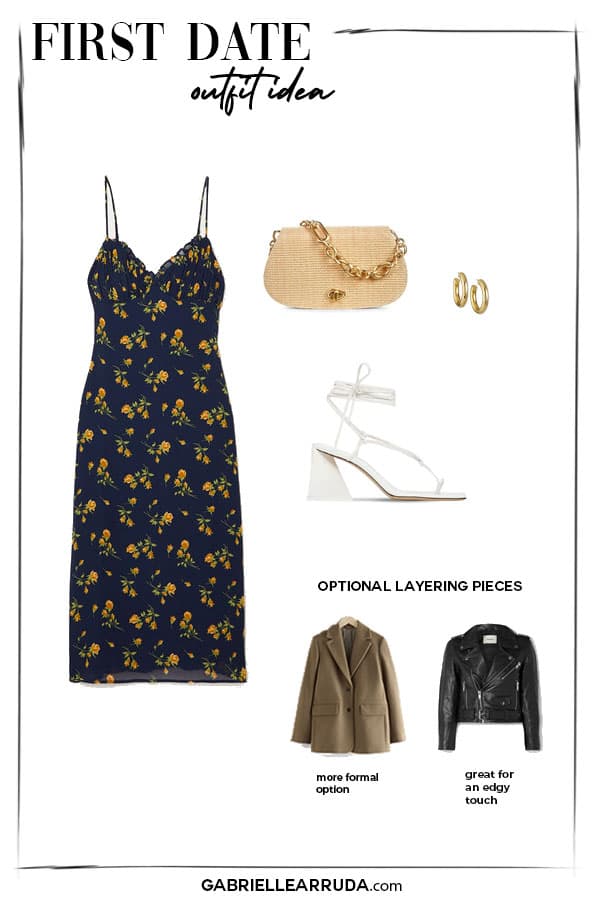 Outfit formula: Sundress, strappy (low) heels, woven bag, hoops, and your choice of outerwear
Why this outfit works: This outfit is flirty and fun, yet still casual. The print can speak to your personality but isn't overwhelming or distracting. The heels are trendy but still totally walkable so it's great for outdoor dates. You could also switch to a flat sandal if you don't like walking in heels.
Where to wear this outfit: This outfit is great for outdoor dates, daytime city adventures, or even grabbing a coffee. It's casual, easy to move around in, and allows you to peruse a city without getting overly sweaty or feeling constricted. Plus, it's very cute!
Where this outfit doesn't shine: This outfit is probably a bit too casual for most evening outings. It could work for an early dinner at an outdoor restaurant, but should be avoided for grabbing drinks, or more elevated restaurants.
Casual Evening First Date Outfit Idea 5: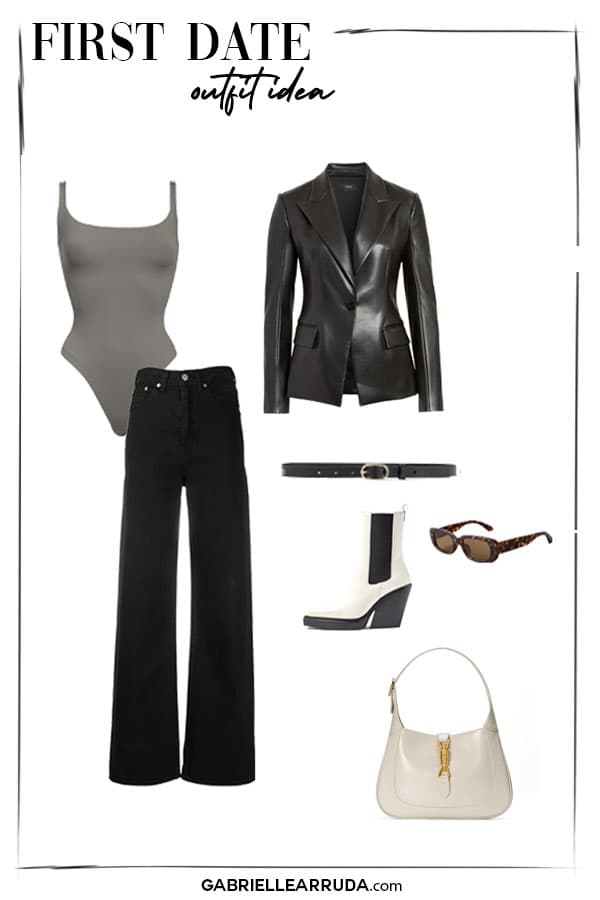 Outfit Formula: Wide Leg Black Jeans, Bodysuit, Leather blazer, heeled boots, shoulder bag, belt, sunglasses (if needed)
Why this outfit works: I love this outfit for a evening city date. It is chic, a bit sexy, and incredibly effortless. The jeans make it casual, the bodysuit is flattering, and the leather blazer is an easy layering piece that you can keep on or off depending on the location or temperature. Add a slicked back bun or hair down with red lipstick and you have a flirty look that won't be high maintenance. Bodysuits help keep your styling chic and clean. You should opt for a bodysuit that unbuttons in the groin area, so that you don't have a challenging bathroom experience (because you don't want to keep your date waiting).
Where to wear this outfit: This outfit is great for drinks, dinner out, or even shooting pool or a dive bar. The leather jacket makes it casual and a bit edgy, but the overall look is still sophisticated enough to pass at a restaurant. Also the dark colors help if you are prone to spilling! This outfit is also great for fancier daytime dates likes going to a museum or event together.
Where this outfit doesn't shine: This outfit is not best for daytime coffee dates, and wouldn't be appropriate for a park date.
Daytime First Date Outfit 6
Outfit formula: silk skirt, silk blouse, white classic tennis shoes, shoulder bag, and a gold link necklace
Why this outfit works: This outfit is flirty, yet simple. It gives off relaxed vibes but still appears feminine and put-together. The simple color palette makes it sophisticated but doesn't take away from your beauty. I would pair this with my hair down or in a low pony.
Where to wear this outfit: This outfit is perfect for coffee dates, lunches out, park dates, or even walking around the city. It is a great daytime date outfit that doesn't feel too fussy. That being said, I would opt for full coverage underwear or a pair of booty shorts under the skirt if you think sitting in the park, or the activities of the date are in question. Better safe than sorry, flashing your date is never a recommended first move.
Where this outfit doesn't shine: This outfit is too casual for a dinner or evening activity. While you could pair it with heels, I feel like it is not as successful for a first date evening outfit regardless of the shoe choice. But ultimately, that will be your call.
First Date Outfit Idea 7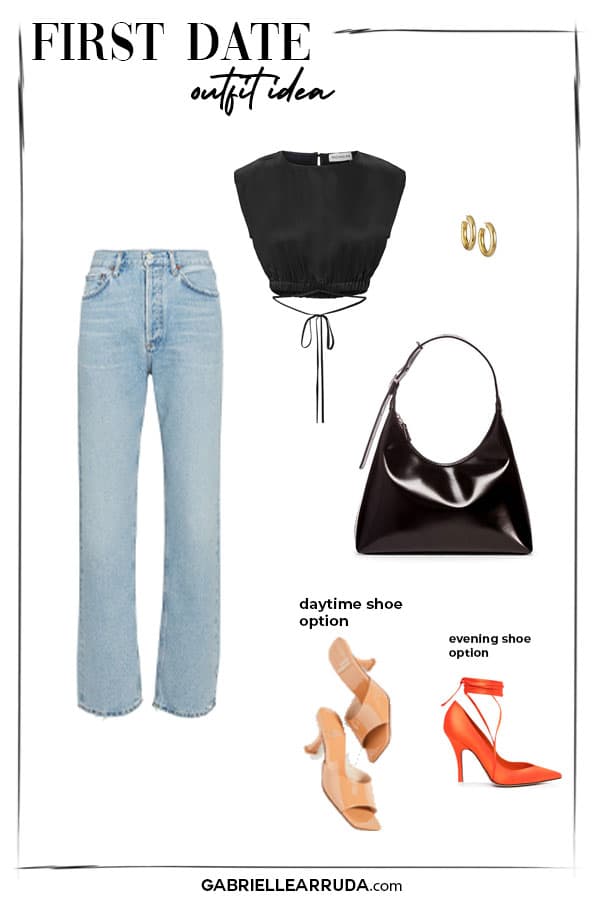 Outfit formula: Straight leg jeans, Silk Crop Top Tee, hoops, leather shoulder bag, and either neutral mule (daytime), or red heel (evening)
Why this outfit works: I love the simplicity of this outfit and the details really make this outfit a great first date choice. The silk crop top has trendy notes (with the padded shoulders and tie detail) yet it is still elevated because of the material. This outfit has two shoe choices depending on what time your date starts. For a daytime or casual date I would opt for the low heel, neutral mule. It acts as a great supporting role for the look while giving you a little more height. For evening, I love the pop color stiletto that adds some oomph to your look and gives off flirty vibes.
Where to wear this outfit: This outfit is fairly flexible. Depending on your shoe choice you can wear this to a daytime date or an evening date. For an evening date, I would wear your hair down. However for a daytime date, to make this look a bit more casual, I would opt for your hair tied back in a ponytail, bun, or half/half down.
Where this outfit doesn't work: This outfit is probably a little too fancy for coffee dates, or any dates that require physical activity.
First Date Outfit Idea 8: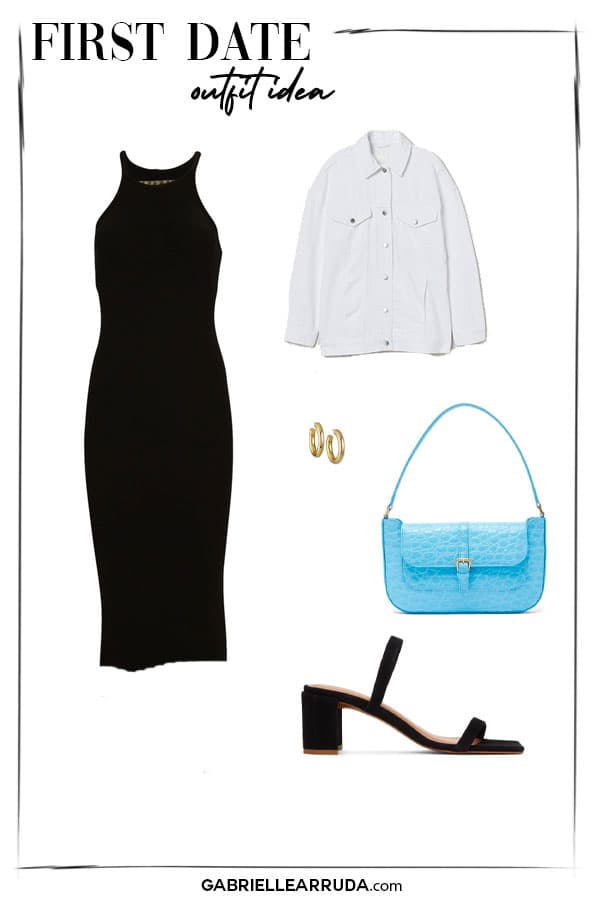 Outfit formula: Body con dress, white denim shirt, mules, pop color should bag, and hoops
Why this outfit works: This outfit is great when you want to be low-key sexy but not look like you tried too hard. The dress is chic and the accessories are all elevated, but adding the oversized denim shirt adds the easiness we need and relaxes the outfit. This is great for when you are unsure of how fancy the location will be. The dress also shows off your body without showing skin, which is a great balance for a first date.
Where to wear this outfit: I love this outfit for any daytime restaurant dates, or any semi-casual evening restaurant dates. The denim shirt can be removed if it feels too casual, and you are left with an elevated look. And if you need a fancier layering piece you could add a blazer instead.
Where this outfit doesn't shine: This is too fancy for the park dates, coffee dates, or any dates that require getting up and down a lot.
First Date Outfit Idea 9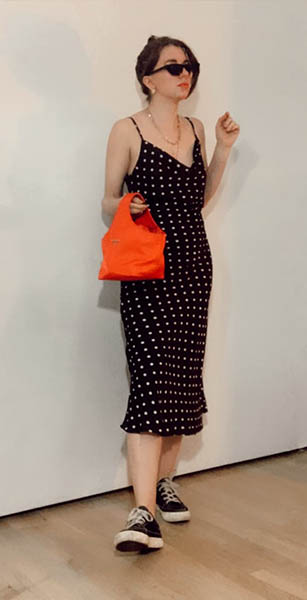 Outfit formula: Midi silk dress, classic sneakers, handbag
Why this outfit works: I love the effortless vibes this outfit exudes. It's both practical and feminine without being high maintenance. I also love a neutral print like this polka dot that adds interest without taking away too much focus.
Where to wear this outfit: This outfit is great for coffee dates, walks around the city, or any outdoor park dates. It would also work for casual dinners in outdoor cafes, but probably skews too casual for restaurant dinner dates.
How do you wear jeans on a first date and not look too casual?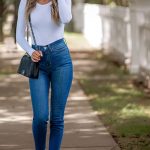 If you are worried about your jeans making your outfit too casual pay attention to the details of your look. Avoid jeans that have too many wear marks or holes in them. You could also opt for a darker wash like dark navy, black, or gray to elevate your outfit a bit. And definitely focus on your supporting accessories; heels, jewelry, or a shoulder bag can add the sophistication you need.
Here are some more casual first date outfit ideas: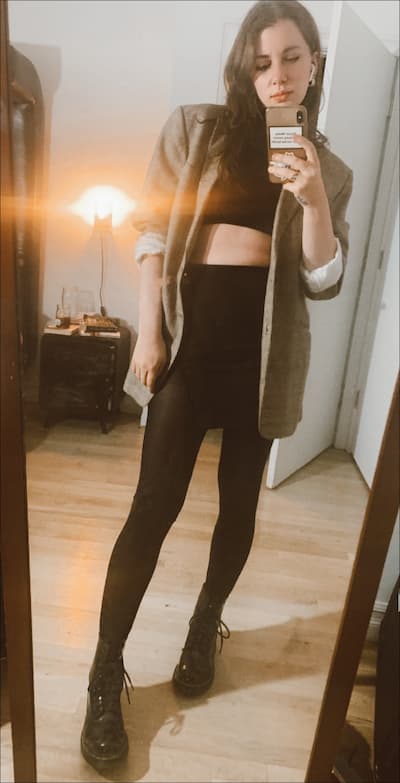 While this outfit has both a crop top and shorter skirt, the tights and boxy blazer make this a great first date outfit. Tights are a great option for colder weather first dates, without sacrificing style.
related: outfits with black tights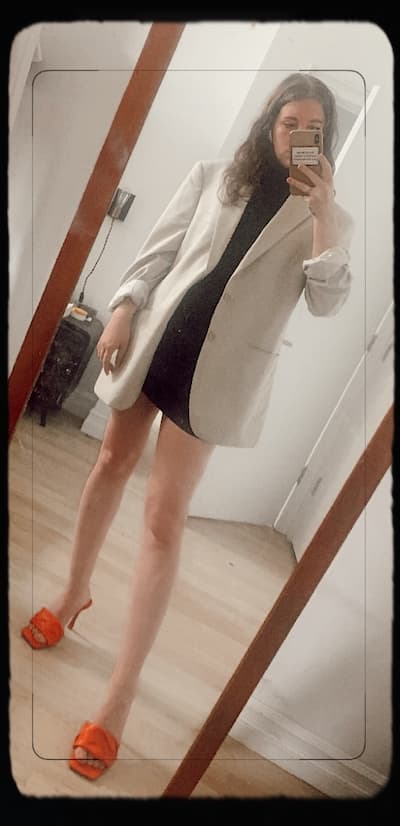 The boxy blazer really balances out the heels and fitted dress in this first-date outfit idea. This outfit really highlights my legs, and allows me to be flirty without showing too much skin. The high neckline on the dress also helps make it more sophisticated. A square toe heel is a great, trendy alternative to the traditional pointy heel stiletto.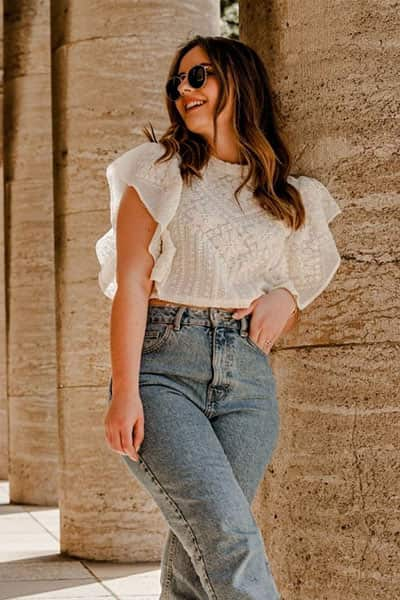 If you feel like your jeans are veering too casual, you can try a neutral colored top with a unique texture or silhouette. Picking a blouse you love or feel confident in will add some oomph to your casual jeans.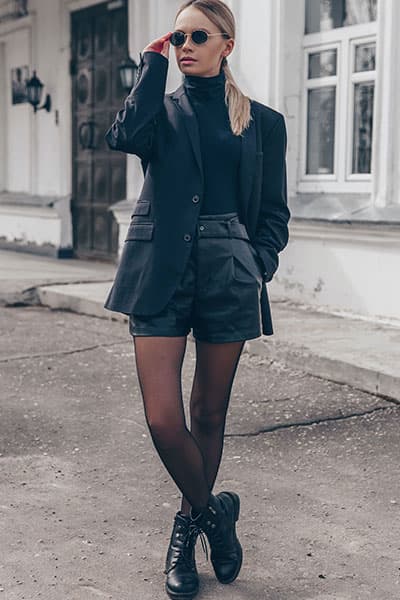 Don't be afraid to express some of your personality through your outfit. If you love all-black, rock it. Also, adding tights to an outfit makes it perfect for those transitional seasons.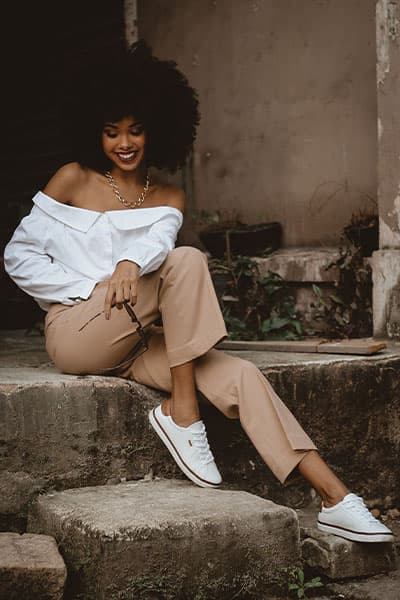 Showing a hint of skin is a great way to keep your outfit from looking too frumpy. An off-the-shoulder shirt is perfect for this (as long as it stays up!). The rest of her outfit is chic and flattering, but the peek of shoulder makes this a great first date look.
First Date Styling Tips and Tricks
Avoid underwear lines, opt for a thong or switch out your bottom piece for more coverage
Make sure you wear pants that allow you to comfortably consume food/beverages.
Don't have bra straps showing, it will just look sloppy (unless you are purposely wearing a bralette top)
Bring a pair of sunglasses, just in case. Squinting or having to move tables is a pain
Bring a few bandaids in case your shoes start bothering you or causing blisters
A pocket mirror will save your extra trips to the bathroom when you just need a quick lipstick/teeth check
Opt for low-maintenance hair and makeup so that it doesn't require a lot of monitoring
Avoid white skirts/shorts/pants. Between a period stain, or a grass or seat stain from sitting around the city, they just cause more worry for a first date.
Don't wear shoes that haven't been broken in yet
Crossbody or shoulder bags work best, as they can carry your necessities hands free and won't be cumbersome
Take a photo of your outfit with flash to make sure it's not too see-through.

Navigating the dating world is stressful enough! Do i have something in my teeth, are they checking their phone because they are bored, am I coming off well? You have enough to focus on with a first date, so these outfits should help you get the date started on the right foot.
Let your style bolster your confidence and make you feel like your best self, so you can focus on making witty conversation and not worry about an outfit that will fail you.
Now, go get 'em tiger.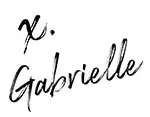 Save the below image so you're ready for your foray into dating