I know we all imagine our favorite style icons just wake up with glowing skin, prefect frizz-free hair, and an effortlessly-chic outfit (with zero wrinkles, no less). But, in reality, it doesn't work like that for anyone!
Social media, the internet, and just daily access to polished perfection can get overwhelming and make us feel like we aren't doing enough to be more perfect. But, in reality, looking polished and well-groomed is a collection of maintainable habits and examining what you value for your style and look.
These 15 easy steps will help you look more polished, and help you quell those comparison tendencies so that you can find YOUR best style.
Important note:
Now, looking polished and well-groomed are actually two separate concepts. And we will discuss both, because they do work well together.
Looking polished is the total picture- it includes your outfit, your style, your style details, and even styling techniques.
Looking well-groomed is about the cleanliness, and presentation of your daily habits. Manicured nails, clean hair, and healthy looking skin.
You can look well-groomed, but not polished. However, you cannot look polished without looking well groomed. We will discuss this more, but first…
How to Look Polished in 15 Easy Steps
1. Know what your daily life needs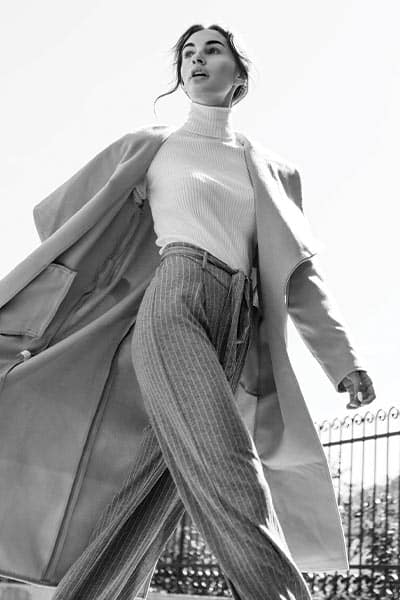 Part of looking polished in your life, is also looking appropriate. Those effortless women you see and want to be like, they are dressing for THEIR life. And you need to dress for yours.
I am not squashing your dreams of being a style icon, just merely pointing out that looking stylish needs to be in line with your daily needs.
We are not creating a look for you that you will wear a handful of times and give up on because it's too difficult to maintain.
For instance, if you're a mom you might need to factor in what your shoe choices and handbag needs are. Sky high heels and clutches might not be a big part of your wardrobe. Because the easiest way NOT to look polished is to be toppling over trying to pick up your kiddo and shoving kid accessories in your pockets because your bag is too small.
Just like you wouldn't wear a ballgown to a baseball game, you need to evaluate what your lifestyle needs are.
Here are some questions to ask yourself:
What is my dominant style? If you don't know this, check out my post here and free quiz to help you find your dominant fashion style. This will help you narrow down your choices and start to evaluate what accessories and pieces will help you accomplish a more polished look.
What daily tasks do I need my wardrobe to accommodate? Things like walking a lot, corralling toddlers, or business meetings should all be considered.
What clothing items am I most comfortable in? If you can't walk in heels, they should be removed from the list.
2. Be realistic
Social media has really started to taint our understanding and expectations of beauty. Scrolling instagram or tiktok you are most likely bombarded with beauty filters, photoshop, and other unrealistic comparison models.
So if your goal is to look like an airbrushed photo everyday, you need to adjust your expectations. Models get acne, beauty bloggers don't have non-existent pores, and even Audrey Hepburn woke up with bed head.
I know it's hard to do, but looking polished isn't about setting yourself up for failure. We want to create a realistic model to aspire to and maintain… We don't want to try to look perfect, only to fail and give up a few weeks later.
I know this may frustrating to hear, but I recommend you read up on how manipulated the media is, so that you can start being your best self.
we may earn a commission from you clicking a link in this post, at no additional cost to you. as an amazon associate we may earn on qualifying purchases. full affiliate policy, here.
3. Keep the full picture in mind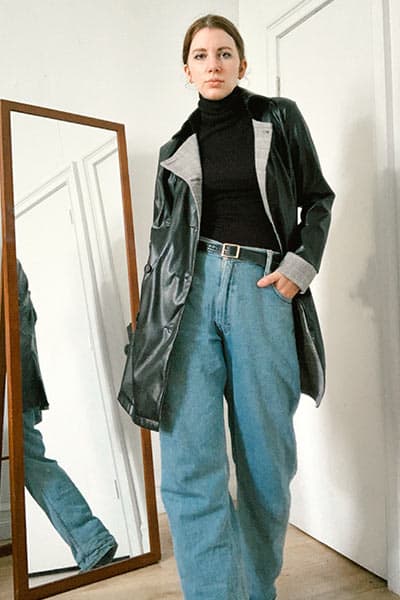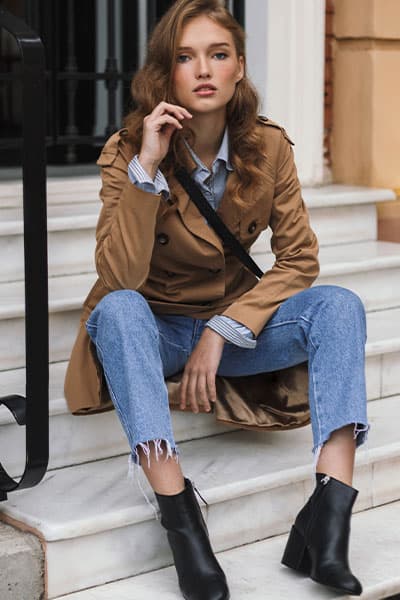 Now that we have a more realistic expectation for looking polished, the number one thing to keep in mind is the full picture. We will certainly be going over the details, but if you don't have a vision in mind, you'll be lost.
So, what does polished mean to you? What style do you look at and aspire to be like?
If you don't know how to turn your style aspirations into your real life look, or have a wardrobe that supports your dream style (without buying a whole new one), you need to check out Craft the Closet of Your Dreams Playbook. It is made to walk you through honing your style, streamlining your closet to support it, and actually rocking those styles in real life.
You need to have some style inspirations to master what a polished look means to you. Here's an article on timeless style, to get your started.
Next, you'll want to pop on over to Pinterest, and start looking for some polished style inspirations. Note: You will need to adjust these to fit your lifestyle needs and individual style.
4. Use elevated basics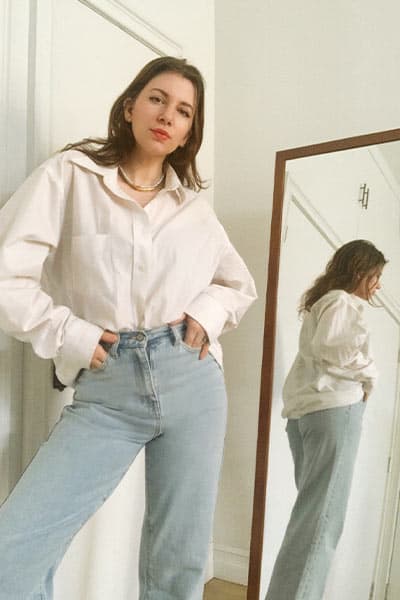 In order to look polished everyday, you need a set of basics that will serve you all year round and easily mix and match.
So invest in a some great basics. My favorites are a boxy tee, a turtleneck, a men's white button up and a structured blazer. I wear these items time and time again, in varying iterations, and never hesitate to invest in them because I know they work for my wardrobe and my polished style aspirations.
related: how to improve your style in 10 steps
5. Don't forget layering pieces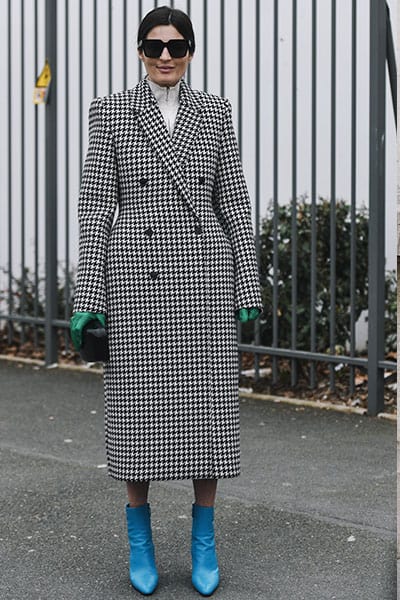 A layering piece adds so much depth to an outfit and makes it feel complete.
Think about a cake, a birthday cake to be exact. You don't just pop a cake from the oven and set it down for someones birthday. Instead, you frost it, decorate it, put candles on it, AND sing happy birthday. Your outerwear is like the frosting on the cake, it adds a A LOT to the visual. I use this analogy a lot, but it's only because it such an effective image.
Just take the below outfits, for example. While the outfit sans trench, is fine and does look polished… The outfit with the trench somehow looks even better.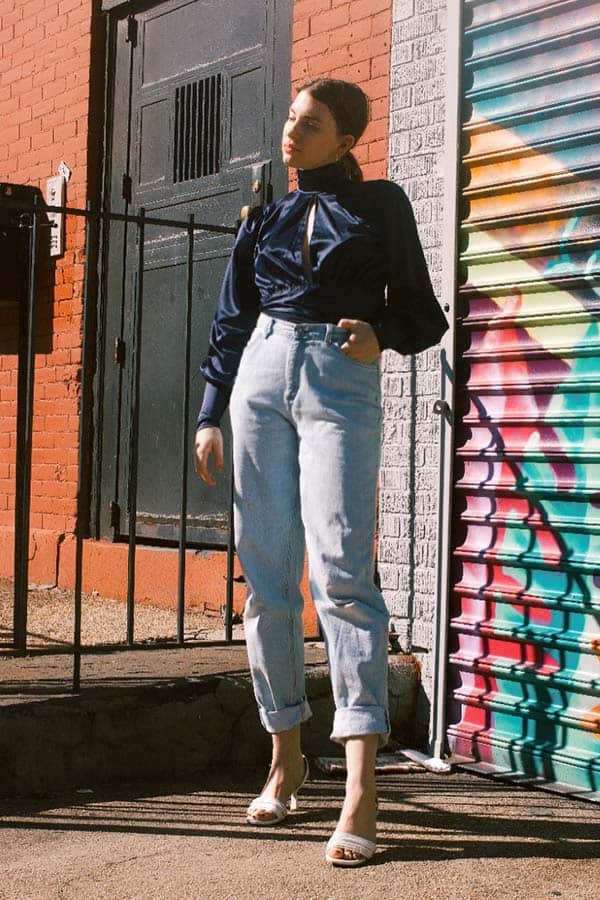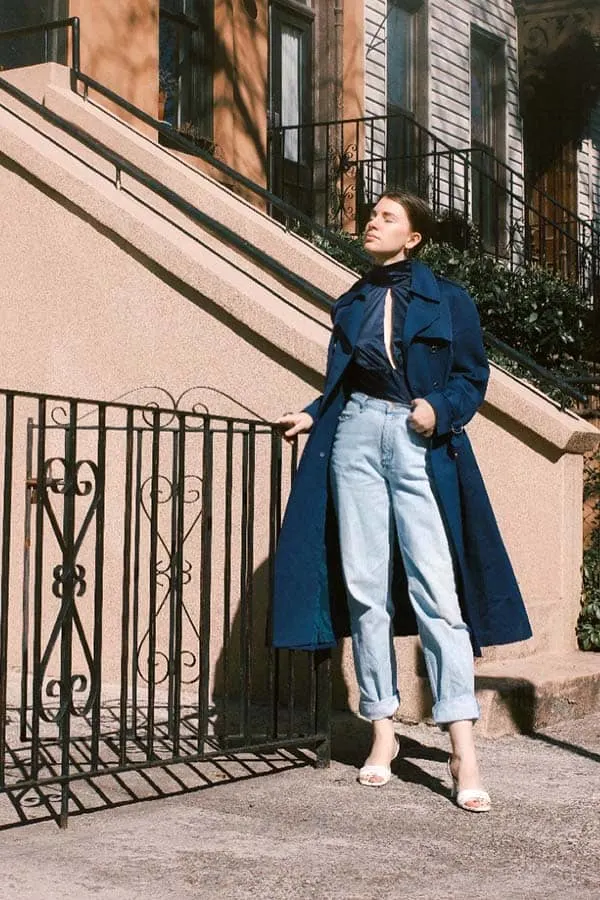 Looking polished with layering can expand past outerwear and include sweaters, vests, and other pieces. The more comfortable you are with your styling and dressing for your body type, the more you can play with what layering pieces you add.
Here are some examples :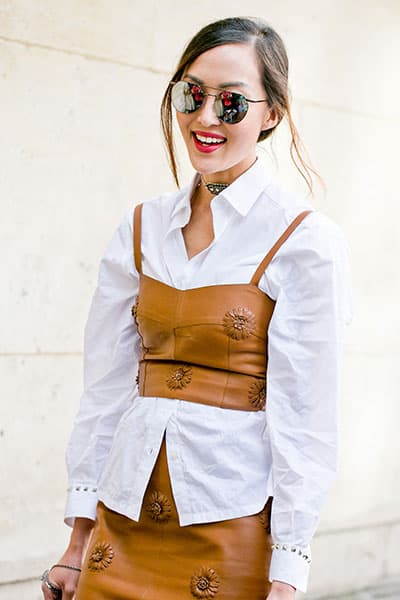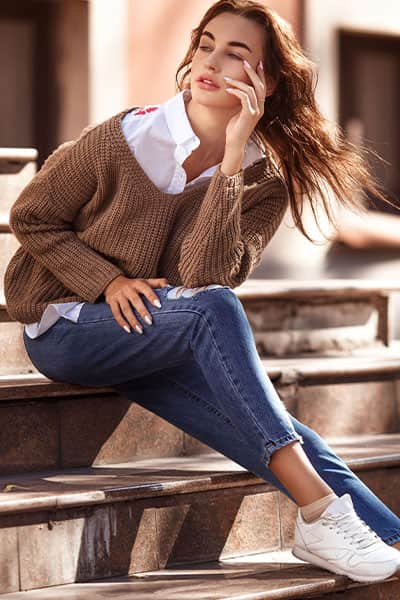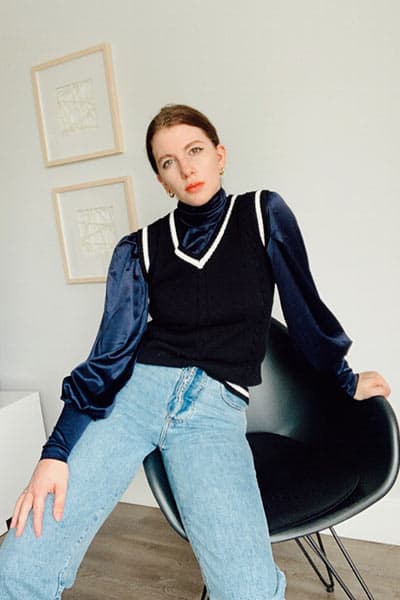 6. Structure over slouch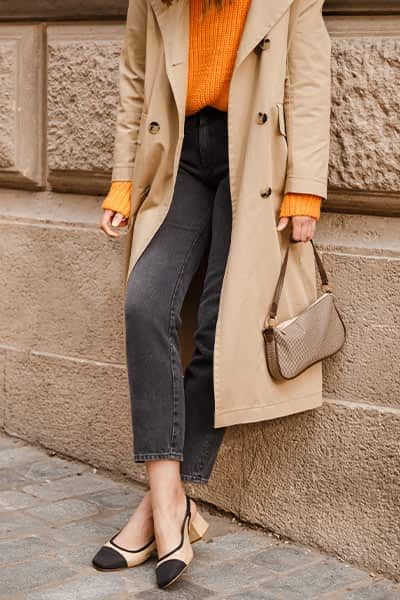 While slouchy, relaxed pieces certainly come in and out of fashion, the easiest way to look polished is to opt for more structure in your outfit.
My rule of thumb for this (because I'm not asking you to avoid all relaxed pieces), is to try to keep a dominant outfit percentage structured. So if you are wearing 3 main pieces- 2 should be structured, and one relaxed.
So in this outfit we have a pair of straight leg jeans (structured), a blazer (structured), and a relaxed sweater (slouch).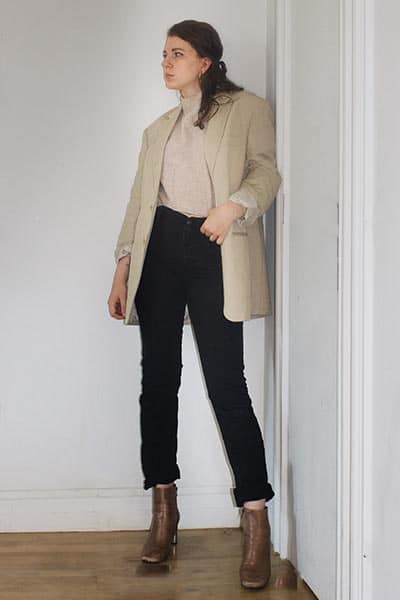 Now, only you will be able to truly define what is "slouchy" for your style. If you veer more into the casual fashion style, a sweater with a great fit might be polished enough for you. Or a silk blouse might still have enough shape to be considered "structured".
If you're really struggling with defining a piece ask yourself would you wear it to an office job or to a job interview. If the answer is a resounding no, then it's probably in the relaxed or slouchy category.
7. Avoid visible wear and tear marks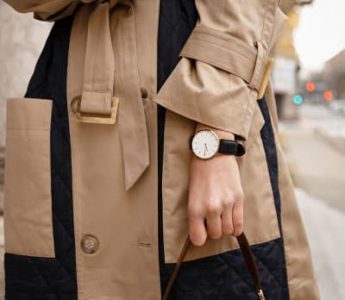 I probably don't need to tell you this, but I'm going to because while you "know it" you aren't putting it into practice.
You need to have a closet (and accessories) that don't look worn in, scuffed, torn, or ripped. I bet none of your style inspirations had pilly sweaters on, or scuff marks on their boots?
I'm not saying you can't own a pair of a jeans with limited, strategic rips.
But, if you want to look polished, your clothes have to look well taken care. Part of this starts with an organized closet, and properly cleaning your items. But, it also roots in finding pieces that will last.
That $15 sweater from the clearance rack that you impulse purchased probably isn't going to hold up for years to come.
As mentioned previously, you need to buy clothes that have quality behind them. Here are some quick tools to help you keep your clothes looking polished.
De-piling Sweaters: I use a disposable razor for this, here's a great tutorial.
Clothing storage bags: It is important to properly store items out-of-season so they are fresh when you want them again.
Cedar balls: Moth holes will kill your polished efforts, so invest in some cedar balls or cedar hanging strips to avoid it.
Get scuffs out of boots: Try this guy for leather boots.
Revitalize your suede boots with this. And try a waterproof protector for all your shoes.
Don't put an item in the dryer if it says not to. Instead, air dry it to preserve the shape and fiber density and spring back.
related: how to clean white shoes so they look new again
8. Create a collection of go-to outfits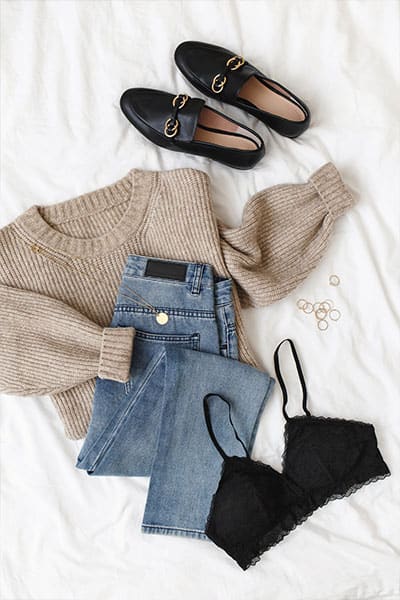 Our goal here is look polished whether we are wearing a casual outfit, work outfit, or just running errands, it starts with your styling. And having a rolodex of outfits to pull from will make it that much easier.
In order to do this, your closet needs to be organized and support your lifestyle. The Craft the Closet of Your Dreams playbook can help you do just that.
You probably already have a few go-to-outfits that are working for you, so next time you wear them take a quick pic of the outfit and save it in an album on your phone labeled "outfits I love".
This will start building-out your outfit options and will make evolving them easier. This way, you will avoid feeling like you never have anything to wear.
9. Take on trends sparingly
There are certainly style icons who rock every style and fashion trend out there. But unless you are planning to get photographed on the streets of Paris Fashion week, your lifestyle needs probably don't require or need you to try every fleeting trend.
I, personally love trying new trends, but I also make sure they work for my lifestyle needs, and part of my job is in the fashion industry, so that is to be expected.
But you don't need to wear a Molly Goddard ruffle dress, with MiuMiu platform heels and a padded headband to feel stylish and put-together.
In fact, I recommend integrating trends sparingly into your outfit for a more polished and effortless look.
An easy rule to follow is gently introduce a trend into your wardrobe, and your go-to outfits can help you do this.
Say you want to try the boxy blazer trend, instead of wearing the trendiest version of this style, opt for adding the blazer to on of your go-to looks as trial run.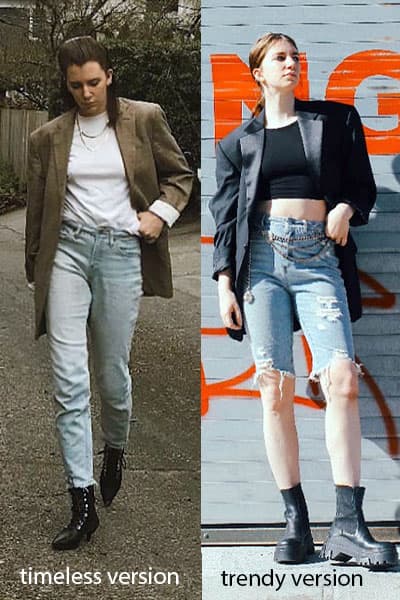 You can always expand the way you wear an item, but it is first good to master the basics.
So skip the denim underwear trend, the y2k fashion fads, and the puff dresses for now.
10. Pay attention to fit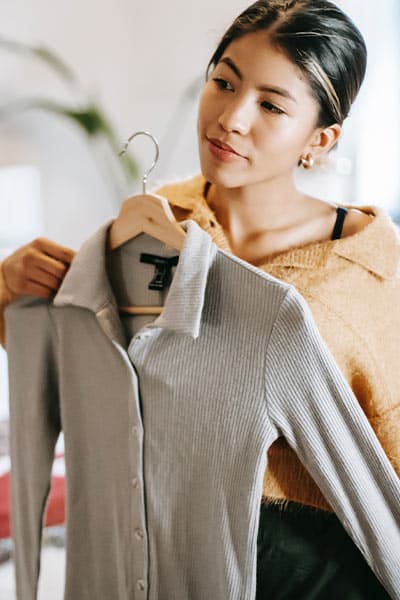 In order to look polished, your clothes must fit you! And honestly, the biggest mistake people make with the fit of their clothes is assuming there is a universal standard to sizing.
As a designer and someone who has produced clothes for large scale retailers, size varies drastically from brand to brand and even within a brand itself.
So do not assume that because you're a 28 in one style of Madewell jean, that you can buy a different style of jean by them in the same size. Try things on, and take pictures. Make sure you can walk around comfortably, and that you can close the garment easily. Then, after some time, you can review the picture and see if you still like the item.
Also, our ego sometimes gets in the way of this. We so badly want to be thin, or svelte that instead of buying the size we need, we buy the size we used to be or want to be. This will only draw attention to those areas and display them in an unflattering light.
We don't want jeans that tug across our stomachs and pull across your lap. It will look sloppy and unpolished.
Every body is beautiful and EVERY body can look polished and stylish. It is just a matter of dressing FOR your body, and wearing the correct size.
related: how to dress for your body shape
11. Stop dressing for other people (and social media)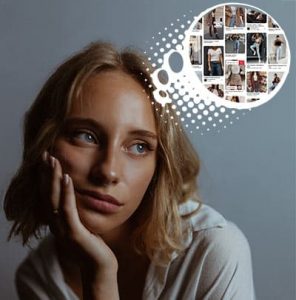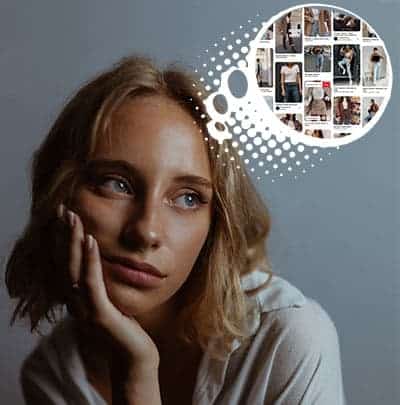 I'm not going to call you out on how many hours a day you are on your phone. And we don't need to discuss how many times a day your drift onto social media and find yourself a bit envious of others or wish you had _insert item here_.
Your ego will prevent you from not only looking polished, but also stylish in general. You have to start dressing for yourself, and for your lifestyle.
I know it is easy to get caught up in buying the latest brand name items or to have the exact bag as your favorite influencer…. But, you need to dress for yourself.
An item being expensive does not equate to quality, and copying the trendiest outfit from instagram won't get your sophisticated style goals accomplished.
Your outfit can absolutely communicate to people who you are, what you believe in, and your perspective. However, you can't let your ego win on this battle.
So avoid the head-to-toe logo mania and branded items, and the flashy items that scream nouveau riche instead of polished, sophisticated and put-together.
Looking polished is not about brand labels, it is about a wardrobe that fits you and that makes you feel confident.
12. Say no to wrinkles
We discussed scuffs and holes, and how to care for your clothing. But, one of the easiest ways to look polished everyday is to simply steam your garments before you wear them.
I have this handheld steamer in my bathroom and I quickly steam my blouses, trousers, and any wrinkle-prone items before I put them on. This makes a world of difference.
13. Don't be afraid to evolve and ditch the dated items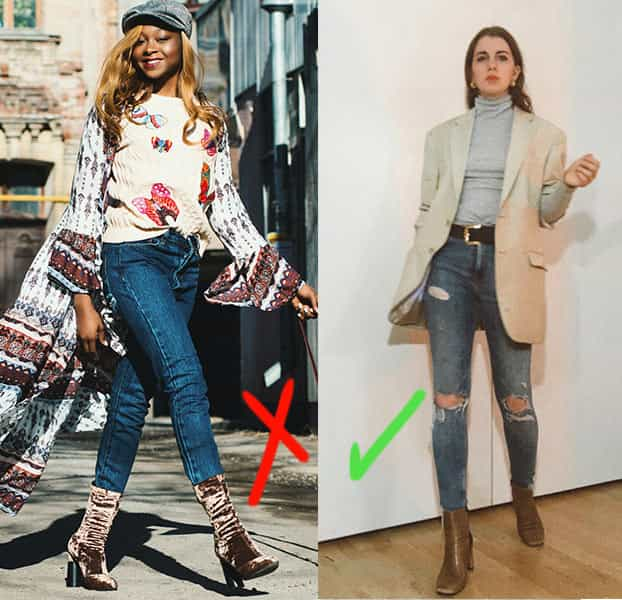 Looking polished is not about finding one style and keeping it for decades. Rather it is finding your fashion strengths and letting them grow with you.
Just think about your style 4 years ago, I'm sure you've grown a lot since then. And, continually looking polished is about slightly tweaking your outfit to avoid dated vibes.
You might be hanging on to an outdated handbag that is putting a kink in your well-groomed, effortlessly chic outfit. Or maybe, you just can't let go of a trouser style that you've worn forever.
Understand that looking polished and stylish is about mastering what you want your style to say, and progressing through your style journey as you age. Your style is a muscle that you must train and finesse to get the results you want.
So, don't hang onto old items just because they served you in the past, make sure they still serve you now.
14. Monitor your prints and color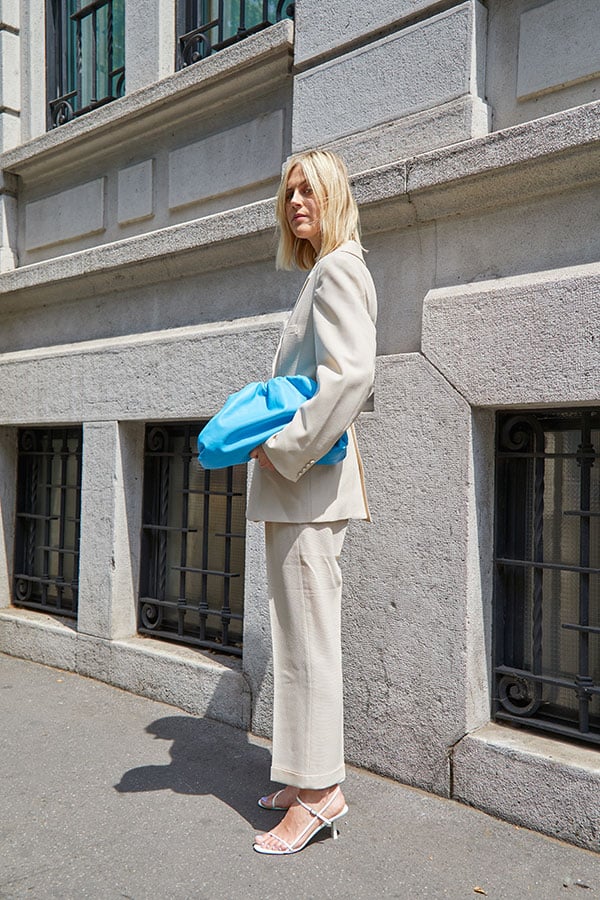 While I love a great monochromatic outfit, or a print mix- it can also look tacky very quickly.
In order to look more polished, limit the color palette and print use in an outfit. I find a pop of color is an easy way to add a bit more excitement to an outfit without sacrificing your polished presentation.
And if I plan to integrate a print into a look, I opt for one print that I know works in scale and silhouette for my body.
15. Simple Jewelry can be your best friend
Adding a great pair of hoops or a simple necklace can elevate an outfit and help it feel complete. Remember our birthday cake analogy? Your jewelry is like the frosting squiggles and birthday message on the cake. It really sets the tone for your outfit and speaks to your intent.
If your intent is to look polished, keep your jewelry simple, and clean. Avoid any tarnishing with a cleaning product like this one. And, avoid having competing jewelry items.
That means if you choose a slightly more commanding pair of earrings, let that be your only jewelry piece.
These are some of my favorite affordable options:
The easiest tips for always looking polished:
Skincare over makeup, and a minimal makeup routine : We want something that is maintainable. I love a no-makeup makeup routine that I can do easily each day. But first and foremost, skincare and sunscreen is the best way to look polished for years to come. I spent hours trying to cover up blemishes or cystic acne, until I started focusing on my skincare needs and now I just throw on some sunscreen and walk out the door. Not only is this freeing, it is way more maintainable to look well-groomed long term.
A go-to hairstyle : Having an easy go-to hairstyle that only takes a few minutes will be a priceless asset to looking polished. I love a slicked back low bun or sleep-in waves for easy, versatile hairstyles.
Clothes you enjoy wearing and are comfortable in : Wearing clothes that make you feel great and confident will not only change your mood, it will also change how other people look at you. In order to have that cultivated style, dress to make yourself feel strong and capable.
Head up, shoulders back, and go with confidence : Mindset and approach matters. Stand tall and have confidence in not only your style, but yourself. Plus, good posture will help too.
Take care of your shoes : Grubby shoes never look polished, and they are usually the first accessory to show wear and tear. So be sure you are waterproofing your shoes, and storing them properly. Stuff your boots with newspaper or these shapers to ensure they hold their shape. And, be sure to get your heels and flats resoled.
Drink more water, and less caffeine😣: We want healthy skin and functioning bodies. So while water won't get you a polished outfit, it will make your skin glow and your body look healthy… which leads to a well-groomed and high functioning body that requires less maintenance. I look at drinking water (which I hate) as a way to keep my body running at peak performance so that I can focus on other daily habits.
Find a pair of sunglasses that fit your face and rock them regularly: Sunglasses just help add some oomph to your look and feel effortlessly chic.
Neutral manicure: I love nail art and a pop color nail, but finding a neutral gel shade that suits your everyday life and always looks elevated will help you maintain your polished look. My favorite neutral gel polishes are here.
Always do a mirror check. Before you leave the house, check your complete look in a full-length mirror. By doing this you will see any glaring styling mistakes or proportion errors instead of just assuming it works.
Don't lose yourself: Looking polished is fantastic, but don't lose what makes you, you.
How can I look pulled together everyday?
In order to look polished and put-together everyday you need to build manageable and maintainable habits around your style and look. Taking care of your body, hair, skin, and nails are an easy way to help you look more put-together. As well as developing a personal style you love with go-to outfits that work for your body and give your confidence.

In order to look polished on a daily basis you need to start cultivating habits that you can maintain and that help you feel good about yourself.
Honing your style, developing your style identity, taking care of yourself, and presenting the best you to the world is absolutely acheivable and these 15 steps will definitely start you out on a good foot.
You're all set to the bee the most polished, sophisticated woman out there. Now, go conquer your day!