Suddenly a light dawns upon you and you realize why those outfits don't work for you! It's your body type.
You've taken the time to determine your body shape and have presumably landed on the inverted triangle body shape. Now what? You need to build a wardrobe that works for your unique proportions.
Learning about your body shape is crucial to your style evolution. It will teach you what silhouettes will make you look (and feel) your best. And it can also hone your fashion instincts so that you can tweak new trends or fashion style favorites to better suit YOUR unique measurements.
What is the inverted triangle body shape?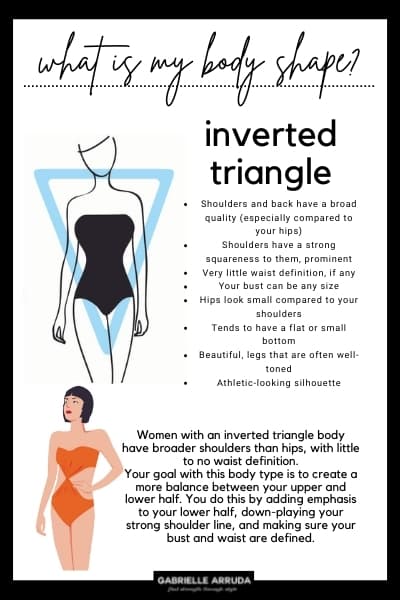 Women with an inverted triangle body have broader shoulders than hips, with little to no waist definition.
Your goal with this body type is to create more balance between your upper and lower half. You do this by adding emphasis to your lower half, down-playing your strong shoulder line, and making sure your bust and waist are defined.
Characteristics of an Inverted Triangle Body Type
Shoulders and back have a broad quality (especially compared to your hips)
Shoulders have a strong squareness to them, prominent
Very little waist definition, if any
Your bust can be any size
Hips look small compared to your shoulders
Tends to have a flat or small bottom
Beautiful, legs that are often well-toned
Athletic-looking silhouette
This body type is characterized by a top-heavy silhouette with no curves to speak of in the midsection. Your legs and arms tend to be quite muscular or toned, which is a point of pride for many inverted triangle body types.
Your waist can be anywhere between narrow and straight to broad and wide, depending on your unique proportions.
This is another one of those neutral body shapes that can hide weight gain or loss, but with more emphasis on the latter than the former. As you gain weight your upper body will appear disproportionally larger without a corresponding growth of your waist and hips.
Inverted Triangle Body Shape Dress Code Tips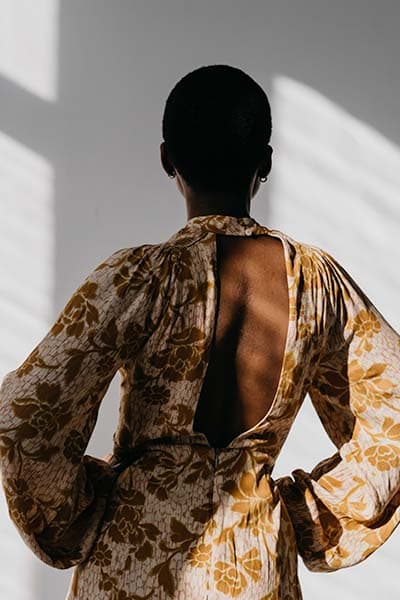 The inverted triangle body type looks best in clothing that gives the illusion of curves in the hips and lower half, as well as a defined bust. Below are some "style rules" to help you create this illusion.
Avoid clothing that has a straight fit or is too tight; opt for drapey, relaxed and flowy styles, especially around your shoulder line. The goal is to soften your shoulders.
Pay attention to the color balance of your outfit. A dark top paired with light bottoms or vice versa will create the illusion of width in different areas. Remember, inverted triangle-shaped women have a wider upper body, so it's important to balance out that area with patterned, colorful, or lighter bottoms.
Maximize the illusion of a defined waistline by wearing clothing that has interesting detailing around the midsection.
Avoid wide necklines that will further broaden your shoulder's horizontal line.
Try to keep things simple when you're wearing patterned or busy clothing. You want the focus to be on your hips, so don't add too many design details that will compete for attention. And keep any patterns or bright colors to your lower half to balance out your strong shoulder line.
Try clothes that have volume along the hips (we will get into specific silhouettes shortly). Lower half volume will help balance out your body shape.
Avoid skinny bottoms or pants that cling to your hips and minimize their visual effect. This will make you appear top-heavy.
The key here is dressing in a way that visually balances out your top and bottom half, drawing more attention to your legs and away from the shoulders.
The Inverted Triangle Body Shape: Building a Wardrobe
The key to building a wardrobe for the inverted triangle body type is to emphasize your lower half while balancing out your shoulders and creating some curve in your midsection.
When it comes to clothing, minimize your shoulder lines by avoiding structured tops, embellishments around the shoulder and bust, and top-heavy silhouettes. Instead, add volume and drape below the waist for a more balanced look.
Paying attention to the lower half, and adding volume there will help balance your top half. Don't forget about tights and skirts that add some pizzazz to your lower half (we'll talk more about those in a minute).
Necklines for the Inverted Triangle Body Shape
Choosing a neckline for the inverted triangle body shape is key to building a wardrobe that complements your shape. Your neckline needs to minimize the strong horizontal line your shoulders and bust create.
‍Avoid necklines that are too wide or low, which would simply add width to the bust and shoulders. A narrow scoop, gentle and sharp V-necklines are best.
An asymmetrical neckline will also work for your body shape as it helps draws the eye away from your wider shoulder line. Instead of the strong horizontal line being most prominent we are creating a strong diagonal line for the eye to focus on, therefore minimizing your shoulders.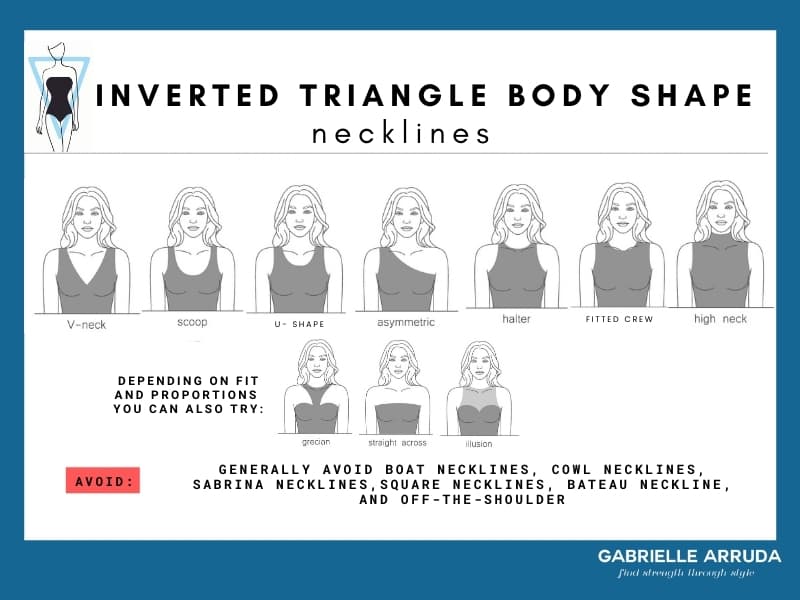 Best Necklines for Inverted Triangle Shape:
V-neck
Deep Scoop
Gentle Scoop (or U-shape)
Asymmetrical
Halter (especially if you are petite)
Fitted Crew Neck
Turtleneck: This one comes with caveats. It needs to be fitted so it doesn't add any more bulk to your shoulders. A darker color is also optimal. This is a good option if you want something more covered up that doesn't make your chest appear more prominent.
Avoid: You should avoid any necklines that widen that shoulder line. This includes boat neck, cowl necks, Sabrina necklines, square necklines, bateau, and off-the-shoulder necklines. When it comes to strapless or tube tops, it depends on your unique shape. So I would try these on in person. If you are extremely muscular or athletic-looking strapless will make your shoulders overly prominent.
Sleeves for the Inverted Triangle Body Shape
The inverted triangle needs fitted slim sleeves if they are shorter in length. We want to downplay those broad shoulders so that our hips have a chance of carrying visual emphasis. So no puff sleeves, or shoulder embellishments, please!
If you are opting for a long sleeve you can try an open volume sleeve, or a sleeve that doesn't taper at the wrist to give a bit more horizontal emphasis to your hip area (when your arms are down).
While your inclination might be to try for a skinny strap, to add less weight to your upper half, this will create an even broader shoulder in comparison to the dainty strap. So stay away from spaghetti straps (and sometimes strapless) and opt for thicker, heavier straps that feel proportionate to your broad shoulders.
Pay attention to the material when looking at the sleeve shapes. Softer, flowy fabrics will create a soft shoulder line. Whereas a structured fabric will create sharper lines and add more prominence to your shoulders (which we want to avoid).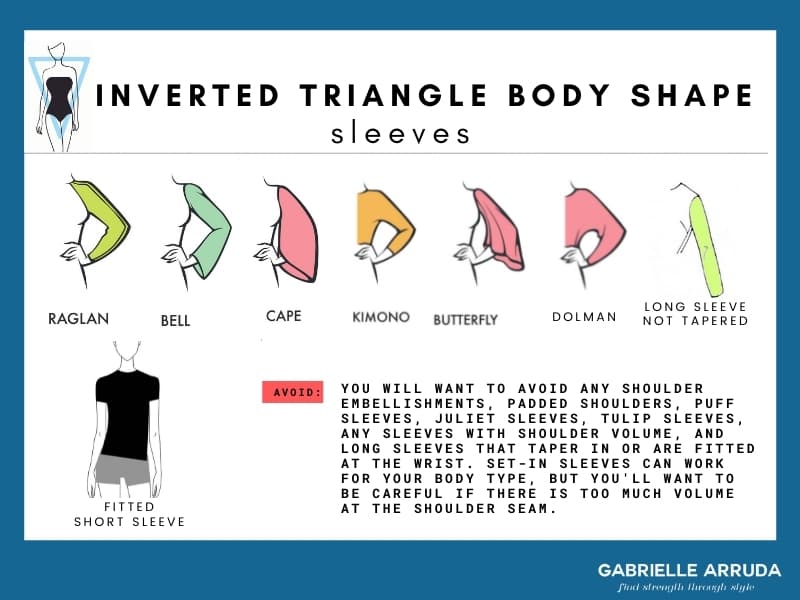 Best Sleeves for the Inverted Triangle Body Shape
Raglan sleeves- The diagonal seam helps narrow your shoulders
Trumpet
Butterfly
Cape
Kimono sleeve- This style works best in a long sleeve so it doesn't add too much volume to your upper half.
Dolman- The soft shoulder line can help minimize your strong, sharp shoulders. But I would try this style on and make sure it works for your unique shape. Sometimes if you are busty it makes you more top-heavy.
Fitted short Sleeve
Open (non-tapered) long sleeve
Avoid: You will want to avoid any shoulder embellishments, padded shoulders, puff sleeves, Juliet sleeves, tulip sleeves, any sleeves with shoulder volume, and long sleeves that taper in or are extremely fitted. Set-in sleeves can work for your body type, but you'll want to be careful if there is too much volume at the seam.
Tops, Shirts, and Knits for the Inverted Triangle Body Shape
When looking at tops, t-shirts, and knits there are a few things to keep in mind for the inverted triangle body shape.
You'll want to pay attention to your hem, first and foremost. Your shirts and tops should end at the widest part of your hips to create more fullness in your hips and balance out the visual weight of your bust and shoulders. This is usually just below the bottom of your hip bone. Cropped shirts and shorter hem shirts will make you appear top-heavy and narrow your hips even more.
Next, you want to pay attention to where the volume or emphasis lies. Shirts that add hip volume, waist definition, or fullness from your waist down are great options.
Tops for the inverted triangle will not be the "coolest" or most interesting part of your wardrobe. Instead, you will shine more with your skirt, jeans, and bottom options. So keep that in mind when shopping.
For knitwear, you have limited options. You'll want to stay firmly in the fine gauge knit section and opt for fitted sweaters. While hip details are encouraged, you have to make sure they don't have any shoulder, neck, or bust details that once again create a top-heavy look. This includes intricate cable knitting that will add too much bulk everywhere.
If you choose a button-up shirt, keep the first few buttons undone. This allows a little skin to peek through, and breaks up the block of fabric on your top half, giving the look a little visual breathing room.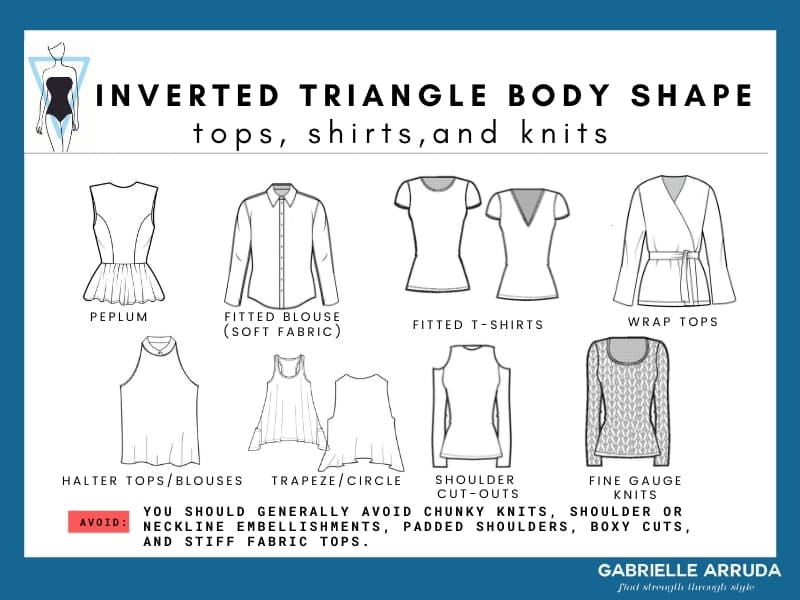 Best Tops, Shirts, and Knits for the Inverted Triangle Body Shape
Peplum
Fitted Shirt/Blouse – softer fabrics are best as they won't add any shoulder sharpness
Fitted T-shirt
Wrap top
Cut-out shoulder tops
Halter Blouses
Trapeze Tops or Blouses
Avoid: You should generally avoid chunky knits, shoulder or neckline embellishments, padded shoulders, boxy cuts, cropped length shirts (for the most part), and stiff fabric tops.
Jackets for the Inverted Triangle Body Shape
Just like every other body type, the inverted triangle body shape has its own set of challenges when it comes to dressing. What makes this body type unique is that because your shoulders are broader than your hips and waistline, you need to pay special attention to your jackets so they don't make your outfits unbalanced.
The best jackets for an inverted triangle are ones that add volume below the waist and that also define your waist. They also should be longer in length or have a wide lapel so they balance out the look of broad shoulders with a narrower waist.
You can also do straight-cut jackets as long as they are longer in length (ideally below your hips).
Pockets or hip embellishments are encouraged. While, shoulder details, epaulets, and bust-front pockets should all be avoided.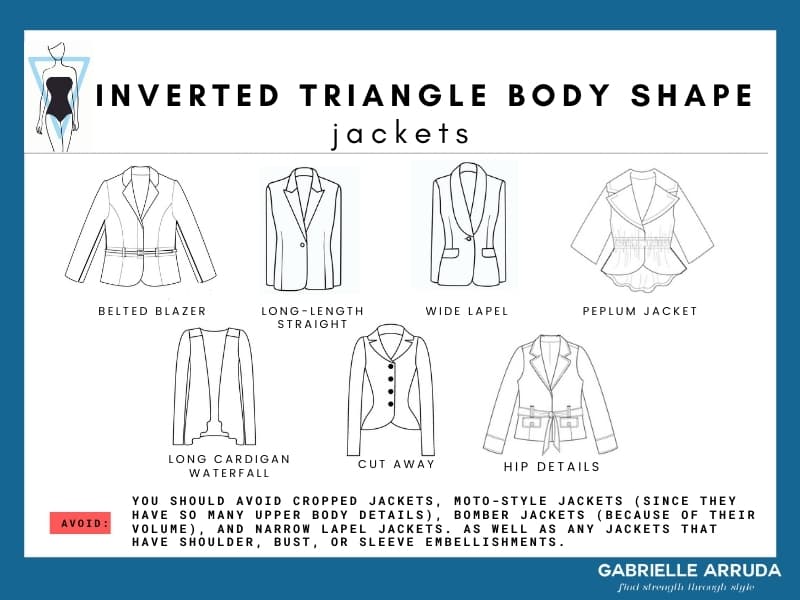 Best Jackets for the Inverted Triangle Body Shape
Belted Blazer
Jackets with hip details
Peplum Jacket
Cut-away jackets (flares through hip)
Longer-length blazers (straight-cut)
Jackets with wide lapel ( it makes your shoulders feel more proportionate)
Long cardigans (either belted or with waterfall detail)
Avoid: You should avoid cropped jackets, moto-style jackets (since they have so many upper body details), bomber jackets (because of their volume), and narrow lapel jackets. As well as any jackets with shoulder, bust, or sleeve embellishments.
Coats for the Inverted Triangle Body Shape
The inverted triangle body shape is a combination of broad shoulders and narrow hips, with no waist definition. This look often gives off an "athletic" body look, which makes shopping for coats tricky. So many coat styles emphasize collar and shoulder details, which you need to avoid.
Darker color coats are best, as they keep your outfit streamlined and slim out your entire body. Because coats cover a large surface area, and we are trying to minimize our broad upper half, it is best to save the color and print for your bottoms.
Coats should be longer in length or have minimal collars so they balance out your proportions. Keep in mind that any coat you choose should add volume to your hips and ideally nip in at the waist giving you more definition.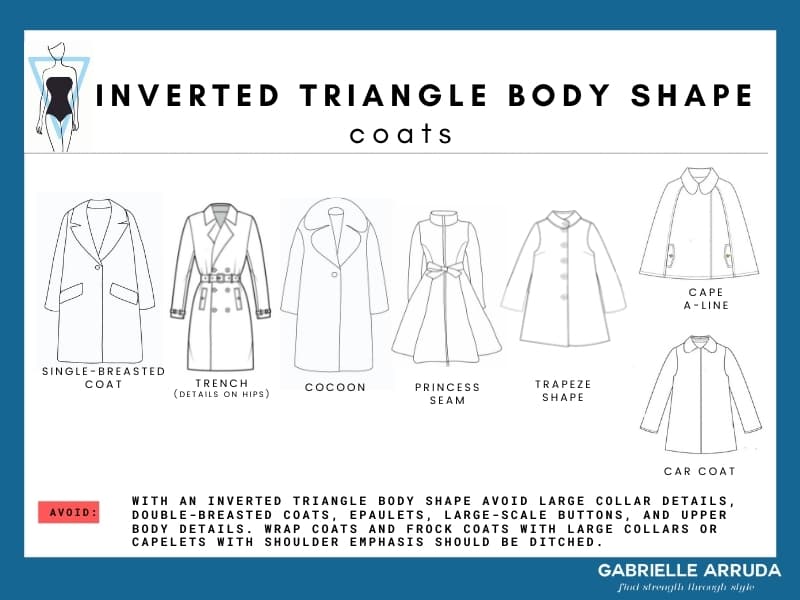 Best Coats for the Inverted Triangle Body Shape
Single-breasted coats
Trench coats (with minimal upper details)
Trapeze
Princess Coat
Cocoon (soft-shoulder/soft fabric)
Cape Coat
Car Coat
Avoid: With an inverted triangle body shape avoid large collar details, double-breasted coats, epaulets, large-scale buttons, or upper body details. Wrap coats and frock coats with large collars or capelets with shoulder emphasis should be ditched.
Dresses for the Inverted Triangle Body Shape
While inverted triangle body types run the risk of appearing top-heavy and wide, there are a handful of dresses that can help to create the perfect proportions.
You want dresses that flare out around your hips and define your waist. For instance, the sheath dress is a great option for inverted triangle body types because it creates a fitted waistline while providing ample definition and shape at the hips.
When choosing a dress for your body shape make sure you pay attention to the previous wardrobe guidelines on necklines, and sleeves for the most flattering options.
Body-con dresses, fitted dresses, and dresses with lots of bust or shoulder details do not work for this body shape.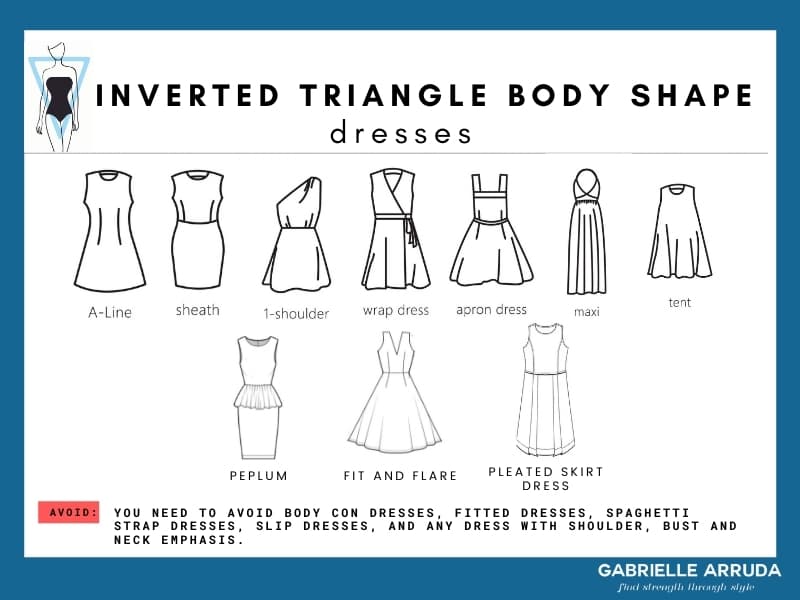 Best Dresses for the Inverted Triangle Body Shape
Sheath Dress
A-line dress
One-shoulder dress
Wrap dress
Apron Dress
Peplum dress
Fit and Flare
Pleated skirt dress
Maxi dress
Optional: Depending on your vertical line and how muscular you are, you could try a tent dress that has a fitted shoulder area and then swings out.
Avoid: You need to avoid body con dresses, fitted dresses, spaghetti strap dresses, slip dresses, and any dress with shoulder, bust, and neck emphasis.
Bottoms for the Inverted Triangle Body Shape
The bottom half of your wardrobe is where you really get to shine! You want to add volume to those hips and create lower curves.
Because of these style goals, you have more options for skirt styles, jeans, and trousers.
Jeans for the Inverted Triangle Shape
Remember how we are all about adding volume to those hips? Well, your jean choice can be crucial to do this.
Avoid skinny or slim-fit jeans that only narrow your hips. Instead, opt for jean silhouettes that have volume/room in the hips, or have a wider leg.
Pockets and hip embellishments are encouraged, which means you can have some fun playing with denim trends each season.
And don't be afraid to try colorful, printed, or light-color denim that will help add a bit more emphasis on your lower half. Darker colors tend to elongate and slim, but because your hips are so narrow we want to avoid this.
Check out my 19 tips and tricks to look taller and slimmer, here.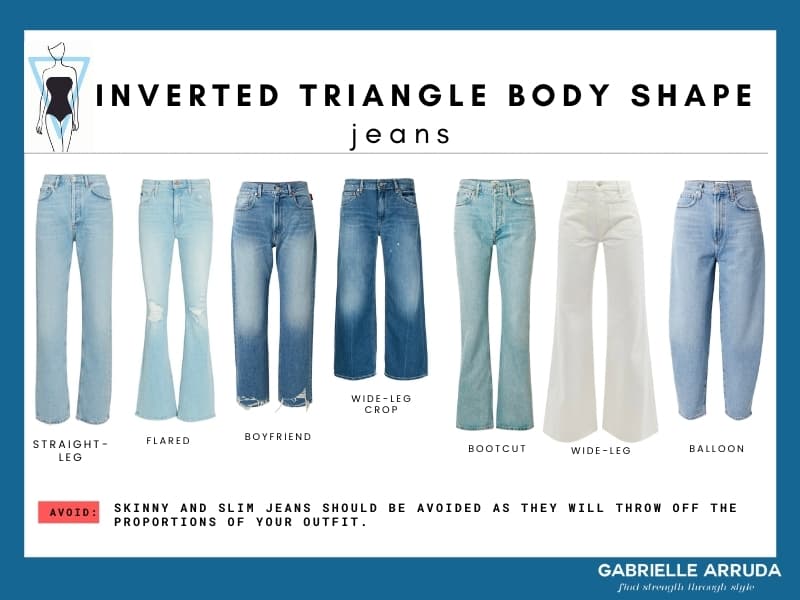 Best Jeans for the Inverted Triangle Body Shape
Straight-leg
Flared
Boyfriend
Cropped wide-leg
Bootcut
Wide-leg
Balloon
Avoid: Skinny and slim jeans should be avoided as they will throw off your outfit's proportions. Pocketless jeans are not advised as they slim the hips and bottom area.
Trousers for the Inverted Body Shape
Similar to our jean guidelines, we want trousers that add hip volume. This opens up a lot of options!
Pretty much any trouser with volume in it works for your shape. But if you prefer slimmer trousers, opt for a straight-leg instead of a skin-tight option.
Pleats, gatherings, and volume are all encouraged.
Best Trousers for the Inverted Triangle
Flare
Wide-leg
Palazzo
Wide-leg culottes
Harem
Sailor Pants
Straight-leg
Pegged
Avoid: You should skip skin-tight trousers, cigarettes trousers, and stirrup trousers that all emphasize your narrowness.
Skirts for the Inverted Triangle Body Shape
The best skirts for the inverted triangle body shape are going to have volume and/or flare out. You want to avoid fitted, straight, or short-length skirts.
We want to add visual weight to our lowers halves, so hip embellishments, panels, pockets, gathering, and pleating are all great options.
The key is to avoid skirts that skim the figure as they can highlight your narrow hips.
Watch the length of your skirts, as mini-skirts that don't have enough volume or flair can create a slimming effect through hips (obviously not our goal here!).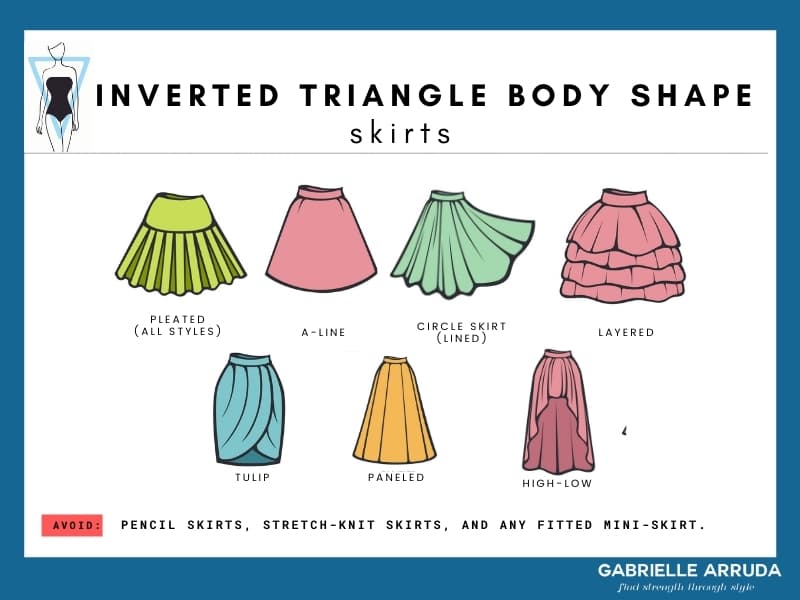 Best skirts for the Inverted Triangle Body Shape
Pleated Skirt (including box pleat)
A-line Skirt
Circle skirt (lined)
Layered or ruffled
Tulip
Paneled
Avoid: Pencil skirts, stretch-knit skirts, and any fitted mini-skirt. Drop waist skirts generally don't work, but it depends on your unique proportions. Sometimes the hip detail adds enough volume, but they should be tried on in person for the best results.
We may earn a commission from you clicking a link in this post. And as an amazon associate, we earn on qualifying purchases. Full affiliate policy, here.
Shorts for the Inverted Triangle
Shorts for the inverted triangle body shape are going to have volume and/or flare out. You want to avoid fitted, straight, or daisy duke style shorts.
We want to add visual weight to our lowers halves, so hip embellishments, panels, pockets, gathering, and pleating are all staple details by now.
Best Shorts for the Inverted Triangle Body Shape
Pleated
Patterned
A-line or Flare Short
Cargo Shorts
Sailor-front shorts
"Boxer" shorts- Not men's fitted boxers, but rather what a boxer would wear in the ring
Avoid: You should avoid slim-fit shorts, daisy duke shorts, peddle pushers, and bike shorts that will all narrow your lower half even more.
Jumpsuits for the Inverted Triangle Body Shape
Jumpsuits are always a great option for an all-in-one outfit that looks chic and easy. With the inverted triangle, your broad shoulders really embrace the jumpsuit silhouette.
Jumpsuits or rompers with a slim waistline are best for inverted-triangle-shaped bodies. Look for jumpsuits with flowy hips and stay away from those that skim your figure. Waist ties and hip embellishments are one way to achieve outfit balance!
You'll want to aim for wider leg options and avoid those tapered-leg jumpsuits or fitted bottom rompers that will further narrow your hips.
Best Jumpsuits for the Inverted Triangle
Culoutte Jumpsuit
Flared-leg Jumpsuit
Boiler Jumpsuit ( just make sure it has enough volume before it gathers at the ankle)
Overall Jumpsuit
Wide leg romper
Non-fitted playsuit
Avoid: You'll want to avoid tapered or slim-fit jumpsuits, off-the-shoulder jumpsuits, as well as jumpsuits with shoulder details, upper ruffles, or voluminous upper sleeves.
Accessories for the Inverted Triangle Body Shape
Remember our goals for outfit balance and lower half emphasis? This makes accessorizing a bit trickier. Because statement earrings, necklaces, and scarves should all be used with caution.
Long necklaces work, and bracelets and rings are great options to add some "lower" visual weight.
Crossbody bags and belt bags are also great because they land on your hips, helping achieve those perfect proportions we are aiming for.
Shoes for the Inverted Triangle Body Shape
While you might not get to indulge in statement earrings or necklaces, you can go full-force with statement shoes.
Pop color shoes, interesting detail shoes, and high heels all help add interest to your lower half.
Because you most likely have athletic, long legs you can also opt for heels with ankles straps or block heels without looking stout.
Boots are also great for you because they add some volume to your lower half.
Celebrities with the Inverted Triangle Body Shape
Sometimes we need a bit of style inspiration from our favorite icons. So here are a few celebrities you can take notes from.
Angelina Jolie
Renee Zellweger
Demi Moore
Naomi Watts
Catherine Zeta-Jones
Charlize Theron
Inverted Triangle Shape Outfits and Style Tips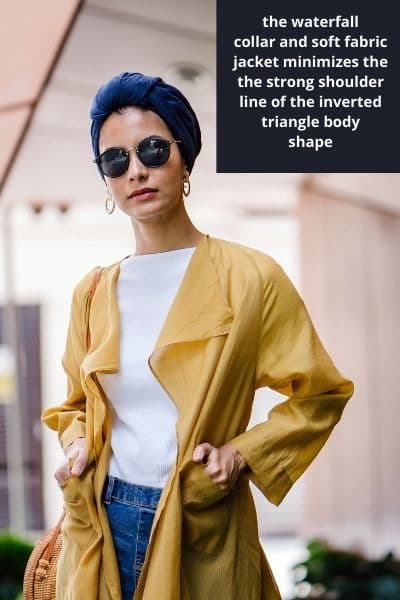 Fashion isn't always about strict "rule" adherence. And if you want my opinion on what rules you ABSOLUTELY should be breaking, check out my list of outdated fashion rules, here.
Here you can see this woman is wearing a wide boat neckline, which is usually a no-no for inverted triangles. But because of her slim build, and her jacket choice it works! The jacket is a lightweight fabric with a soft shoulder line and waterfall collar which softens that overall silhouette and creates a balanced look.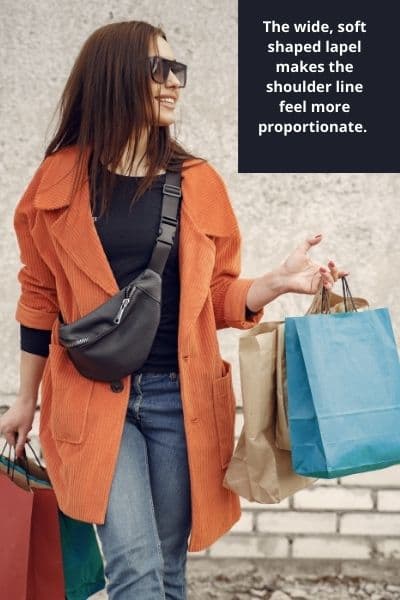 It might seem counterintuitive to opt for a wide lapel with the inverted triangle body shape. After all, we are trying to minimize our shoulders! However, if you opt for a skinny or narrow lapel, your shoulders will look even bigger in comparison.
Here we can see that in action. The soft shoulder coat with a wide lapel helps her shoulders feel balanced. And, as you can see her coat is a brighter orange shade, something we often don't recommend for this body type. But, learning what works for your body shape AND personal style is first and foremost. So use this guide as a starting point, but don't be afraid to break some of the suggestions!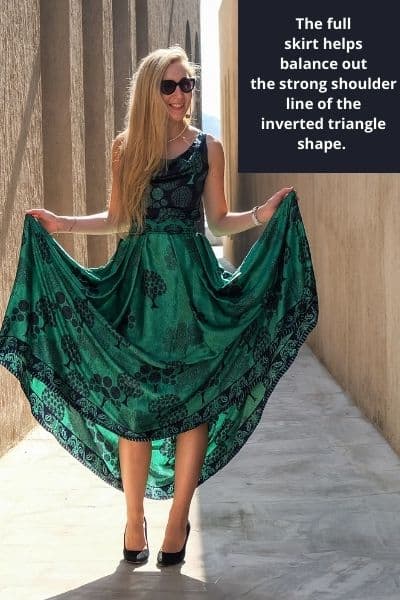 The diagonal neckline and full skirt are great for the inverted triangle body shape. Not only is she breaking up the horizontal line of her shoulders, but she's adding enough volume to her hips for the look to feel balanced.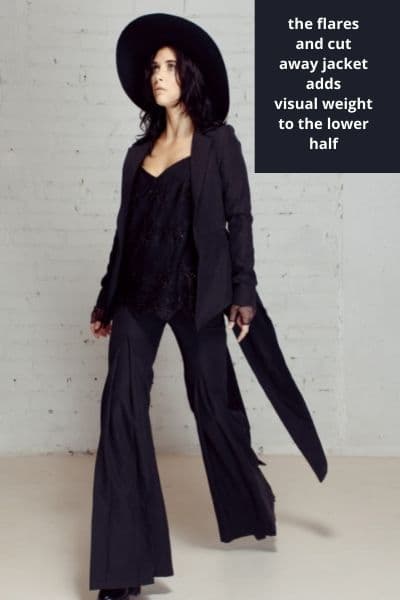 Knowing your body type and dressing for it does not mean you have to ditch your personal style. This outfit uses a broad black hat as an accessory, generally not advised for this body type. However, because of the monochrome outfit, the cut-away jacket, and the flares, the outfit is balanced and not top-heavy.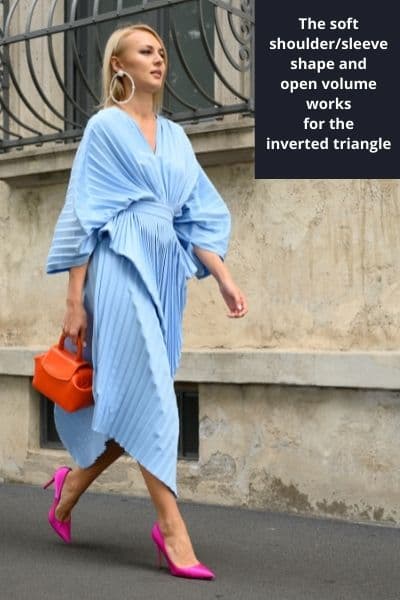 Soft shoulders don't always mean no volume. Here we can see the use of a dolman sleeve that has some lower volume and a defined waist. The statement shoe and skirt details help the entire outfit seem symbiotic.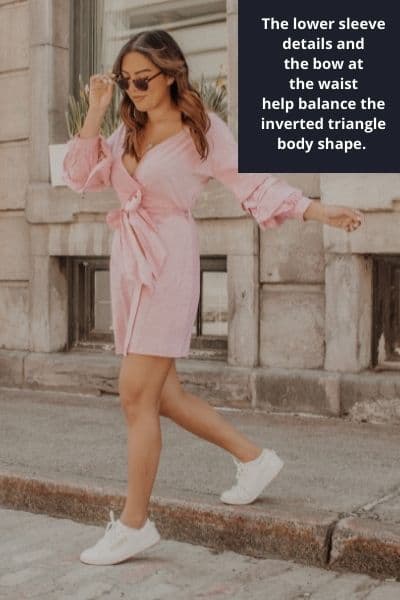 A wrap dress is a great option for the inverted triangle body shape. And this is a prime example of a casual inverted triangle outfit.
Notice the waist tie and the open-volume sleeves that help draw the visual eye to the lower half of the body (as opposed to the shoulders).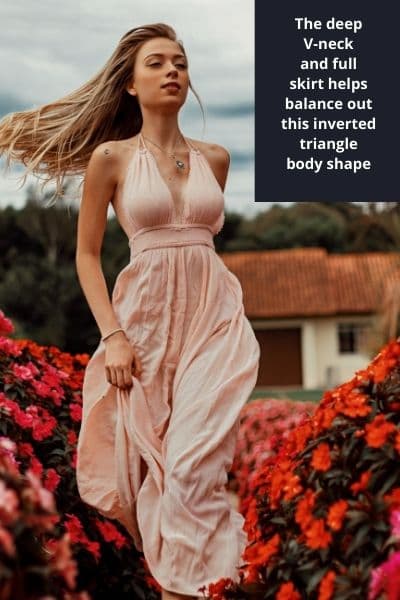 Dresses are going to be essential to your wardrobe and this is a great example of a dress silhouette that can be dressed up or down for your shape. The plunging neckline, the waist definition, and the loose skirt are all key attributes to the inverted triangle wardrobe.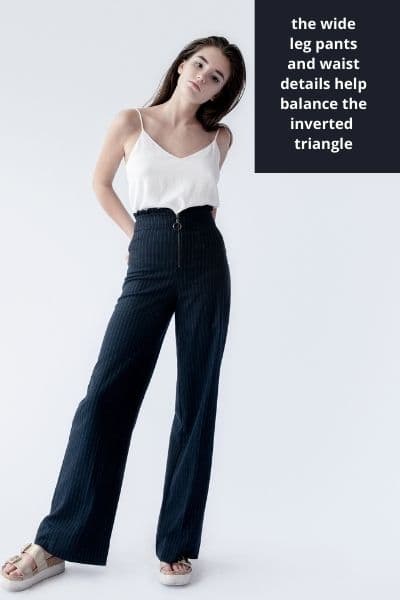 Choosing to embrace your shape is totally ok too. Here we see an inverted triangle that looks chic and stylish but doesn't follow all the style guidelines.
If I were to tweak this outfit I would recommend opting for pants that add a bit more volume through the hips. But, it's a great outfit regardless!
When you dress according to your body shape your look will be so balanced it will be hard to decipher what your type even is!
This matching plaid suit look is a great example of this! The wide belt, straight-long jacket, and wide-leg trouser help add volume to her hips and don't overly emphasize her shoulders, creating a proportionate (and uber fashionable) look.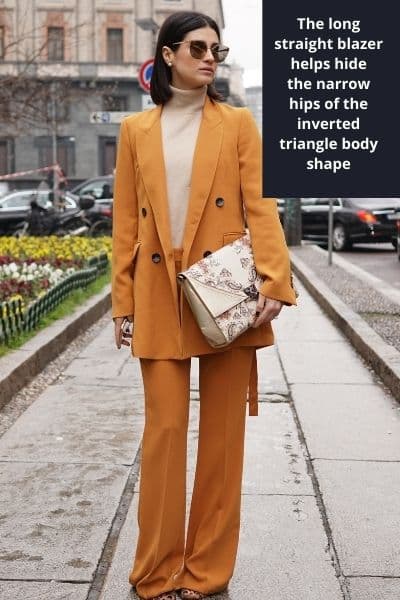 Be sure to have fun with your style! This orange suit is a great example of not letting your body type hinder you from trying new trends. The suit is made of a softer fabric, and the silhouettes follow the inverted triangle guidelines, but it is still composed of trendy, cool elements.
Fashion is all about trial and error so if there is a trend or style you like, you will just have to start playing around with it until you either decide it works or it's a miss.

We all know that the way you dress impacts how other people perceive you. If your clothes don't fit right then it's hard to feel confident in them.
"I have a closet full of clothes but nothing to wear" is a phrase I hear ALL THE TIME!
It's time to stop buying more things and start getting rid of the old ones you don't need. But how? We've all been there, right? You know you want a wardrobe that fits your life, but where do you even begin?
The Craft your Closet of your Dreams Playbook is the answer! This guide will help you clean out your closet and create an organized space for what remains while setting up systems so that shopping becomes less overwhelming. In addition to this practical advice, we'll also teach you about personal style theory so that next time you go shopping it feels like fun rather than work.
You know your body type, you've honed your personal style, now it's time to get the perfect wardrobe. (without buying a whole new one!)
Go be an athletic goddess in your best silhouettes!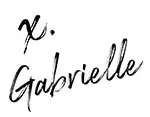 Ok, so that was a lot of information! Be sure to pin the below image so you always have access to this comprehensive wardrobe guide!