The year 2020 will be remembered with a pandemic, face masks, and even murder hornets. And yet somehow, fall fashion trends for 2020 are still on our minds. Why is that?
Well, because if you're reading this article you probably identify pretty heavily through your fashion choices. I know I do. Fashion is a superpower that we use to communicate to the world our lifestyle, our priorities, and in general our identity. So when the world seems to be collapsing around us, the question of who we are becomes a question we need to focus on.
So get your pumpkin lattes out, your wool sweaters on, and embrace these 10 biggest fall fashion trends for 2020.
related: TOP winter fashion trends
related: TOP spring 2021 fashion trends
Top 10 Fall Fashion Trends 2020
1. The Skirt Suit
View this post on Instagram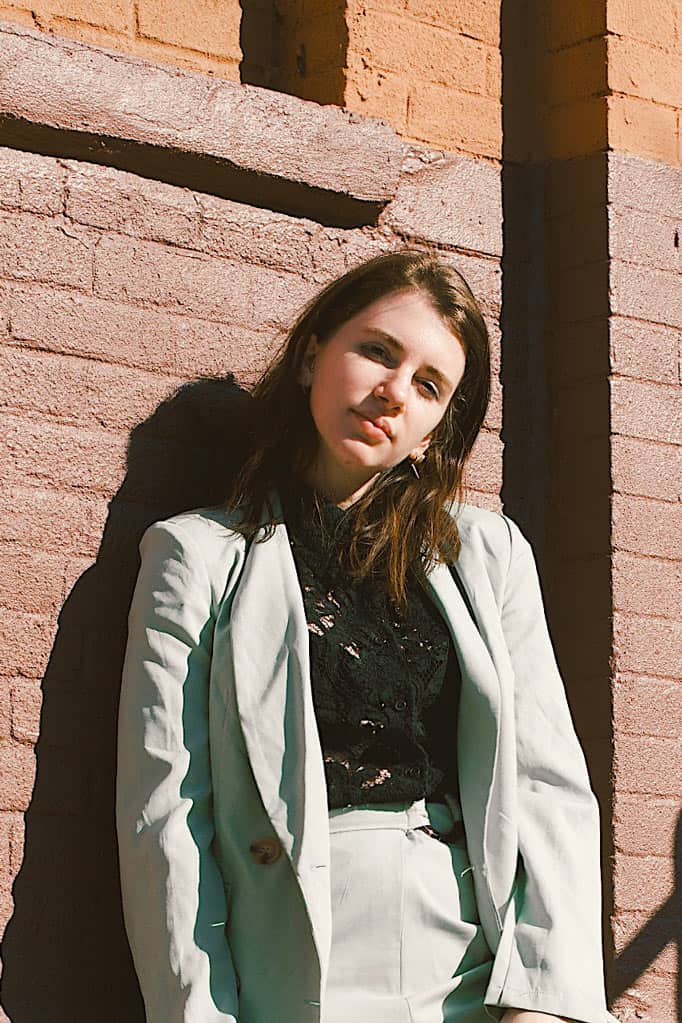 The skirt suit, popularized on the Chloe and Victoria Beckham Runways is THE suit silhouette.
While the more masculine oversized suit seen on the Celine runways will still be around, the more feminine iteration with a skirt will be taking the prime spot.
Style tip: Lean into the feminine, classic vibes of the skirt suit. While the oversized suit was all about masculine/feminine juxtaposition, the skirt suit is all about embracing a powerful female look. Try a slicked-back bun and a pair of simple heeled loafers for a perfect vibe.
Get your ultimate Fall Outfit Guide Below, with 25+ chic fall outfits and the fall capsule wardrobe you need!
2. 60's style embellishments
View this post on Instagram
Think inlaid chains, pearls, or crystals sewn into a garment. This takes a lot of the guesswork out of accessorizing, as the garment itself already feels "dressed" up. Brands like Miu Miu, Bottega Veneta, and Sacai all displayed this embellishment style on their latest runways.
Style tip: Keep the rest of the accessories simple with an embellished garment. You want the focus of your outfit to be clear, and a lot of extra accessories or competing statements can dilute your look.
3. Statement Collars
View this post on Instagram
Statement collars have been trending for multiple seasons in 2020, however, they really never got their chance to shine thanks to quarantine. So, in fall fashion, they will get their chance.
Leandra Medine has very successfully rocked this style in everyday life.
View this post on Instagram
Style tip: If the statement collar seems like a lot, start off pairing it with a very basic pair of jeans. Let the collar be the main focus. As you get more comfortable with the collar and how it looks on your body shape you can expand your outfit ideas.
4.

Strong Shoulders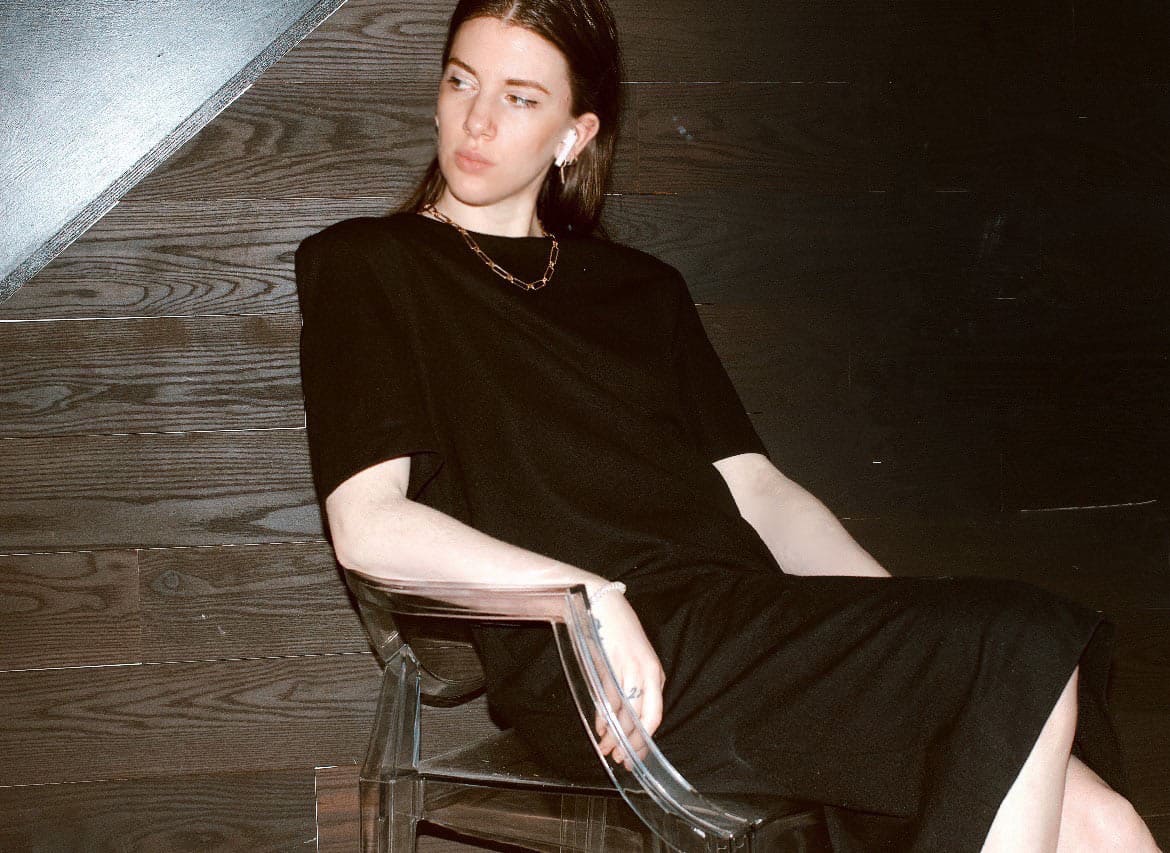 View this post on Instagram
Strong shouldered dresses were a big trend for spring 2020 fashion, check out more on these amazing dresses, and how to style strong shoulders here. Because guess what? Strong shouldered garments are still going to be around in fall.
Max Mara, Cinq a Sept, and JW Anderson all had major shoulder moments on their runway.
5. Tonal Tan Outfits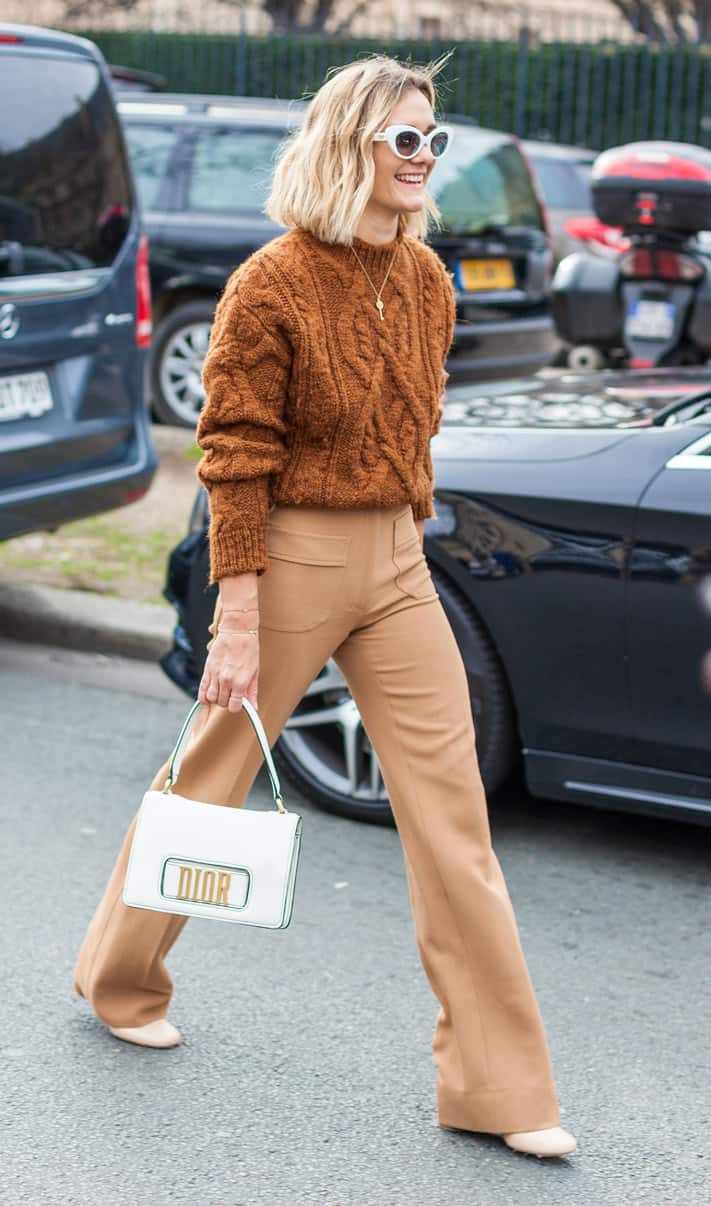 Sometimes fashion needs a chic downgrade. And while I love all of the above trends, it is also nice to have a moment of beautiful simplicity. And the tonal tan outfits are a great way to accomplish that.
For more color trends for 2020, check out this post. But the color Lark and the color sunlight were both among Pantone's color picks for 2020. And they exude a lovely light sunny beige and a light latte tan.
6.

Preppy Fashion with a twist
View this post on Instagram
Preppy fashion moments like argyle sweaters, chic cropped cardigans, and classic layering have been a hot trend on runways like Victoria Beckham and Dior. The styling here is very important. We are seeing a classic outfit with a more "funky" style accessory choice.
Think Dior argyle sweaters with the headscarf trend, a popular hair accessory trend for 2020.
Or a classically layered look with a trendy and unique bag. This all about taking a traditional look to a new level. But in order to rock this fall fashion trend, you need the preppy basics first.
7. Plaids ( But Make them modern)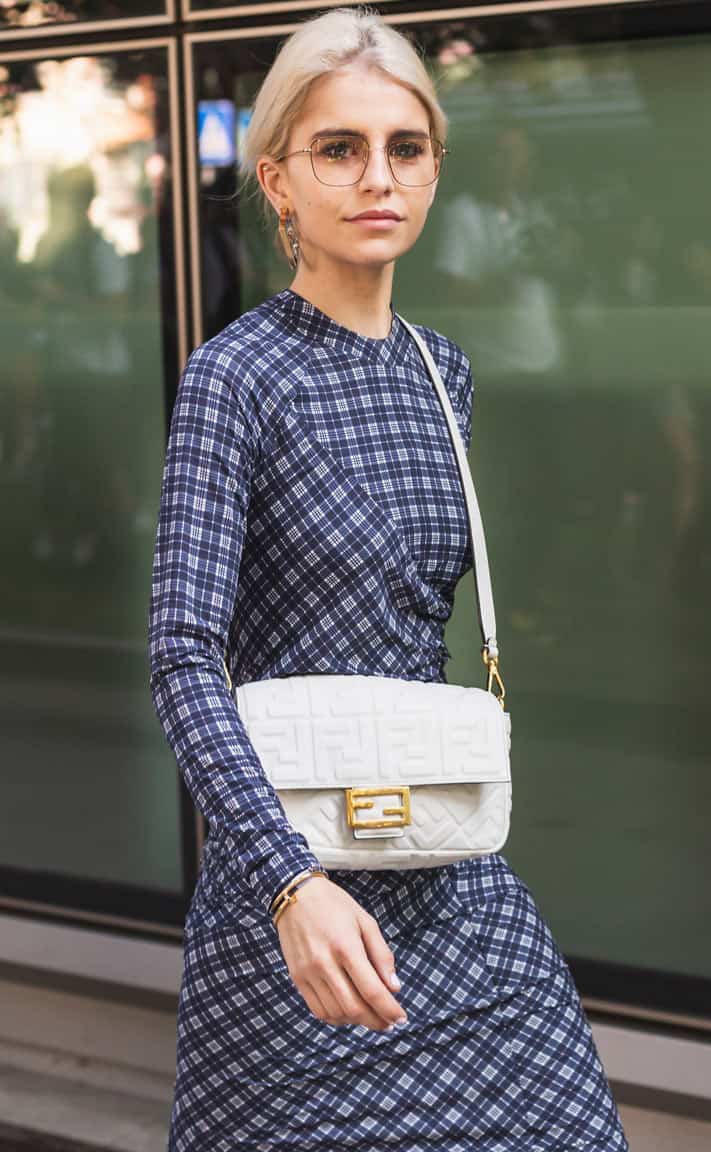 I don't know about you, but I adore a good plaid moment for fall. It just feels right. But for fall fashion 2020 we are taking our traditional plaids and pumping up the volume.
Thanks to creative brand visionaries like Monse and Proenza Schouler, unique plaid silhouettes will be all the rage.
For this fall trend think plaid blouses, dresses, and blazers, all with a unique silhouette twist.
8.

Equestrian Moments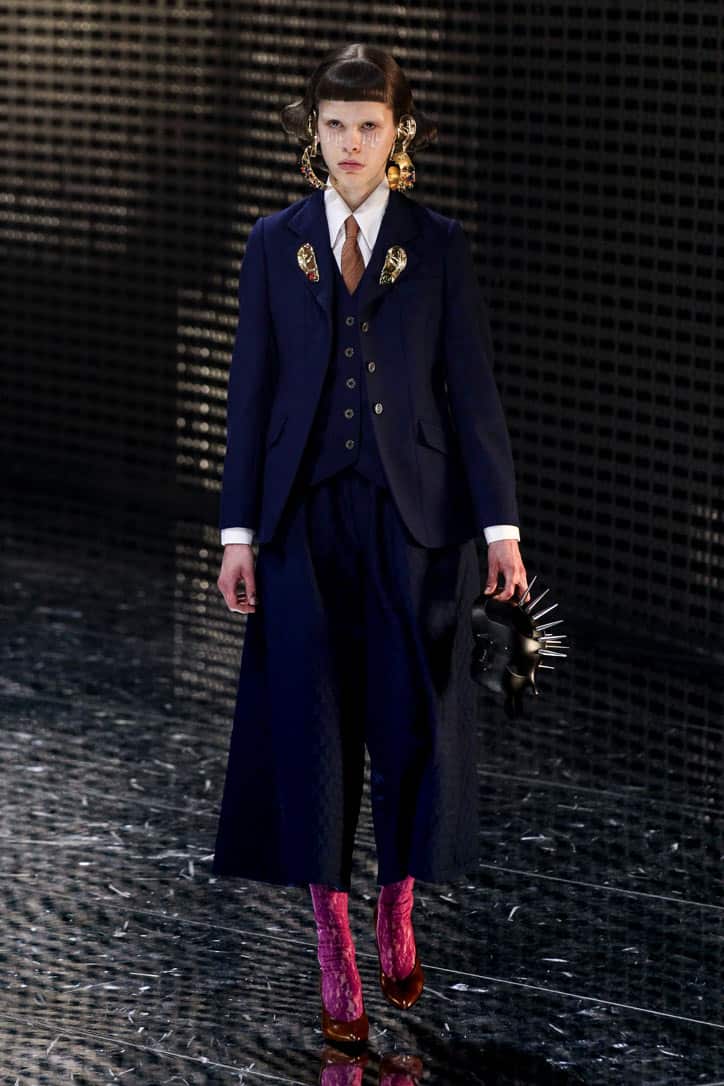 I feel like every fall we have a new iteration of the equestrian style. Why? Because it is classics sophisticated and relies heavily on our favorite fall staple- the knee-high boot. So grab your favorite fitted blazer and your go-to knee-high boots and rock this fall fashion trend.
related: 9 tips to always look expensive no matter your budget
9. Leather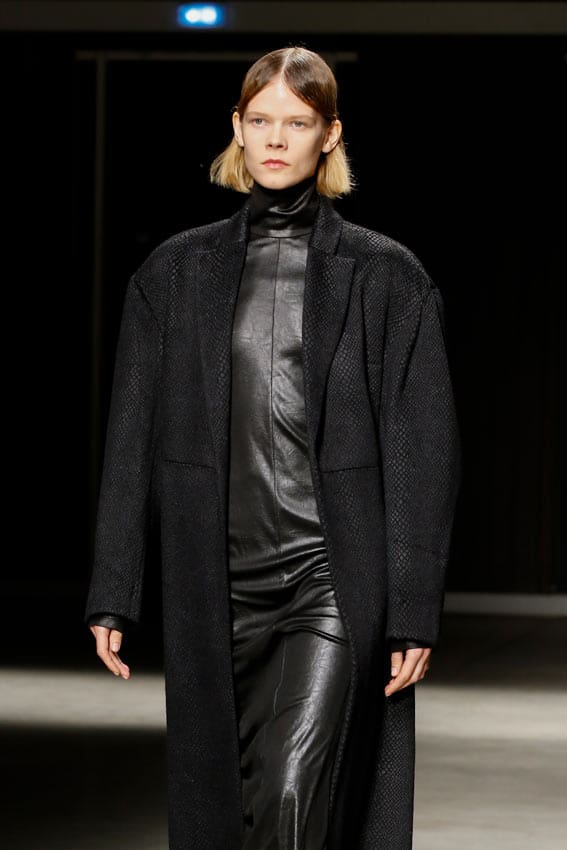 I love a good leather moment, and if you feel like wearing leather makes you look like a dominatrix, then just check out this post that can help.
Hermes, Louis Vuitton, and Khaite all highlighted leather as a fall staple. While a lot of colored leathers were popping up in spring, we will see a more dominant trend with black leather in sophisticated silhouettes for fall.
So put your leather moto jacket on hold for now, and opt for a sleek leather shirt or skirt instead.
10. Lingerie Details
View this post on Instagram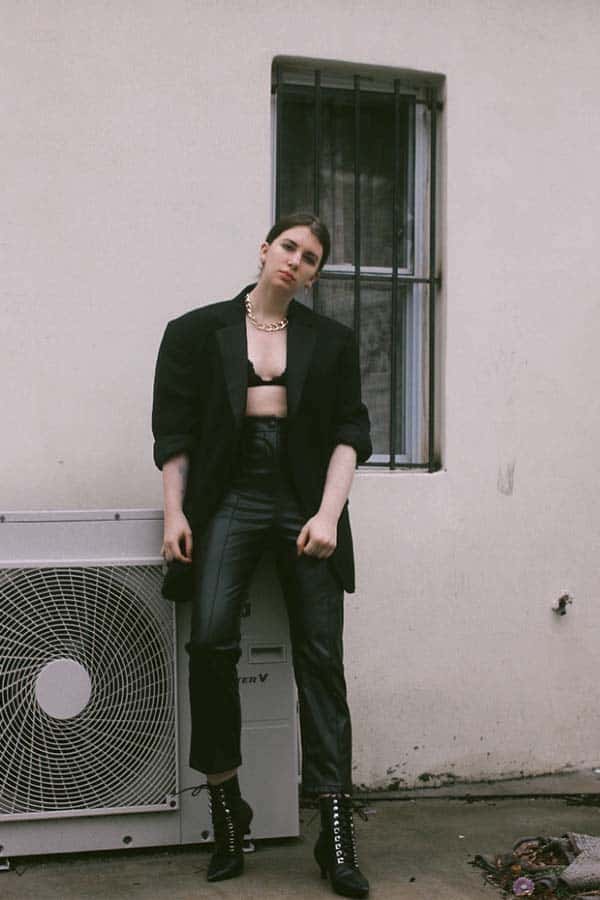 Lingerie details and lingerie as outerwear have been popular trends for a while and the trend has only grown in popularity. For fall fashion 2020, look for lingerie details like corsetry, sheer garments, unique texture bras (like leather or knit), and lingerie techniques on your dresses or garments.
Style tip: The lingerie as outerwear trend does not have to be overtly sexy. Check out this post for more ideas. Lingerie as outerwear can involve layering pieces so they appear more modest or choosing the right style of lingerie details to fit this trend. Lingerie details also pair very well with masculine pieces because they create a very balanced outfit.

Don't let another season go by where you are intimidated by the fashion trends or stressed about getting dressed.
Let your fashion communicate to the world what a savvy, confident, and sophisticated person you are. These fall fashion trends are just a starting point. Take the trend and make it your own.
If you want to get out of your comfort zone and try more fashion silhouettes, you should try my free 10-day email guided fashion challenge.
Get your adventurous fashion mindset on, your plaid garments out, and go embrace fall 2020 with all you've got.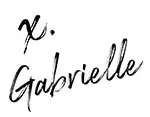 Pin this so you are super stylish this fall