Winter is fast approaching, and with it comes all the new additions to the fashion trends scene. Now, this is more of an evolution and addition to the fall fashion trends 2020, which are here.
The winter fashion trends are especially exciting because they pull from so many different styles and decades, so we will be sure to have some winter fashion trends that fit every style.
Now, if you struggle with wearing fashion trends in the freezing cold, you might want to check out these warm and fashionable coats so that you don't have to sacrifice your style when the temps start to drop.
we may earn a commission from you clicking a link in this post, at no additional cost to you. for the full policy, click here. as an amazon associate we earn commissions from qualifying sales.
related: top spring 2021 trends
TOP winter fashion trends 2020 / 2021
Colorful Suits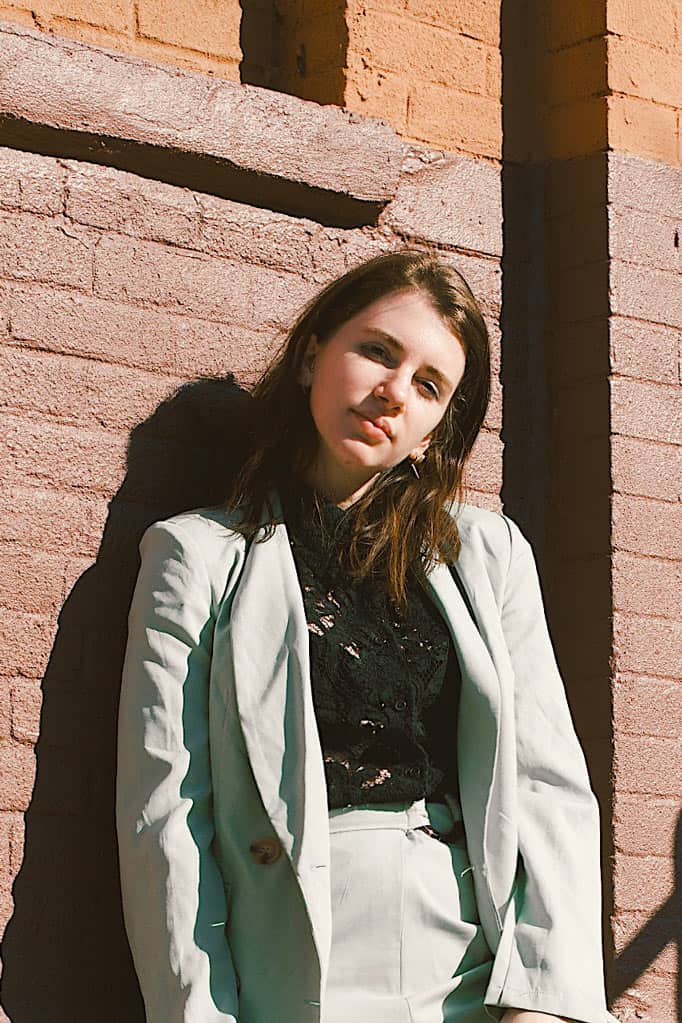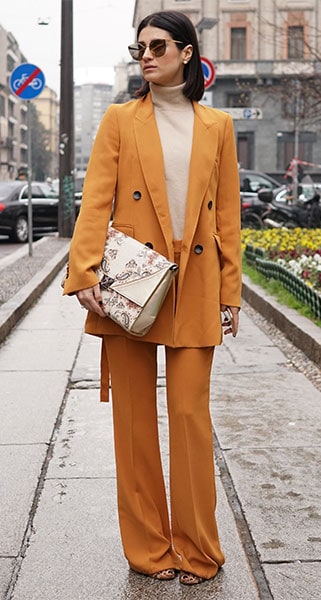 Colorful suits have been taking over street style and the runways. While they first started popping up in spring, they have had a resurgence for fall/winter as well. Pretty much any colorful suit works for winter. You can opt for more autumnal shades, pop colors, or even pastels.
If you opt for a pastel suit, pair it with a darker shirt underneath, which will make it more fall/winter appropriate. You can also try a black turtleneck or dark-colored knit sweater to winterize the suits more.
Brown Shades + monochrome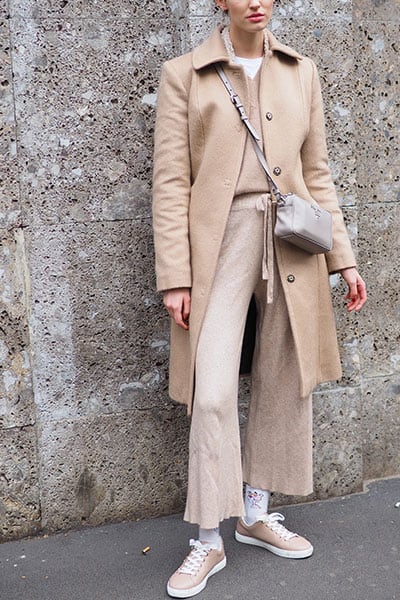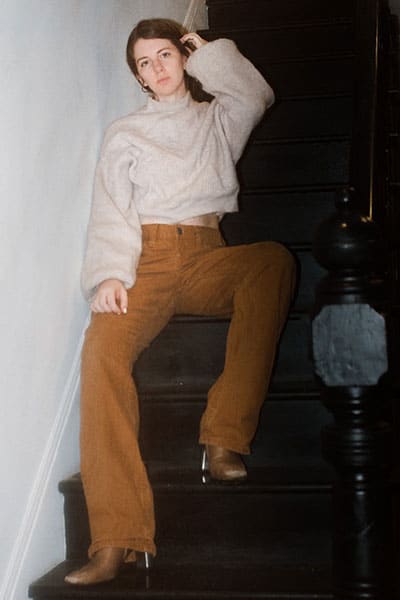 Sophisticated camel tones and brown tones have been a huge color trend for 2020.
You can up the sophistication factor by wearing a monochromatic outfit using you camel, oatmeal, or brown shades. If you feel overwhelmingly drab wearing so much brown, add a bit of jewelry or a pop color handbag to liven your outfit up.
Trousers Tucked Into Chunky Boots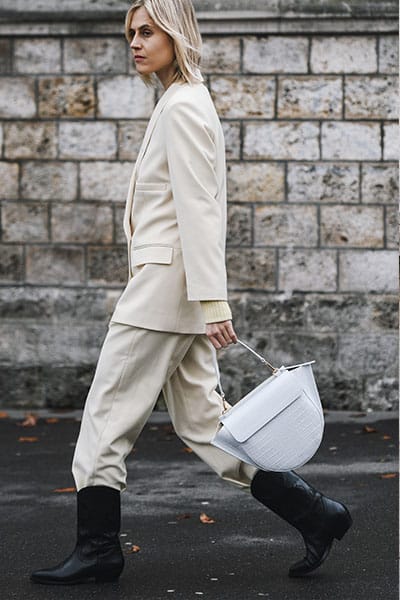 Chunky boots are probably "the" boot for 2020. They add a bit of edge to any outfit and look fantastic with a pair of jeans or wide leg trousers tucked into them.
If they feel too masculine for you, try pairing them with a feminine or sexy piece within your outfit. A plunging blouse with wide leg trousers and chunky boots is a great option. You can also add some feminine accessories or jewelry, like statement earrings to add more feminine vibes to your look.
TIP: You can also do this trend with more equestrian style boots if you prefer
Blue Hues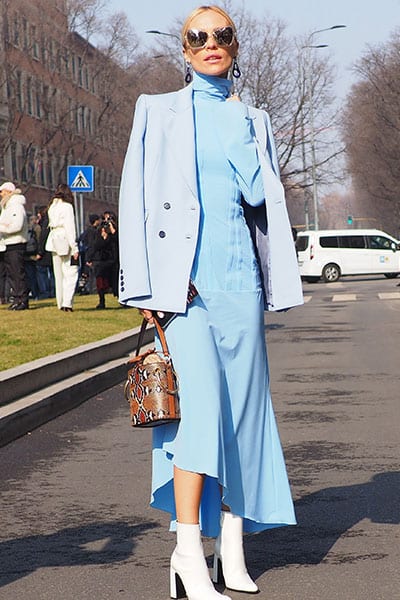 Bottega Veneta blues popped up on the scene and now we are all obsessed with blue hues. From cobalt blues, to muted blue shades, blues will be making a home in our closets in winter 2020/2021.
Add a blue coat or blazer to a neutral outfit to add some interest. Or, opt for a monochrome blue look for an extra fashion forward look.
If the blue feels to spring/summer, add some winter textures to your look. Adding a knit, faux fur, or even some fuzzy texture to the look will help transition it to the winter season.
Slouchy heeled boots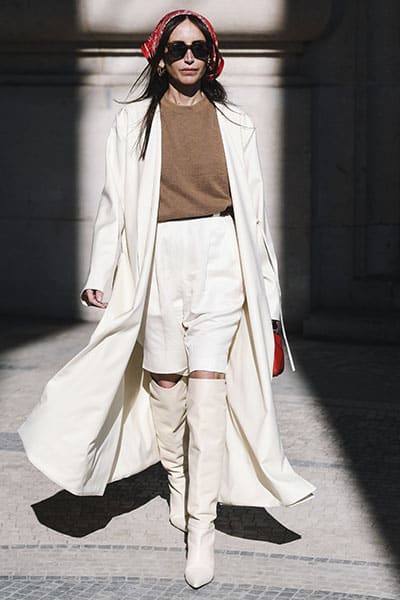 Slightly slouchy heeled boots have been a popular choice for this fall/winter season. The go-to color for this style is white and looks fabulous paired under skirts.
The most popular iteration of this trend is knee high height which makes it a perfect boot to help transition skirts and dresses into the fall winter season.
Tiger and Zebra Print
The aughts fashion are back and with that comes a love of tiger and zebra print. Think everything from tiger print pants to zebra print dresses.
I think zebra print will be a bit more popular this winter season, but both prints are making a resurgence this season.
Cowboy hats
As you can see, not only is style icon Emrata rocking a cowboy hat, we also have style influencer Danielle Bernstein wearing one in her brand campaign.
Cowboy hats are definitely a more "out there" trend. But they are a fun statement and can pair nicely with a variety of outfits. Avoid pairing them with any other "western/cowboy" style details so that your look doesn't veer into costume territory.
I would opt for a sexy dress like the above photos or an oversized blazer with leather pants and a cowboy hat. Let the cowboy hat be the "star" of your outfit and avoid any other majorly strong design choices in your look.
Soft Handbags
Bottega Veneta, Maison Margeila- they have given us an obsession with soft bags. These bags are sophisticated and uber chic. They are often times a bit oversized as well, but not exclusively.
Look for soft shapes, and soft textures to fill this winter fashion trend.
Here are some affordable options to the soft handbag trend:
Oversized Blazers / Leather Blazers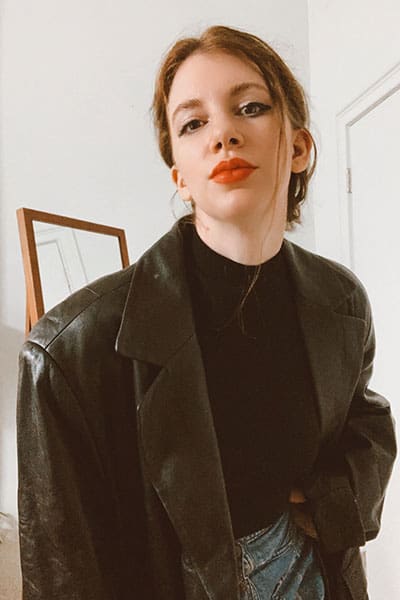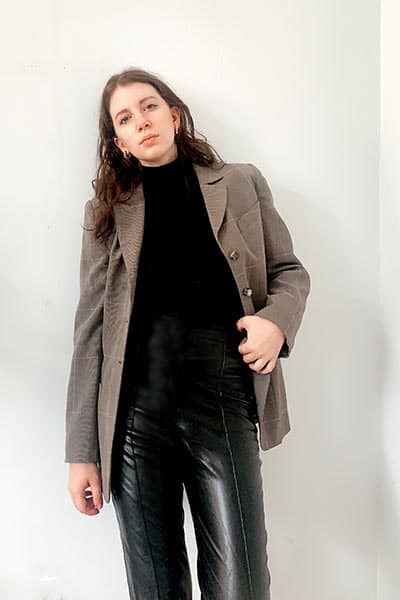 Oversized blazers might as well be the item of fashion 2020. Style them over trousers, with a suit, or even as a dress for the perfect winter 2020 outfit.
To learn more style ideas for the oversized blazer, click here.
Plush Bucket Hats
Bucket hats have been a major fashion trend lately. And for winter we will not only see classic bucket hats but we will also see plush bucket hats making their debut.
For this winter fashion trend, think plush fabrics, texture, and even faux fur.
Mini fit flare dresses (the ice skater dress)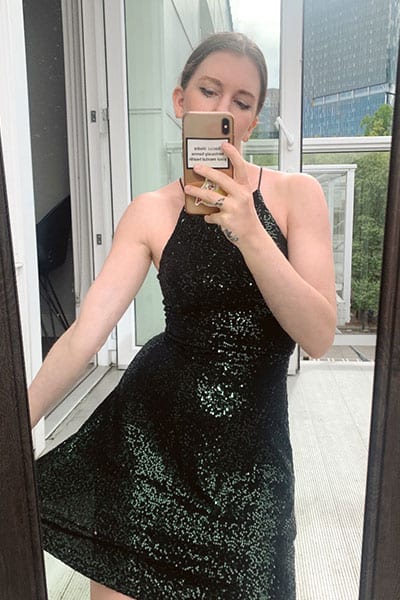 This popular 90's trend has made a resurgence this season, and would be a great option for an evening out or a holiday party. Add a pair of black tights when the temps dip low.
Shoulder Pads in Coats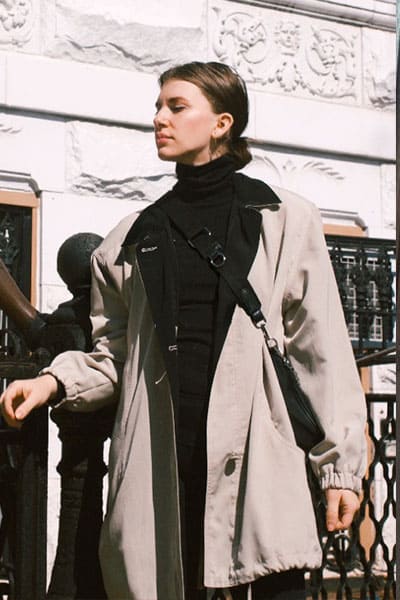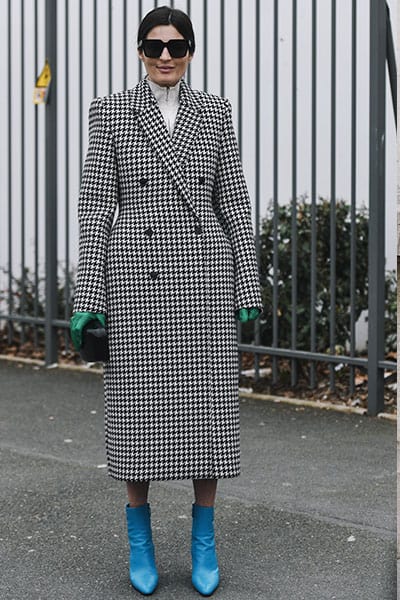 Shoulder pads have been trending IRL since spring, and I think they are not only a fabulous symbol of power and femininity but they also are incredibly chic. For more on this trend's origin, check out my shoulder pads post here.
Here's some easy styling tips for wearing a padded shoulder coat:
Add Athleisure touches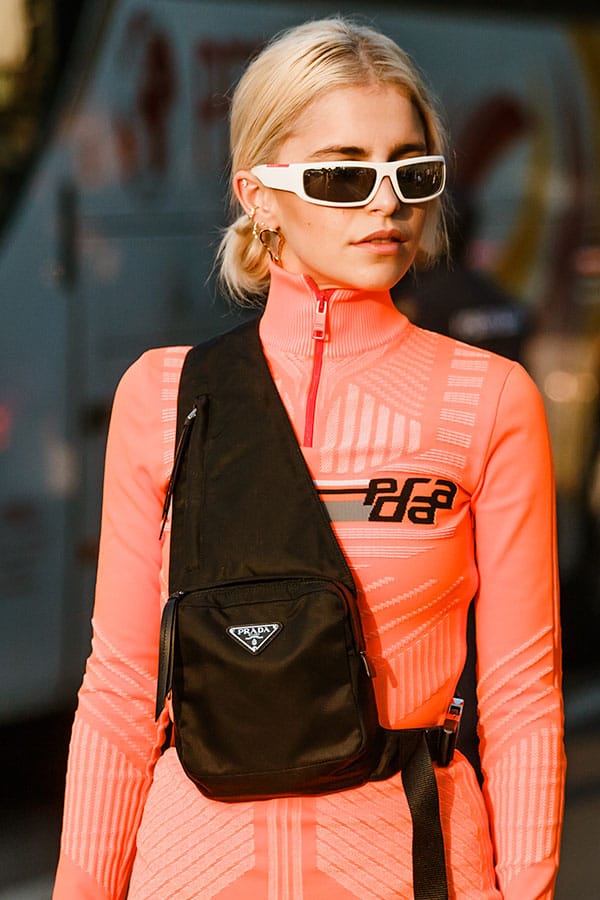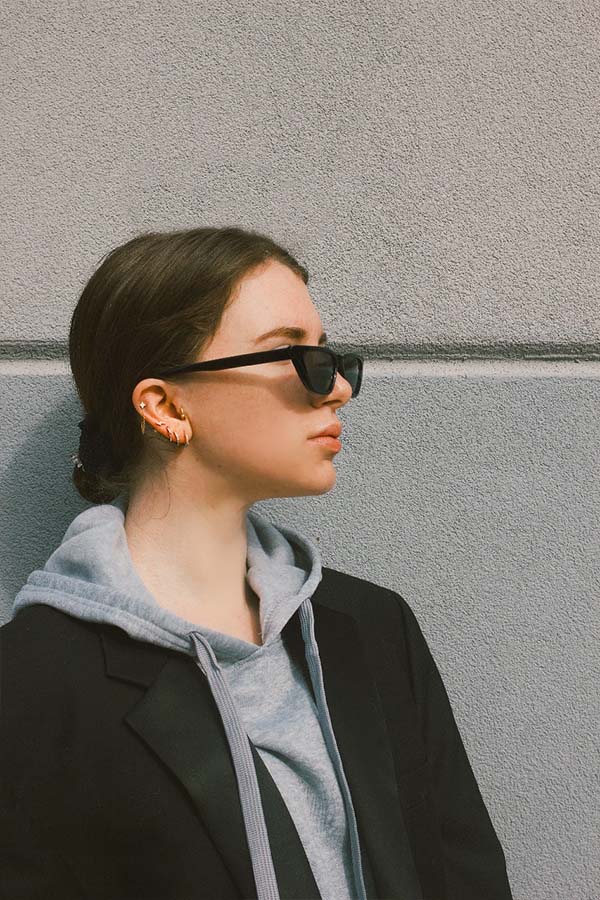 Maybe it's because of quarantine, or maybe we just all love a little athleisure in our life. Don't be afraid to mix in some casual pieces with more "formal" dress categories. Sweatpants look great with an oversized blazer. And, sneakers look great with a-line skirts.
Additional; Air Force 1's and Reeboks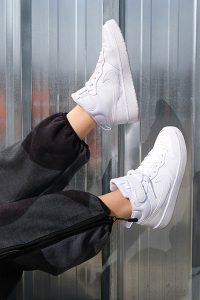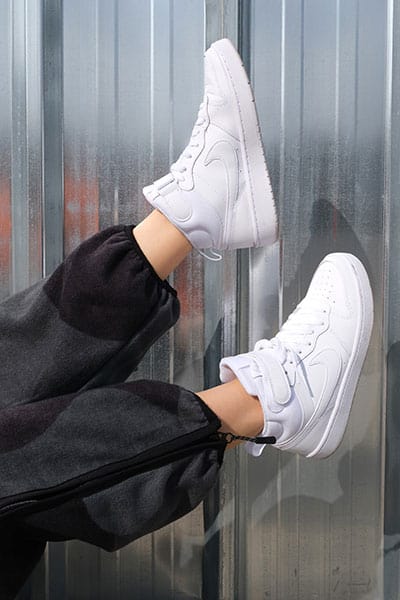 Air Force 1's and Reebok sneakers are definitely also trending. For this additional trend, try a 2000 or '90s style outfit. These shoes will most likely push out the "dad sneaker" trend completely.
2000 style / Y2k fashion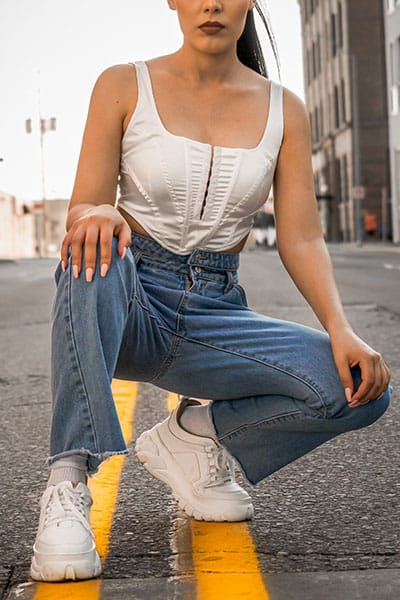 The 2000's are back, think claw clips for your hair, low rise jeans, flared yoga pants, mesh tops, and all those style flashbacks holding firm in your brain.
While this trend won't be for everyone, aughts fashion will definitely start to become more prevalent. So start with an easier version of this decade like flared yoga pants or a halter top and work up to tackling low rise jeans, should you be so bold.
Y2k Fashion: flared leggings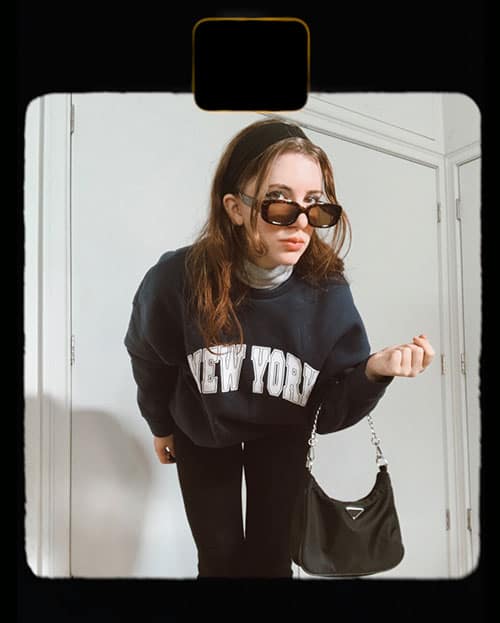 Thanks to Emma Chamberlain and the y2k fashion resurgence, flared leggings (aka OG yoga pants) are trending again. For more ways to wear flared leggings, check out this post.
Layering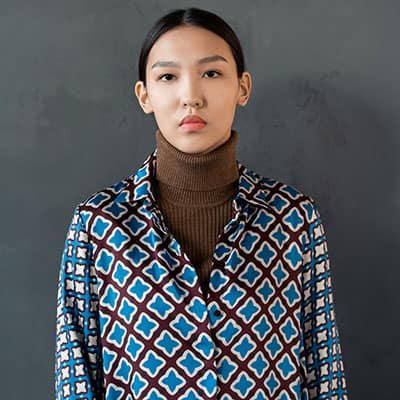 Layering is essential for winter and can make an otherwise boring outfit, so much more dimensional and stylish. I love using a turtleneck as a layering base piece, and I have a bunch of turtleneck outfit ideas for you here.
You can also try layering your coats when you want to be stylish and warm.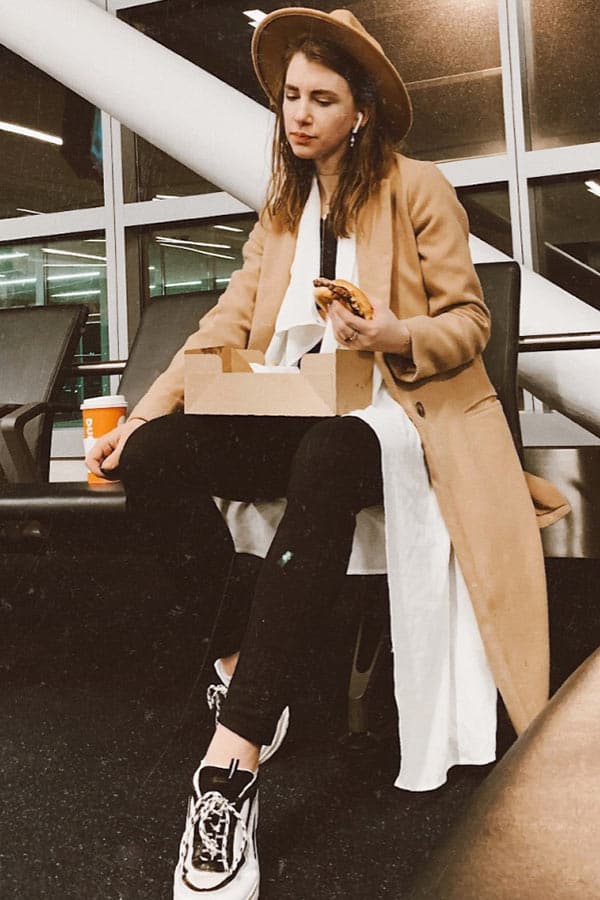 Patchwork
Patchwork jeans have popped up in the fall fashion scene and I think we will continue to see more patchwork in the winter. Perhaps a surge of patchwork coats as well.
Cardigans
Cropped and fitted cardigans started gaining momentum back in spring, but now for fall/winter fashion trends, we will be seeing more chunky knit cardigans and unique knit designs. House of Sunny has some of the trendiest cardigans and knits out there.
additional: We can thank Harry Styles for making patchwork cardigans a thing and fusing these two winter trends together. And if you're crafty and love this cardigan, you can find a tutorial to knit one yourself here.
Matching Cardigan & Bra Set
And ever since Katie Holmes wore the gorgeous Khaite bra and cardigan set, we have seen the cardigan and bra set become a staple in fashion icons wardrobe. So don't sleep on this trend, it's perfect for winter fashion when you want to show a bit of skin but still have your arms covered.
Quilting Details and Weaving Details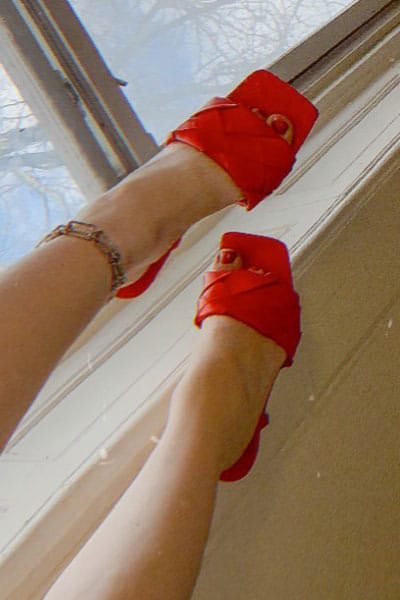 From chanel bags, to Bottega's weave pattern, quilting and weaving bags are not going anywhere for winter fashion trends.
TIP: If you have a weave pattern mule like the ones above and you want to transition them to winter, don't be afraid to add a pair of socks underneath. We will be seeing socks with heels as microtrend this winter season. This only works on dry winter days!
To satisfy this trend easily opt for a quilted or weave pattern bag, or try a quilted jacket for a more dominant effect.
A pop of color accessory that is quilted can add a much needed bright note in the winter months, so don't be afraid to add a pastel bag or pop color to your winter look.
Sheerling Coat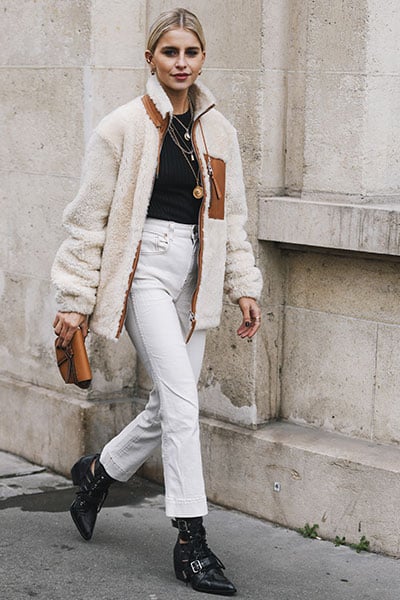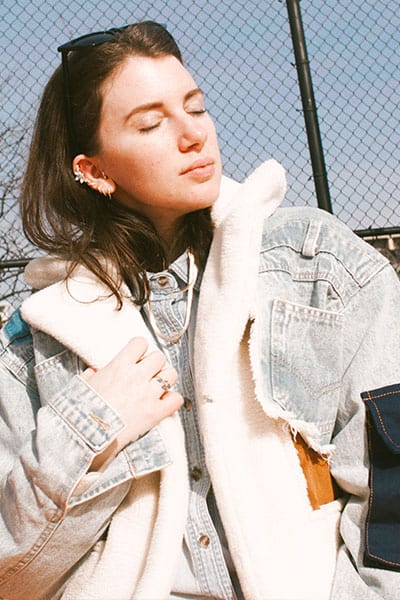 Shearling is going to be big this winter. Everything from casual sherpa like jackets (see above) to more 70's stye long hair shearling coats that make a statement will be trending. Shearling is a great way to stay fashionable AND warm for winter months.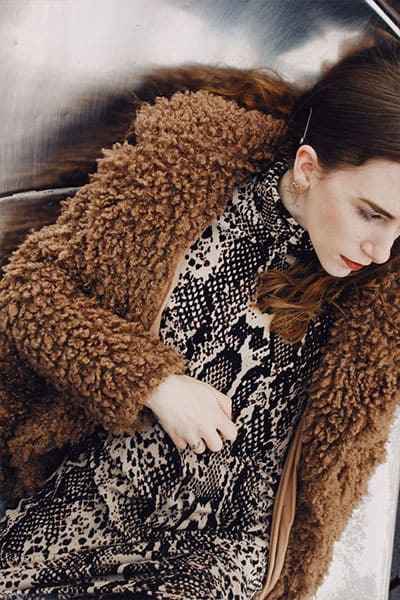 Thick Chains
Thick chains are going to be a big winter fashion trend. If you want more info on layering gold chains, check out this post.
Thick chain necklaces and thick chain details are going to be an instant way to elevate a simple winter fit.
When you have a bold thick chain, let it be the focal accessory and don't complicate your outfit by adding other dominant pieces of jewelry.
Chunky Boots / Thick soled chelsea boots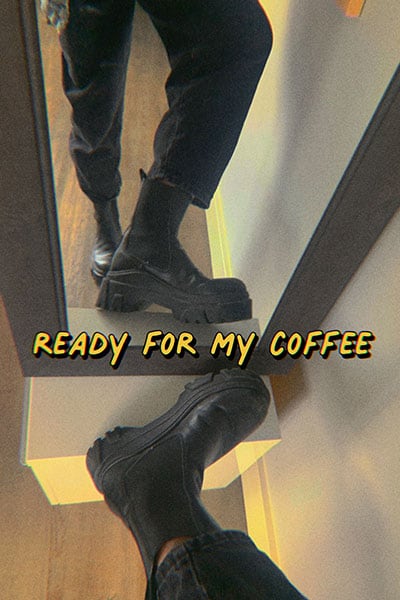 Chunky boots, thick sole chelsea boots, and even lug sole boots. They all mean the same thing- fashion perfection for winter 2020. This is a shoe trend that is super stylish AND works for all weather.
If these feel too heavy for your style, try tucking them into your jeans or pants. By doing so you will create a more unique silhouette and the proportions will be better.
additional; Lug sole boots
Prada started the lug sole boots, but there are some affordable options out there. The lug sole is a great option if you're ready to up your chunky boot game
Padded Shoulder Shirts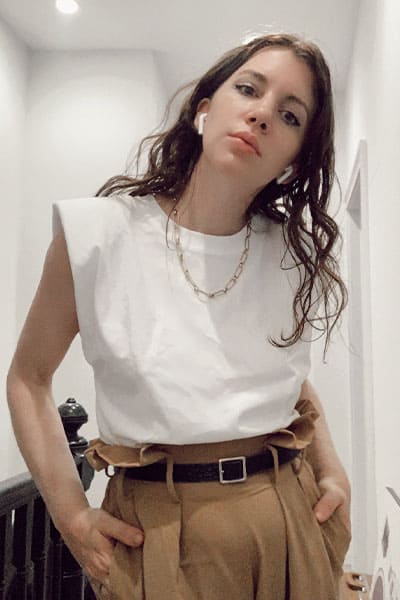 We have the Frankie shop to thank for our obsession with padded shoulder tees. But for winter we will be seeing padded shoulder knits, and even bodysuits. These padded shoulders make any outfit chic.
For colder weather try throwing on an oversized blazer as a layering option that won't' take away from the strong shoulder silhouette. The oversized blazer can easily "hold" the should pads and won't look bunchy.
Sweater Vests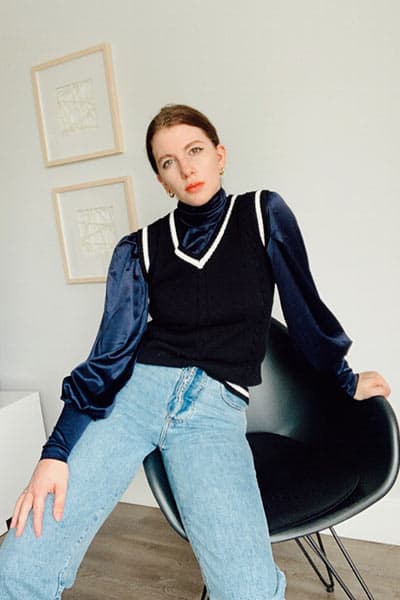 Sweater vests! The preppy Hamptons country club sweater vest is back and better than ever. But you can definitely wear it as a layering piece in winter and it adds a perfect trendy touch to any outfit. For more sweater vest outfit ideas, check out this post.
Knit Half-Zip Sweaters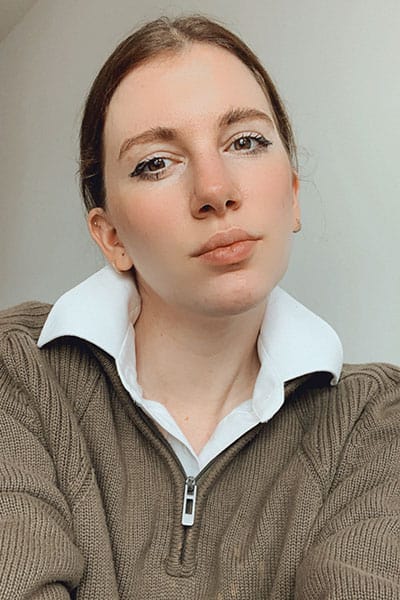 Friends fashion is definitely seeing an uptick lately.. From Chandler Bing sweater vests to these iconic half-zip knit sweaters. You can also opt for a cotton version of this trend, although it skews a bit more aughts fashion in my opinion.
I love layering a men's white button-down under a half-zip sweater for a warm, and fashionable layering look. If you need more help on how to wear men's pieces, check out this post.
Leather Pants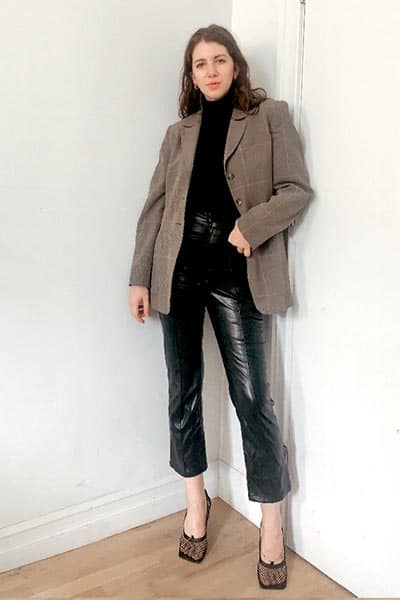 I don't know if you also tried to get the Melina Aritzia leather pant, but I'm pretty sure we can all blame tiktok for the shortage of those amazing pants.
That being said, leather pants are going to be huge this winter season. They are a perfect texture to add some sex appeal and interest to a winter look, and they keep you warm.
We will be seeing a lot of slim cut and even skinny leather pants ranging from high rise to low rise. Pick which option works for your style and just watch your proportions.
Slip dresses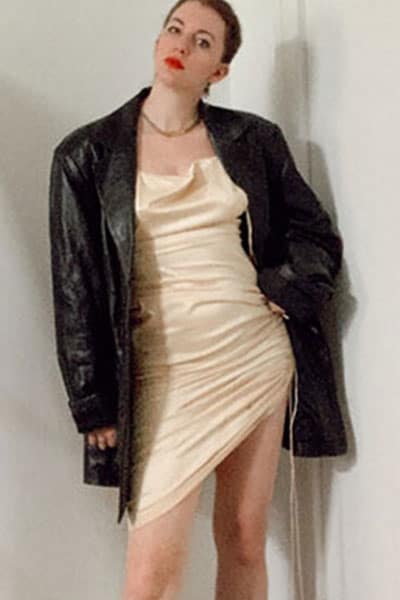 I love a good slip dress, and find it an essential piece to any chic wardrobe.
related: how to build a CHIC foundational wardrobe from scratch
Don't be afraid to layer a turtleneck under a slip dress for a more casual, and modest iteration. Or pair it tights and an oversized blazer for a more femme fatale vibe.
Loafers with socks
This quirky trend will be big for winter. To satisfy it, get your chunkiest loafers that you swore you would never wear, and your whitest socks and slightly cropped trousers or skirt and rock this trend. Bonus points if you put a thin gold anklet over your socks.
This is definitely a unique trend, but it is an easy way to add a bit of trendiness to a business casual outfit or basic outfit. You can also add a more unique sock to this look, like the ones below.
Claw Clips
Claw clips.. I mean literally EVERY girl is trying one of these hairstyles this winter season. Here's a tutorial on different ways to use the claw clip.

Wow, how can you even begin to choose from these 2020 winter fashion trends? They are all so good and incredibly unique.
The nice part about fashion trends is that there is a plethora to choose from. So, make the conscious decision to embrace the ones you are drawn too and leave the ones that you don't love behind.
I feel a lot of people get discouraged with a long list like this because they get overwhelmed and feel like they can't pull all of those trends off. . But, I'm here to tell you these trend lists are giving your variety. Think of it like an ice cream shop, sample the ones that interest you and leave the rest. Land on your flavor and embrace it. Skip the rocky road if it's not your flavor. I give you full permission to do so.
Now, go find your flavor and drop any other winter fashion trends I missed in the comments!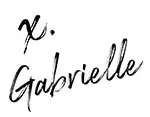 P.S. you NEED to pin the below image, because boy was this a long list- and you might new a refresher on your winter fashion trends 2020 /2021