The French do a lot of things right… I mean croissants, butter, and let's not forget the mesmerizing (albeit touristy) Eiffel tower. So, it's no surprise when french fall fashion also tops the list when it comes to style goals.
I remember when I was little demanding my head be adorned with a chic, black beret perfectly askew to give me the french vibes I was so consumed with even at a young age. French women know something about looking good.
So, let's get into why French girl fashion needs to be part of your fall wardrobe. Now, I'm not french, and I bet you aren't either. And if you are, we bow down to your fashion skills. But, it goes beyond just "looking" like a French girl.
Fall french fashion is about easiness, comfort, and superior style. Not all countries have mastered this, and let's be honest the French have done it the best. They simultaneously take classic pieces and make them look timeless and sophisticated.
related: how to look expensive no matter your budget
If you haven't started building foundational fashion pieces, check out this post on building a wardrobe from scratch. I love following fashion trends and trying new styles, but having the right basics and foundational pieces in my closet is what allows me to go from season to season and never feel like I don't have anything to wear.
Fall french fashion is about building a capsule of classic pieces that will be useable in the future season but styling them in the ultimately superior french way.
we may earn a commission from you clicking a link in this post at no additional cost to you, full affiliate policy here.
10 Essentials you NEED for fall french fashion
1. Black slim straight-leg jeans
Black slim straight-leg jeans are the epitome of easy and classic. While straight leg jeans happen to be very trendy this year, this style will serve you for future years to come. Black is an essential foundational color to have in your wardrobe (even if you love color) because it provides a perfect backdrop for your outfit. Basically, we are moving away from skinny jeans and a slim straight leg is a perfect evolution for your jeans.
Fall french fashion is not about having bold statement pieces, but instead focusing on mixing classic pieces in a slightly new way and keeping the outfit effortless. And a black straight leg jean will be your go-to pant for this.
related: 6 black jean outfits to put into your wardrobe
2.
Oversized blazer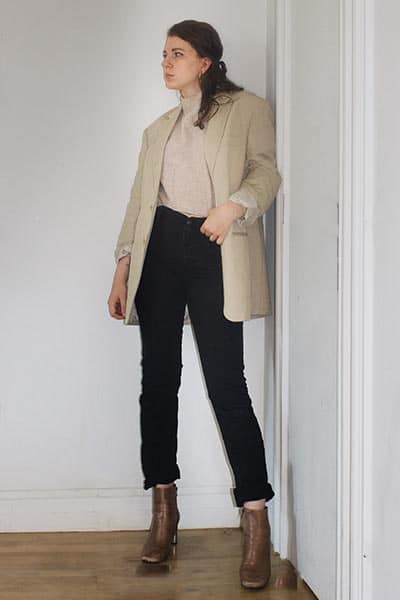 Can I write anything more on the oversized blazer? It seems to be part of any post I write because it is that much of a game-changer to your fashion. If you want more help with the oversized blazer or just want ideas on how to wear it, this is your ultimate guide.
The slightly oversized or boxy blazer is a fall fashion staple and french girls love mixing slightly oversized pieces in their wardrobe. It creates a relaxed silhouette and ease of the look.
If this "feels" too masculine for you, add a feminine accessory like a chic classic handbag, ballet flats, or even a simple hair bow. This delicate touch will help with the balance of the look.
related: the CHICEST Fall Capsule Wardrobe Guide 2020
3.
Perfect Sweater

You need a perfect sweater for fall. And for french fall fashion that usually means a perfect, slightly loose, crew neck sweater. For this, you will want to invest in a quality knit or cashmere and care for it properly. This way it will be part of your style for years to come.

Don't be afraid to layer a turtleneck or a men's white button-up underneath this sweater for a great fall french girl style upgrade.
4. Turtleneck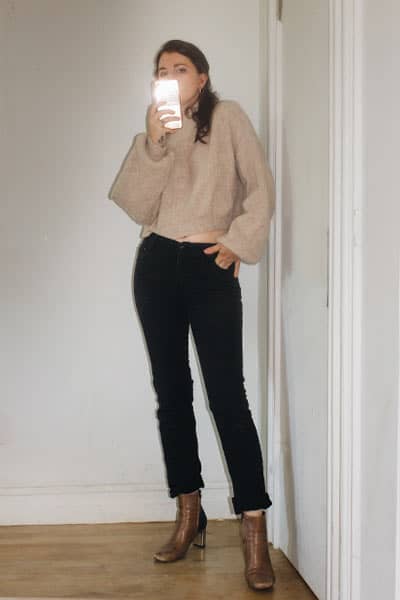 An easy turtleneck is essential to any fall-winter wardrobe. You can go for a classic fitted turtleneck or opt for a sweater turtleneck for the colder winter months.
5. Chunky knit cardigan
Cardigans have been trending for a few seasons in 2020. We have seen everything from a 90's baby cardigan, to a chunky knit cardigan. For fall french fashion we will be opting for a heavy knit cardigan in a neutral shade. This is a perfect layering piece for transitional weather.
You can wear this over a slip dress for warmer days, or layering over a men's white button-up and your black straight leg jeans for a more brisk day.
6.
Simple hair accessories

Fall french fashion is all about completing your look. While french fashion is effortless, it is also "complete" and intentional. Every outfit feels like it has been put together with ease AND care. So don't forget about simple, chic accessories for your outfits.

You could opt for a silk scar and try these ideas:
Try these 3 ways to wear a silk scarf to add some French flare to your style ##frenchfashion ##styletips ##fashion ##parisianaesthetic ##frenchgirl
♬ Tous les garcons et les filles – young_emperors
Or you could try these simple hair accessories:
related: Hair accessories you need to try in 2020
7. white button-down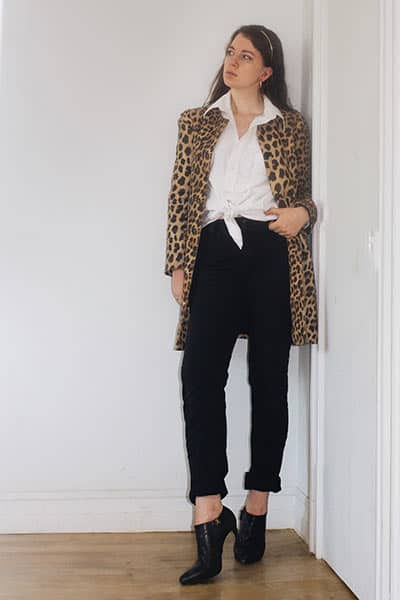 I LOVE men's white button-downs. It has the perfect slightly oversized look for effortless style and would go perfectly with your black straight leg jeans. Throw on a pair of loafers, a simple pair of gold hoops, and a classic bag and you have fall Parisian style gold.
If you don't know how to wear a men's white button-down, check out this post on how to wear menswear pieces as a woman.
8. perfect tee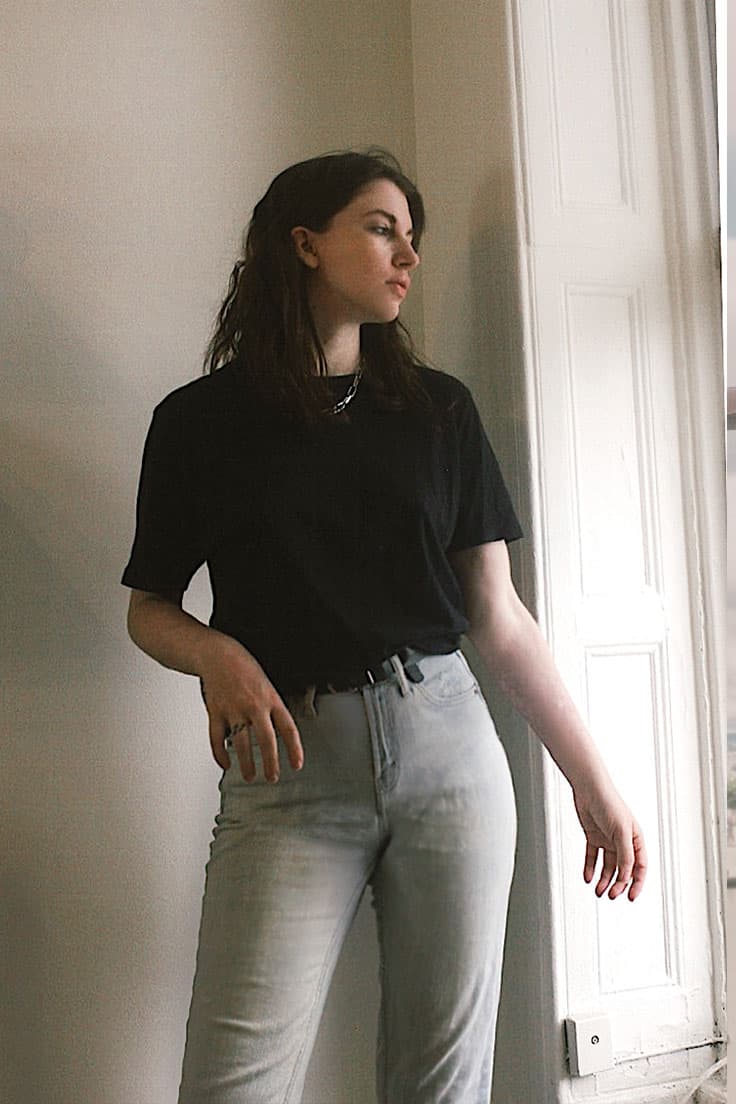 Does the perfect tee exist? Yes, and the French have had this style in their closet for years. It is slightly boxy, yet doesn't consume your figure.
For fall fashion, use the tee shirt as a layering piece. Wear it under your blazer, your white button-up, or even under a slip dress for a simplistic, stylish outfit.
related: 14 ways to style a white t-shirt

9. silk camisole
The silk camisole is another layering piece every woman should have in her wardrobe. Its flexibility and utility are essential. Throw it on under a blazer with jeans for a casual yet professional vibe, or wear it with jeans and a cardigan for a day out with your best friends.
related: how to wear lingerie as outwear, the controversial trend
10. trench coat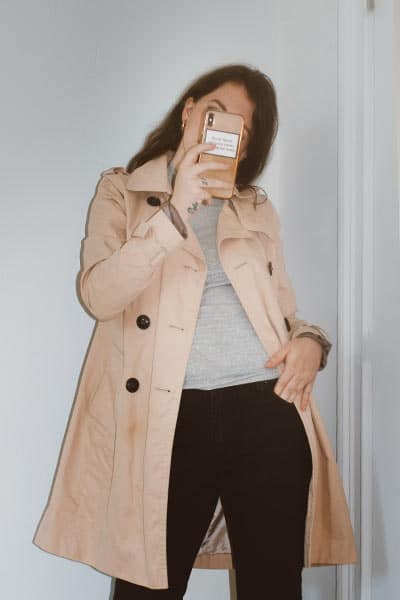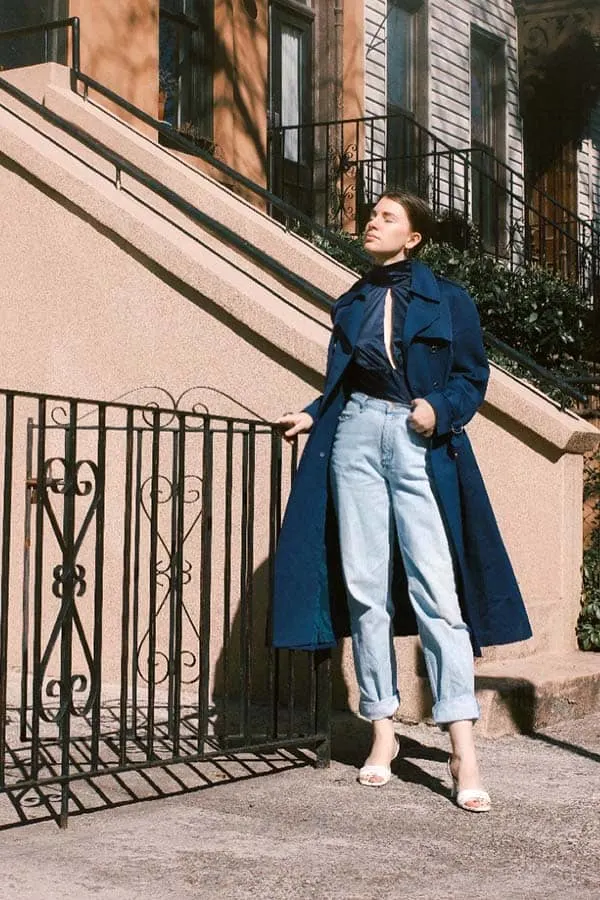 Fall french fashion needs a trench coat. The trench coat exudes effortless style and it looks great with practically any fall outfit. Whether you choose to go with a slightly oversized trench or a fitted trench is dependent on your style proclivities but just make you sure you have a classic colored trench for fall.
Shoes you need in your closet for Fall French Fashion
Parisian style, much like NYC style, is about walking everywhere and about looking chic while doing it. So while french couture may be all about the impossibly high statement shoes, french girl fashion on the streets is all about chic, versatile shoes that transcend business casual to formal and even daywear.
Loafers:
For fall french fashion you want a classic, slim-cut loafer that is most likely in a neutral color. Limit the amount of "bling" or detailing to the shoe, as french fashion is more about a chic silhouette than about sparkly details.
Ballet Flats:
Ballet flats are actually already a shoe trend for 2020. But keep it simple, and elegant. We are opting for a form-fitted, soft ballet flat with at most a small bow.
related: Shoe trends for 2020 that are in and out
Simple Heeled Boot:
A simple heeled boot won't ever go out of style. If you want to be a bit more trendy you could opt for a square toe boot but pretty much any classic heeled boot will do. Make sure the heel is not too high and the color is fairly neutral. Opt for black, nude, tan, white, or dark brown. If you really love this boot style you could also grab a snakeskin or leopard print boot, as an ADDITIONAL option.
related: TOP fall-winter color trends 2020
French Fall Winter Wardrobe Checklist
Here's a basic checklist to master Parisian style during the colder months. These are foundational pieces that are styled with French flair. Pin it for reference, so that you can build a wardrobe that you love. [ how to build a chic wardrobe from scratch]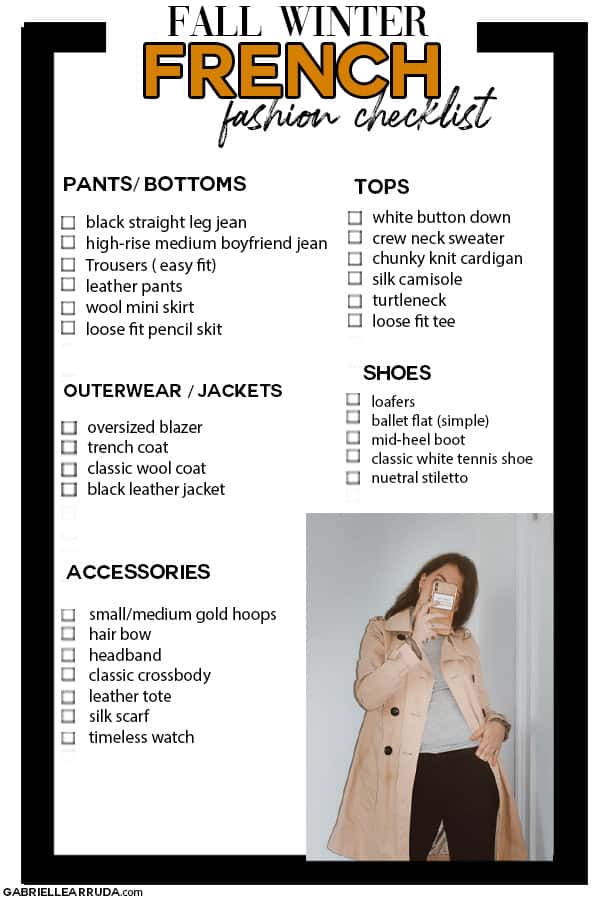 Sometimes people get hung up on transitioning into colder weather. The layering, the internal struggle between looking chic and staying warm frightens even the best of us off on stressful days.
But, with fall french fashion staples like these, you will have a wardrobe that has a plethora of outfit ideas to pull from and staples that every closet needs.
Dressing for fall (and winter) isn't about abandoning all style, it's about having the right wardrobe to pull from and having layering pieces to create the effortless Parisian fall style.
Now, I didn't include a perfectly chic black beret on the list, but that's more than welcome in the mix too. So get your fall french fashion on, place your beret atop your head, and read Flaubert at the perfect outdoor cafe table and experience the Francophile dream.
Croissants sold separately.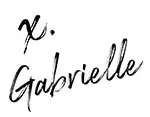 Pin this so when those colder months are creeping you, you can be a Parisian style goddess