THE white t-shirt. It's like a fashion superhero in disguise. It looks unassuming, simple, and everyone has one but with the right styling, it can be the key to a perfect outfit.
You're running late for work, you burnt your breakfast, and you just found out your coffee shop is out of oat milk. What will make this terrible day better? A great and easy outfit which you can get by using the white t-shirt as your base item.
What goes with a white t-shirt?
Given the proper styling and pieces, almost anything can go with a white t-shirt. You can style it under a dress, as a layering piece over a turtleneck, or even just on its own.
But, if you need a resource for how to create stylish white t-shirt outfit ideas then this post will make you jump for joy. Because I've created 14 different looks using one white t-shirt. You'll also find what activity or event works best with each outfit, so getting dressed will be as simple as possible.
How do you make a white t-shirt look cute?
This depends on what white t-shirt you are referring to. For this post, I chose a men's medium white t-shirt that has a slightly relaxed/oversized fit on me. This style of t-shirt is not only trendy right now, but it is also a classic staple of French fashion and looks cute when the outfit is balanced.
Make sure your relaxed tee has a counterpoint in femininity. That can be fitted pants, heels, or feminine jewelry (or even your hair and makeup choice).
** we may earn a commission from you clinking the links in this post at no additional cost to you, for the full affiliate policy, click here.
My favorite White T-shirt Options
14 ways to wear a white t-shirt
1. Casual-Chic White T-shirt Outfit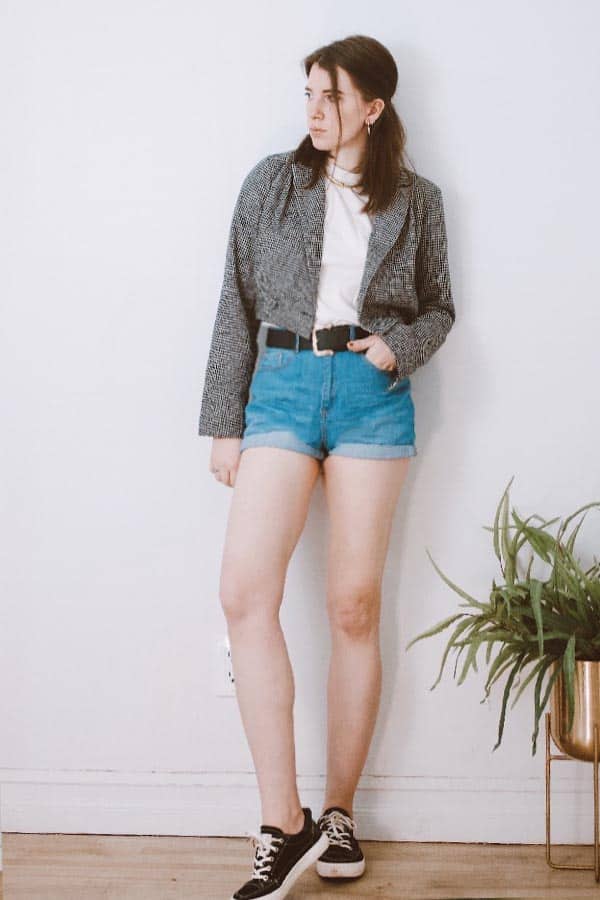 This look consists of a white t-shirt, high waist jeans shorts, classic tennis shoes, and a cropped blazer. When wearing the cropped blazer make your shorts have a high rise so that the proportions elongate you. It's easy and put together.
This look is perfect for a day time outing with friends, picnics in the park, or an activity that is casual and involves walking.
2. Flirty and Edgy White T-shirt Outfit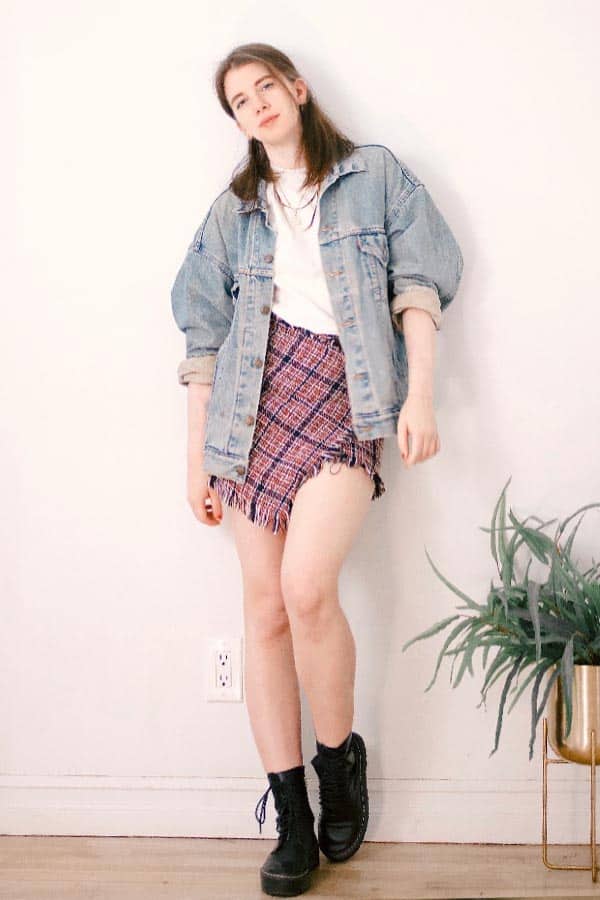 This look consists of a white tee, a mini skirt, an oversized denim jacket, and platform combat boots. It's flirty and edgy at the same time which makes it great for a daytime date or outing with friends.
Notice the proportion of the skirt to the oversized jacket. The skirt has to be longer than the jacket, but should also be above your knees for the best balance. Platformed combat boots also help give you a bit of height while still being walkable and easy.
3. Dinner Out With Friends White T-shirt Outfit
watch the video for this look.
This look consists of a white tee, an oversized blazer, high waist jeans, statement earrings, and trendy flip flop heels. It's trendy yet not overly done and perfect for dinner out with friends.
Using a pop of color in this more classic outfit makes it more impactful, especially when the colored item is also the more trendy of the pieces. In this look, the shoes are both a pop of bright blue and the shoe style is also very in-vogue. [ spring trends you need to try now]
4. Monochromatic White T-shirt Outfit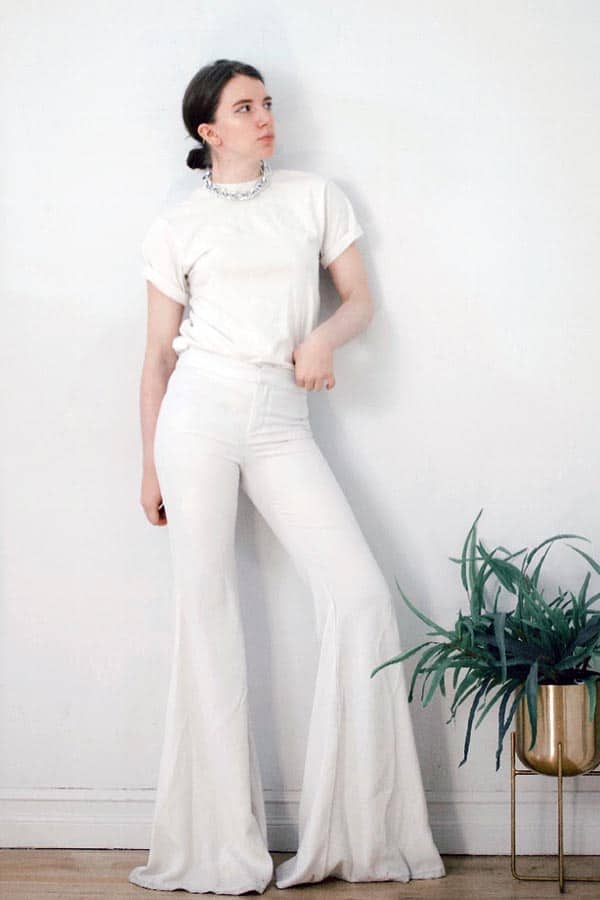 This look consists of a white tee, white flares, white heeled boots, and a chunky silver link necklace. The monochrome element makes it sophisticated and chic. Perfect for outdoor springtime events. [ how to wear monochrome outfits]
This look is most sophisticated when the pants have a relaxed or voluminous aspect to them. My flares provide a bit of drama to the outfit silhouette and balance out the tighter fit in the hips and thighs. Wide leg pants or relaxed white jeans would also work and keep this outfit sophisticated and elegant.
5. Business Casual White T-shirt Outfit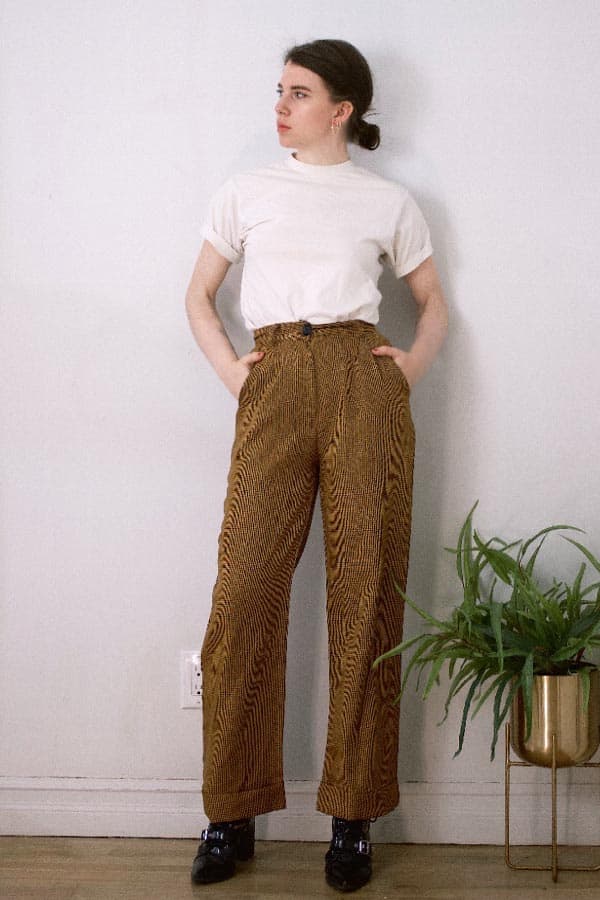 This look consists of a white tee, wide-leg trousers, heeled boots, medium hoop earrings, and a pair of cat-eye sunglasses. This look is professional enough to be business casual and would transition to evening nicely by throwing on a leather jacket.
Keep the jewelry and accessories focused if you're wearing it to work. And add a layering piece like a black blazer for more flexibility in the workplace. [ 7 stylish accessories that will transform your business casual outfit]
6. Elevated with a Twist White T-shirt Outfit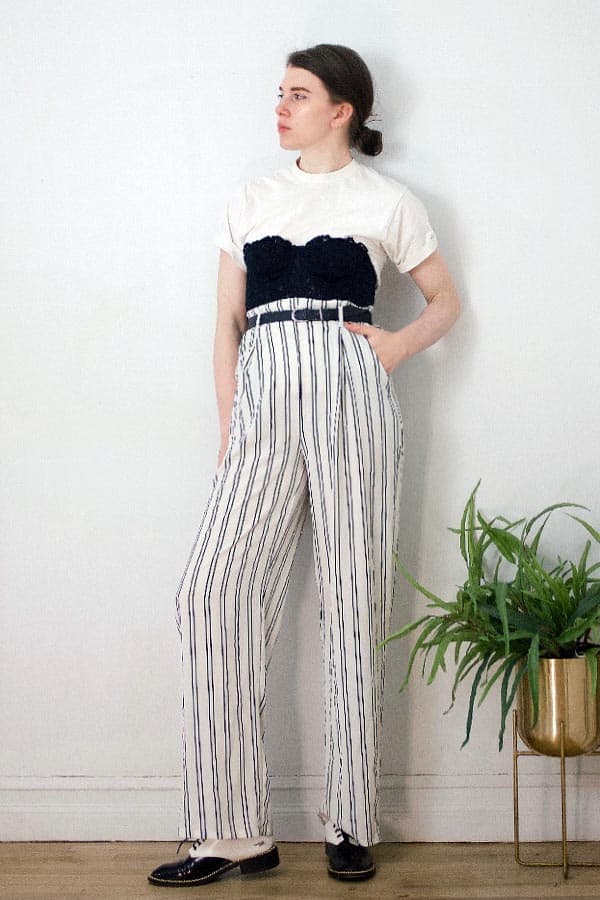 This look consists of a white tee, a corset top, wide-leg trousers, belt, and two-tone shoes. It's an elevated look with a twist and is a great statement outfit.
Don't be afraid to swap out the shoes, belt, or accessories to items that exude your own personal style. [ style 101: how to hone your fashion voice]
7. Perfect for Day Outings White T-shirt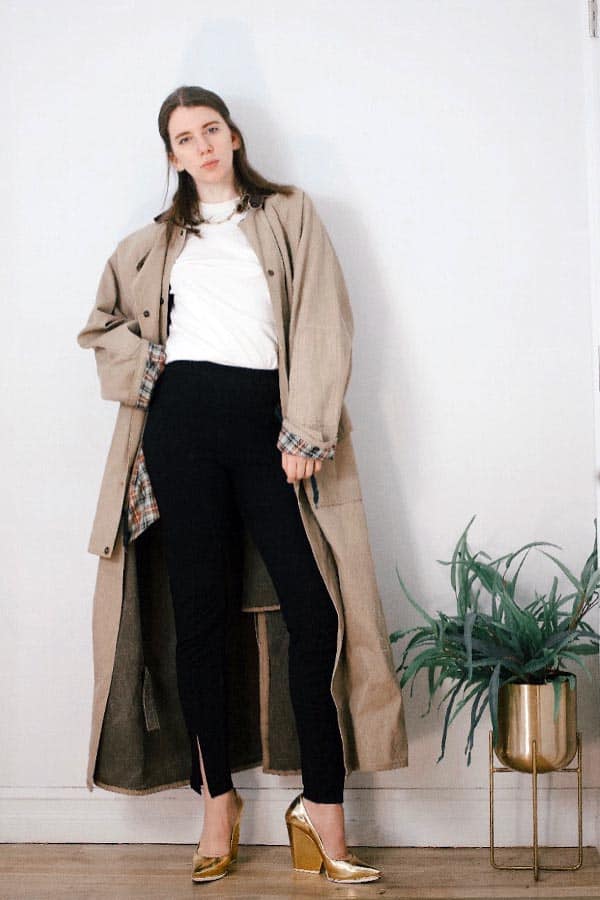 This look consists of a white tee, a trench coat, split ankle leggings, and wedged heels. It's perfect for daytime outings like going to the museum or grabbing a coffee with friends. It's casual yet sophisticated.
Split-ankle leggings are a very popular trend right now, click here to learn more about how to wear them.
8. 90's inspired White T-shirt Outfit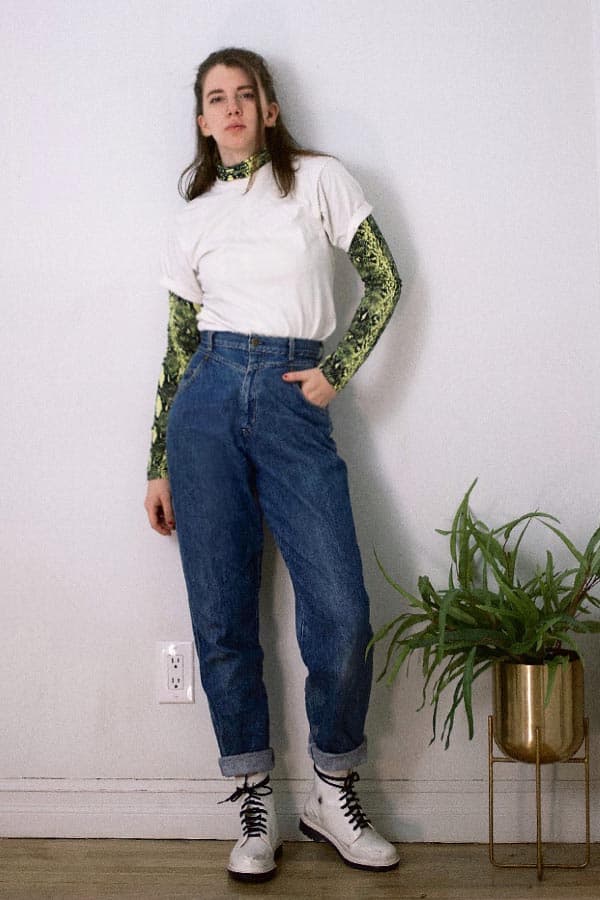 This look consists of a white tee, turtleneck, mom jeans, and combat boots. It has a 90s vibe and adding a 90's hairstyle helps make it even more on-trend.
For more 90's outfit ideas, click here.
9. Sophisticated White T-shirt Outfit Idea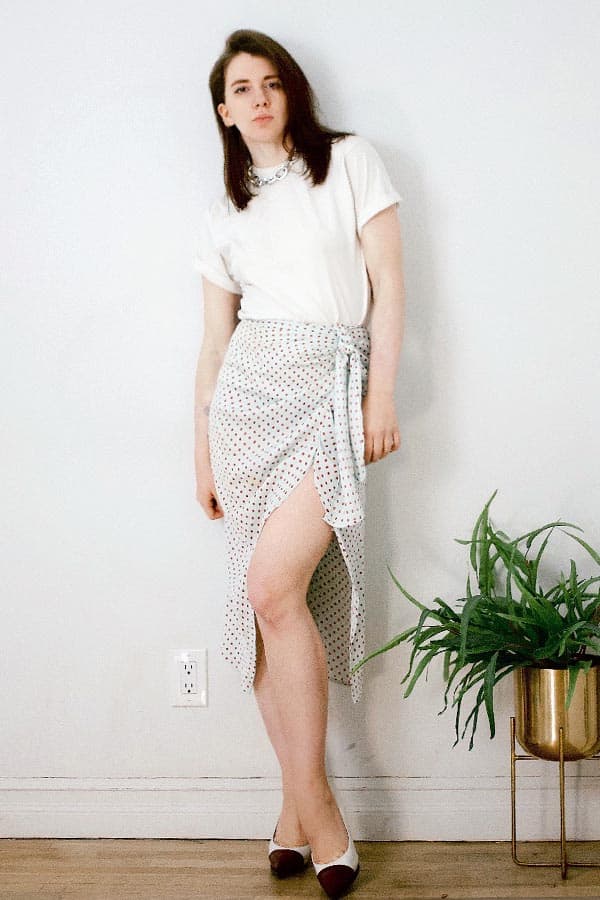 For this look, you need a silk skirt, a white tee, heels, and a chunky link necklace. It's elegant and put-together. A perfect outfit for more formal daytime events or when you want to make a good impression.
Make sure your skirt is below your knees in order to keep the elegant vibes of this outfit. A slit is ok as long as it doesn't go too high or isn't too obvious. [ The shoes that are in and out for 2020]
10. Classic White T-shirt Outfit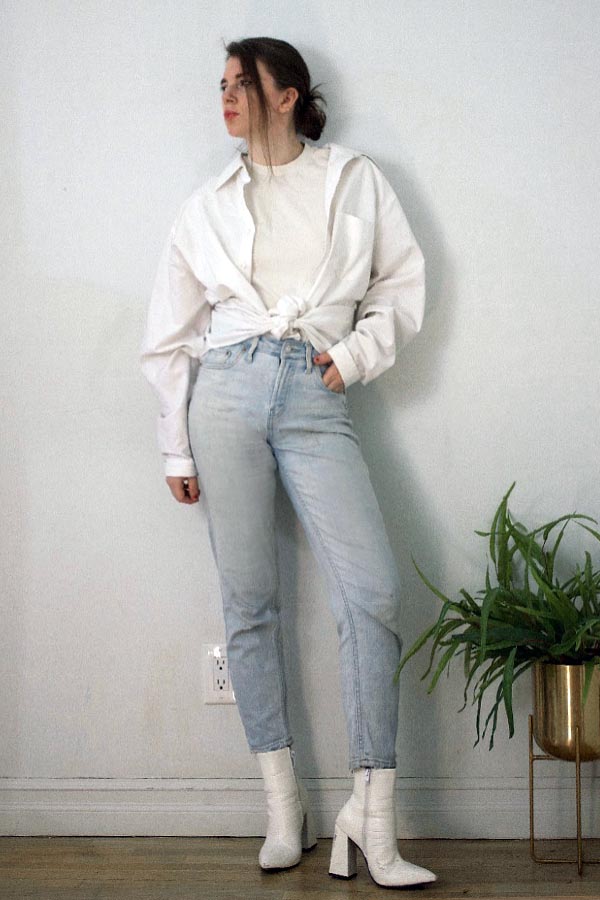 For this look, you need a white tee, a men's white blouse, high waist relaxed fit jeans, and heeled boots. Knot the white shirt in front to get a more fitted look. This outfit is classic and perfect for spring.
11. Date Night White T-shirt Outfit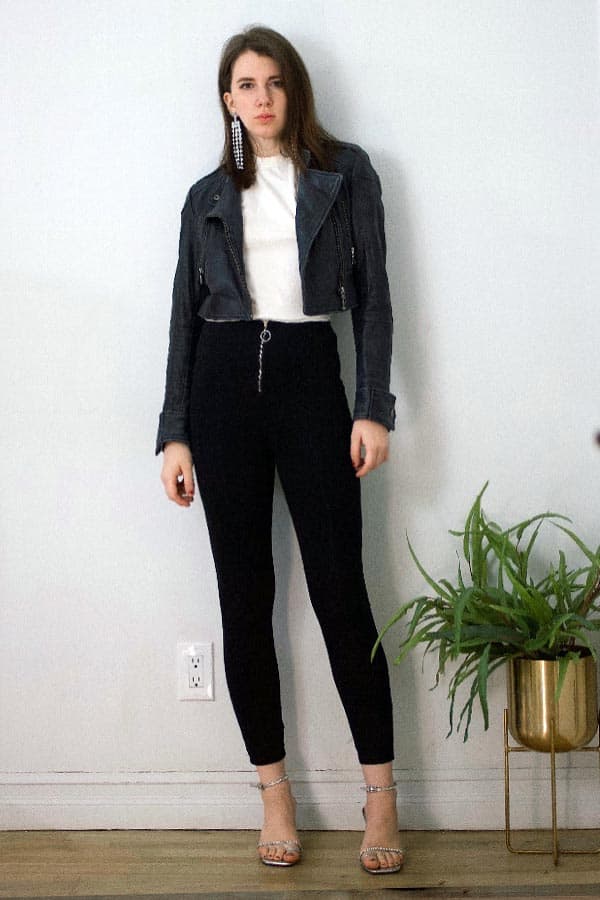 This look consists of a white tee, high waist leggings with front zipper, a cropped leather jacket, heels, and statement earrings. It's flirty and effortless, perfect for a date with your special someone.
Wear this outfit for any date that is casual in nature included but not limited to getting drinks, date at the movies, casual dinner, or any other adventures you might try that are conducive to heels.
12. Date Night Outfit with White T-shirt and Leather Pants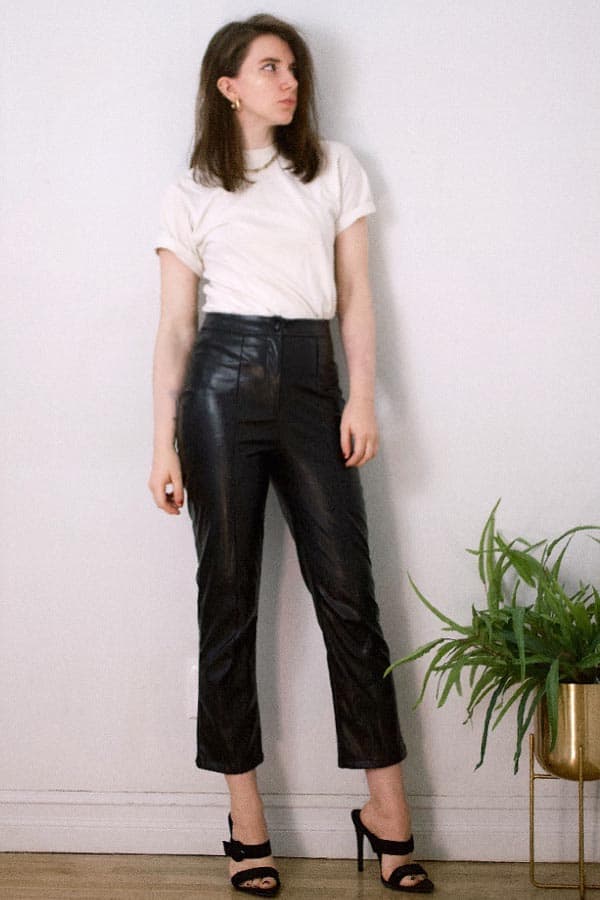 This look consists of a white tee, leather pants, strap heels, gold hoops, and a simple gold necklace. It's great for a date night and exudes a sexy yet effortless vibe.
Try this outfit when you want a flirty but sophisticated vibe. It is great for a more upscale bar, a concert, or dinner out.
13. Airport, Athleisure White T-shirt Outfit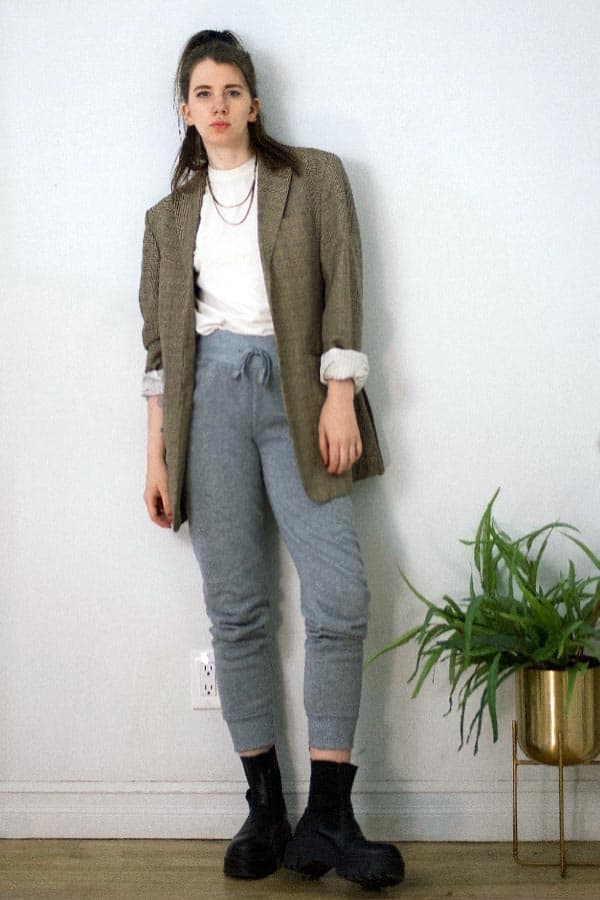 This look consists of a white tee, jogger sweatpants, an oversized blazer, and chunky boots. It's perfect for traveling and achieves that it girl athleisure style.
For more help with athleisure check out this post. Or, this post specifically on how to make sweatpants cute.
14. Trendy White T-shirt Outfit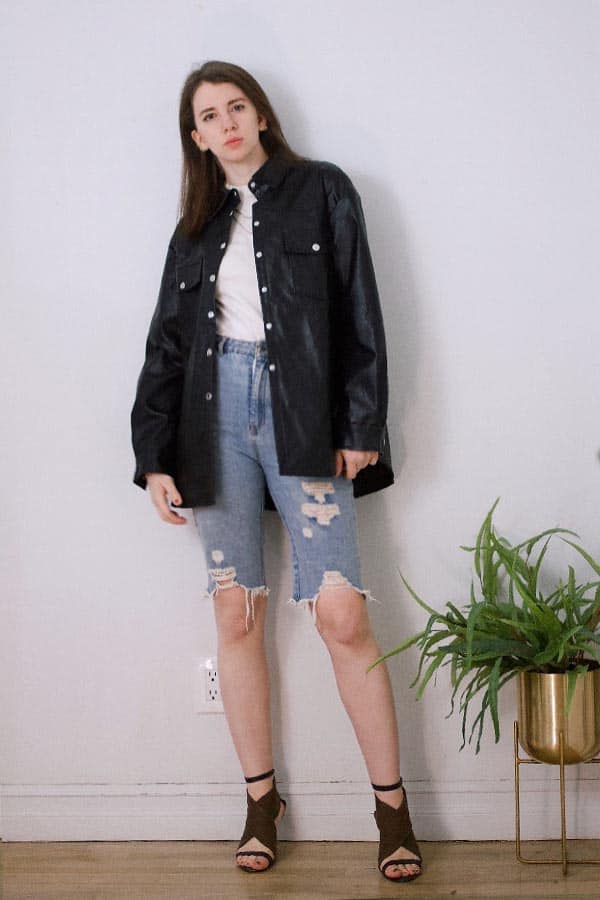 To get this look you need a white tee, a leather shirt, Bermuda length jean shorts, and 90's style strappy heels. It's trendy and fashion-forward yet easy to pull off. Perfect for a movie night or day out with friends.
So, what have we learned when it comes to the white t-shirt?
The outfit ideas are almost limitless. Take these looks as inspiration and be sure to put your own unique spin or style on them. And pin any of these looks so you have a resource for when you just don't know what outfit to wear.
Accessorizing a white t-shirt?
A white t-shirt is a classic closet staple. So when you accessorize I like to pair more trendy jewelry items for a nice mix of classic and new. For my favorite budget-friendly jewelry, check out this post.
If your jewelry or accessories are "statement" pieces don't add too many other elements. For instance, if you are wearing statement earrings, don't also add a bold necklace, let the one statement piece be the star of the show.
If you have more classic accessories like medium gold hoops, you can add more oomph to the look by adding another simple necklace. This is all about gauging how loud each accessory is and what support it needs (or doesn't need).

Now you'll have time to stop by your local coffee shop and get your latte with oat milk because these outfit ideas saved you loads of time. And while we are talking about being responsible here, be sure to pin this image so that you have this as a resource the next time you want to wear your white t-shirt.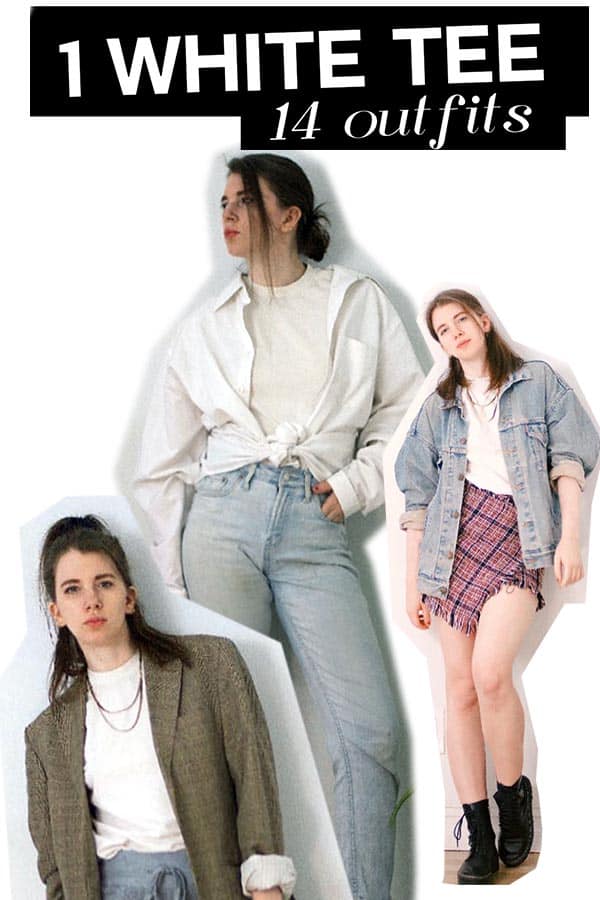 Follow me on Pinterest, here, for more style inspiration.
And, if you really love this content, be sure to sign up for the newsletter so you get the best of the best sent directly to your inbox. I respect inbox zero and won't send you too many emails, I promise.