Leather pants, a staple in every woman's wardrobe… Except when you're feeling bloated, and then they should be locked away. That being said, these leather pants outfit ideas will help you embrace the flirtiness, functionality, and chic factor of this versatile pant option.
Whether you want to wear leather pants to the office or for your hot date, these outfit ideas will help guide you to the most appropriate and fashionable options out there. And avoid any Ross-level mishaps with wearing leather pants.
related: how to wear leather pieces
we may earn a commission from you clicking a link at no additional cost to you, for full affiliate policy, click here.
What do you wear with leather pants?
Leather pants are surprisingly versatile and can pair with tons of things in your closet. The most important part to creating a leather pant outfit is to think about the function of your outfit. If you are going to the office in leather pants, you would be better off choosing a looser and more structured piece on top. Something like a blazer, blouse, or a structured knit piece.
If you are going out with friends you can choose a camisole, t-shirt or something more relaxed/skin revealing. This also pertains to accessories and shoes. Heels and statement shoes pair wonderfully with leather pants but are more appropriate for a casual (outside work) environment. Statement earrings or loud accessories pair well with leather pants, but make sure your outfit is balanced and has a focal point.
You can find more leather pants outfit ideas below. But a few of my go-to leather pants outfits are as follows:
-blazer, t-shirt, leather pants, boots
-turtleneck, leather pants, heels
-oversized sweatshirt, leather pants, classic sneakers
-fitted blouse, leather pants, heeled boots
-loose or fitted cardigan, leather pants, combat boots (or docs)
Here are some leather outfit ideas that you'll want to try
Leather pants with sneakers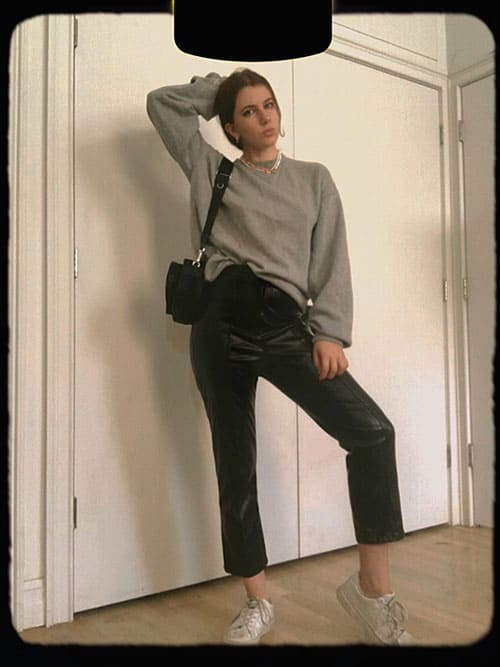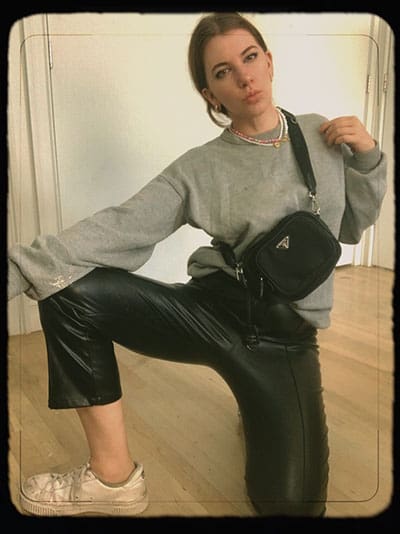 sweatshirt, leather pants(similar), sneakers, half bead/half pearl necklace
Leather pants are a great way to elevate your classic weekend casual wardrobe. They add more interest to your style and add a sophisticated texture to your overall outfit.
This outfit is perfect for weekend brunches, perusing the local shops with friends, or just grabbing a coffee with your bestie.
Leather pants with a shacket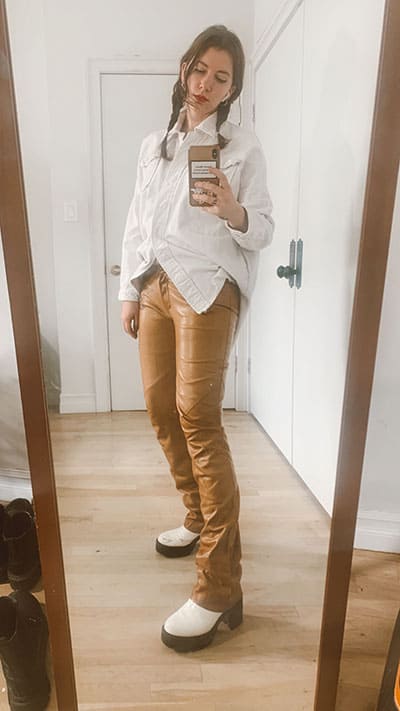 The shacket is a huge winter fashion trend and perfect for the effortless cool vibe you crave.
For those chillier days, you can layer pieces underneath your shacket as I did below. My styling has a slight street style vibe to it because all the top layers are oversized. But the fitted leather pants help balance this look out well.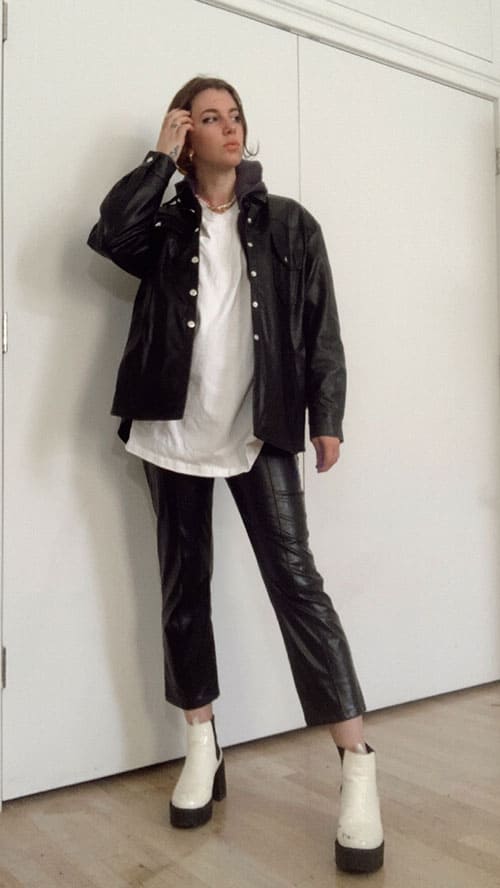 related: how to style a leather blazer
Are leather pants appropriate for work?
For most work environments leather pants can be worn to the office (formal business category excluded from this). The key to wearing leather pants to work is to make sure your outfit is balanced.
If you wear leather pants to work make sure the tone of the outfit is still work-friendly. You should pair your leather pants with a non-fitted top and ideally a structured piece as well.
Avoid pairing leather pants with any skin bearing top, and make sure you tone down any overly sexy areas. For instance, if your leather pants really highlight your butt, opt for a structured blazer that goes to your hips, to make your assets 😉 a little less obvious. (don't be afraid to show them off on the weekends though- this is specific advice for a professional environment).
Leather pants with a paper bag waist (trouser style) are especially flexible for the workplace.
Leather pants outfit ideas for work
Leather pants with blazer
As you can see here, leather pants work well for the office environment. These leather pants are not overly tight and the turtleneck and blazer provide a nice counterbalance to the pants more "flirty" tones.
The heels I choose are also more fashion-forward and not quite as sexy as a traditional stiletto. For work I would opt for more a modest shoe with a heeled boot, a classic loafer, or a unique heel that doesn't scream sexy.
Leather pants with structured sweater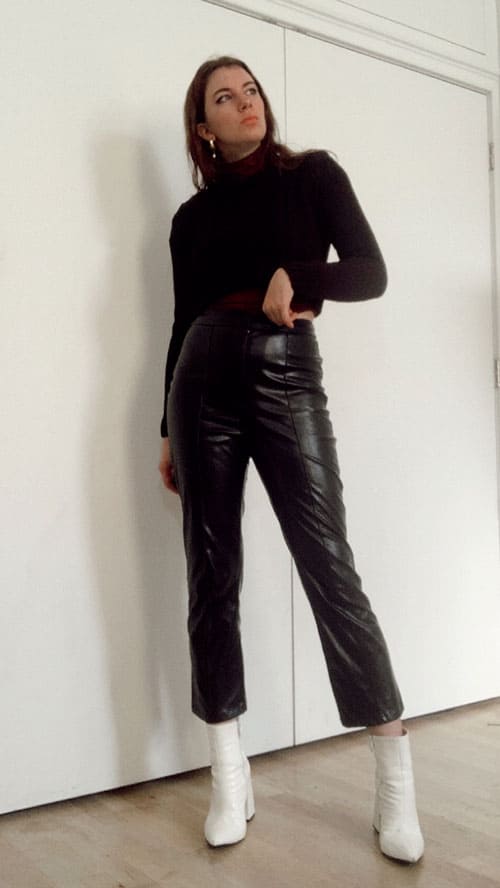 A structured knit is a great option for business casual as it is comfortable and professional.
For business casual fashion, you want to make sure your garments are not too loud (color or pattern-wise) to avoid distracting from the workplace. So if you choose a brightly colored sweater, make sure the rest of your outfit is neutral and provides a supporting role.
For this look, my sweater has strong shoulders and the entire outfit is fairly fitted. Because of these things, I opted to keep the color palette neutral. Brown and black pair wonderfully together, and if that was a fashion rule you didn't know you could break, check out my outdated fashion rules to avoid, here.
Leather pants with a fitted blouse
Fitted blouses are great with a pair of leather pants. But because both items are close to the body, opt for flats with this look. It will tone down the outfit a bit and make it more casual for the workplace.
A simple gold necklace or belt can add a lot to the outfit. And a monochrome look is always an easy way to achieve simple sophistication.
related: how to elevate your style with monochrome
Paperbag leather pants for the office
This trouser style is a great leather pants workplace option. It is sophisticated and versatile, two traits that you look for in business casual.
Pairing these pants with a fitted crew neck sweater is sophisticated style goddess at its best. And since the pants are loose, you can add a stiletto to this look without veering from your office appropriate goals.
Trendy Leather Pants Outfit Ideas
Leather pants with fitted blouse trend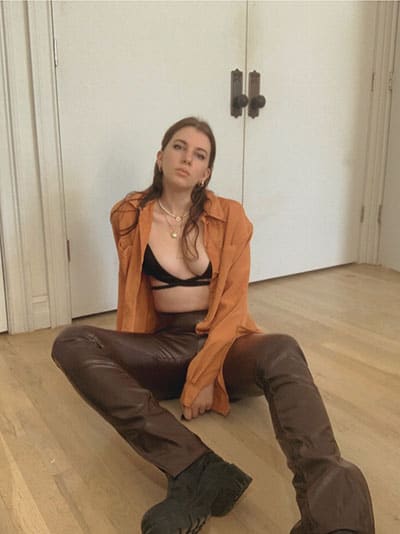 Everyone from Bella Hadid to Lily Rose Depp have been rocking this fitted (open) blouse trend. For more on the fitted blouse trend, check out this post.
This look layers on the trends from the criss cross bra top, to the chunky boots, and it is great for going out with friends when you want to make an impression.
If you want a more modest version of this trend, you could try a more layered outfit like this one: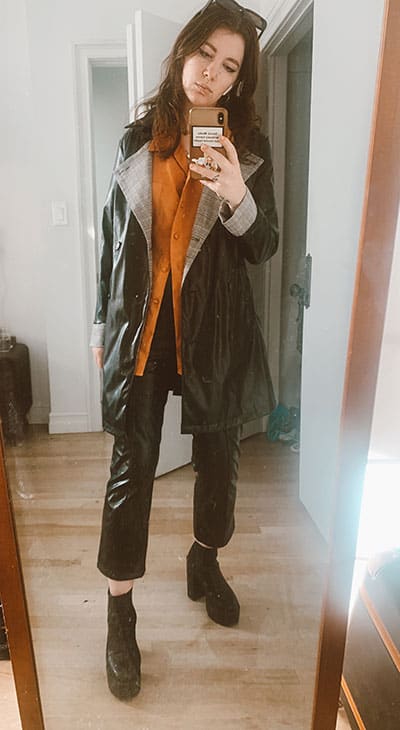 The leather pants, fitted blouse (buttoned), and leather trench is more modest and provides major 70's vibes… which, are definitely on trend right now.
Leather pants with sweater vest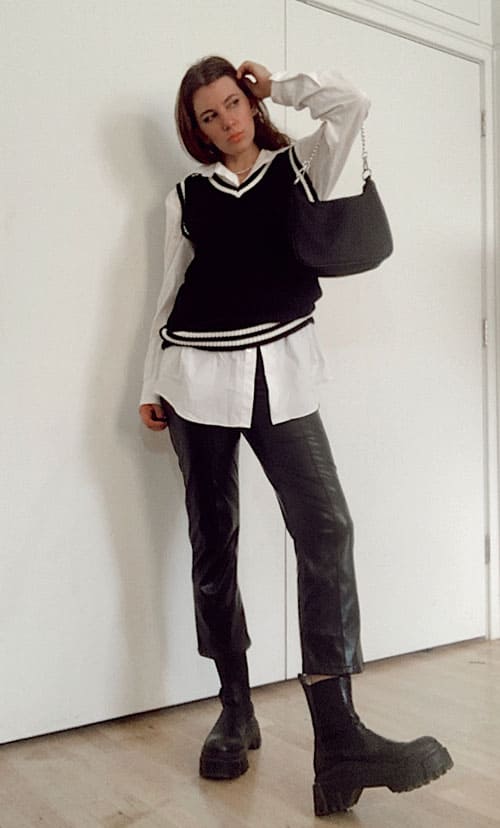 The sweater vest is another popular item on every style icons list. For more sweater vest outfit ideas check out this post.
The sweater vest works really well with leather pants because it provides a more "conservative" counterpoint to the outfit. It makes the leather pants feel more "cool" and less "sexy". This is great if you want to integrate your leather pants into more of your everyday wardrobe.
Leather pants with cardigan set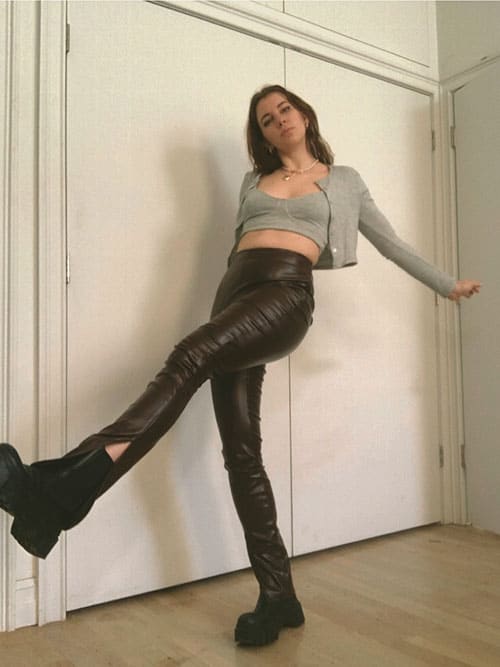 Split ankle leggings are a big trend, which means spit hem leather pants are also coming onto the scene.
These split hem leather pants are a bit more "sexy" than the looser fitting pants shown above, so be wary if you opt for these pants for work.
Matching bra and cardigan sets have been having a fashion moment (since Katie Holmes) and can be seen on my winter fashion trends list.
This flirty and fun outfit is great for your weekend day or night activities. Have brunch with your best friends and then a hinge date later, this outfit is it. Want to grab a cocktail with a friend but also be comfortable, this leather pants outfit idea also works perfectly.
Leather pants with crewneck sweatshirt and shirt
The oversized sweatshirt layered over a men's collared shirt has been a skyrocketing in popularity since summer and it happens to pair perfectly with leather pants.
The leather pants add a bit of edge to the more preppy sweatshirt/shirt combo.
Are leather pants in style for 2021?
Leather pants are definitely in style for 2021. We will continue to see straight leg (more relaxed fit) leather pants in style this year, as well as split hem leather pants, and low rise leather pants. A relaxed paperbag waist leather pant will also be an option this year (and are especially great for the workplace).
Leather leggings will continue to be a fashion staple, but will take a backseat to the more relaxed fit leather pant options.
The leather loose-fit Bermuda shorts trend we saw in 2020, will not continue on in 2021, so retire those for now.
What do you wear with leather pants for a night out?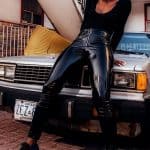 Leather pants are a great option for a night out, they are sexy, fun, and fashionable. They create a perfect foundation to your outfit while still being more interesting than jeans or trousers.
Pair leather pants with a strappy camisole for a night out and throw a blazer over your shoulders to create an effortless (and flexible) outfit for a date. Heels, strongly encouraged 🙂
If you are going to a bar with friends, you could take the outfit a bit more trendy and opt for a crop top or bra top with your leather pants and some heeled boots.
If your outfit feels too sexy, add a structured element on top to tone it down. My go-to fashion staple is a structured or boxy blazer for this. A fitted blouse loosely draped over would also work.
Other leather pant outfit ideas

Leather pants don't have to be these intimidating pants we have to uncomfortably grease ourselves into. Instead, they should be a chic, comfortable staple that you can rely on when you need a bit more je ne sais quoi to your outfit.
These leather pant outfit ideas will hopefully get you started on the right path.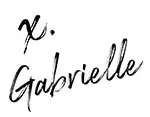 Pin the below image so you can always wear leather pants and NEVER Look ridiculous 😉