I've bet you already noticed the leather blazer trend creeping into your Instagram feed. The effortless, chic, and casual vibes oozing from fashions latest and greatest new trend. But, how do you style a leather blazer, like in real life?
Everyone from Bella Hadid to Sofia Richie and Emily Ratajowksi has been seen sporting the leather blazer trend this year. But it is worth noting that leather blazers have been popular before, most famously in the 90s and 2000s and many an iconic moment from Rachel on Friends was made with a leather blazer.
Are leather blazers in style?
View this post on Instagram
Yes, they are absolutely a fashion trend that you will continue to see this year. Evolving from fashions love the oversized blazer, and the recent resurgence of the '90s and 2000 fashion trends, the leather blazer has found its evolutionary place in fashion.
we may earn a commission from you clicking a link in this post at no additional cost to you. full affiliate policy, here.
Are we talking about fitted leather blazers or oversized leather blazers?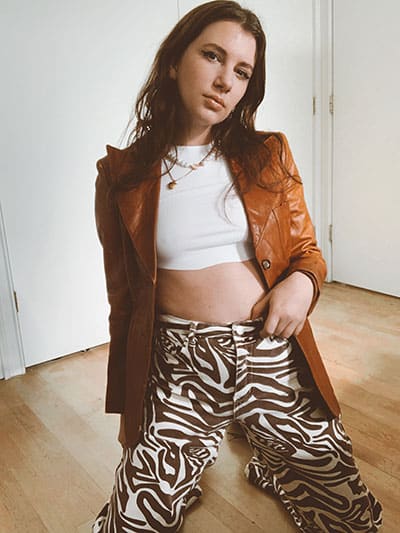 Both styles are popular for 2020. While oversized regular blazers have been dominating the fashion scene for the past year, we see that when it comes to leather blazers the fitted blazers are also a fashion go-to.
Whether you choose a fitted leather blazer (a la Rachel Green) or a more oversized leather blazer depends on what style of outfit you are going for and what your overall preference is for fit.
If you opt for a fitted leather blazer or trench, adding a belt around the waist seems to be a favorite styling technique. This allows your figure to be highlighted and gives an effortless yet put-together look.
If you opt for an oversized leather blazer just be aware of the proportions of the full look. For instance, crop tops look great with oversized leather blazers because they highlight your waist and add a feminine touch.
The BEST leather blazers:
Here are my favorite leather blazers out there ( including some really affordable options)
You can also vintage shop for a leather blazer. If you struggle with vintage shopping check out this post. (that post also includes a shopping haul from the same vintage store that I got my leather blazer from shown below).
How to style a leather blazer:
leather blazer outfit idea: 90's style
View this post on Instagram
If you are going for a 90's vibe you want to keep your leather blazer more fitted (not skin tight, just a slim cut), and pair it with straight-leg jeans and a simple top. You can add some fun 90's accessories, but make sure you don't overdo it.
While a ton of 90's and 2000 trends are back, you don't want it to look like you are wearing a costume. So opt for a 90's style bag OR 90's style shoes, not both. And make sure you have one more modern piece in your outfit.
You can also opt for a 90's look with an oversized leather blazer, but I would keep the other pieces very feminine. For instance, in the look below I have paired the leather blazer with a denim mini skirt and a mock turtleneck (fitted). Plus, the claw hair clip is a big 90's trend that is popular right now.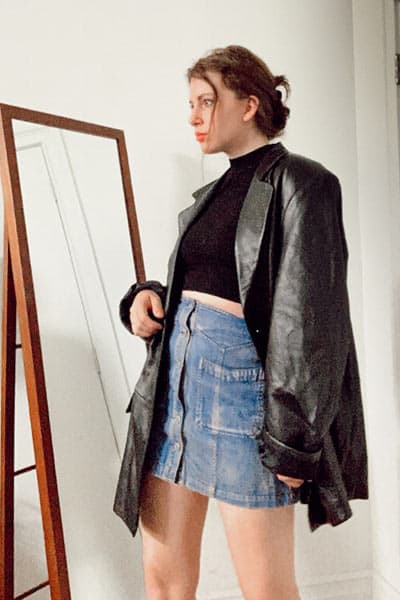 related: 90's trends you need to know about
leather blazer outfit idea: 2000's style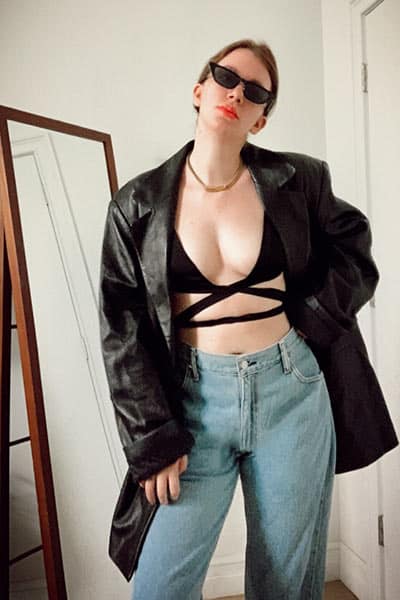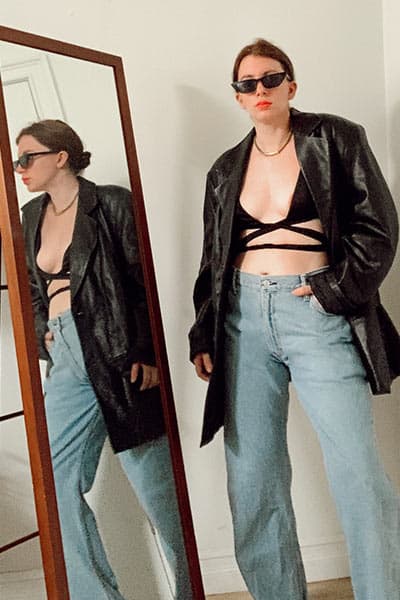 For the 2000 style, we are going with an oversized leather blazer, a crop top, and loose jeans. You can pair this look with heels or mules if you are wanting to dress it up a bit or opt for combat boots or Nikes if you want a more casual look.
With the oversized blazer, and oversized jeans we want to make sure a little skin is showing and/or a very feminine top is paired with it.
If you don't want to wear a crop top or bralette top with this look, you could try a more fitted jean option and a t-shirt instead. Just make sure you don't have too many oversized pieces.
related: how to wear a crop top as an adult
leather blazer with a dress outfit idea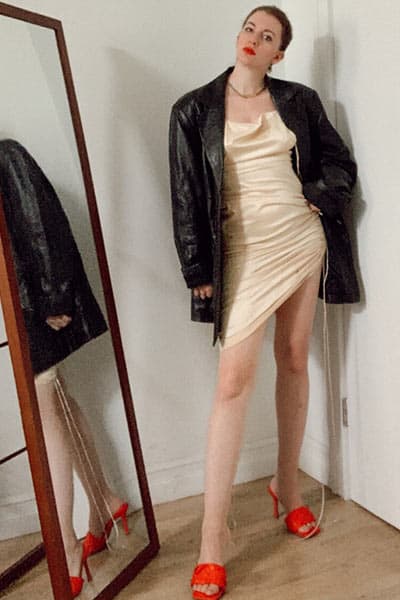 Just because the leather blazer can skew masculine does not mean it doesn't go with a dress. In fact, adding a feminine dress (like a silk slip dress) is an easy outfit formula when it comes to how to style a leather blazer.
The more oversized or bulky your leather blazer is, the more feminine pieces you should add to your look. In this look, adding heels and a slinky dress creates a minimalist, chic outfit any style icon would rock.
related: how to wear square toe heels, the biggest fashion shoe trend
leather blazer outfit idea: minimalist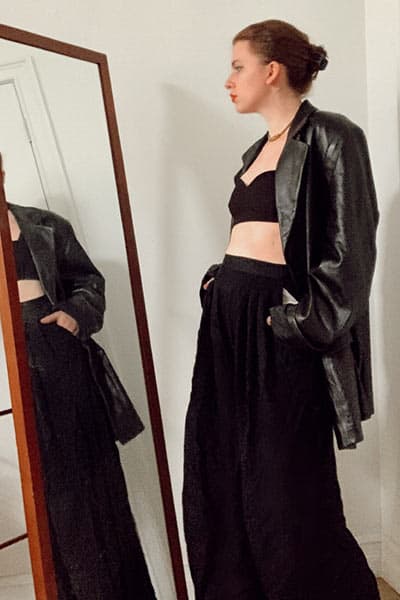 Minimalist fashion is elevated simplicity at its best. So don't overthink it. Pair your leather blazer in a monochrome fashion, or keep the colors muted or to a minimum.
I love pairing a blazer leather blazer with cream staples, as it creates a flattering silhouette (column-like effect) and the color imbues a subtle sophistication that screams metropolitan chic.
leather blazer outfit ideas: with a fitted skirt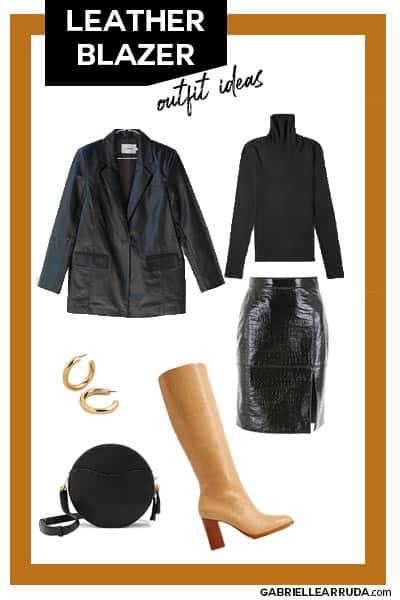 Add a fitted skirt and knee-high boots to your leather blazer look and you will have a trendy, yet professional outfit on your hands.
As soon as fall rolls around the skirts and knee-high boots combo comes out in all its glory. Adding a leather blazer to this outfit is an easy way to incorporate a new trend and modernize your style.
You could also swap out the turtleneck or shirt for a crop top or bralette if you want this look to be more evening appropriate or for a night out on the town.
related: how to master a turtleneck and look super stylish

Other Leather blazer outfit ideas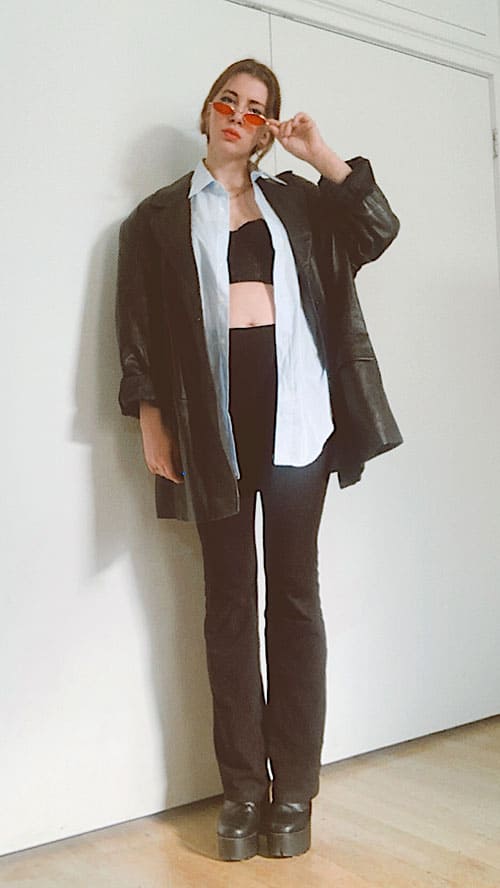 Flared leggings are a big trend and pair perfectly with the leather blazer trend. For more flared leggings outfits, click here.
Fitted Leather Blazer Outfit Ideas
Style tips: how to wear a leather blazer
1. Check the weather. This seems obvious but if your outfit is centered around a leather blazer, you want to avoid high humidity days.
2. Decide your style. Choose which style you want your outfit to have and keep it consistent. Especially when trying a new trend it is important to have an IRL vision of how you want to wear it.
3. Check your proportions. Whether you are opting for an oversized, fitted, or even belted leather blazer, make sure you are dressing with ideal proportions for your figure. That means usually dressing in thirds (don't cut yourself up in half) and paying attention to highlighting your best attributes.
4. Don't be afraid to fail. Trying a new fashion trend involves some failures, it's only natural. In order to avoid going out with your friends in one of those failed outfits, try your look on ahead of time. Something might seem like a great idea in your head, but until you've gotten more acquainted with a trend it might not work on your body shape or look the way you intended. Try the outfit on ahead of time and snap a quick pic. Evaluate the outfit later to make sure you still like all the elements.

The leather blazer trend is already a style icon necessity, so you won't regret adding this iconic fashion trend to your wardrobe.
Now, go give Bella Hadid a run for her money and rock this trend. Because I'm telling you right now, the leather blazer will replace those leather moto jackets you have in your closet.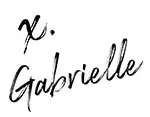 Be sure to pin the image below, because these outfit ideas will keep your style game strong!