True Autumn/Warm Autumn: warm, muted, and slightly dark
You are a golden goddess! The True Autumn is filled with warm undertones and a muted but rich palette.
True Autumn, also known as warm autumn, is considered the original autumn category and is associated with the autumnal fall colors we know and love.
It sits between the Dark Autumn (or deep autumn) and Soft Autumn (muted autumn) on the seasonal flow chart. And if we are looking at the entire flow chart it is opposite True Spring. Whereas true spring is bright and fresh colors, the true autumn is warm, rich, and muted.
Are you a True Autumn?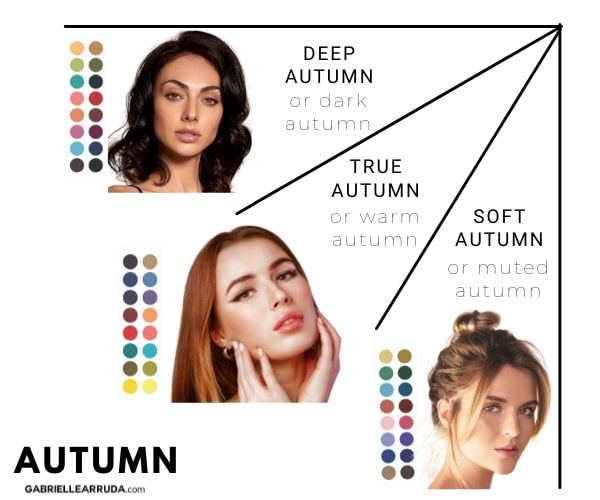 The first thing you will notice about your appearance is your golden undertones. Not sure you have them? Go back to my seasonal guide here to help determine this.
Next, you want to look for muted tones. And if this is confusing you, we will clarify this more in-depth soon.
Notice how there is only mild contrast between the True Autumn's features. Let's examine it below.
The Contrast of a True Autumn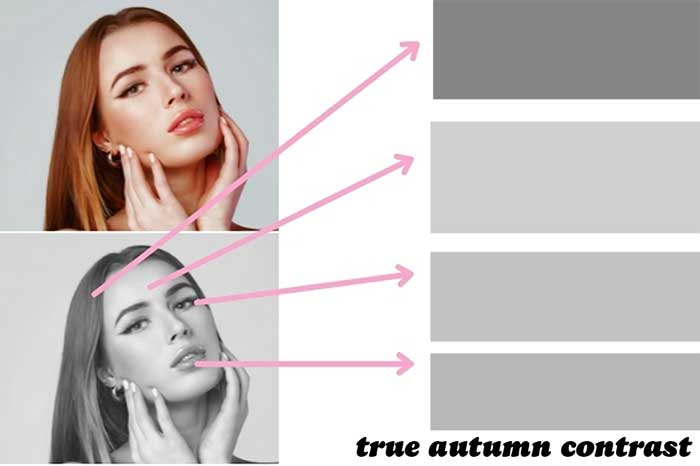 The contrast of a True Autumn is mild.
It's the opposite of true spring which has high contrast levels, due to its brightness and freshness associated with that season.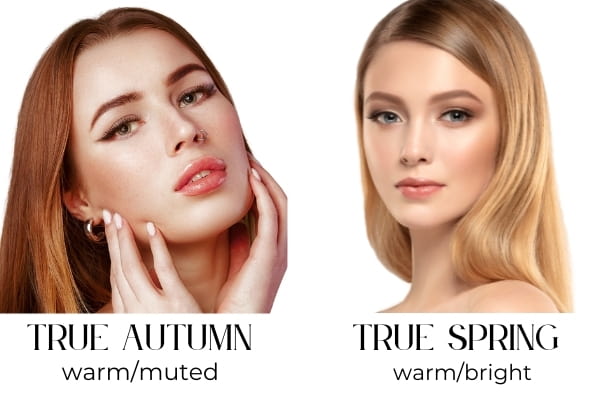 People who are true autumns will have muted features and coloring but not so much that they appear dull or drab-looking. What makes a true autumn "true" is the golden, warm undertones, with a lack of contrast between their hair, skin, and eyes.
If you look at the grayscale photo color palette, the True Autumn example has hair, skin, eye color, and lips that are all very close in shade (grayscale). This creates a visual to see the low-contrast, muted quality.
We may earn a commission from you clicking a link in this post. And as an amazon associate, we earn on qualifying purchases. Full affiliate policy, here.
Having trouble understanding contrast? Soft-muted versus clear-bright?
Here's a video to explain it more simply: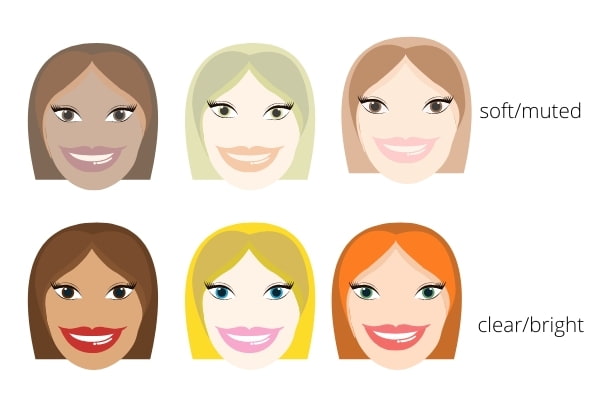 Color Qualities of a True Autumn
A true autumn has the following color qualities: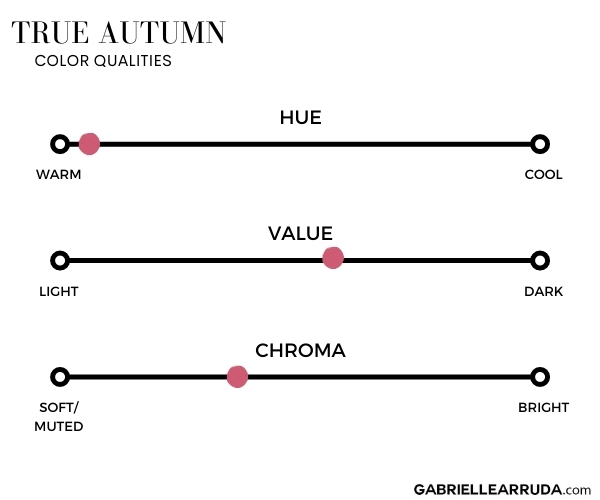 Hue: Hue refers to the underlying color characteristic of a specific color. True autumns will have warm hues that have yellow undertones instead of blue undertones.
Value: Value refers to the ratio of lightness or darkness within a color. It aims to distinguish color in terms of how close it is to white or black. The true autumn value has a wide range consisting of lighter creams and beiges to darker rich browns. However, most of the true autumn palettes fall slightly towards the darker side of the spectrum.
Chroma: Chroma defines the intensity of the color- whether it is soft/muted or clear/bright. The true autumn leans slightly towards the soft/muted side. While the colors have pigment, they are not highly saturated or bright. Please watch the above video for clarity if this part is confusing you!
True Autumn Attributes
True Autumn Eye Colors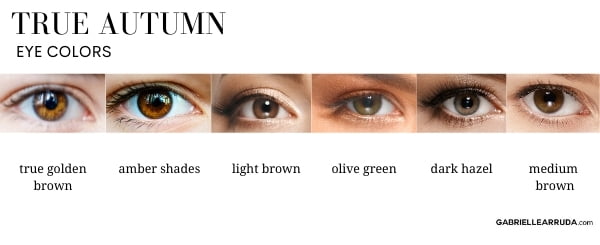 The most common eye shades for the True Autumn are:
true golden brown
light brown / amber shades
olive green
dark hazel
medium brown
All of these are rich, warm shades that work well with the golden undertones. Remember that there can be some variation and these are just guidelines. So if you have one characteristic that doesn't fit, don't weigh it too heavily.
True Autumn Hair Colors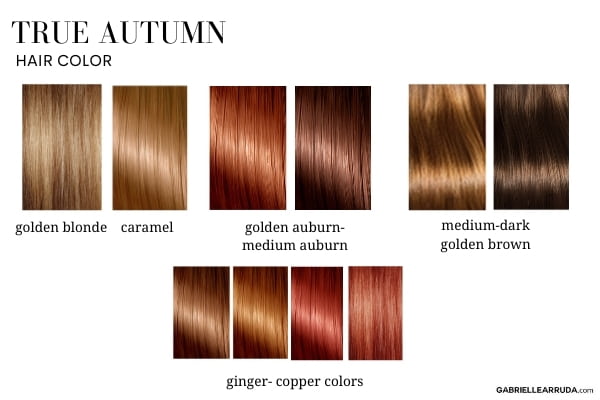 Hair colors for the True Autumn always have golden undertones and fall anywhere between the dark golden blonde (rarer), to auburn, to a medium-dark golden brown.
The most common hair colors for True Autumns are:
caramel colored
can include dark golden blonde (but this one is a bit less common)
medium auburn
medium to dark brown with golden undertones
ginger to copper colors
Your hair will most likely highlight naturally and have a caramelly, warm tone to it.
True Autumn Skin Colors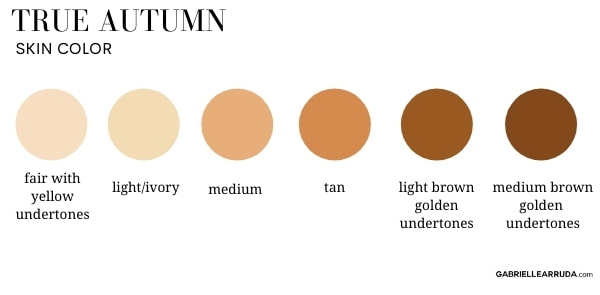 True Autumn skin has golden undertones and can be anywhere from fair to medium to dark in color. The true autumn is most associated with those warm golden undertones, which means pink tones, rosy tones, and even olive shades are not skin shades within this season. It's important to remember that even if your undertone appears warm it doesn't mean you are true autumn.
Your skin tone will most likely tan easily, or freckle in the sun. And your rich and warm color palette (which we will get into below), will really draw out the warm glow of your skin.
The most common skin shades for True Autumns are:
fair with slight yellow undertones
light or ivory with yellow undertones
medium
tan
light to medium brown with golden undertones
True Autumn Celebrities with Palettes
Here are some celebrities that have been typed as True or Warm Autumns. And some coordinating shades and palettes.
Jennifer Lopez
Julianne Moore
Christina Milian
Isla Fisher
Ana de Armas
Jane Seymour
Beyonce (there is some debate on this)
Debra Messing
Mariska Hargitay
Eva Mendes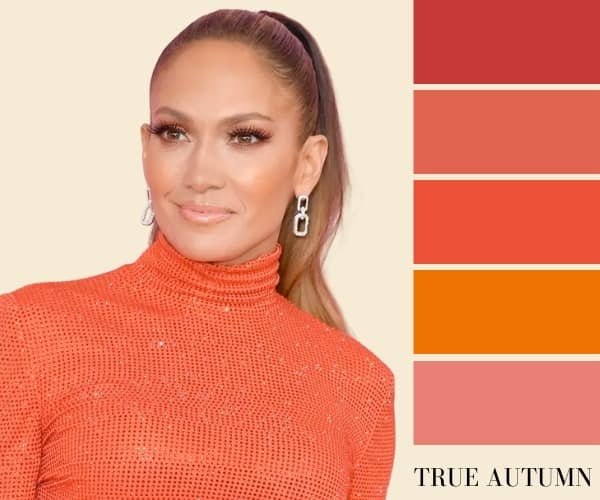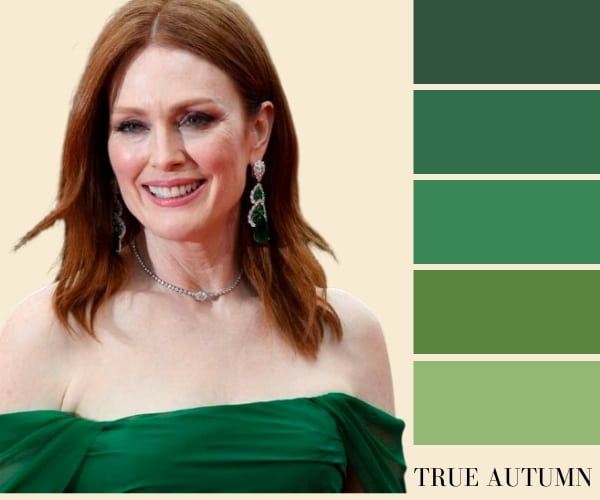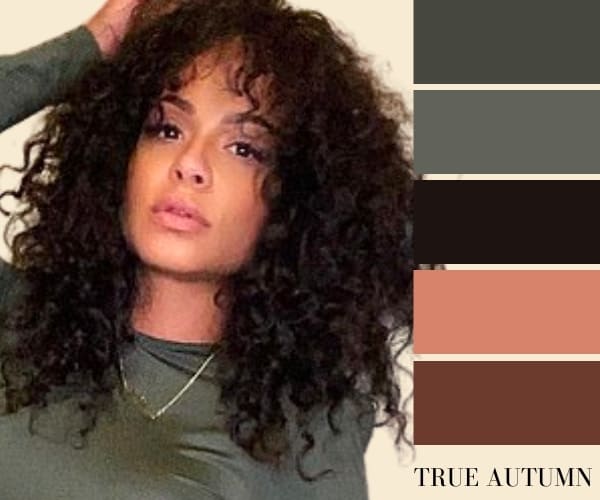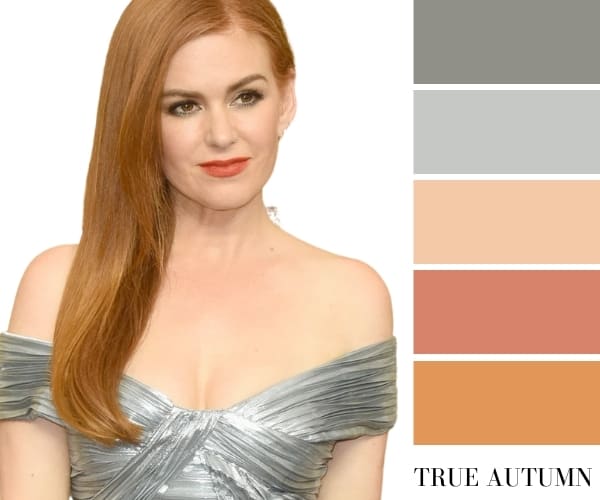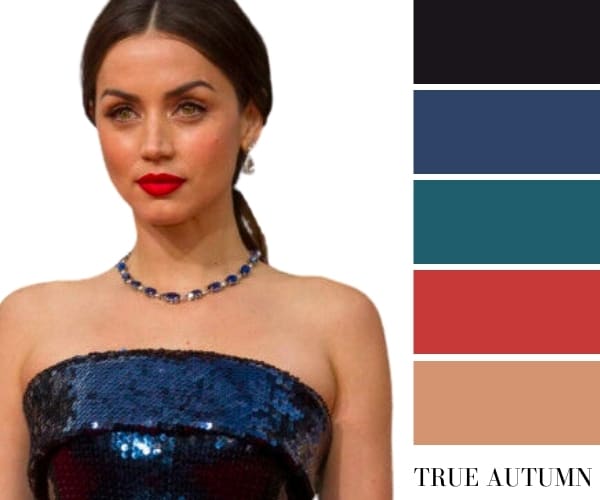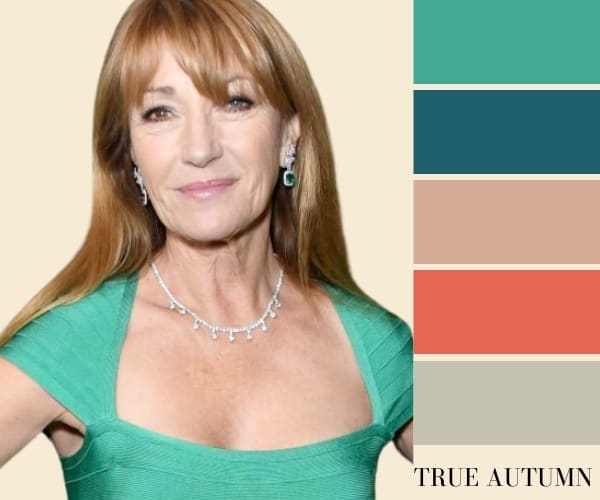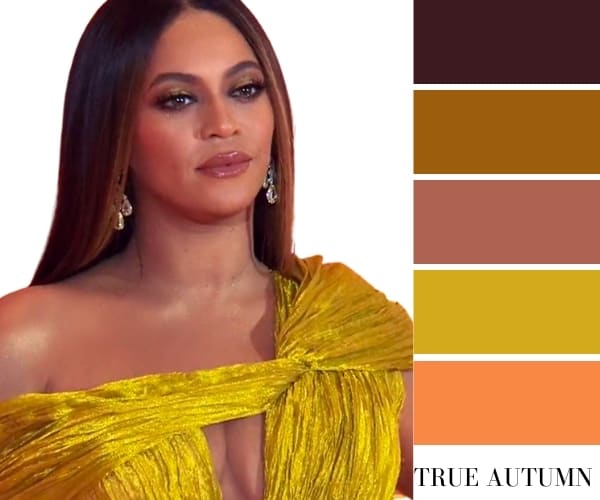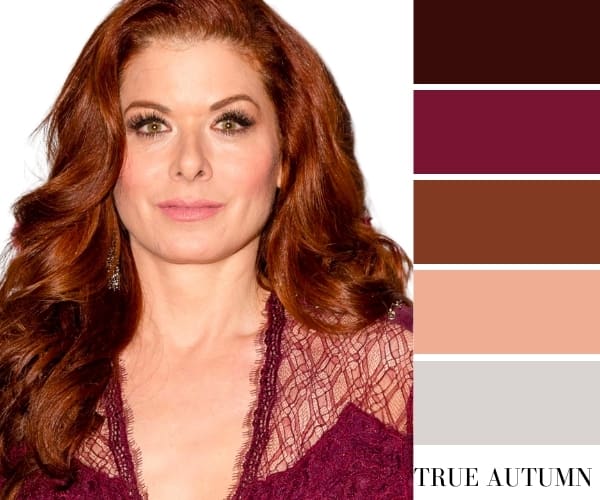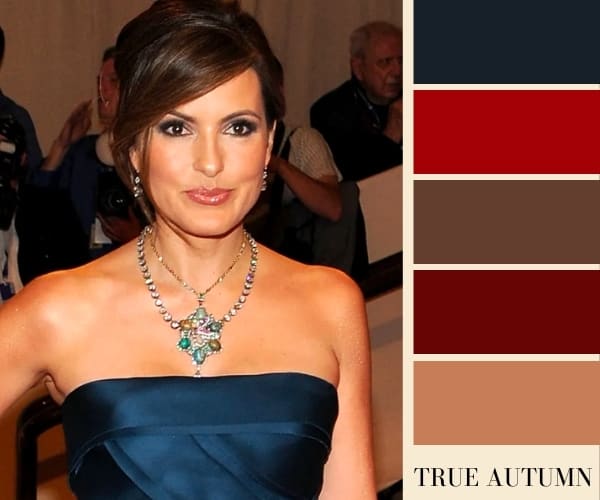 Best Colors for a True Autumn
The true autumn is a warm, rich season. So colors will have golden undertones and can be true to the color or muted/dusty in appearance. They are not the "clear" shade of the color. Instead, imagine taking a bright color and dialing it down in brightness a few notches.
The most common true autumn shades include:
warm, rich, and muted reds
autumnal oranges and yellows (not neon or bright lemon shades)
dusty rose / rosewood tones
red-brown & burgundy colors that have a muted richness to them
russet plum brown shade with golden undertones
deep dusty green color with olive undertones *remember true autumns can wear dark and light muted versions of green
muted forest greens
amber and golden shades
muted harbor blues
dusty lilacs and muted lavender
These are just guidelines to get you started. You don't want to restrict yourself too much if the colors below aren't appealing but instead allow it to be a guide and play around with different shades in each category until you find what works best.
Here is a True Autumn Color Palette for Reference: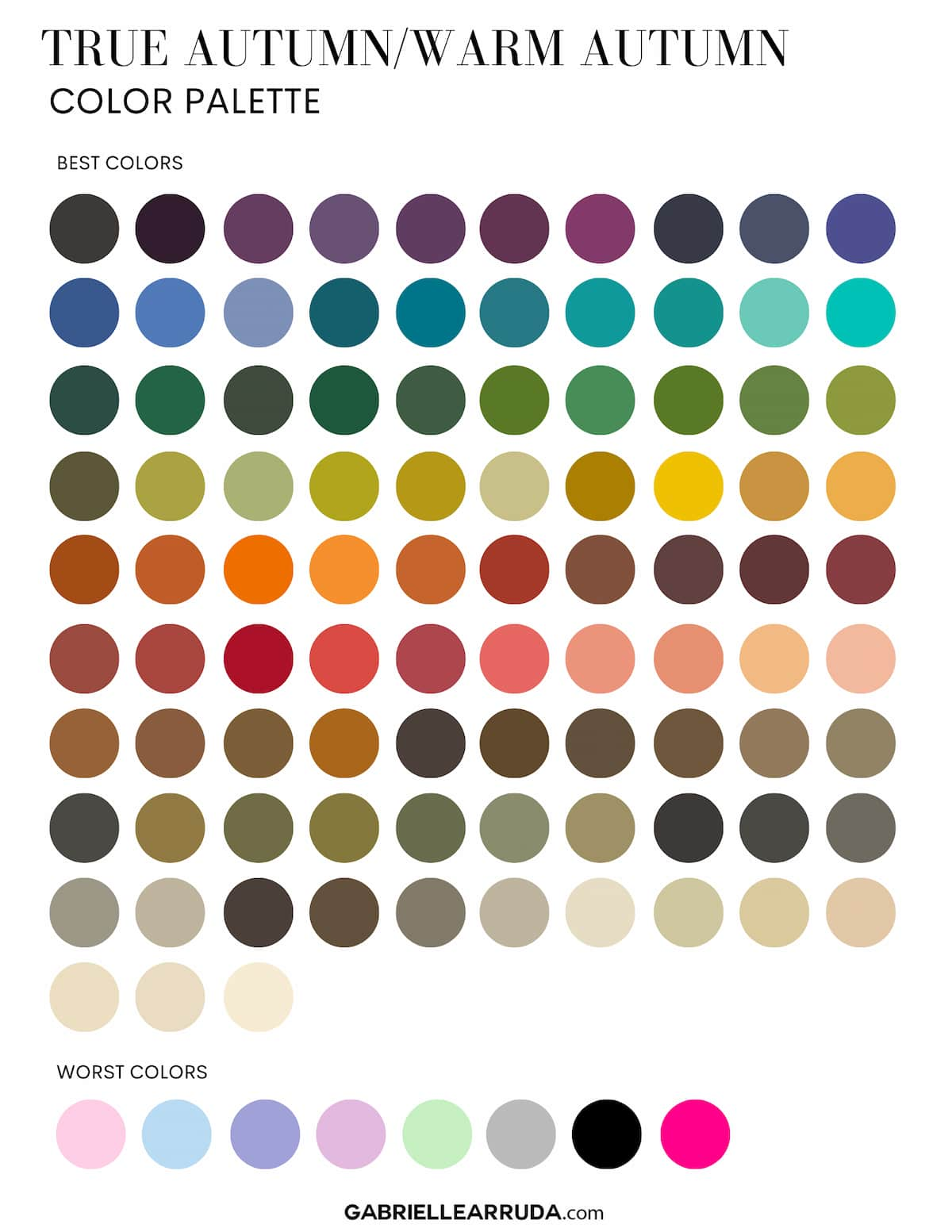 Colors to Avoid as a True Autumn
True Autumns have a lot of colors to choose from, but the worst colors for them are neons, bright colors, and clear colors.
Blue undertone colors, pastel tones, and anything with an "icy" feel to it should be avoided as this will wash out your beautiful golden undertones.
Extremely bright and neon shades will be overpowering. Because you have low contrast between your hair, eyes, and skin, anything that has a bright and stark contrast to your physical attributes, will be jarring and overwhelm your natural glow.

True Autumn Makeup Palette
The true autumn is a warm and muted season. You want to keep everything subtle, and complimentary to your glowy look. You want to highlight your features instead of hiding them behind makeup which tends to look heavy on the true autumn.
Your true autumn makeup palette will most likely be made up of natural matte tones with a hint of shimmer. You can play around and use some warmer tones or more muted earth colors that have a bit of color to them but it's best not to go overboard as you want your true beauty to shine through instead!
Foundations for the True Autumn

It is incredibly important to match the right hue and tone of your foundation to your skin. Here's a resource to help you do this if you're struggling.
Eyeshadows for True Autumns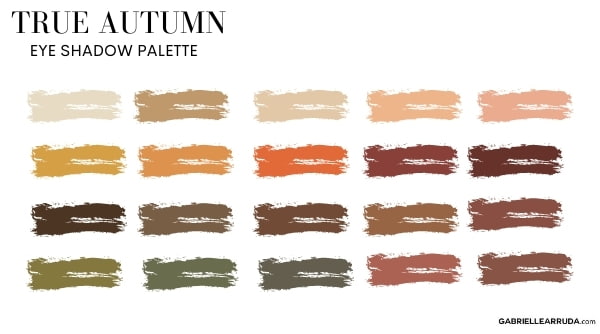 Neutral Eyeshadow Colors:
beiges
khakis
browns
gold (not overly shimmery or chunky)
olive
You can also experiment with:
warm browns with true autumnal oranges
warm browns, burnt coppers, rusty reds
burgundies with warm undertones
deep plum with warmer undertones
apricot tones, honey tones
true chocolate brown & muted true orange tones (in the same palette) for a sultry neutral smoky eye look.
rust shades for eyeshadow will be gorgeous on you as they bring out the golden undertones in your skin and hair color.
muted browns with a hint of warmth to them will also work well especially if some shimmer is added into the mix which brings out those rich undertones again.
Mascara and Eyeliners for True Autumn
It is important to recognize that true black and charcoal shades are going to overpower your coloring as a True Autumn.
Mascaras in the deep brown, coffee-shades, and ginger browns or auburn shades work best. You could also try a deep olive if you want something a little closer to black without the contrast.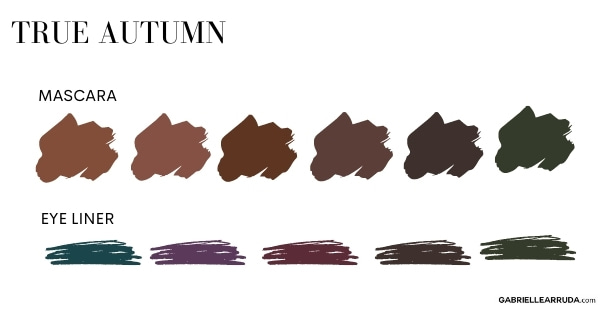 The best eyeliners for the true autumn are the dark coffee colors or dark forest greens. You could also experiment with dark burgundy or dark cabernet. If you want a colorful eyeliner try referring to the shades in the general True Autumn palette and matching from there. There will be trial and error needed with this, though.
Lip colors for True Autumns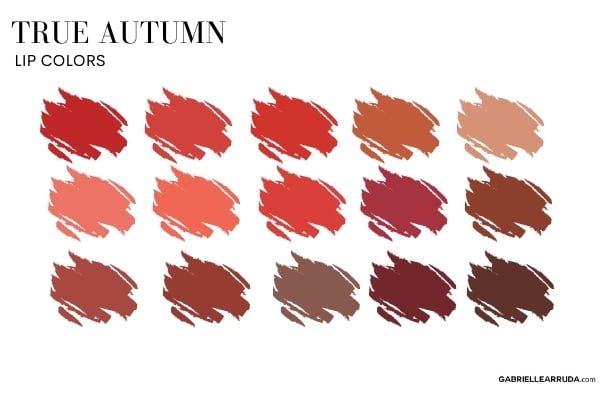 Autumn is known for having warm undertones, so oranges, warm pinks, reds, and even some berry tones will look great on you. But finding your exact shades may take some experimenting because there are different skin tone, hair, and eye combinations possible for the true autumn.
Matte and shimmer lipsticks typically work best for your season, as they don't overpower your look like a high gloss could.
warm pinks
corals
reds
brown shades
henna colored shades
rust colors
merlot
berry colors
Blushes and Bronzers for the True Autumn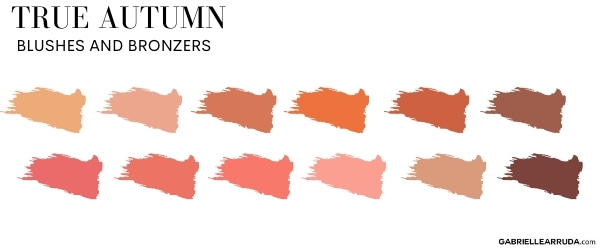 The True Autumn pairs perfectly with bronzer and blush, it embraces all those golden, natural hues.
The true autumn can also pull off a warmer blush, and opt for a rosy cheek look. Warm pink or coral tones may work well for you if applied to the apples of your cheeks to give that natural sun-kissed glow.
You can also try an orangier tone blush or even a red-hued blush (if you're darker-skinned). Just use a light hand when applying.
If you want a more dramatic look try adding some deeper bronzers into the mix as long as they are blended and not too shimmery. A great matte bronzer can add a bit of contour to your cheeks and subtly define your face shape. Just don't be too heavy with this as we don't want to disrupt the low contrast of your season.
NOTE: Because you already have a nice, natural glow to your skin highlighters can disrupt this and end up giving you an aged look. Overly shiny will be too much with your palette. Opt for a smooth, and clean look to your overall makeup look.
True Autumn Makeup Look Examples
Natural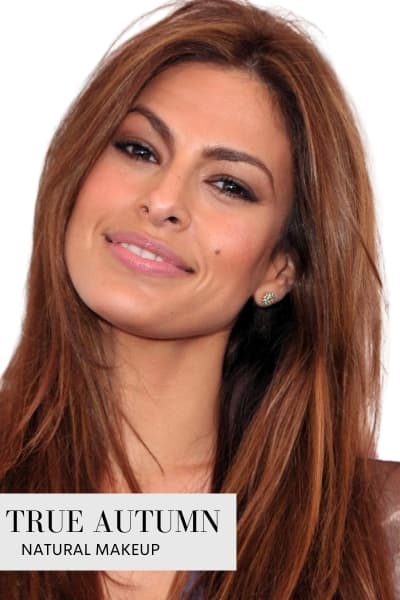 Dramatic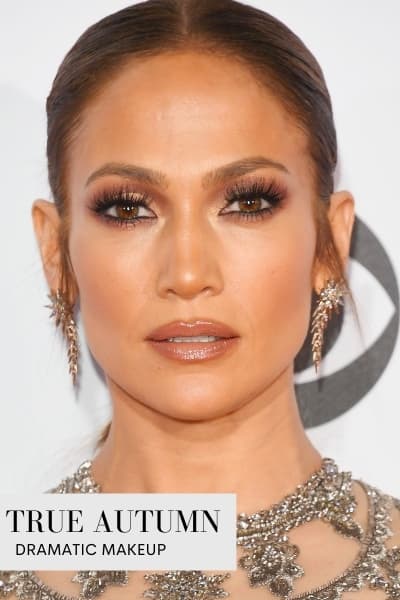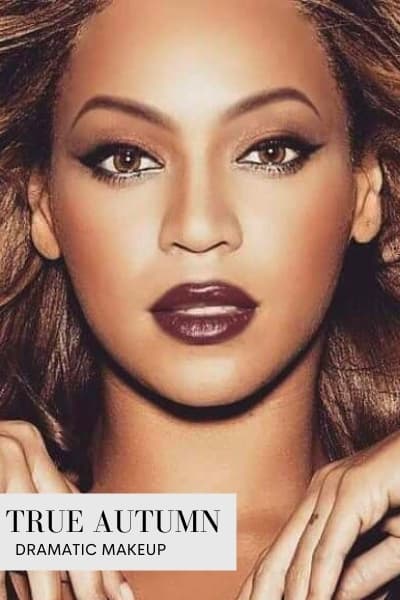 Daytime Formal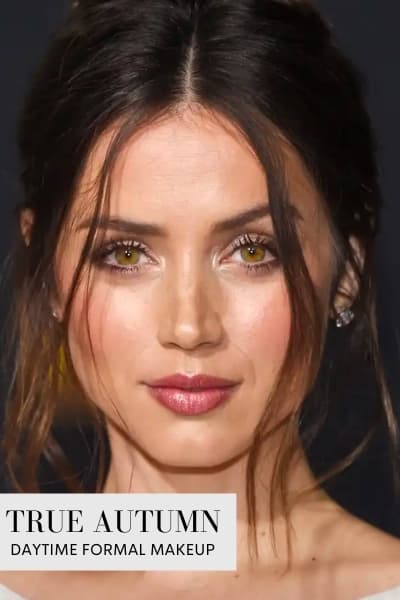 Building a Wardrobe: True Autumn
For your wardrobe, you will want to pull colors from your True Autumn Color Palette. But let's go over some color combinations, and color pairing techniques that will work best with your unique coloring.
Building a wardrobe around your true autumn palette usually means that you are pairing the colors together in different ways to create new outfits. Just remember, when wearing true autumn colors it's best to make sure there is some, but not too much, contrast between the pieces.
True Autumns can wear tonal outfits, analogous colors (next to one another on the color wheel), and pairings that have some contrast (like a dark neutral with a muted color). Want to learn more about color blocking and using color-blocking styling techniques, I have a post on it here.
You want to avoid those complementary colors like blue/orange, yellow/purple, and green/red generally as that contrast level will wash out your glowy skin. But pairings that have "medium-level" contrast work. These usually include some tone or shade of neutral.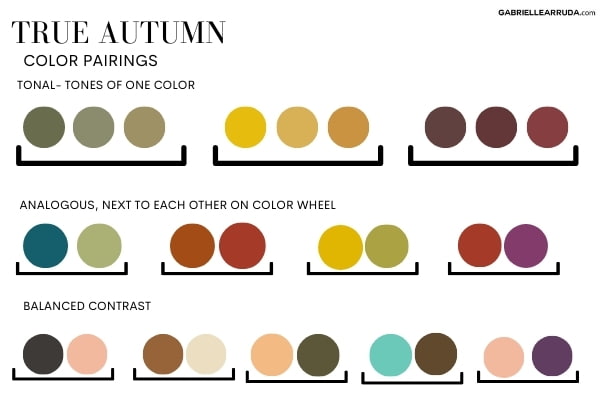 Don't be afraid of adding a pop color into your outfit (as long as it is the right tint or shade for the warm autumn). It will be subtle enough to not overwhelm your season, but also provide a bit of oomph and depth to your outfit.
Business Casual or Office True Autumn Color Palettes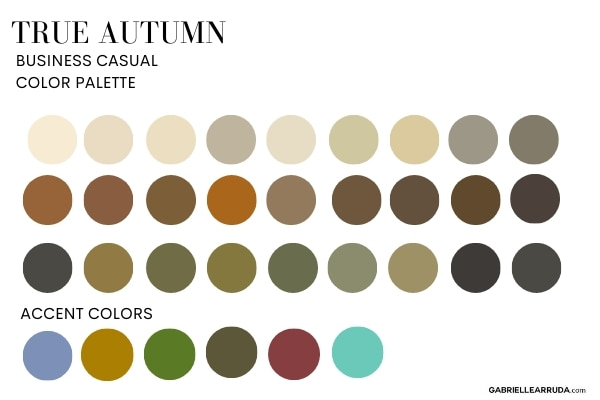 Building a wardrobe will usually include some office wear, which may not be quite as exciting, but is definitely necessary. Remember this advice is general, and you need to tweak it to your office or business's expectations. Some offices may be more casual and will embrace louder colors and shades. And some offices may be extremely conservative.
If you want to learn more about building a chic and functional business casual wardrobe, I have a guide for you here.
Ultimately you will want to tone down the color in your corporate wardrobe and make sure you have some base neutrals in each look.
Because True Autumns lack the blacks, navy, and true charcoals that are so common in office clothing, we have to get a bit more creative.
Refer to the business casual color palette (above) for some ideas on where to start.
Prints and Patterns for the True Autumn
The most attractive designs are those that exclusively use autumn hues, such as the first one shown below. True autumn colors, such as in the first example, are ideal. If a pattern contains some but not enough color from an unbalanced palette – like in the second scenario – you may wear it. The last image has way too much of an unbalanced color (a cool summer green, which is bright and overwhelming), so avoid it.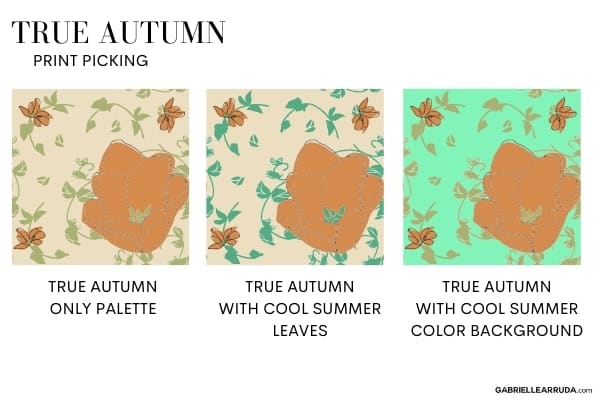 Keep in mind, if the "wrong color" is:
a neutral
a very small design feature
from the same over-arching season
or has a watercolor, blended effect
It will be less likely to affect your entire outfit.
When choosing prints or patterns you need to keep in mind the entire contrast of the print. Because True Autumns don't have a lot of contrast in their features, they tend to look best in low-contrast prints as well.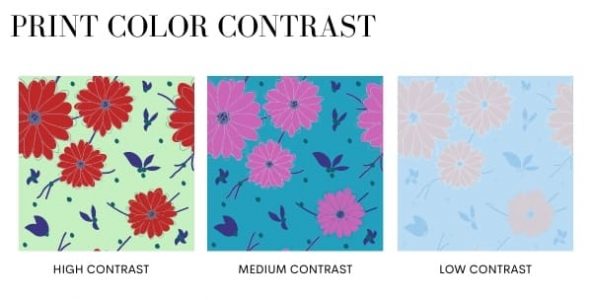 So despite the fact that all three prints below are composed with some true autumn colors, the left one is best because it has the least contrast. Look at it compared to our True Autumn Face example, the left option suits her best. Not only is it composed of only true autumn colors but it also has the least contrast, a perfect print for the true autumn.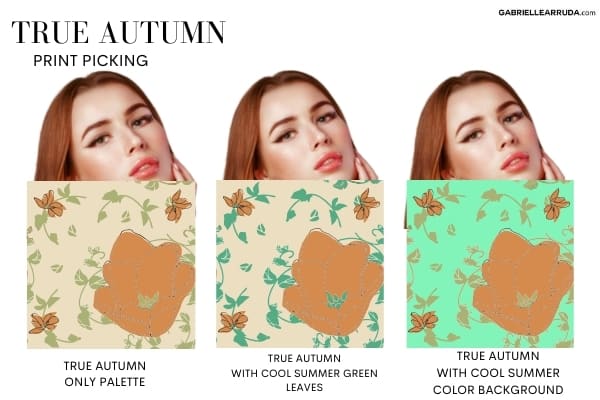 Here are some other print ideas that work for the True Autumn :
Botantical, leaves, and autumnal influenced prints
Retro prints (espeically for the 70's that lean right into your core color palette)
Florals
Larger scale prints
Prints that don't have small scale details
Giraffe print
Soft shapes ( not too many geometrical lines)

Jewelry and Metals for the True Autumn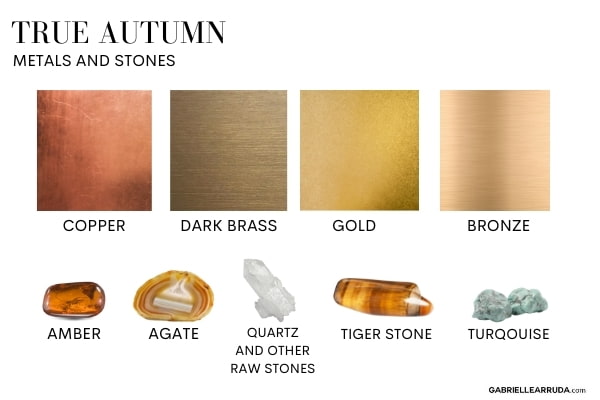 The True Autumn thrives with copper, dark brass, and bronze shades of metal. But they can also wear gold and brass.
Hammered, natural, oxidized metals are also good options, as they have less shine. Overly shiny metals can create too much contrast, so be sure to try these on in person and with good lighting.
For stones, you can try anything that has an earthy or natural feel to it. For example:
amber
agate
topaz
quartz
raw stones
tiger eye
turqouise (although be careful how pigmented it is, go for slightly muted ideally)
True Autumn Outfit Ideas
While the best silhouettes you choose will be based on your body type, it doesn't hurt to get inspired by some general outfits that look fantastic on the True Autumn.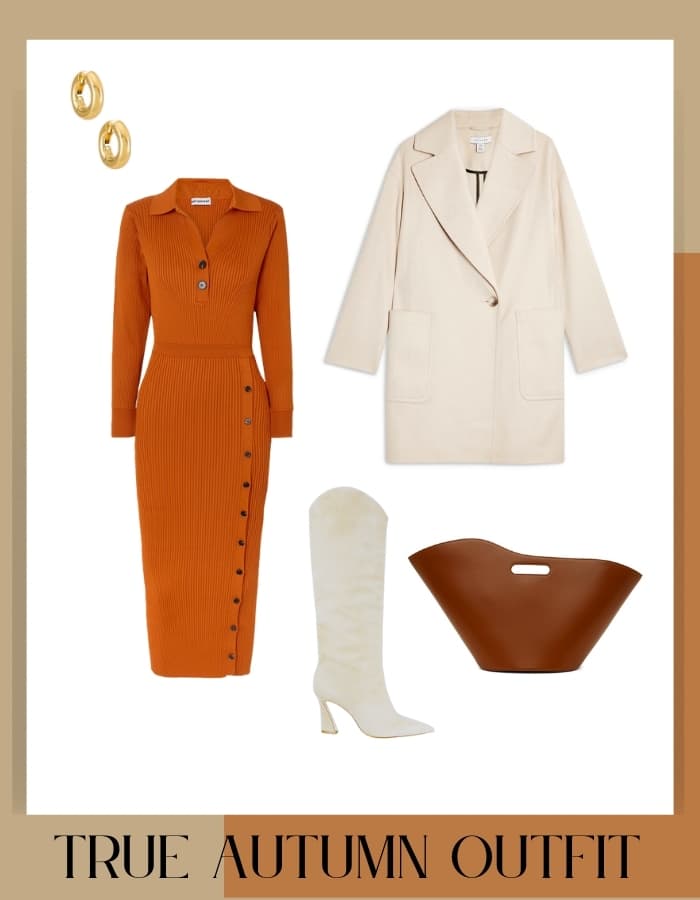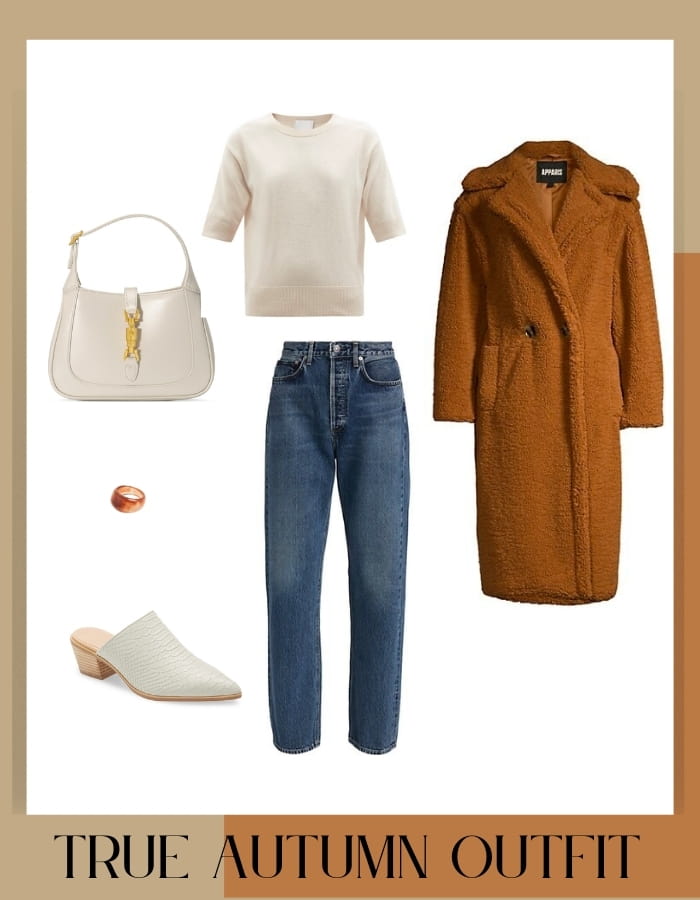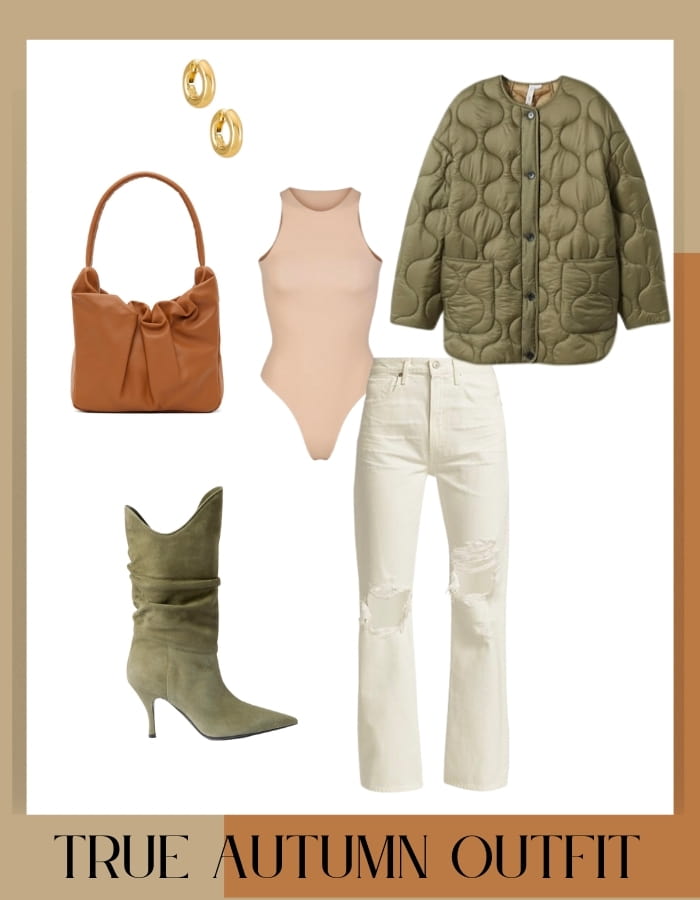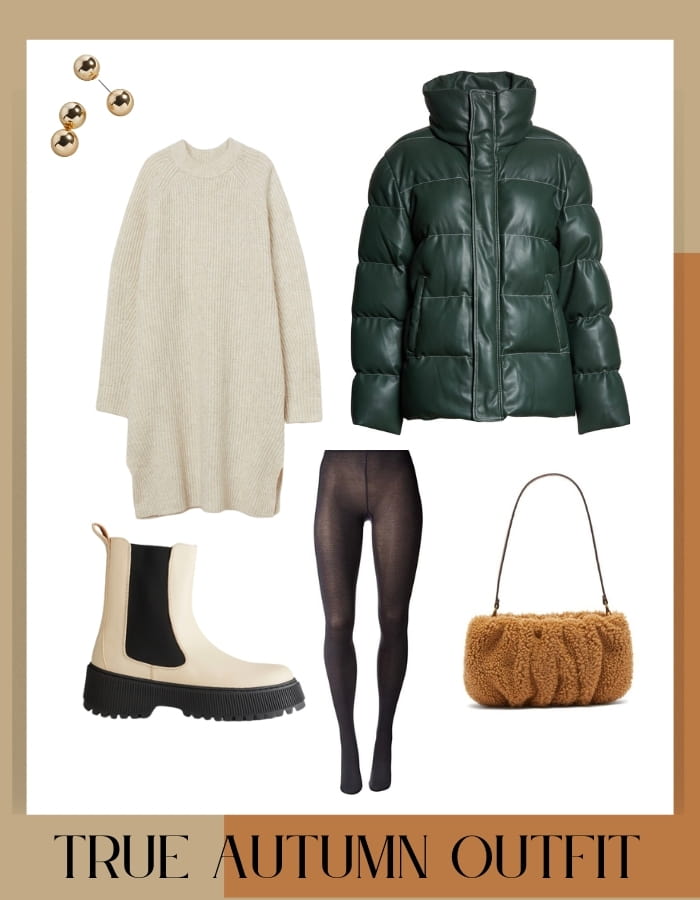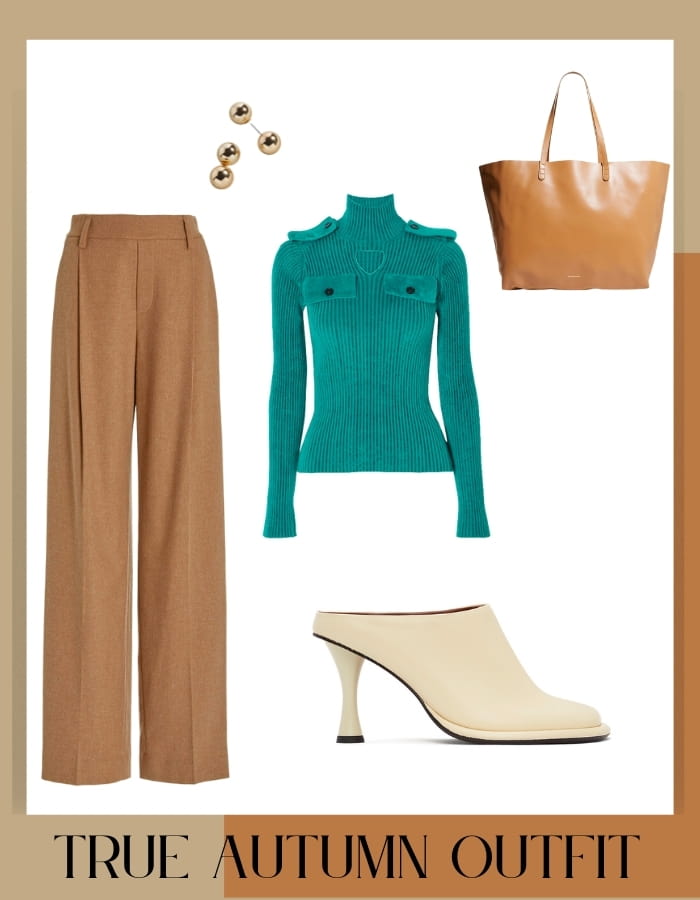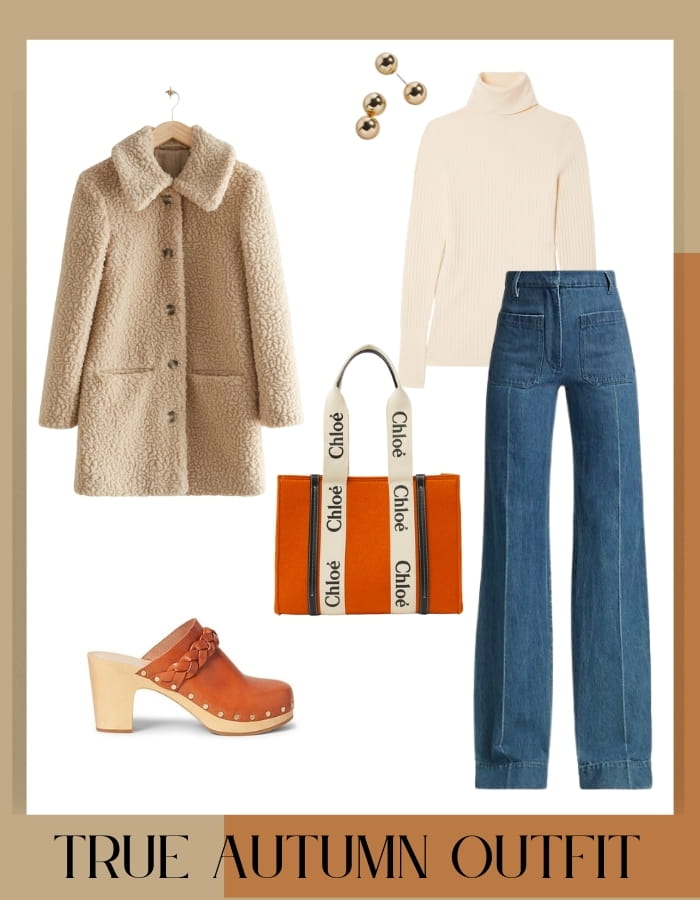 Shop the True Autumn Outfit Pieces
Regularly updated (so if you don't see the exact item from the outfits, a similar option should be there)

The true autumn is a gorgeous, muted palette, that will bring out your inner glow.
Learning your palette won't prevent you from wearing a certain color family, but instead will help you find the right tint and shade that compliments your skin tone. Don't let your outfits or makeup wear you!
And the true autumn embraces all those beautiful fall colors at their best!
Have any questions, feel I left something out? Feel free to comment below and we can discuss!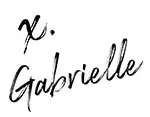 Your true autumn exploration is just beginning! Be sure to pin the below image so you can reference 😉