Color blocking is a style of fashion that uses color to create bold and exciting visual effects. It was originally developed and popularized in fashion by Yves Saint Laurent with his Mondrian Style Dress. But since then, it has become a staple among fashionistas and color lovers.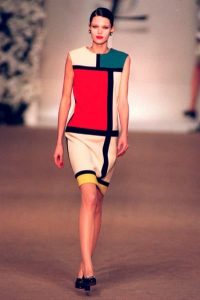 If you find your outfits getting a little stale, or you can't let go of your black ensembles, color blocking your outfit might be the aesthetic jolt you need to try.
This trend works best when you play around with different colors, textures, and placement. Remember that your personal style and body shape will impact how to best integrate this styling technique.
So if you haven't figured out your body type, now is the time. And if your personal style can't be defined, I have some easy steps for you to narrow it down, here.
What is color blocking?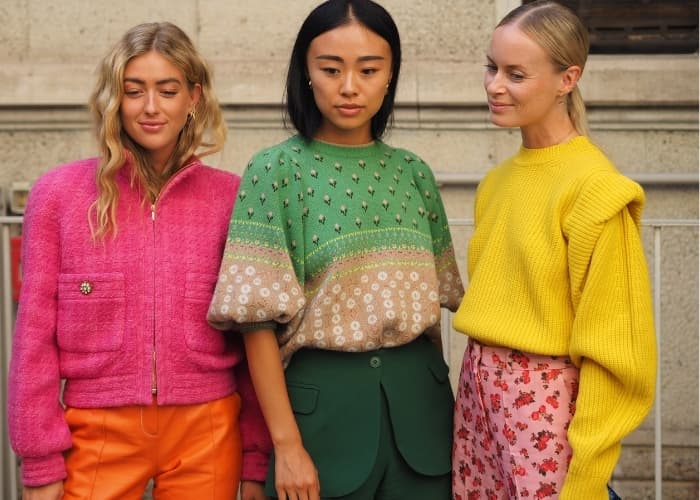 Color blocking is a technique used in fashion to create blocks of color on an outfit. The blocks can be created with the use of stripes or seams within a garment or by styling different colored pieces together.
Different iterations and color combinations over the past decades have ebbed and flowed in popularity. But it has been a staple styling technique and remains so. It's a great way to add some energy to your outfits and to switch up your go-to styles.
How can color blocking be used to flatter your figure?
Color blocking is actually incredibly useful in flattering your figure, no matter your body type. However, which body type you have will impact which style of color blocking and emphasis you try.
Strong, vertical stripes can also help elongate your body and make you appear taller. Similarly, column dressing, which is dressing in a single color from head to toe, can help elongate your vertical line. This would be monochromatic color blocking.
The use of darker shades and colors can de-emphasize an area and give you a slimming effect as well.
And if you liked these styling techniques, I tried 19 different styles to help lengthen and slim my body, and you can hear what worked, here.
Body Shapes and Color Blocking Outfits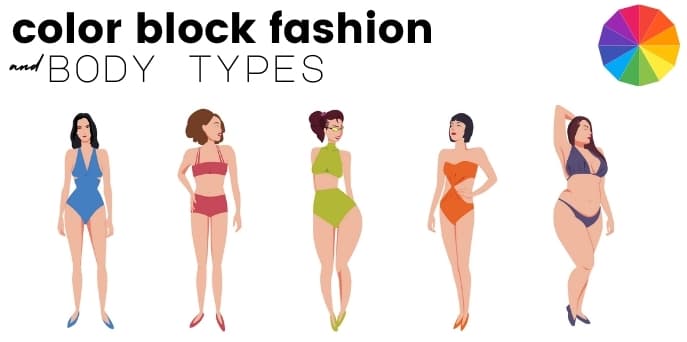 What Color Blocking Styling Work Best?
Each body shape can experiment with the color blocking trend using certain combinations of colors and silhouettes. Let's take a look at the different types:
Color Blocking: Hourglass Body
Your Hourglass figure is lucky in that it looks great in so many color combinations and can use color blocking to emphasize your curves. Because your body is proportionate you have a lot of color and silhouette options, just be sure you are highlighting your waist, and not opting for anything too boxy.
related: the ultimate guide to dressing the hourglass body shape
Color Blocking: Pear Body Shape
The pear shapes do really well with duo-tone and tonal outfits best because it helps balance out their natural curves and create a strong vertical visual line. But a darker tone or color on your bottoms will be best for you as it helps slim your hips.
related: the ultimate guide to building a wardrobe for the pear body shape
Color Blocking: Inverted Triangle Body Shape
If you want to take attention away from your shoulders, choose color blocking that integrates vertical elements. This will create a visual effect of lengthening the body line and drawing attention up along a vertical axis. Darker tops or the darker shade on top will help slim out your broad shoulders. Always make your bottom half the brighter, more vibrant shade.
related: the ultimate guide to building a wardrobe for the inverted triangle body shape
Color Blocking: Rectangle Body Shape
Rectangle body shapes work really well with complementary color blocking and three-color blocking. Just make sure that the darkest color is around your waist and helps define the waist, while the brighter more vibrant shades are on the top and bottom. We want to emphasize our top and bottom halves, define the waist, but not draw attention to it.
Color Blocking: Apple Body Shape
Apple shapes do well with color blocking that is tonal in nature. It will help balance out your natural curves and create vertical lines that will help define your waist. You can also try putting the brighter, more vibrant tones on the top and bottom and using a dark shade to define your waist. Just make sure you aren't cutting your body up in half.
Types of Color Blocking
Because we will be referencing the color wheel throughout this post, and where certain colors are in relation to each other, here is a basic color wheel for your better understanding.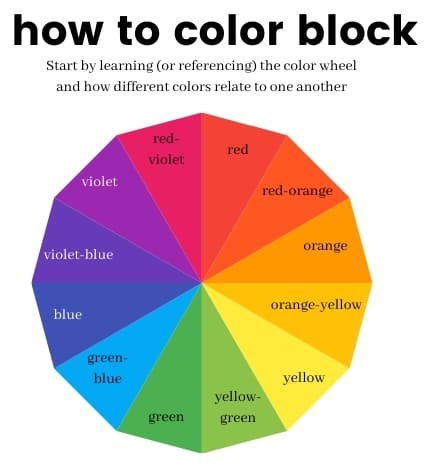 Duo Tone Color Blocking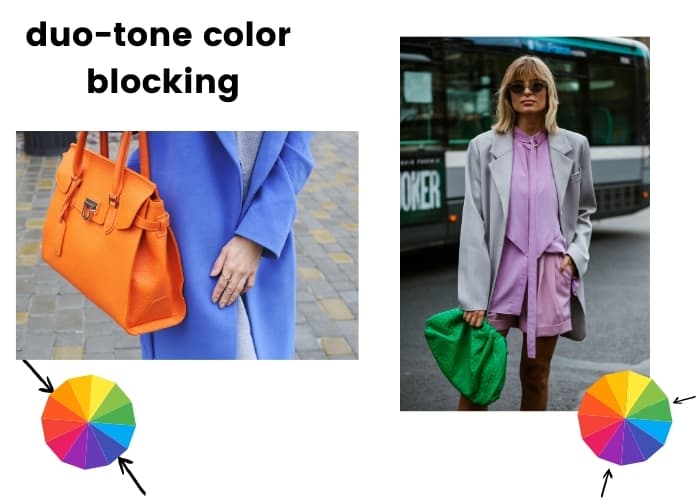 Duo-tone color blocking is just using two different colors in your outfit. They are often colors that have strong vibrancy and contrast to them but are not necessarily complementary (in terms of the color wheel definition of complimentary). You could use yellow and pink, gray and yellow, red and blue, or purple and orange (for instance).
Complimentary Color Blocking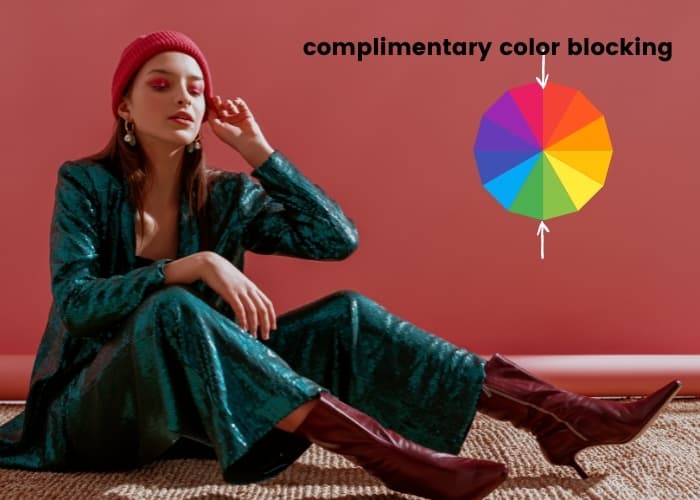 Similar to duo-tone, complementary color blocking comes from using two colors within your outfit, however these colors are on opposite sides of the color wheel. For instance:
red and green
blue and orange
yellow and purple
You can play with the different tints and shades of these colors, but there are only so many base pairings.
Be mindful of this color blocking strategy as it can be quite intense as complementary colors are made to stand against one another and brighten the visual effect of one another.
If you try this technique opt for one of the colors to be more dominant. You can see this in the example above, she is wearing red and green, which are complementary colors. However the green is a darker shade with a slight blue tint, and the red is more minimal and less pigmented. This makes the outfit fun, without screaming Christmas colors.
The other way to play with complementary color blocking is to use the tints or shades of the colors instead. So you could pair a pastel pink ( a tint of red) with a seafoam green ( a tint of green), to create a less saturated look.
Analogous Color Blocking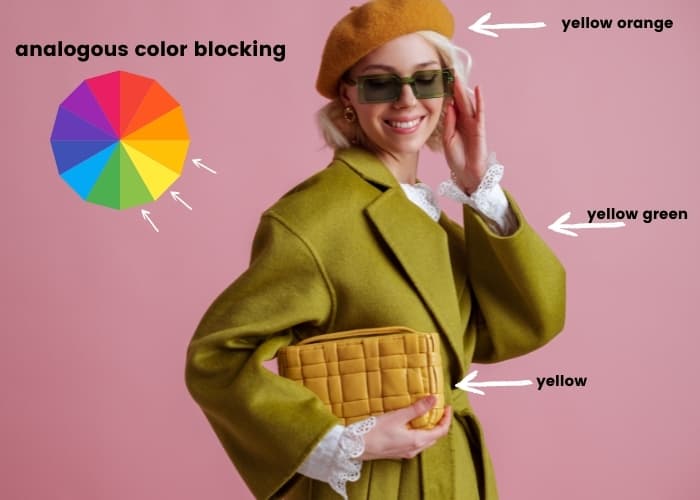 Analogous color blocking pairs three colors that are next to each other on the wheel. For example:
red, orange, and yellow
blue, purple and blue-green
But you can play around with how many colors you use and how different the colors are. It usually incorporates 2-3 colors.
It can feel similar to tonal dressing, but usually has a broader spectrum of colors.
Tonal Colorblocking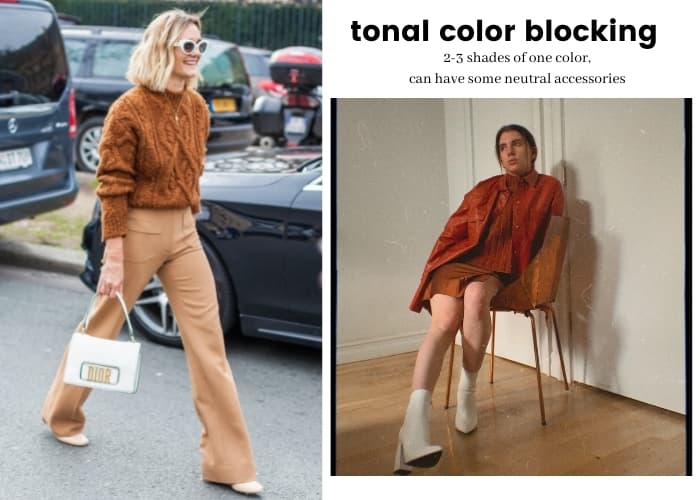 Tonal color blocking is when you use a single hue that has different shades and tints of the same color.
For instance, you can use navy, indigo, royal blue, and ultramarine because they are all within the blue family. Then you would add lighter shades like sky blue at the top and highlight your body with a very dark blue at the bottom. This creates a vertical line which is slimming and is an ideal color blocking strategy to look taller.
Or you can take notes from the above outfits that show two tonal outfits with neutral accessories. The first outfit has a tonal tan look consisting of two shades of tan and the other has three separate pieces all in the burnt orange family. These outfits feel cohesive and still use the color-blocking strategy without being overwhelming.
Monochromatic Colorblocking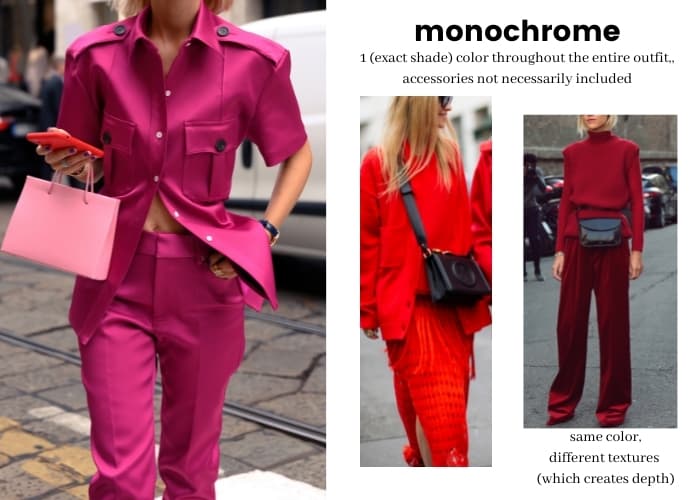 Monochromatic color blocking is using one hue all throughout your outfit. The color is kept within almost the exact shade through all pieces of your outfit.
So while this doesn't integrate multiple colors, it does create a single-color block and uses the column dressing technique to lengthen your body.
You could also add a pop color accessory to a monochromatic look, for a little more oomph. Accessories can be a different shade, or neutral. However, the focal point of the outfit should always be that one-shade dominant color.
Three-Color Way Blocking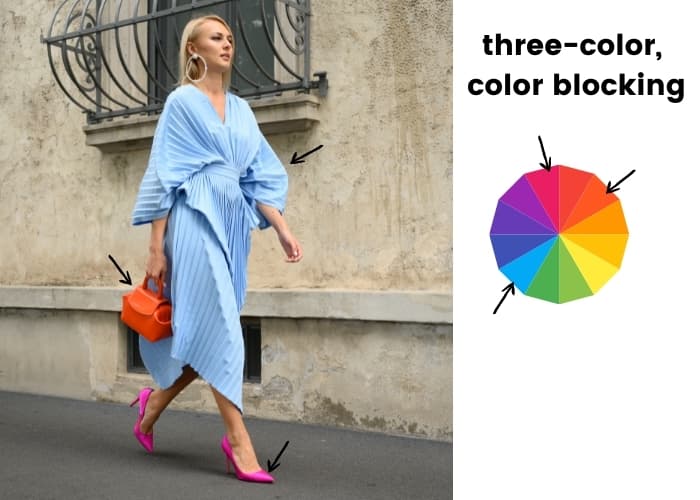 This is such a visually stimulating way to color block and I think you can create some really flattering outfits this way. It's also great for my color-lovers!
You can use colors that are next to each other on the color wheel (i.e.: red, orange and yellow) or colors all over the color wheel. When you integrate them into your outfit you want to make sure you have balance and focus. Here's an easy way to acheive that:
Primary: One color is the primary color that establishes the base of your outfit. (in the above image that would be the blue dress)
Secondary: One color used in small doses to integrate into the look, but is not overwhelming or distracting. You could use this color on a belt, layering piece, or base piece. For instance, a darker color bottom helps create the color block effect, without drawing too much attention. (in the above image that is the magenta shoe, because if we took away the handbag, the shoes still have visual emphasis).
Tertiary: The last use of color should be used in an accessory like shoes, bag, scarf etc… Or it could be used as an element on the inside of your garment, or layering piece. But ultimately, this color is just an accent to the entire outfit. (in the above image that is the orange handbag, a nice touch but more of a supplemental detail to the outfit).
Triadic Color Blocking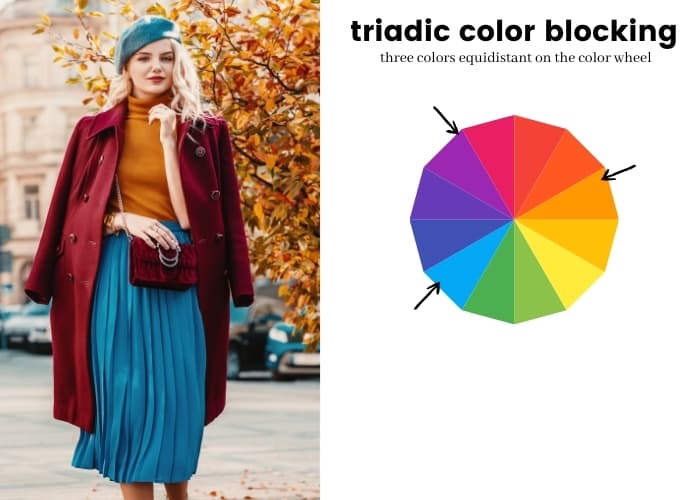 Triadic color blocking is a variation of the three-way color blocking which pulls three colors that are equidistant on the color wheel, like red, yellow and blue ( primary colors).
This technique is more advanced and should be used when you have a really good handle on color blocking.
And in my opinion, it works well with the tertiary versions of the colors, as it is less intense. For instance yellow/orange, green/blue, and red/purple.
We may earn a commission from you clicking a link in this post. And as an amazon associate, we earn on qualifying purchases. Full affiliate policy, here.
Different Ways to Integrate Color Blocking into your Wardrobe
Color-Blocked Dress
The pre-color block dress is probably the easiest way to pull off color blocking.
It's a great way to start integrating color blocking into your style, without having to manage the proportions, and textures yourself.
However, if you are new to dressing for your body type, or proportionate dressing, I recomend trying the color block dress in person. This way you can ensure that the blocked colors are flattering on your body shape.
Color Block Coat
A color block coat is another easy way to start adding some color blocking techniques to your outfit.
Since the blocking is already done for you, and it's a piece that you take off throughout the day, it is a great way to spice up a neutral or business casual look. I love this option as an additional winter wardrobe staple. It's low commitment in terms of how colorful your outfit is, and it adds a bit of pizazz without affecting your day-to-day wardrobe too extensively.
When you pick a pre-color blocked item you can also get an opportunity to play with diagonal shapes and interesting color placements that you could not naturally create with two pieces of colored clothing.
Color Blocking Blouse
If you're going for a more casual look, then color-blocked blouses are perfect. You can dress them down with jeans and a jacket or pair them with a blazer and slack. Just like with any other color-blocking, you want to stick with colors that flatter your skintone and natural coloring.
Learn your seasonal color palette, here.
Color Block Purse
A really great way to try color blocking is with the help of your purse. So instead of wearing blocks of color on your body (which can be overwhelming), you would break it up with a color-blocked purse that adds some life to a go-to outfit.
And if you're normally an "all-neutral" gal, then this might be the way to begin adding some color blocking to your outfits.
Style Tips for Color Blocking Outfits
The main thing to keep in mind when integrating color blocking is to make sure it's flattering and not overwhelming. You don't want to look like a kid playing dress-up, or have an outfit that "wears you". So use the tips below to make sure you create a put-together and flattering outfit.
Neutrals are your friends! You can always fit a neutral into a color-blocked look, and sometimes it can add a whole new level of sophistication. Whether you throw on nude pumps, a white jacket, or some black jewelry, it's hard to go wrong with a neutral. Neutrals help your outfits have some more balance, and shouldn't be avoided! A neutral accessory or wardrobe touch can add some elevated chicness to the look, and ground the entire outfit.
Make sure you have a good balance between light and dark pieces if you're doing more than one color within your look. And use those light and dark pieces to work with your body shape.
Don't forget about your features! Choosing colors is one thing, but choosing the best colors that work for your skin, hair, and eyes is a critical step. I recommend you determine your seasonal color palette (I have a guide on that here), in order to pick the best tints, shades, and versions of each color.
Shop with your seasonal color palette so that your wardrobe is full of colorful options you know will work. Just because Rosie Huntington-Whiteley pulled off a full coral suit, doens't mean the same color will work for you.
If the colors are really bright or intense, decide which one should be your main color and work the lighter colors into that. For instance, if you're wearing a bright blue and red outfit, make sure that the red is more muted and the blue is the more intense color on top of that.
Take inspiration from everywhere. Start a pinterest board, watch the runway shows, and keep your eyes peeled on the street for new and interesting color blocking techniques.
Do whatever works for you and your style, but make sure it's what YOU like. What you wear should be a reflection of who you are. So don't be afraid to go crazy with color if that's your thing. But if it's not, you can still integrate versions of color-blocking outfits into your style.
Color Block Sandwiches
The color-blocked sandwich is an interesting technique to add some more dimension to your outfit and give it a finishing touch.
Watch the video below for some ideas on how to use it:
Basically, it is about creating a starting and ending point to your outfit by incorporating an accessory and shoe that are both the same color. They essentially sandwich in your outfits and allow your eye to focus on the main attraction- the meat of the sandwich or your main outfit pieces.
This is a visual trick that helps your outfit to have focus and directs the eye on where to go.
While it can't be applied to every outfit, it is a useful style hack to have in your back pocket. And it can be used for regular (non-color-blocked) outfits as well.
Color Blocking Trends 2021/2022 and Color Block Outfit Tips Explained
Color blocking is always taking new shapes and forms each year. For 2021/2022 here are some of the major color-blocking themes we will be seeing:
Color Block Outfits Do's and Don'ts
So, I hope you took the time to watch the above video because it is a really deep dive into modern-day color blocking.
Here we can see some color block outfit examples and breakdowns of where they go right and where they go wrong.
In this outfit, she is making several fashion "mistakes" for not only her body shape but also her natural coloring. The red and yellow (while screaming McDonald's) overwhelms her, and the colors end up overpowering her and you notice the color before the beautiful woman.
The second issue with this outfit is the way she has blocked the colors and the pieces she used. Neither piece fits her well, and they compete with one another. In turn, it creates a big colorful top-heavy block. Her outfit also lacks depth because it doesn't have any texture, styling details, or a focal point.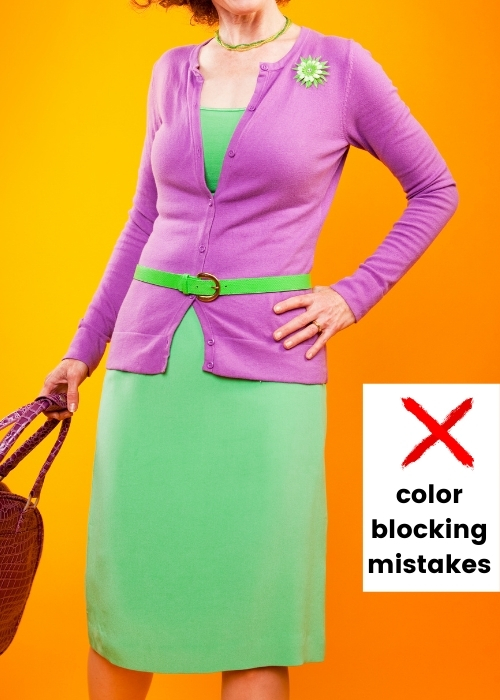 Here's a great example of both dated clothes and not paying attention to how the colors are cutting your body up. Proportionate dressing is the key to looking your best, and cutting your body up in half should always be avoided. The way this outfit is layered and the green belt cutting up her body is not only unflattering but it is also dated.
Be mindful of the pieces you choose to color block with. Color block styling and layering pieces evolve. Watch the video in the previous section to see some more modern ways to use duo-tone color blocking.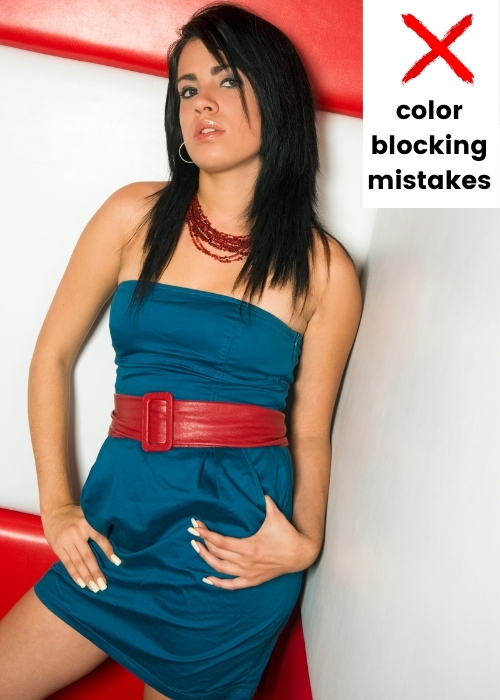 Here's another example of not using the right silhouettes for your body shape and not dressing with your proportions in mind. Color is a great way to help lengthen your body and slim your appearance, but if used improperly you can really create an unflattering silhouette.
This thick red belt with the blue strapless dress is (not only dated) unflattering and makes her shoulders seem broader than they are. The belt also cuts up her body in an awkward spot and ends up widening her waist, creating a stockier look. So it's important to not only be conscious of what colors you choose but also where they are placed on the body.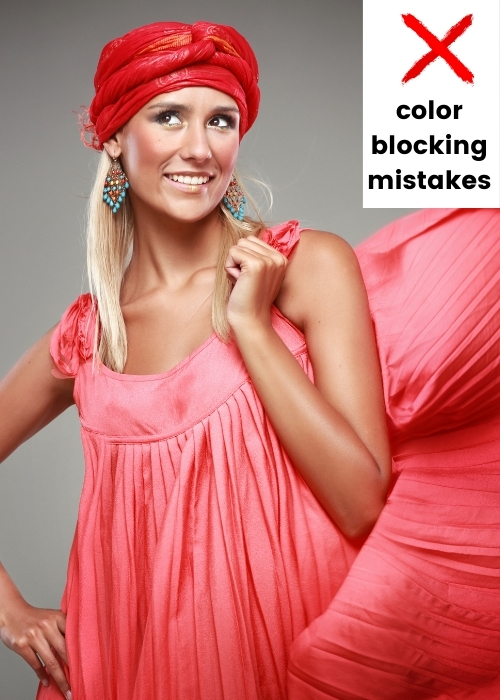 Ok, I hate to be a negative Nancy, but there is a lot that could be improved with this outfit. Sometimes with color blocking, we have to apply Coco Chanels wise advice "Before you leave the house, look in the mirror, and take one thing off".
With color blocking, it is essential to have one focal piece for the eye to land on first, and this outfit has too much going on. Not to mention the red turban and the pink dress don't flatter her body shape and don't seem to match in terms of style goals. And the earrings just add another element our eye tries to process, but instead, it feels like a visual pinball game.
When starting out with color blocking, red and pink is a great introductory color option, but just be mindful of your entire look and always start small. Once you get the hang of how the colors work on YOUR body, you can begin experimenting further and adding more elements of interest.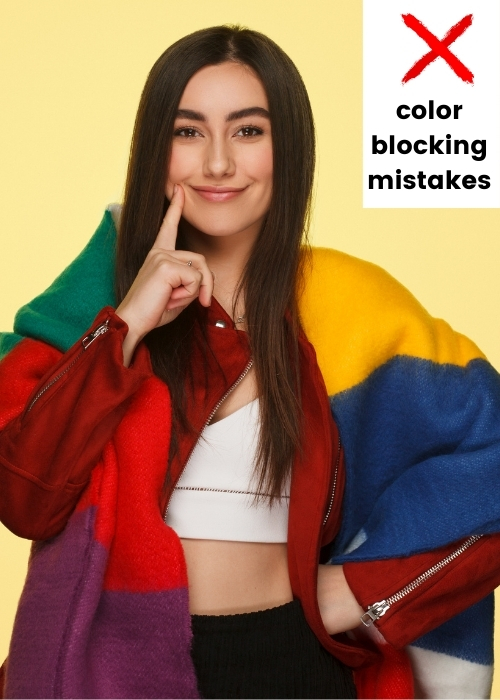 As I mentioned in the video above, color blocking styling techniques do evolve over time. So evaluate how you are wearing color-blocked pieces and what you are pairing them with.
The color-block coat above with pin-straight hair and cropped top gives off a pretty strong sitcom vibe. While the jacket itself could be worn more modernly if paired with a boxy tee and straight leg jeans, just be aware of your entire aesthetic.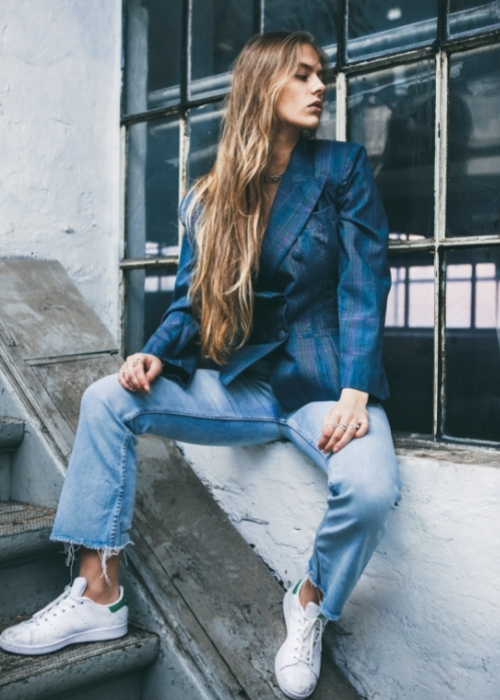 If you like the idea of color blocking, but some of the color combos are scaring you off, a double-denim tonal outfit might be a good place to start.
This outfit is modern, elevated, and has a tonal color scheme. To learn more about wearing double denim, I have a complete guide with tips and tricks, here. So you can avoid the Justin/Britney double denim vibe.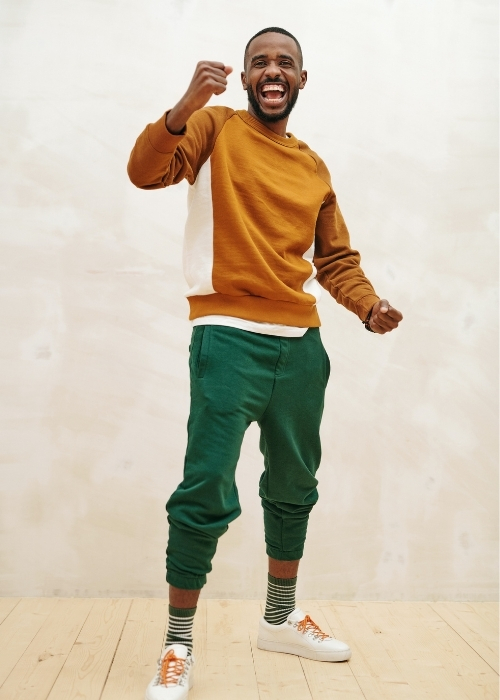 Men can color block too! This is a great outfit that emphasizes how important the right shades can be to your color blocking. The ochre shade and the forest green pants, create a nice contrast to one another and really pair nicely with his natural coloring.
And the use of more subdued shades (the ochre) and slightly less pigmented forest green create a great casaul outfit that doesn't overpower him. Don't be afraid to try different saturations and pigments with color blocking, it doesn't have to be bright on top of bright.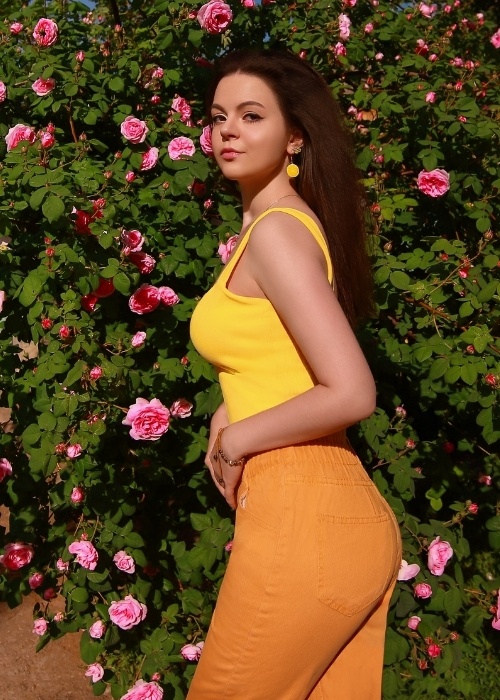 While the colors in this outfit are bright, the silhouette of both pieces is fairly simple, which creates a successful color-blocked outfit.
The tones of the yellow and orange also compliment her skintone nicely and brings out her summer tan and dark hair.
Adding the yellow earrings and the brighter yellow top makes the yellow pieces the focus, and the orange becomes a more secondary color in the outfit.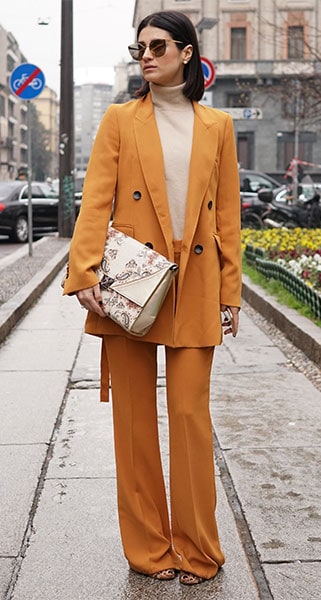 Don't be afraid to add some neutrals into the mix. This muted-orange suit is a great look, but it feels much more sophisticated with the oatmeal turtleneck and the neutral handbag.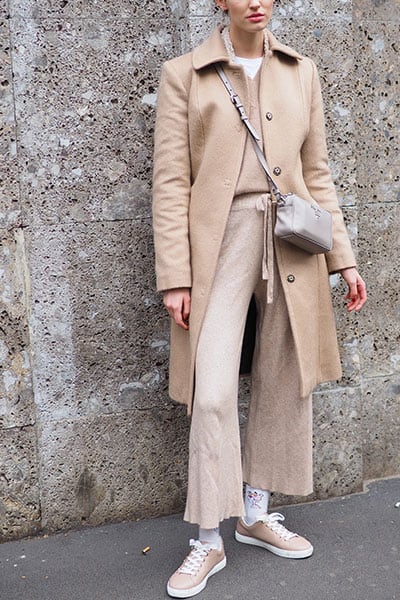 When you opt for a tonal outfit, especially in neutral or muted tones, don't be afraid to play with fashion categories and silhouettes. This outfit has depth because of all the different textures (knit, wool, leather), and the combination of a structured wool coat with athleisure pants and touches.

Whether you are a color-aficionado or just dipping your toe into the world or color-blocking, this should get you started on the right foot.
So go add some oomph to your outfit, some brightness to your look, or just embrace a new look for the day. Fashion is supposed to be fun, don't be afraid to expand your style.
Go forth and conquer my colorful queen.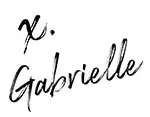 Go ahead and pin the below image so you have all these helpful style tips at the touch of your fingertips!