So you've taken the time to determine your body shape and you've discovered that you are the highly sought-after hourglass body shape. What now?
Learning about your body type is an important step in your style evolution. It can guide you on what silhouettes to wear, what styles to avoid or tweak, and how to build a wardrobe full of pieces you love and wear regularly.
This will be your comprehensive guide to dressing your hourglass body shape and showing off those beautiful curves.
What is an Hourglass Body Shape?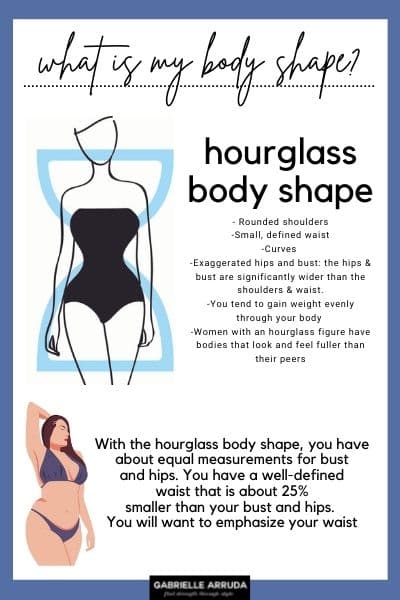 The hourglass body shape is characterized by a bust and hip measurement that is almost equal, and a petite waistline with the narrowest point of your body at the natural waistline. These measurements can work for or against you so let's get into how to build your wardrobe, what silhouettes are most flattering, and style tips to help you gain more confidence in your shape.
Characteristics of an Hourglass Body Shape
The hourglass body shape is beautiful and curvy and has some distinct characteristics. You may have curvier thighs and more rounded edges to your full-frame than some of the other body types.
Your clothes will need to be fitted in the chest, hips, and waist for the most flattering and balanced outfits. And you may have to wear clothes with stretch in them for extra comfort and figure definition.
And one of the biggest attributes to the hourglass female shape is your narrow waist. So wear pieces that emphasize your petite waistline and have a definition from bust to waist and waist to hips.
Confused if your body is an hourglass? I've developed an easy way to determine your body shape in less than 5 minutes. I also discuss the pitfalls and possibilities of having a secondary body shape. So check it out if you're confused or just need a bit more clarification!
General Guidelines on What to wear? What not to wear?
The best thing you can do for the female hourglass is to wear clothes with clean lines and/or a defined silhouette so it's easier to balance your shape. For instance:
Try a pencil skirt with a blazer that is just fitted enough in the bust and hips, or wear it open so you have even more waist definition.
Wear dresses that are fitted at the waist but flow gently out through the chest and hip area for a proportion look. Opt for fitted or slightly tapered dresses for easy wins.
Wear a pencil skirt with fitted blouse or top tucked in.
A fitted or cinched wrap dress is always flattering on this body shape.
Don't wear:
Boxy crop tops can make you appear wider
Pleats and gathering tends to over emphasize your hips and creates a bottom heavy look
Shapeless clothing: Tent dresses, boxy shift dresses, or anything that has no shape to it will hide your curves and give you a stocky look.
Embracing Your Natural Shape
The shape of your natural silhouette dictates the most flattering outfits for this body type.
And we want to work with your hourglass shape, not against it. This means we play to our body's strengths and take into consideration our body's proportions when getting dressed.
The biggest hurdle I see hourglass shapes running into is not embracing their curves. They try to hide them under layers, untucked tops, and boxy silhouettes. This will actually make you appear wider and in turn less confident in your style choices.
Hourglass Body Shape Style "Rules"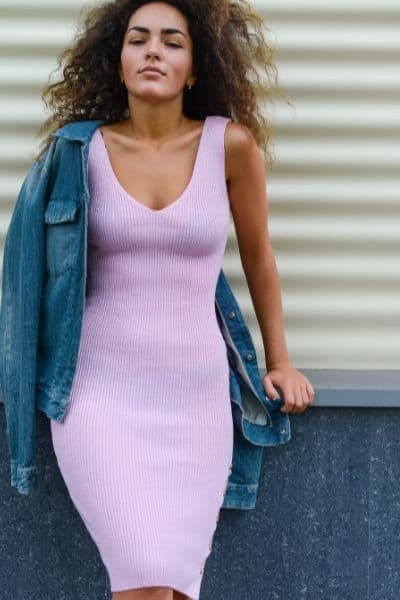 Invest in good shapewear, bras, or general outfit support. With a full bust and wide hips it is important to have support and feel comfortable in your outfits. If you don't have a good bra your bodies natural waist can become less defined and add width to your overall look.
Avoid boxy clothing that has no defined waist. If you don't highlight your waist, your bust and hips will be the only pronounced features and will have your appear much wider than you are.
Embrace your curves. Accepting your body shape is a huge element to dressing for your best self. Look to style icons that have the same body shape for unique styling and outfit inspiration.
Define your waist. One of the most amazing qualities to the hourglass body shape is the narrow waistline. This should be highlighted and defined in all of your outfits. Use belts or fitted garments to draw attention to this, or darker color accents around your waist to highlight it.
Use strategic lines for a lengthening effect. The hourglass body shape has all the curves in the right places but because of the width in your hips and shoulders you may want to lengthen your silhouette a bit with strategic visual lines.
If you're wearing something with vertical stripes, make sure they are not too wide or bold. They should be thin and narrow for an hourglass body shape.
You'll notice that the upcoming wardrobe images are a combination of garment drawings and photos. Where there is a garment drawing (or fashion flat) it is important to notice the seaming. Where there is a photo the fit is of greater importance.
The Hourglass Body Shape: Building a Wardrobe
Necklines for the Hourglass Body Shape
Here is the breakdown of necklines that work best for the hourglass body shape. When dealing with a larger bust and smaller waist we need to take into consideration proportions, emphasis, and outfit goals. Do you want to look curvy and flirty or do you need to opt for a more business casual look? Your lifestyle and outfit goals are important factors that shouldn't be overlooked.
It's also important not to disrupt the natural silhouette or wear necklines that give you more visual width. V necks are a good choice as they create a visual vertical marker. When someone is taking in your outfit they go from top to bottom and the V-neck helps to draw their eye vertically rather than horizontally.
Low necklines are flattering if they don't show too much cleavage and you can balance them out with high-waisted bottoms or tuck in a shirt for more coverage. It's all about balance.
If you need to have more coverage and downplay your bust the boatneck style can be flattering on this body shape. But this works best if it is a stretchy material and can really hug your bust and waist. Otherwise, it can add too much width to your shoulders. Remember it's all about balance, a fully covered bust still needs definition which is where the fabric choice comes into play.
Another option for coverage is the turtleneck or high neck silhouette. Just make sure that it's very fitted (stretch fabric). And if it's sleeveless make sure the armholes don't scoop towards the center of your body which can inadvertently broaden them.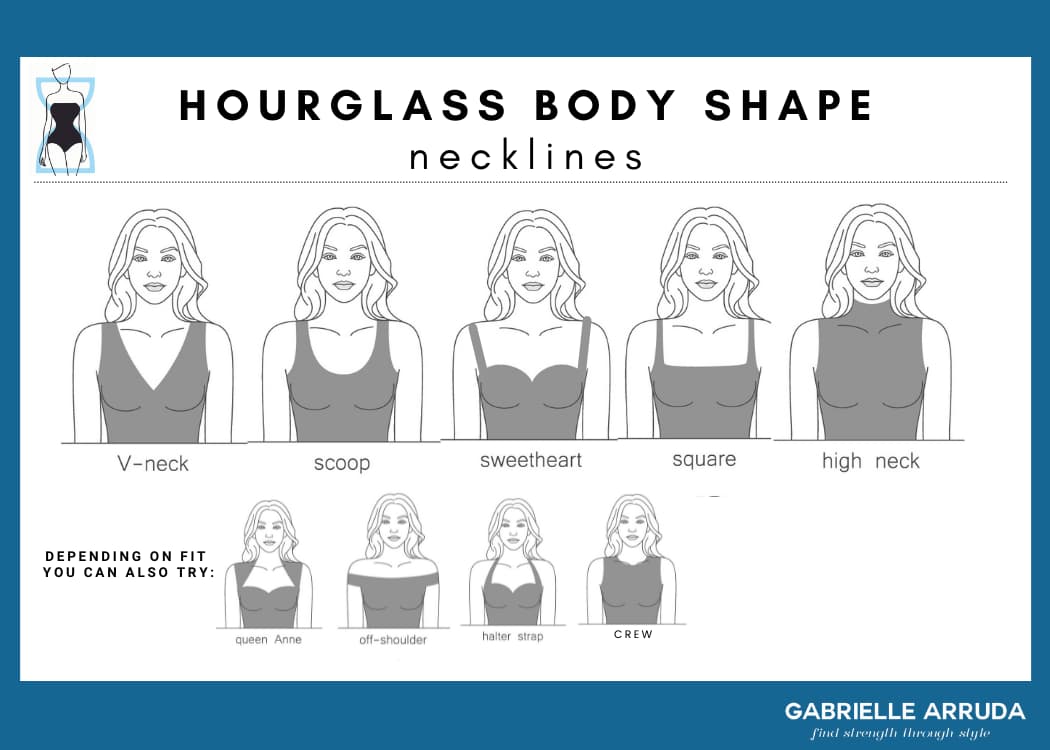 Best Necklines for the Hourglass Body Shape
V-neck
Scoop
Sweetheart
Square
High neck/turtleneck (watch the fit with this one)
Optional necklines depending on fit.
For these necklines pay attention to the material and your unique proportions to make sure they accomplish your style goals.
Queen Anne
Off-the-shoulder
Halter Strap
Crewneck
Boatneck
Sleeves for the Hourglass Body Shape
When we talk about the hourglass body shape, one of our goals is to balance out the visual lines and elongate the body. There are lots of curves and horizontal lines and sleeves can help add a vertical element to your look. So fitted sleeves are the easiest to pull this off, generally in a full sleeve or 3/4 length.
Shorter sleeves and sleeveless can also work but again we want something closer to the body and that doesn't accentuate the width of your shoulders.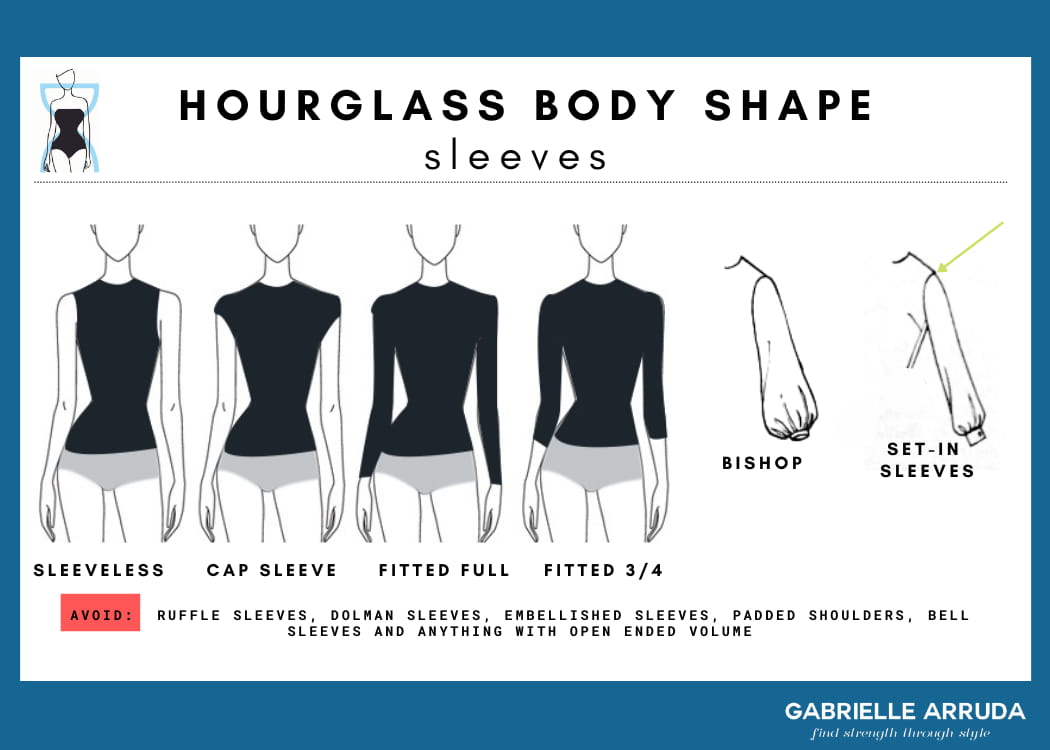 Best sleeves for the Hourglass Body Shape
Full-length sleeves and 3/4 sleeves are flattering, but should generally be fitted.
Cap sleeves are very flattering, especially if they have a rounded quality to the armhole and hem
Sleeveless tops are great as long as the armholes don't scoop in too much towards the center of your body.
Fitted sleeves and "set-in" sleeves are especially flattering.
Bishop sleeves work for the hourglass shape because of the fitted cuffs that allow the sleeve to have a visual ending point.
Avoid wide sleeves like bell sleeves, flutter sleeves, and anything with a lot of cascading volume. This creates a top-heavy look for the hourglass shape.
Also, avoid dolman sleeves as they can add too much volume near your bust line. And their flexible line can make you appear shapeless.
There is no "one size fits all" when it comes to dressing for an hourglass shape (or any body shape), so take into consideration your figure's strengths and weaknesses and work with what you've got!
Shirt Styles and Tops for the Hourglass Body Shape
Because the hourglass body type has visual width in the bust and hip area, fitted shirts are going to be your go-to style.
You will want to avoid larger embellishments like shoulder epaulets, ruffles, or any bulky structural details that add too much emphasis to your bust, shoulders, or hips. You'll also want to be careful of strong diagonal lines or patterns that hide or distract from your waist.
Belted tops, wrap tops, and peplum shirts are all great options. If you're opting for the peplum, make sure the peplum flare hits at your natural waist and not above or below it.
Button-down shirts that are fitted also work well for this body shape because they add some structure to an otherwise soft, curved style. And they are great if you need a traditional business casual option. Don't know what to wear at the office, check out my business casual wardrobe guide.
Avoid boxy or cropped t-shirts (generally) as they tend to leave your waistline undefined.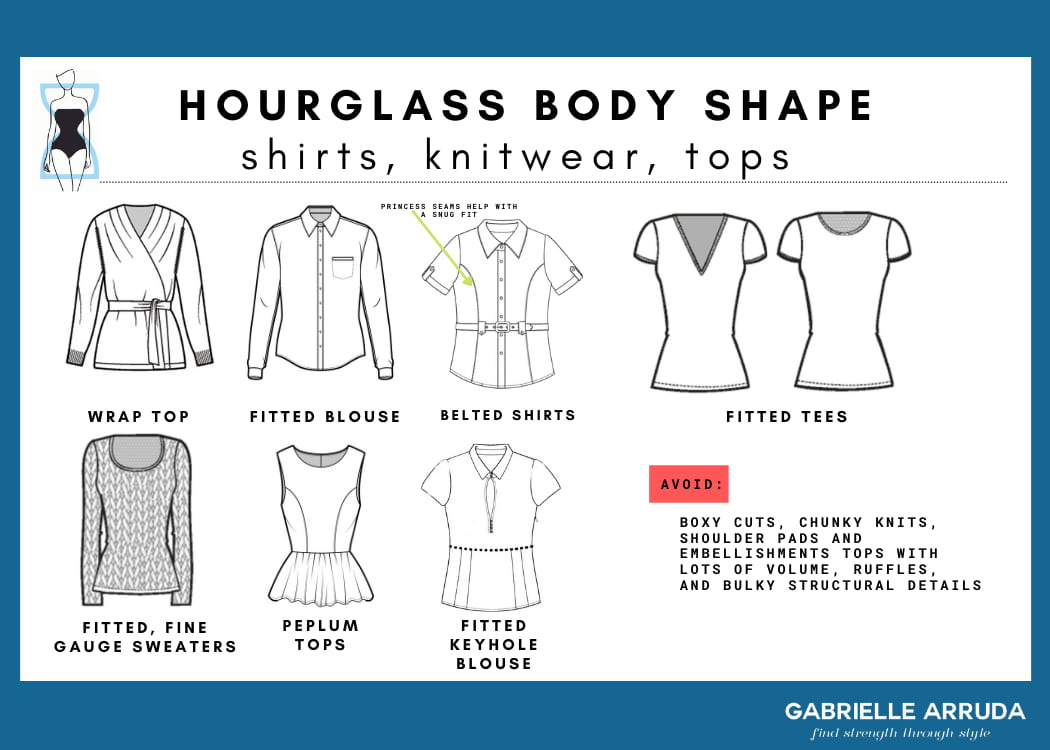 Here are the easiest shirt silhouettes for the Hourglass body shape:
Fitted Blouse
Fitted (stretch) tee or loosely fitted (still grazes all parts of body) t-shirt
Wrap top (avoid any with a lot of bulk)
Belted tops
Peplum shirt
Fine knit sweaters : Avoid chunky knits or any knitwear that doesn't nip in at waist
V-neck sweater (wears close to body)
Fitted keyhole blouse
Jackets for the Hourglass Figure
An hourglass body shape needs to have a defined waist and bustline so you'll want to keep your jackets fitted in these areas- just like with every silhouette so far. You also want jackets that have a rounded quality to them. You don't want sharp shoulders or boxy lines, but rather a rounded or soft shoulder line and soft silhouette.
Avoid cropped and overly boxy styles because that will blur your waistline and make you look wider. You'll also want to be careful with heavy fabric jackets that add too much bulk to the outfit.
A tailored suit jacket or blazer will work well if it is fitted at the bust and hips, but make sure that there aren't any shoulder pads in it because they can be a bit overwhelming for this shape.
Belted jackets and wrap jackets are good because they provide coverage but still follow the natural shape of your body.
If those jackets don't suit your style, an A-line jacket that nips in at the waist is flattering because it builds curves without overemphasizing them.
Take precautions with peplum jackets because they can overemphasize your hip area with too much volume, especially in a heavier or structured fabric. . I would suggest trying these jackets on in person if you want to opt for this style.
Remember to always think about the balance of your outfit. This body type lends itself to very fitted silhouettes, and if you add volume make sure it doesn't overwhelm that part of your figure.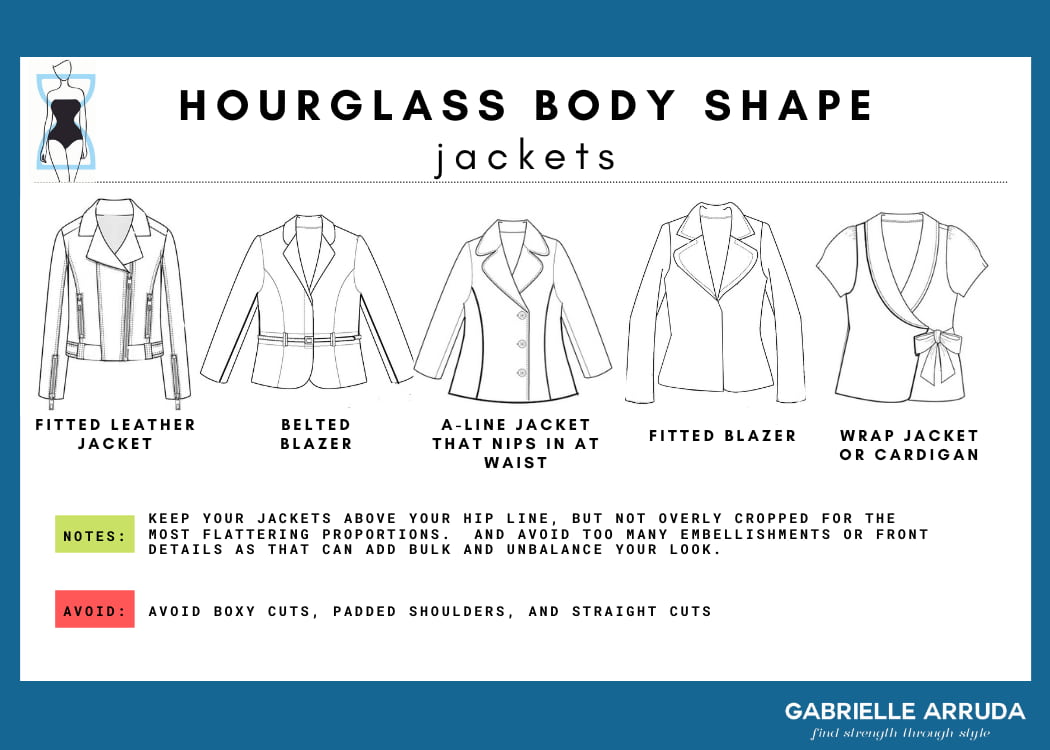 Best Jackets for Hourglass Shape
Fitted Moto-jacket
Belted blazer
A-line jacket that nips in at the hip
Tailored suit jacket or blazer (make sure there are no shoulder pads)
Wrap Jacket
Coats for the hourglass body shape
If you've learned anything about dressing the hourglass body shape so far it is that fitted silhouettes and waist definition are key. So it is no surprise that the same goes for the coat silhouettes.
Avoid cropped or boxy styles because that will drown out your waist definition and make you appear wider.
Avoid coats that have a lot of front bulk, like large buttons, double-breasted silhouettes, or toggles. This can create a lot of visual clutter to your outfit and tends to overshadow your waist definition.
Hourglass shapes can* wear cape or swing coats if they are exuding a more vintage style essence. But you really have to watch your golden ratio proportions for this and make sure you have enough length in your style to pull this off.
Avoid drop-waist coats as this will completely eliminate your waistline and broaden your silhouette.
Cape coats that have a visible understructure can work for the hourglass body shape. And a very cropped cape coat can work, too. But this is a trickier coat silhouette to pull off, so only opt for this if you really understand your proportions or veer towards a vintage style essence. A capelet coat might be an option too.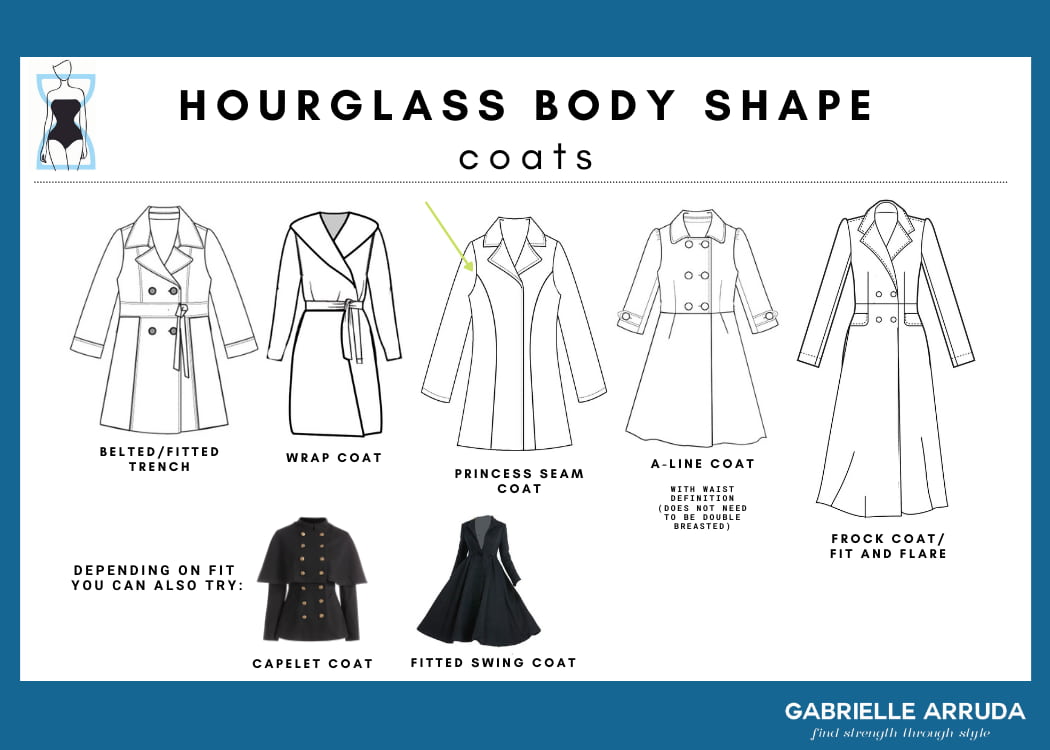 Best Coat Styles for Hourglass Shape
Belted Trench Coat
Belted Wrap Coat
A-line Coat (that has some fitting in bust/waist)
Princess-seam Coat
Frock Coat or Fit and Flare Coat
Swing Coat with fitted bodice
*These are not hard and fast rules. These are just some of the easier silhouettes for this body shape to work with. If you have an hourglass figure but find that one style does not suit your proportions, don't give up! Learning about what works for your particular style essence and shape is key and your style journey will be a life-long process of honing what works best for you.
Bottoms for Hourglass Body Shape
The most flattering bottoms for hourglass body shapes are those that create curves and give the appearance of a defined waistline.
But, there is also a balance to be had for showing off your curves and having a professional outfit. This is all about strategically emphasizing elements to your outfit, while not losing your shape.
Jeans for hourglass body shape
Don't be afraid to go for a higher-waisted denim or pant style. This rise creates the most proportionate outfits for your body type.
If you're going with a mid-rise, make sure that they are fitted through the hips, so your look isn't bottom-heavy.
Keep in mind that if you have wide hips, low-rise pants will accentuate this area and make them look wider than they are.
Best Jean Styles for Hourglass Shape
Generally, I recommend a high-rise for all of these pants as a wardrobe starting point. I also recommend generally avoiding overly cropped jeans as they can shorten your vertical line and can make you have a more stout appearance.
Slim fit, high- rise jean
Skinny jean
Wide-leg jean (fitted through hips)
Flared jeans
Boot-cut jeans
Straight-leg jeans (hem should hit the floor)
Trousers for Hourglass Body Shape
Trousers are typically easy to find for the hourglass body shape because your curves really help fill them out.
You will want to again opt for high or mid-rise trousers as opposed to a low-rise. Not only will they be more professional looking but they will also lengthen your body.
If you're looking for the more professional option, I recommend trousers with a straight leg and hem that hits right at or just below your anklebone. This will be flattering on hourglass body shapes because it lengthens the appearance of their legs while not overemphasizing their S-shape bodies. You could also try slim-fit trousers, just make sure to pair them with a more modest top.
Avoid any pocket details around your hips, especially seamed or diagonal pockets that can have a tendency to flap open when you move or sit down.
Pleats and darts can also add too much volume around your hips so they should generally be avoided as well. Especially if you are new to learning about your body type.
For trousers, it is best if they are not overly baggy and do not have an overwhelming amount of volume.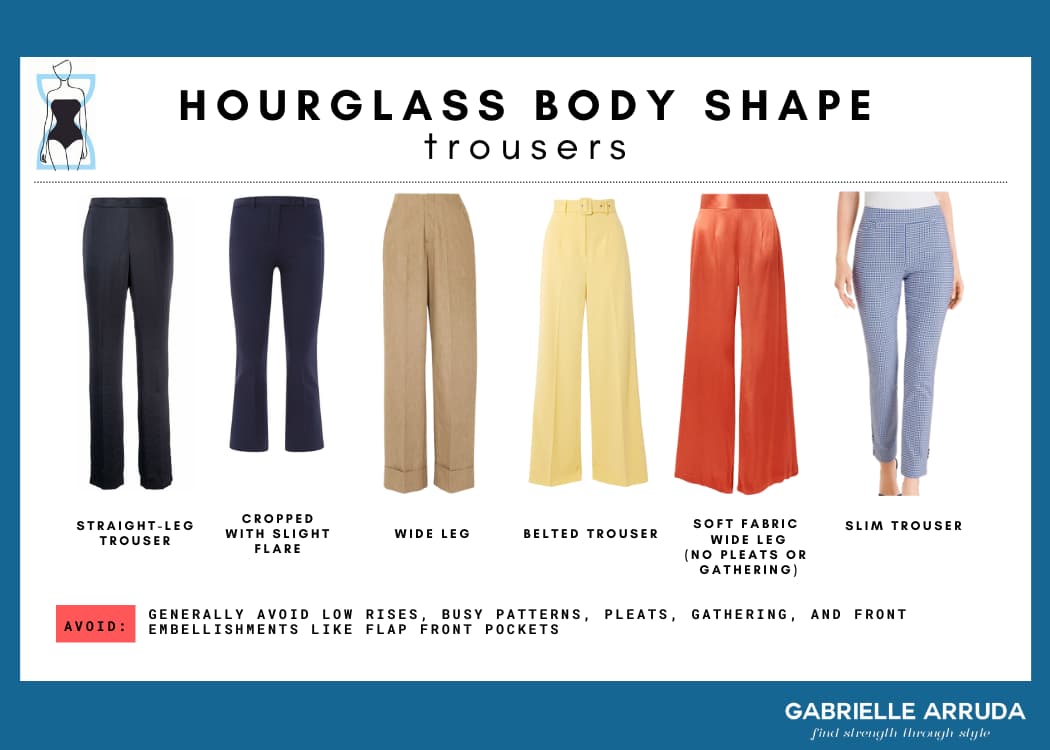 Best Trousers Styles for Hourglass Shape
Straight-leg trousers
Cropped trouser: For this style opt for a more vintage silhouette. The hem should hit about 3 in above your ankle, and a slight flare can help exude a vintage essence.
Wide leg trouser
Soft fabric wide leg: For this silhouette we want to avoid pleats or gathering, but a nice wide leg trouser in a flowy fabric can be very comfortable and accentuate hips and length. Avoid prints for this silhouette.
Belted waist trouser
Slim trouser
Avoid paperbag silhouettes (usually) because your waist can get lost in the extra fabric and the loose fit around your hips tends to not work well. Mom jeans and 80's style jeans have this problem too.
Remember that all of these style suggestions are general guidelines and starting points for building your hourglass wardrobe. Master the basics and then you can continue to expand what types of clothes you can wear and how to play with the emphasis of an outfit.
Skirts for the Hourglass Body Shape
Skirts are a great way to show off your hourglass shape perfection. You want to do what you can to elongate the body and create more curves, which is why I recommend skirts that highlight and define your waist.
You want to avoid skirts that are boxy, mini skirts, and anything that is overly stiff. These styles will all create an unbalanced outfit and can disrupt the curved lines of your body.
Pencil skirts are a classic skirt silhouette for the hourglass body shape because they highlights your curves, defines your waist, and work with the S shape of your body. For the most flattering proportions, I would opt for a skirt hem that is right above or at the knee line. This will create length and avoid your hips from creating a purely horizontal line.
Once again, a high-waisted skirt will be the easiest rise for you to start with.
When you're just starting your wardrobe avoid skirts that are too straight, and opt for ones that follow the natural curves of your body (pencil, tapered etc).
While peplum tops work for the hourglass, I personally find peplum skirts to emphasize the hip-width too much, and generally, I recommend avoiding them. But, try one on in person if you think this skirt works for your personal style.
Having trouble pinpointing your personal style? I've developed an easy 8 step system with a style quiz to help you do just that.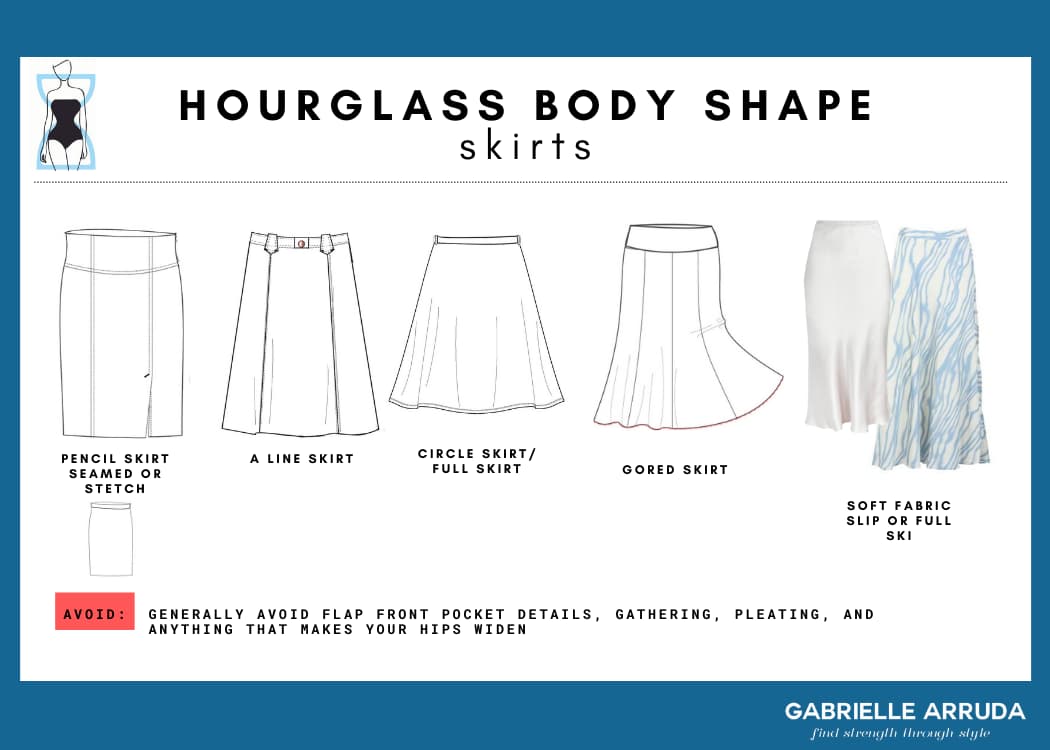 Best Skirt Silhouettes for the Hourglass Body Shape
Pencil skirt
A-line skirt or paneled skirt
Soft fabric skirt: Avoid gathered skirts as they create too much volume along the waist. A slip skirt or soft fabric a-line skirt is a great option.
Circle Skirt or Full Skirt: When I say full I don't mean volume, I mean general shape. Avoid pleating and gathering in this style. You don't want a lot of visual volume in your lower half.
Gored skirt (be careful with the proportions of this one, and make sure it lengthens your body)
Some experts recommend the tulip skirt as well. However, I find this works only on a select style of hourglass shapes (mainly the very tall or a strong vertical line body type). Because of the excess fabric if you are lush or have very curvy legs I feel the tulip skirt makes you appear bigger and "poofier".
Shorts for the Hourglass Body Shape
Now, a lot of curvy people loathe shorts and can't quite seem to find ones that are both comfortable and flattering.
For the hourglass body shape opt for high-rise shorts that hit around the mid-thigh. Anything too short will cut off your vertical line and overly emphasize those hips.
Make sure the shorts have a fitted waist (either through stretch or through seams).
Try a french tuck or full tuck so you don't lose your waist. Don't know how to do a french tuck or even what it is? I've got you covered with a french tuck video tutorial. It's what all the style gurus use to look casual and sophisticated.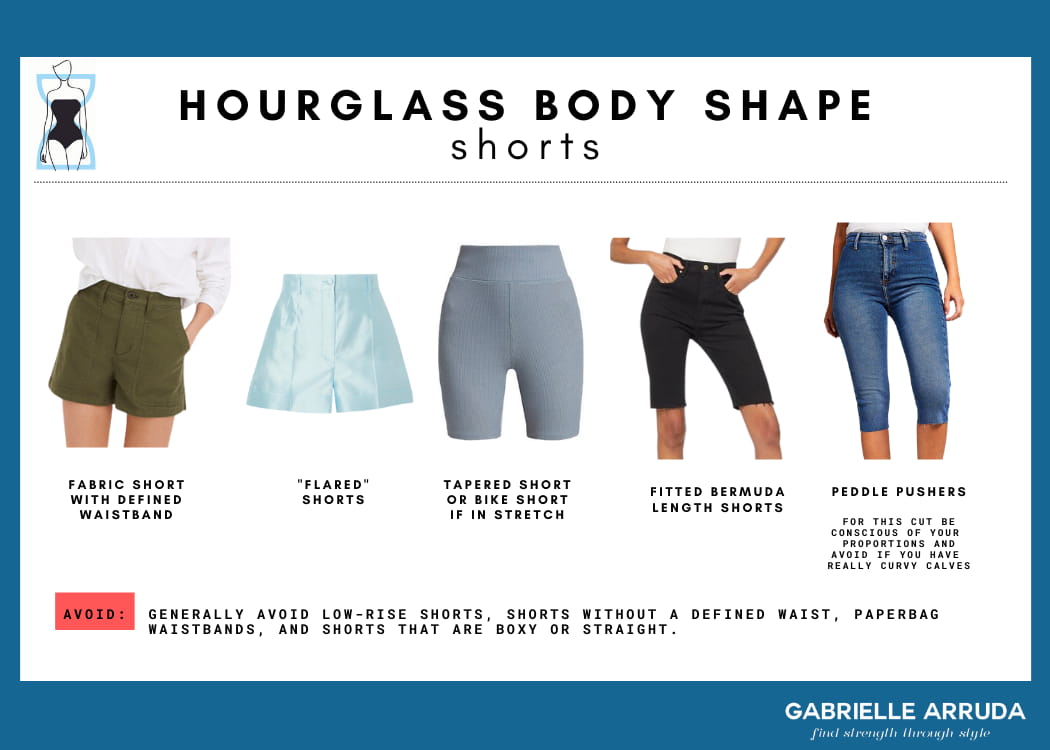 Easiest Short Styles for the Hourglass Body Shape
loose fabric shorts, with defined waistband
flared fabric shorts, that don't involve pleats (think a slight swing of the fabric, like a gradual A-line)
fitted or tapered shorts
fitted bermuda length shorts
peddle pushers
Dress Silhouettes for the Hourglass Body Shape
Dresses are a great way to show off your hourglass shape, and an easy style staple to have in your closet. Because of your curves, you have to be conscious of your style goals for the outfit. Avoid rocking a stretchy or overly fitted dress to the office if you want to be business-casual-appropriate.
Any dress that doesn't define or highlight your waist in some way should be avoided as it will make you appear wide.
You also want to be careful about where the volume falls on your body. Trumpet skirt dresses can add too much bottom volume to your shape and feel unbalanced.
You want dresses that fit your bust very well and also elongate your waist so that your curves are highlighted and your vertical line is balanced.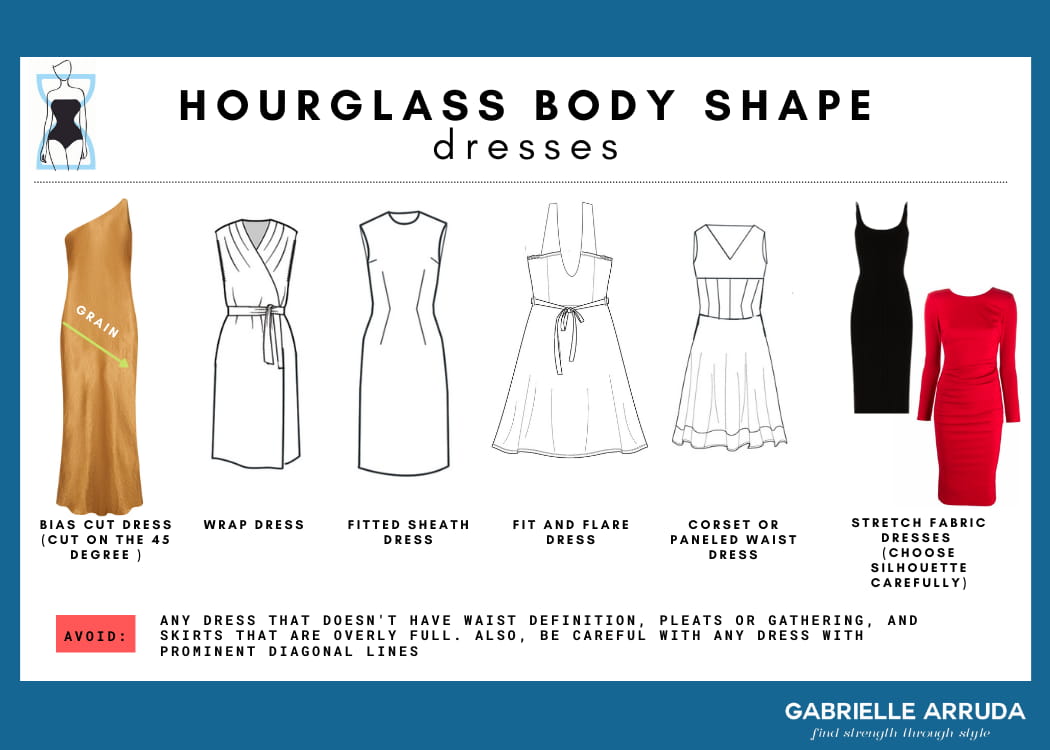 Best Dress Styles for Hourglass Body Shape
Bias cut: bias cut is how the fabric is cut (at a 45 degree angle instead of parallel to the selvage edge of the fabric). This creates fabric that hangs on curves very well.
Wrap dress
Vintage style dresses tend to be very easy for your to pull off (think 50's era, not 60's)
Fitted sheath dress
Fit and flare dress (watch the bottom volume with this one)
Corset or paneled waist
Stretchy dresses (for a sexier look)
Jumpsuits are also a good option for the hourglass shape as long as they have waist definition or a belt can be easily added.
We may earn a commission from you clicking a link in this post. And as an amazon associate, we earn on qualifying purchases. Full affiliate policy, here.
Essential Accessories for the Hourglass Body Shape
Adding accessories and choosing the right details for your outfit can either make or break your look.
Here are some accessory options for the hourglass shape:
Thin belts: Thin to medium height belts will be your best friend. They will help accentuate and define your petite waist.
Pointed stilettos are a great option to help lengthen your vertical line. Nude pumps are especially elongating. Be sure to check out all my visual style examples, here, on how to look taller and slimmer, and all the outfits that made me look shorter.
Statement earrings are a great option for the hourglass shape because they draw the eye upwards to your face. This creates a nice vertical starting point.
Ankle strap shoes can be very flattering but if you have shorter legs, they should be avoided.
Classic sneakers (think keds) are great for an hourglass body if you are taller. If you have very shapely legs you may want to go with a more open sandal or wedge instead.
Heels and wedges: Any shoe that helps you lengthen your vertical line will help balance out your curves (especially when wearing something extremely form-fitting).
Things to Avoid Wearing with an Hourglass Body Shape
Now, as I have said, these are not hard and fast rules and should be taken with the appropriate amount of emphasis. If you are completely new to building your wardrobe for your shape, you may want to avoid these items for now.
Crossbody bags: When they are worn across your chest they create a vertical line that is distracting
Thick belts: Avoid thick belts (anything 1.75 in and higher) as those will make you appear cut up and can lose the curve from the bust to waist and waist to hip.
Too many layers: Layers add bulk and will hide your waist definition
Overly embellished pieces, or pieces with super busy patterns everywhere don't naturally work with your shape. Again these items will distract from your curves and shorten you verticality.
Anything boxy or overly straight: With the exception of a few trouser styles, anything boxy and straight will be like oil and vinegar when paired on your curves.
Baggy styles: It takes a lot of style and proportion knowledge to master baggy clothes with an hourglass shape. So generally, avoid them.
Celebrities with an Hourglass Body Shape
Need some more style inspiration for your hourglass shape? Here are some well-known celebrities examples to take style hints from.
Marilyn Monroe
Cristina Hendricks
Salma Hayek
Raquel Welch
Beyonce
Sofia Loren
Here's a great list of hourglass celebrities if you need even more inspiration.
Hourglass Body Shape Outfits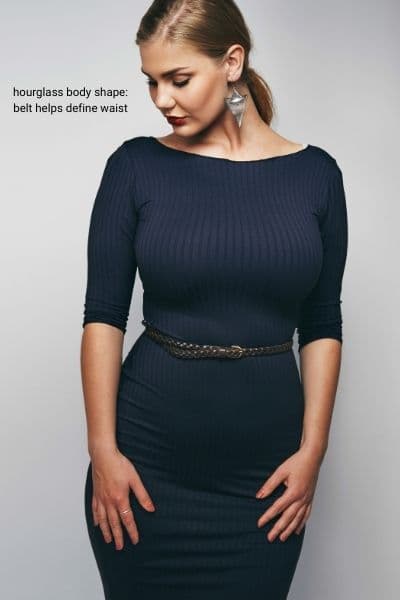 This is a great example of how to use the boat neckline with the hourglass shape. Because her dress is fitted and made of a stretch fabric it balances out the visual width of the boat neck. The thin belt also helps further highlight her waist and gives her outfit a great visual spotlight.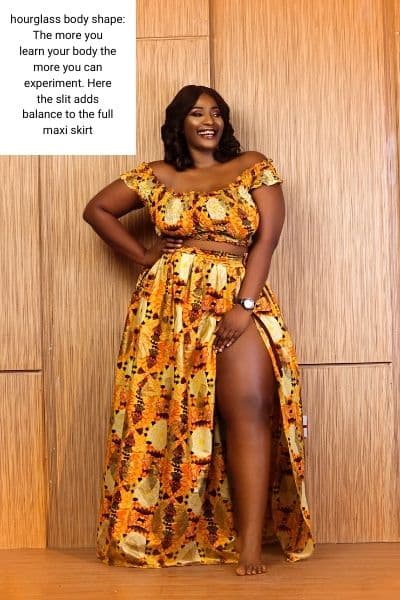 It's important to take this wardrobe guide as just a guide. As you get more acquainted with your body shape and more in-tuned with an outfit's balance you can play around with different silhouettes. The above look is a great example of how she made a full skirt work for the hourglass shape by balancing it out with a high slit that shows some skin and defines her lower half. The crop top and off-the-shoulder line creates curves and keep the balance even throughout the entire look.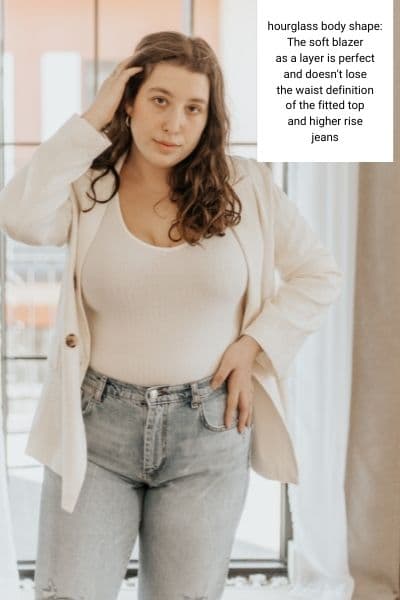 Here's a great example of how to wear a casual outfit for the hourglass shape. The blazer is a soft material and lighter weight so it doesn't broaden her shoulders. And her fitted, tucked-in top and high-rise jeans keep her waist defined and her shape visible.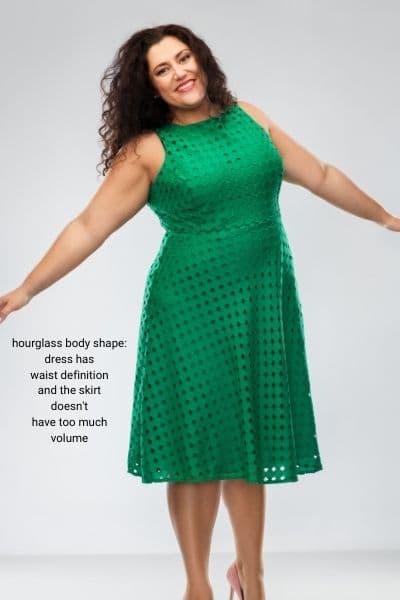 This hourglass outfit is a great example of a dress that has waist definition, and an appropriate amount of volume in the skirt. The color and texture are captivating without overwhelming her curves.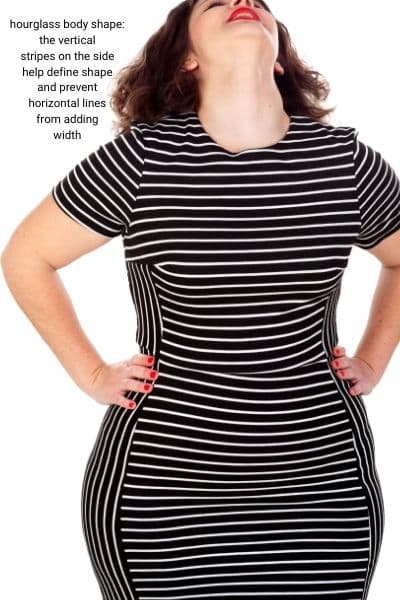 Here's a great example of using print to help define your curves. The vertical panels of stripes help balance out the horizontal lines and keep the curves defined. Want to learn more about breaking fashion rules, check out my guide to ditching traditional fashion suggestions.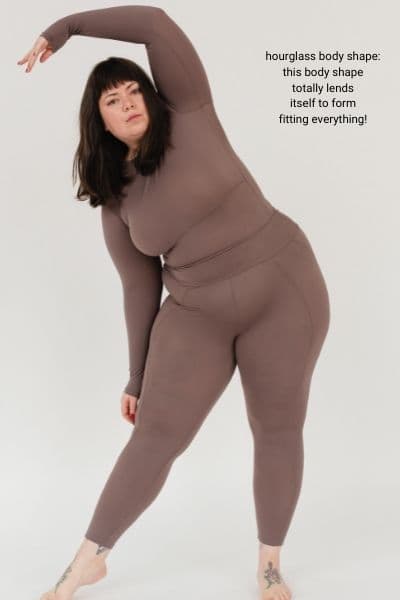 Don't be afraid of your curves. The hourglass body shape was made for form-fitting pieces. Your biggest hurdle in dressing for your body type is getting comfortable with your body image. But if you're already there, this fitted athleisure look is a great option!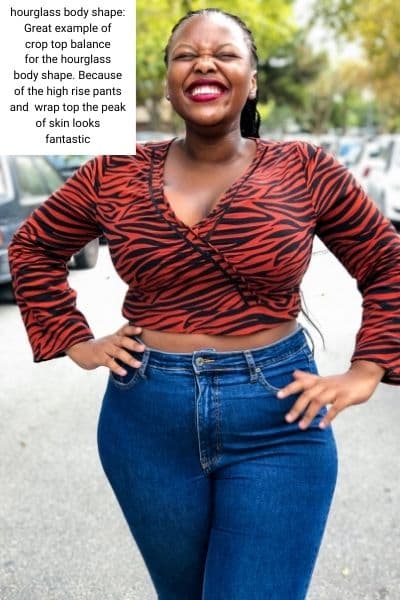 Rules are meant to be broken! This is a great example of a crop top outfit for the hourglass body shape. The fitted wrap top and the high-rise jean provides enough body definition and allows this outfit to shine.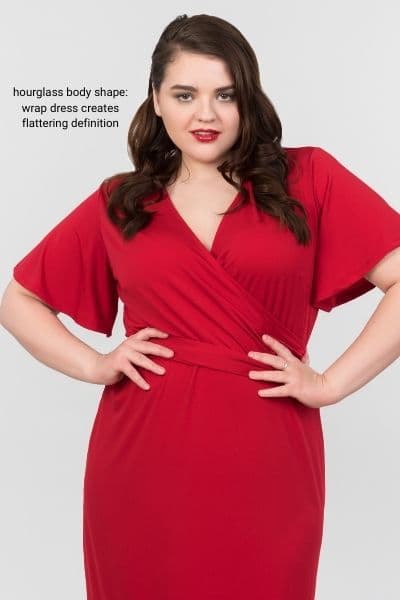 Wrap dresses should be a staple in your wardrobe! They are so stylish and can be dressed up for a date or more polished for work. In this outfit, I would suggest a more fitted sleeve for most hourglass shapes but dressing for your unique body is key. Her arms are still defined and the sleeves aren't overpowering her.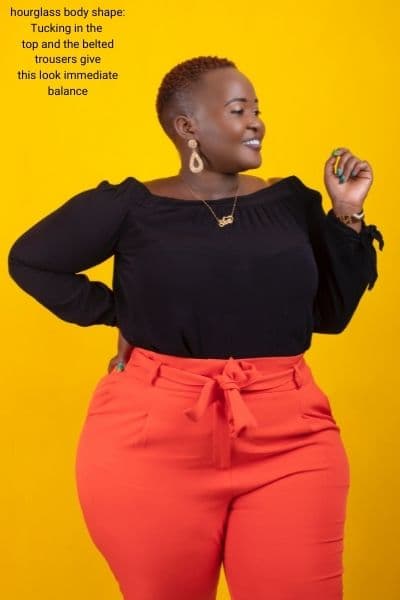 The tucked-in top and belted trousers create waist definition and balance in this hourglass figure outfit. You'll notice how the black blouse is more slimming than the coral trousers. So if you want to try an outfit like this, you could switch the colors and do a darker color on the bottom for a more elongated look. But, again fashion is personal, so find your own voice!
Here are some brands/companies that offer great options for the hourglass shape

An hourglass body shape is a beautiful, feminine shape. It's one of the most sought-after body types out there. So while you may be fighting with your curves, remember that others find them sexy and beautiful! (and some spend hours at the gym trying to get a body like yours)
If you love the idea of building a wardrobe for your shape, but just don't know how to get your closet in gear, check out my Craft Your Perfect Closet Playbook. A step-by-step guide on cleaning out your closet, and building your dream wardrobe that compliments your lifestyle, without buying everything new.
Now, go be a curvy goddess!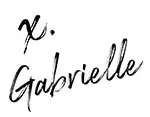 As you build your hourglass wardrobe you might need a little refresher, so pin the below image so you can access this post later!