Whether you are embracing your pear-shaped body with open arms or struggling to accept your body type, the fact is you need a wardrobe that fits your style AND your natural silhouette.
Learning about your body shape is essential to your style evolution. It's a critical step to growing your fashion instincts and honing a personal style you feel good in. Finding the silhouettes that make you confident, learning how your body shape works with new fashion trends, and being able to tweak styles to look more flattering are foundational elements to body shape wardrobe building.
So, let's begin with a comprehensive guide to building a wardrobe for the pear shape body type. Let's get rid of those items that make you look (and feel) bad, and fill your wardrobe with pieces you shine in.
What is the Pear Body Shape?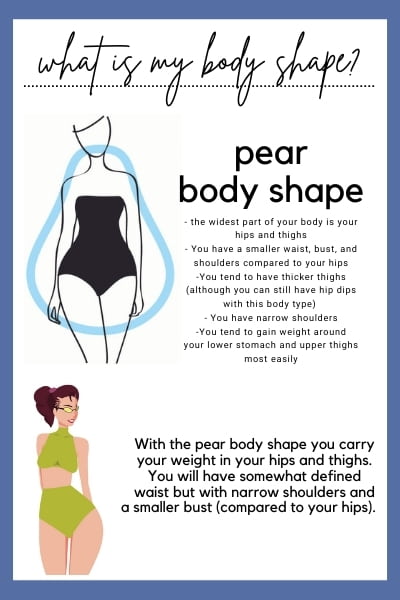 The pear body type is characterized by a high waist, wider hips, and a narrower bust and shoulder line. It is the opposite of the apple or inverted triangle body shape and carries most of its weight through the stomach and hip line.
Not sure you have a pear body shape? I have an easy way to determine your body shape in under 5 minutes.
The pear body shape is the most common body type, which means there is a lot of shopping options for you, but you may still run into problems finding bottoms that fit you properly depending on your specific measurements.
Characteristics of the Pear Body
The pear body shape is characterized by a high waist, narrow shoulders, and wider hips. The weight distribution of this type of figure means that the widest part of your physique will be in your stomach area or hip line rather than around the bust or shoulders.
Because of where you carry your weight, your biggest style hurdle will be finding bottom pieces that fit you and that you feel good in.
Remember when assessing your body shape you are looking at your own proportions and comparing them to each other. It is possible to be pear-shaped and be very fit, and it is possible to be pear-shaped and be very curvy. It all depends on how you carry your weight, your genetics, and how each body part relates to the other.
Different Pear Body Types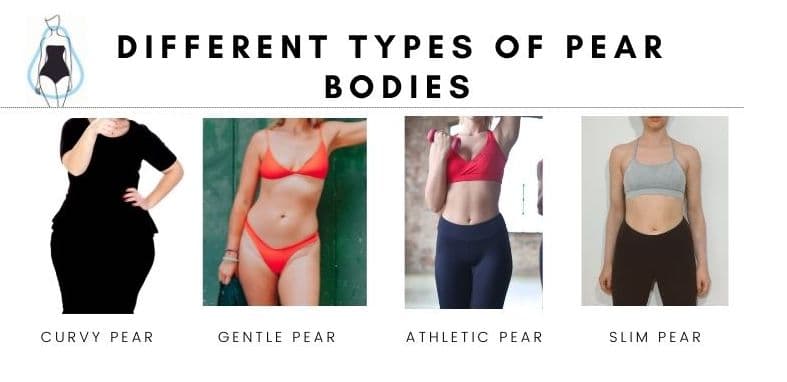 The widest part of your body is your hips and thighs
You have a smaller waist, bust, and shoulders in comparison to your hips
Your waist will tend to be wider than your bust. Pear Shapes usually don't have overly prominent bustlines.
You tend to have thicker thighs (although you can have hip dips with this body type depending on your muscular structure)
Your waist still manages to be defined naturally because your hips are prominent.
You have narrower shoulders in comparison to your hips
You can (but not always) have a fuller butt.
You tend to gain weight around your lower stomach or your upper thighs.
If you happen to be in the slim pear category, your style goals may be more about elongating your body than minimizing your hips.
Style Goals with a Pear Shape
If you are a pear-shaped woman, the goal is to create balance by adding more emphasis to your top half and de-emphasizing your lower half to create a more balanced silhouette.
This means creating the illusion of height with footwear and choosing clothing that elongates your legs but still has enough volume at the top for balance.
A common mistake pear-shaped women make with style is adding too much emphasis on their lower half. This creates the illusion of more weight at your lower half and can create a look that's too bottom-heavy.
What to Wear with a Pear Body Shape
We will want to focus on the upper body, defining your waist and elongating our vertical line. Some easy ways to do this is:
Structured shoulders can help broaden your top half and balance out your proportions
A great fitting bra that helps further define your waist and bustline. If you have trouble finding your bra size, this bra calculator is the best!
Opt for prints and colors on your top half to draw more emphasis
Avoid boxy silhouettes that hide your waist or hug only your hip area
Balance your proportions by adding a belt that is closer to your natural waistline
Choose tops with volume or sleeves for more balance
Wear dresses and skirts at knee length
Shorter hemlines (not mini-skirts) can help elongate the line of our legs. However, if you have an athletic pear shape then it might be best to stay away from shorter hemlines.
Tops with fuller sleeves can help balance out your proportions
Shoes that elongate the leg also help balance your vertical line and are all around flattering.
Darker shades on the bottom half will have a slimming and elongating effect.
Jackets are a great way to add some visual weight to your upper half, and we will go over which silhouettes are best so you don't lose that waist definition.
NOTE: Every body is unique and beautiful so take these general style guidelines as a starting point. You may find you love to highlight your curvy hips and dressing for what makes you feel confident and good is most important.
What Should You Avoid Wearing with a Pear-Shaped Body
Skinny jeans and extremely tapered pants can overly accentuate your hip area. Either accept this and embrace your prominent hips or make sure you balance your hips out with a top that truly emphasized your waist, shoulders,and bust.
Avoid embellishments and prominent pocket details that will draw the eye to your hips
Lighter color bottoms and pastels on your lower half can make your hips look wider. As will printed bottoms.
Short shorts are also going to draw attention to the your thighs width, especially if they are skin tight.
Body con dresses can feel especially out of balance. You'll need a really great push up bra to balance it out or a choose a dress silhouette that works more seamlessly with the pear body type.
Round toe shoes tend to shorten your vertical line and can make your lower half seem more stout than it is.
Following the Natural Silhouette of Your Body
When you look at a pear-shaped woman, the hips and thighs are fuller than other body types.
This can be very challenging when it comes to building an outfit that looks balanced because most clothes will tend to draw attention to your lower half due to its size. You should always aim to be balanced so we want our top half or shoulders to be at the forefront of our style goals.
It is important to have a good understanding of what silhouette will work best with your body type so you can dress accordingly and accentuate natural curves as opposed to hiding them or drawing attention elsewhere. Here are some tips for the pear body shape:
Pear Shape Body "Rules"
Add layering pieces like jackets to add some visual weight to your upper half
Focus wardrobe details on the top half of their body. This most likely means that your coolest and most interesting pieces will be tops, jackets, and dresses with details on the top half.
Have fun with sleeves! Your body type works well with puff sleeves, strong shoulders, and dramatic sleeves in general. This opens up a lot of style options and fun ways to style new trends.
A well-fitting bra is key and a bit of padding (if you're comfortable with this emphasis) is a great way to balance out your lower half.
Strategic lines and accessories to elongate your body
Invest in dresses. As a pear shape body type you may struggle with bottoms that fit both your hips and waist, so dresses will be a great wardrobe essential for you.
The Pear Shape Body Type: Building a Wardrobe
Let's get into specifics about what silhouettes and pieces should be in your pear-shaped wardrobe.
Necklines for the Pear Shape Body Type
There's a lot of options for the neckline on your garments. The important thing is to avoid anything that draws more attention to the narrowness of your shoulders and bust. Generally, avoid narrow collars or thin straps that disrupt the horizontal line we are attempting to create in your shoulder area.
A cowl neckline is a great option if you want to draw attention up and elongate your body. This looks especially good on petite pear-shaped women with shorter necks because it will create the illusion of length in that area. Boat necks are also a great option as they draw more emphasis on widening your shoulders.
Be careful with v-necks as they can create a visual line to your hips. Scoop necks and v-necks can also have gaping along your bust, which thwarts your attempts at highlighting these areas.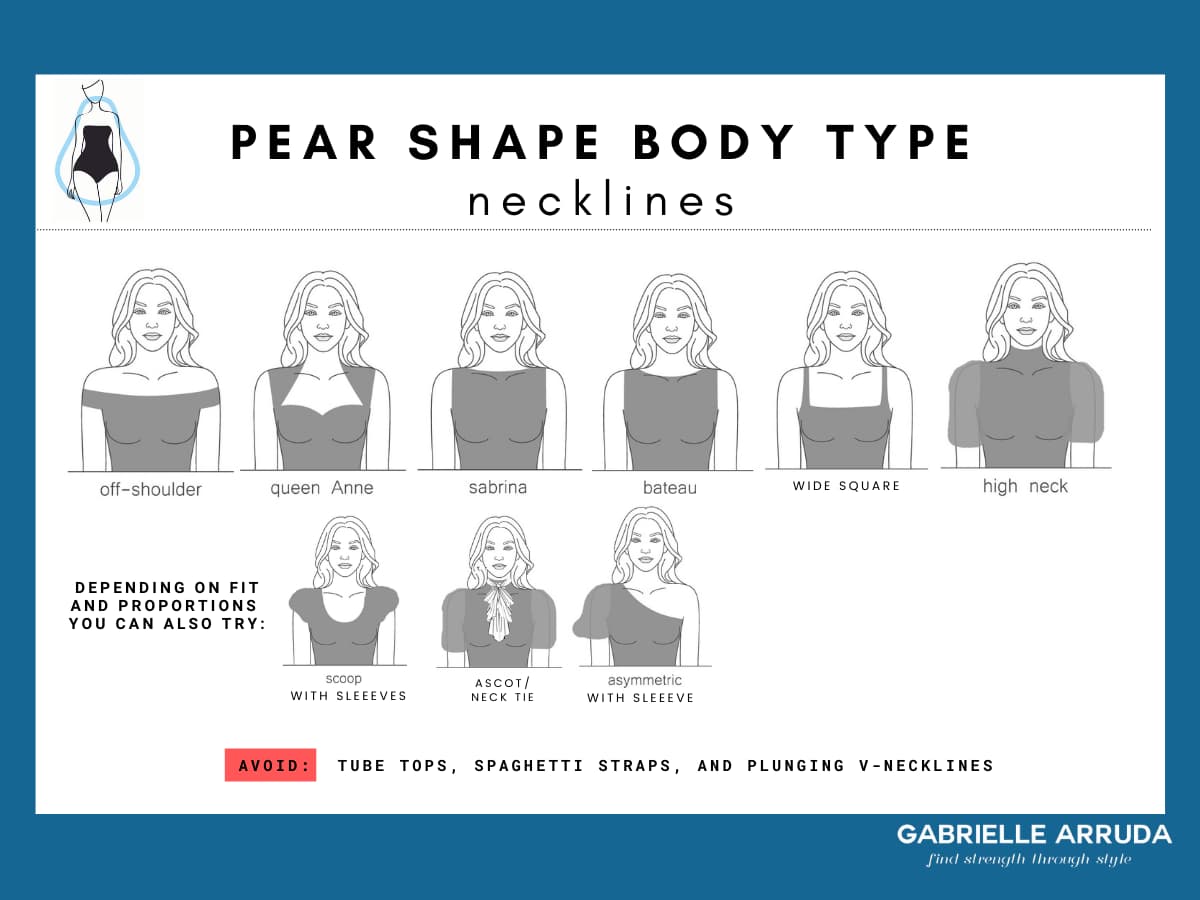 Best Necklines for the Pear Body Type
Cowl neckline: This is a great option for the pear shape body type because it widens your neck and draws attention to your upper half. It can also elongate a shorter torso, which many petite women have in this frame.
Boat Neckline: This is a great option for the pear shape body type because it widens your neck and draws attention to your upper half.
Off the Shoulder necklines can help broaden your shoulders
Queen Anne: This is a great option for the pear shape body type so long as you are not too petite (as it can shorten you). If you use the queen anne neckline strategically it can help your bust prominence, but definitely invest in a padded bra.
Sabrina: This neckline is so flattering and a great option for the pear shape.
Bateau: Similar to the sabrina neckline but the bateau has a bit more scoop to it.
Wide Square neckline: If you go too narrow with the square shape it can make your bust seem more petite, the opposite of our goals.
Turtleneck: This is a great option for petite pear body types because it will draw the eye up and elongate your neck. You can opt for a chunkier knit turtleneck as well to add some visual weight to your neck and shoulders. I would opt for turtlenecks with sleeves or a very broad sleeveless style.
Tie-neck blouses. Embelishments and details along the neckline are great for this body type.
Necklines to avoid: Spaghetti straps, tube tops, and plunging necklines all tend to narrow your upper half and make your lower half appear even larger, which is generally not our goal.
Sleeves that Work Best for Pear-Shaped Body
Sleeves are such a fun style element to this female body type. You get to have all the fun with structured, voluminous (upper) sleeves.
Voluminous sleeves like puff sleeves and flutter sleeves are great, just make sure you don't have volume in the lower half of your sleeve. Long-sleeve Bell sleeves, for example, tend to add volume exactly at your hip line, which is what we want to avoid.
Also, make sure your sleeves have structure at the shoulder seam. Slouchy sleeves or soft sleeves will not add the prominence we are aiming for.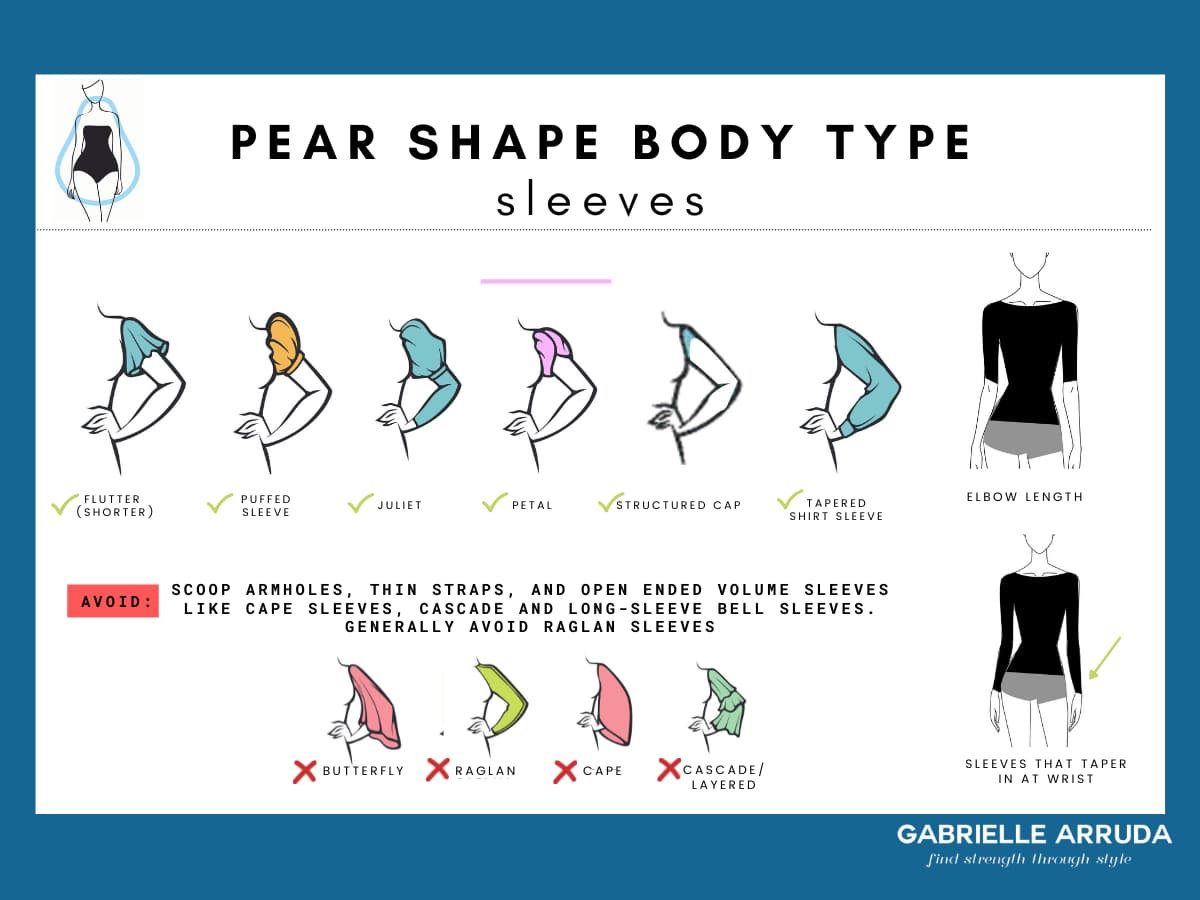 Best Sleeve Shapes for the Pear Shape Type
Puff Sleeve: This is a great option for petite pear body types as it helps to broaden the shoulder and create that balance.
Strong Shoulders/ Padded Shoulders
Cap Sleeve
Juliet Sleeve
Petal Sleeve
Flutter Sleeve (short length)
Elbow length: This is another good option for pear shaped body types as it keeps the emphasis on your upper half.
Sleeves that taper at wrist or above ( no open volume sleeves)
Sleeves to avoid: Thin straps or spaghetti strap tops will accentuate the narrowness of your shoulders. You should also avoid cape sleeves, cascade sleeves, and long-sleeve bell sleeves that have open-ended volume to them. Raglan sleeves should also be avoided as that diagonal seam can narrow your shoulders.
Shirts, Tops, and Knits for the Pear Body Type
Shirts and tops are going to be your strong suit for the pear body shape. You can go for shoulder details, interesting sleeves, and embellishments to add interest and focus to your upper half.
You will generally want more fitted shirts through the bodice as they will help define your waist and highlight your curves without overemphasizing your hips.
Opt for embellishments or volume above your neck and shoulders. Think ascot necklines, puffy sleeves, or interesting pockets on your bust. Avoid peplums, ruffles, and any cascading or open volume below your waist as that will make your hips appear even larger.
Paying attention to the length of your shirt, or where the hem hits on your body will be your biggest focus when picking out shirts for your pear body wardrobe. The lowest your hemline should be is directly hitting the middle of your hips. You can also opt for crop tops that hit just above your waist and that don't hug your body, as well.
Long shirts that go to the bottom of your butt or lower hip area should always be avoided.
You can layer shirts to create more volume on top, just be careful of your proportions and where each hem falls on your body. You need one shorter-length piece for the easiest layering.
Tucking in your tops is also an easy way to get some waist definition and add some volume to your top half. I love the french tuck, for this.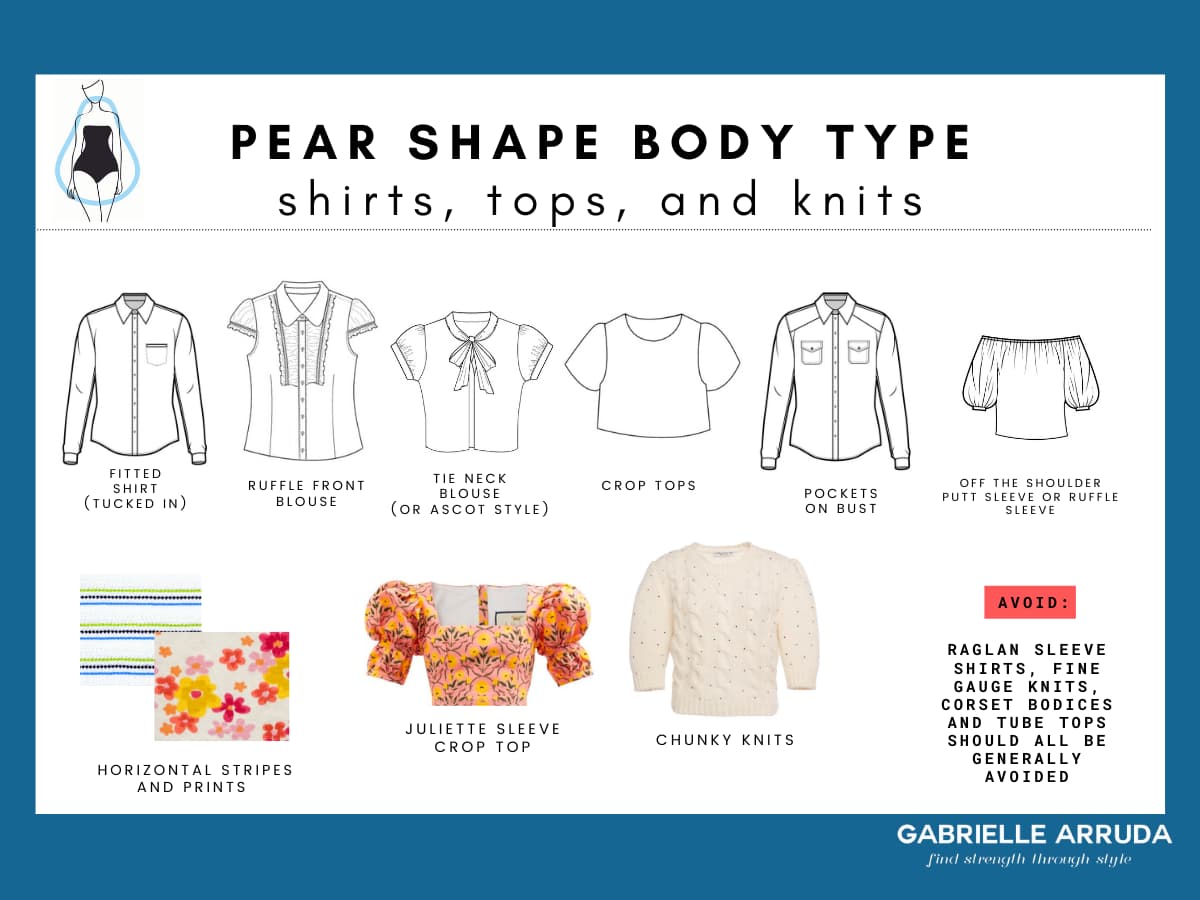 Best Shirt Silhouettes for the Pear Body:
Button Up shirt: This is a great option for the pear body type because it has structure which will balance your bust. Opt for more fitted shirts with less volume in the lower half of the shirt and avoid oversized or loose fits that add visual width to your hips.
Ruffled Front Shirt: This is a good option to add visual weight to your bust area without showing cleavage. Ideally the ruffle should not go down to the hem of the shirt.
Tie-neck blouses: Similar to the ruffle front shirt the ascot or tie neck blouses can add some weight to your upper half. This is a great option for business casual style.
Crop tops: Crop tops that end right at your waist that are not skin tight will help balance out your lower half while keeping your waist defined.
Shirts with bust pockets: If we have any sort of pockets on your tops you need to have them on the bust and not the hips.
Chunkier knit sweaters: Chunky knit sweaters with an emphasis on the shoulders or neckline will do well with the pear shape.
Patterns and Horizontal stripes: Patterns and horizontal stripes emphasize the top half of your body and create an outfit focal point above your hips.
Wrap Tops: Wrap tops can work for the pear shape if the bottom hem is above the hip line and the "v" neck is not too extreme. But I would try this option on in-person so that you can evaluate your look in a full-length mirror first.
Off the shoulder Ruffle/Puff Sleeve: Off the shoulder ruffle or puff sleeves look great on the pear shape.
Juliet Sleeve Crop Top: A very popular silhouette right now that not only gives you some shoulder width but also defines your waistline.
Cable knits: Thicker knits are the most flattering for the pear shape body and they work best if they are shorter than the widest part of your hip. Knits with shoulder details or neck details are great for your body type.
Longer cardigans: If you want a longer cardigan opt for one that hits around your mid thigh to elongate your body. Although you still have to watch your proportions and shoe choices to make sure your vertical line still feels long.
Shirts to avoid with the pear shape: Avoid wearing raglan sleeve tops, tube tops, and any lace-up or corset-style tops. These will all narrow your upper half. Fine gauge knits also tend to minimize your upper half and should generally be replaced with medium to heavy knits.
Jackets for the Pear Body Type
Jackets for the pear body shape should not hit at the widest part of your hips. You want to opt for a more cropped silhouette, around your waistline or just directly below it. Or you can choose to go with a longer silhouette that hits below the widest part of your hips, to even the mid-thigh area.
Jackets should also have a strong shoulder line. Avoid soft fabric jackets that have no structure to their shoulders and are "flowy".
Layering pieces are great for this body type and will not only add some dynamic elements to your outfit but should also help add that visual upper weight you need. Just be conscientious of where that jacket lands on your particular body. For any major splurges try the jacket on in person or make sure they have a good return policy because the fit pictures you see of the jacket are rarely on a pear shape body.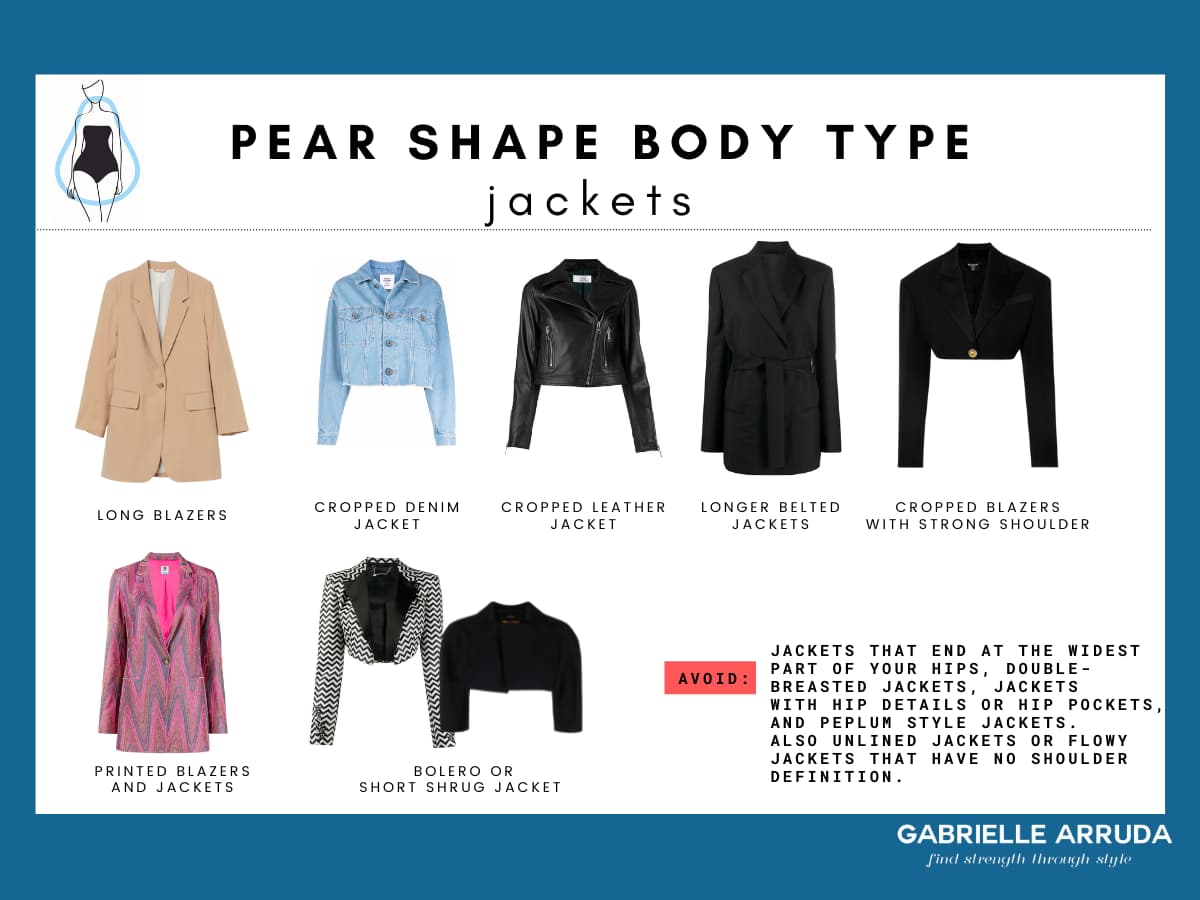 Best Jackets for the Pear Shape Body
Long blazer
Cropped denim jacket
Cropped leather jacket
Belted jacket (watch your hem length for this one and prominent hip pockets!)
Short Bolero or Shrug jackets (with strong shoulders, not in a lightweight knit)
Patterned jackets
Jackets to avoid: I generally recommend avoiding double-breasted jackets because the button detail and fabric overlay usually happen right near your hips. Peplum jackets should also be avoided as they widen your hipline. And definitely jackets with hems that land at the widest part of your hips.
Flowy jackets or unlined jackets with no shoulder definition should also be avoided for the best balance.
Pear Body Type Coats
Coats for the pear-shaped body type should hit below your widest point, just above or below it is fine.
Picking out a coat for any body type can be challenging. They add visual weight to a large portion of your body and need to serve two purposes: to be stylish AND provide warmth.
Once again for the pear-shaped bodies, we need to focus on the hem of the coat, or where that coat ends on your body. Coats that hit right below your butt or mid-thigh will be the easiest coats to style.
You also want to focus on coats that are fitted through the chest and bodice and then gently swing out around the hips. If the coat is boxy or completely straight it will make you look boxy. And if the coat has a lot of volume in the lower half it can overplay your hips and narrow your shoulders in the process.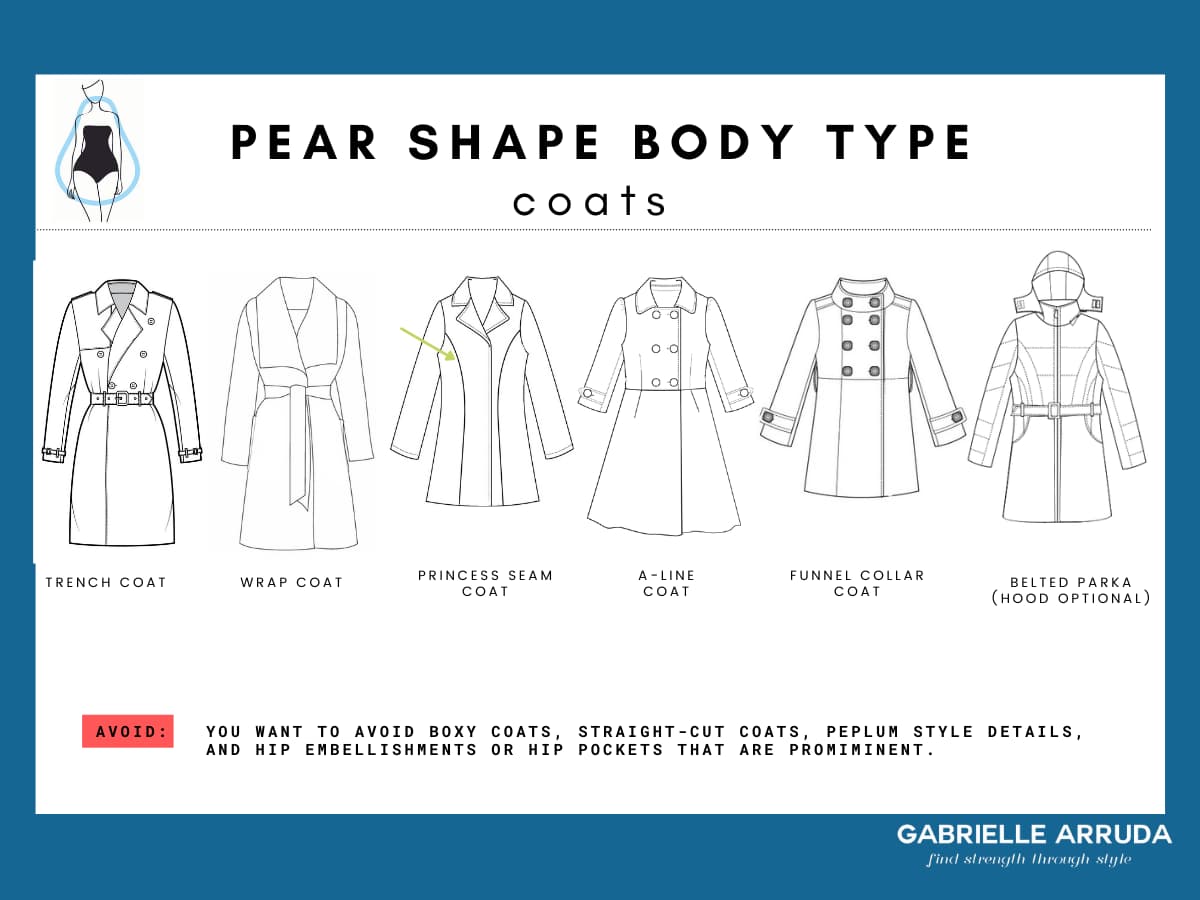 Best Coats for Pear-Shaped Bodies
Trench coats: Mid-thigh ones are best, but if it has a strong shoulder you could try a shin-length one. Also, make sure the detailing on the coat is above your waist, and avoid any large pocket details and embellishments below the belt.
Wrap Coats: Almost all styles of wrap coats work with your body type, just mind the hem of the coat. Also, don't be afraid of a larger collar style.
Princess seam: A structured princess- seam coat will had some definition to your upper half and should gracefully fall over your wider hips.
A-line: An a-line jacket is a great go-to option for the pear body shape. Just make sure their isn't any detailed hip pockets. Also be mindful of the where the buttons end (ideally higher up on the body or above the waist).
Belted parka: A great parka is essential for really cold climates. I recommend one with a belt or fitted waist and that ends around your mid thigh for the most ideal proportions.
Funnel Collar Coat: Just make sure it has structure through the top of the coat (not boxy)
As you may remember I did not recommend double-breasted jackets for the pear-shaped body wardrobe. However, for coats, the double-breasted button placement often starts on the chest/bodice instead of the hips, so in this instance, it works.
Coats to avoid: Avoid peplum-style coats that add too much emphasis on the hips and coats with a lot of hip embellishments or detailed hip pockets. When looking at the balance of interest on the coat, make sure your eye is drawn to the top of the coat, not the bottom.
You should also generally avoid straight-cut and boxy coats as they will tend to hug you around your hips only and appear loose everywhere else (not the most flattering).
Dresses for the Pear-Shaped Body
You'll definitely want to have some dresses in your wardrobe no matter your body type. They create a chic outfit with little effort and make getting dressed a snap.
When choosing a dress for your pear shape, you'll want to be mindful of how the dress hugs your hips, and what it does to your upper half. Opt for embellishments or prints/color that draws your eye upward. Dresses that define the waist also help this shape give the appearance of balanced curves.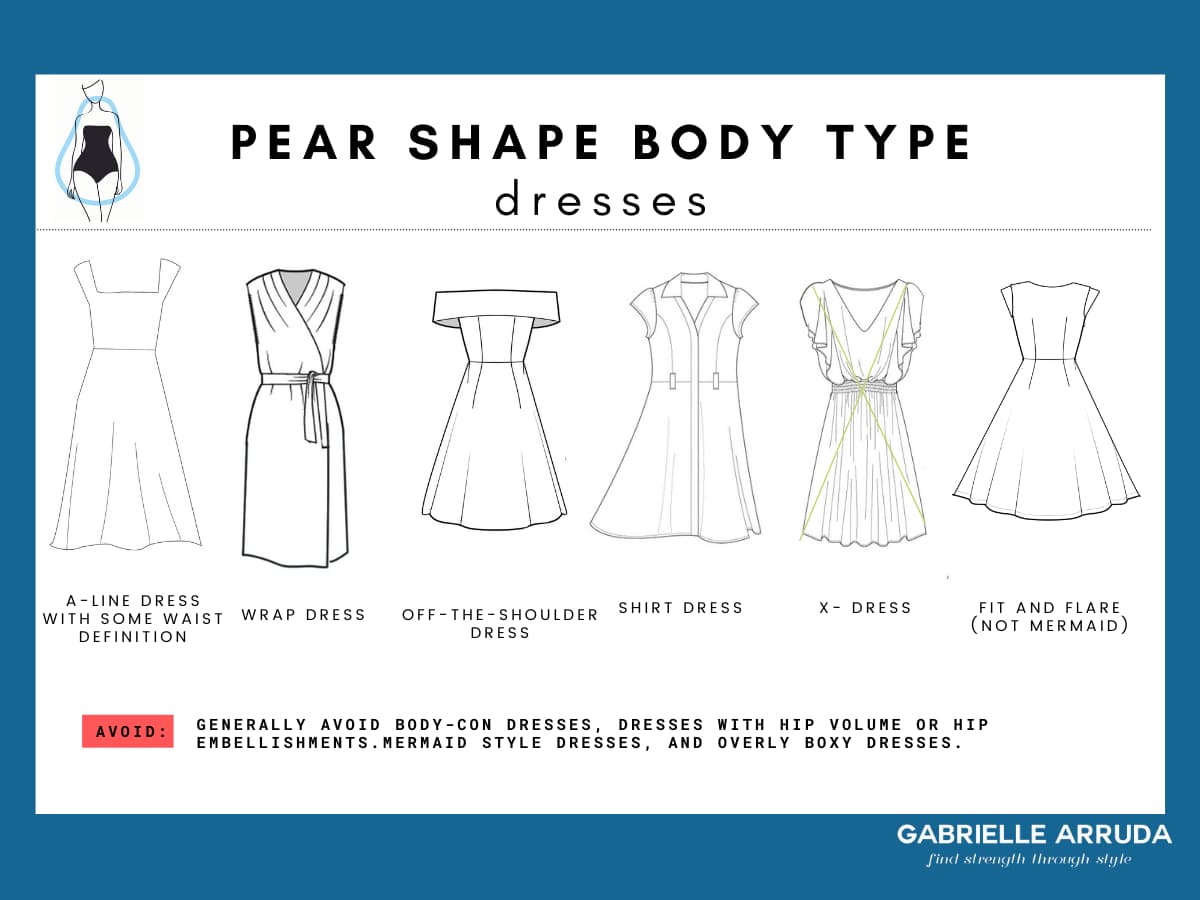 Best Dresses for the Pear Shape
A-Line Dresses: A-line dresses give the illusion of a slimmer waist and narrower hips. These are ideal for pear-shaped body types that want to draw attention away from their lower half.
Wrap Dress: Be careful with how deep the "v" neck is but these are usually really flattering dresses for the pear shape.
Off the shoulder: Off the shoulder is great to make your shoulders wider but still look feminine. For this silhouette make sure the bottom half of the dress doesn't hug your hips too tightly.
Shirt dresses: Just watch the details on the lower half and make sure it doesn't hug your hips too tightly
Fit and Flare: This is a similar silhouette to the A-line dress but it usually has a more defined waist, which is exactly what the pear shape needs. Fit and flare is a generic term, so if you search this dress style and find silhouettes that hug tightly through the hips and then flare out, this is not the type of dress we are referring to in this instance.
X- Shape Dresses: X-shaped dresses are also great for drawing attention away from your hips. They have a more flattering cut and will require less tailoring to make them fit properly on you. They have the same general bones as a fit-and-flare but they have that open sleeve that creates a great horizontal shoulder line.
Avoid: You will want to once again avoid any elaborate embellishments or extra volume placed on your hips. Body-con dresses and mermaid-style dresses should also be eliminated.
You can totally wear dresses that have an A-line skirt or basic circle skirt, just make sure that there isn't too much volume around your hips. Opt for seamed skirts instead of heavy gathering.
Bottoms for the Pear Body Shape
Choosing the right bottoms for the pear shape is key to balancing out your proportions. In this section, we will go over all the skirts, trousers, jeans, and shorts that work best for your wardrobe.
To slim out your lower half I recommend opting for darker bottoms and keeping the colors and prints to your top half.
we may earn a commission from you clicking a link in this post. And as an amazon associate, we earn on qualifying purchases. full affiliate policy, here.
Jeans for the Pear Shape
When choosing jeans you really have to be conscious of your unique proportions and what part of your hips/upper thigh is the widest section. This will dictate if you look best in high or mid-rise.
Most "average" pear shapes work best with a high rise. However, if you are a slim pear or carry your weight higher in your hips you may look better in a mid-rise.
The best jeans for you are ones that release from the hips straight down or gently widen.
You'll want to avoid skinny jeans, super slim fits, and any pleated jeans as they overly emphasize your hips. You'll also want to be aware of any "wear marks" around your hips such as whiskering, fade lines, or crease lines along your hips.
And, as always, avoid those front pockets or hip embellishments.
If you are a more extreme pear shape it may be hard to find jeans because if they fit in the hip/thigh area they may gape in the waist area. If this describes you, try checking the "curvy" styles from brands to allow for your hip-to-waist proportions.
Here are some good brands to try: Paige, NYDJ (especially the Curve 360), these jeans from Everlane, and Madewell's curvy jeans.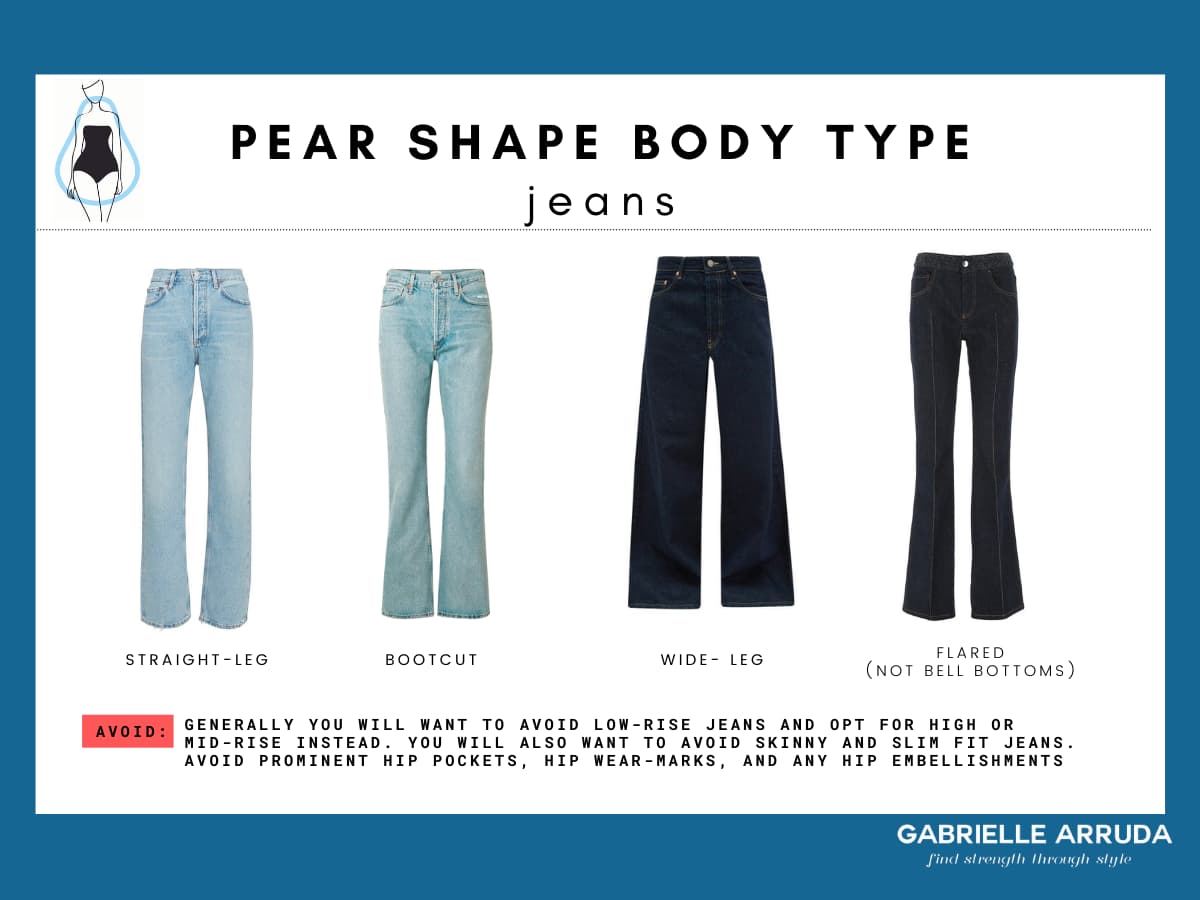 Best Jeans for the Pear Shape
Straight leg
Boot cut
Wide leg
Flare leg : Flares can work just stay away from a super tight thigh fit, and make sure the bottoms aren't bell.
Avoid: You should avoid skinny jeans, slim-fit jeans, and low-rise jeans. Low-rise jeans will draw more attention to the width of your hips and will shorten your vertical line. You'll also want to be cautious when trying cropped jeans as they can make you appear stout.
Trousers for the Pear Body Shape
A lot of the same silhouettes and style tips we mentioned for jeans also apply to your trouser choices.
You want to avoid tapered and skinny fit trousers and opt for silhouettes that release at the hip line.
Pleats and paperbag silhouettes often add more volume to the hips and should be avoided. And sailor-style trousers or front flap pockets won't work.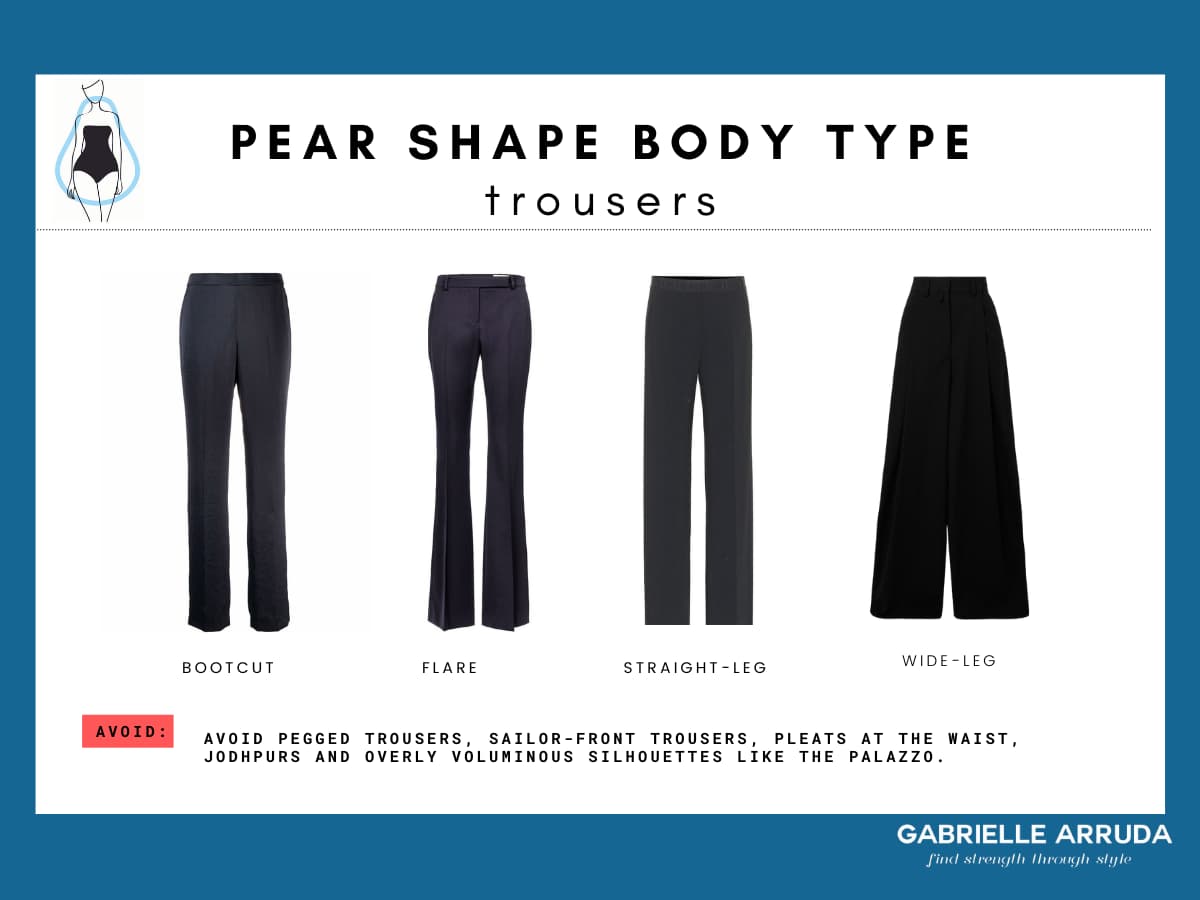 Best Trousers for the Pear-Shaped Body
Straight-leg trouser
Wide-leg trouser
Flare trouser
Bootcut trouser
high or mid-rise
Avoid pegged trousers, sailor-front trousers, pleats at the waist, jodhpurs* and overly voluminous silhouettes like the palazzo.
Skirts for the Pear Body Type
Skirts are a great wardrobe staple for the pear body shape. They elongate the body, have fewer fit problems, and work year-round.
You will want to opt for skirts that hit just above your knee or below the knee (think mid-shin). Mini-skirts will have more horizontal weight to your hips and floor-length skirts can have overwhelming volume/emphasis on your lower half.
Similar to your trouser and jean choices you will want to opt for a mid or high rise and avoid those low-rise options that shorten your body and widen your hips.
Opt for skirts that don't have large pleats or gathering along the waistband, as that will add extra volume around your hips. Paneled skirts, A-line skirts, and (unlined) circle skirts all work for the pear shape because they just graze the hips without adding extra volume.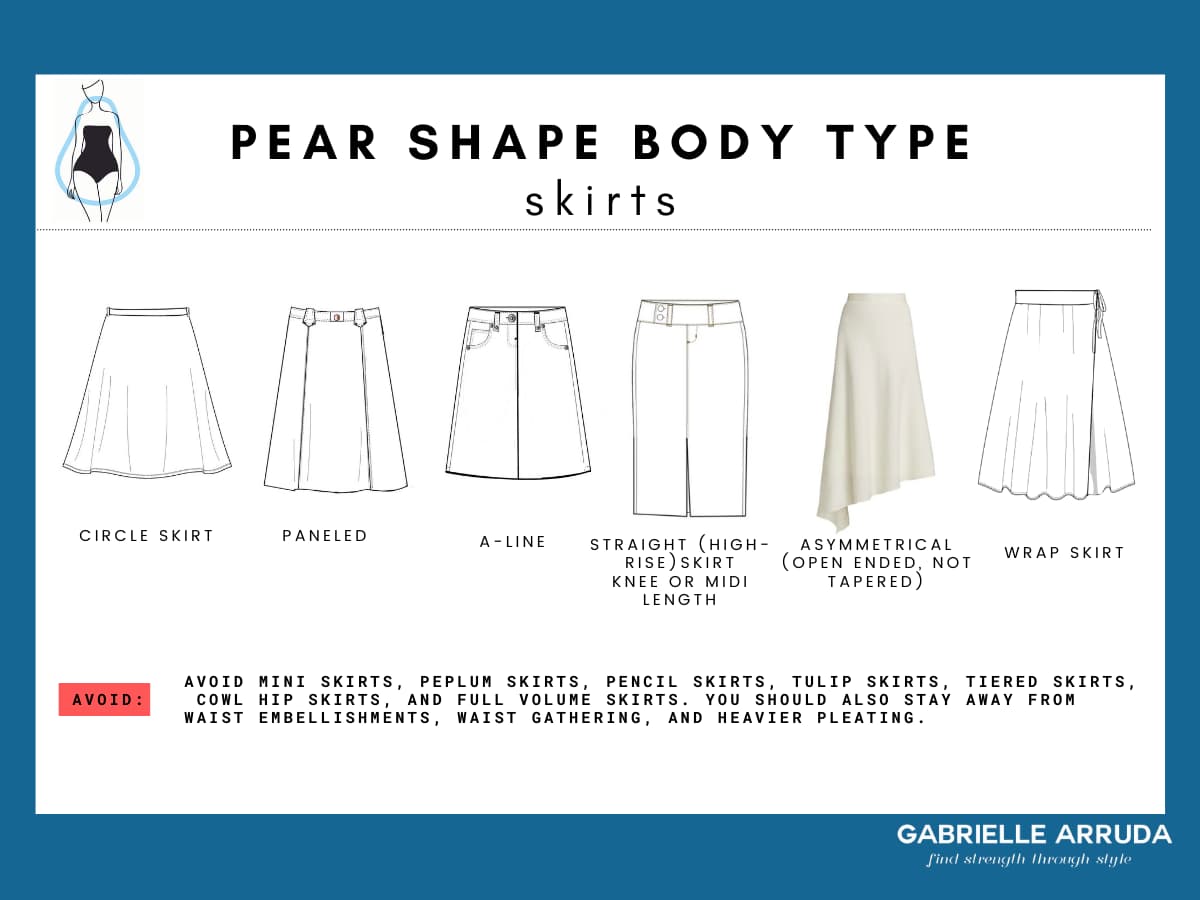 Best Skirts for the Pear Body
A-line
Unlined Circle Skirt (falls naturally straight, not a "poodle style" skirt with petticoat/underskirt)
Paneled Skirt (not tight in hips)
Straight Midi or Knee Length Skirt
Bias skirts can work for pear shapes but they need to be open-ended (not-tapered or fitted) and you need to be careful about how the fabric grips your hips. Asymmetrical bias-cut skirts are an easier choice than the slip skirt style.
Asymmetrical: Just make sure they aren't body-con or pencil silhouette.
Wrap Skirts: Just make sure the drape doesn't have too much volume in your hips and the "tie" or closure is at your waist, not hips.
Avoid mini skirts, peplum skirts, pencil skirts, tulip skirts, tiered skirts, cowl hip skirts, and full volume skirts. You should also stay away from waist embellishments, waist gathering, and heavier pleating.
Shorts and Jumpsuits for the Pear Body Shape
Shorts can be tricky to wear with the pear body shape as you don't want to create any more hip emphasis than necessary. Like always, generally avoid low-rise, prominent hip pockets, and hip embellishments.
You'll want to veer more towards a high-rise short with a slight A-line or flared share. Skintight and peddle-pusher-style shorts won't work. Depending on where you carry your weight you might be able to try a straight Bermuda length short, but I'd advise trying these on in person.
Waist ties or waist embellishments help balance out your outfits, so look for shorts with these details. Tailoring details, as opposed to flowy shorts, will also help. Just make sure you have some room through the thighs of the shorts, you don't want them to be skin-tight.
When it comes to jumpsuits you want to avoid anything that tapers in through the leg or thigh. It's best to opt for a romper or jumpsuit that has waist definition, shoulder or neckline emphasis, and a straight leg shape. All-over patterns on jumpsuits will typically be too busy on the pear body shape. However, vertical stripes or bright colors can work if they have a lot of waist definition.
Here are some examples:
Accessories for the Pear Shape
Accessories are the finishing touch to any style and any body shape. For the pear-shaped body, you will want to focus on accessories for the upper half of your body. Statement earrings, scarves, hats, and necklaces (that hit above the bust) are all great options. You will want to avoid bags that land on your hips and shoes with ankle straps that can shorten your legs.
Shoes with a little height can help elongate your legs, just be careful of platforms as they can throw off the balance of your look.
Belts can be hit or miss with the pear shape. While you certainly want waist definition, some belts add too much emphasis to the middle region of your body. Start with thin belts or tie belts around your waist for the easiest integration.
Scarves, hats, and sunglasses are also great options!
Avoid chunky bracelets that end up adding visual weight to your hip area when your arms are down.
Here are some stylish accessories to try:
Celebrities with Pear-Shaped Bodies
The pear-shaped body is the most common body type, so you are in good company!
Here are some celebrities with pear-shaped bodies:
Kim Kardashian (as much as she tries to convince the world she's an hourglass, she is in fact pear-shaped)
Beyonce
JLo
Rihanna
Rachel Bilson (slim pear)
Kristin Davis
Outfits and Style Tips for the Pear Body Shape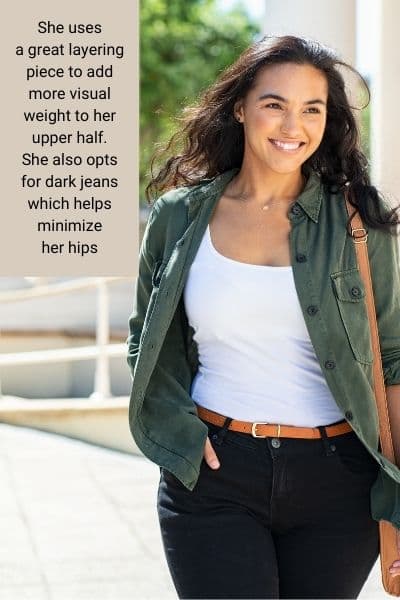 This outfit is a great example of the pear body shape being properly balanced. She carries most of her weight in her hips but the higher-rise, dark jeans help slim out her lower half. Paired with a fitted tank that defines her waist and a jacket/layering piece that adds some visual weight to her shoulder, it's a winning combination. So when in doubt, add that layering piece!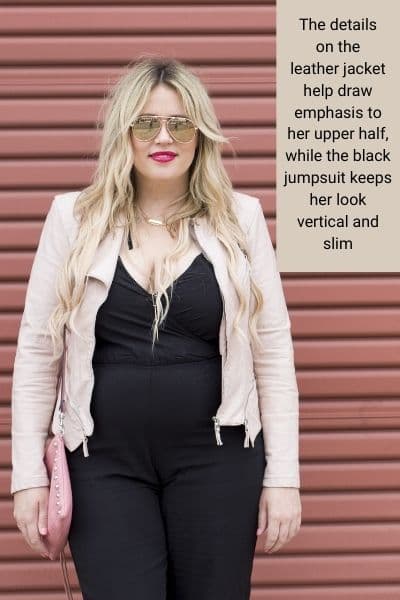 This is a great example of wearing a jumpsuit with a pear body shape. The black color is slimming, the pants are fitted in the waist but are not tapered at the ankle, and overall it elongates her. The jacket is a fun pastel color that draws your eye upwards, and it has embellishments that not only broaden her shoulders but help focus the outfit. The sunglasses and lipstick color are another great technique for drawing the visual eye upward.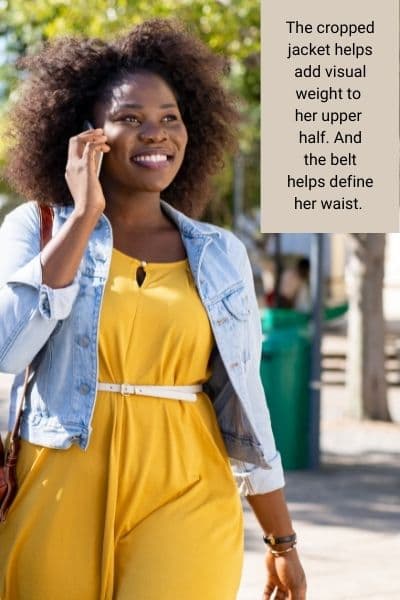 This colorful dress is a breath of sunshine and a great look for the pear body shape. She's defined her waist using a skinny belt and added a cropped denim jacket to help add some visual weight to her shoulders and upper half. While she has a colorful dress that could over-emphasize her hips, she's managed to find a flattering way to balance out the large block of color. Once you know your body shape and know how to highlight it you will find you can "break" more fashion guidelines.
I have a whole article on which fashion rules you should ditch ASAP, here.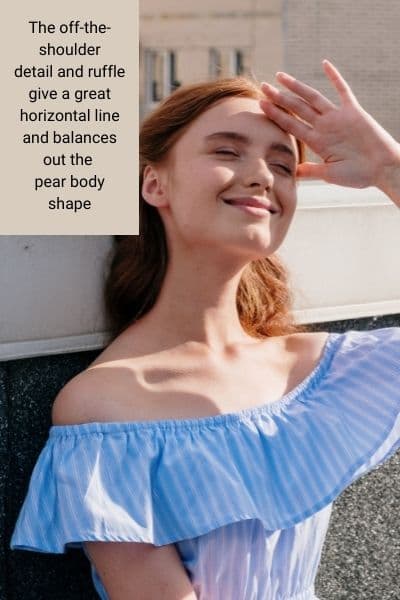 This is a great neckline for my petite or slim pears. It broadens your shoulder line and defines your waist. It's also an easy warm-weather neckline and great for blouses or dresses.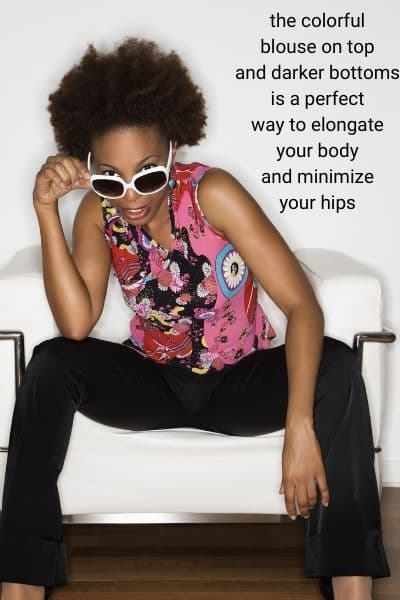 Are you integrating print into your look but it makes you look bottom-heavy? Adding a slimming black bottom (like the trousers above) will be your go-to style hack. If you want to see all my successes and failures with elongating and slimming out my outfits, I have 19 style tips to help you do just that.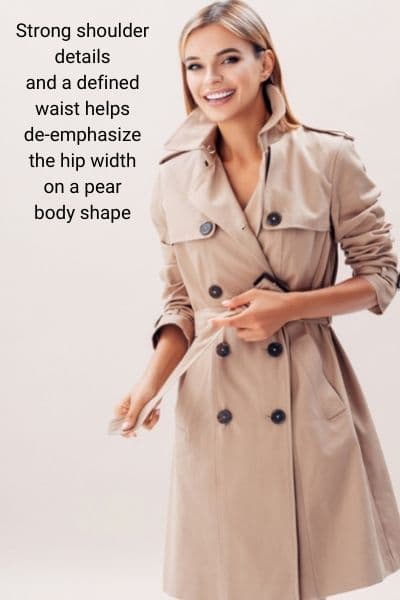 The cool part about dressing for your body type is that it will be increasingly hard to tell what body type you have. Your outfits will be balanced and the eye will go where you direct it. This trench coat helps cover up her body type and direct your eye to her shoulder line, therefore we see no obvious body shape because she's balanced it out with the shoulder and bodice details.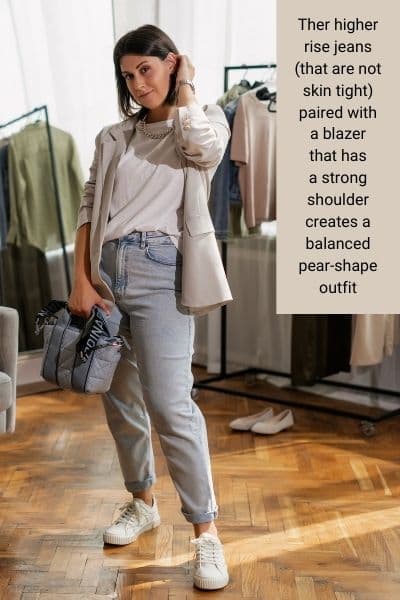 What a great casual, outfit for the pear body shape. The higher-rise jeans are fitted but not skin tight and are balanced out by the french tuck t-shirt and the blazer with strong shoulders. French tucks are a style hack used by the most elite fashionistas, and I have a video tutorial and guide on how to master the half-tuck, here.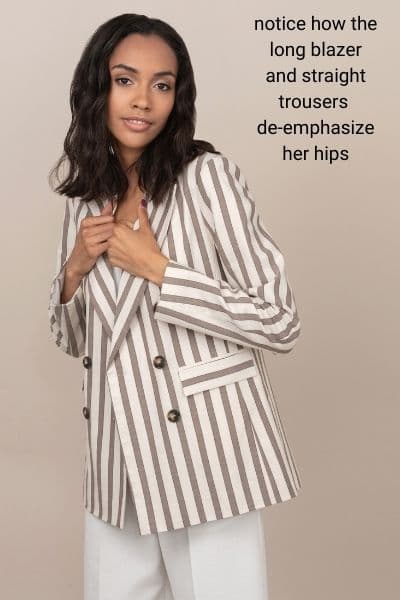 Here, again, we see someone who has used the pear body shape rules so well that it is hard to see where she carries her weight. But, given that the long blazer and straight-leg trousers work so well on her shape (and the vertical stripe!), I would bet she's a slim or athletic pear.
The vertical line blazer is a great way to elongate your entire body, especially if your outfit feels a bit overpowering for your frame.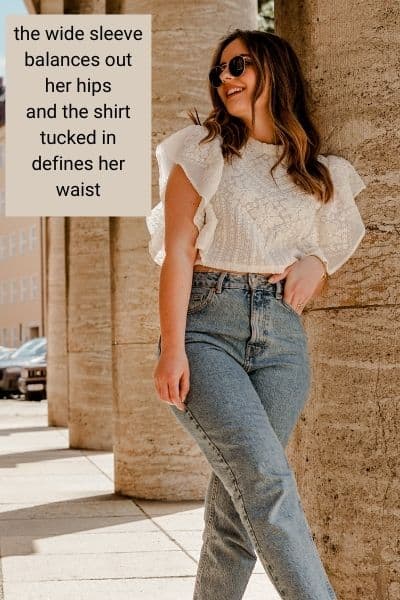 This open flutter sleeve is so flattering on the pear-body shape and helps balance out that hips-to-shoulder ratio, perfectly. The higher rise jean helps define her waist and the flirty blouse and sleeve give her the appearance of an hourglass body as opposed to pear.

Remember with every body type, the example body types may look different. There are many different ways to carry weight and you have to examine your own unique silhouette when building your wardrobe.
If you suffer from a closet that just doesn't work and you don't even know where to begin, try my step-by-step Craft Your Dream Closet Playbook. An easy, proven method to clean out your closet, hone your style, and develop a wardrobe that actually works for your lifestyle.
Now, go flaunt your gorgeous hips, and rock those pear outfits!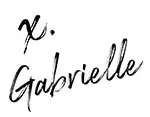 This is a very long article, I'm totally aware! So go ahead and pin the below image so that you always have your pear-shaped body guide at your fingertips!