I'm not going to lie, there are some fashion secrets that you have probably overlooked most of your life. And the french tuck, is one of them. So here's how to do a French tuck, and achieve that effortless, sophisticated look.
Certainly people have been casually half-tucking their shirts for a while now, but Tan France from Queer Eye decided to give this sophisticated style hack a name- The French Tuck.
What is a french tuck?
Coined by Queer Eyes Tan France, the "french tuck" is a styling technique that involves tucking the front of an oversized, billowy, or looser top into a higher rise bottom and letting the back of the top be untucked.
When done properly, this provides an easy french style sensibility and a casual air to your outfit. It also helps elongate your proportions and emphasizes your waist.
What do I need to do a french tuck?
For your top you will want something that is long and loose. Oversized sweatshirts, men's shirts, loose tees, and billowy tops all work for the french tuck.
For your bottom you will want something mid to high rise so that it creates the most flattering proportions and your top has something to tuck into. This creates a waterfall look from the front (tucked portion) to the back (untucked proportion).
How to do a french tuck (for every top style)
So there are many techniques to properly accomplish a french tuck. Here's a video to show you some of them in action.
Full French Tuck
Button your shirt to right above the top of your pants (or skirt). Take the end of one blouse and tuck into the opposite side of the shirt, crossing over your belly button. Repeat with the other side, overlapping the first tuck. Next, gently tuck the overlap until you reach the side seam of your pants. From there, adjust the "poof" of the shirt, either pulling a little more shirt out or tucking more shirt in along the front to create a flat tuck.
T-shirt French Tuck
For a t-shirt french tuck make sure your t-shirt has enough length. Then, tuck in the front section of your t-shirt at your belly button. Gradually tuck in less as you reach the side seams of your pants, and let the back of t-shirt hang out (or waterfall).
Oversized Sweatshirt Corner French Tuck (good for bulkier items)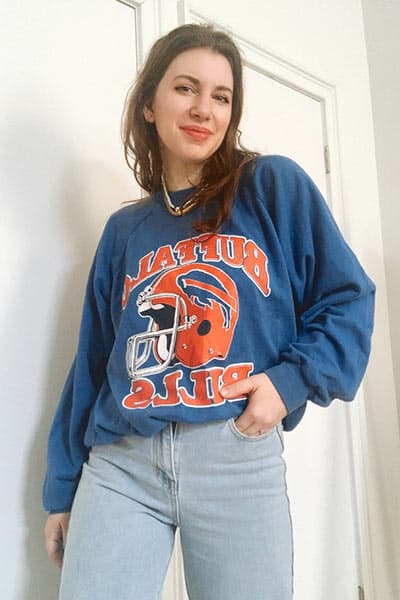 For a bulkier item like an oversized sweatshirt or sweater, try doing a corner french tuck. Simply tuck your top in on one side only near the side seam of your bottoms, and let the shirt hem gradually waterfall across your front and back.
Shorter Top Mini French Tuck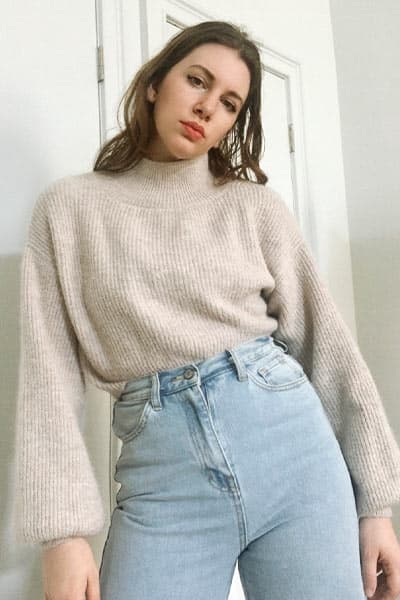 You can also do a mini french tuck with items that are shorter. Just tuck in a small amount of your top into the front or side of of your pants. This creates a more casual look than a full tuck. And, this helps your proportions.
Styling tips for the French Tuck
Make sure the weight of your shirt isn't too heavy. Shackets, and thick sweaters can be done using the side french tuck (where only one side of the front of the top is tucked in). However blazers, structured pieces, or super heavy items should not generally be half-tucked. Too much structure will not cause the "waterfall" we are going for.
Avoid low rise pants. Low rise pants will be much harder to french tuck. They will highlight the widest part of your hips and in order to balance out these proportions you will need to have a very long shirt. Ideally, you should go with a mid to high rise bottom to achieve the best french tuck.
There are varying degrees of the french-tuck. You can do it with shorter sweaters (as seen in the video), but that produces a less emphasized french tuck. Or you can do it with long-billowy tops that will create a much more dramatic "waterfall".
Adding a belt to your bottoms is a great way to further emphasize your waist and elongate your legs.
While this looks "effortless" and it is fairly easy to master, it will always take a little bit of tweaking. Be sure to look where your button placket ends up (as you want it to be the in the center of your body). Then adjust the slight "poof" in the front tuck and flatten things out where needed.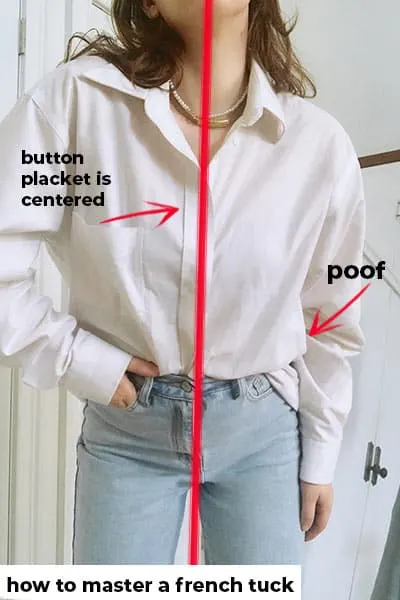 How do I hide my stomach using the french tuck?
So the french tuck isn't designed to specifically "hide" your stomach. However, it can elongate your legs and emphasize your waist which will give you a thinner appearance, overall.
If you want to make your stomach…less prominent… make sure the pants (or skirt) you choose don't tug across your stomach. The top part of your bottoms will be shown with the french tuck styling technique, so if your jeans are pulling across your stomach or bunching, it will draw more attention to this area. Shoot for something that fits loosely along your hips and snuggly around your waist.
If you go for a skinnier silhouette (like skinny jeans) opt for a darker color on your bottom half to diminish the prominence of your stomach area.
You can also play with how much "poof" you pull out. A lot of people think if they pull out more poof they will get more stomach coverage, but this can backfire. Instead try creating a flat silhouette with the front of your french tuck to avoid excess fabric. Adding a belt can also help emphasize your waist and distract from any belly bulges.
This styling technique uses the best proportions, so while you may not "hide" your stomach, you will look more stylish and taller (by not cutting your body up in half).
Examples of the French Tuck
Oversized Shirt Buttoned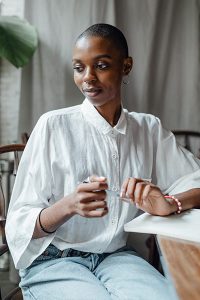 I like to use a shirt that hits past the widest part of my hips. Ideally, a shirt that hits at the bottom of my butt. In the image above she is wearing a very airy, light-weight shirt, but you can also do a heavier-weight shirt.
While the french tuck is usually easiest with a lighter shirt, you can do it with a shacket or heavier shirt. I recommend doing this after you've master the lighter-weight half tuck. For a heavier weight shirt, or shacket you might want to opt for the corner french tuck (as explained in the video).
2. Oversized Shirt Unbuttoned
You can also do a french tuck with an unbuttoned shirt. This works well for really oversized pieces, like men's shirts, and can bring a bit of femininity to your look.
related: how to wear menswear as a woman
3. Oversized T-shirt Half-tucked
I love wearing oversized tees with a french tuck because it automatically adds some femininity to my outfit and defines my silhouette. Instead of being swallowed up by the oversized tee, I'm highlighting my waist and elongating my legs, but also keeping the effortless vibes of the classic french tuck.
related: how to wear a white tee 14 different ways
4. Shorter Sweater French Tucked
Sweaters also work extremely well for the french tuck. It helps keep your look casual, yet polished. This is great for holiday outfits, business casual, and even thicker sweaters. Because sweaters are pliable, they offer a great "poof"; so if you're unfamiliar with this styling technique try it with a sweater first to get better acquainted.
5. French Tuck with Skinny Jeans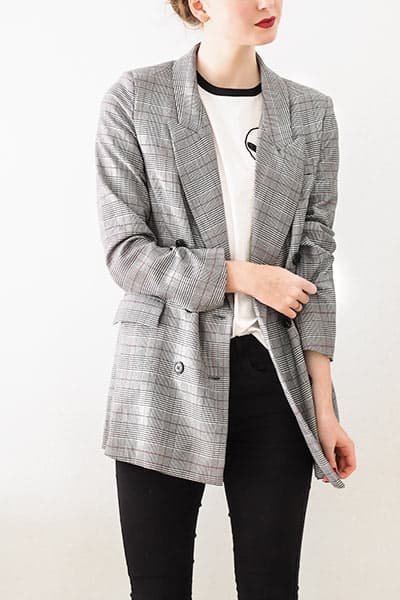 Adding a french tuck to a t-shirt can elevate it and even make it business casual. This is a great way to expand your work wardrobe and keep your closet streamlined.
6. French Tuck with a Skirt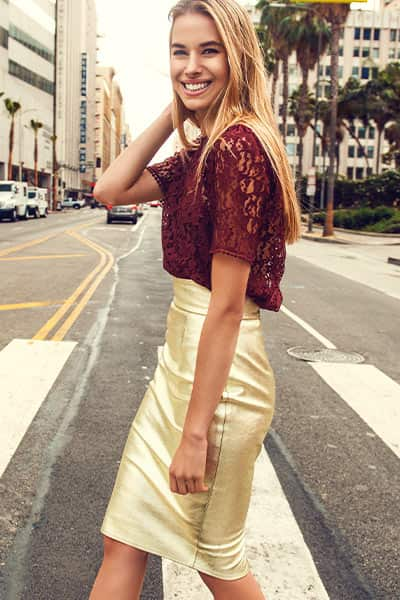 The half tuck works well for blouses as well! Even non-traditional fabrics like the one above. And, it helps with proportions with skirts. In this outfit her pencil skirt is high waisted and fitted, which balances out the boxier silhouette of the french-tucked blouse.

French fashion is known for its superb style. So it's no wonder why Tan France decided to dub this chic half-tuck as the "French Tuck".
Having good style is about learning your body type, dressing with your proportions, and mastering styling hacks like this one.
Go up your fashion game with this easy and chic style cheat code!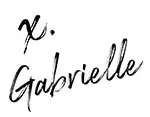 Pin the image below because this style hack is timeless and something you'll want bookmarked!