White jeans are a staple for any warmer month. Somehow they always make a resurrection during the hotter months, and yet they are not without their issues. First and foremost, finding a pair of non-see-through white jeans can be tricky.
I've tried so many pairs of white jeans that have been almost transparent, had the pocket lines show through, or simply were just unflattering.
So I went on a never-ending mission to find the best pair of white jeans. I polled my audiences, reached out to readers, checked reviews, and here is what you all had to say.
In no specific order…
Here are the best non-see-through white jeans for 202

1
1. Abercrombie & Fitch High Rise White Super Skinny Ankle Jeans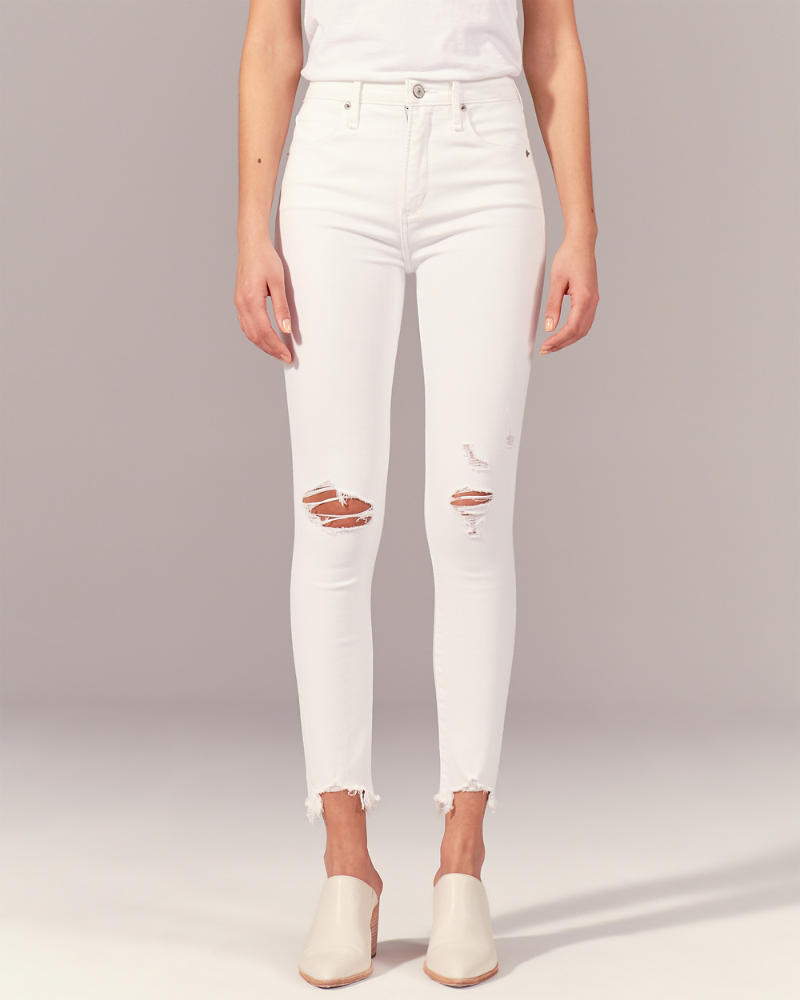 The fabric is stretchy but doesn't look painted on your body ( a very important distinction when dealing with white jeans). The pockets don't show through and the high rise fit is very on-trend.
2. Mother Tomcat High Waist Cropped Straight Jeans
If you're over the super skinny jean. I don't blame you. Fashion has been leaning in on the straight leg jean trend for 2021, and these Mother white jeans are a great option. Mother jeans are a bit more expensive but the classic silhouette will make them a closet staple and they are amazing quality. If you have muscular thighs, these are the white jeans for you.
3. Madewell The Perfect Vintage Jean White: raw Hem Edition
The fit on these is fantastic. I love Madewell jeans for their ability to fit multiple body types. These are especially great if you have muscular legs and don't like it when your jeans hug your legs too tightly. However, you should check the size guide or choose a size down as they tend to run a bit bigger.
4. Jcrew Factory Toothpick 9" High- Rise White jeans
These are a staple for anyone who loves white jeans. They last forever and with their classic silhouette, they can be worn year after year. They have a classic slim/skinny fit and the extra high rise is easy to style and flattering. This style is especially great if you have a petite frame and struggle to find jeans that fit you.
TIP: If you want really durable jeans that will last a long time, check the tags for a high cotton count (98% is great).

Super stretchy fabrics wear more easily and wear out.
5. Agolde '90s High Waist Loose fit White jeans
Agolde denim has amazing quality and this particular silhouette is totally on-trend for 2020. Agolde usually has "fake" front pockets so they are automatically no show, and this silhouette works well with any body type. These are a great pair of white jeans that are not see-through. There is a distressed and non-distressed option depending on your preferences.
Check out this post for ideas on how to style outfits reminiscent of the '90s.
6. Good American Good Legs High-Waist Shark Bite Hem Skinny Jeans
If you need a casual white jean that is great for summer, these Good American jeans are the ticket. The raw edge adds the perfect casual detail and would look great for a beach day, or casual event. You could also try pairing it with a white denim shirt for a double denim option. [ how to tackle double denim like a fashion pro ]
7. Old Navy Extra High-Waisted Boyfriend Straight Leg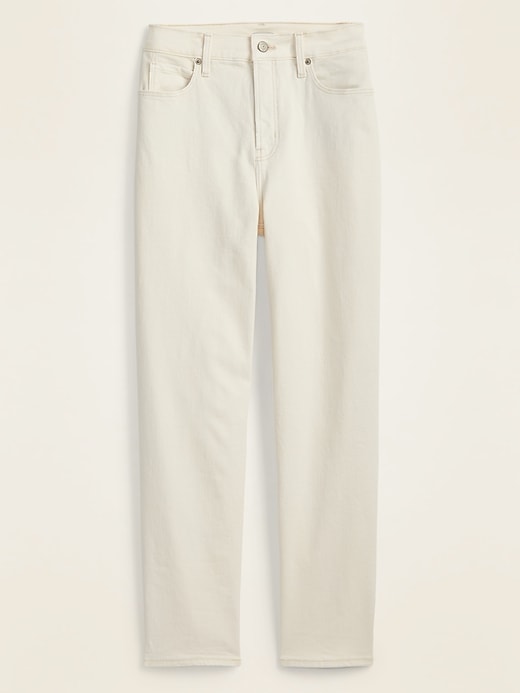 This is one of Old Navy's best sellers and everyone had great things to say about their jeans in general. They are affordable, have a relaxed fit, and a high rise- the pair of white jeans you need to try for a foolproof summer outfit. This particular pair is more of an off-white color. Which is great to have for a more tonal look instead of stark crisp white. They have a vintage feel, but also stretchy (which is a hard mix to find). True to size.
8. Curves 360 by NYDJ Slim Straight Ankle
with Over 70 4 and 5-star reviews these are definitely a popular white jean option for 2020. Reviewers raved about how comfortable these jeans are and how flexible they are for long-day wear. They also seem to be the most flexible for every size range, which isn't always the case for white jeans.
9.

Frame Le Color Crop Skinny Jean
So for those of you who want a skinny jean with a medium rise, the frame le color crop is the pair for you. They have a perfect slim/skinny fit that isn't too tight. They are a mid-rise jean, so be aware of this and measure where the rise hits you before you buy if you're unsure. They run slightly small, so either size up or try them on in person.
10. Levis 724 Ripped High Waist Raw Edge Crop Jeans
While I love the Levi 501's for my regular wash jeans, I found this white option just didn't fit well through my thighs and calves. The Levis 724 however, have a great fit and a bit of stretch. They are true to size, and a perfect casual white jean option. Some levis run small, but for this particular pair you can buy your regular jean size and they will fit well. They have a flattering shape and the cut doesn't overemphasize your thighs (which can sometimes happen with slightly cropped straight leg jeans). They are also not see-through, a definite must-have for the perfect white jeans.
How do I pick a pair of white jeans?
Well, the above list should help you narrow it down, but you should also pay attention to the following:
Fabric: How much cotton and stretch does the pair of jeans have? The heavier the cotton count the longer they will last and the less see through they will be. However, you may prefer some stretch. So go into your closet and check the fabric percentages of your favorite jeans you currently own and try to find something similar.
Fit: Avoid jeans that are too tight with too much stretch. They will look painted on, or worse give you the bodybuilder sausage illusion. A form fit or skinny fit is great, just don't go for something too tight.
Rise: Knowing what rise works for you is important. Try your jeans on in front of the mirror, take pictures of your outfits for reference. Find a rise you like and stick with it. If you want to vary the rise, measure first or try them on in person.
TIP:

Get a full-length mirror so you can actually see your whole outfit.

And take quick pictures or videos of your outfit.

Watching them back you can see if there are any problem areas or if they look unbalanced.
How do I style white jeans in 2021?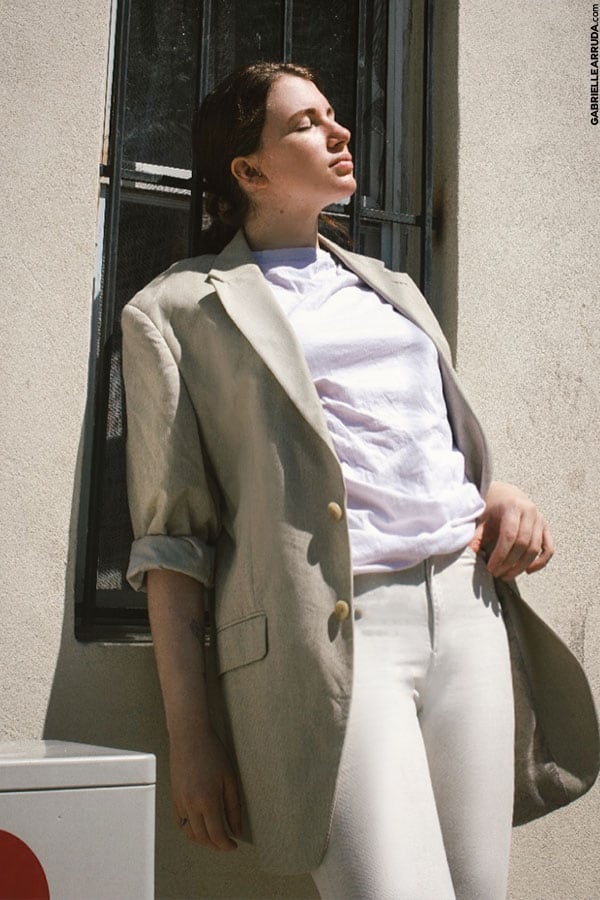 A popular and easy option for styling white jeans is the double denim look, check out this post for everything you need to know.
You can also check out my spring fashion trends 2021, for all the other fashion trends to try with white jeans.
Or check out my spring capsule wardrobe that has tons of great pieces that would style well with white jeans.
White jeans are a classic staple item so they work with most things. They provide a nice base to practically any outfit. If you need more help, start with my post on 10 easy steps to improve your style.
What shoes can I wear with white jeans?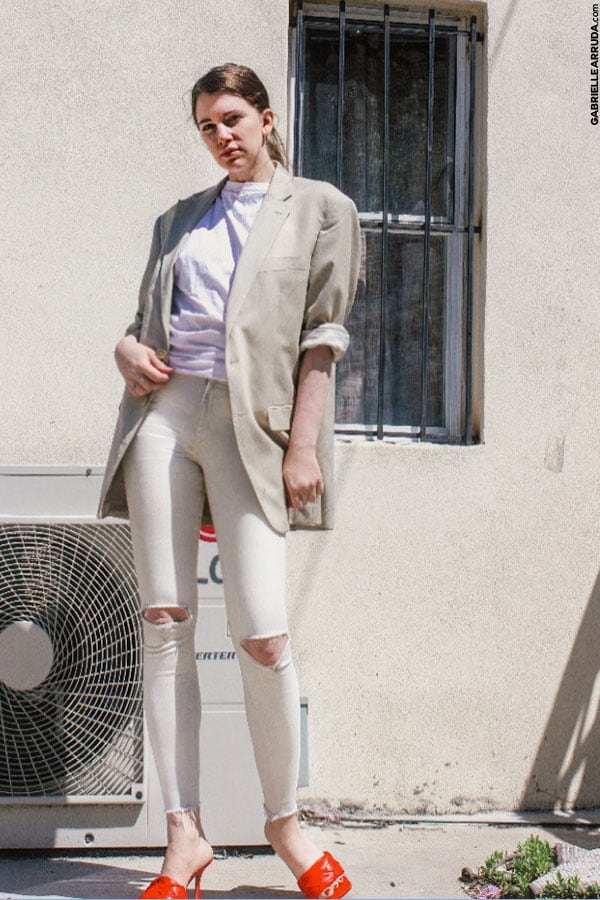 This really depends on where the hem of the jeans hit. You can always opt for a casual sandal, or a square-toe heel with jeans just make sure if you are showing a lot of ankle that the shoes feel balanced.
For instance, I would not wear lace-up espadrille with a pair of cropped jeans that hit mid-calf. The shoes would be taking up too much "real estate" and feel unbalanced.
Look at the amount of skin showing and try to pair a shoe that compliments that.
If you have a pair of white jeans that hit just above or at the ankle you could try a classic low top sneaker, a pair of combat boots, or Dr. Martens tucked under the jean or worn over them, or even a square toe pump. [ how to wear square toe heels, the biggest fashion trend this season]

White jeans are a staple for summer. With these non-see-through white jeans, you are sure to rock 2020 with style.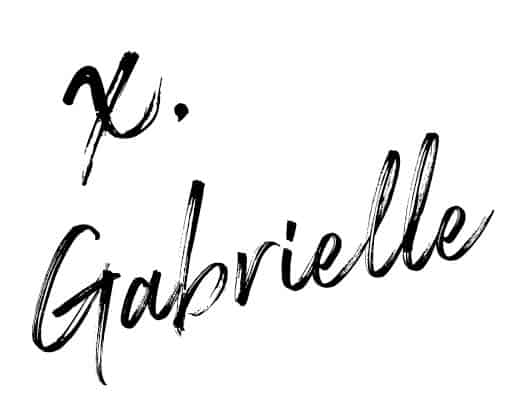 Pin this because you WILL need a new pair of white jeans, and you'll want to check this list before you buy