Camp: Notes on Fashion, The Met Gala Theme Explained. If you don't know what the Met Gala is we can't be friends. Just kidding. But really, it is like the Oscars for fashion. It's a yearly event hosted

by the Costume Institute for the Metropolitan Museum of Art in which they choose a theme and present a curated collection of fashion focusing on a broad

range of years (this year supposedly has pieces from the 17th century.)
The event itself is the kickoff for the art exhibition. The gala is exclusive, the exhibition is open to anyone (after may 9th).
It began as an event created by fashion publicist Eleanor Lambert in 1948 to encourage and support the efforts of annual Met Gala Costume and Fashion exhibits.
The themes are always a well thought out, curated anticipation of what fashion will look like. The concept that where we have come from will show us where we will go- has never rung truer.
Past themes have included Manux X Machina, Punk: Chaos to Couture, and Rei Kawakubo/ Commes de Garcons (and the in between). They are prolific themes that inspire some of the most beautiful looks to grace the red carpet.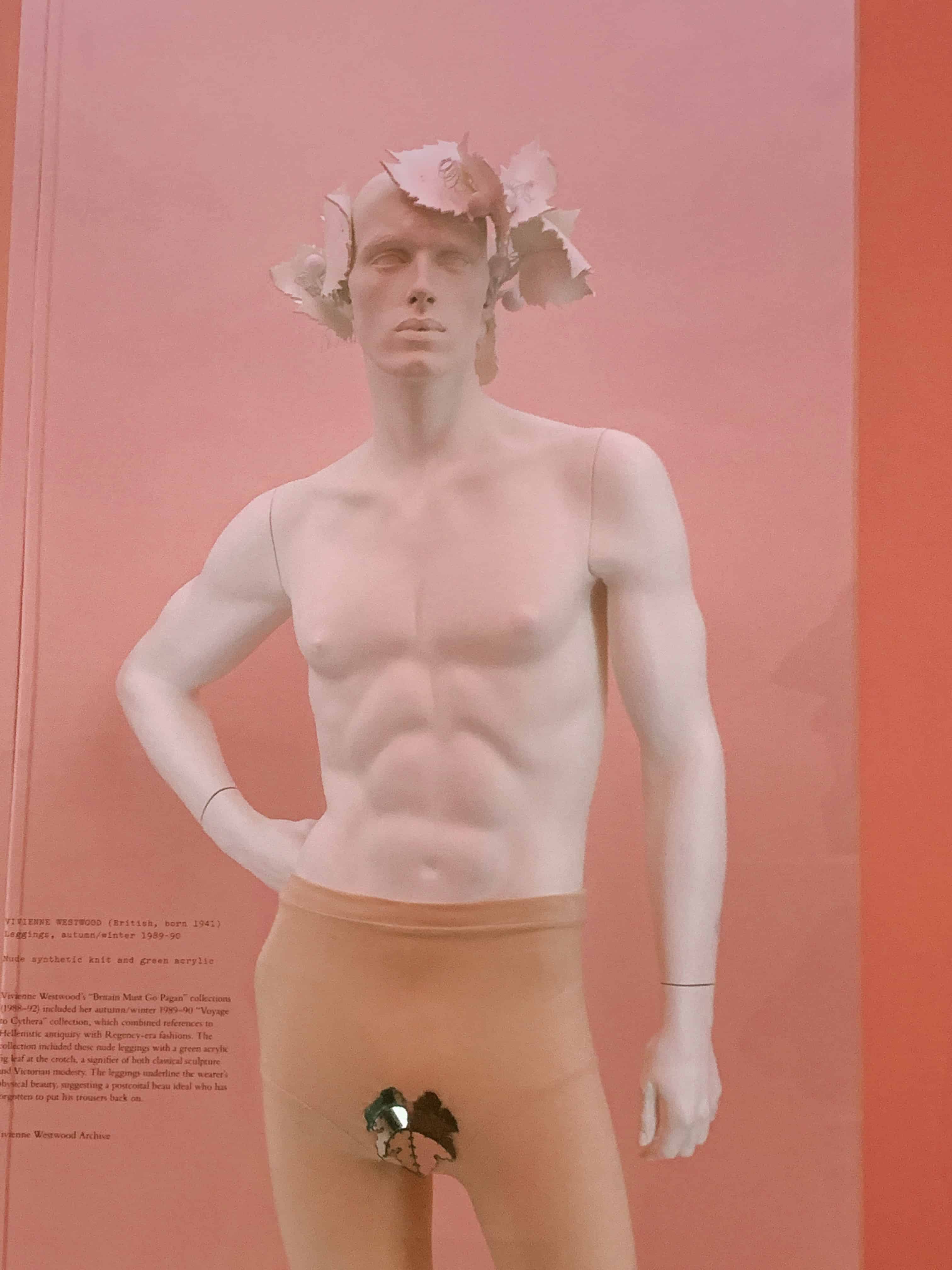 This year's theme caught me a bit off guard. With some many themes of years past teeming with creativity and an edge that just can't be described in words- Camp: Notes of Fashion- seemed lacking.
The concept was taken from Susan Sontag's essay "Notes on Camp". Where she broadly states " it's good because it's awful". But to be clear, she broadly paints camp with 58 total definitions within her essay…
It also sparked a controversial discussion on whether or not defining what camp actually is, would be necessary, helpful, or even pertinent. Susan Sontag sets out to describe the indescribable, she sets to put into words what visuals convey so much more powerfully.
So- what is camp?
I hate to say but the best way to describe is, is how the supreme court qualified pornography- I know it when I see it… Helpful right?
Well- we may not be able to put into a Merriam Webster dictionary box but we can talk about its history and a slew of elements camp usually has ( if successful).
The first question people have, although maybe not very politically correct- is camp gay? And while camp has a strong foundation in the history of queer culture and their justified and burgeoning identity, to paint it as "gay" is an antiquated and possibly insulting definition. The definition of camp deserves more than a one-word qualifier, especially when it would be such a blanket statement at best.
So while camp has a history in queer culture, it was not defined by or through gay people, it was a strategic tool people used to subverse the normative culture.
A classic example is the one below. Held in the earlier part of the exhibition. Here we see two Erdem Dresses from 2019 which are beautiful, colorfully printed and may not in their entirety scream camp. The reason they are in the exhibit? Especially so early on ( the earlier part of the exhibit gives us a history of camp and its' powerful message).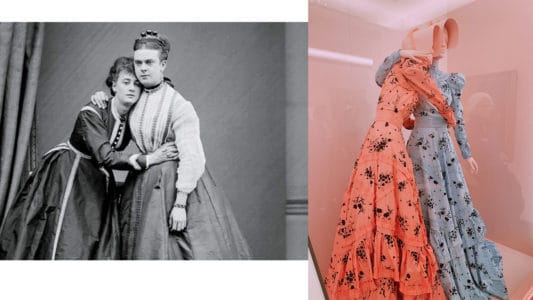 Here the exhibit is referencing a very specific pose. One taken by Frederick Spalding of "Fanny" and "Stella"- more widely known as Federick "Fanny" park and Ernest "Stella" Boulton. Famous for being arrested in 1870, wearing drag. They had performed at low key clubs, used women's lavatories, and made no apologies for dressing as their female identities. But in Britain with the Charles Darwin totting human as animals, and the government reaching a republican tipping point- very little could be handled as a society. So while dressing a female was a misdemeanor, they went full force at the sisters and accused them of sodomy- something that would surely land them behind bars. However, despite despicable tactics by the prosecution, not limited to bribing a witness, Fanny and Stella were in fact exonerated.
And the reason I retell this story is that "camp aesthetics delight in impertinence. Camp opposes satisfaction and seeks to challenge" (Roderick Mcgillis). While camp has been a common theme for decades, the definition has evolved and has found its' place in political instability.
Camp, in fact, has always had political alignment.
Susan Sontag marks camp as the following adjectives collectively/majority share: camp is artifice, frivolity, naive middle-class pretentiousness, and "shocking" excess.
Monty Python, Orignal displays of superheroes, and even John Waters- are all purveyors of camp.
Camp is also "failed seriousness' (Sontag). See the image below where we have the quintessential, girly frivolous dress by Lanvin, juxtaposed by an equally ruffled, lilac dress by Viktor & Rolf- their "upside down dress". Camp breaks the norm, the middle class. They take the seriousness out of the elitist norm and place it on its' head. It is why it is such a powerful emotional tool and a political chess piece. It mocks the "standard" values, in an intelligent, yet direct way.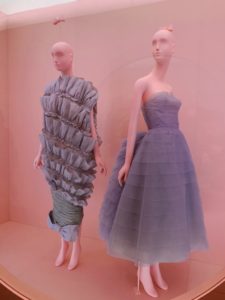 Designers like Marc Jacobs, Gaultier, Moschino, and Jeremey Scott all have their notes to camp throughout their careers. But, when houses like Armani and Chanel begin to play with camp- it has become a standard for the times and overall movement.
As evidenced by many who have equated Trump in his entirety as camp. But, that's not what I want to see at the Met.
And for those who fall in the line that camp is recent, it dates back as far as Greek sculptures and European portraits from the pre-raphaelite period. The contrapposto pose, and the mimics of homosexuality were obvious and not done with subtly when observant.
So why camp? Well, Camp is a critique on culture.
Camp's most favorite definition of pastiche, gaudy, and overt falls in line in Susan Sontag's essay where she says "camp is a dress made of 3 million feathers". No doubt why we saw the Jenner sisters donned in feather frocks. It might just be the simplest form of camp.
Camp had a clandestine status to most throughout history, that we are only more recently respecting and utilizing to it's fullest potential.
The last room at the Met Exhibit has 18 different definitions of camp, as spoken by the designers who exhibit them. "Together [they] point to the essential spirit of the camp sensibility: its' all inclusive, all-embracing magnanimity"
Here are some of the quotes and designs from the exhibit.
'Camp is a question mark that won't let its line be straightened up into an exclamation mark." Cleto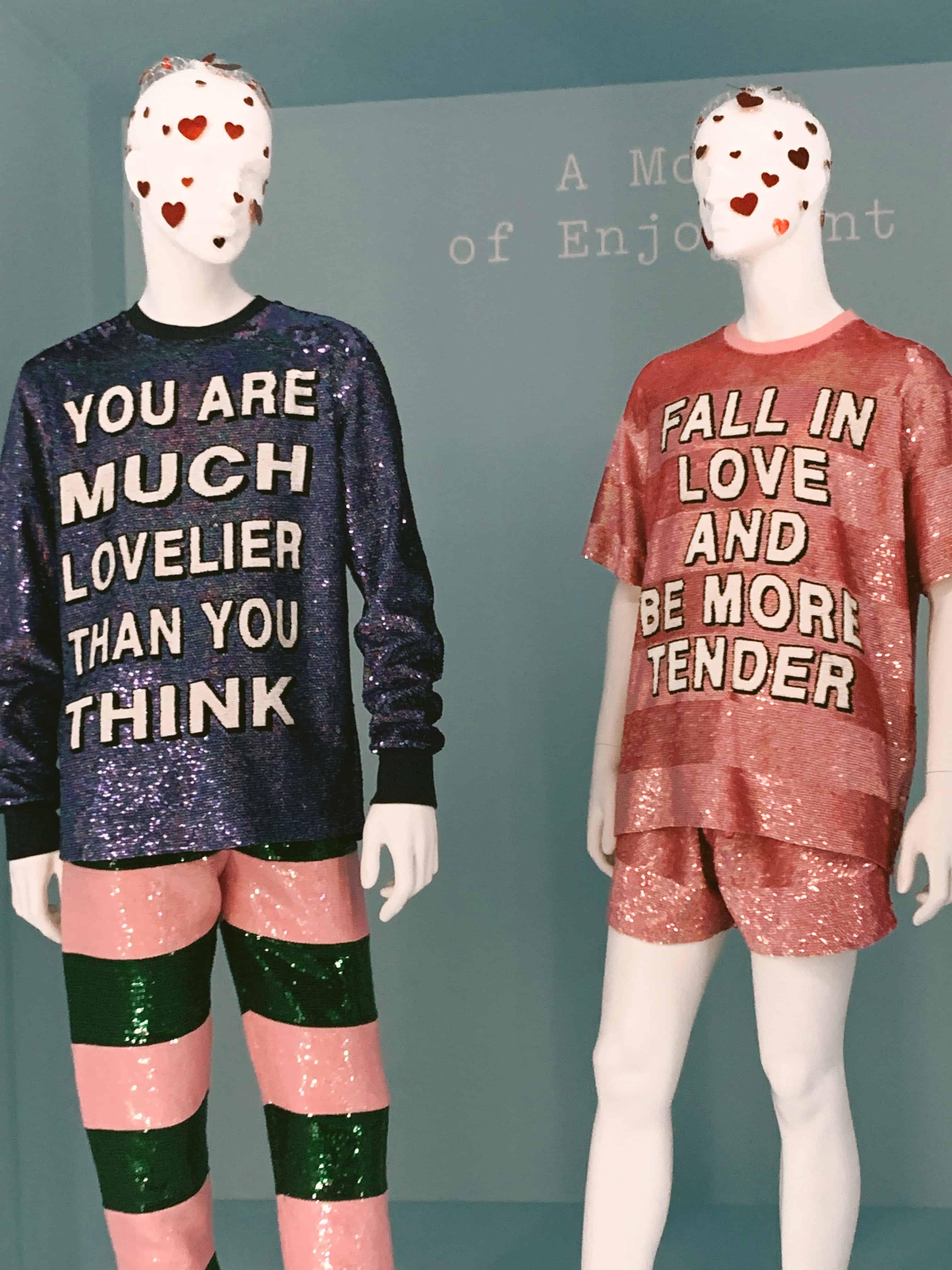 A Modem of Enjoyment, Moschino.
"Camp is a tender feeling" Sontag
_______________________________________________________________________________________________________
"Camp is the heroism of people not called upon to be heroes" Philip Core 1984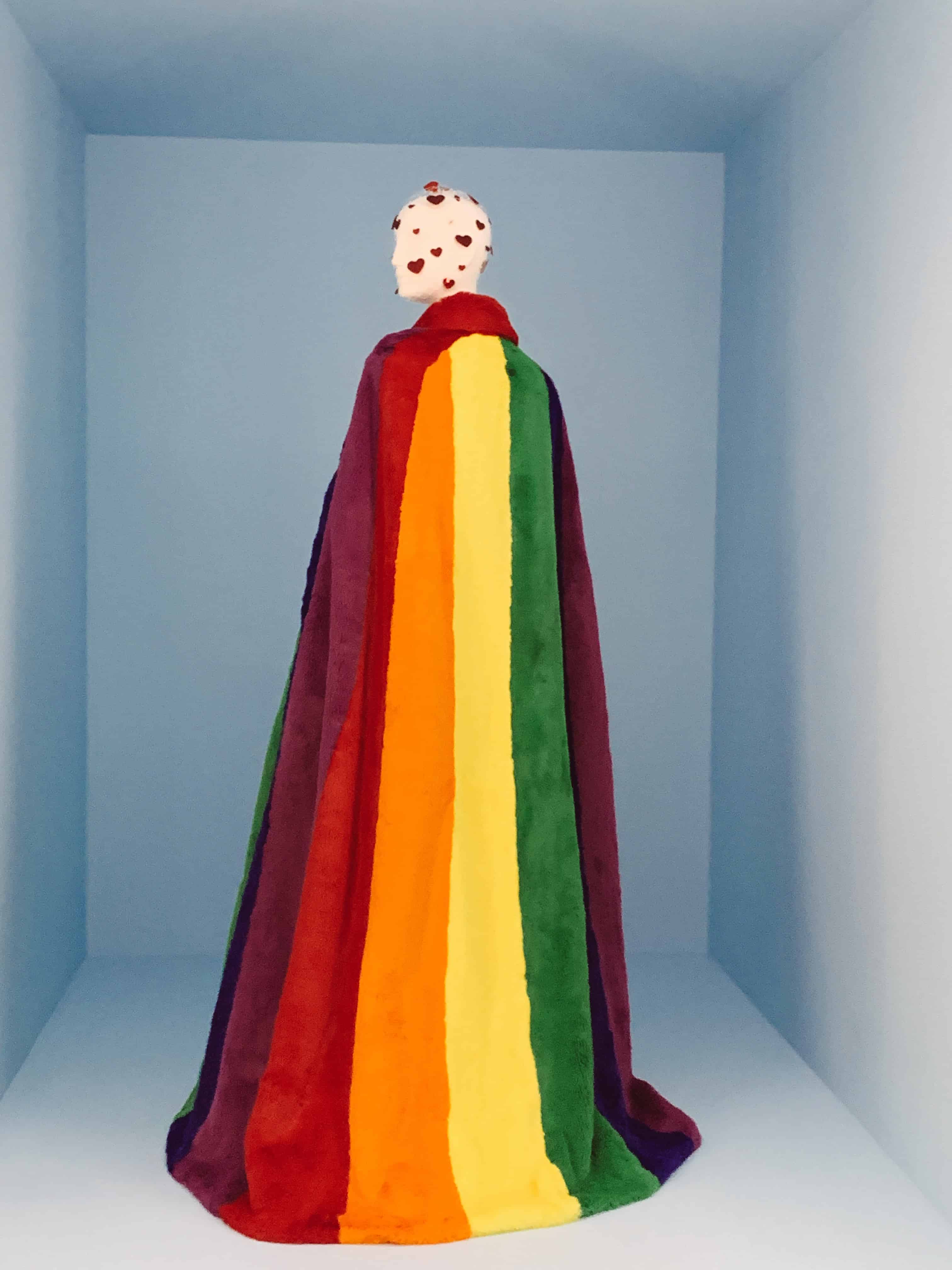 Burberry Rainbow Cape, Christoper Bailey, Autumn Winter 2018-19
_____________________________________________________________________________________________________
Outrageous Aestheticism
"Camp is " a third stream of taste, that encompasses the curious attraction that everyone- to some degree at least- has for the bizarre, the unnatural, the artifical, and the blatantly outrageous" Thomas Mehan 1965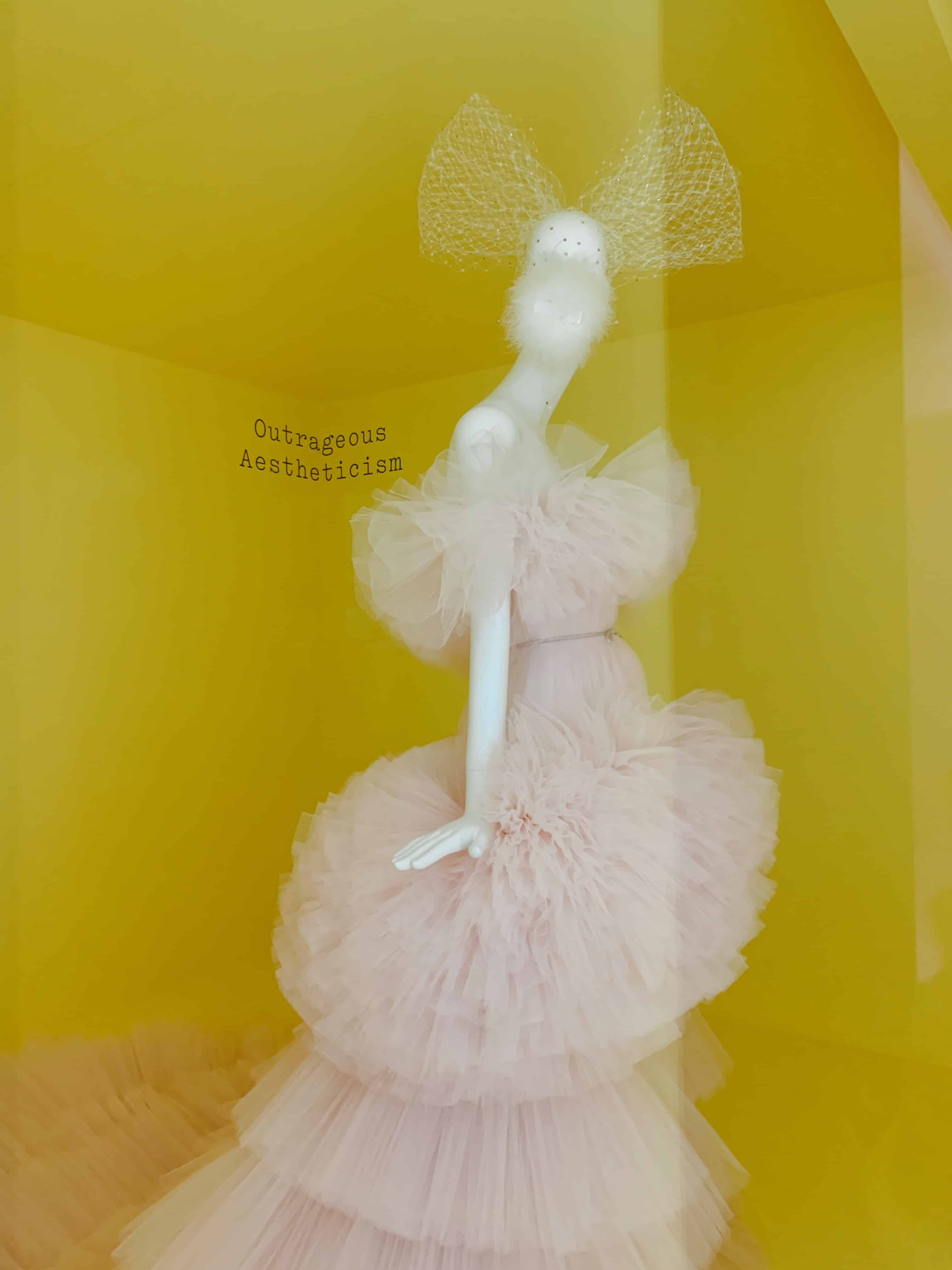 Giambattista Valli, Autumn/Winter 2017-18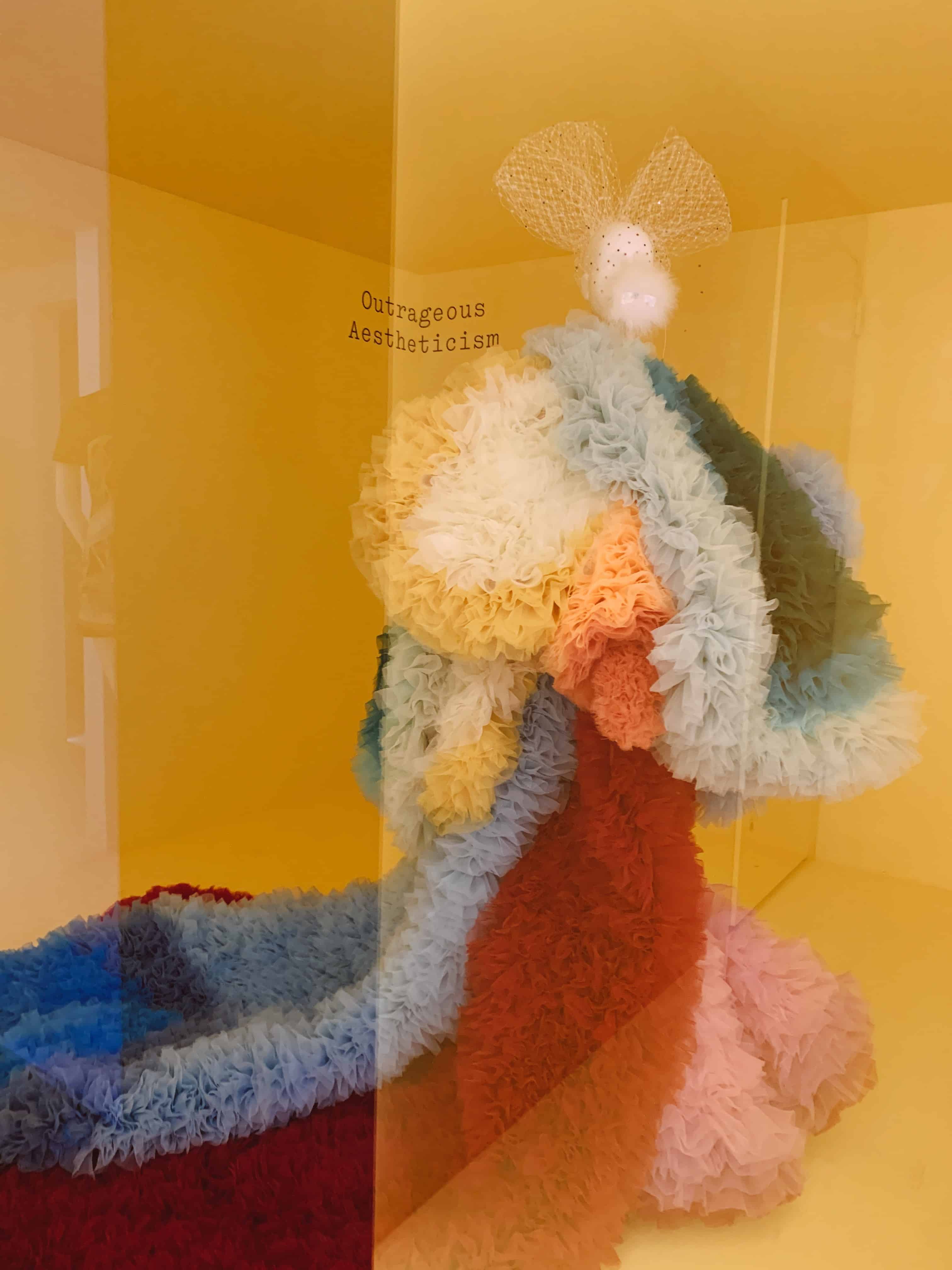 Tomo Koizumi, Autumn Winter- 2019-20
______________________________________________________________________________________________________________
Gender without genitals
"Camp…. is very serious-serious about maintaining the freedom to play, which is a way of saying the freedom to live." J. Bryan Lowder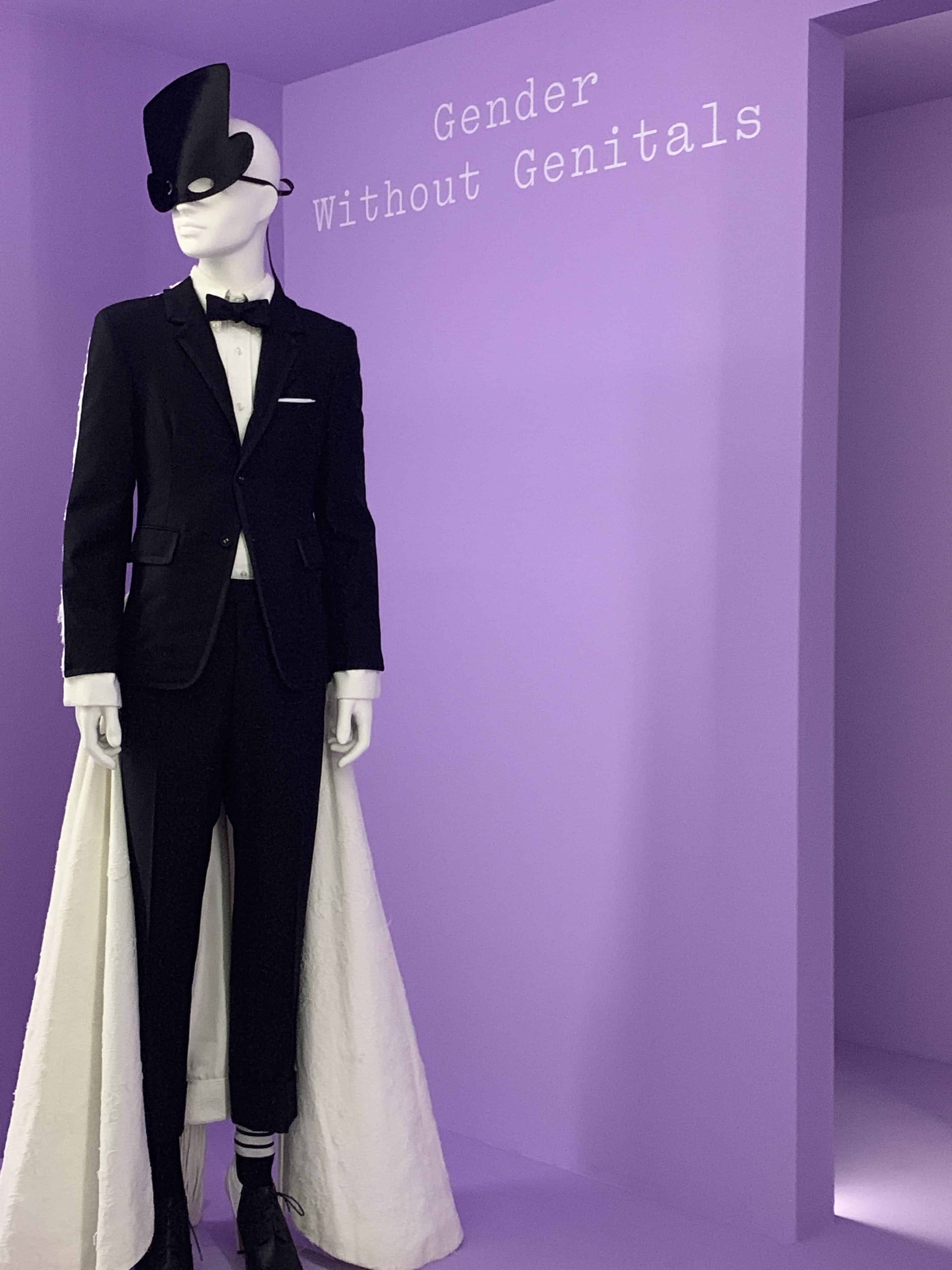 Source to be updated
_________________________________________________________________________________________________________
"Versailles stands in camp memory, not, as it was intended, as a symbol of Decorative Absolutism but as symbol of Absolute Decorativism" Mark Booth, 1983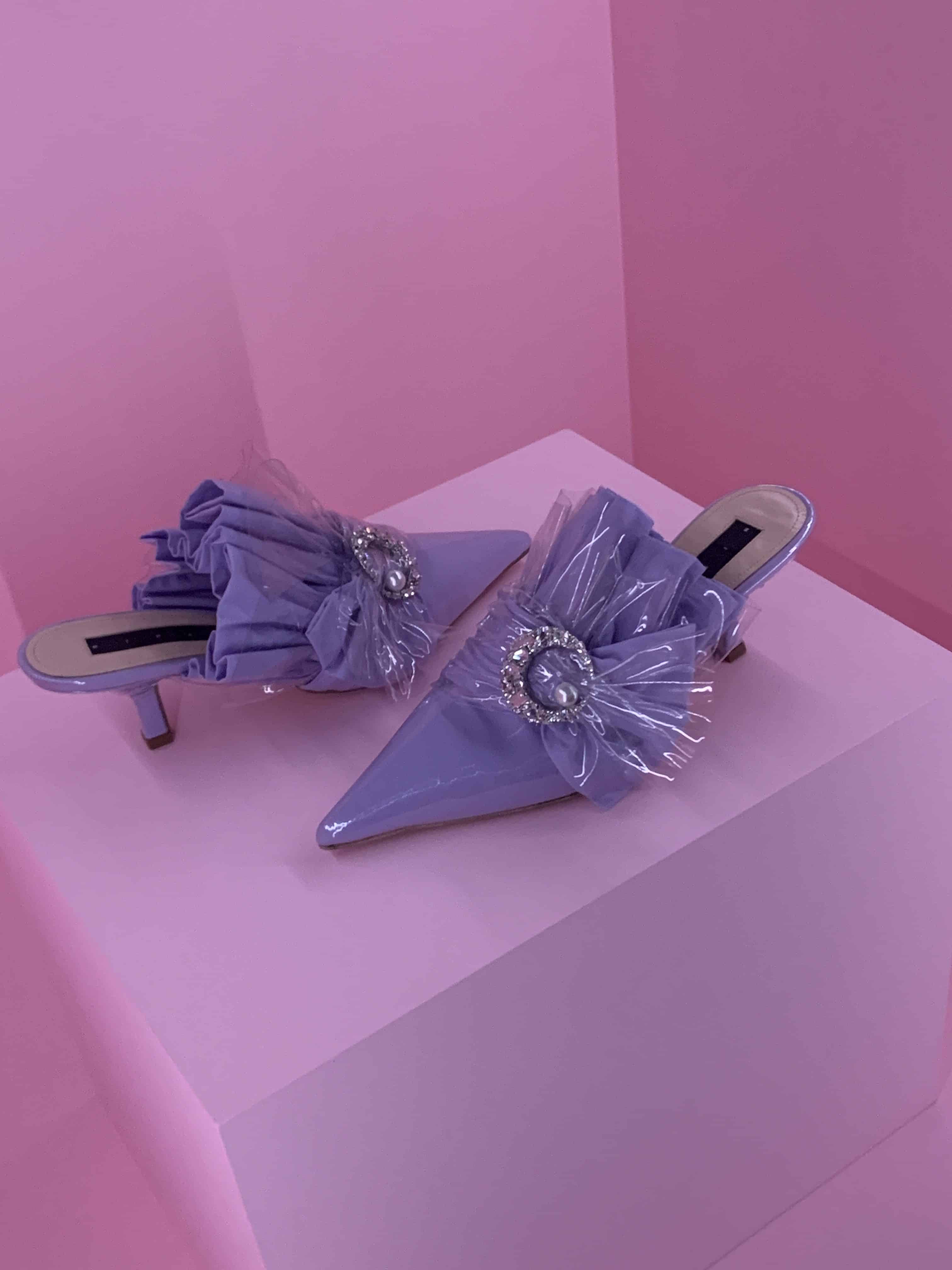 Midnight by Ada Kokosar, "Marie Antoinette" Mules, Autumn/Winter 2018-19
_______________________________________________________________________________________________________________
"camp is a playfulness with epiphany states that are half-serious because therapeutically high and half- comical because deliberately overblown" Karl Keller
_______________________________________________________________________________________________________________
"Camp [is] mock luxurious"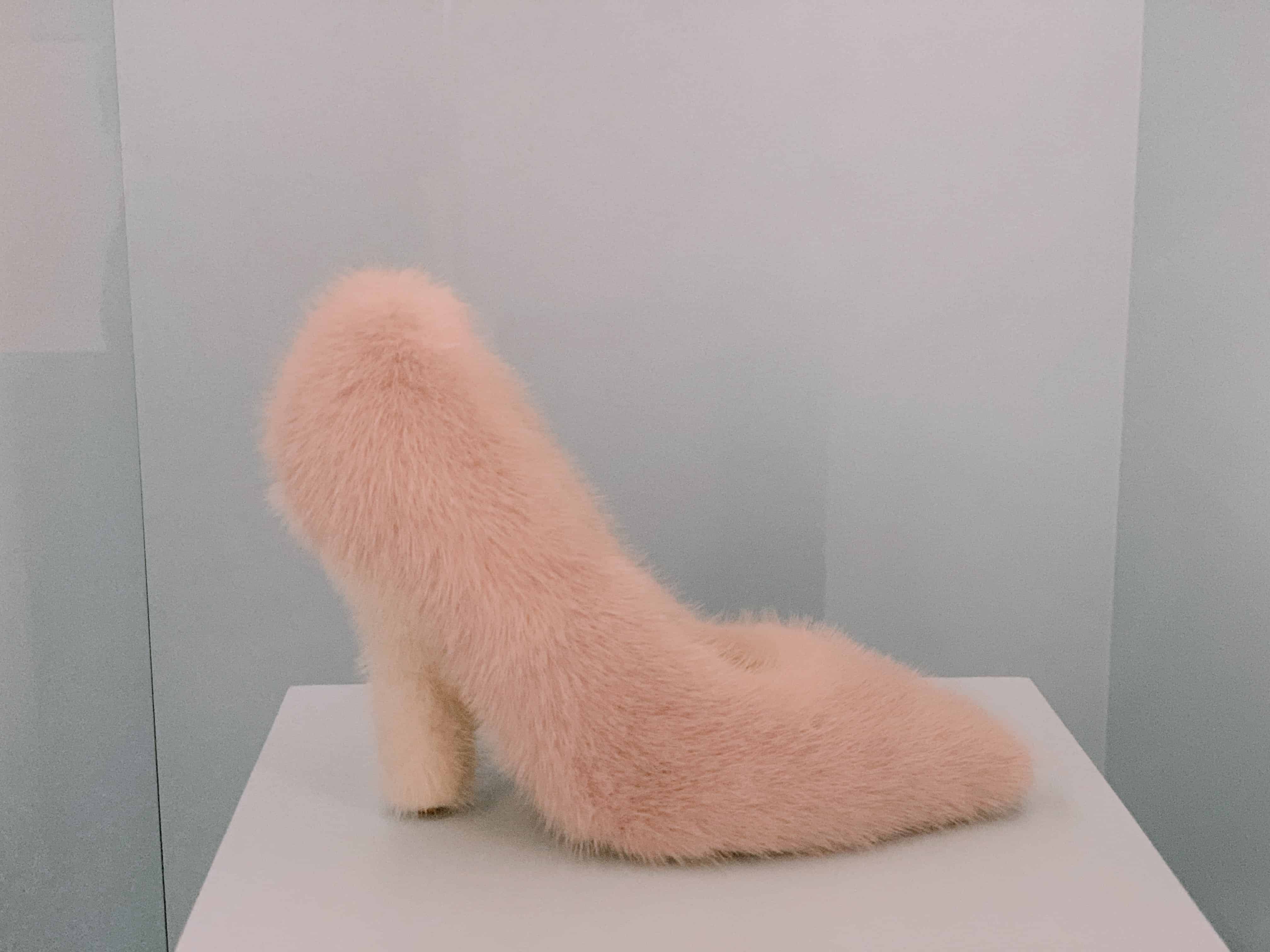 Celine, Phoebe Philo Spring/Summer 2013
_________________________________________________________________________________________________________________
While I remained bias to the first announcement that camp: Notes on fashion could not possibly live up to the collective creativity of Rei or Heavenly Bodies, now having seen the exhibit, the choice to use this as the Met's theme was not only thought out, it was an extremely surgical message on our culture.
Progressing through the exhibit, the viewer learns where camp comes from, the place it had in history, and the power it's societally minimized users found through it.
It is not a coincidence that in a fluctuating, and politically unstable period that the Met chose to broadcast such a message. They choose to show people that there are other methods of expression, communication, and subversion from the norm. They encourage us to be inclusive, pointing out the pitfalls of keeping "subsets" of society as a subset, or less than. But, juxtapose that inclusive message with the power of camp to overhaul our society regardless of whether they are asking for it or not.
It is a smart, well balanced, beautiful exhibit. The dresses and extravagance alone would inspire any designer or purveyor of art. While Susan Sontag might not like the confinement such an exhibit sets for actually defining camp as pure excess, it does its best to clarify and expand the average person's understanding of the term.
But, I believe it has a stronger message. A message not only to define camp, which would hold few people's interests if presented alone- but to explain the power behind it.
Here are other images from the exhibit: