Let's be honest, when those cold winter months start to creep in we are inevitably faced with the choice between being warm or being fashionable. And, as the temperatures continue to decline, choosing fashionable becomes a less likely decision.
But, one of the easiest ways to avoid this impossible kobayashi maru of a decision is to invest in a warm AND fashionable winter coat.
With these top winter coats you will no longer be forced to choose function OR fashion, and we will also dissect what type of winter coat is best for YOUR lifestyle needs.
we may earn a commission from you clicking a link in this post, at no additional cost to you. full affiliate policy, here. as an amazon associate we earn commissions from qualifying sales.
The TOP warm and fashionable winter coats
The Best Overall Winter Coat
Eddie Bauer Sun Valley Down Parka
rating: Over 2,500 4.5 star reviews
This slimmer fit parka is not only incredibly warm, but it also has a flattering silhouette that won't make you feel swallowed up by your winter ensemble.
What is this coat made of?
This coat is filled with 650 premium down fill that is not only extremely warm but also very lightweight. It has a 53% nylon, 32% polyester, 15% cotton shell. Most colors also come with a high pile sherpa lining.
Fit:
The Eddie Bauer Sun Valley parka has a slim fit which is a great option if you need a warm coat the also provides a polished look. It would be a great option for a business casual work environment, but would also be appropriate for winter activities like skating, holiday shopping, or just grabbing hot chocolate with your friends.
PROS
CONS

-Available in regular, petite, tall, and plus sizes
-Designed to fit over mid-weight layers
-The fur hood trim can be remove

-Some people found the arm length to be shorter than they needed (refer to the sizing chart before purchase)
-Older reviews mention the down feathers "leaking" a bit. This seems to have been resolved in the more recent years
How to clean it:
Detach fur collar
Secure all garment closures
Machine wash cold on the delicate cycle (ideally with only the coat in the machine)
Use mild detergent
Do not use bleach or use fabric softeners
Tumble Dry Low
Do not dry clean and do not iron or steam.
The Best Wool Coat
Everlane – The Italian ReWool Overcoat
Rating: Over 100 reviews, average 4.48 rating
This is not only a classically beautiful coat that will go with so many outfits, it is a WARM coat that will have you looking so sophisticated this winter season.
related: How to look sophisticated no matter your budget
What is it made of?
The Everlane Italian ReWool Coat is made of 62% recycled wool and 38% recycled nylon. The quality is very highly reviewed.
Fit:
This wool coat has a generally straight shape- meaning it is not "oversized" but it also does not slim in at the waist. This is a great staple coat shape because it allows you to layer pieces underneath without looking bulky. Generally, this has a boxy shape.
The double breasted closure is also great for keeping you extra warm in the cold winter months.
MOST people suggest sizing down, but check the sizing guide for the exact measurements.
PROS
CONS

-Very well made
-Easy to layer pieces under
-Fully lined
-Gorgeous, neutral camel color
-Professional looking
-Goes with everything

-Depending on how you prefer the fit of your coat, this coat can run a bit large
-Because of the heavy wool, the coat can feel heavier on than a traditional down parka
Because it is wool, some people find the material a bit scratchy (especially if you don't traditionally like wool materials).
Because it is a winter coat this shouldn't be too much of a problem for most people as it will likely not
touch your skin directly. But it is something to consider.
How to clean this coat:
This is a dry clean only coat.
The Best Warm and Fashionable Parka
UNIQLO Ultra Light Down Cocoon Parka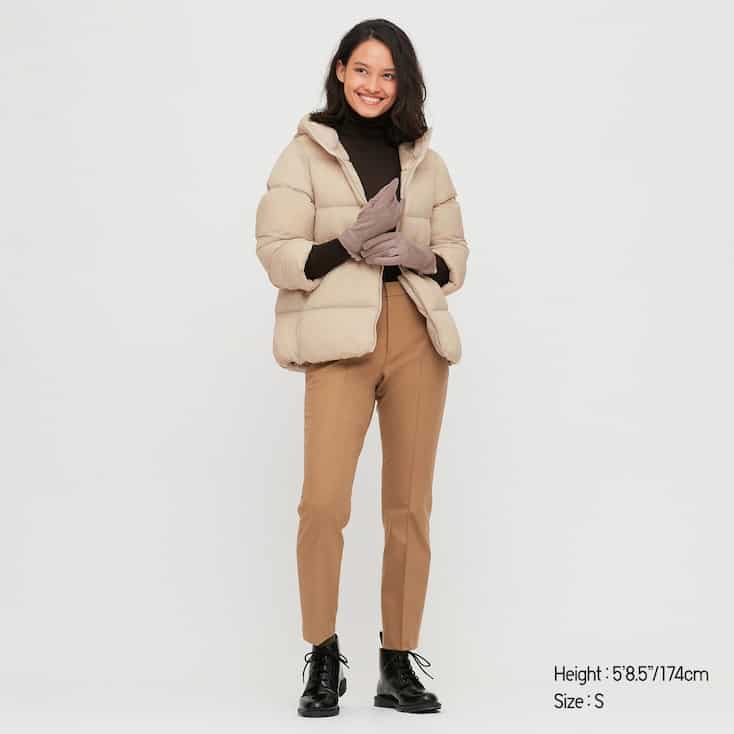 Rating: average 4.5 star reviews
This oversized, ultra light feel cocoon parka has all the stylish vibes we are craving in a parka while not sacrificing the warmth factor.
What is this parka made of?
This lightweight parka has a 90% down filling with a nylon shell. The fill power of the down is over 640. Check here for more on down fill levels and their meaning.
It has a water-repellant coating as well, which makes it water-resistant, which is not always true for all parkas you might be shopping.
Fit:
This parka has a slightly oversized fit and its hem hits at about the wildest part of your hips. This means for most people it will not entirely cover your butt.
It has a drawstring at the hem so that it can be cinched in to avoid cold breeze or to simple give it a different silhouette.
Because it has an oversized fit you should probably size down, but check the size guide for exact measurements.
PROS
CONS

-Water Repellant
-Premium down filling
-Anti-static lining
-Despite being a traditional parka, it has enough style to be worn in many different environments (work, evening out, etc)
-Very high quality

-Does not cover your butt, some people find it is too short
-Depending on style preference, the oversized fit may not be for everyone

How do I clean this parka?
Hand Wash cold. Lay flat to dry
The Best Longterm Investment Winter Coat
Canada Goose Elmwood Parka
rating: Overall 4.6 with a 92% customer satisfaction
Now, if you love having a closet full of long term staples, then this investment winter coat will be the perfect addition to your wardrobe. The quality, longevity, and durability of the coat is pretty much the top of the line and will last your for years and years.
Honestly, until you've tried a Canada Goose coat you don't know what you're missing.
related: how to build a chic wardrobe from scratch
What is this coat made of?
This is a Canada goose specific textile (which contains cotton and is water-resistant and extremely durable). It has a 625 white duck down fill and no fur.
Canada Goose has developed their own " thermal experience index" which tests their product for cold climate effectives.
This specific coat has a TEI4 label which means it is labeled "enduring" and is made for enduring daily warmth at temperatures from 5 farenheight to -13 degrees farenheight.
Fit:
This coat has a slim fit and hits around your mid calf. Despite having a slimmer fit, it is not "tight" and still allows for heavier layers underneath it (however, you really won't need to layer for warmth because this coat is so incredibly warm).
PROS
CONS

-Very high quality, will last for years to come
-classic style
-can withstand extreme temperatures
-rave reviews
-comfortable
-perfect hood for the cold temperatures

-price is high
– pay attention to sizing if you are petite
How do I clean this coat?
This coat is dry clean only.
The Best Affordable Winter Coat
Orolay Women's Thickened Down Jacket (aka The Amazon Coat)
multiple colors available
rating: over 11,000 4.5 star reviews
This coat is incredibly chic and comes in so many different colors. It is most well known as going viral as the "amazon coat" and being seen on every influencer out there. So if you are shooting for super unique, this coat may not be the right fit for you.
However, it is affordable, chic, and beloved by many- so it may be worth adding to your wardrobe.
What is this coat made of ?
This coat has a shell that is 100% polyester with a 90% duck down, 10% duck feather fill. While it is generally water-resistant, it is not 100% water repellant. So if you live in an area with a lot of extremely wet snow, or rain, it may not completely keep heavy water out. But, in my experience, it is sufficient for most winter climates.
Fit
This top winter coat falls below your butt, and has a generally straight shape. It is not considered oversized nor would it be considered slim. It does however allow for layering underneath without looking overly bulky.
Some reviews mention it is tight in the hips if you have broader hips, so check the sizing before you purchase.
PROS
CONS

-affordable
-stylish
-not meant for weather below 15 degrees (according to reviewers)
-lots of pockets
-knit rib along wrists to keep wind out
-hood is not removable
-in the past there have been some quality control issues (that seem to have been resolved)
-not water resistant
How do I clean the amazon coat?
Machine wash on a cold, gentle cycle. Lay flat to dry. Or, to err on the side of caution you can dry clean it.
The Best Fashion Forward and Warm Coat
& Other Stories Oversized Faux Shearling Coat
Reviews unavailable
A faux shearling coat is like a chicer evolution of the teddy coats we saw popularized in 2019. The faux shearling is just a bit more manicured, and this oversized silhouette is perfect for any winter event.
What is this coat made of?
This fully lined coat has a shell made from acrylic and polyester.
Fit:
This coat would be considered oversized. This means it does not fit closely around your body, and is great for layering jackets or sweaters underneath (although this is not necessary for warmth).
For a more fitted look, it is suggested that you size down.
PROS
CONS

-warm
-stylish
-works for more formal winter activities

-light color so may need to be cleaned more frequently
-because of its oversized nature, this can allow high winds to creep in through the bottom of
the coat (only an issue in more extreme weather)
-no hood
How do I clean this faux shearling coat?
For this coat you will want to machine wash in a cold, gentle cycle. Probably best to wash alone, as faux shearling can sometimes shed a bit. Hang/drip dry.
OTHER winter coats that are in style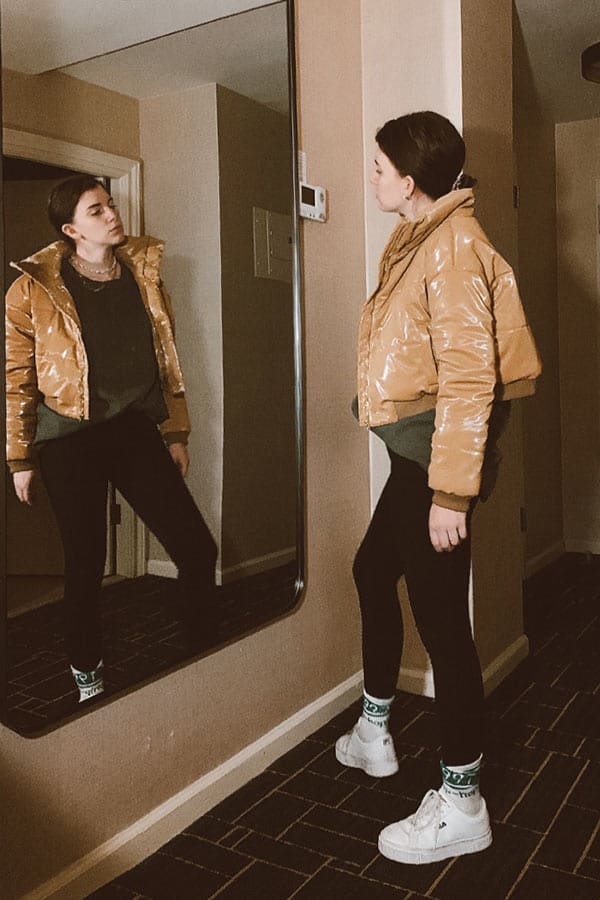 Cropped Puffer Jackets
These are great for winter activities that need mobility like skiing, or ice skating. It is also suitable for less windy climates.
Capes
While these might not be your go-to winter layering piece, they are going to be trending this winter season. They are great for more sophisticated winter events or holiday fashion.
Statement Coat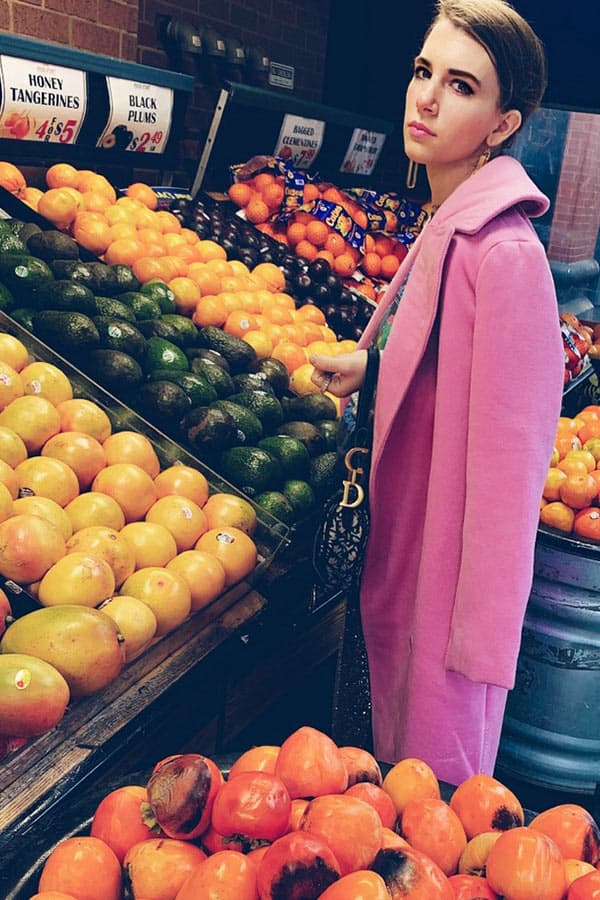 I love a good statement coat, but this should be added to your wardrobe AFTER you already have a foundational winter coat. A statement coat is a great way to express your fashion style in the winter, but is usually too loud or memorable to be worn daily. For winter 2020/2021 I think we will be seeing a lot of shearling collar coats.
Women's Winter Coat Style Overview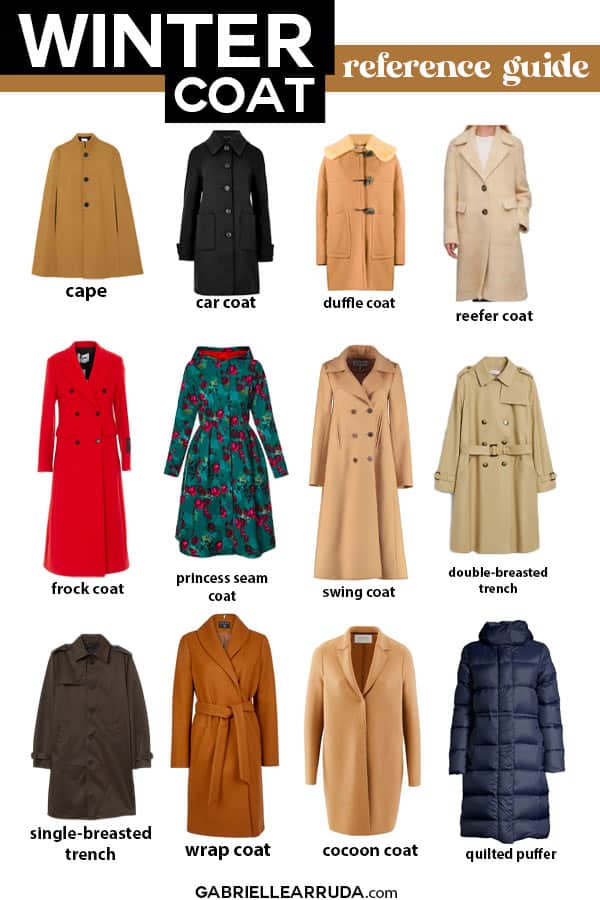 Above are examples of all the winter coat styles so that you can shop accordingly.
How do I find the perfect winter coat?
1. Check your labels. While sometimes you just want an affordable coat option, most of the time you will be looking for a more long term, durable coat. Check the percentages of wool, avoid cheaper acrylic fabrics, and adjust for your needs. If you live in a wet area (like Seattle), make sure the coat has a water-resistant element.
2. Decide your function. Some people plan to trek mountains in their winter coat, others just need it to look good over a business casual ensemble as they leave their car. Knowing your winter coats most necessary function is key to finding the right coat for you.
3. Adjust your size for layers. Most winter coats (with the exception of some Canada Goose winter coats) will need some layering pieces under them for those extra cold months. If you can, try your winter coats on in person, or check that the store has a good return policy. You want to be able to comfortably wear a thick sweater or blazer underneath.
4. Know your body type. Knowing your body type is especially important with a coat purchase because coats can easily overwhelm your frame. A lot of coat companies will have coats specifically for tall or petite sized bodies. You should also pay attention to what silhouettes naturally look good on you. For instance, if you are petite, you may want a more frock or reefer style coat ( which cinches in at the waist and then slightly flares out). Knowing your body type and using your proportions as an asset is essential to looking sophisticated and polished.
5. Pockets. Believe it or not, there are some coats with zero pockets. Avoid this at all costs. Your cold, red hands will thank you when they have a place to seek refuge.
6. Build your foundations. Now, I love a good statement coat, but that red pleather jacket with a shearling collar is not going to be my everyday coat. Do not prioritize a trendy or cool jacket over a longer-term classic. Statement jackets should be bought AFTER your winter coat needs have been met. Having foundational pieces or "classic" pieces does not equate to a boring wardrobe if done right. And if you need more help on building a wardrobe from scratch, check out this post.
Should I buy my winter coat one size bigger?
This depends on the style of the coat. With a winter coat you want to be able to comfortably layer garments underneath and still move easily. Most coats have some allowance, but if its a fairly fitted style then it is best to size up. If the coat is oversized or has a straight silhouette, buying a size bigger is not necessary.
You want to avoid too much space between you and your coat, as you do not want to lose heat.
Always check reviews and size charts when buying a winter coat online. This can provide you with valuable purchasing information. And, ideally, try on the coat in person, especially if it is more of an investment.
Winter Coat Style Tips
Pay Attention to proportions.
Don't be afraid to layer coats
Consider the entire look
Don't be afraid to make a statement
Layering Coats Examples:

Let's put the notion that you can't be warm AND fashionable to bed with these top winter coats for 2020.
So, grab your hot chocolate, your one and only, and your chic warm coat for a winter polaroid that will make it onto the mantle.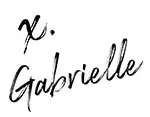 Pin the below image so you have this amazing winter coat shopping reference in your back pocket