Summer is almost upon us and I don't know about you but I could really use the warm sunshine rays right about now… And with the sun-kissed glow I'll lovingly embrace the long denim short trend, too.
While you might be getting some early 90's flashbacks with these dad shorts, believe me, there are some really trendy long short outfit ideas you'll want to try. Best part!? They are so easy to style.
But, what are the shorts that will be trending this summer?
Bermuda length shorts are all the rage. We have been seeing leather versions of them from The Row, Tom Ford, and Staud.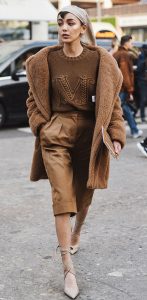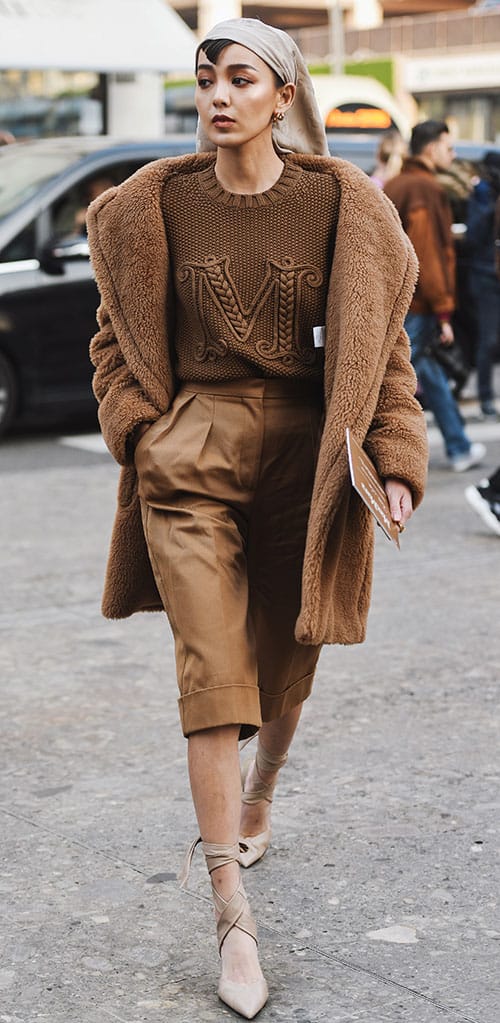 But, we need a casual short too, so the fashion community had a meeting and agreed that the denim Bermuda short trend can join in on the fun too. Also known as the long denim short, or the mom short.
What is a Bermuda denim short, you ask?
Well, it's a short that can either be fitted or slightly baggy. It has a hem that ends anywhere from the mid-thigh to just below the knee. I find the more popular denim Bermuda shorts for summer being just above the knee and somewhat fitted ( not skin tight but not "baggy" either).
we may earn a commission from you clicking a link in this post, at no additional cost to you. full policy here. as an amazon associates member we earn on qualifying purchases
Here are my top picks for Bermuda Denim Shorts:
Why should I wear the denim Bermuda short trend?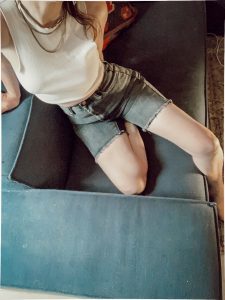 Well, because fashion said so. I kid.
But, they are a great option to add a bit more sophistication to your summer outfit and they tend to skew more chic than your traditional daisy duke shorts.
And, since oversized blazers are not going anywhere for summer, they can add a nice casual touch for summer daytime activities. [ elevate your look with the oversized blazer, the outfit possibilities are endless]
Plus, they can easily be dressed up or down depending on your spring/summer activities.
Trendy Bermuda Denim Short Outfits
Denim Short Trend Outfit Idea 1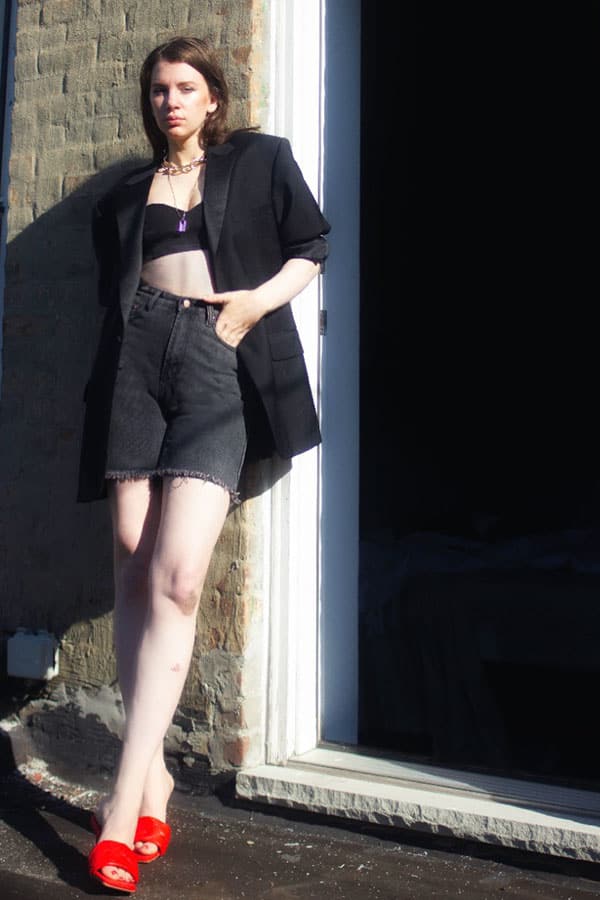 what you need:

Bermuda denim shorts, square toe heels, oversized blazer, crop top, and layered gold necklaces.
This look is playing on ALL the trends for summer, Oversized blazer- check. Square toe heels- check. Layering necklaces- check. [how to wear square toe heels like a fashion influencer] -including affordable look-a-likes for these Bottega Veneta Heels.
You can't get a more on-trend outfit than this one. If you want to make it more casual just swap out the square-toe heels for some chunky combat boots.
This is also a great look because it is generally monochromatic which makes it instantly more stylish. And the pop of color in the shoes really draws you in. [ how to style monochrome]
Denim Short Trend Outfit Idea 2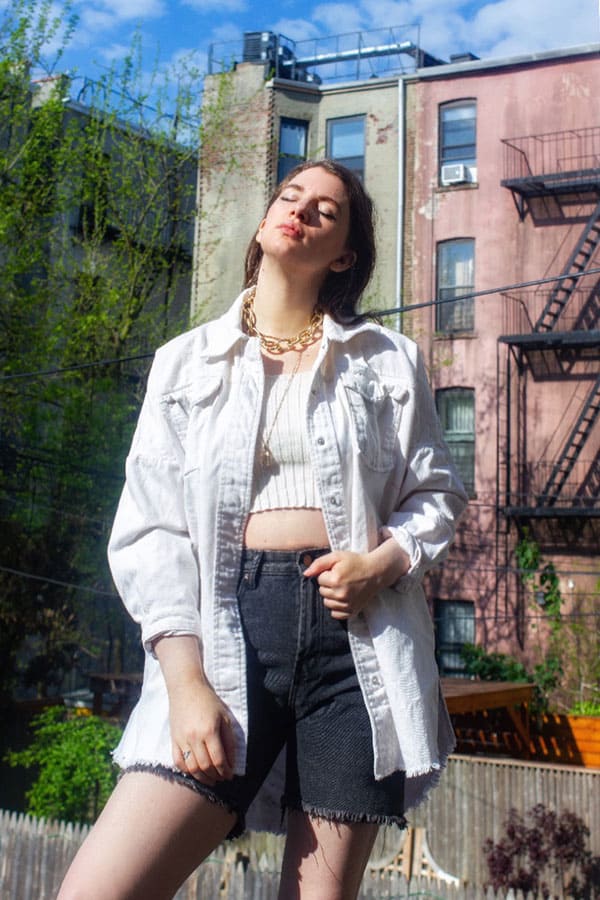 what you need: Bermuda denim shorts, oversized white denim shirt, crop knit tank, and low top sneakers.
This outfit is casual and easy. It's perfect for summer outings around the city or at the park. Or even nature, if you find yourself so lucky to be surrounded by trees and lakes.
The more fitted shorts and crop top balances out the more boxy shirt and provides a nice balance to the look.
Denim Short Trend Outfit 3
what you need: Bermuda denim shorts, oversized tee, bucket hat, and combat boots
I love the 90's vibe of this outfit and the bucket hat. These are two big trends that will continue into summer. For more info on these trends check out:
Bucket hats done right, bucket hat outfit ideas
14 ways to style an oversized white tee
This outfit is perfect for any casual summer outing. Going to a baseball game, picnic in the park, or even a casual brunch outside.
Denim Short Trend Outfit 4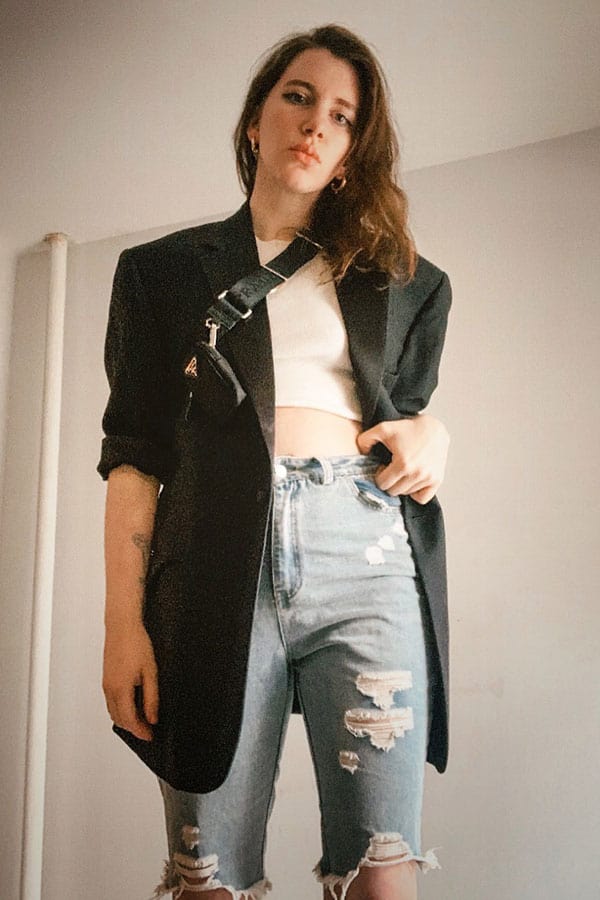 what you need: Bermuda Denim Shorts, Oversized blazer, cropped tank/wifebeater ( I hate that term), trendy bag, mule sandals
The Prada Re-edition bags are going to be everywhere this summer, and they are a great addition to the Bermuda denim short trend.
This outfit is similar to look 1, but this look is not monochromatic and the shorts are a bit longer. Whenever you're crafting your look just pay attention to your proportions. With this look, I can wear lower heels because the jeans are longer and the proportions are already elongating me.
Denim Short Trend Outfit 5
what you need: Bermuda denim shorts, cropped cardigan, trendy sandal, chunky gold necklace, and a micro-bag
Spring knitwear is going to be popping up in the summer too. Cropped cardigans will definitely be one of the biggest trends you see within the knitwear realm. [spring knitwear and what you need to know]
Statement gold jewelry and layering gold necklaces will also be a big trend. So invest in some great gold necklace options.
Long Denim Short Outfit Idea 6
what you need: long denim short, crop top, fitted leather blazer, pearl necklace, hoops, rectangular sunglasses
One of my favorite trends for 2021 is the leather blazer. And, it happens to pair so well with the long denim short. This trendy outfit idea is easy and makes it look like you actually tried.
Plus it's great for those transitional weather days from spring to summer. This is also a great way to style Bermuda denim shorts for an evening out with friends, drinks at a bar, or even a casual date.
Long Denim Short Outfit Idea 7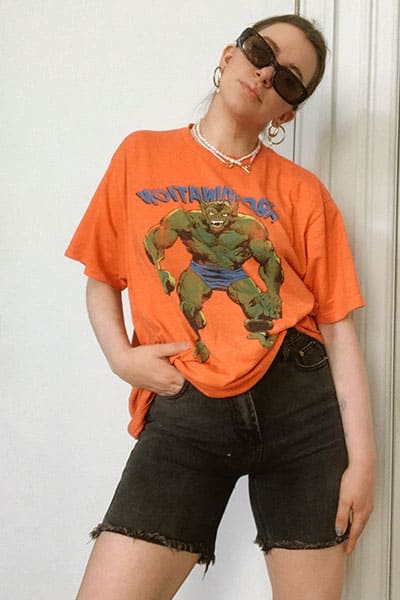 what you need: long denim short, oversized graphic tee, rectangular sunglasses, pearl and craft necklaces, and hoops
Add an oversized tee to any outfit and you pretty much achieve effortlessly cool vibes. I love finding men's vintage tees for an outfit like this, as it is unique and already worn-in.
This outfit is great for any summer daytime activities, or even a casual night of drinks with friends. It's simple, yet the details made it look like you put in effort. It's also great for easy errands, or grabbing a coffee and catching up.
The accessories really help elevate this look, so don't forget to add a few necklaces or earrings.
Long Denim Short Outfit Idea 8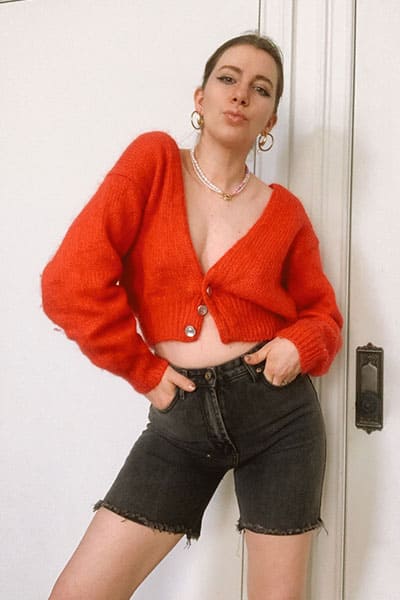 what you need: long denim short, oversized cardigan, layered necklaces, two pairs of hoops
In the spring fashion trends post, we saw A LOT of knitwear and cardigans being front and center. This outfit is so simple but it still feels put together.
I love this outfit for brunch with friends, a shopping day, or even an adventure in the city.
Long Denim Short Outfit Idea 9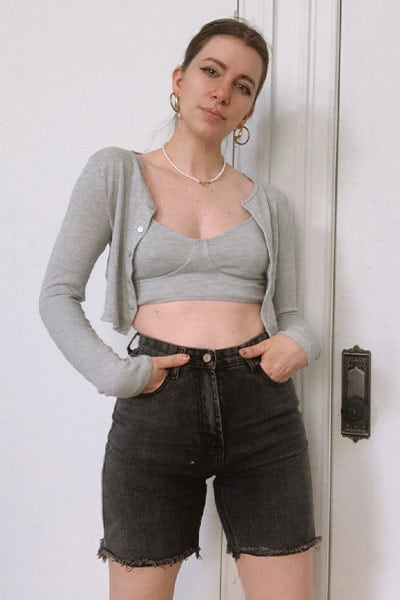 what you need: long denim shorts, matching cardigan/tank set, pearl necklace
The matching cardigan and tank is an easy way to mix classic and trendy styles. It's easy and polished and dresses up your denim shorts.
I love this outfit for any boating activities, museum outings, or brunch with friends.
Long Denim Short Outfit Idea 10
what you need: Bermuda denim short, men's Hawaiian shirt, Prada nylon bag, baseball hat, pearl necklace, hoops
Men's pieces are definitely a big style trend right now, and if you need more help on how to wear them check out this post: how to wear menswear as a female.
This outfit has especially trendy styling, but is easy to throw together. I love this outfit for a baseball game, a picnic in the park, or any daytime activity that doesn't take itself too seriously. To master this effortlessly tucked-in shirt style, check out this post on the french tuck.
Trendy long denim short outfit for the win!

Ok, so Bermuda denim shorts or long denim shorts or dad shorts… They have clawed their way out of the Nascar scene and found their rightful place among the fashion elite.
They are modest, easy to wear, and ultimately a trendy piece you need to incorporate into your summer wardrobe.
Denim trends come and go, but they ALWAYS circle back. So jump on this trend and embrace it while it lasts, and in 5 years we can talk about these again.
Go get your denim on!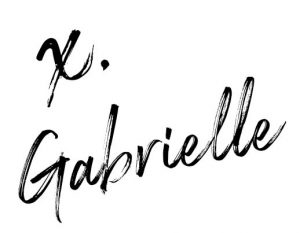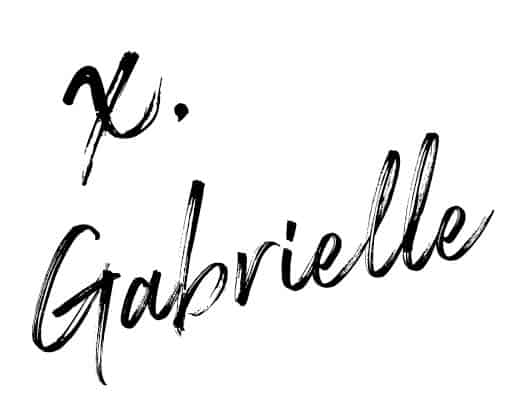 Pin this so you have a plethora of cute outfit ideas for summer!