The gold necklace trend. It's been cozying up and making a home in the fashion world for some time now. Layered, chunky, link, and chains, gold necklaces are here to stay, and here's what you need to know.
Ok, you've seen tons of fashionistas rock perfectly layered gold chains – But…
How do you layer gold necklaces?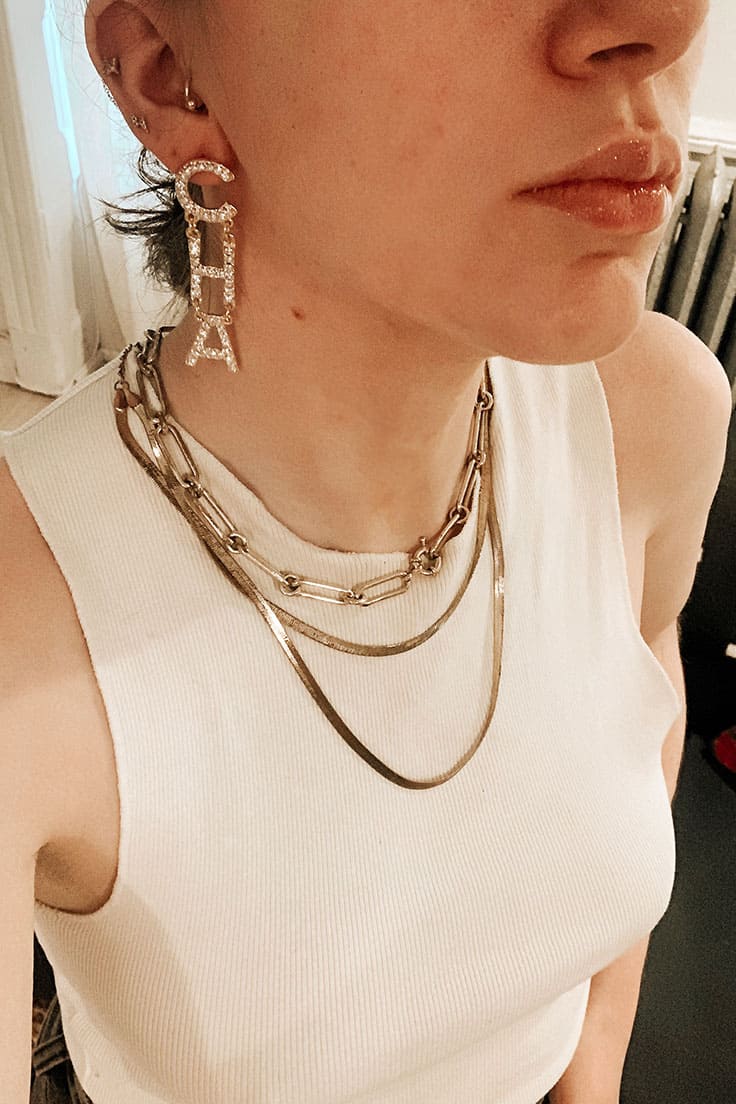 So when you start layering necklaces you need to keep these things in mind.
1. Keep the scales different; Add a thick chunky necklace with a delicate chain and don't be afraid to throw in a raw pearl necklace or bead necklace in there too. The scale of the chains is important to keep it balanced.
2. Varying Lengths: It is important to have at least one necklace that is long ( chest length), one that is medium-length ( below the collarbone but above your chest), and one or two that sit near your collarbone. You can fill in areas accordingly to your preferences and look, but you want to have graduating lengths to draw your eye.
3. Choose your style: You can either keep all the necklaces similar in look (think three different herringbone chains) for a minimalist look. Or you can opt for several different styles of chains to add a more trendy look. Note- this does not mean they should all be the same size, tip one still applies even if you are choosing the minimalist approach. Varying the size of the chains ever so slightly will create a much more high-end look.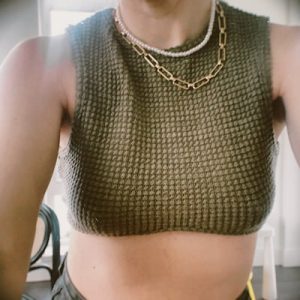 Can't I just wear the pre-made layered necklaces?
Yes, you can. But I personally suggest using these as a base if you insist on them. They are a good base to layer on top of but I find them lacking a bit of personality on their own. Fashion is about self-expression and this is an easy enough trend that you can throw in your own je ne said quoi.
Are gold chains still in style for 2021?
Gold chains are all the rage for 2021. Go ahead and dig into your significant other's jewelry box and steal ALL of the men's chains they have. Everything from herringbone chains, to rope chains, and curb chains- they all make great layering staples. Or can even be worn on their own.
I know you are overwhelmed with excitement to get out and try the gold necklace trend so here…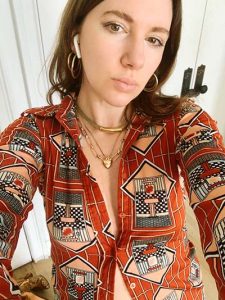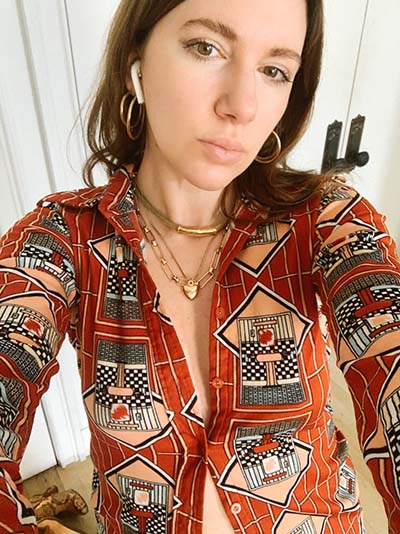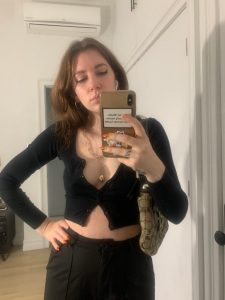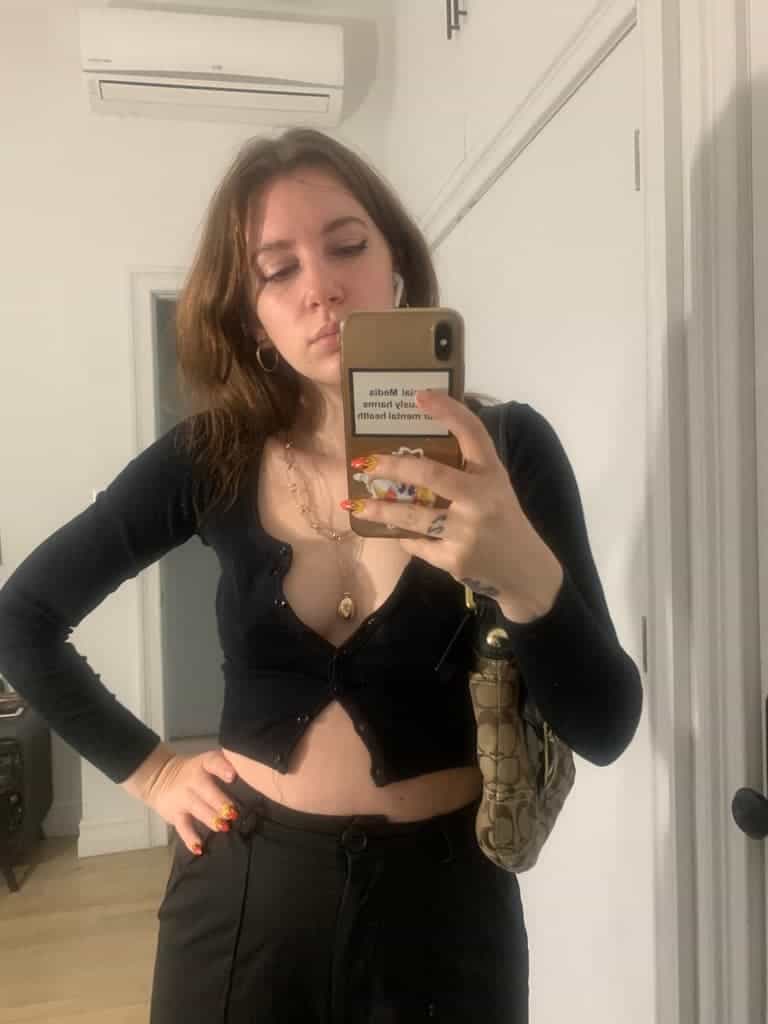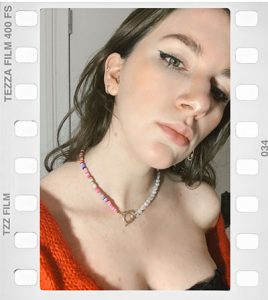 The best gold necklaces to layer:
Here are my favorite gold necklaces that make the gold necklace trend easy to tackle.
Gold Necklace Layer Combo Ideas:
Gold Necklace Layering Idea 1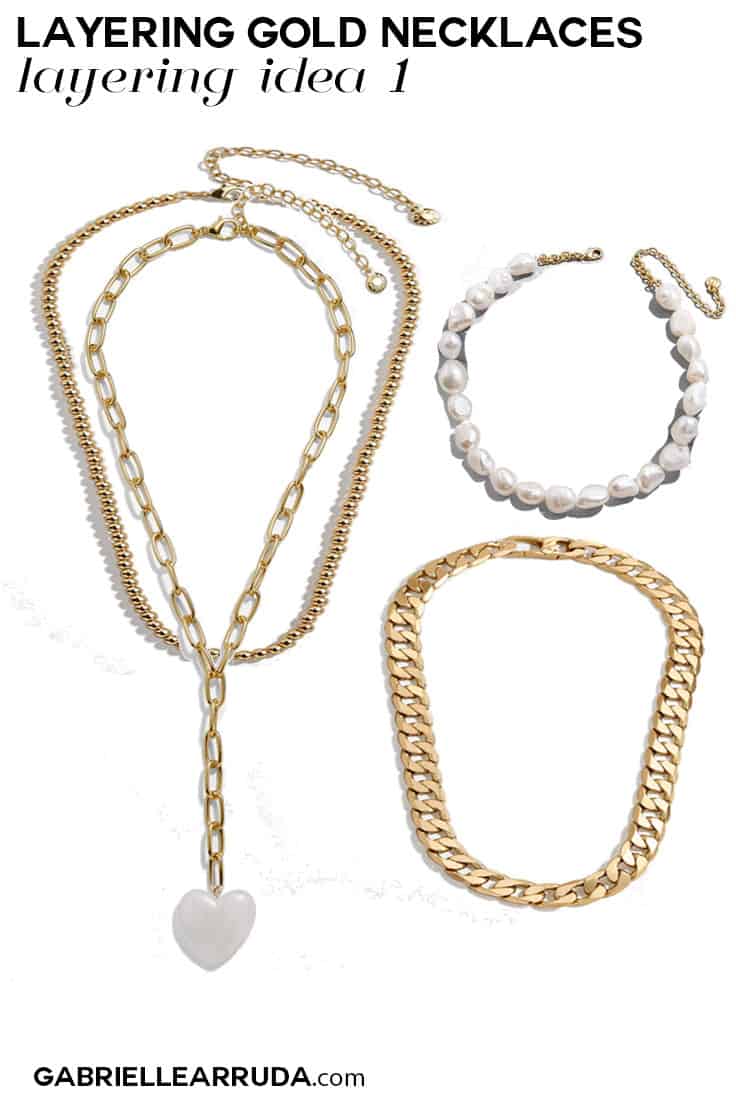 Notice all the scales of this gold necklace layering idea. You have the super chunky gold chain that fits just around your neck with two finer necklaces hanging lower down your chest. Also, notice the different types of chains we have, and how they all create a different overall silhouette and shape- these slight variations are key. The raw pearls are a nice touch and are a very trendy item right now.
Gold Necklace Layering Idea 2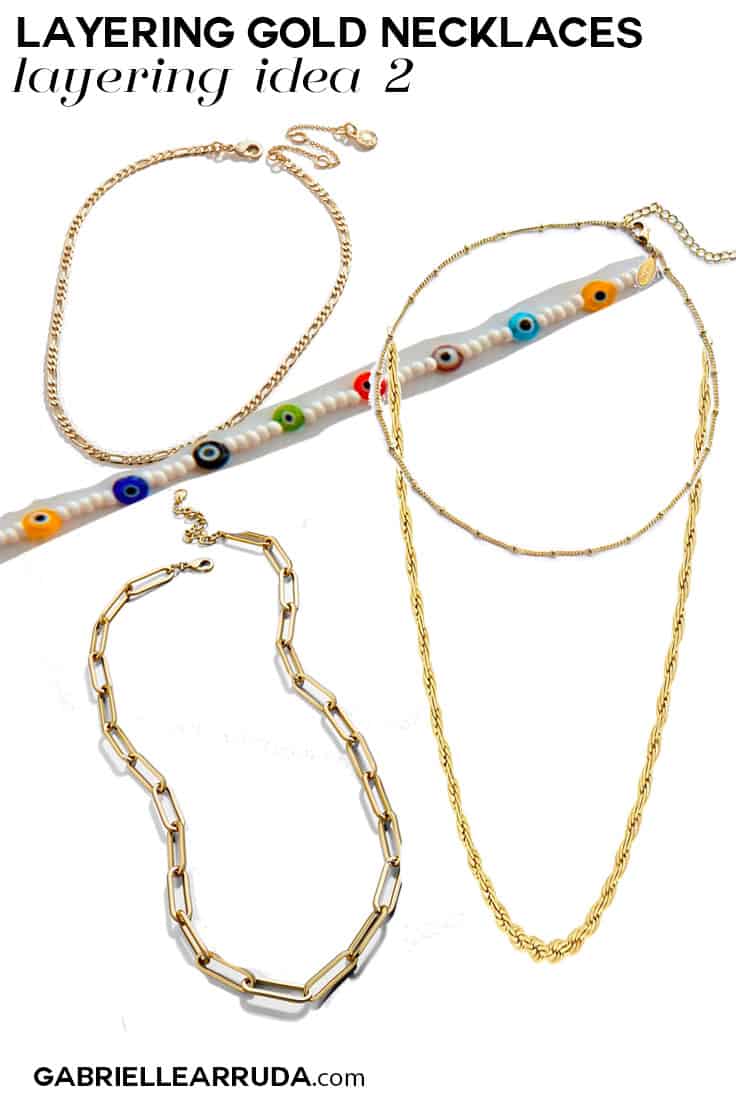 This gold necklace combo idea has a more dainty approach. The scales only vary slightly with each necklace but each necklace hits a different part of your chest/neck and each necklace has a different texture/style of chain. Adding the dainty, and slightly colorful beads is an easy way to make this gold layering stack even more on-trend, and great for warmer seasons like summer to add a bit of flirtiness to your outfit.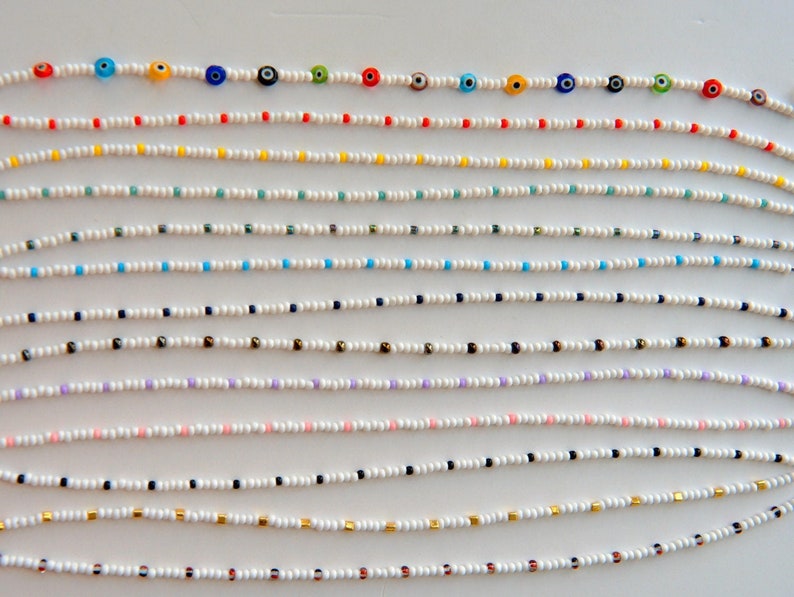 Gold Necklace Layering Idea 3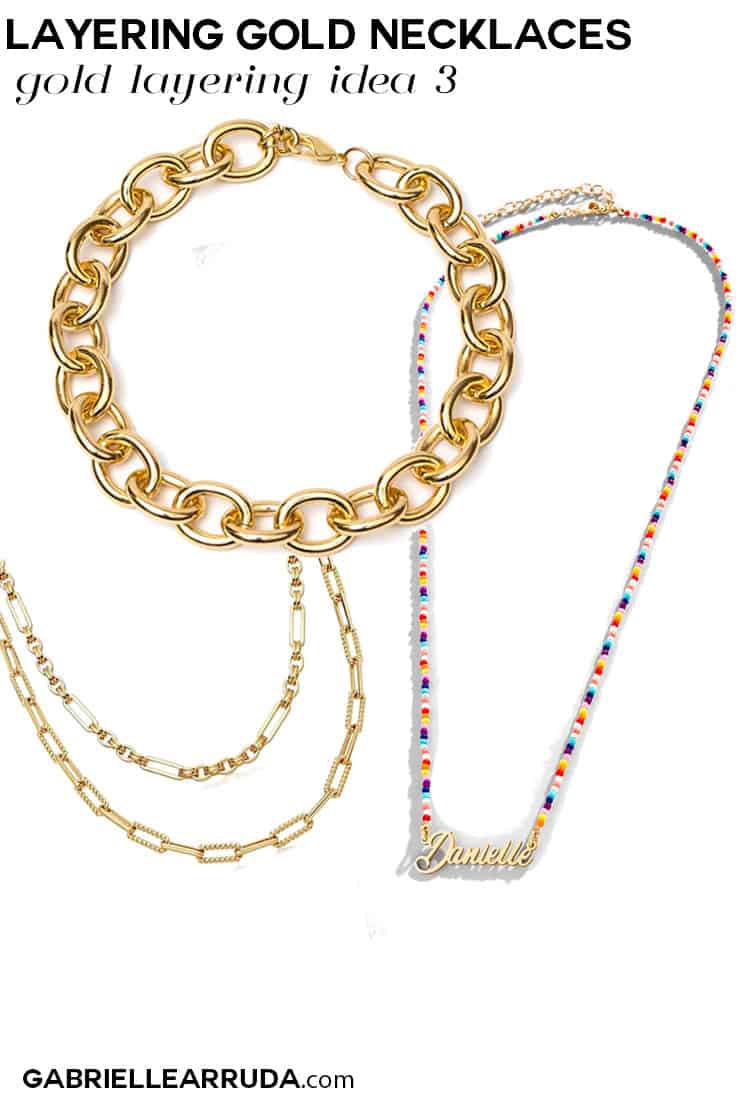 Personally, I think everyone needs a chunky gold link necklace. It adds some weight and drama to your gold necklace stack. This is a great example of using texture to elevate your gold necklace layering. Notice the gem texture in the medium link necklace and the colorful beads in the customized necklace. Both of these textures help evenly distribute the attention and balance out the chunkier link necklace.
TIP: Keep texture in mind! Adding subtle textures like gems, beads, or raw pearls can dramatically help your layering skills. You don't want these additions to be the focal point, but rather a nice diversion from all the gold.
What other necklace trends are big for 2021?
Customized Gold Necklaces
Customized and name engraved gold necklaces seem to also be a big trend for 2021. I love this trend, and fully support anything with initials like signet rings, nameplates, and dog tag style necklaces.
Here are the best customizable gold necklaces that are trending:

If you like this post you might want to check out these similar posts:
The Maria Tash Look For Less; Tiny Earrings That Look Expensive
Curated Ear: How to style your ear with affordable jewelry + ear piercing ideas
The Affordable Jewelry Brands I swear By
Can I layer gold and silver necklaces?
Absolutely. Fashion has no hard and fast rules. However, I would try to have one dominant metal and add the other metal as a supporting role.

Jewelry is the perfect way to spice up a simple outfit. It is literally the icing on the cake, and I think paying attention to jewelry trends and implementing them can make you appear way more stylish than if you opted to ignore adding jewelry.
Hopefully, this trend watch gives you a good idea of what gold necklace layering is all about and how to style it like a fashion goddess.
Pretty much in every post, I bring this up, but let me say it one more time. Fashion is one of your loudest untapped voices. For me, growing up, I struggled to find my place and my identity but ALL of that changed when I discovered how you can utilize clothing to communicate and make an impression on people.
In a world with social media and so much external visual reference, it can feel overwhelming and like you're lost. But learning how and why to implement trends like the gold necklace trend, can help you find your own style voice.
Not every trend will be right for you, but you really won't know until you try it a few times. So hop on the gold necklace trend and layer those necklaces every which way. The more you try, the better you will train your eye to understand proportion, balance, and most importantly how it works for YOUR style language.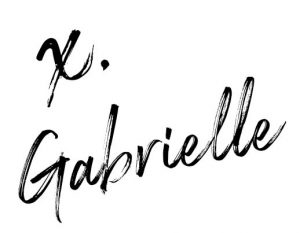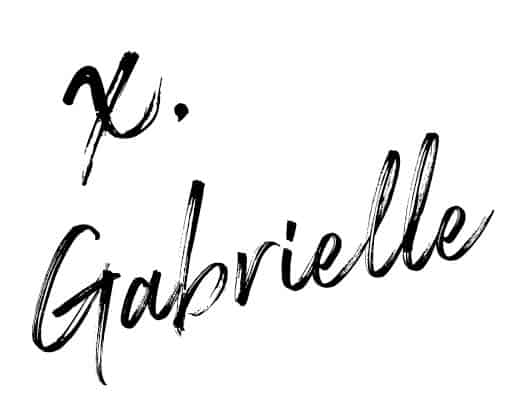 Pin this so you always have a gold layering necklace resource, it might just up your fashion game 😉