So you want a curated ear. You lust after those multi-hoop, stud combos you see all over Instagram but you just don't know where to start, well I'm here to give you ear piercing ideas and a proven way to keep the ear-piercing journey affordable as you go.
What do I need to know for multiple ear piercings?
First, let's start off by saying this is not a quick journey, it is very much a slow burn. You can't get more than three piercings at any given time, for healing purposes (source). And honestly, going into a quality piercing studio and getting more than one or two at a time is very, very expensive.
Quality piercings only pierce with their jewelry, and their jewelry (while absolutely stunning) is also very expensive. And, while I want the piercing to heal properly and safely, I also like to switch out my jewelry often and I also lose my jewelry very easily. Hence going into a studio and getting all your piercings done at once, is not really the way to go.
Ear Piercing Chart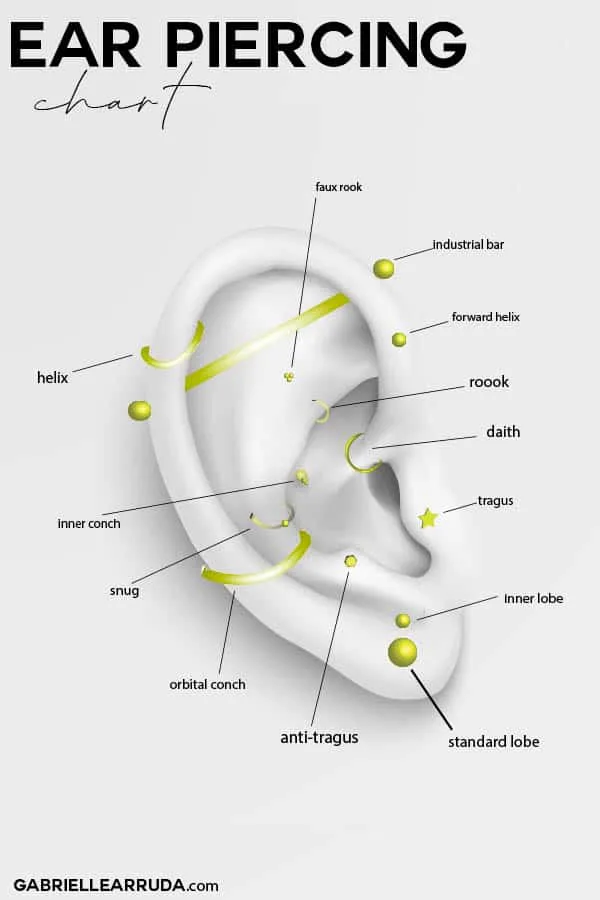 (this image is free for anyone to use as long as you provide proper credit/source www.gabriellearruda.com)
First, be sure to pin and/or save this image for reference. Knowing the correct terminology for each piercing will save you a lot of time and potential mistakes.
So how do you get a curated ear on a budget?
In order to get a curated ear in a more affordable manner, you have to be patient. Go to a piercer you like ( if you're in NYC, I highly suggest So Gold Studios). The first time you go, you have to buy one of their pieces of jewelry. However, after the set number of weeks (usually 6-8 weeks) you can return and ask the piercer to re-pierce your ears with the same piece of jewelry. Once your original hole is healed you can replace it with something more affordable like the jewelry below.
For your first piercing, pick a piece of jewelry that you like and that is simple and can work in multiple places in your ear. I like small, dainty earrings that are easy to move around. Some ideas include a dainty tri-ball earring, a small pyramid stud, or a small circle stud. I usually opt for studs, I find them the most flexible.
Depending on the piercing you may need to purchase other options (like a hoop). But, this is the initial investment in a curated ear.
What are the best ear piercing combinations?
This honestly depends on your ear shape and your style. However, I stay start slow and do your research.
Maria Tash is probably the most famous brand to promote the curated ear, but her jewelry is quite expensive. If you want more ideas like Maria Tash but for less, check out this complimentary post I wrote.
Cartilage and multiple lobe piercings are usually the easiest to start with. They heal fairly quickly and most people have the anatomy to handle them.
However, I suggest you take a picture of your ear and head on over to my Pinterest board to see multiple piercing placement ideas. Save any of the curated ear designs below to your phone so that you can bring them to your piercer as inspiration as well!
The more information you bring to your piercer, and the clearer your plan, the happier you will be with the end result.
For my personal journey, I started with multiple lobe piercings. Then added the cartilage, helix, and double faux rook, then added the inner conch, and inner lobe piercings. You can see my journey a bit below
Double piercing – guess I have to put holes in my body to go ##viral ##piercingcheck ##mariatash ##fyp ##foryourpage ##tiktokfashion ##trending ##54321
follow me on tiktok, here.
we may earn a commission from you clicking a link in this post, at no additional cost to you, full affiliate policy here
Here are 10 ear piercing ideas for a curated ear:
(including one idea that only has a single lobe piercing!)
Be sure to pin your favorite multiple earring idea so that you can have a reference image when you go to your piercing studio. And know that these earring sizes are approximate. They may look different on your ear. I suggest paying attention to the size in the description of each earring before your purchase.
All of these earrings are under $50, most are actually under $20.
Curated Ear Idea 1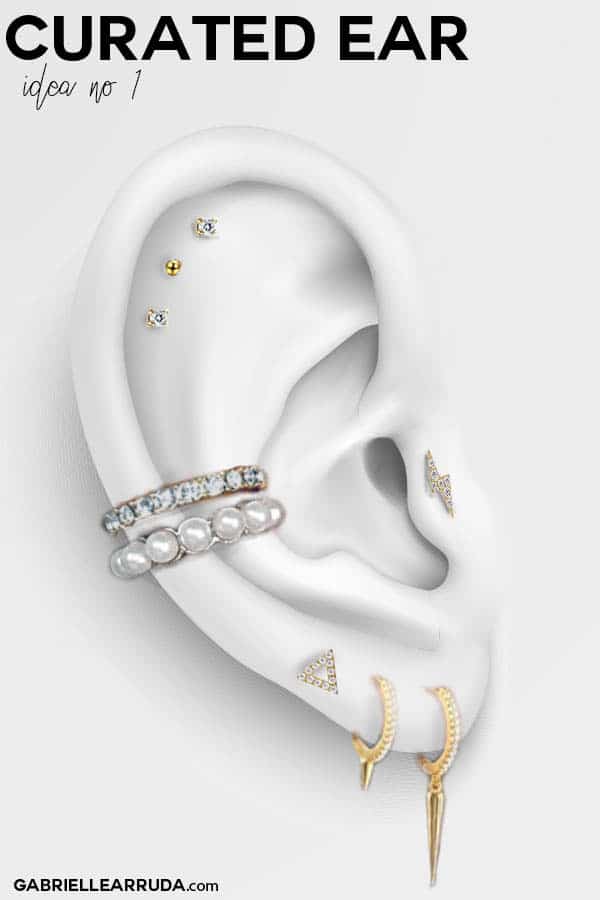 what piercings are needed:
3 standard lobes, a tragus, 3 stud helix (cartilage) piercings), and 2 ear cuffs (no piercing needed)
(gold ball and diamond mini studs)
Curated Ear Idea 2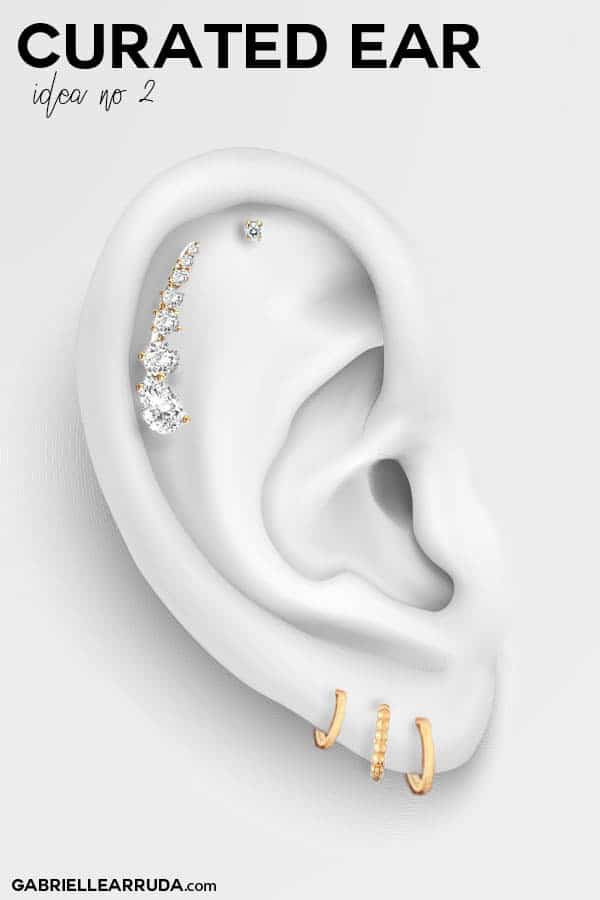 what piercings are needed:
3 standard lobe piercings, 2 helixes (cartilage piercings). The longer earring is called a crawler and is great for cartilage piercings as well.
TIP: When using a crawler in a cartilage piercing make sure you check where the "stud/back" is placed along the crawler. That way you can more accurately access how it will look in your ear.
Curated Ear Idea 3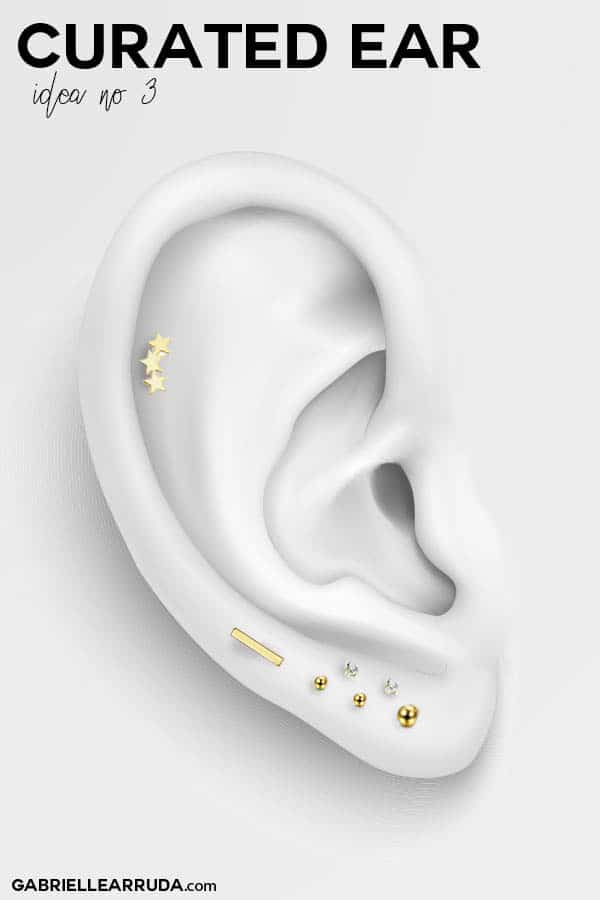 what piercings are needed:
4 standard lobes, 2 inner lobes, 1 stud helix (cartilage)
For this look I recommended one 2mm gold ball stud, and two 1 mm gold studs.

(1mm)
(.8 mm diamond and gold studs)
Curated Ear Idea 4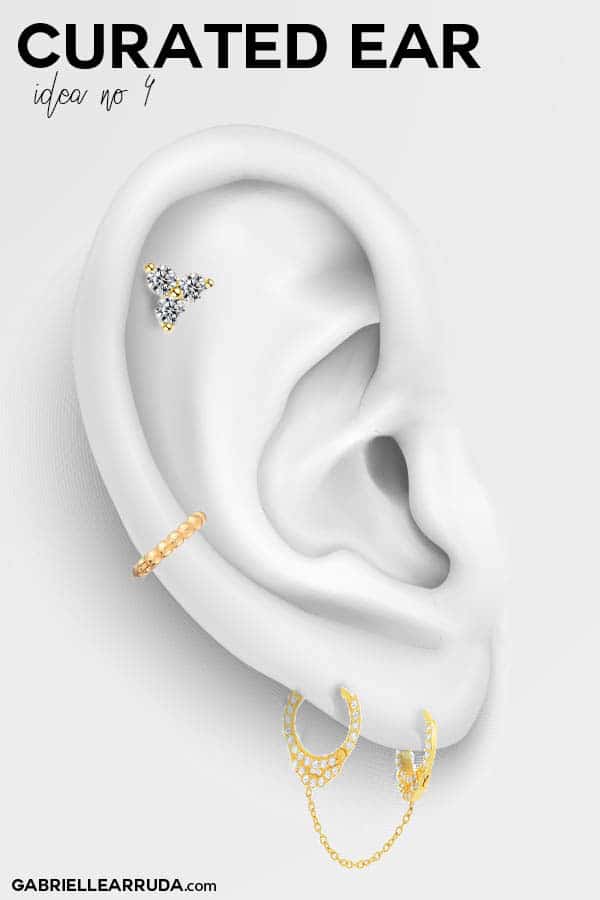 what piercings are needed:
2 standard lobes, low helix hoop, high helix stud
Curated Ear Idea 5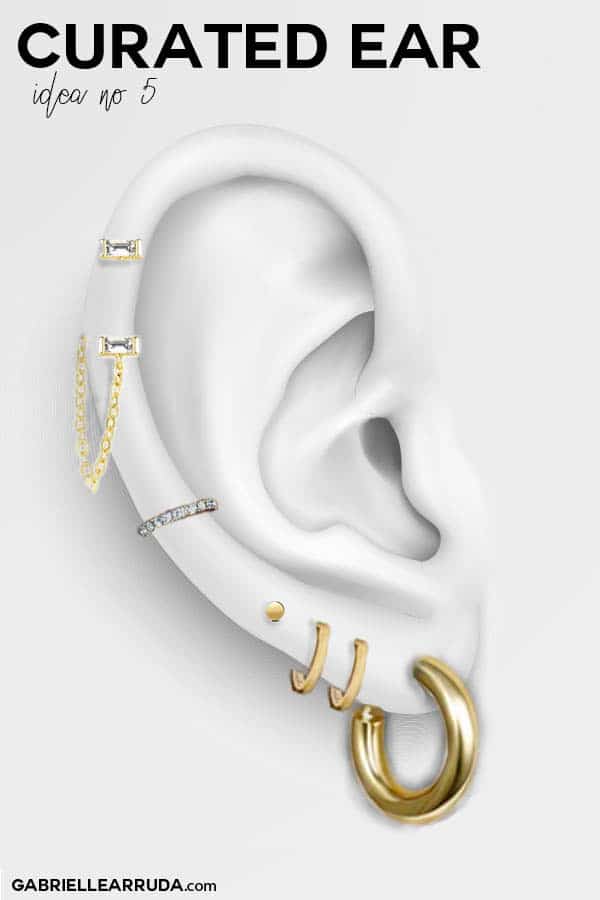 what piercings are needed:
4 standard lobes, 1 ear cuff, 2 forward helixes
Curated Ear Idea 6: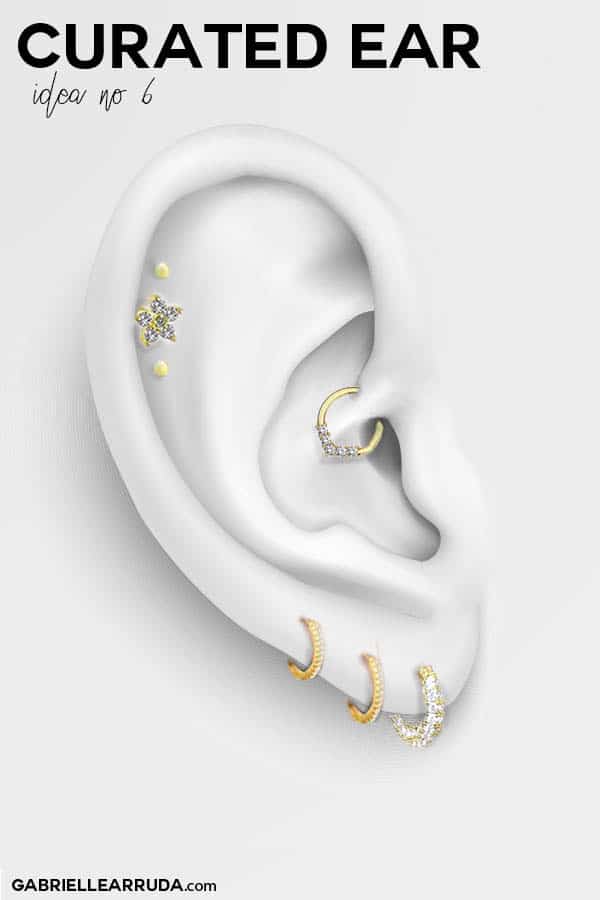 what piercings are needed:
3 standard lobe piercings (hoops), 3 stud cartilage piercings, 1 hoop daith
Curated Ear Idea 7: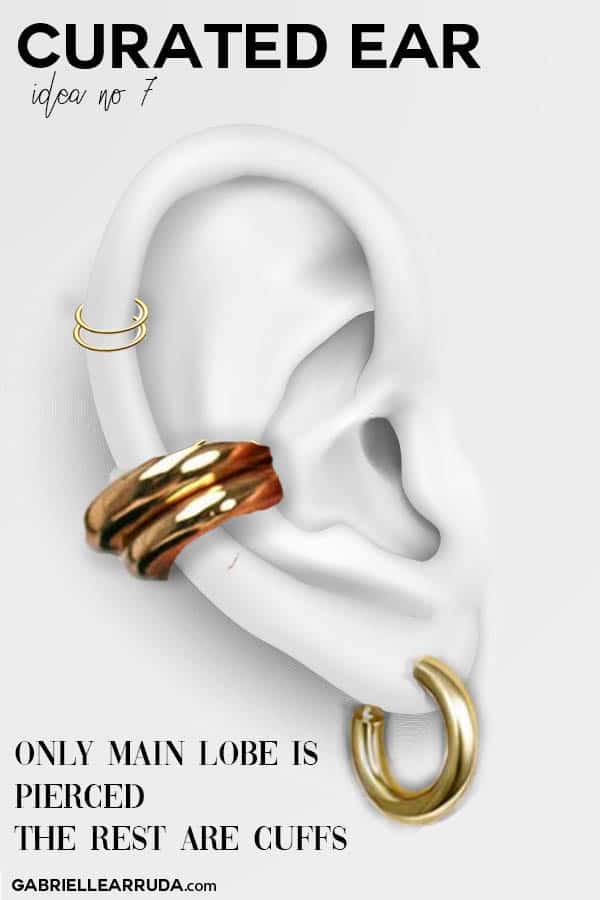 what piercings are needed:
1 standard lobe
You can stack two ear cuffs like this to give the appearance of a stacked ear. And the two upper hoops are cartilage cuffs. Full disclosure, I have not tried cartilage cuffs personally (because I have actual holes), but at that price, I think they are worth giving them a shot.
Curated Ear Idea 8: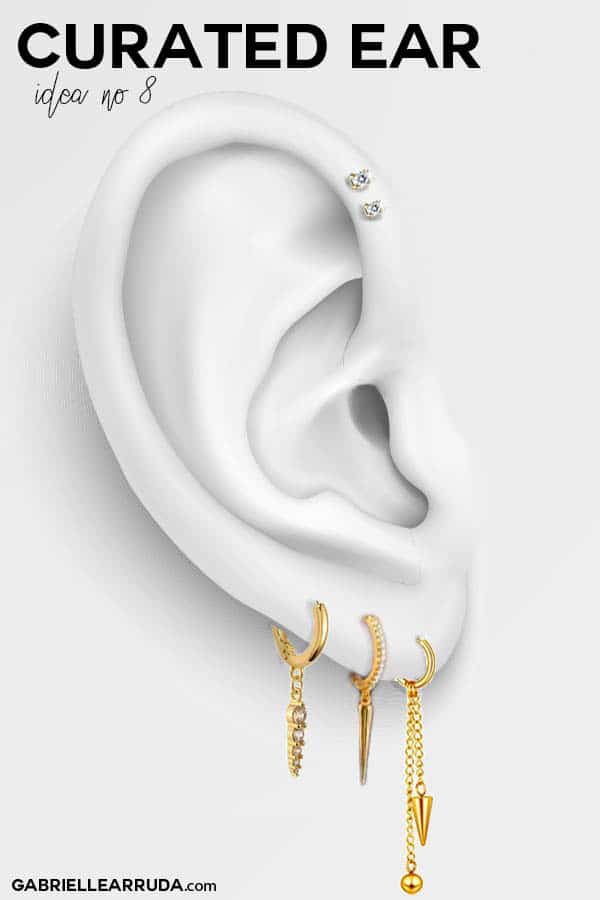 what piercings are needed:
3 standard lobes (hoops), 2 forward helixes (studs)
Curated Ear Idea 9: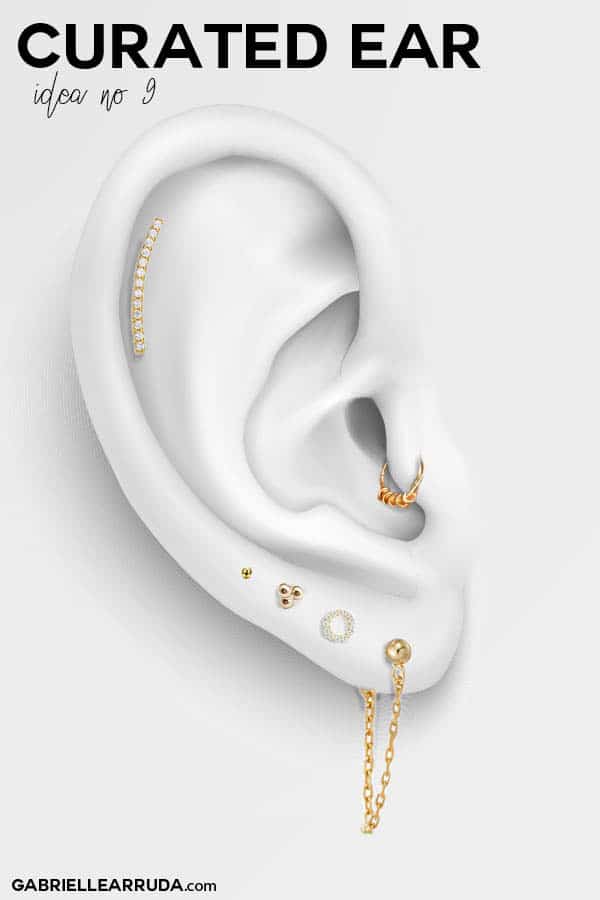 what piercings are needed:
4 standard lobes (studs, 1 stud with chain), tragus hoop, 1 helix (crawler)
Curated Ear Idea 10: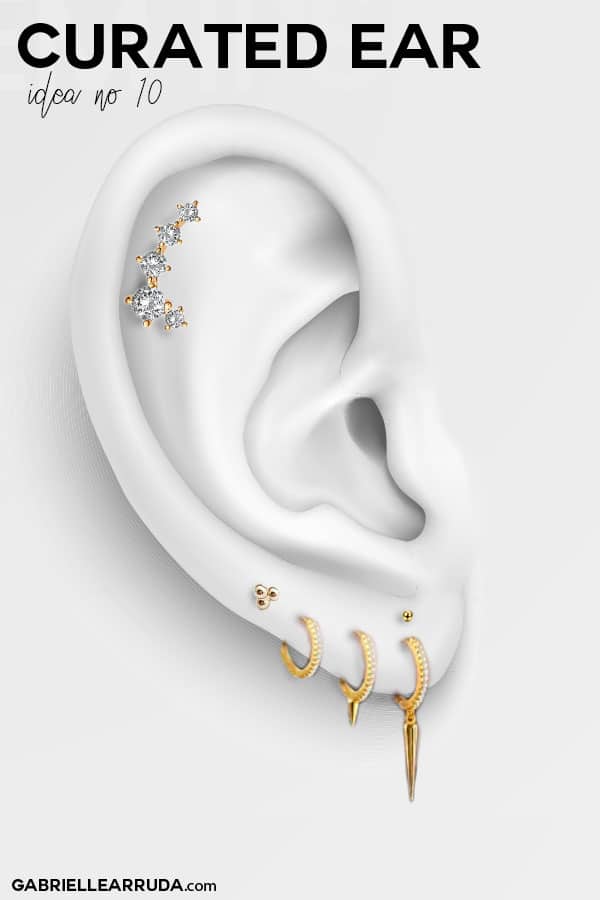 what piercings are needed:
4 standard lobes ( 3 hoops, 1 tri-ball stud), 1 stud inner lobe, 1 helix (crawler stud)

Help, my earrings keep falling out!
Ok, so full disclosure, part of the reason why I love affordable jewelry like the ones in this post is because I have a horrible track record with losing my nice jewelry. Just check out my post here on my favorite budget-friendly jewelry.
But, I get that sometimes we invest in an earring and would be devastated if we lost it. And for the one earring I have like that, and have managed to keep, I invested in these:
The silicone earring backs are especially important for forward-helix piercings.
I have tried both the lock and the silicone backed stopper. I like the lock for jewelry I put in the "if I lose it I will die category" and I love the silicone secure backs because they are very comfortable. Speaking of that…
How do I sleep with all these ear piercings?
Sleeping is a delicate game when you have a curated ear, especially when they are healing. Be sure to follow the piercer's instructions for care. That usually consists of NOT touching or twisting the earring, and spraying them with saline at least once (if not twice) a day. But again, refer to your piercer for more detailed information.
I sleep on my side or stomach when I get a new piercing and use my arm as a kind of makeshift triangle. And I place my ear inside the empty space of my arm triangle. If that's confusing just try laying on your stomach and putting your arm above your head and then essentially touching your nose with your finger. That should get you there.
And, if that isn't comfortable for you ( it grows on you believe me), you could try one of these pillows. I haven't personally invested in one, but I can see their appeal for curated ears.

Ear piercings are a big trend right now. And, I personally love how easy and chic a curated ear can be.
I talk about it a lot, but the details in your outfit can instantly transform a very basic outfit into an A-list fashion ensemble. And having a curated ear is the perfect example of this.
Most of these ear designs are small and dainty and while they command attention, they do not overwhelm your look. This is great because you can pretty much keep these earrings in at all times and they can give your outfit an instantly trendy appeal when they peek out from behind your hair.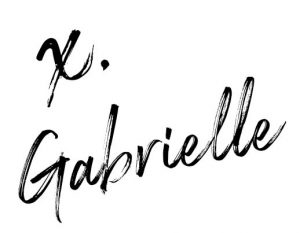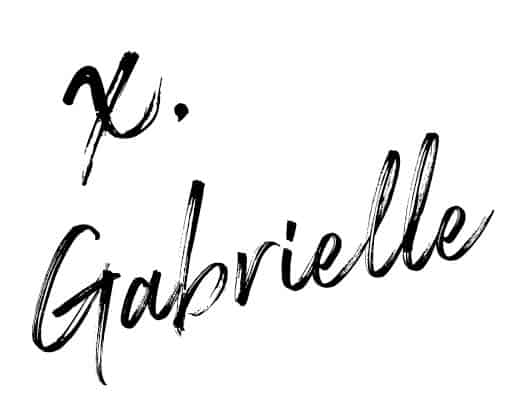 P.S. Pin any of the above images for reference, or you can try this pin image if you just can't decide!