Fashion is an empowering thing. Your style can be your untapped voice, that communicates to the world who you are and what you want to be. Don't believe me? Just check out this post here for more information.
That being said, sometimes we can lose sight of our fashion goals and our style voice gets muffled in the mix of social media and too much influence. I know it happened to me.
When that happens, I like to refer to some of my favorite fashion quotes for inspiration. The top leaders in fashion and their perspective on how important your personal style can be is the reminder you need to re-think the importance of your style.
So let's get to the best fashion quotes for inspiration and empowerment:
"What you wear is how you present yourself to the world, especially today, when human contacts are so quick. Fashion is instant language." -Miuccia Prada
"People will stare. Make it worth their while." -Tom Ford
"I firmly believe that with the right footwear one can rule the world" – Bette Midler
"You can have anything you want in life if you dress for it" – Edith Head
"I like my money right where I can see it… hanging in my closet." -Carrie Bradshaw
"Fashions fade, style is eternal." – Yves Saint Laurent
"Anyone can get dressed up and glamorous, but it is how people dress in their days off that are the most intriguing." -Alexander Wang
"I've always thought of accessories as the exclamation point of a woman's outfit." -Michael Kors
"Great personal style is an extreme curiosity about yourself." -Iris Apfel
"A woman is never sexier than when she is comfortable in her clothes." -Vera Wang
"If there is one rule for dressing, for fashion, it's pretty much the same rule as for everything else in life: Don't go against yourself, don't go against your own nature. It's only going to show." -Diane von Furstenberg
"Buy less. Choose well. Make it last. Quality, not quantity. Everybody's buying far too many clothes." -Vivienne Westwood
"Fashion needs to make one happy. It is a luxury and should enhance one's quality of life." –Tom Ford
"The ultimate customer is stylish, not fashionable. To be fashionable all you need is money." -Marc Jacobs
"It's impossible to be stylish without confidence, you see." –Jane Birkin
"When a woman says, 'I have nothing to wear!', what she really means is, 'There's nothing here for who I'm supposed to be today." -Caitlin Moran
"Fashion isn't a necessity. It pulls at your heart. It's a whim. You don't need it. You want it." – Marc Jacobs
"In difficult times, fashion is always outrageous." –Elsa Schiaparelli
"How can you live the high life if you do not wear the high heels?" –Sonia Rykiel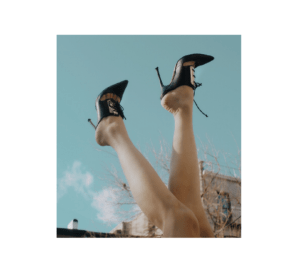 "Clothes mean nothing until someone lives in them." – Marc Jacobs
"Fashion is very important. It is life-enhancing and, like everything that gives pleasure, it is worth doing well." –Vivienne Westwood
"Fashion you can buy, but style you possess. The key to style is learning who you are, which takes years. There's no how-to road map to style. It's about self-expression and, above all, attitude." –Iris Apfel
"You either know fashion or you don't." -Anna Wintour
"I loathe narcissism, but I approve of vanity." – Diana Vreeland
"I think there is beauty in everything. What 'normal' people would perceive as ugly, I can usually see something of beauty in it." – Alexander McQueen
"I have always believed that fashion was not only to make women more beautiful but also to reassure them, give them confidence." – Yves Saint Laurent
"Fashion is not necessarily about labels. It's not about brands. It's about something else that comes from within you." -Ralph Lauren
More fashion quotes:
And here's a few more quotes for your Pinterest files, so you can get inspiration when you need it…
If you need some more fashion inspiration, check out these amazing fashion biographies:
we may earn a commission from you clicking a link in this post, at no additional cost to you. full affiliate policy.
An amazing account of YSL's rise to fame and includes the rivalry and supporting story of fashion succes Karl Lagerfeld.
This chronicles the iconic life of designer Coco Chanel and how she revolutionized the fashion industry and changed industry standards for decades to come.
Grace Coddington is the creative director for Vogue and her career is an amazing story for any fashion lover. At one point she was only a behind the scenes fashion guru, but thanks to the Vogue documentary and this book, Grace has claimed her public fashion throne.
Great fashion books for little kids:
(this is one my son's favorite books!)
Any other amazing quotes that aren't on this list, drop them in the comments to keep the inspiration going!
Be sure to sign up for my newsletter for the best style tips and exclusive content!