Summer 2020 is almost upon us and fashion has made its final decision.
Back in the day, designers and editors used to call the shots when it came to fashion trends. 6-8 months prior to the season they would release their runway collections telling everyone exactly what to expect for the upcoming __insert season here____.
But, then social media came into the picture, and the wide plethora of tastemakers and influencers helped form street style culture and fashion blogs.
And this power dynamic slowly shifted. As both a designer and a content creator, I feel they work well together. However, at one point the designers had ALL the power, and now it is more a working partnership.
So while designers suggested their trends for summer 2020 months ago, after some filtering and posting, the fashion community has landed on the following summer fashion trends 2020 edition.
we may earn a commission from you clicking a link in this post, at no additional cost to you, full affiliate policy.
related:
Summer Fashion Trends 2020
Check out this post on summer outfit ideas, if you want more inspiration!
Bermuda length denim short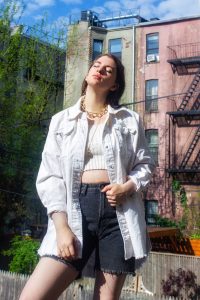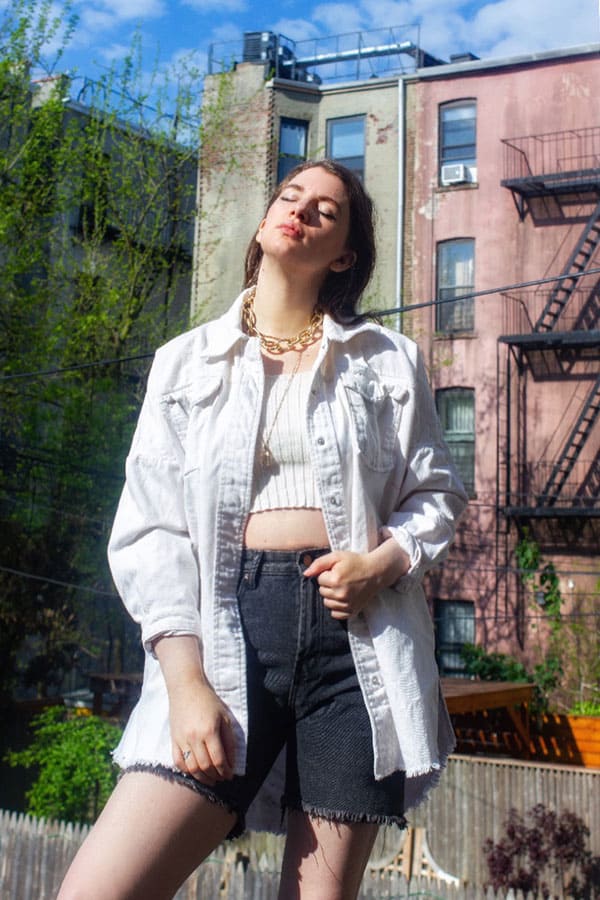 These jeans are chic and much more friendly than their previous trending counterpart the short-short. While designers mostly displayed cotton and leather Bermuda shorts, a more popular iteration for summer 2020 will be the denim Bermuda short. For everything, you need to know about this trend, click here.
Wedges (yes I know!!)
Wedges are trending. Are you scared yet? But don't worry, these are not the chunky wedges of our youth with platform fronts and bulky silhouettes. Instead, they have been re-invigorated from the sleek Prada Flame Heels that had their moment a year or so ago.
Think Sleek wedges with no front platform and minimal straps. A simple silhouette. They look fantastic with straight leg jeans or the Bermuda shorts mentioned previously.
Lace-up heels
This shoe trend has been around for a while, but it will still be around in summer 2020. It looks great with practically every clothing trend on this list. The lace-up aspect makes your legs look great, and there are so many different styles to try, experiment, and go from there.
And if you're unsure if you like this trend try this hack with a pair of heeled sandals you already have.
Oversized (like really oversized) tees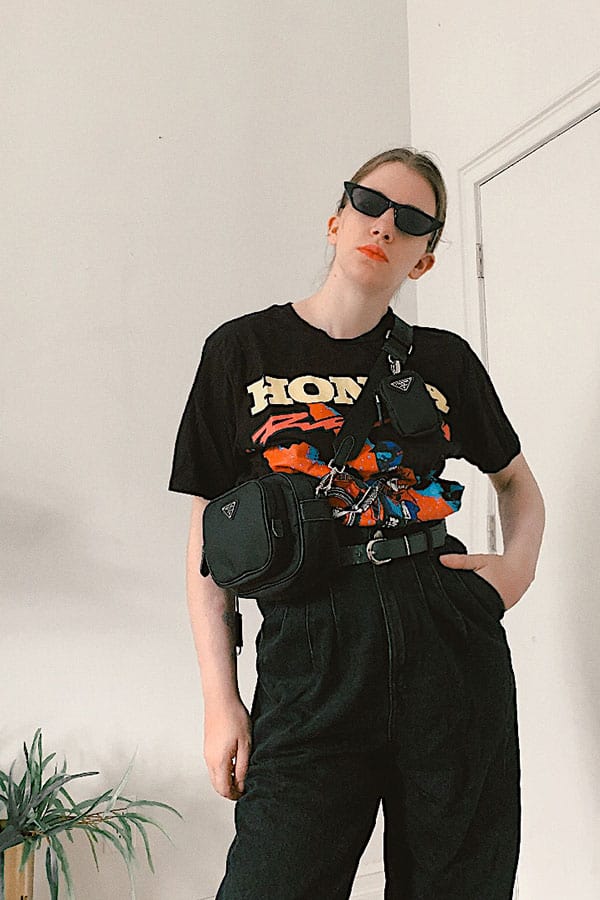 Ok, while slightly baggy tees have always been a go-to fashion staple for that effortless look, EXTRA baggy t-shirts are trending for summer 2020. Think like Large men's shirts or above.
They look fantastic with Bermuda denim shorts or the asymmetrical closure jeans we will get to next. [ 14 ways to wear a white tee ]
Asymmetrical Closure Jeans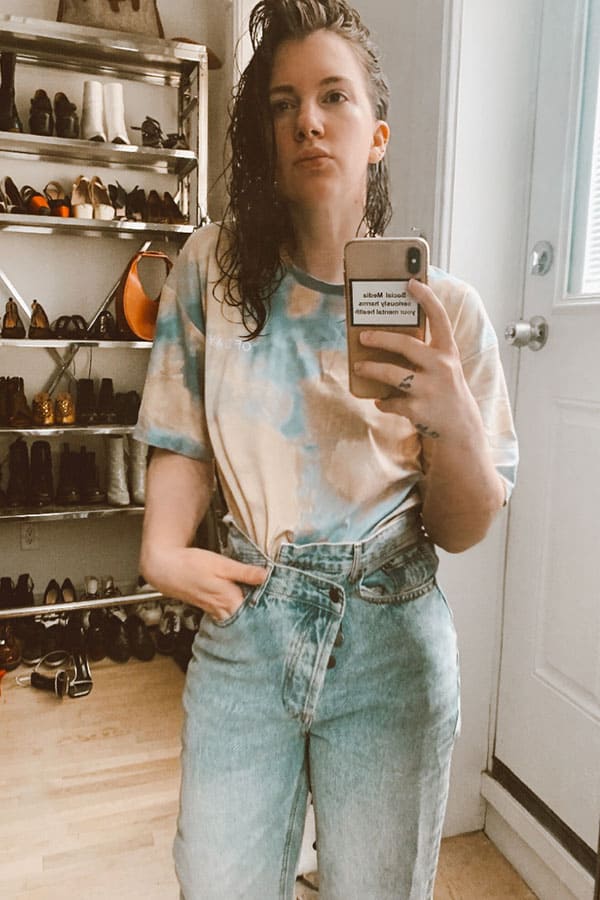 View this post on Instagram
These jeans made their debut in spring but will it hit peak popularity in summer 2020. TikTok has had a big surge in this style and if you want more info on TikTok fashion trends you can click here.
Prada re-issues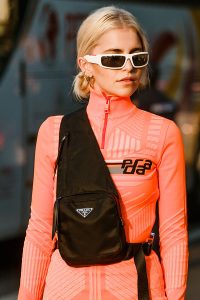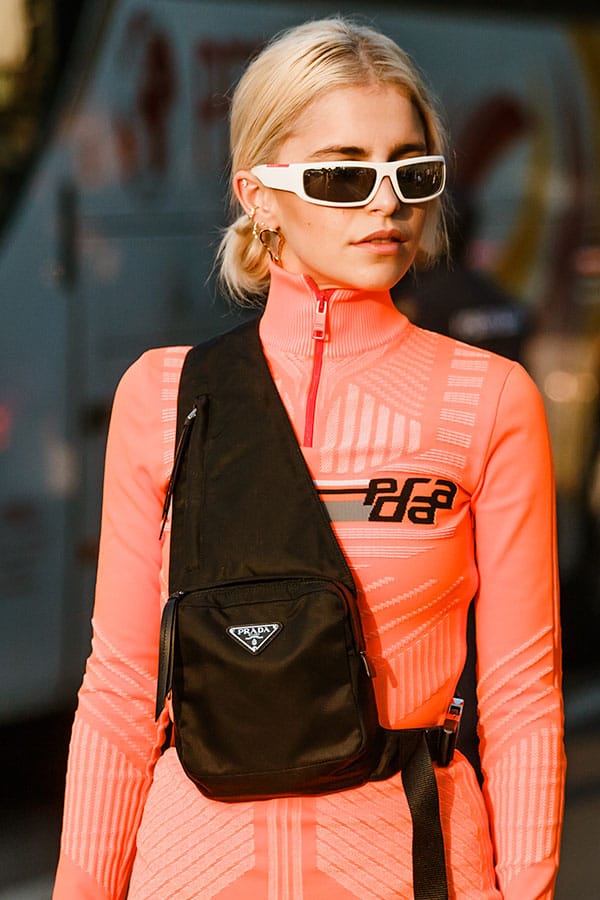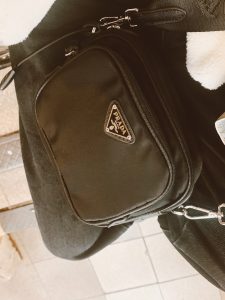 All those 2000 Prada bags you kept safely stored in your closet- well, RUN and get them out now. ALL the Prada nylon bags are having a moment. Especially the utility bags with the pochette, and the classic nylon shoulder bags. (We'll talk shoulder bags soon, I promise).
Floss Bikinis
View this post on Instagram
Thanks to Emily Ratajowski and her brand Inamorata for making the floss bikini THE swimsuit trend of summer 2020. While, I was very skeptical at first, after doing some research I found that pulling this off wasn't dependent on having an ab line like EmRata.
These actually look great with the wedge heel we mentioned previously. Here are all the swimsuit trends to be aware for summer 2020.
Crafty Style Jewelry
Layered gold jewelry is definitely still in for summer fashion trends 2020, click here for more info. But, joining the necklace party is crafty style jewelry.
Think beads, friendship bracelets, and quirky colorful styles. It's replacing the shell jewelry we saw in summer 2019.

You can even pair it with your layered gold necklaces for the perfect fusion of chic and fun.
Heeled Flip Flops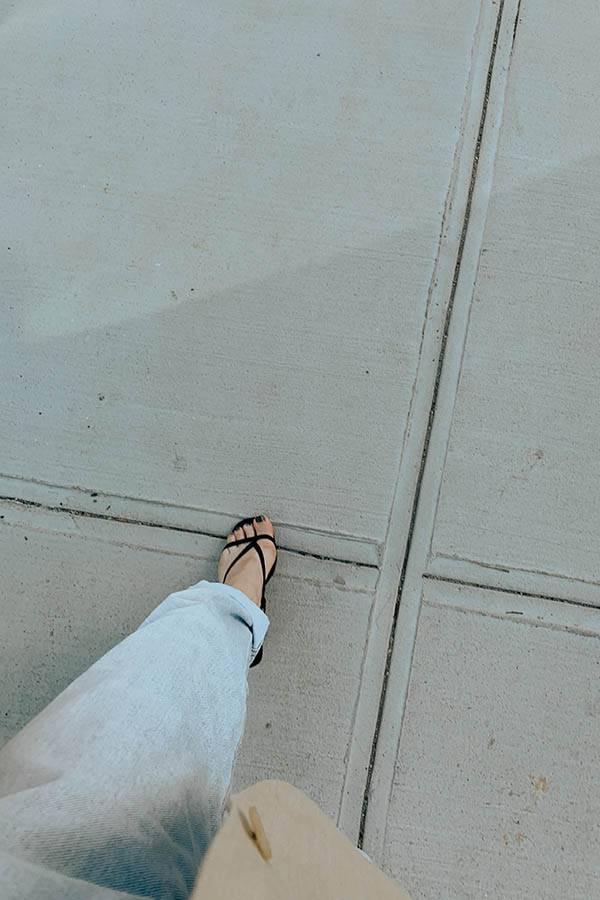 These popped up, to a lot of people's chagrin, in summer 2019. While the majority of people were NOT ready for them a year ago, the heeled flip flop has softened our hearts and found its place in the summer fashion trends 2020 list.
They aren't as difficult to pull off as you might think. They go great with a casual outfit, even a 90's style look.
Square-Toe Heels
Square toe heels are THE dominant shoe trend for probably the past year at least. And, I have the ultimate guide on how to wear them here. You really need to try this trend, I swear it will become your go-to once you master the basics.
Bucket Hats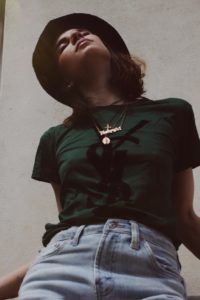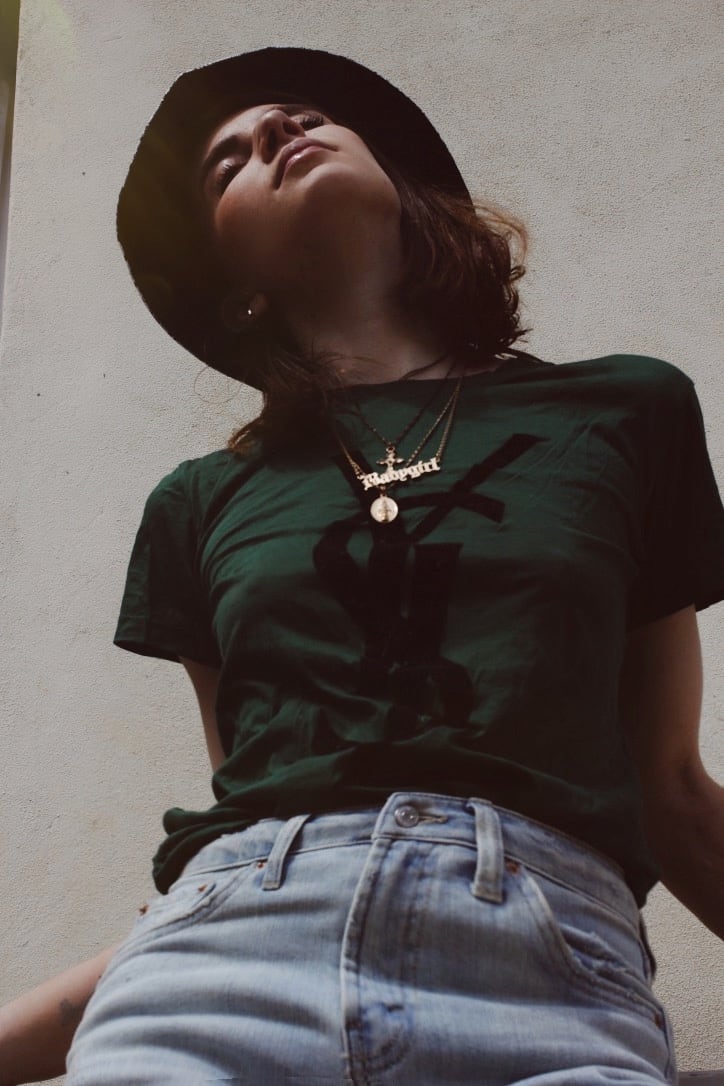 Bucket hats popped on the scene for 2019. But much like the heeled flip flop trend, they were met with a bit of shock and horror. BUT! No more.
We have seen, and we have conquered. So bucket hats will be a huge trend for summer 2020. Get on it. And for cute outfits with the bucket hat, check out this post.
Vintage Inspired Frames (Larger, thick-framed)
Micro sunglasses were big in 2019, but if you don't have cheekbones like Bella Hadid, you might have scowled at their very existence in the fashion scene.
Well, thank the fashion world because vintage, thicker frame glasses are the more popular option for fashion summer 2020.
Honorable mention to 2000 style glasses:
While these may not be for everyone, especially if they give you major Paris Hilton Flashbacks. The early 2000 sunglasses will be creeping in. Their final fate for the season is undecided as of now.
Wide-leg Denim
Mom jeans, straight leg jeans, all still a thing. But, wide-leg denim will be making a triumphant comeback and will definitely be a big trend. They look amazing with an oversized t-shirt and a pair of square toe heels.
Plus, they elongate your legs- win, win.
Honorable mention: Jeans with cutouts around the hips and pockets (for example the first jeans above).
Crew Socks with simple design or logo
Maybe the quarantine has lead us to get creative with our loungewear and Instagram feeds. But logo socks will definitely be coming into summer 2020. For all the cute socks trending, click here.
These socks look great with ugly dad sneakers (which I did think would be phased out by now, but they are hanging on and being revitalized by this trend). And the classic low-top sneaker is also a great option.
Padded Shoulder T-shirt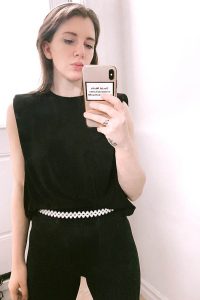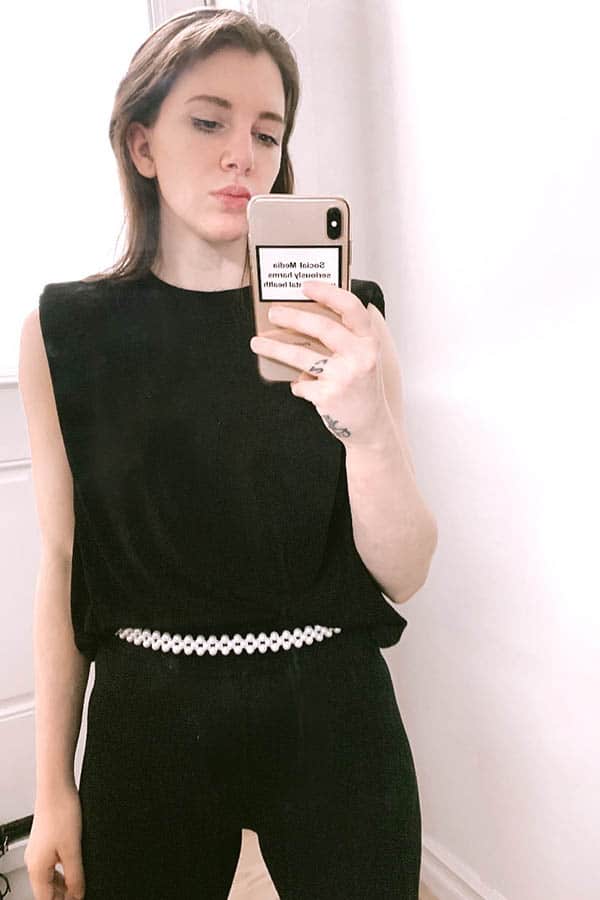 Padded shoulders have been making their way into the fashion world since at least spring. For more info on this trend, click here. But, the padded shoulder item for summer 2020 will be the padded shoulder t-shirt.
We all love a great new t-shirt trend and this one is instantly chic and stylish. I promise you can't wear this and not look amazing.

Try it with Bermuda denim shorts and a pair of flip flop heels and you have a golden outfit on your hands.
Metallics
Hints of the '80s are popping up in the form of metallics Dresses like Retrofete will be commanding their summer evening dress 1st place award. You might also see 90's style camisole dresses in metallics popping up, too.
Pleated Skirts
I'm not really sure where this trend roots from in terms of designers. Maybe this summer fashion trend is the sole responsibility of influencers. But, pleated skirts (school girl skirts) are going to be creeping into summer 2020.
They really look great with a bucket hat, too.
High Rise Underwear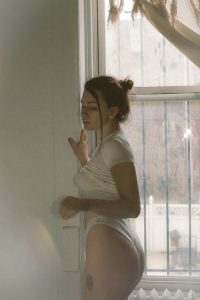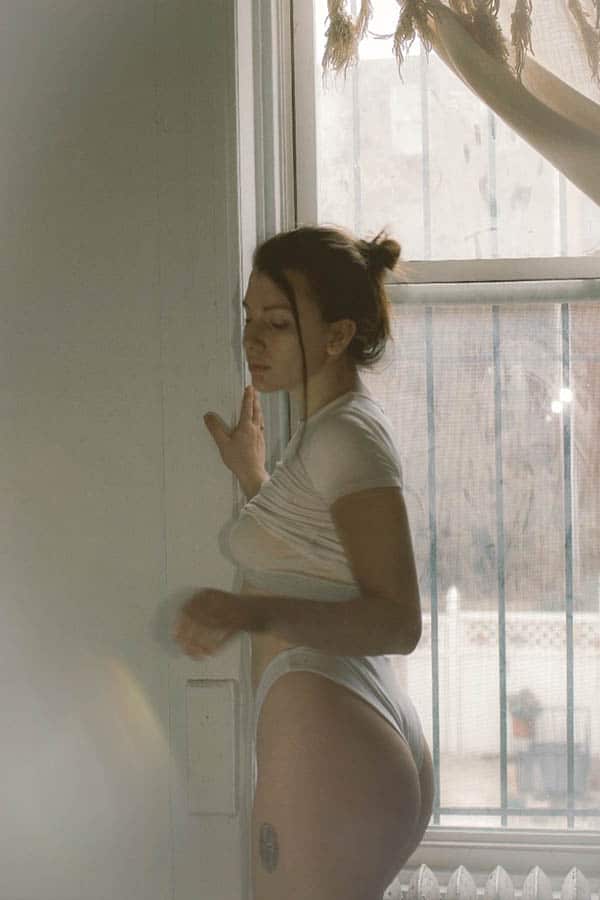 You can blame the stay in place order for this one. But I've never seen an underwear trend dominant Instagram as much as the high- rise underwear trend has. For ALL the details, click here.
Tie-Dye
Tie-Dye is trending for 2020. It started last year with sheer tie dye turtlenecks designed by Proenza Schouler and other high-end brands. Then morphed into neon tie-dye sweatsuits on TikTok. And somehow I think it will find a mix between youthful and uber-sophisticated in summer 2020.
Think hints of tie-dye, in more "normal" colors. The matching tie-dye sweatsuits will probably hang around for a bit. But you are better off just opting for hints of tie-dye or a simple tie-dye sweatshirt only.
Suiting with Skirts
Suiting has been trending for women for a while. I predict this season we will see a major uptick in blazers worn with matching skirts. The masculine-feminine balance of this look is perfect and it works seamlessly with all the other fashion trends.
Anklets
Anklets popped up in 2019 in the puca shell form. For summer 2020 expect to see chunky gold link anklets and dainty gold chain anklets.
Gold Necklaces
Gold necklaces are still a thing for summer 2020. Click here to read exactly how to pull this trend off. And all the best items to shop for this trend.
Hawaiian Shirts
Go into your man's (or woman's) closet and steal ALL their Hawaiin shirts. They look great with a pair of wide-leg jeans or Bermuda shorts. And if you want to know how to steal more items from your boyfriend's closet, click here.
Scarf Tops
View this post on Instagram
'90s and 2000 trends just keep having a resurgence. Scarf tops will be around, and while they may not be for everyone, they definitely make this list.
Try pairing them with a higher waist pair of jeans or skirt if you don't want to expose too much stomach.
Opt for a 20 by 20 in scarf minimum for the best results.
Sweatpant Shorts & Boxer Shorts
These get an honorable mention. Because I think we will continue to see both the sweatpants shorts and boxer style shorts creep into summer 2020.
Shoulder Bags
Longer crossbody bags are out. Short strap shoulder bags are in. From the Fendi Baguette to the Prada Re-Issue, to the Dior Saddlebag, this is the IT style bag this summer.
Bright Pastels
You will be seeing bright pastels everywhere for summer. Maybe because spring 2020 got cut short for fashion or maybe just because we need some color in our lives. Think of pastel colors with the saturation bumped up slightly. For more color trends for 2020, click here.
A fun option is to try a pastel eyeshadow or nail polish too!

Any trends I missed or you want my opinion on? Leave a comment or subscribe to my newsletter. My inbox is always open, you can email me with any fashion questions.
Here's to summer 2020 being spent outside in the sun, appreciating our friends, and enjoying a healthy social life again.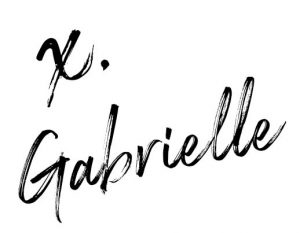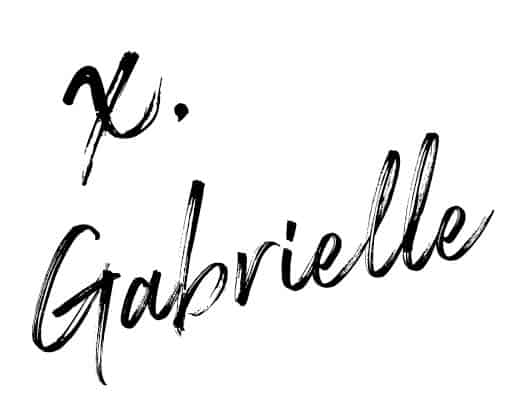 That was A LOT of info, pin the below image so you can refer back to it!