Have you ever been told the same thing over and over again only to FEEL the desperate need to prove them wrong.. I mean, help them gain clarity? Well, too many people have said "you can't make bucket hats look cool", "bucket hats are awkward", or " why would you ever wear a bucket hat?", and now I feel the need to accept this challenge, I mean teaching moment.
So, when people said they can't wear bucket hats because it doesn't fit their style, or they were just plain old terrified of rocking a bucket hat, I decided it was time to tackle the all-consuming elephant looming in the corner of our fashion worlds.
** we may earn a commission from you clinking the links in this post at no additional cost to you, for the full affiliate policy, click here.
Wait, are bucket hats still in style even?
View this post on Instagram
Bucket hats have no doubt been around for a while, even in the modern fashion world they have had a resurgence for the last year or so.
But, now that the '90s and 2000s are coming in even stronger in 2020, bucket hats are buying a house, having a family, and throwing the next block party. IE, they are here to stay. [ 90's style outfit ideas that work today ]
So, what do I wear with a bucket hat?
This is one of the most asked questions I get, honestly. Bucket hats can seem intimidating, or like they don't "work" for every style.
But if you choose the right hat and the right look you can get an amazing, trendy fit out of it.
So here are 7 great outfit ideas that you can build upon. Remember fashion is about taking inspiration and cultivating your own unique version of it.
Imagine the fashion world like one ginormous painting. If you take the same exact look and paint it on the "fashion canvas'- it will be the same color as the other person who wore it. Therefore, you have added nothing to the painting itself. But, if you take inspiration and put your own twist on it, you have successfully made your mark on the fashion world.
Being you is key.
Bucket Hat Outfit Idea Number 1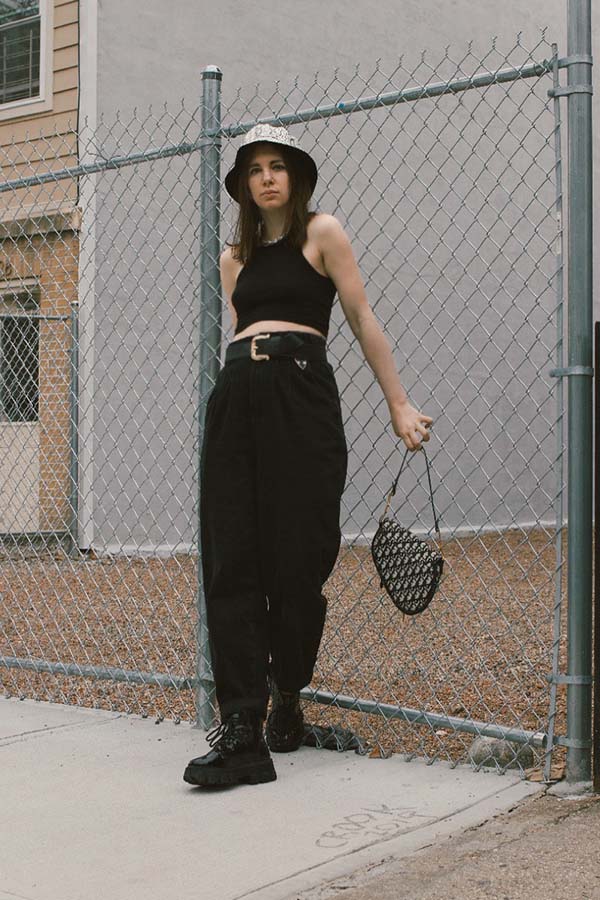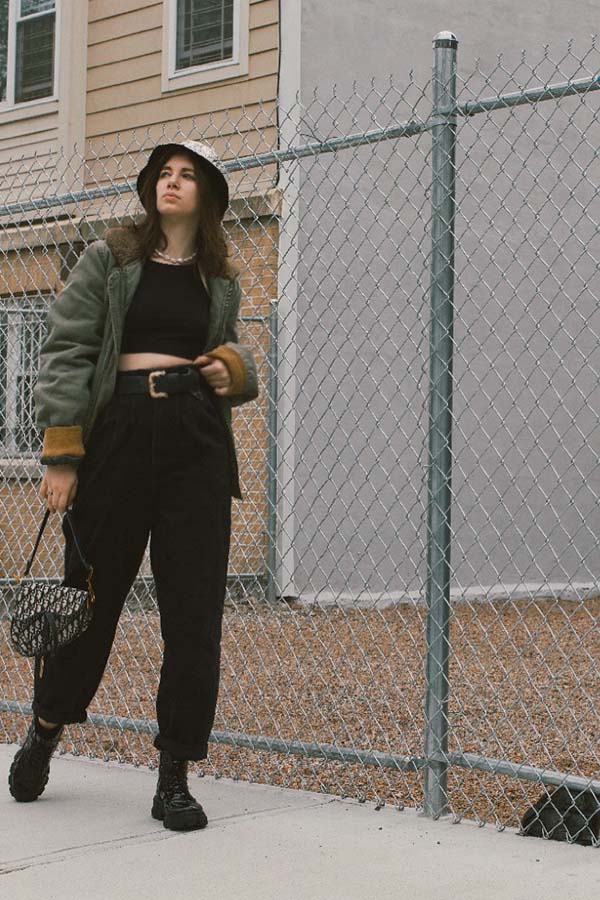 what you need: High-waist loose black jeans, cropped tank, combat boots, 90's style handbag, bucket hat
Does the perfect bucket hat outfit exist? Well, this one might just go for the title if it does. It's easy, it's chic, and boy is it cute.
I love this bucket hat outfit. It works for every body type, it's modern yet cool and you probably already have most of the items in your closet.
This outfit is great for daytime activities with friends, casual outings, and even going out to the movies.
Shop This Outfit:
Bucket Hat Outfit Idea Number 2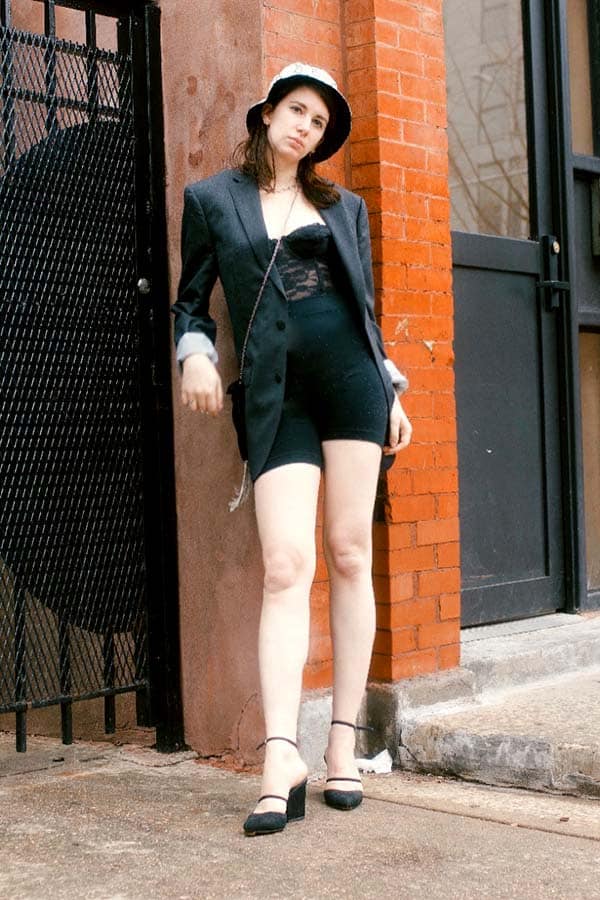 what you need: Bike shorts, corset or lingerie style piece, blazer, heels, small handbag, heels, bucket hat
Who said bucket hats can't be sexy? This is a great option for going out in the evening, going on a date, or when you just need to feel sexy.
Lingerie details are a big trend this season as well, so it makes the bucket hat modern AND sexy. Win, Win. [ Everything you need to know to pull off the lingerie as outerwear trend}
Also, if you want to make this more of a daytime look, swap out the heels with a pair of chunky combat boots and you are good to go.
The monochrome color palette makes this look elevated, so tread carefully if you opt for bright colors or a mix of different colors for this look. It is already making a pretty bold statement, and you don't want to overwhelm the outfit itself. [ how to wear monochromatic outfits like a fashion pro]
Shop this Outfit:
Bucket Hat Outfit Idea Number 3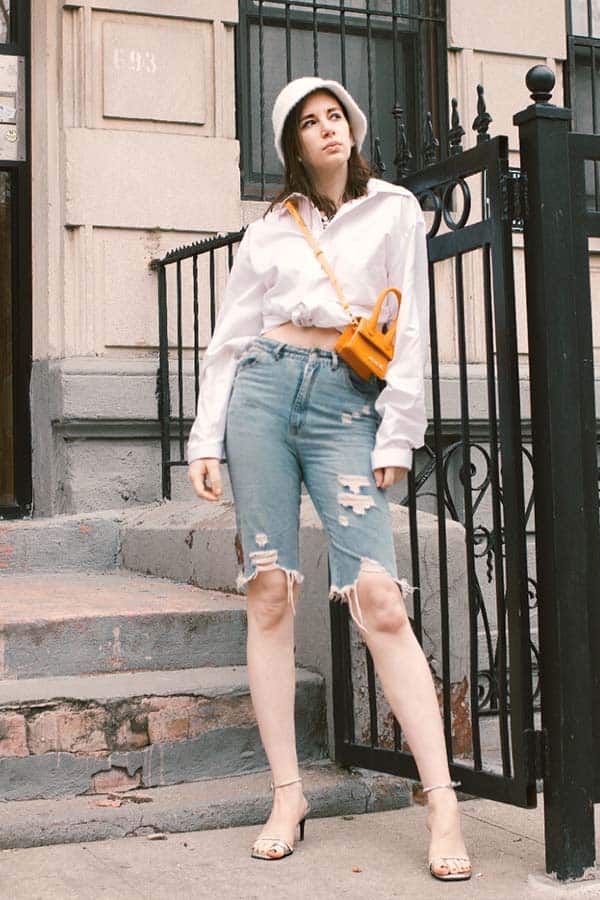 what you need: Bermuda jean shorts, men's style blouse, micro bag, square-toe heels, bucket hat
A men's blouse is a go-to staple of mine, so of course, I had to make a bucket hat outfit inspiration that involved one.
This outfit is great for an elevated day time activity, a museum outing, a casual evening out, or even a date with the SO.
The length of the shorts is key here. Do not go with short shorts as it will not have the same elevated style as the above look.
Shop This Outfit:
Bucket Hat Outfit Idea Number 4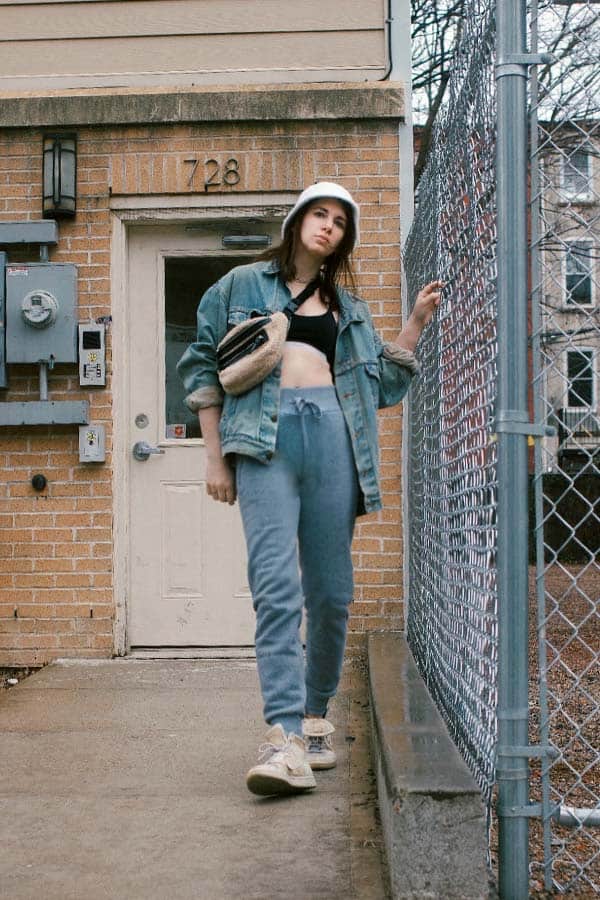 what you need: Sweatpants/Joggers, Sports bra (with logo is ideal), denim jacket, high-top sneakers, bucket hat
A casual outfit dream. This look is fun, retro, and easy. Since it references the 90's I love the idea of the sports bra being a CK branded bra or some other logo-centric option. It adds a bit of interest to the outfit as a whole.
The fanny pack worn as a crossbody bag makes it feel modern and fresh. If I was to wear the fanny pack around my waist it would not only look dated- it could also veer towards the costume arena.
Shop this Outfit:
Bucket Hat Outfit Idea Number 5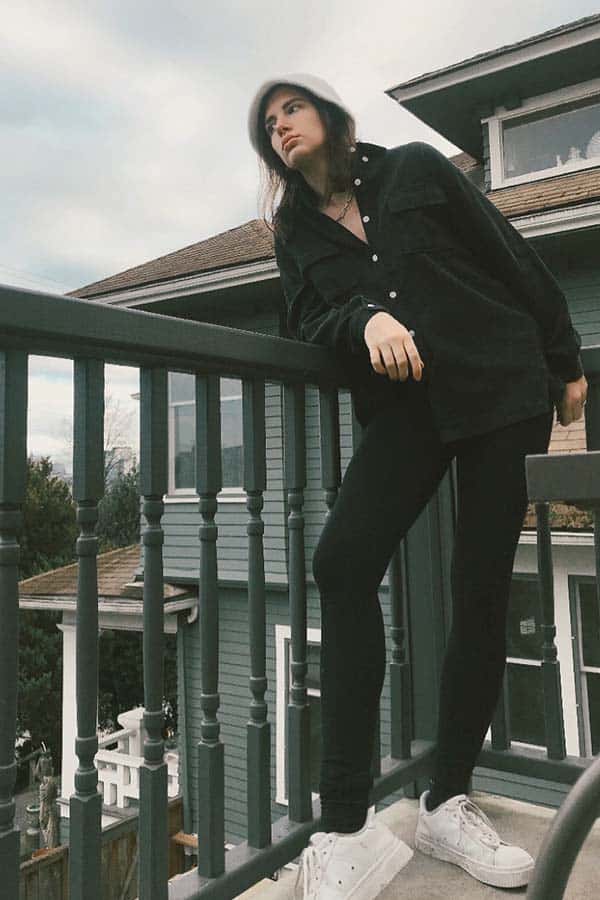 what you need: Leggings, "Shacket", Low-top sneakers, Bucket Hat, (coat optional)
A Shacket:
a transitional piece that is right in between a shirt and jacket. It is heavier than a traditional shirt, but not quite heavy enough to be considered a jacket. It can be worn as a layering piece or on its own.
This look is comfortable and involves leggings, so we all love having a cute legging option in our back pocket. For more stylish legging looks, click here.
This is great for running errands, weekend events, playing with your kids, taking your dog on a walk, or just chicly grabbing a coffee.
Shop This Outfit:
Bucket Hat Outfit Idea Number 6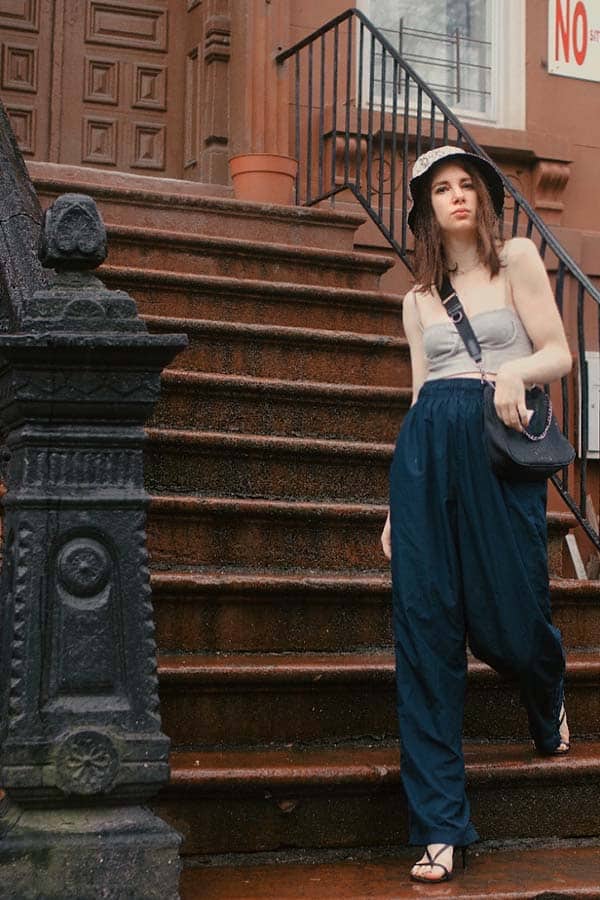 what you need: Cropped tank top, Wide leg pants, Square toe heels (flip flop style or strappy), trendy bag
I love the juxtaposition of this bucket hat outfit. The square toe flip flop heels ( a big trend right now), with the bucket hat add a nice balance to each other.
This is a great day-to-evening outfit. Add a blazer or leather jacket over it and you are good to go.
Shop This Outfit:
Bucket Hat Outfit Idea Number 7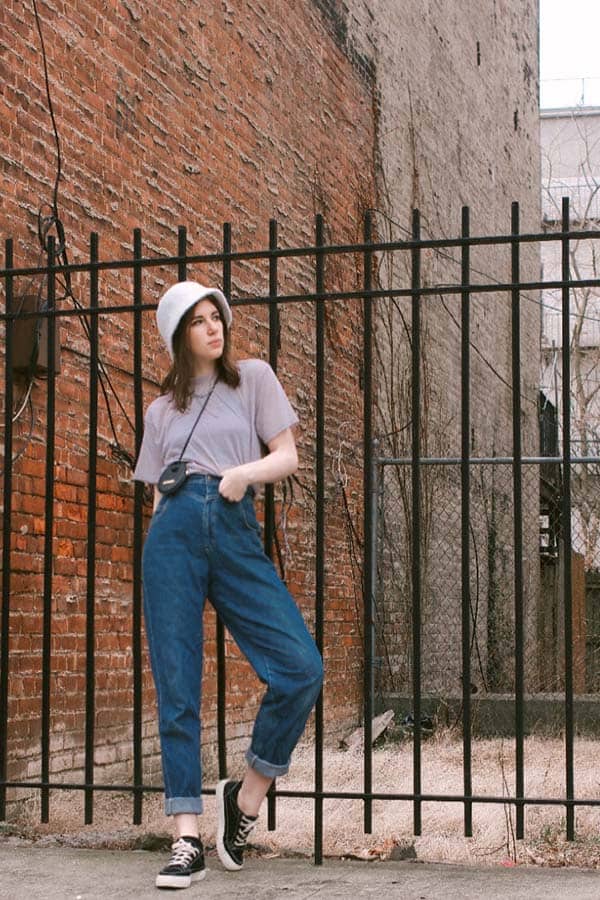 what you need: Blue Levi Mom Jeans, Oversized T-Shirt, low-top sneakers, micro-bag, bucket hat
Does the perfect bucket hat outfit exist? Well, this one might just go for the title if it does. It's easy, it's chic, and boy is it cute.
Have you ever woken up and just not felt like putting effort into your outfits? Well, try this outfit then. It's comfortable, casual, and will look instantly fashionable.
Plus, if you're having a bad hair day, the bucket hat can do wonders for those frazzled bed heads. Just slip that beautiful bucket hat on, watch as your worries disappear and that bad hair day becomes a thing of the past.
Shop this Outfit:
What color bucket hat should I get?
Well, the above outfits are designed in a pretty neutral color palette so if you are not veering far from the above options, you can choose any print or pattern of bucket hat you want.
However, if you want to dip your toe into the bucket hat pool but you're terrified of the water- opt for a white, black, or neutral pattern bucket hat. Snakeskin is a good neutral pattern to try (as you can see in the photos above).
Textures on bucket hats work- usually, they are slightly fuzzy, shiny, or even clear vinyl. These skew a bit more 90's so just be wary you don't go too "costume-like".
TIP: To avoid looking like you are wearing a

costume make sure you bring one modern piece or a modern silhouette to your look.
Also, don't be afraid to check out the men's department for more bucket hat styles.
Here are some other bucket hats:
+
I won't lie, my most cringe-worthy moment with bucket hats involved watching my sister's high school boyfriend unsuccessfully rock one. He looked like he belonged in front of a 7/11 and listened to music we pretend never existed.
Bucket hats can be tricky. The key to not looking like you are wearing Jankos and belong in 7/11 parking lots is contingent on how your entire look is composed.
So start with the above options as your bucket hat cleansing palette and then branch off from there when you begin to feel more comfortable with the trend.
Are you still struggling to master the bucket hat? DM me on Instagram and I'll help.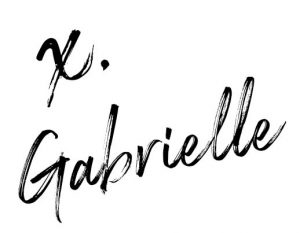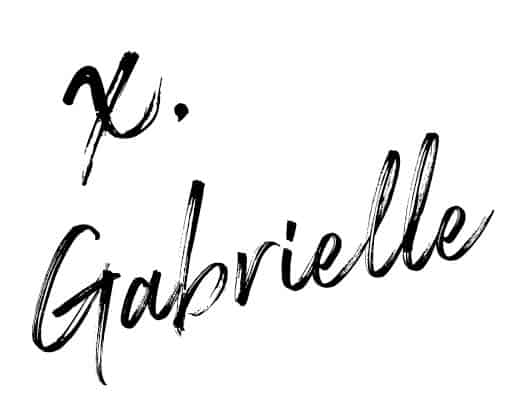 PIN FOR REFERENCE, and be sure to follow me on

Pinterest

for more inspiration.