We may not like to admit it, but leggings have become a staple in our everyday wardrobe. And, we can also all admit we aren't wearing them because we are going to yoga or pilates every day. So, the question then becomes what to wear with leggings if our goal is to actually look cute!?
In actuality, life gets busy and we need to sometimes opt for comfort, and flexibility over the latest and greatest trend. BUT! I am here to tell you that the worlds can be combined.
Leggings don't have to indicate a lack of effort or an "off day".. In fact, some of your favorite style icons rock leggings and look trendy and chic while doing so.
View this post on Instagram
** we may earn a commission from you clinking the links in this post at no additional cost to you, for the full affiliate policy, click here.
So, how to wear black leggings? Let's start here.
So, for the sake of this post, we are talking about black, opaque leggings that are full length (meaning they go to the bottom of your ankle). You can try these looks with other types of leggings, colors, or prints, but it is easiest to start out with your traditional black legging.
related: 6 Unique Legging Outfit ideas you need to try + video
These are my favorite, affordable leggings out there. I tend to go through a few pairs in the course of a season, and I find these brands hold up well and are not too sheer. No one wants to see your underwear line or lack thereof….
best affordable option
How do I look chic while wearing leggings?
Wearing leggings and looking like our sartorial icons is more simple than you would think. The key is to pull trends from the fashion world and pair them WITH leggings.
Yes, athleisure is a big trend right now and you can check out this post for more info on that. But, we are talking about outfits that are more business casual, or workable for going out in.
So, the key is to balance your proportions and what categories each item of your outfit comes from. We will get more specific when we outline each outfit idea below.

However, pay attention to proportion. The golden rule is to cut your body in thirds or sixths. You don't want to halve or quarter your body if you are not extremely confident in styling yourself.
Oversized items also work very well with leggings because they provide balance to the form-fitting leggings and also happen to be very on-trend. [ for more oversized trends, check out oversized blazers here or oversized sweatshirts, here].
Style Tips for leggings
Make sure they are opaque and fit properly.

See above for my favorite pairs

Avoid cropped leggings for this style. While cropped leggings can be stylish when someone like Leandra Medine wears them (see above), generally they are harder to elevate.

Don't go too tight with your other pieces. The leggings should be the only truly body-conscious garment in your ensemble.

Don't be afraid to mix more elegant, tailored pieces with leggings. A tailored blouse or shirt can look great with leggings, especially if they are oversized.

Just keep in mind proportions!

Leggings look best when they are not pretending to be pants. So pairing them with pieces that cover the lower stomach/hip area is usually the easiest way to elevate them into a more "wearable", less athletic look.

To avoid the athletic look avoid too many seams on your leggings. We want our leggings to be a blank canvas to build upon and seams can draw attention.
What can I wear with my leggings?
So here are three outfits that are trendy and look great with leggings. As you can see I'm pairing more structured, tailored pieces with my leggings to take them away from the athletic, casual space.
Legging Outfit Idea #1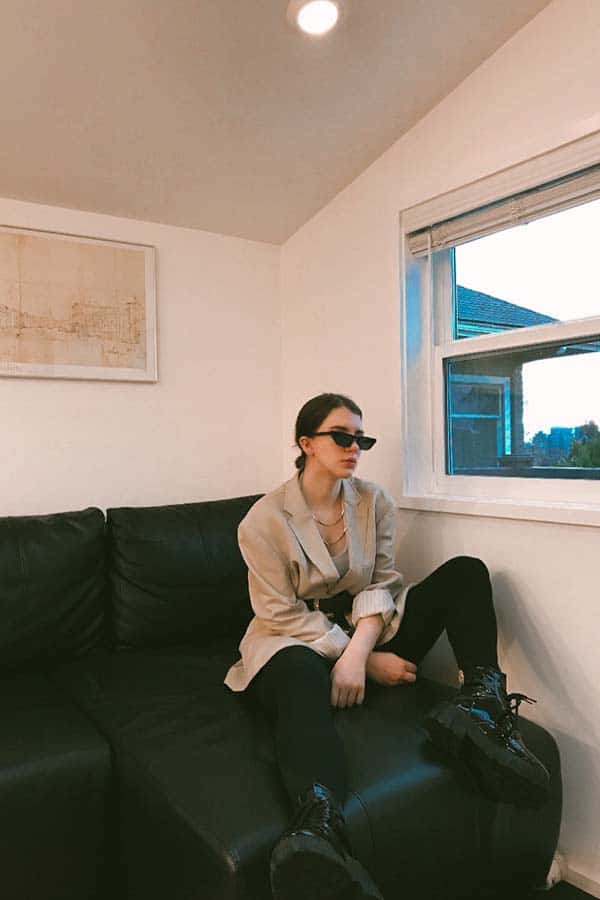 what you need: Leggings, Oversized blazer, belt, combat boots
This look is definitely on-trend and an oversized blazer can make anything chic. This look is comfortable, work-appropriate, and so chic you don't even think twice in regards to the leggings.
Minimal jewelry is appropriate if you are trying to wear the leggings at work…But, if you wearing this on a date or night out you can opt for statement earrings instead.
While this look isn't busy, it is complete. Every piece added to this look helps it from an outfit identity per se and that in turn takes it away from the "frumpy legging, didn't try outfit vibe.
Legging Outfit Idea #2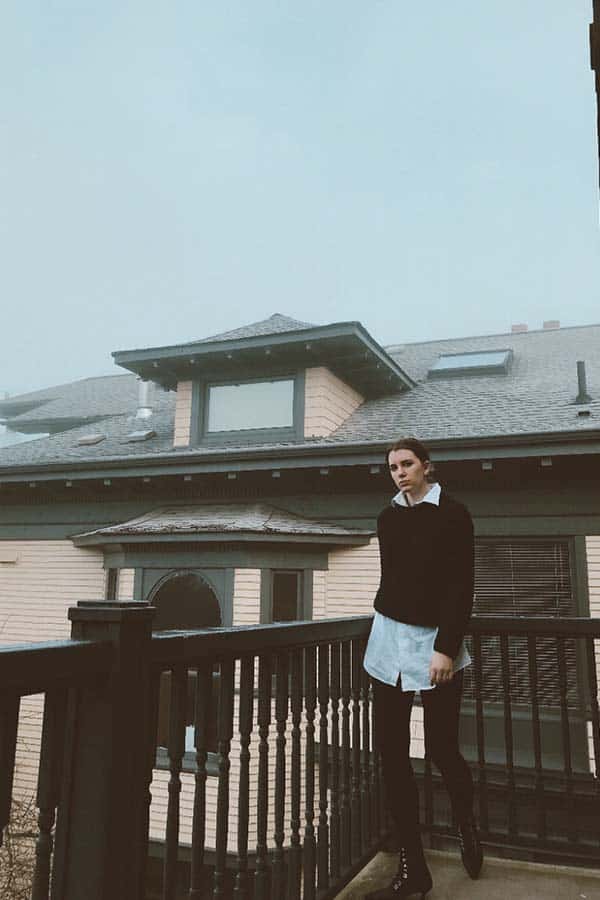 what you need: Leggings, Oversized (or men's) shirt, sweater, pointy boots
This is a very polished look and works great for business casual or work environments. Just make sure that the shirt covers your hip area if you are opting for a workplace look.
Or grab your popcorn and recline your seat because this look is also perfect for a movie night or casual dinner with friends.
TIP: Pay attention to the proportions! See how the sweater hits above my hips and the shirt below my butt? The all-black leggings and boots give the appearance of long legs, but keeping the top in line with the above proportions ensures it will look chic and not frumpy.
and just a little something fun, be sure to follow me on tik tok HERE.
Picking an outfit this was inspired by someone but I forget who so @ if you know #tiktokfashion #gotolook #athleisure #clueless #style #bestthingsince
♬ Wii – Mii Channel – Super Guitar Bros
Legging outfit Idea #3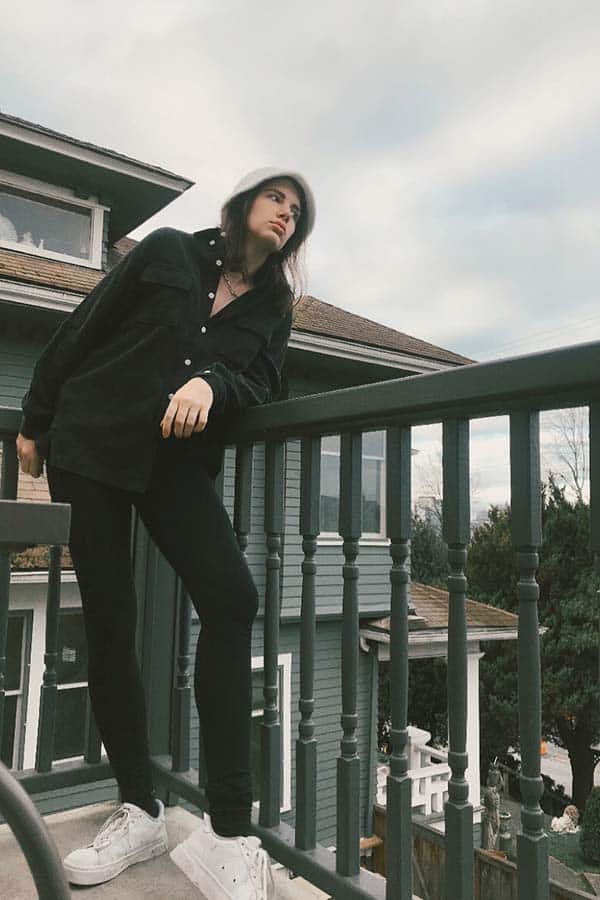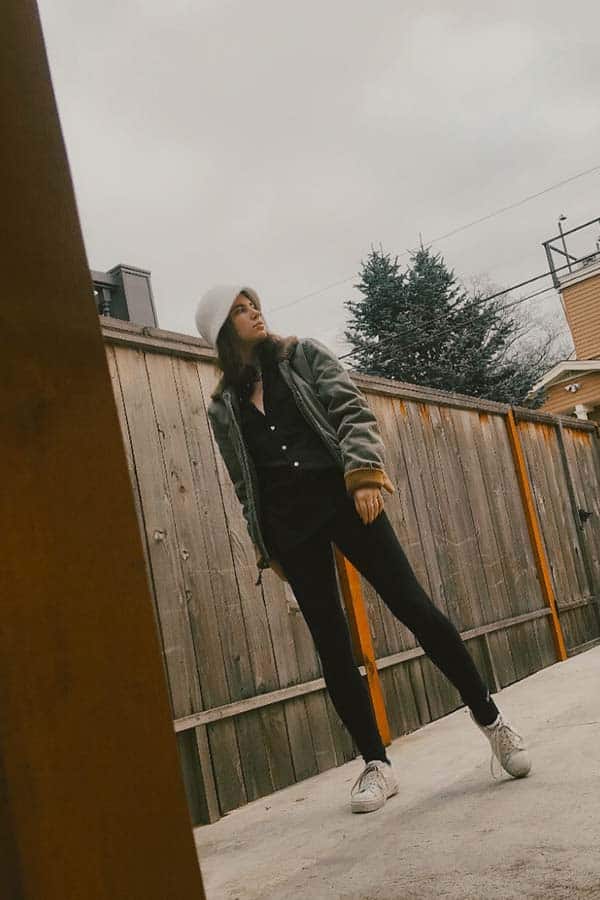 what you need: Leggings, "shacket" (shirt/jacket), tennis shoes, bucket hat
So, this a classic 90's style outfit and boy are the '90s back right now. If you want more outfit ideas that revolve around the 90s vibe, check out this post.
The shacket is a new term for a semi-classic item. If you haven't heard of it- let me enlighten you…
Shacket: a transitional piece that is right in between a shirt and jacket. It is heavier than a traditional shirt, but not quite heavy enough to be considered a jacket. It can be worn as a layering piece or on its own.
The slightly heavier weight of shacket pairs nicely with the leggings and the bucket hat is a fun trendy item. If you don't know how to feel about the bucket hat, I was right there with you, but read this before you make up your mind.
For the shoes, you can go a bit more athletic with the style of sneaker or you can go classic tennis shoes- it really depends on where you are going and how much you want to lean into the athletic look (which is balanced out by the shacket).
What shoes look best with leggings?
A lot of shoes look great with leggings. But, if you want to go with a more refined, less athletic vibe then you should opt for no ankle showing. Combat books, ankle boots, even tennis shoes with socks all work, but you probably want to avoid showing ankle skin because it ends up breaking up the lines of the outfit and your proportions can get thrown off…
Personally, I don't love pumps with leggings. I know some people like them with faux leather leggings, but specifically for the leggings we are talking about I think they look like you are trying too hard.
So I'd stay stick with boots or tennis shoes. You can even try knee-high boots and really commit to a trendy look. And, if you want to see some of the shoes that are trending for 2020, CLICK HERE.
What shouldn't I wear with leggings?
So, trends come and go but currently, I would avoid pairing the following items with your leggings:
Dresses

Tight tunics

Tight sweaters or tops

Skirts

Shorts (obviously)

Slim fit blazers

Minidresses
These items just don't currently work with leggings and they throw off your general proportions.
+
What is great is that these legging outfits are not only trendy and modest enough for work, they also fit most age ranges and styles. If one look sways too trendy or too defined for you, start by swapping out or removing one detail.
TIP:
Just make sure that your look feels complete… That is the key to transitioning leggings into your everyday style without looking unpolished.
So go be comfortable, stylish, and oh so trendy. And if you need even more fashion inspiration, take the fashion influencer quiz here, or sign up for the newsletter below for the latest and greatest fashion information!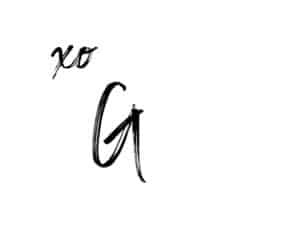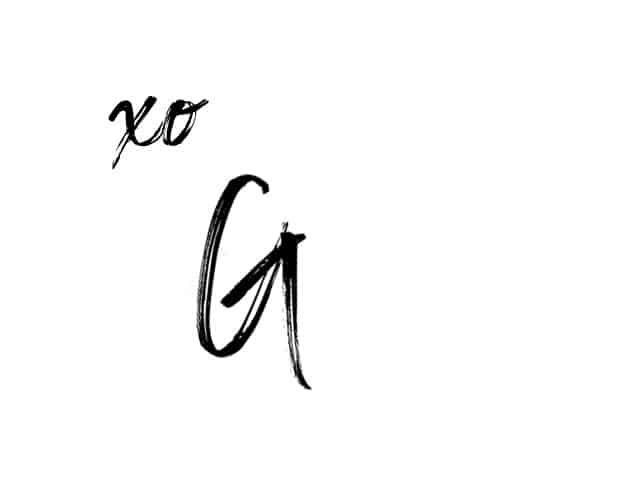 PIN this for reference, and follow me on Pinterest for more style inspiration!