10+ easy ways to style the oversized blazer trend plus style tips to help you master it
How do I wear an oversized blazer? That is a question I have been asked so many times recently. Ever since this trend started popping up in early 2019, people have been wondering how they tackle it.
And guess what, the oversized blazer trend is only becoming more popular and this video will help you get some ideas on where to start with it.
The oversized blazer trend is easier than you think.
** we may earn a commission from you clinking the links in this post at no additional cost to you, for the full affiliate policy, click here. as an amazon associate we earn commissions from qualifying purchases.

What is an oversized blazer?
For this trend, we are not talking about a women's boyfriend blazer. We are specifically referring to a men's blazer that a woman is wearing.
A women's boyfriend blazer is technically cut like a moderate version of the trend we are going for. If you want styling advice on how to wear something along those lines, check out this post.
Most of the fabrics you will find will be in the linen, wool, cotton family. Possibly polyester. You are not likely to find silk, velvet, or embroidered fabric versions since we are shopping out of the men's section. It's not impossible, just not as likely.
Because of this, you can add feminine accessories like the padded headband, or multiple earring trend to feminize your outfit. Or you could try one of these hair accessory trends.

So first, where do I get an oversized blazer?
So an oversized blazer is usually found in the men's department. The way they are cut translates better for this trend. Women's blazers usually are cut with a slightly more slender silhouette and if you try to buy them "larger" they won't fall the same way a men's blazer would.
So I suggest either borrowing one from your husband/boyfriend/guy friend or heading to the men's department.
Men's sizing obviously is larger than women's. So personally, I buy a small or medium men's blazer depending on if it is thrifted or new.
Thrifted blazer sizing depends on the decade. In the '70s blazers were more form-fitting, but in the 80's the power suit was emerging- so it's really a trend you should try on.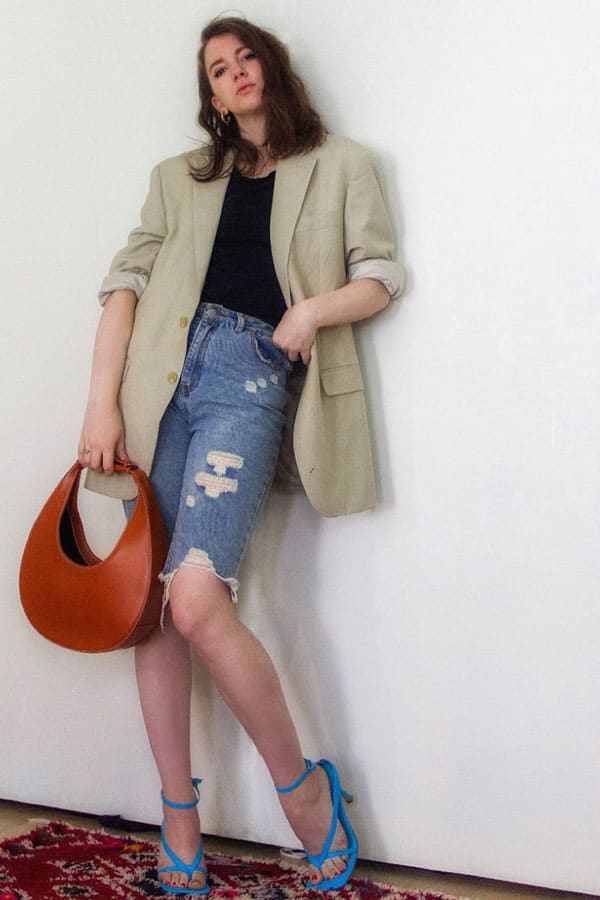 for more info on how to style square toe heels, click here.
Here are some new oversized blazer options
(any "women's" pieces included here were specifically tailored like a men's blazer, but they work with this trend but are different from a "boyfriend blazer")
Here are some vintage options

What should I look for in my blazer to make this trend work?
There are a few things you should try and check off when picking out an oversized blazer:
A men's blazer in a size that fits me.

The blazer grazes the top of my thigh/bottom of my butt

The blazer is a neutral color or a neutral plaid ( start off with neutrals first before you jump into colored blazers)

The armhole seam falls past my shoulder ( look at where the sleeve fits into the jacket, that seam for this trend should fall past the edge of your shoulder)

The overall silhouette is boxy (not a fitted silhouette)
Check out this post for how to wear menswear peices as a woman.
How do I style my oversized blazer?
click here to watch the video and see exactly how I made the following three looks work!
Oversized Blazer Casual Outfit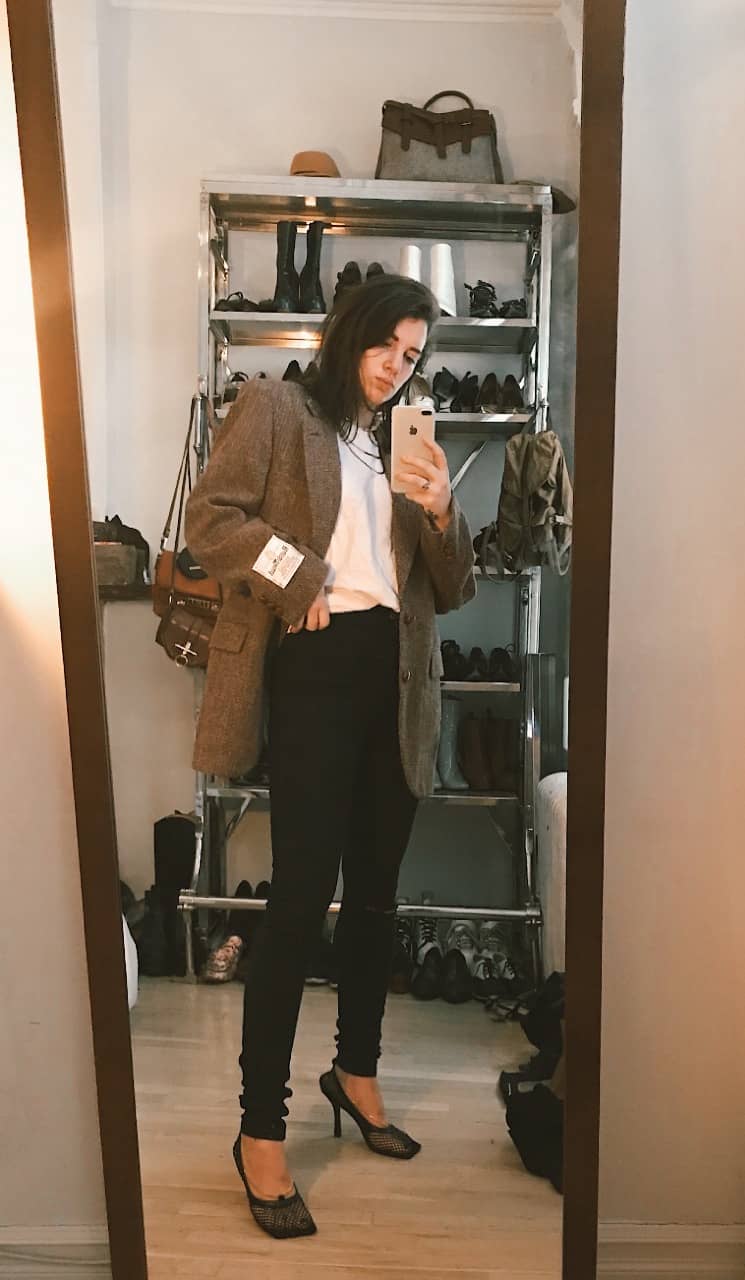 Just because you are wearing a blazer does not mean you are relegated to business only. The oversized blazer pairs very well with a tee-shirt, mom style jeans, and a pair of combat boots. Make sure you tuck the tee-shirt into the jeans and add a belt. In this oversized outfit, you need a point of focus and drawing attention to your fitted waist will do this. (check out the video to see the way I did this).
Oversized Blazer as Business Casual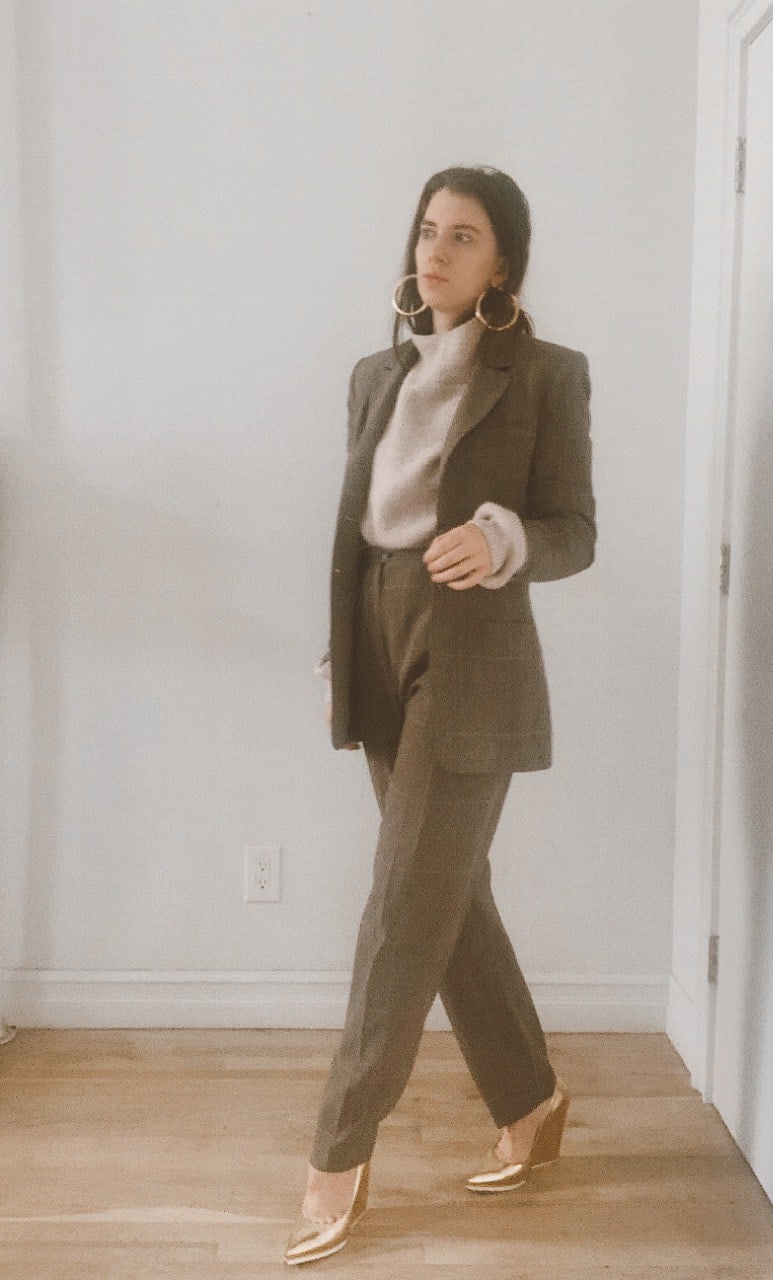 A neutral-colored outfit always looks chic. For business casual, I paired the oversized blazer with a pair of comfortable, fitted pants and a turtleneck. To add some interest I picked a neutral-colored boot that had a unique shape to it. The heeled boots add a bit of interest, and the different textures in the outfit help balance this out. This is a great way to wear an oversized blazer to work.
Oversized Blazer as a Dress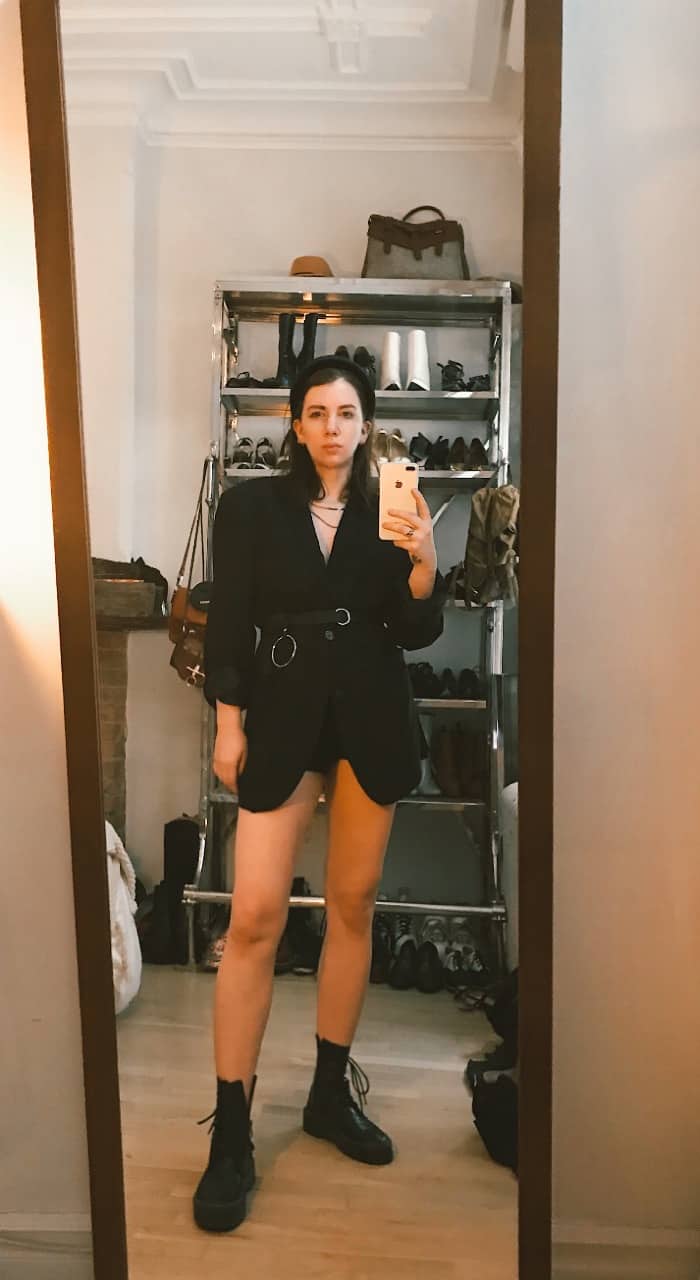 for info on padded headbands, click here.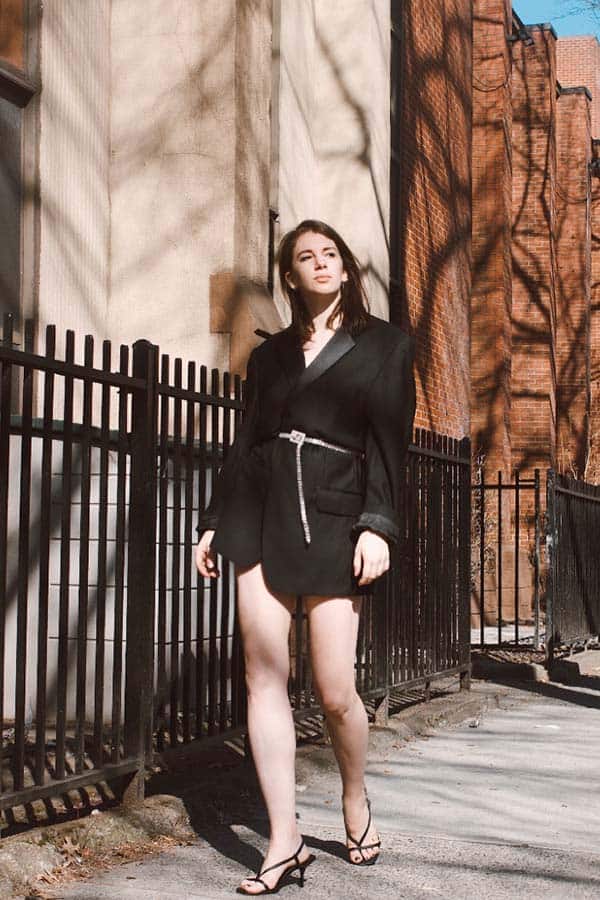 I'm sure you've seen the oversized blazer worn as a dress. This is a classic fashion street style that is easier than you think. For exact instructions on how to belt it properly refer to the below video.
The oversized blazer a dress requires a belted waist and tights underneath. You can wear a leotard or baby shorts if you feel they are necessary, but really your blazer should be long enough that you don't need to.
This look is great for going out at night or going to a casual event. Boots work well with this look, and you can pair anything from chunky combat boots to a sleek heeled boot with the dress look and it will work.
How else can I wear the oversized blazer trend?
If you've mastered the above looks and want to expand your oversized blazer options there is a whole new world ahead of you.
You oversized blazer can pair well over a slip dress, or it can be worn as an oversized suit. Check out my Pinterest board for more ideas!
If you just want an out of the box option- then try opting for a colored or patterned oversized blazer. This will make much more of a statement so make sure to keep your focal point the blazer and don't add too many competing elements,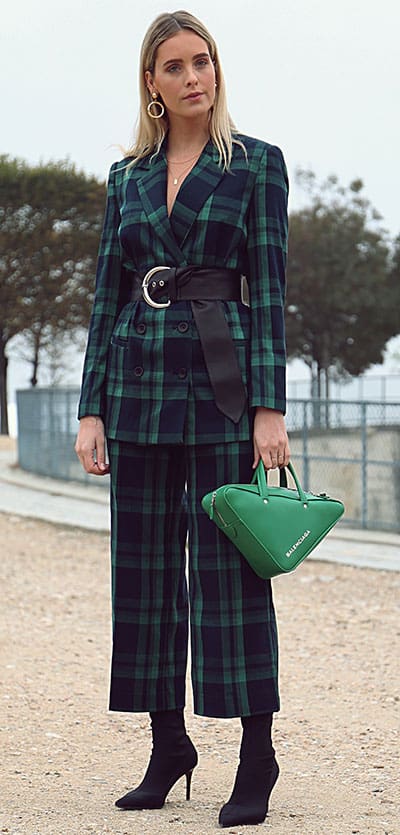 You can even tuck your oversized blazer into wide-leg pants and belt your waist, as I did here. This only works with wide-leg pants that are loose through hour hip area. Otherwise, it will look clunky and bunched up.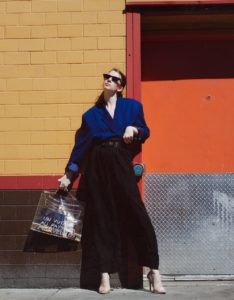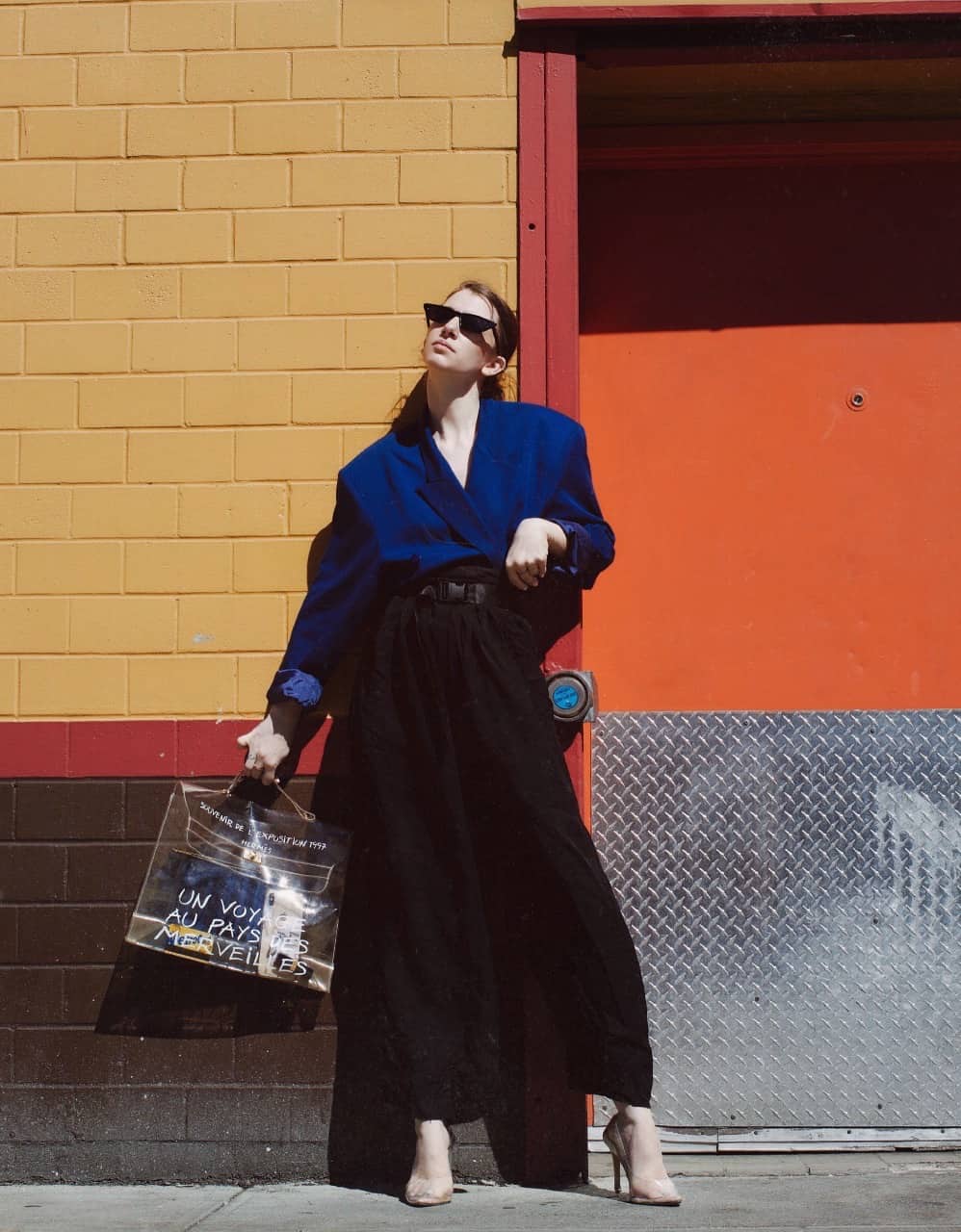 A few extra ideas for you: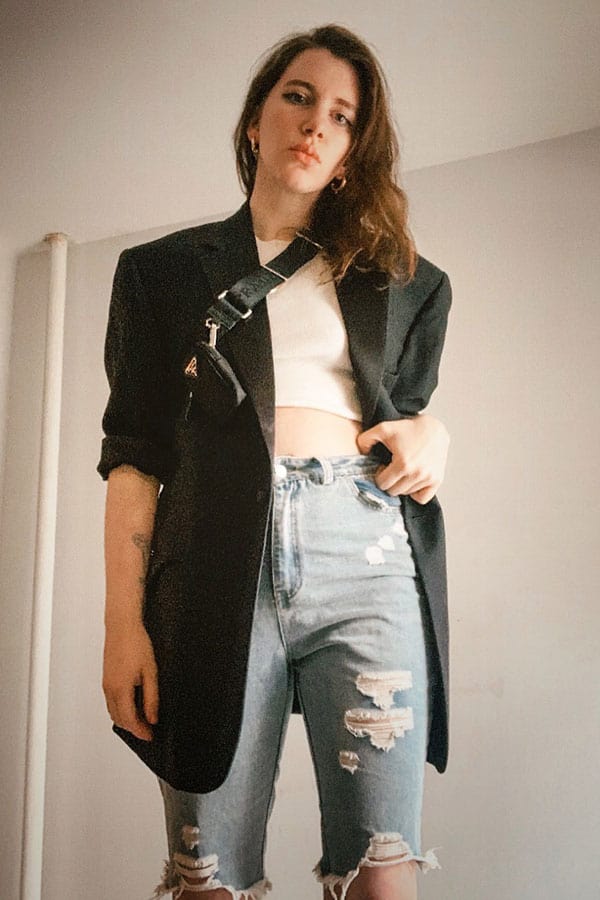 Oversized blazer, Bermuda jean shorts, crop top, white tennis shoes
For more info on Bermuda denim shorts, and how to style them click here.
Oversized Blazer, Midi dress, knee-high boots
Oversized blazer, fitted jeans, tee-shirt, over the knee flat boots
Oversized Blazer suit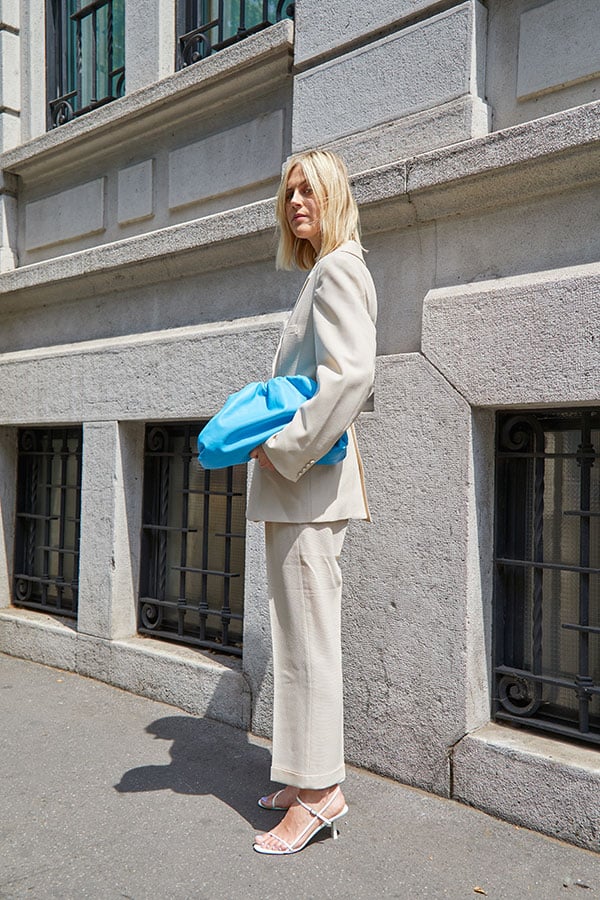 The oversized blazer is also perfect as a suit. Add a fun pop color accessory to make it more modern, or trendy shoes to modernize it a bit. If you feel like your outfit is too "baggy" then try belting the blazer or tucking your trousers into boots. You can also add a belt on you trousers for more waist definition.
–Oversized Blazer, shorter leather skirt, turtleneck sweater, ankle boots
–Oversized blazer, crew neck sweater dress (should not be too tight), flats
–Oversized blazer, cami slip dress, combat boots
–Oversize blazer belted at the waist, knee-length skirt underneath, mule heels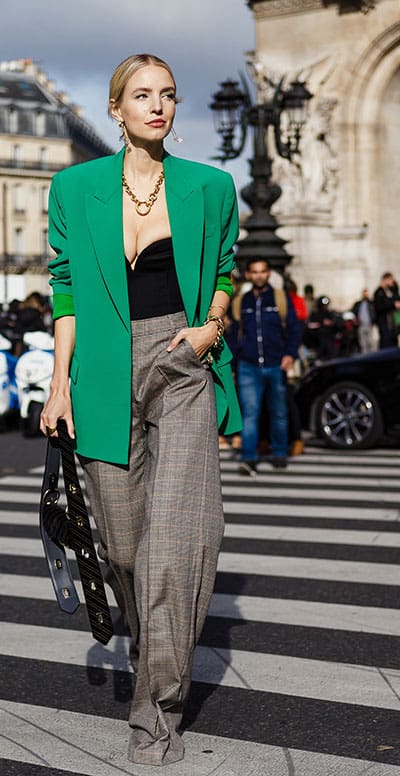 You can add some femininity to your oversized blazer outfit by wearing a corset-like top or lingerie-inspired top. For more information on lingerie as outerwear, check out this post.
AND, check out this post for how to rock sweatpants and an oversized blazer.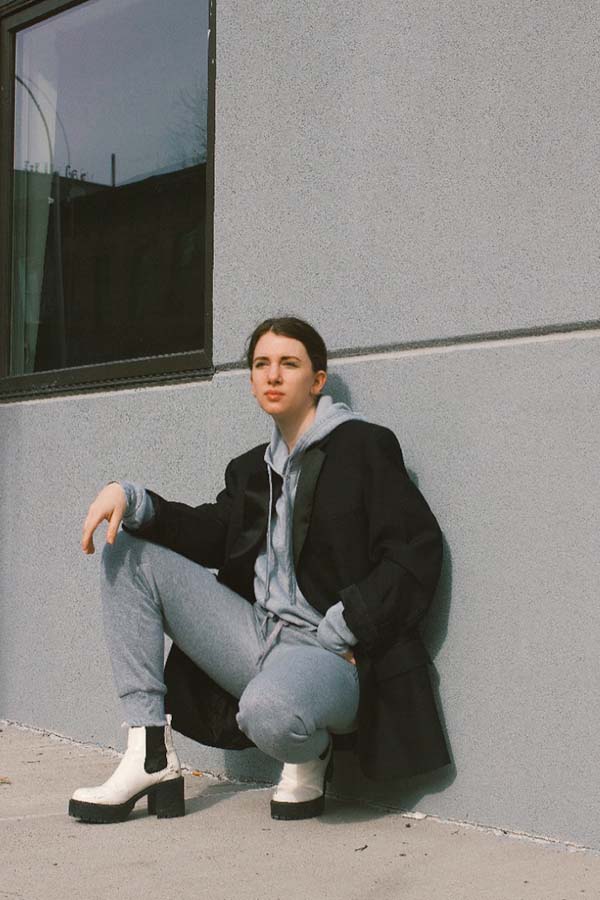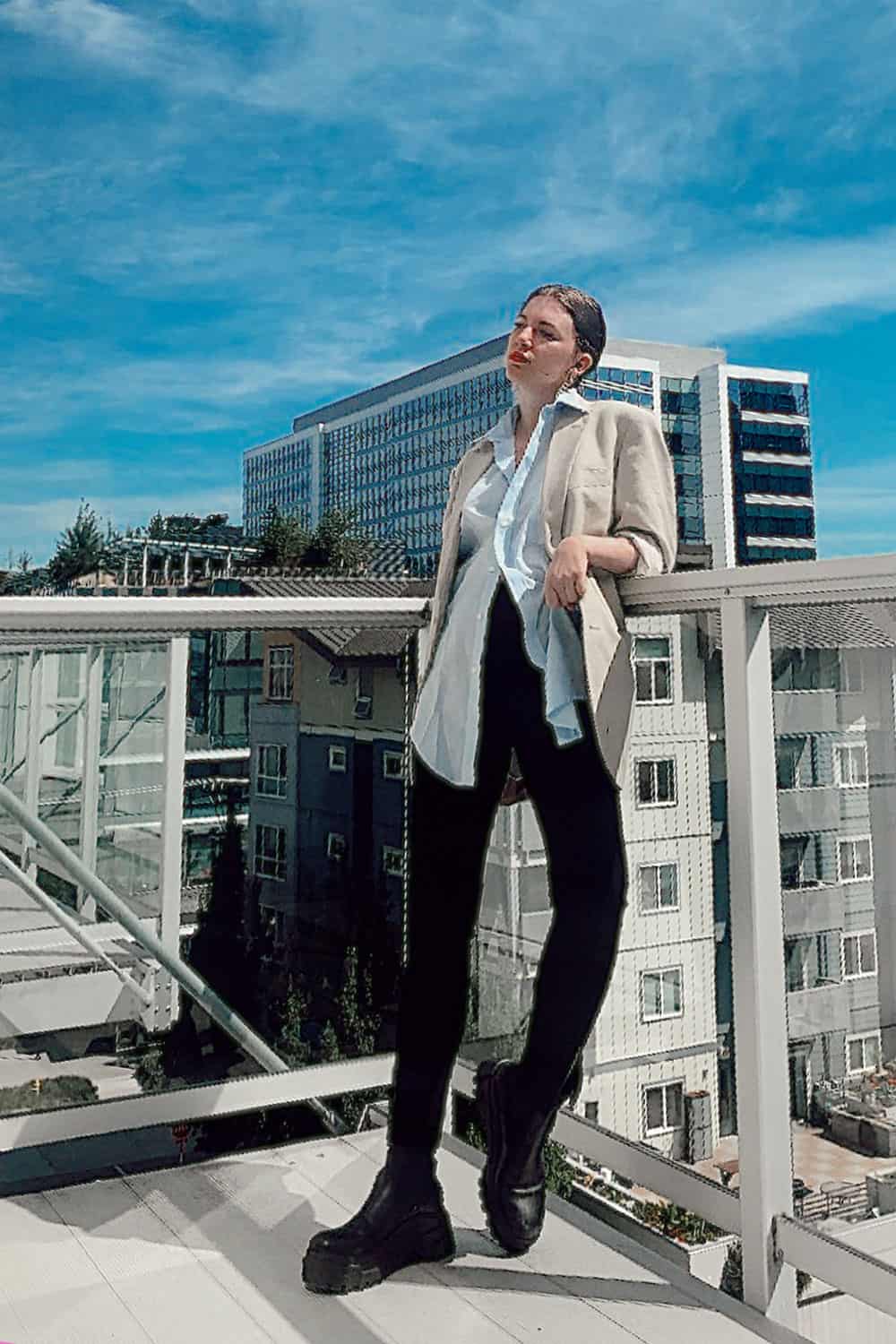 related: NYC Outfit Formulas that NEVER fail (like the one above)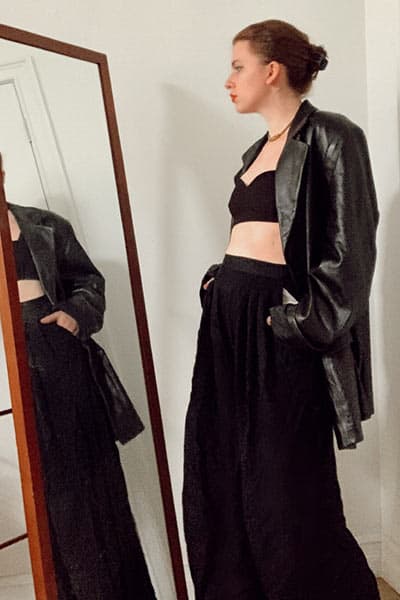 You can also try a leather oversized blazer, which is the newest iteration of the oversized blazer trend. For everything you need to know about leather blazers, check out this post.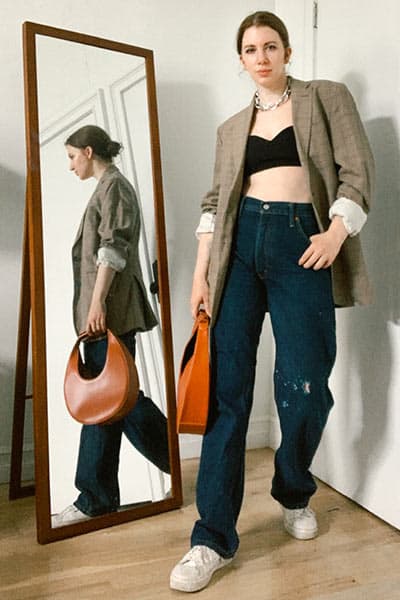 Another trend you could integrate with your oversized blazer is baggy jeans. The hottest denim trend this fall/winter 2020 season.

This trend is one of my favorite options. It can literally pair well with almost anything as long as you get the balance right.
I know this may seem like a trend that only "skinny girls" can pull off. But that couldn't be further from the truth. The only rule of thumb with this trend is to be aware of your proportions and where you are cutting up your body. You never want your body to be 50/50, you want to shoot for the focus lines (or hems) to be at the 3rds mark or 6ths mark.
Now, go forth and conquer those oversized blazers. Because they are going to be trending for awhile!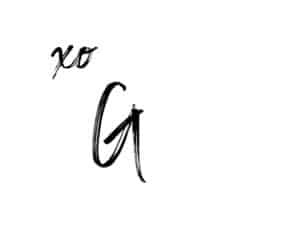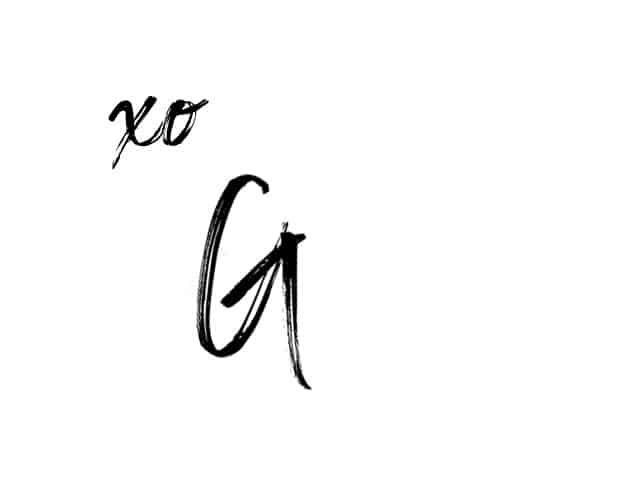 P.S. Be sure to pin this for reference