Remember your youth? When you strutted out of the house in a crop top and the latest sidekick ( I know, I'm showing my age), and felt like a million bucks? You were cool, you were confident, you were…. Ya, that didn't exist. In reality, most of our teen years were filled with awkward moments, acne filled faces, and an evolution of self that just seems incompatible with being sexy and cool.
But, the wonderful part of growing up is those awkward moments of our youth are hopefully* in the past.
Today, you are sexy, you are beautiful, and you are just plain old badass. I'm at the age where I no longer like having the adjective "old" anywhere near me.
Every year fashion week has a slew of trends that hit the runway, and it's like all the designers got together and decided on a few pivotal trends that will sweep our worlds with one week of runway shows.
And this year, the controversial trend that has pummeled into our lives is….. wait for it…. lingerie as outerwear.
SHOCK! DISMAY! AWE? Ya, I know what you're thinking.
But, it's actually not as hard as you might think. And it also happens to be a trend that doesn't have to be risqué at all. However, it will make you feel sexy, whether you are showing skin or not, and that is something I totally support.
Feeling sexy is an important part of being a woman and an adult. We deserve to feel sexy, and embrace our bodies, and not do it for anything besides our beautiful selves.
So, don't tackle this trend because your husband might like it- instead, do it for the awkward 14-year old that couldn't be sexy if she tried.
Ok, so what is the lingerie as outerwear trend even about?
View this post on Instagram
View this post on Instagram
View this post on Instagram
From Givenchy, To Dion Lee, to Orseund Iris and more. Everyone's collections had lingerie details.
Lace trim that peaks out, hook and eye closures, and sexy black underwear are all making a sartorial debut.
And no, wearing black underwear does not mean you want to have sex someday. If you don't understand this reference, do yourself a favor and watch 10 things I hate about you.
So, you want to try this trend. Or, at least you haven't click out of this browser yet so let's start with 5 outfits inspirations that exude the lingerie as outerwear trend.
Each of these has a varying degree of "skin" showing, so know your body and know your personal taste to decide which one is right for you.
IMPORTANT NOTE:

I posted a TikTok of my outfits and I got a comment saying "imagine being skinny🥺"
These outfits are not predicated on being skinny. They are predicated on knowing your body, being able to tweak the inspiration to speak to your favorite closet items, AND your mindset.
If these outfits feel like too much, but you want to learn how to tackle trends, check out my free style-guide here that gives you actionable tips on how to improve your mindset around fashion and why you should develop your own fashion voice that CAN tackle any fashion trend.
** we may earn a commission from you clinking the links in this post at no additional cost to you, for the full affiliate policy, click here.
Lingerie as outwear Outfit idea #1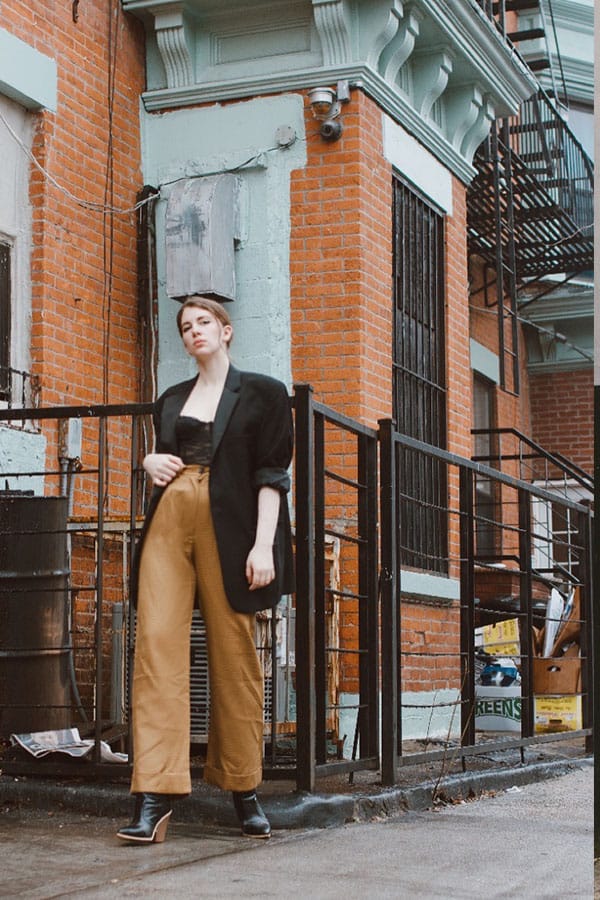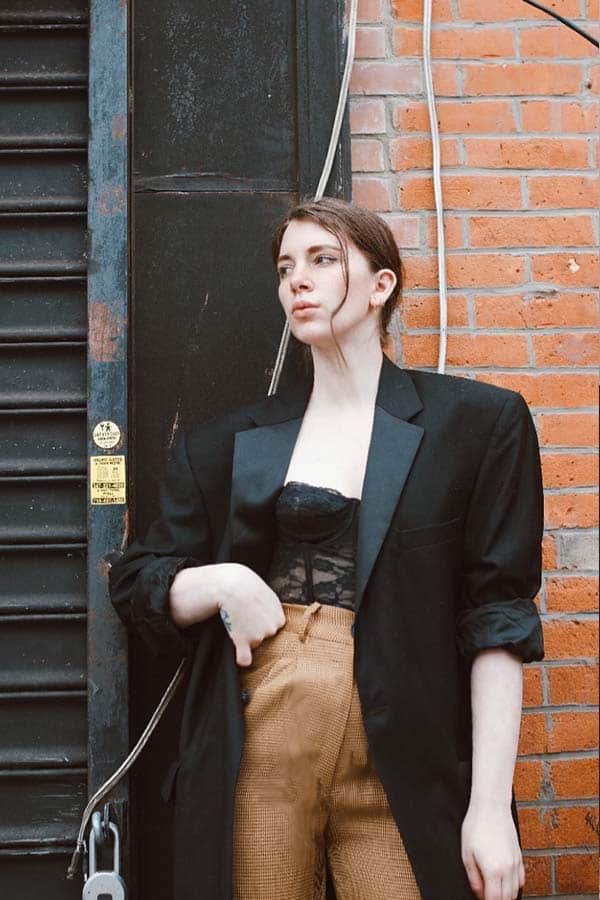 what you need; Oversized blazer, corset top, wide-leg trousers, Heel/Wedge boots
This is a great way to be subtly sexy. The corset is the sexy shining star. As you can see the rest of the outfit is pretty tame in terms of traditional "sexiness" and that is done on purpose.
TIP: When trying lingerie as outwear your whole outfit cannot be "sexy" and "body-conscious" and "risque". Pick one lingerie item to highlight and then the rest of the outfit should balance it out by being from a different clothing style genre. In the example above, the corset is the "sexy" item and the rest of the outfit is business casual.
SHOP this look:
Lingerie as outwear outfit idea

#2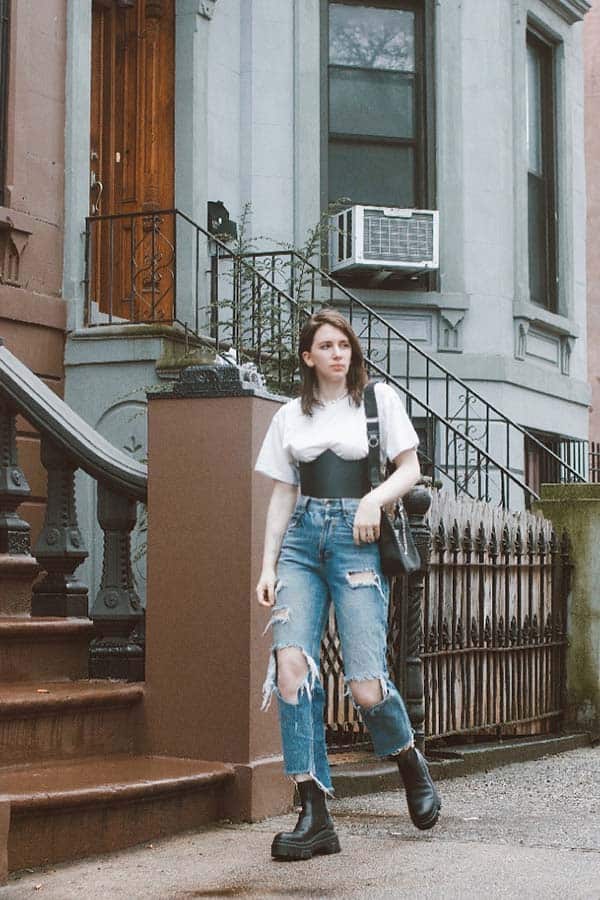 what you need; casual jeans, chunky boots, white slightly oversized tee, corset belt
This is a fun way to reference the lingerie as outerwear trend but in a more modern way. The corset belt is reminiscent of lingerie but it does not specifically look like it only belongs in the bedroom.
This is a full coverage look, and for anyone who wants to remain modest AND try this trend. Start here.
I love this look for a girls' night out, a casual evening out, or just a fun day of running around town.
SHOP this look:
Lingerie as outerwear Outfit Idea #3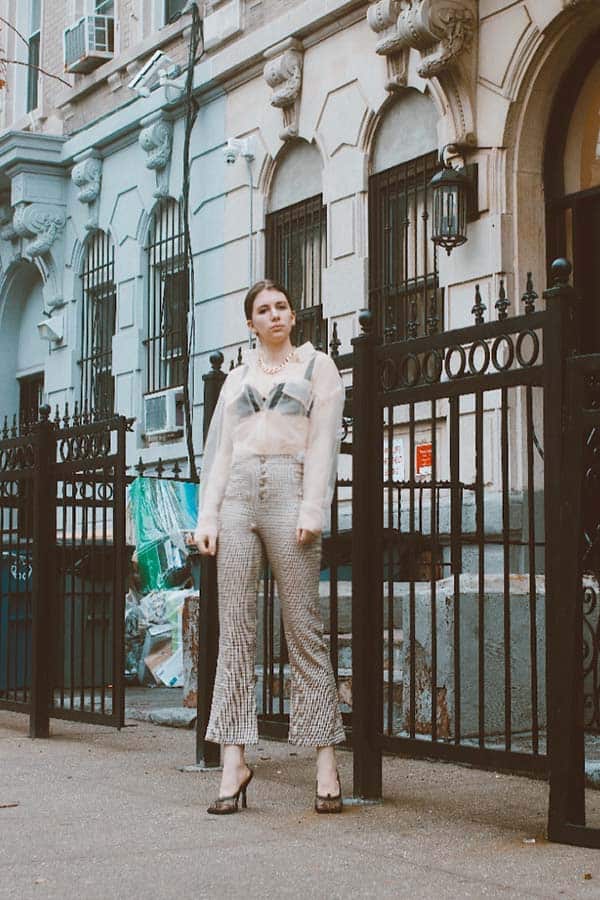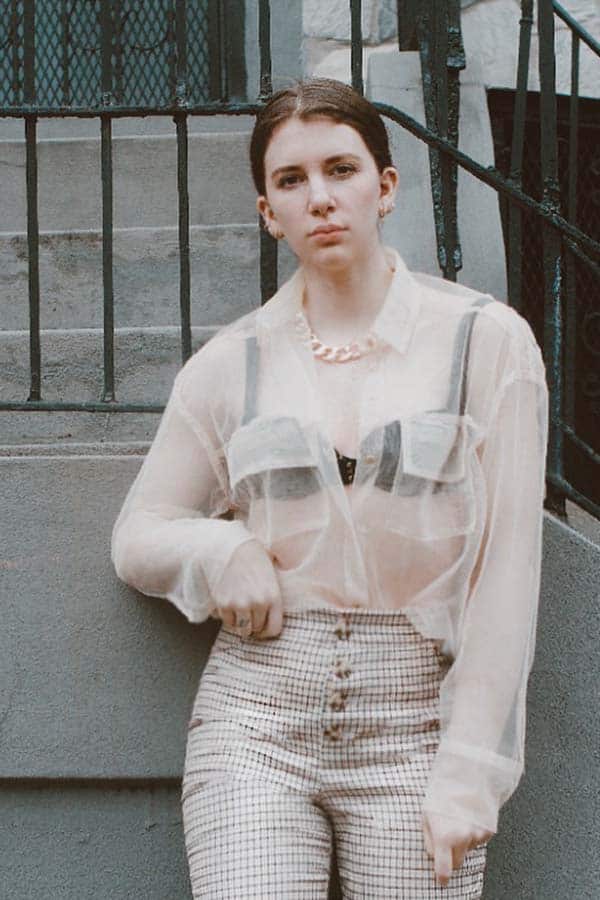 what you need: sheer blouse, trousers, square toe heels, black bra (that has nipple coverage)
This look has an interesting balance and it works because of all the small details.
So what do you wear under a sheer blouse?
A statement bra of course! But, you can't just rock a black bra and call it a day. The reason this look is successful is because while the sheer blouse is winking at you, the black bra is full-on flirting, so the rest of the outfit is calm and professional. Hence, it creates outfit symbiosis.
If you ever feel like your outfit is veering too sexy, try adding square toe heels instead of pointy heels, as they are less traditionally sexy.
And you can try pulling your hair back to tone down the lingerie "bedroom" vibes.
SHOP this look:
Lingerie as outerwear outfit idea #4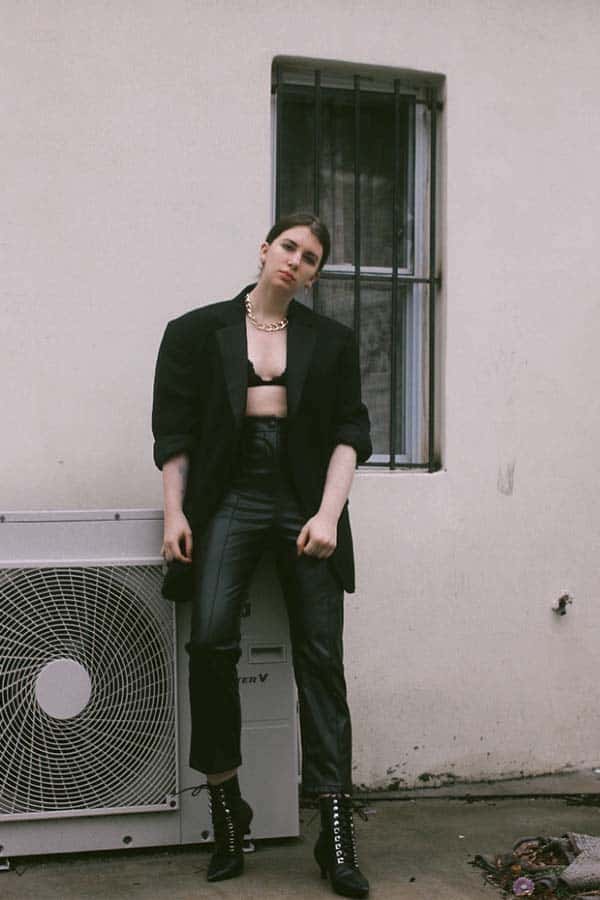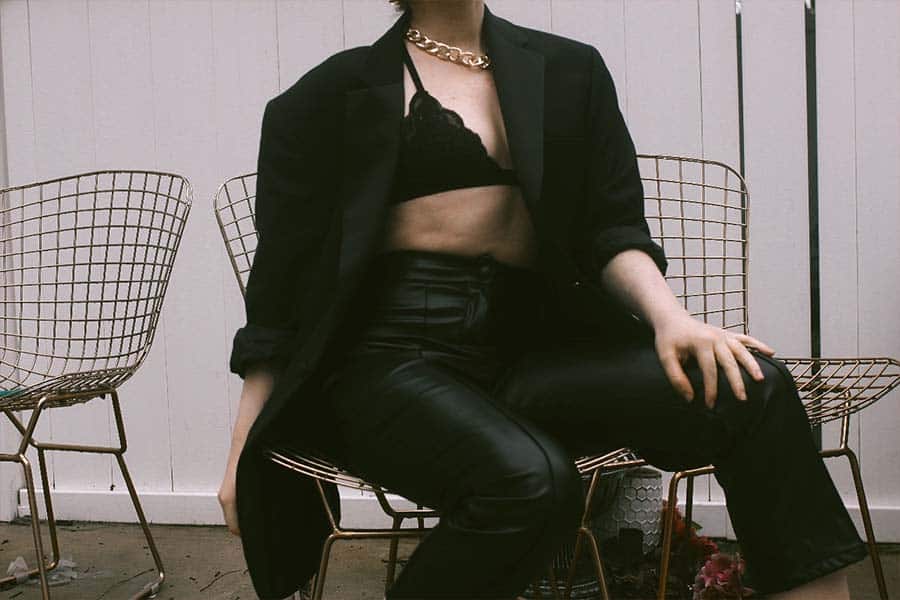 what you need: Oversized blazer, black (lined) triangle bra, leather pants, pointy-toe boots, chunky gold necklace
This outfit veers a bit sexier, so relegate it to nighttime events and activities. I think it's the perfect look for a date. The oversized blazer makes it trendy, and the bra makes it sexy. Plus, you're giving your date a preview of what he hopes to earn in the future.
Also, this outfit is able to stay firmly planted on the chic style side because of the monochrome color palette. It instantly adds a higher level fashion vibe to it. I highly recommend not trying this outfit in red or a bright color unless you are a fashion black belt already. [ how to wear monochrome like a fashion pro]
TIP: If the bra you like is sheer you can layer a similar shape (nude or matching color) bra underneath. This works best with triangle-shaped bras or bras that don't have a built-in structure (underwire etc).
SHOP the look:
Lingerie as Outerwear Outfit Idea #5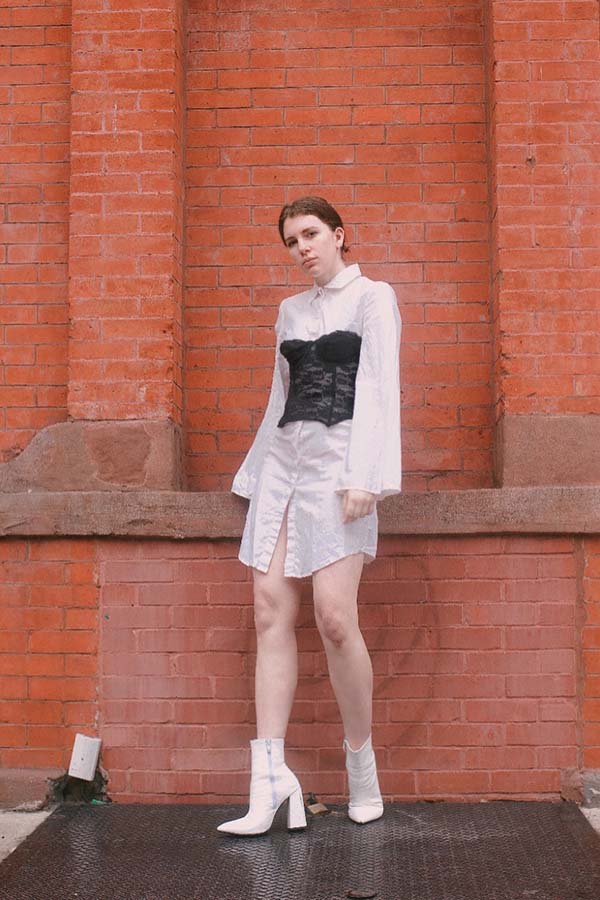 what you need; White shirt dress, corset, high-heeled pointy boots
I love this look. It's modest but still fits the bill for the lingerie as outerwear trend.
Keep in mind whatever shirt dress you pick should be simple ( avoid patterns or crazy colors) because you want it to be a black canvas for the corset to shine.
I suggest using a corset that lands above your hips. One that sits below your hips will make you appear stouter.
Also, opt for a shirtdress that is not too bulky, and is cut closer to your body (more form-fitting) so that you don't have a lot of bulk under the corset.
I love this look for day to evening. It's casual enough to grab brunch in and sexy enough to meet your date for dinner.
SHOP this look:
So How do you wear a bra as outerwear?
1. Balance: Don't make your whole outfit sexy. Let the bra or lingerie piece be the shining star and the rest of the outfit should be from a different fashion genre.
2. Confidence: It sounds silly but having the confidence to not care if you are being judged is not only crucial in life, but also in fashion.
3. Don't copy, get inspired and tweak: When you look at these outfit inspirations don't just try to copy the outfit down to the exact details. Take inspiration and tweak them for YOUR personal style. And if that sounds intimidating, start with your favorite pair of jeans that make you look and feel beautiful and add a lingerie piece to that. You will have a good baseline from there.
4. Remember where you are going: No, this isn't a metaphor for something spiritually deep, I actually mean location. If you are going to your office building for work and the dress code is business casual, save this trend for the weekend! Part of feeling great about an outfit is feeling like you made the right choice in your outfit. If you're rocking lingerie to meet your future Mother in law, you might not feel so confident
5. Have fun with it. It's just fashion. If you try this trend and it doesn't work, just try it again. That's the beauty of each new day- you learn, you grow, you adapt. Fashion complies with the same rules.
+
If the above options don't float your sartorial boat, try these:
AND, if you're thinking what about slip dresses, well I have an entire post for you about how to rock a slip dress, here.
Lingerie as outerwear is one of my favorite trends to find its way to the streets, and I hope this has inspired you to get those beautiful bras we spend SO (so) SO much money on out in the sunlight.
Lingerie deserves to have its day in the sun.
Go be sexy!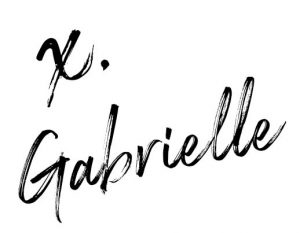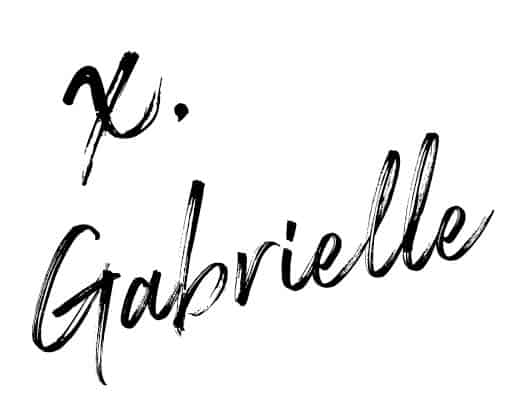 PIN this for reference because we all know life gets in the way and we will forget where we found that amazing advice on how to wear lingerie as outerwear.
follow me on Pinterest for more inspiration.