The snow is falling, or at the very least the temperatures are dropping, and that means it is time to start prepping your winter capsule wardrobe for 2021. Winter fashion can get you down because there's nothing worse than putting on a cute outfit only to pile on layers to the point you look like the Michelin Man.
I mean, I kind of blame mainstream media and their constant portrayal of love-struck couples enjoying the snow in a mini skirt and no tights. I'm specifically looking at those Hallmark holiday movies ;). But, just because you won't be starring in the latest rom-com holiday flick, doesn't mean you need to abandon your hope of looking chic and put-together this winter.
I would go so far as to say, with a well-crafted winter wardrobe your style can even evolve since there are so many textures and layering options that add depth to your outfit and personal style.
But, most of you will know my capsule wardrobes are built around style and function, and that includes styling these fashion staples. If you need some help on the actual outfit development and styling, check out my Winter Capsule Wardrobe 2021 Outfit Guide below. It has 40+ outfit ideas with the items in this capsule wardrobe and will make getting dressed a snap.
So let's start at the beginning.
What is a Capsule Wardrobe in 2021?
A capsule wardrobe is a set of basic staple pieces that are thoughtfully paired together to create outfits for every season.
A seasonal capsule wardrobe is a smaller subsection of those clothes that fit specifically into the current season. This creates a more streamlined closet that allows you to view all your available and necessary pieces. It also prevents you from forgetting clothing items in the back of your closet or overlooking weather-appropriate basics.
For instance, a winter capsule wardrobe will need a winter coat and winter boots. But your spring capsule wardrobe will not need those items. There is no reason to clutter up your closet with out-of-season pieces. So I highly encourage you to only have the current seasonal pieces in your wardrobe at any given time.
What's the Purpose of a Winter Capsule Wardrobe?
The winter capsule wardrobe can be one of the most useful capsules you will ever craft, due to the fact winter fashion has so many layering pieces and that people often get stumped with making it all look chic . The possibilities are limitless since you can create so many different looks from the following essential pieces, and it will take the guesswork out of winter style.
So Why Would You Need a Winter Capsule?
Save time getting dressed: if you have all your winter outfit combinations mastered, you will save so much time getting dressed every morning.
Save money: By taking the guesswork out of what you need to own for winter, you can avoid buying items that you don't end up liking or wearing.
Save storage/closet space: Because your closet won't be cluttered with pieces you aren't using, it will be a much more enjoyable outfit ensembling process.
Now, let's get to building your own winter capsule wardrobe so you can conquer the cold weather in style this season!
We may earn a commission from you clicking a link in this post. And as an amazon associate, we earn on qualifying purchases. Full affiliate policy, here.
Winter Capsule Wardrobe 2021
Hip, hip hooray! The winter capsule for 2021 is here! Now, let me get my schpeel out of the way. The vast majority of you will have similar items in your closet already, so please don't unnecessarily buy new versions of those items each year.
Capsule wardrobes are about finding those elevated basics that work perfectly on you and allowing them to transition from season to season and from year to year.
This capsule wardrobe should show you a few wardrobe gaps you might have, and it also might also offer one or two "trendier" pieces to integrate into your closet for this year.
I personally love the fusing a foundational wardrobe with few new trends and newer styling techniques so that my look stays fresh. So, proceed with your personal style goals in mind.
TIP: Being fashionable isn't about wearing the most current, trendy fashions all of the time. Instead, it's more about utilizing the latest styling methods and combinations. (especially if you like a classic or minimalist aesthetic).
Winter Capsule Wardrobe Checklist
If some of these items look familiar from the Fall Capsule (or even last winter) that's because we are aiming to create a wardrobe that lasts. However, sometimes pieces become unavailable, so just because an item has been replaced does not mean your winter wardrobe needs every piece.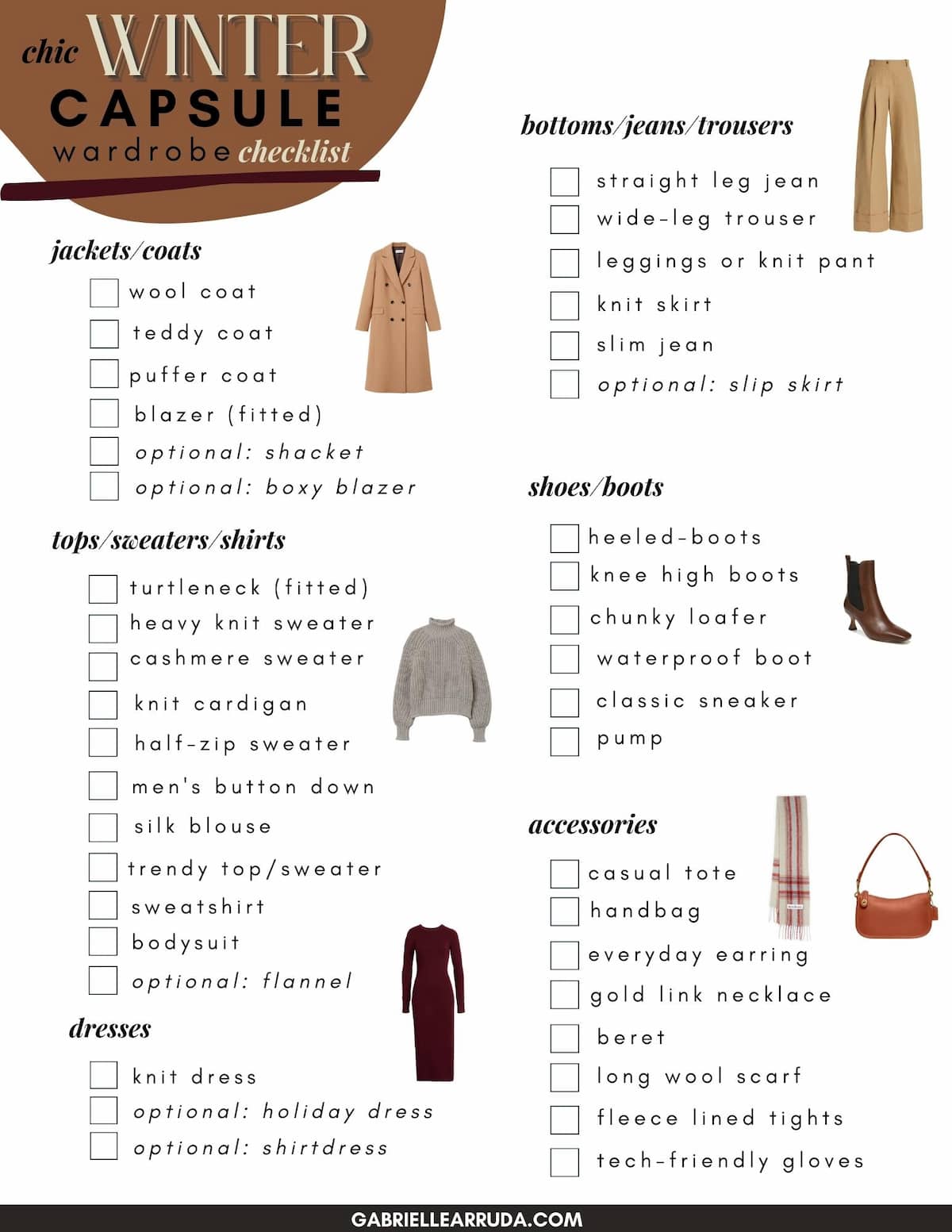 Wool Coat
Teddy Coat
Puffer Coat
Fitted Blazer
Optional: Shacket
Optional: Boxy Blazer
Turtleneck (fitted)
Heavy Knit Sweater
Cashmere Sweater
Knit Cardigan
Half-Zip Sweater/pullover
Men's Button Down Shirt
Silk Blouse
Trendy Top/Sweater
Bodysuit
Optional: Flannel
Knit Dress
Optional: Holiday Dress
Optional: Shirtdress
Wide Leg Trouser
Straight-leg Jean
Slim Jean
Leggings or Knit Pant
Knit Skirt
Heeled Boots
Knee-High Boots
Loafers
Waterproof Boot
Classic Sneaker
Pump
Casual Tote
Handbag
Everday Earrings
Gold Link Necklace
Beret
Long Wool Scarf
Fleece-lined Tights
Tech-friendly Gloves
What pieces do I need for my winter capsule wardrobe 2021?
Every year I think maybe I should put a different coat into the capsule wardrobe. But, honestly, it only takes one glance in my camera roll to see how many times I opt for my camel wool coat over all others.
It's classic, it's neutral, and a well-cut coat will add polish to any outfit (even the more loungey looks we tend to gravitate towards in winter).
And because we have some softer silhouette coats coming up, I opt for a more structured camel coat.
At one point teddy coats could have been considered a trend. But their sheer functionality has made them be a popular coat choice year after year.
So, will this coat be your forever coat like the camel coat- probably not? So this is an item I wouldn't do a "super-splurge" on, but I would make sure it's in my winter wardrobe.
It's a fantastic option for those ultra-cold temps! And, I also like this coat for a darker color coat option.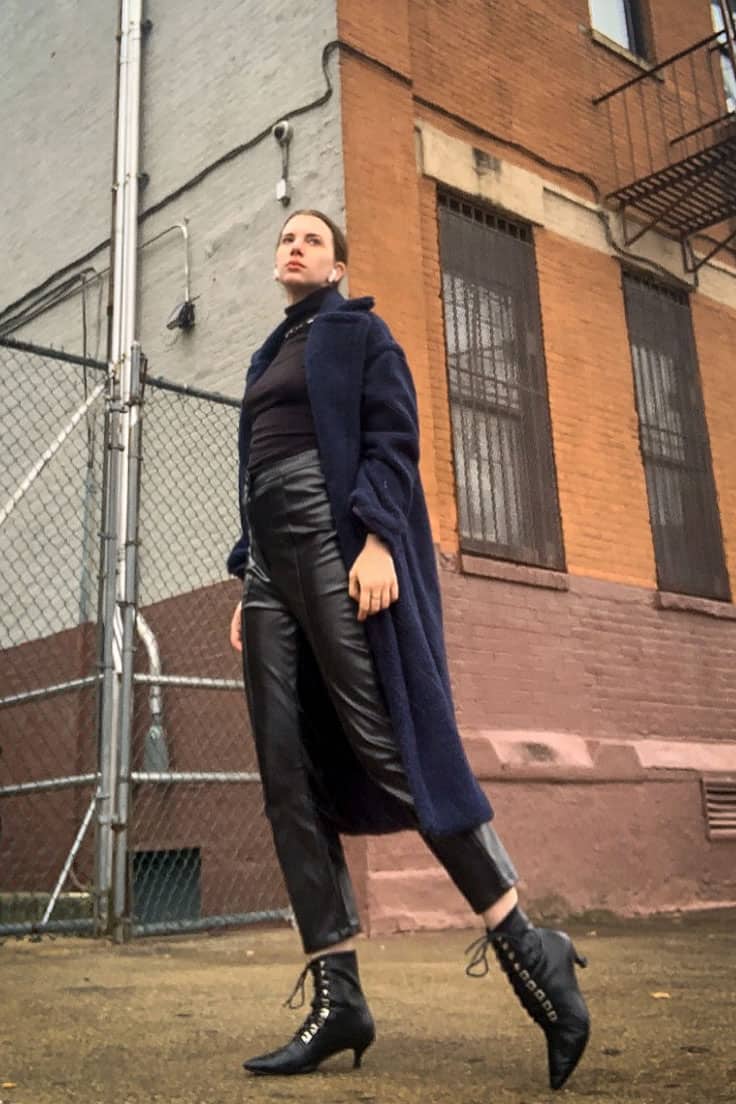 Let's be honest, coats are a huge staple to winter wardrobes and I believe you really need to have the basic styles in order to be warm and stylishly appropriate for all winter functions.
And, a puffer coat is part of that. Since this winter wardrobe already has two longer coats, I chose to add a shorter-length puffer.
However, if you need a longer option, I like this one.
A puffer coat is necessary for those really wet weather days, and it's a great option for more casual errands.
Ok, call me crazy but the turtleneck is my favorite item to bring out in fall and winter. Its fitted silhouette is great for layering and it just adds such a polished look to any outfit.
I have a whole post on turtleneck outfit ideas, here. And, you better believe I'll be adding more to the mix as the season goes on. No matter what style you have, you can probably benefit from a turtleneck.
And, this turtleneck, specifically, has dominated my wardrobe. I even have it in gray, black, and white now (after constantly wearing it every cold-temp season).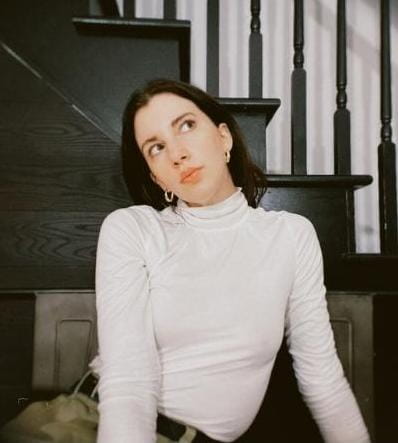 Want to look chic and still be warm? The heavier knit sweater is your answer. While you may not want to admit it, you will be reaching for this sweater so often when the temps start to get frigid.
It's like wearing a warm hug. Plus, it's comfortable and looks chic, so it's a no-brainer for your winter style.
This cardigan has been in my capsule wardrobes for a while now (including fall). It's the perfect transitional fall-to-winter piece, and it's a classic cut, which makes it even more versatile.
It continues to be a favorite among my readers, so that has earned it a spot in this year's capsule as well.
I'm not a fancy girl, and you don't have to be a fancy girl to own a cashmere sweater.
A lightweight, long-lasting sweater will serve you for years to come. I recommend a classic cut and color, so that you really get your money's worth in the years to come.
(And if you're stressing on how to take care of a cashmere sweater, it doesn't have to be that hard, check out this resource).
I don't know know if it's the past year's fashion leaning hard into loungewear or my millennial roots… But a good sweatshirt will be essential in my winter style.
Whether you need an easy piece to throw on for errands, or you want to create a casual, elevated outfit… I think this half zip sweatshirt fits the bill.
I mean… Princess Diana was a fan of this silhouette so you don't need to take my word for it, it's a winner.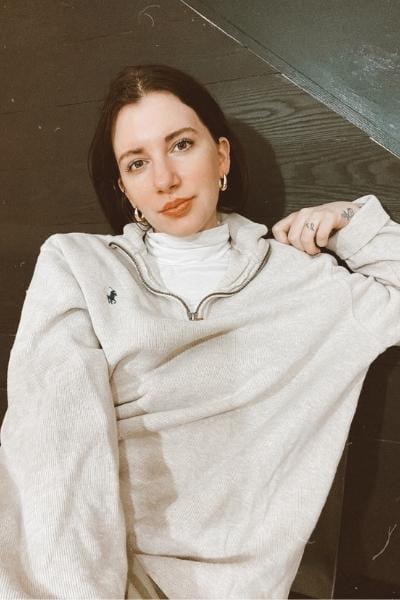 I'm telling you, skinny jeans have been dying out the past couple of years.. Now, if they are still your go-to, you do you!
But if you're looking for a good pair of jeans that fits today's trends AND has longevity- I would try a straight-leg jean.
And you really can't go wrong with these, I've included them in almost every capsule wardrobe.
Tiktok might have blown up this style of trouser, but it's for good reason. Wide-leg structured trousers always look good. They work for practically any body type, they help lengthen your vertical line, and they won't look dated anytime soon.
To me, they are the perfect way to look polished. And if you need some help looking super polished, with very minimal effort, I have my favorite tips, here.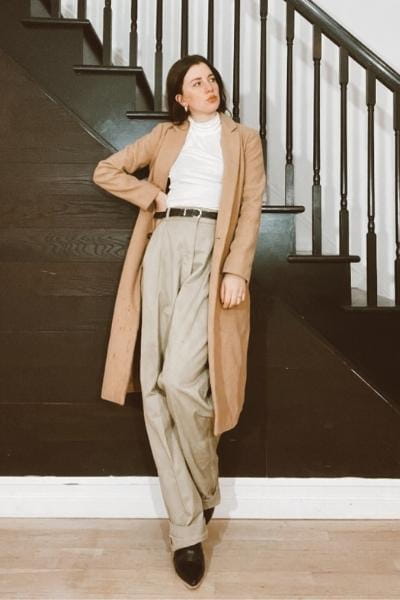 You can choose your style, but your wardrobe will significantly improve with a pair of black jeans in it. It's an easy bottom piece that can easily be dressed up or down.
These jeans went viral on Tiktok and it's for good reason. They have an amazing fit and are extremely versatile.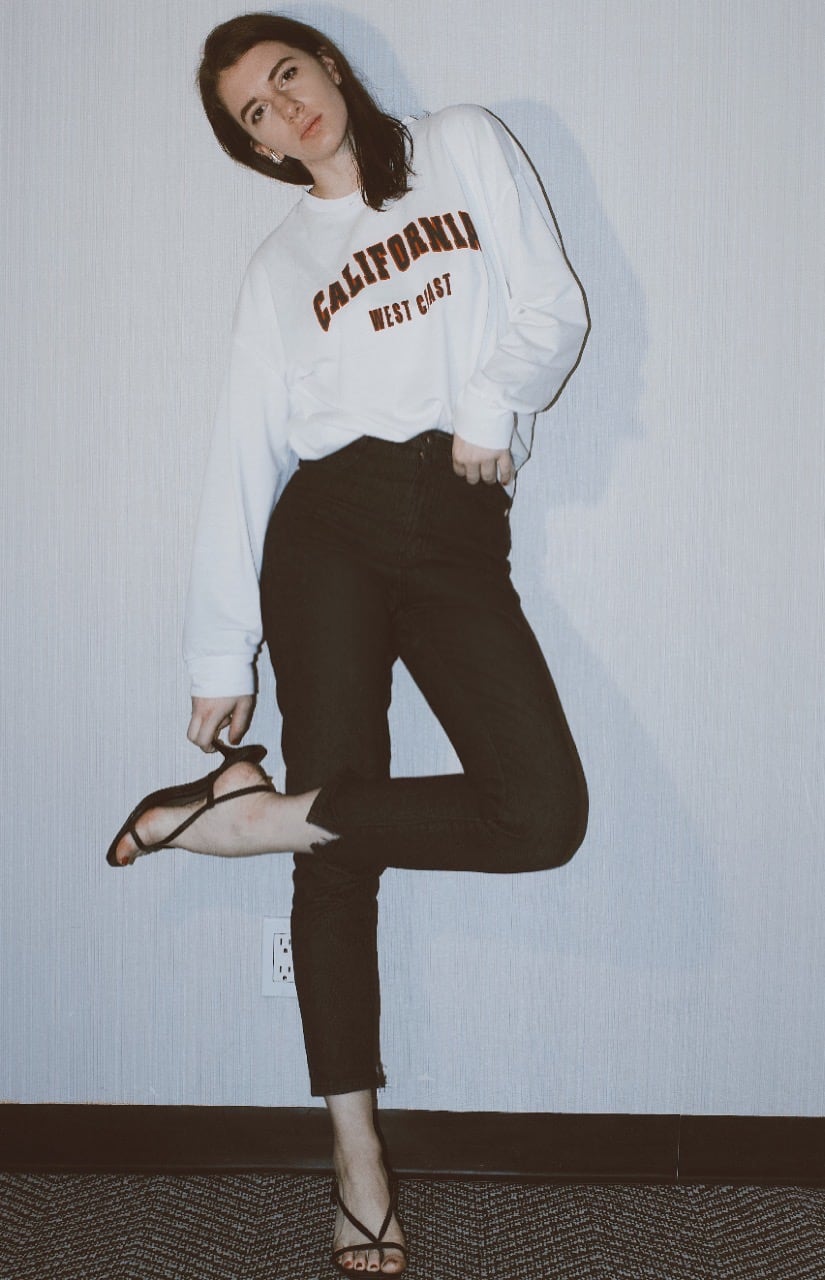 A midi-length knit skirt is the perfect skirt style for winter since it's heavy enough to keep you warm and not too short. On temperament days, throw it on with knee-high boots, or layer up with some fleece-lined tights when the temps begin to drop.
The knit midi skirt is also an excellent alternative for WFH situations. It's both comfy and respectable enough to wear to a zoom business meeting.
This particular skirt can even work for casual evening outings, so it's really an easy addition.
While oversized blazers are still going to be hanging around into 2022, we are definitely seeing a new staple blazer come into play. And that is the slightly fitted, 90's style blazer.
It has a classic cut, a slightly longer hem, and a gentle definition of the waist.
I love blazers like this over turtlenecks, lightweight sweaters, and even layered over your knit dresses.
I recommend going fairly classic with color or print for this item so you get the most wear out of it. What does that mean for you specifically? I have 5 easy methods to develop your own capsule wardrobe color palette, here.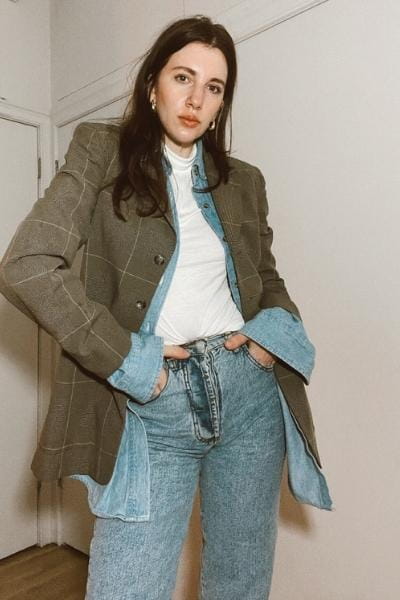 EVERY SEASON! Every season I include a men's white button-up. The possibilities are endless with this piece and I just love how sophisticated it can look.
If you're confused on how to style menswear pieces, I have a guide here on that.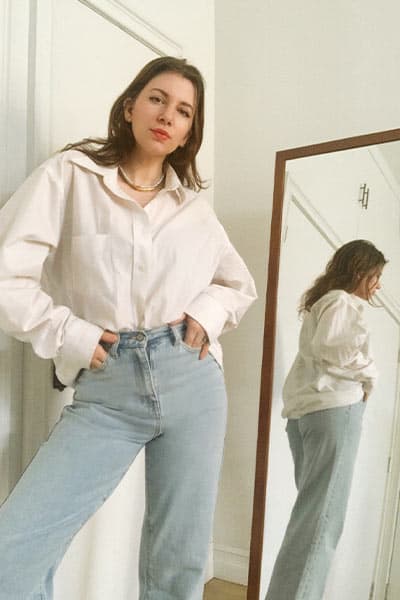 Silk blouses are seeing a comeback as of late, and for good reason. They add an easy level of sophistication, are comfortable, and generally very flattering.
I would look for a classic cut (not too feminine) option, and one that has a slightly moderate weight to it (for winter).
Ok, you may be thinking, wait I already have a half zip, do I really need a basic crewneck sweatshirt? In my opinion, it's definitely a good wardrobe staple.
I wear these all year round, from lounging to weekend brunches. They are comfy, easy, and can be easily dressed up or down.
So, you decide…. ; )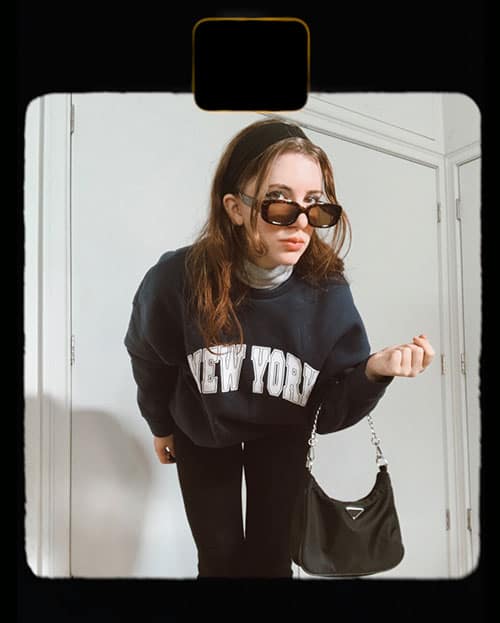 I love bodysuits because you don't get the bulkiness around your waist. On chillier days layer them with your favorite cardigan, blazer, or on their own if its temperate.
Statement sweaters are the perfect example of how to put together an effortlessly chic outfit. They give you instant style points and can be worn with just about anything.
Remember that capsule wardrobes don't mean you never, ever buy trendy pieces. You just buy minimal trendy pieces, and you make sure you have vetted the item for versatility with your foundational pieces.
19. Sweater Dress ( I like it in the dark red color)
I have yet to find a comfier piece of clothing that actually looks like you tried. Dress it up or down depending on your plans. It could also be a great holiday dress!
Whether you opt for the classic black leggings or you want to expand to a knit lounge pant is up to you. But both of these options are great staples for winter.
I included a knit lounge pant in the fall capsule wardrobe, and I bought a pair.. And, that was an excellent choice because on those days that I am just too tired to try, they are any easy "yes".
Winter Capsule Wardrobe 2021: Shoes
Knee High Boot
Ankle Boot
Waterproof Boot
Loafers
Heel (optional, depending on lifestyle needs)
Winter Accessories 2021
Ok, so these are probably one of my favorite and most useful winter accessories. They are great for layering underneath your trousers or jeans for those below-freezing days. And they actually keep you warm if you opt for a skirt or dress.
I love the opaque black tight look but if that's not your thing you could also try the following:
If you like the look of sheer black tights, try buying a nude pair of heavy weigth tights, like these, and throwing a sheer pair of tights over those. The double layers will keep the wind out and give you an more "winter-friendly" sheer tight look.
I'm a big fan of scarves that have some length. I think it's not only really useful but also adds a touch of flair to your winter attire. For extra long scarves, I wrap the ends loosely around my neck twice and let them hang down freely.
Ok, while I'm a big of the beanie as a classic winter staple, this year I'm leaning towards a simple black beret as my go-to hat.
I think we will see berets be a trend this winter, and I love how polished they look.
Tech-friendly gloves that are also chic, sign me up! I think we are going to see longer length gloves become popular this season. So if you are looking to replace your go-to gloves, I suggest ones with a bit more length.
I know, I know… I sound like a broken record. But, a simple, chic canvas tote will serve you for years to come.
I used to buy ALL the new designer bags, and then I would overuse them and they would look pretty rough by the end of a winter season. But, after I invested in a chic canvas tote, I use it as my daily bag and save my leather, designer bags for more special occassions. Definitely, recommend!
Leather Handbag
Ok, so you might have occassions where the canvas tote isn't an appropriate handbag option. And that is where this simple, elevated handbag comes into play.
Jewelry
These pieces of jewery have served me very well for the past couple years, and I continue to recommend them (or varied iterations of them).
Shop the Winter Capsule Items
I try to replace unavailable or sold-out items, so if the pieces look slightly different that could be why.
Winter Capsule Wardrobe Color Palette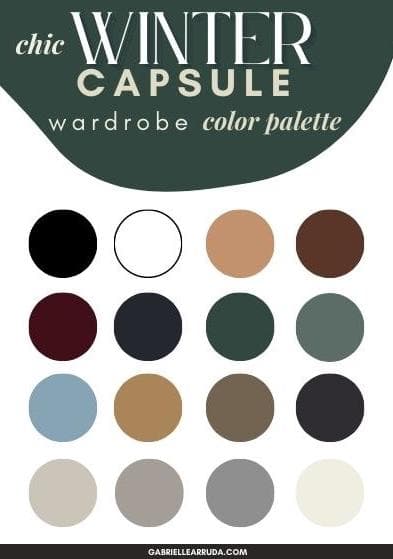 Don't forget about the outfit guide for so many chic and easy ways to wear these pieces!
Winter fashion is all about finding those perfect pieces that can mix and match easily AND make you feel your best.
So what do you think? Did I miss any favorites? Let me know!
Otherwise, I think you are all ready to sip hot chocolate, brave the snowy days, and look fabulously chic.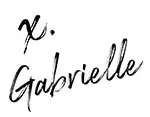 Do yourself a favor and pin the below image, so you can always master looking warm AND chic!