You may not have realized it, but your inseam is an important factor when buying jeans.
There is nothing worse than buying a cute pair of jeans, waiting days for them to arrive, and trying them on only to find out that they are…. well… way too short. Or, worse, they are a complete trip hazard, and you'll need 6-inch heels just to *maybe* wear them out.
Knowing your inseam will make online shopping a breeze.
This article will cover everything you need to know about inseams, including how to measure them for yourself at home.
What is an inseam?
The inseam is the distance between your crotch and ankle bones, or the length of the inner leg seam. It's one of several measurements that play a factor when you're buying jeans or pants.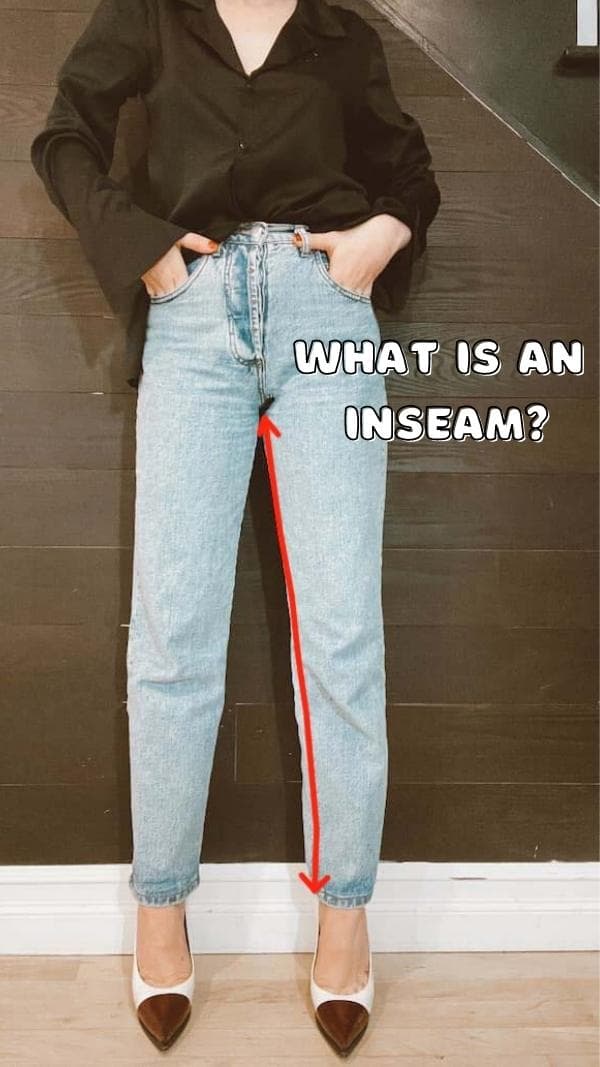 Why should you know your inseam?
It's all about proportions – what looks good on you and how to balance your body type. And it will also help you find pants that actually fit you. No more pants that are too short, or pants that drag on the ground.
Knowing your inseam and being able to apply it to different styles of jeans and pick the right pair for you is a crucial step! And will result in far fewer returned pieces of clothing.
This will also help you achieve the denim (or pant) look you are going for. Want your jeans to slightly bunch at the ankle, you can now easily pick these out. Want your pants to just gently graze the floor when you wear heels, by knowing your inseam you are able to pick out the right pant lengths to accomplish this styling goal.
The Benefits of Knowing Your Inseam…
1. Gives you a better sense of how jeans will fit on your body.
2. Makes it easier to shop online and know which styles will work for you. Because companies often have a size guide for each style of jeans that you can reference before you buy.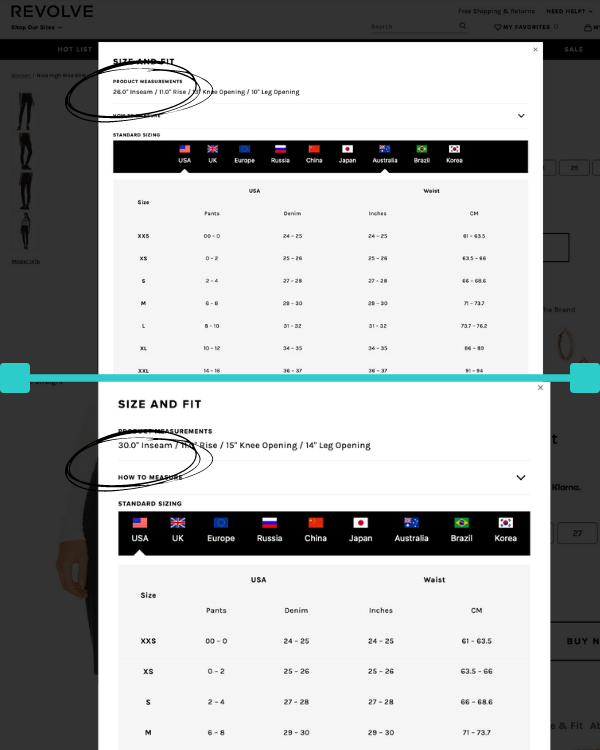 3. Helps you figure out the length needed for hemming – need a 30-inch inseam? No problem, just tell your tailor instead of stripping and having them charge to measure you.
We may earn a commission from you clicking a link in this post. And as an amazon associate, we earn on qualifying purchases. Full affiliate policy, here.
How to Measure Your Inseam
You can find your inseam measurement by taking a soft measuring tape and finding the distance from the top of the inner leg seam (near the crotch) to the bottom of the pant hem.
There are two ways to measure your inseam.
Method One: Measuring Your Inseam From A Pair of Pants You Already Own
The first way is the easiest, but might not be completely accurate since it doesn't take into account your personal inner leg length. But this is more than acceptable if you just need your inseam for jean shopping.
Supplies:
Pair of pants that fit you well (length-wise)
Pen and notepad to jot it down
Clean surface to lay pants out on
How To Measure Your Inseam WIth Pants You Own Steps:
1. Grab a pair of jeans or trousers that fit you well and have your ideal hem length.
2. Lay them on a flat surface and fold them together like this: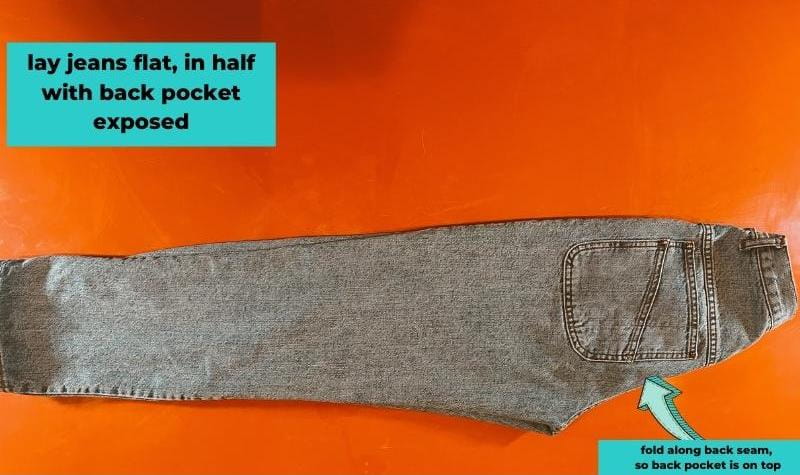 3. Lift up the leg of the top pant to reveal the lower pant :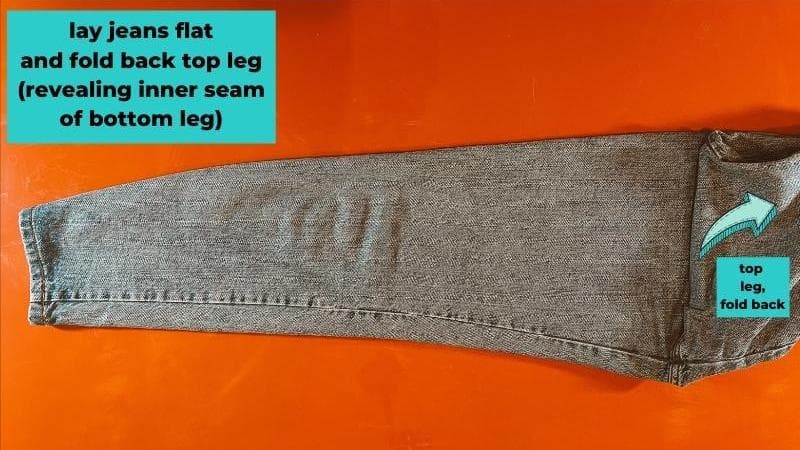 4. Take your tape measure and measure from just below the crotch, along the inner leg seam, all the way to the bottom hem.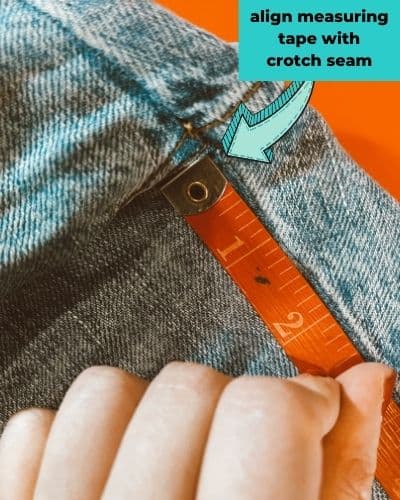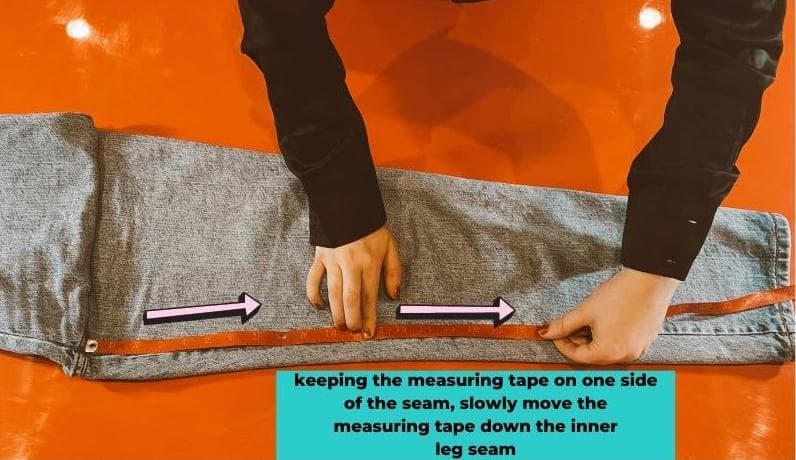 5. Jot down this number. This is your preferred inseam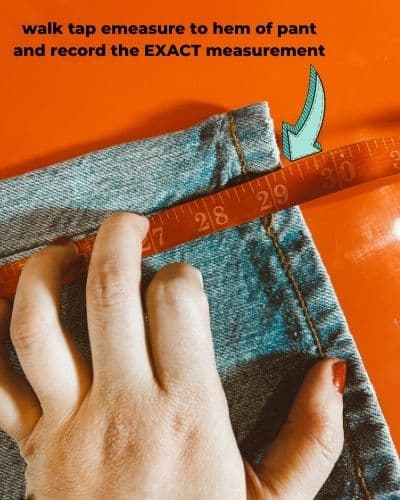 The benefit of this method is that it is easy, quick, and can be done without anyone helping you.
The downfall of this method is that it doesn't give you your personal inseam length. It gives you an inseam of a pair of pants that fit you well. If you opt for a different style of jeans (or trousers) you will have to adjust your inseam number for that style.
Method 2: Having a Friend Measure The Length of Your Inner Leg
The second way to measure your inseam requires getting the help of a friend.
Put on leggings or skin-tight pants
Do not wear shoes, go barefoot
Stand up straight with your feet shoulder distance apart. If you need to you can stand against a wall to ensure your posture is straight.
Have your friend (or person) measure from your crotch along the inner leg down to the middle of your ankle bone. A tailor or seamstress might tell you to measure all the way to the floor, because that is a more standardized way of doing it, especially when creating custom garments. However, since we are measuring our inseams so we can pick out jeans that fit more effectively, it will be easier with the ankle measurement (this way we don't end up with jeans that are too long). But make this assesment for yourself, if you need your inseam for other reasons.
Record the measurement. This is your inseam
Now that you know how to measure your inseam, here's what to do with it.
Using Your Inseam Measurement
So, as we discussed, knowing your inseam will be helpful when online shopping (or in-person) to help weed through pants or jeans that don't fit your ideal leg length.
However, your shoes can affect your ideal pant-leg length and should be taken into consideration.
If you plan to mostly wear those jeans with flats or low boots an extra 1/2 inch here or there shouldn't throw your ideal inseam number off much.
However, if you plan to rock these jeans with higher heels or boots, then an added 2-3 inches can affect which inseams you shop for. Be wary of this and decide where you want your pant hem to fall.
This is more of a preference thing than anything.
Notice how I have straight-leg jean that falls at the top of the heel, which have an inseam of 29 1/4 inches. Whereas the wide leg falls much closer to the vamp of the heel and has an inseam of 32 inches.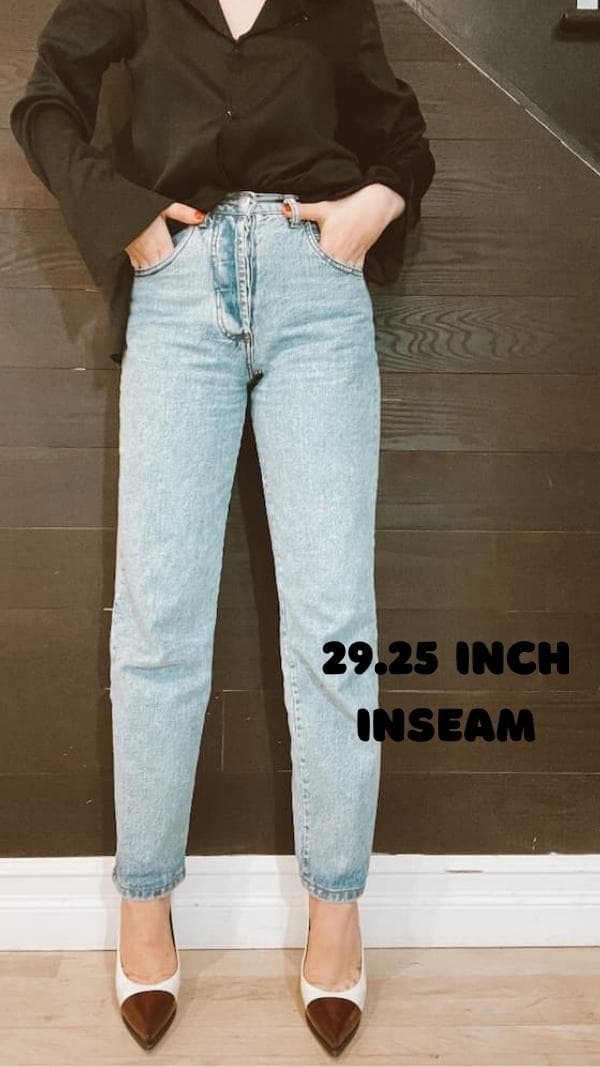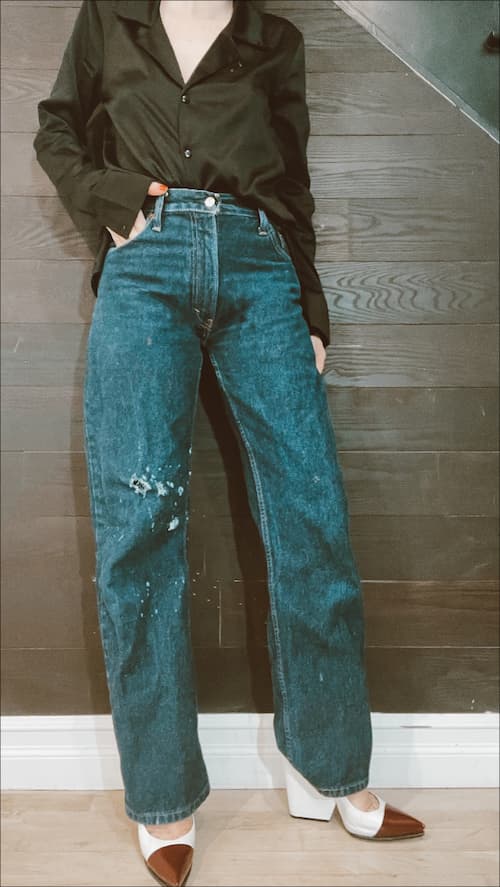 So pay attention to the style of jeans and understand you may have to adjust your inseam measurement to get the desired look.
A general rule of thumb (and I mean general) you should add at least a 1/2 inch to your inseam if you want to wear those pants with heels. But as we can see in my example above those two pants have about 2.75-inch difference in their inseams.
I recommend measuring each jean style you own and comparing inseam within that style category. For me, that would mean shopping for 32 in wide-leg jeans, and 29-inch straight-leg jeans, since I've measured my own pairs and know these lengths are ideal.
Remember that jeans can shrink as well (if they aren't marked as pre-shrunk). So if they are a heavy cotton blend, I recommend opting for a slightly longer inseam (like .25 inches-.5 inches longer) to accommodate for potential shrinkage.
What is a Standard Inseam?
There is no standard inseam measurement, and it will even vary from pant style within a brand.
That means that even if you buy skinny jeans and straight-leg jeans from the same brand, those two pants will most likely have different inseam lengths.
Some brands (especially in menswear) put the inseam on their labels, so it is worthwhile to check there first.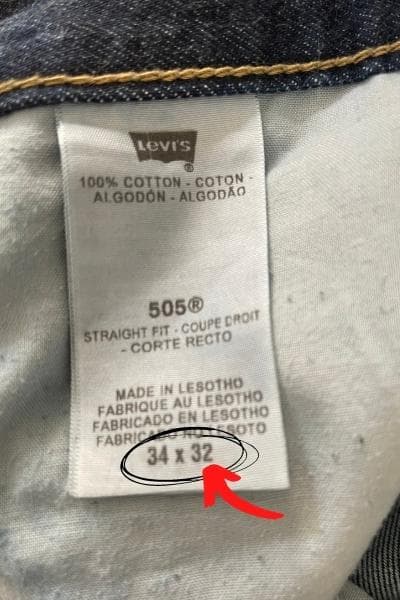 As you can see in the above image the tag states these jeans are a 34X32, which means they have a 32-inch inseam.
What do my Inseam Measurements Mean?
Remember the shorter the inseam, the shorter the length of the jean.
| Height | Skinny Jeans | Straight-Leg | Capri/Cropped | Boyfriend | Bootcut/Flare/Wide Leg |
| --- | --- | --- | --- | --- | --- |
| Petite ( 5 ft 3 and under) | 25″- 27″ | 27″ | 20″-23″ | 23″-26″ | 28″-30″ |
| Average/Standard (5 ft 4 to 5 ft 7) | 28″ – 30″ | 28″-32″ | 23″-25″ | 26″-28″ | 32″-34″ |
| Tall ( 5 ft 8 and above) | 31″ – 34″ | 32″-34″ | 26″-28″ | 29″-31″ | 34″-36″ |
Skinny Jean Example: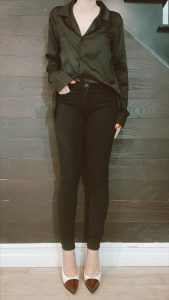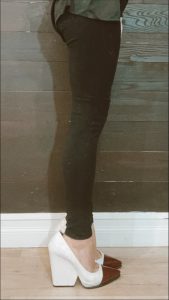 Straight-Leg Jeans Examples: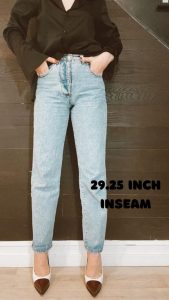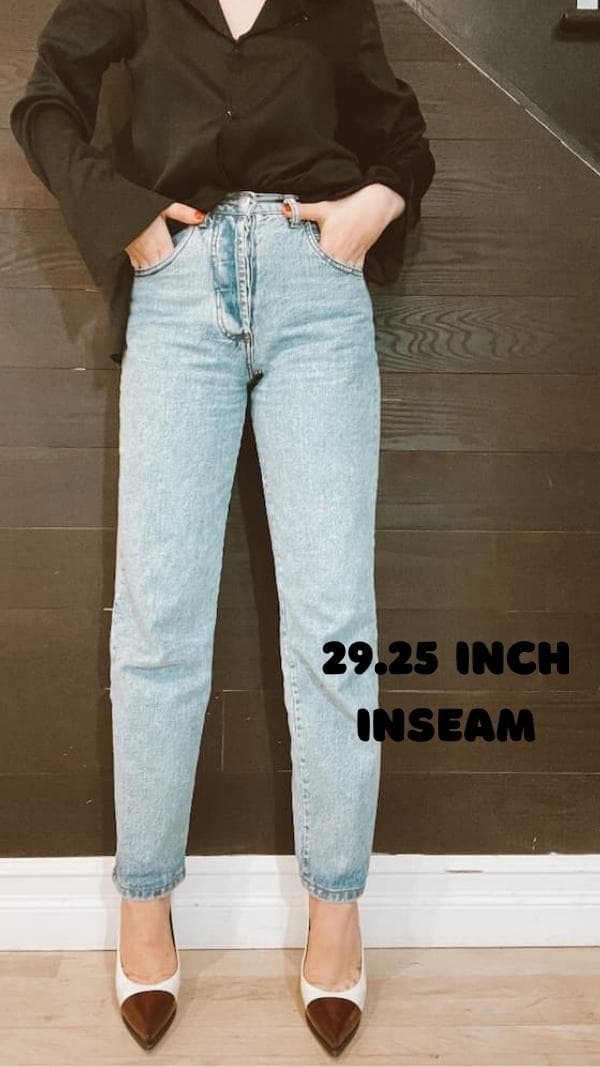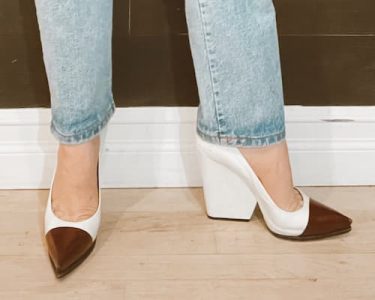 Cropped Jean Example: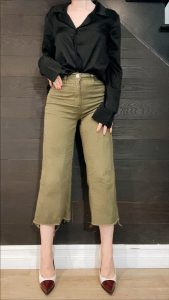 Wide-Leg Jean Example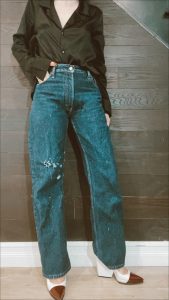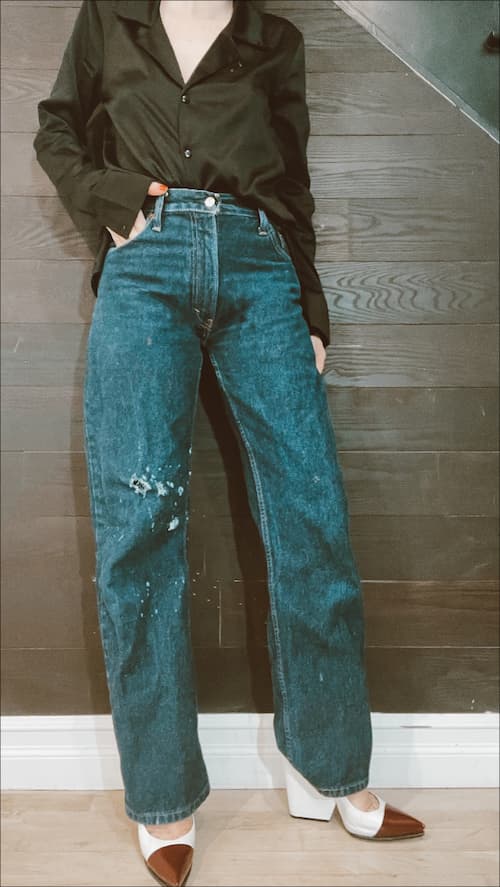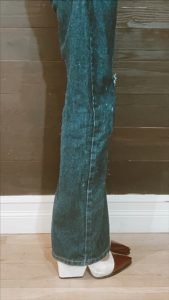 Is your inseam measurement the same as length?
No. Your inseam is the measurement from your crotch along the inner leg seam down to the hem of your pants. And the length of your pants (or "length measurement") is measured from the waistband to the hem of the pant.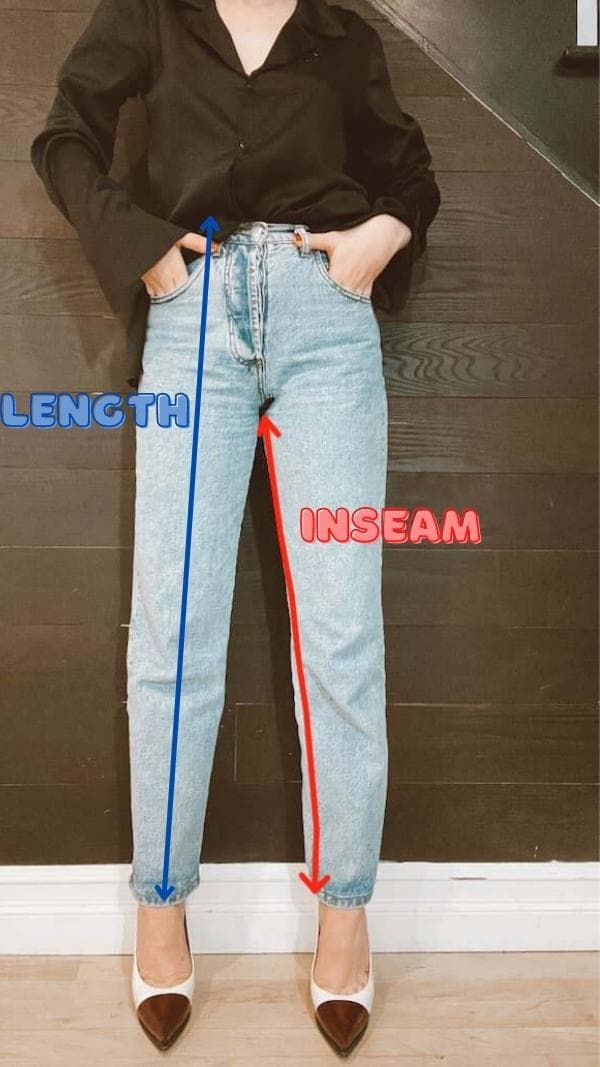 How to Measure the Inseam of Shorts
When measuring the inseam of your shorts, you want to measure the length of the inner leg seam (it will be, obviously, a much shorter distance). You will do it in the same manner as we did our jeans above.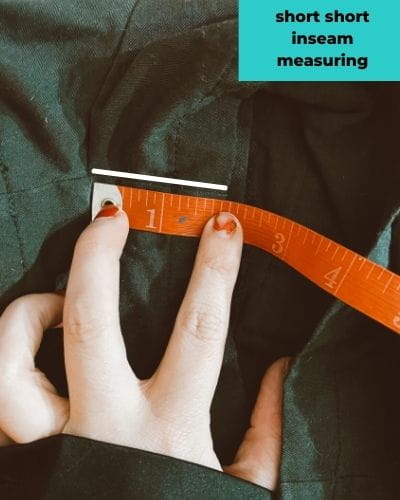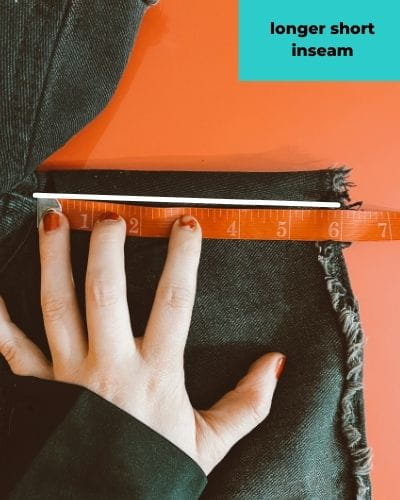 What Do My Short Inseam Measurements Mean?
The inseam of your shorts can range anywhere from 1.5 inches to 11+ inches, depending on the silhouette, and style.
1.5″: This is a very short short. Be prepared for some cheekiness 😉
2″: This is also a pretty small inseam that will result in a covered butt, but will show a lot of thigh.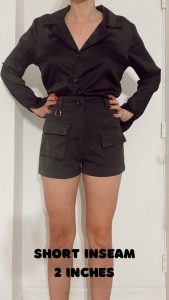 6″: This is a perfect length for a pair of shorts if you want to feel comfortable and still show off some leg. A 6-inch inseam hits around mid-thigh (on me).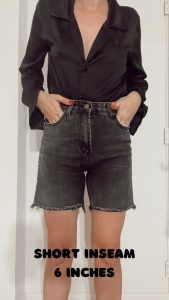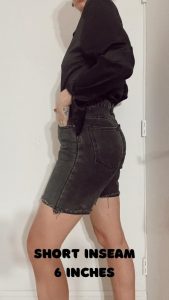 10+" : This inseam is more of a peddle pusher style. In the photo below I have an 11-inch inseam and they hit just above my knee (this is will depend on your height/proportions).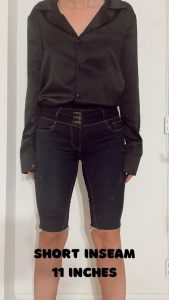 Inseams aren't as complicated as you might think, and the best part is that once you know what they are and what style of jeans work best for you, you can shop for jeans with more ease.
When it comes time to shop, make sure you use this new knowledge to help you out.
More winning jeans and fewer returns make it's a win-win in my book!