Whether you're picking out your wedding dress, getting ready to sew your next creation, or simply just want to look your best, the neckline of your garment can have a huge impact.
The neckline is often one of the first places our eyes land on when we take in someone's outfit. It draws the eye in, and from there (depending on the entire outfit and accessories) our eyes are drawn upwards, to the side, or down.
Not only can your neckline help enhance your best features, but it can also be used strategically to help your outfit have focus.
For instance, V-necklines tend to draw the eye downward, creating a lengthening effect. And if you want to see all the style tips I tried to appear taller and slimmer, I have them here.
So by learning all the different types of necklines you'll be able to hone your preferences, layer shirts more effectively, and create a more harmonious look.
Let's get started.
Types Of Necklines
Here is an illustrated guide of the top 25 neckline styles. While there are certainly more, these 25 neckline styles are the ones that you will come across most often.
Now, as fashion expands and more designers explore these necklines you will see that sometimes necklines can have two different styles in one. That is ok!
This is something to be mindful of and can be a reason why a certain dress or top just isn't as flattering as you had hoped.
And, if you're struggling with knowing which necklines work best for each body type, check out my detailed guides on each body shape here.
Crew neck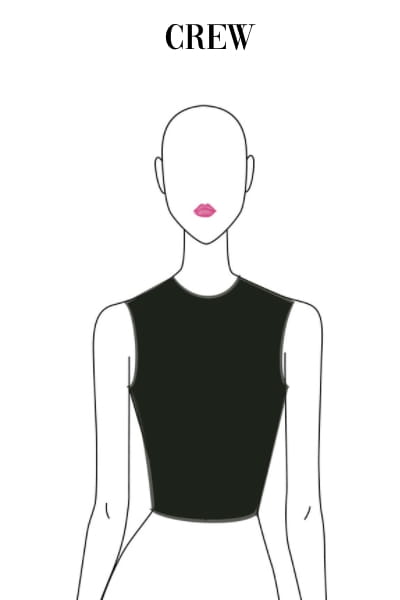 A crew neck is a close-fitting neckline that extends around the front and back of the shirt. It is also known as a t-shirt neckline. It is round in shape and often looks great as a layering piece.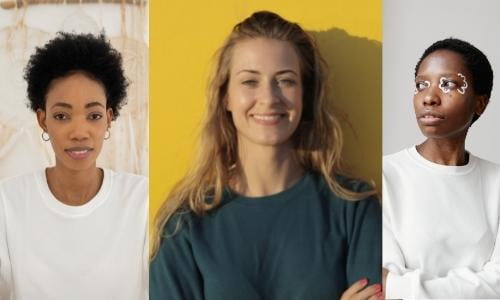 Split Crew-Neck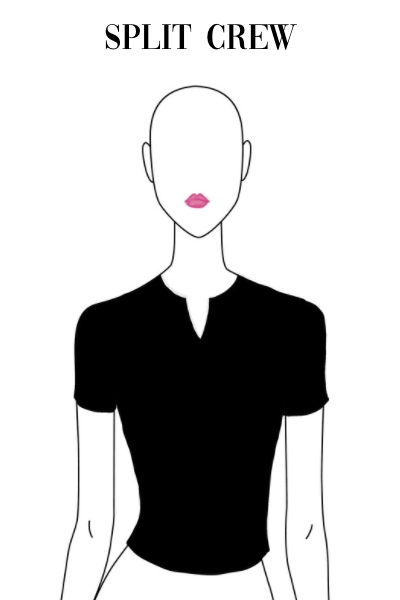 The split crew neck follows the same general shape as the traditional crew, but it has a split along the center front. This is common in both men's and women's t-shirts, sweaters, and even some shirts or blouses.
V-neck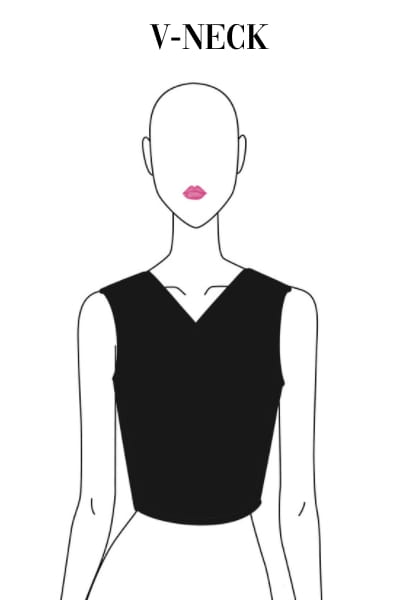 A v-neck features two diagonal cuts that form a "v" shape at the neckline. This style is both flattering and versatile, as it can be dressed up or down.
The V-neckline has varying degrees of how low the "v" shape goes, and this will directly impact the wearability of the garment. A plunging v-neckline for instance will be infinitely more "sexy" and more evening appropriate.
V-necklines can be seen on a variety of different style garments, from pull-over knits, vests, and even camisoles. So pay attention to the fabric and cut to achieve the style you want.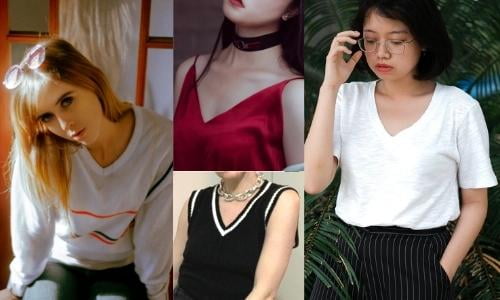 Moderate V-Neckline
The moderate v-neckline tends to go down to the top of the cleavage area but doesn't plunge past that point. It's not as business casual appropriate as the standard v-neck because it does show off your bust.
You will see this v-neckline popular in dresses and shirts for women.
Plunging V-Neckline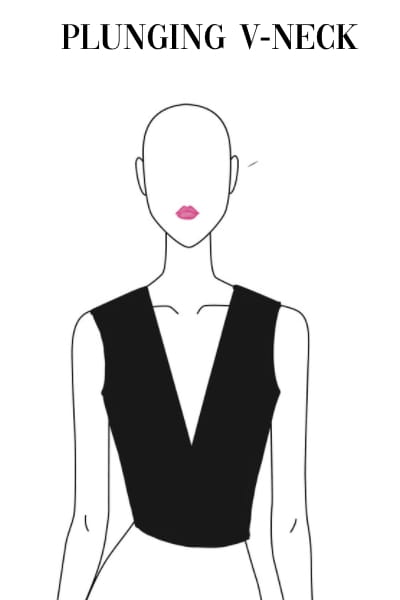 The plunging v-neckline has a deep v shape that goes below the chest line. It can even extend all the way to the belly button (think JLo's Versace dress). It also goes by the name décolleté neckline.
Because of this, it is usually considered a more evening-appropriate style. That being said, if you want to look sexy, this is a good bet for neckline choice. You will see it most often on evening dresses, formal gowns, going-out tops, and occasionally on swimsuits.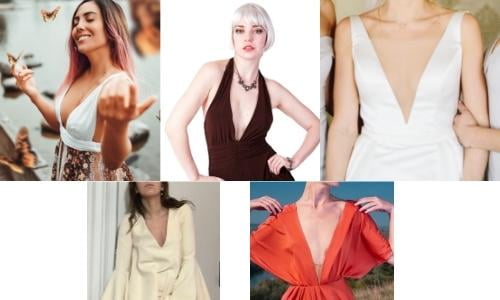 Scoop neck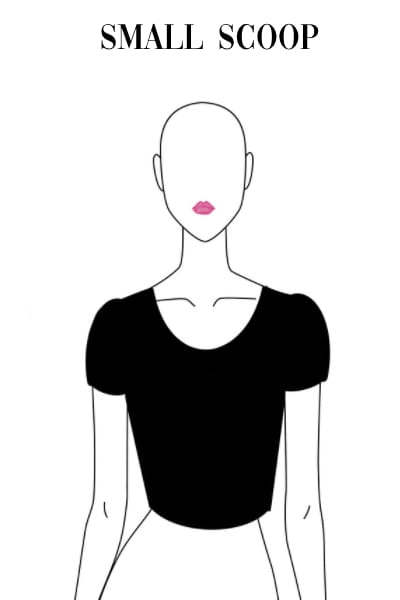 The scoop neckline is a rounded neckline that dips further than a jewel or crewneck. It has different variations but generally resembles a horseshoe shape.
This neckline is great to highlight your collarbone and subtly show off your bust. The small scoop neck typically does not highlight your cleavage, so it can also be a good option for casual affairs or the office.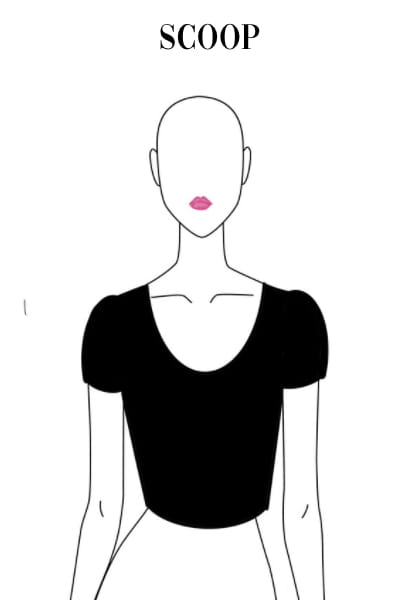 The more traditional shape scoop hits just above your bust area and can show some cleavage.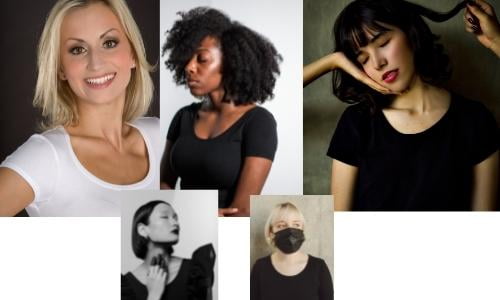 U-shape Neckline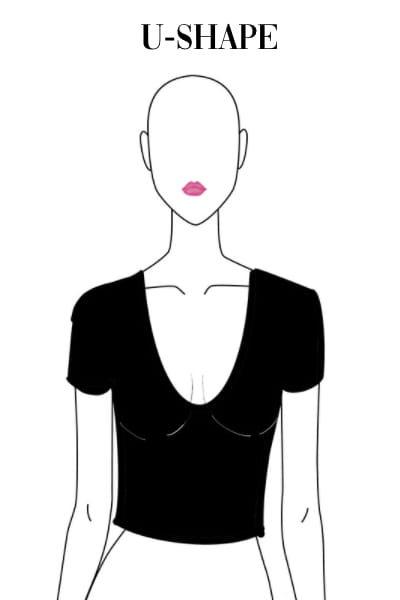 A U-shape is exactly what it sounds like. It's a neckline that looks like the letter "U". It can be considered a variation of the scoop neckline but often has a sharper shape as it goes down towards the bust (the straight features of the letter "U").
We see this neckline on a lot of tops, and t-shirts. It looks especially flattering in stretchier fabrics.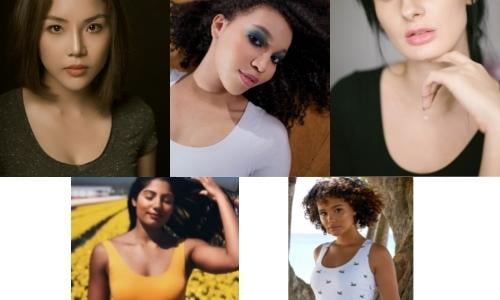 Square neck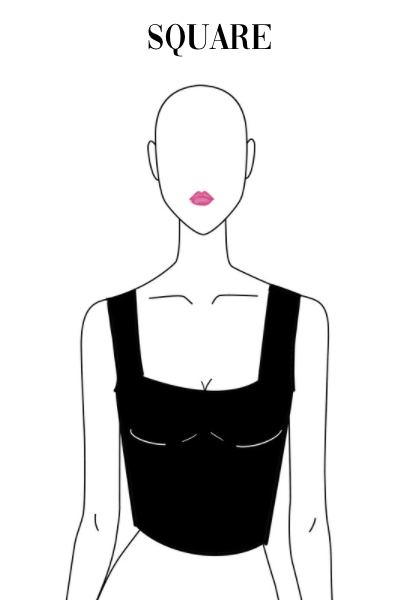 A square neck features a straight, horizontal cut at the neckline that creates a 90-degree angle with an almost straight down drop.
While this is a sharper neckline, you can also see it with variations where there is a beveled edge (where the "90 degrees angle" meets).
This neckline is great for showing off your collarbones, or shoulder line. It can be made from softer, or stretchier fabrics but still has a set structure.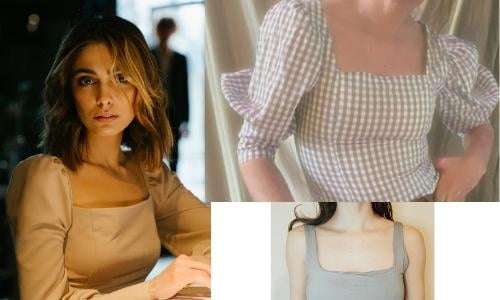 Boatneck / Bateau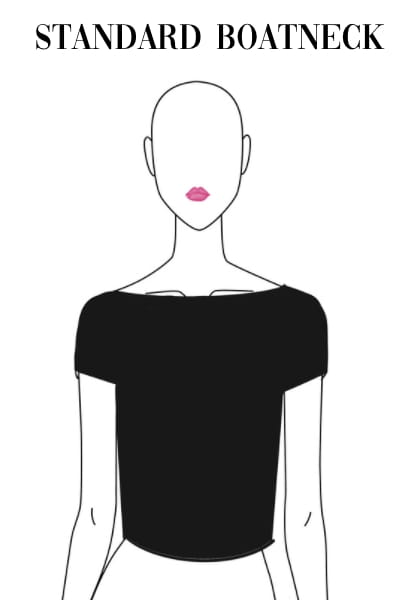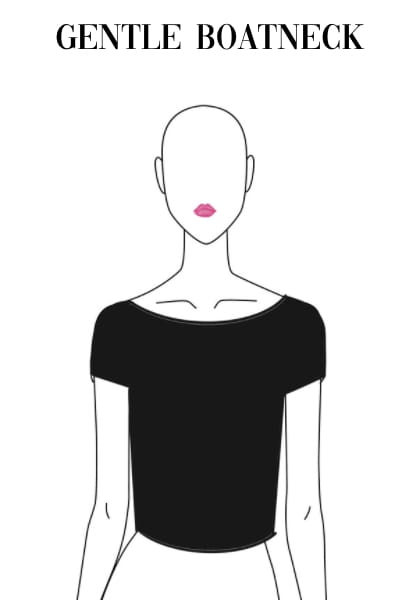 This is the widest type of neckline, as it goes from shoulder to shoulder in a straight or slightly curved line. It does not dip down far and is considered a very modest neckline.
The boat neck can also be referred to as a bateau neckline. It's very flattering and can highlight a stronger shoulder line nicely. Audrey Hepburn was a big fan of this neckline style.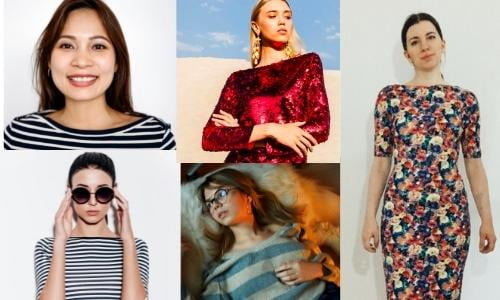 It can actually also be called a Sabrina neckline. This was popularized after Audrey Hepburn wore it in the 1954 film "Sabrina".
Off-the-shoulder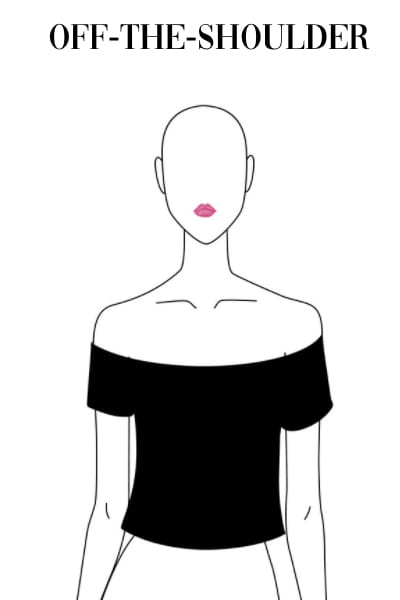 An off-the-shoulder neckline is a style where the neckline sits just off the shoulder and typically wraps around the upper arm. This style is often associated with femininity and romance.
There are many different cuts for the off-the-shoulder hemline as you can see below.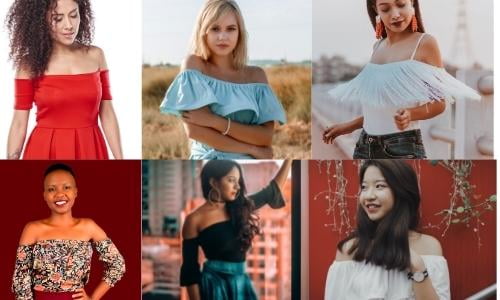 Asymmetrical Neckline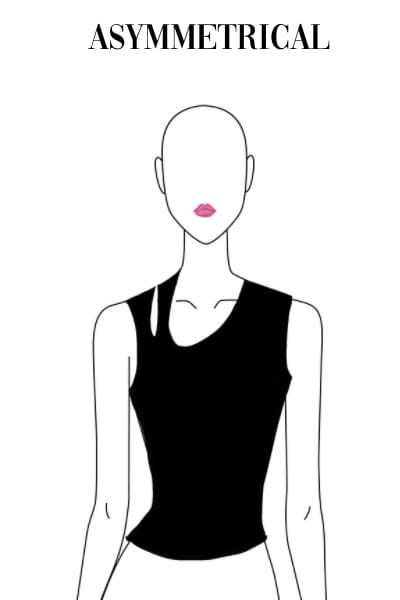 Asymmetric necklines can be displayed in many different ways. But essentially, they have a single unbalanced element within the neckline area (each side of the top is not a mirror of each other). This can be a one-shoulder neckline, a neckline that slopes off only one shoulder, or a cut-out at the neckline that creates asymmetry.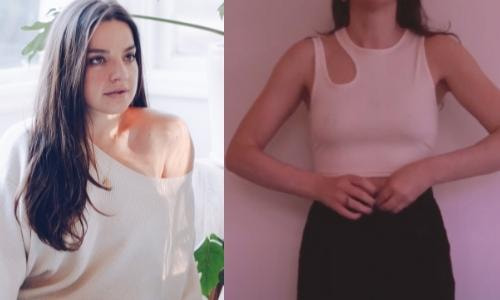 One-Shoulder
The one-shoulder neckline has a defining trait of a single exposed shoulder. It can have a curved or straight appearance.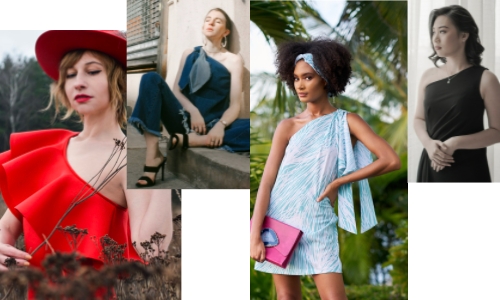 Strapeless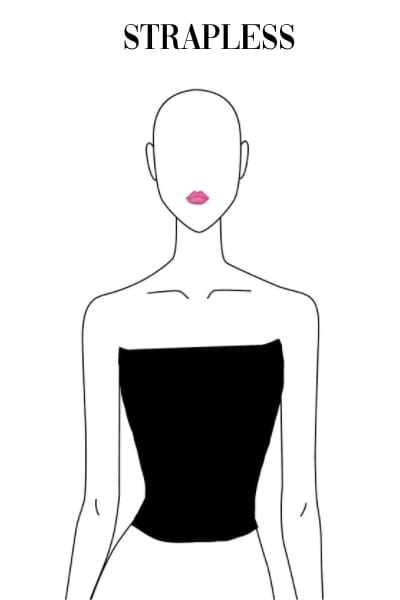 A strapless neckline is, you guessed it, a neckline with no straps. It tends to have a straight appearance, hugging around the top of the bust. It can be made with stretchy fabrics or woven fabrics (but woven fabrics will need more seam lines to keep it up).

Spaghetti Strap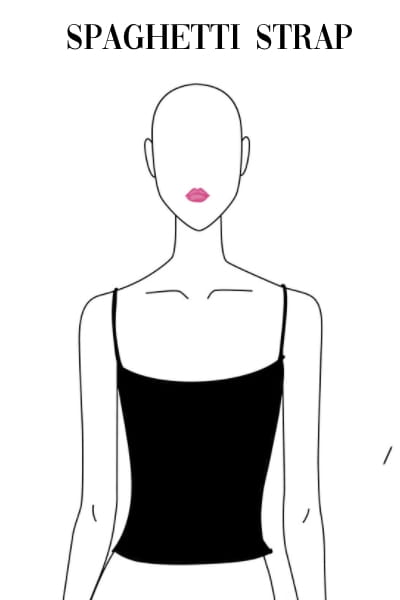 The spaghetti strap neckline consists of two thin straps that hold up the garment. It can have varying shapes from v-neck, sweetheart, or rounded shapes along the bust (as you can see in the photos below). And it can be made in a variety of fabrics.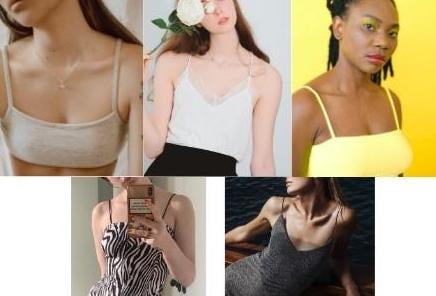 Collared
Collared necklines are obviously a popular neckline. However, collar styles is their own specific category and I will be adding a full list on these shortly.

Cowl Neck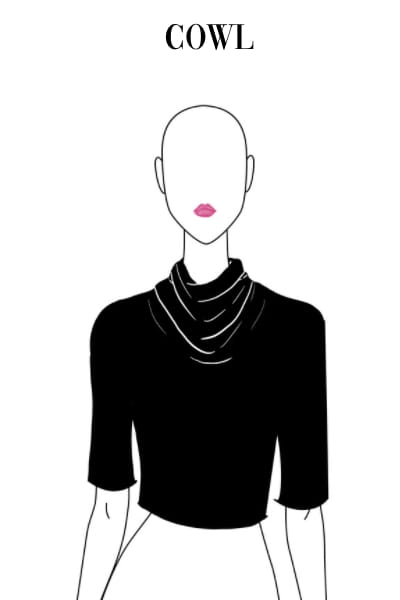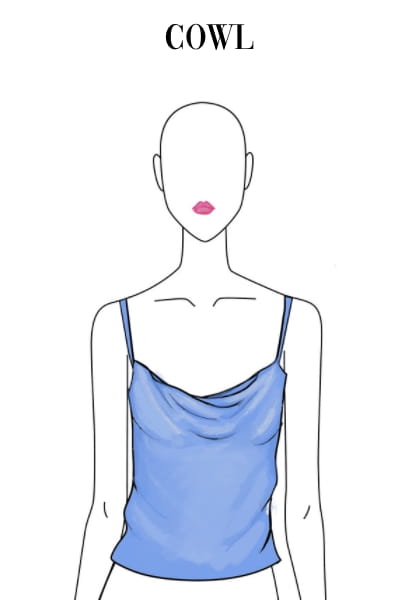 A cowl neckline is a soft, draped neckline. It is made by draping extra fabric along the bust or neckline area. You can see in both the illustrated and photo examples the two most common iterations are in a sweater with a cowl neck or a camisole style.
In sweater form, it can be quite casual. However, a silk or velvet camisole cowl can veer more evening or dressed-up.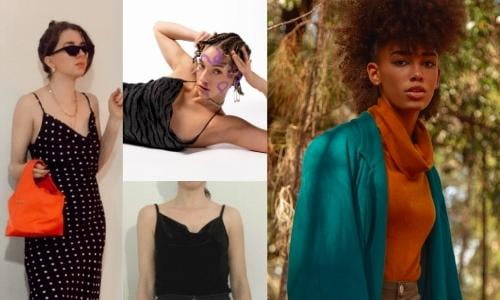 Keyhole Neckline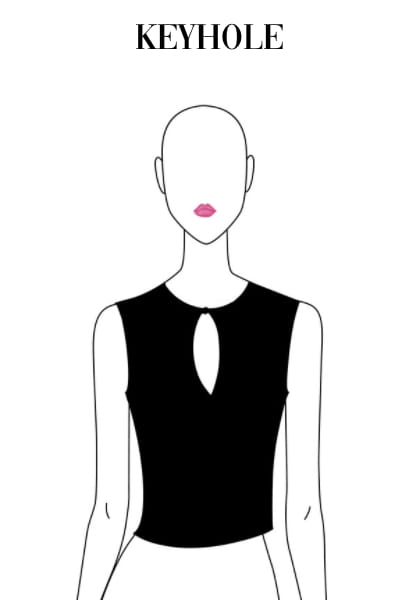 A keyhole neckline is a type of neckline that features a small hole at the center of the chest. This style is often seen on evening gowns and can be very sexy. It is also seen commonly in blouses. Depending on the fabric used, it can create a boho vibe (soft fabric), or even a 60's mod vibe (structured fabric).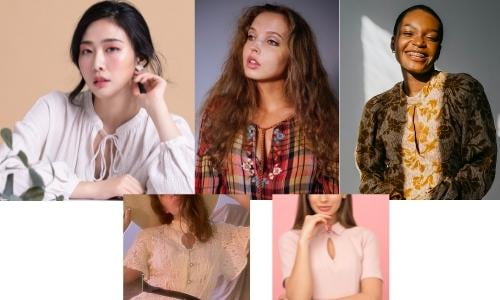 Halter Neck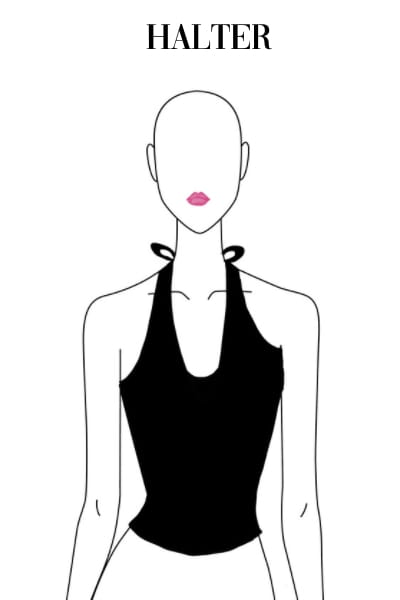 A halter neck is a type of strap neckline that wraps around the neck and ties or buckles behind the back of the neck. This neckline is often seen on tank-style dresses and can feature straps that are thick or thin. It can present in many different ways as shown in the photos below.
It's a common neckline for dresses (both casual and formal), wedding attire, swimsuits, jumpsuits, and even crop tops.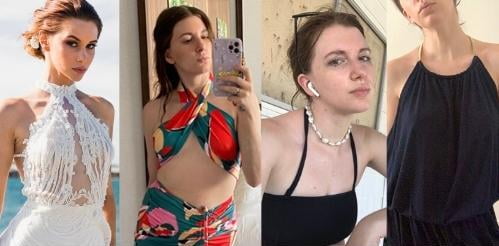 Illusion Neckline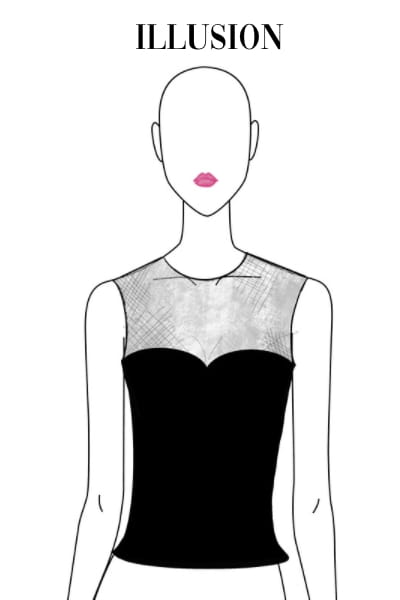 An illusion neckline has a mesh or lace top that creates a see-through effect. It is very popular in bridal and eveningwear. As you can see in the photos below, depending on the fabric used for the "illusion" part, a different look is achieved. With the nude mesh, it appears as if it is not even there. Whereas the lace creates a nice textural element and peek of skin.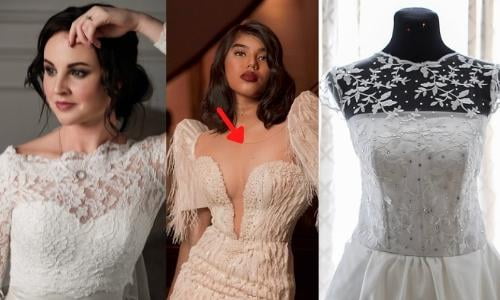 Turtleneck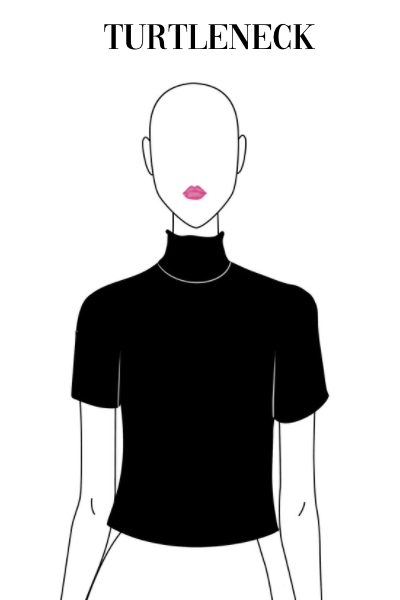 A turtleneck (also called a polo neckline, confusing for us Americans!) is a piece of fabric that goes up and around your neck and fits snuggly around it. It can also sometimes have excess fabric that is then folded over itself. This type of neckline is very common on sweaters and knit tops.
If you love the turtleneck style, I have an entire post on outfit ideas for it, here.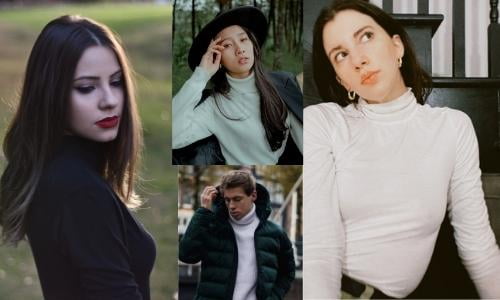 Mock Neck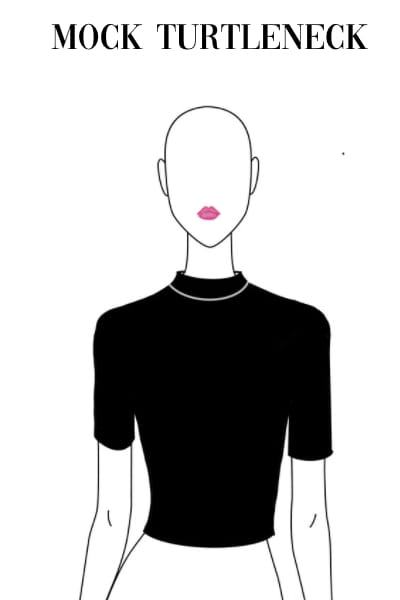 A mock neck is a shorter version of the turtleneck that does not fold over onto itself.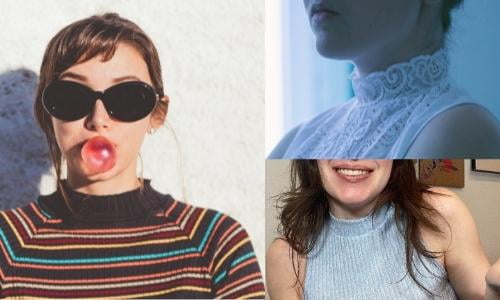 Queen Anne Neckline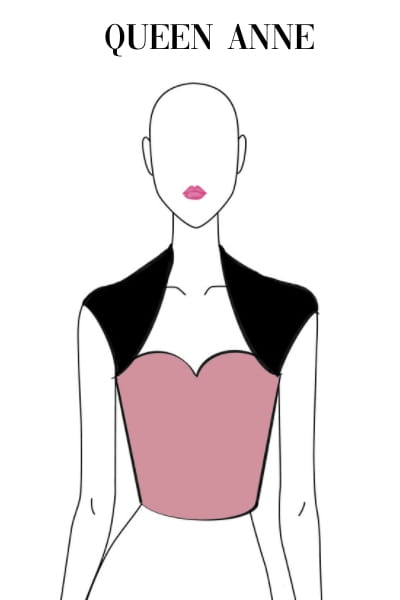 Named after Queen Anne herself, the Queen Anne neckline has a traditional sweetheart neckline with straps or sleeves that curve up around the back of the neck. It is an especially popular wedding dress neckline.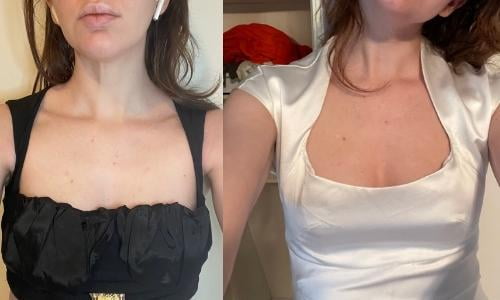 Sweetheart Neckline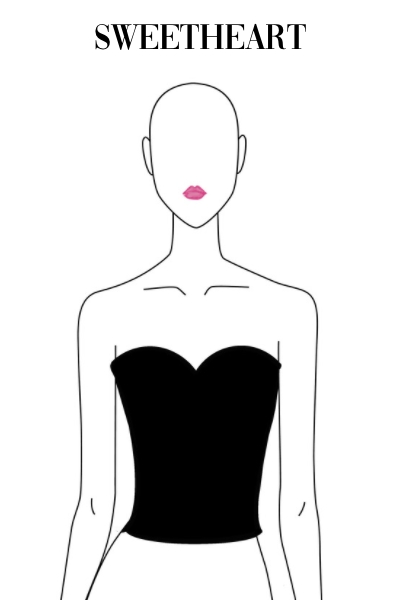 A sweetheart neckline is a type of neckline that has curved edges that come together to form a heart shape. This style is often seen on evening gowns and is very flattering on most body types.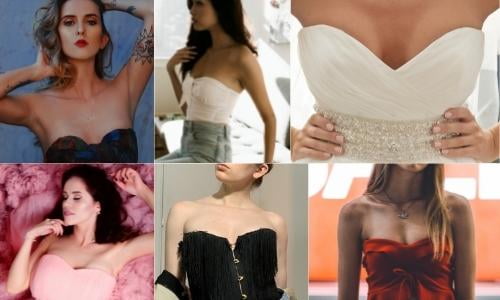 Deep Sweetheart/ Split Sweetheart Neckline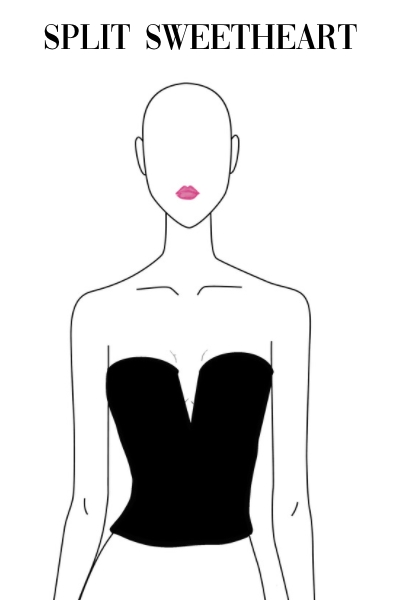 A split sweetheart neckline follows the same traditional shape as the sweetheart but splits deeper along the center seam. This allows for more cleavage to show and is definitely a sexier or more formal iteration.

Jewel Neckline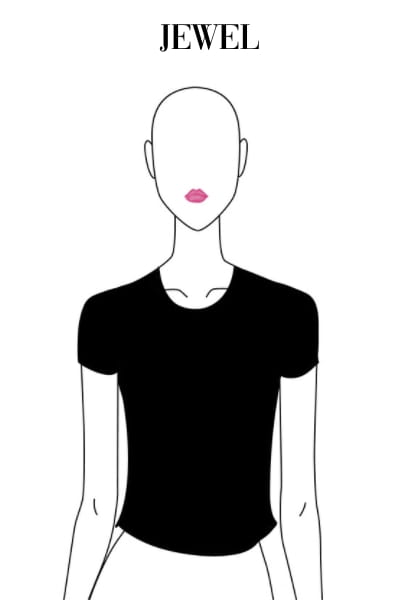 A jewel neckline is a type of neckline that has a high, round neckline that sits close to the collarbone. It is called a jewel neckline because it is made to show off your necklaces along your collarbone. This style is often seen in business attire and formal wear.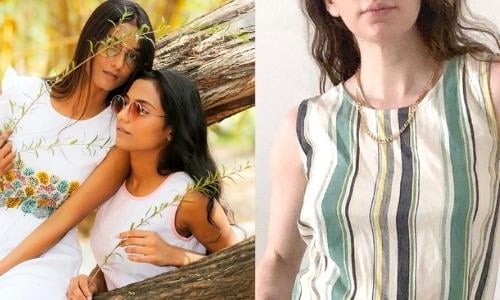 Surplice Neckline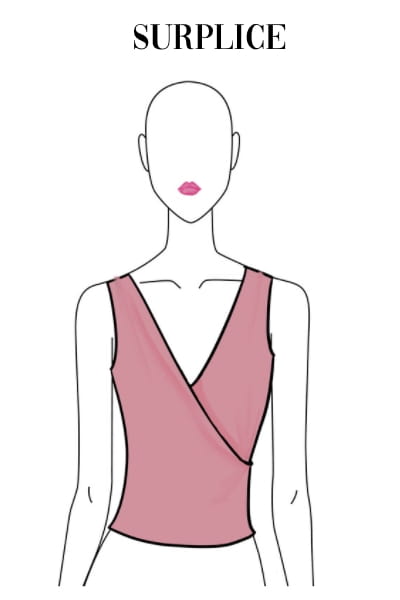 A surplice neckline is a type of neckline that has one side cross in the front and overlap the other side. This generally creates a "v" shape. This style is often seen in blouses, dresses, and tops.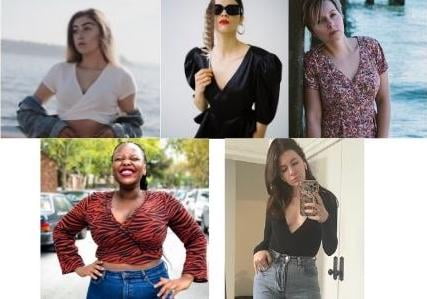 Grecian Neckline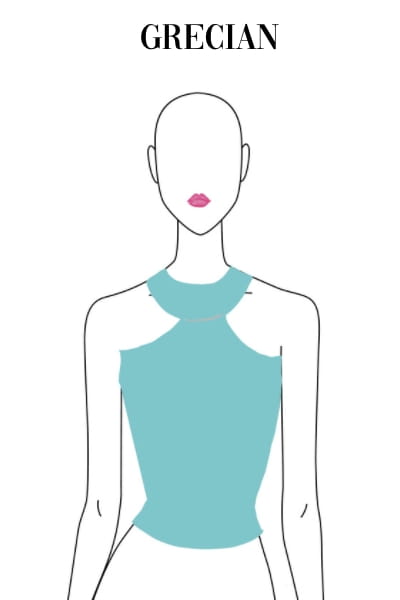 A grecian neckline is characterized by a circular pattern piece that wraps around the neck. The fabric underneath the round piece falls from a small portion in the center of the bust. It is most common in formalwear but can be seen in dresses and blouses.
Ruffle Neckline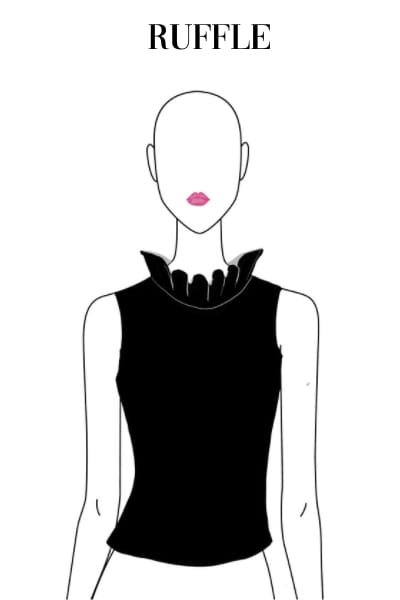 The ruffle neckline can be displayed in multiple ways. But ultimately it is a ruffle that surrounds the neck shape. You can see below it can be a soft ruffle around a wide neckline. Or it can also be a small ruffle that stands upwards around a neckline.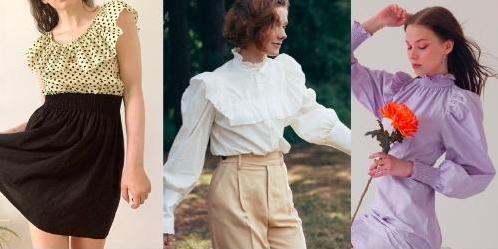 Envelope Neckline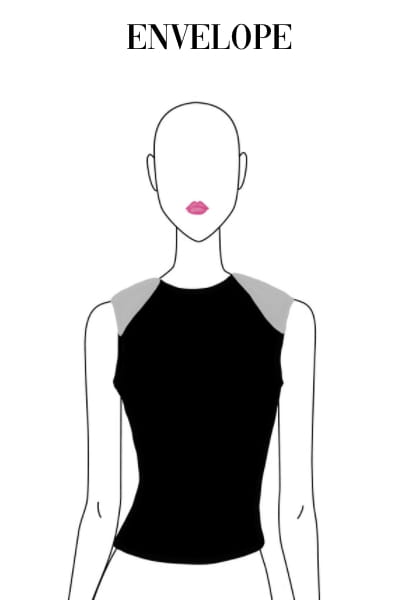 The envelope neckline is not a common neckline for women. It is when a piece of fabric from the back of the top, overlaps onto the front. It does pop up in womenswear, but it is very common in baby onesies.
Scalloped Neckline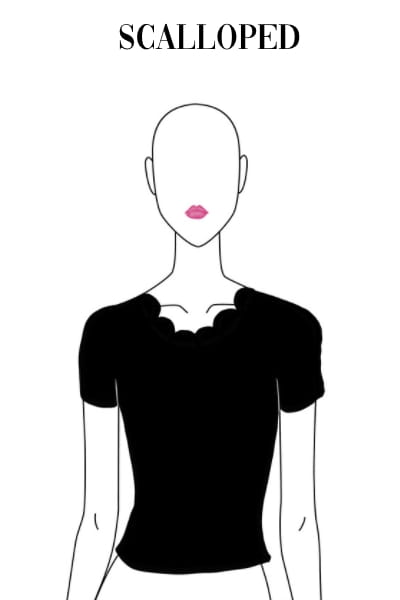 A scalloped neckline is a row of convex curves along the neckline. It is a bit more labor-intensive to create, so usually works best with structured fabric. Because of the clean shapes, it can have a very elegant and classic feel.
Cardigan Neckline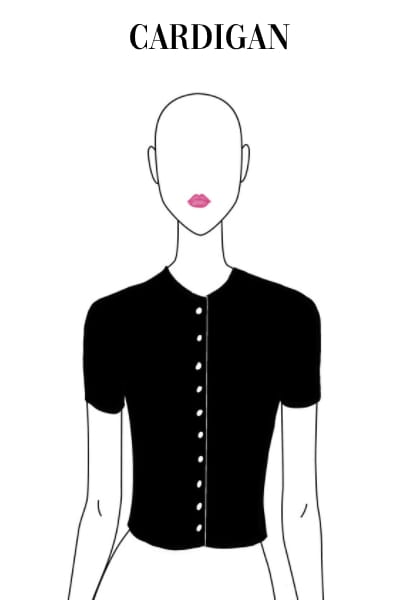 While a cardigan neckline might not traditionally be considered a "neckline", I think in today's fashion it deserves a mention. With the change in fashion styles, more people are wearing cardigans as tops, so it creates a unique neckline (as opposed to as a layering piece).
A cardigan neckline is when one side of the neck overlaps the other side and has buttons that close it from the top of the neckline down to the hem.
Blazer Neckline
Again, this one isn't officially a "neckline" per se. However, I included it because more and more people are wearing blazers as shirts, or blazer-style shirts.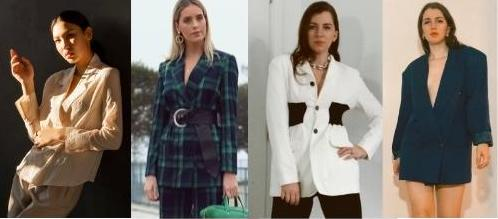 Yoke Neckline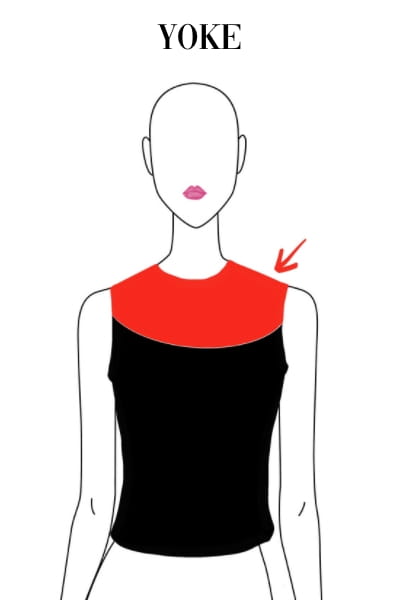 A yoke neckline is a separate pattern piece that fits along the neckline/top of the garment that attaches to the bottom part of the garment somewhere along the chest area.
It can be used to create contrast or be used to obtain a certain fit.
Tie-Front Neckline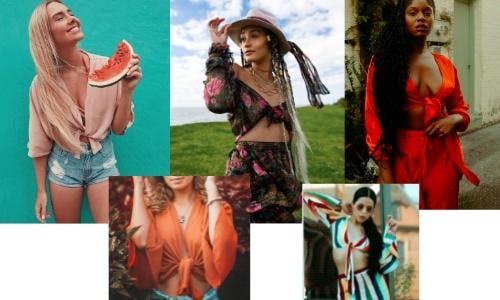 A tie-front shirt or neckline has the opposing sides of the shirt meet in the middle (no overlap) and tie in a bow or knot. This creates a very relaxed, easy-going silhouette.
Bow Neckline

With bow necklines, you can either have a collar with bow detail, like in the left image above. Or you can have a lavallière. A lavallière is a style of bow around the neckline that is created from a collarless stand that forms two ribbons that can then be tied into a bow.
How do Necklines Play a Role in Dressing
A neckline can add or detract from your overall appearance. It is important to learn the different types of necklines so you have a better idea of what best suits your body shape. And how each neckline can help hone your outfit emphasis.
Necklines are important because they can either flatter your body type, detract from it, or neutralize the area. The wrong neckline can make you look outdated or frumpy. You want to make sure the line of the neckline is complementary to your outfit and ultimate style goals.
Layering Necklines
Learning how to layer necklines is an important part of your style evolution, regardless of whether you live in a hot or cold climate.
Understanding not only the fabric weight balance but also the shape combination will help you achieve a more harmonious look. Or, potentially create a purposefully juxtaposed look.
For instance: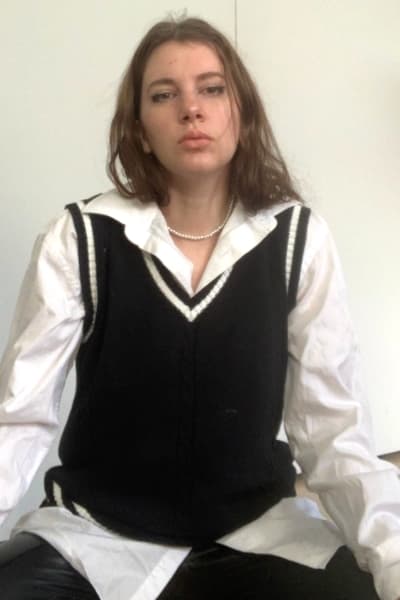 You can see in the above outfit I have a sharp v-neck vest layered over a sharp, angular collared shirt. Because both of these necklines have sharp elements, they play off of one another nicely. Similarly, they both have a slightly oversize silhouette which plays into the less "preppy" vibes of the look.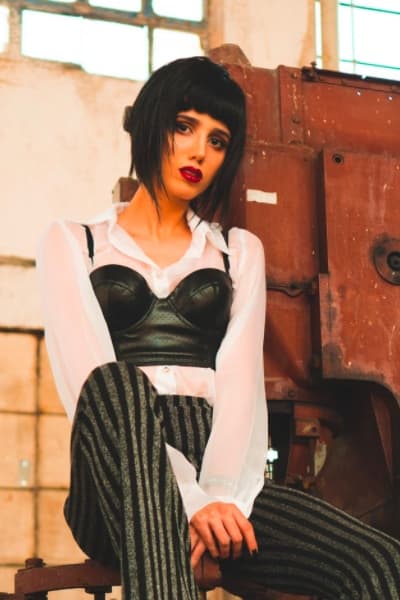 Once you begin exploring neckline layering, you can also explore more juxtaposed pairings like the one above. Her soft fabric blouse paired with the sweetheart-neckline leather bustier top creates an opposing effect and leads to a more "edgy" vibe.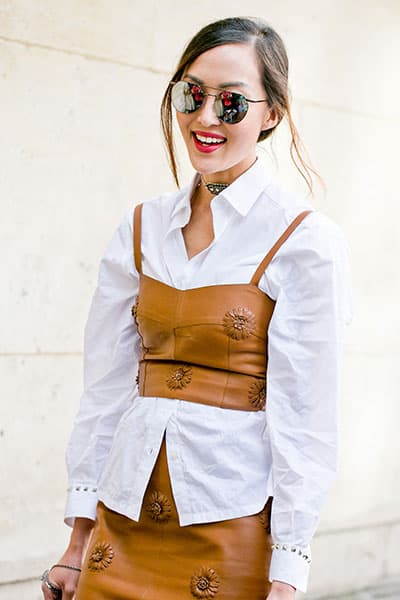 Whereas this outfit, with very similar pieces, appears more classic. The color combination affects this, but so does the softer sweetheart neckline, and the crisp collared blouse.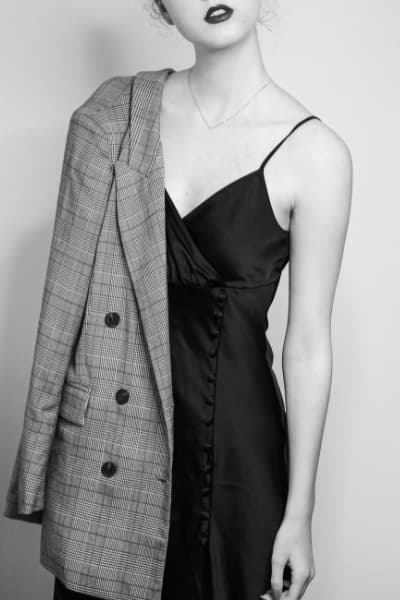 Understanding your neckline can also help you pair a layering piece over it. For instance, in the above image, the soft slip has a sharper surplice/v shape neckline. This is mimicked nicely with the sharp lapel of the blazer. While the fabrics are opposites (soft silk versus crisp wool), the lines are harmonious.

Understanding different elements of your clothes will have you honing your style with more accuracy and success. And your neckline choice can really help you set the mood of your outfit.
Now, go master your neckline choices!