I used to cringe when I was little and my mom put me in a turtleneck for a school picture. It was this soul-crushing fashion choice, that made me shriek dramatically that it was suffocating me.
But now!? I mean, I can't go a fall/winter season without a good turtleneck. Turtlenecks, when you aren't 7, are a fashion staple you need. They are the perfect layering piece and if Audrey Hepburn gave them a thumbs up, I can't argue with that. So let's dig into how to style a turtleneck with sophistication and confidence.
Do you struggle with fashion and your closet is an overwhelming mess? Check out my Craft the Closet of Your Dreams Playbook to curate a closet you love and find the style you were always meant to have.
Ok, so are turtlenecks in style for 2020?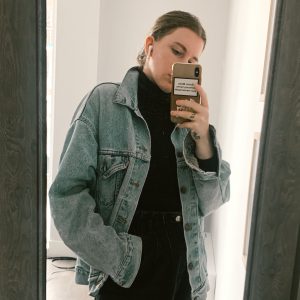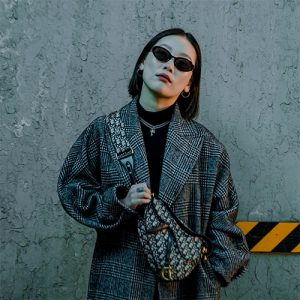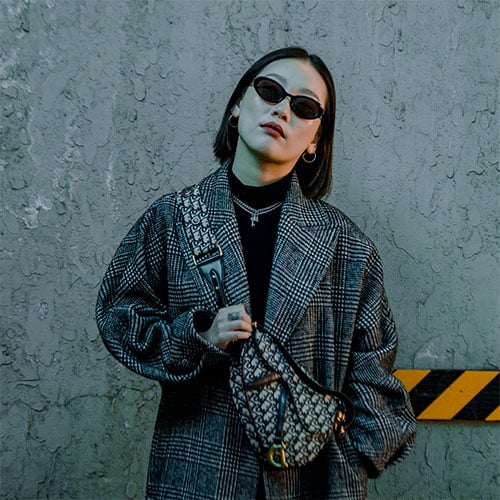 Yes, turtlenecks happen to be pretty classic in terms of their ability to traverse fashion decades and still be a staple.
If you don't believe me, just check out my post on the perfect fall/winter capsule wardrobe. I bet you can guess what's included.
However, just because they are a "staple" and "classic" does not mean they can't be worn in a more modern way for 2020. And, that is what we are going to discuss here, how to wear a turtleneck the stylish way.
If turtlenecks are still in fashion, how do you make them modern?
View this post on Instagram
Well, as much as we all love an iconic Audrey moment wearing a black turtleneck with black chinos, we can look outside that classic fashion box into more unique ways to wear the turtleneck.
Spoiler alert: Turtlenecks can really span into any fashion category. They can be worn in atheliesure outfit, under a dress, with a blazer, or a trendy high fashion look. This flexibility makes them so covetable.
Turtlenecks are also the perfect item for transitional weather. They can transition that summer dress into fall, or add an extra layer when winter starts to hit. Layering your outfits is one of the easiest ways to turn a boring outfit into an outfit that has depth and looks sophisticated.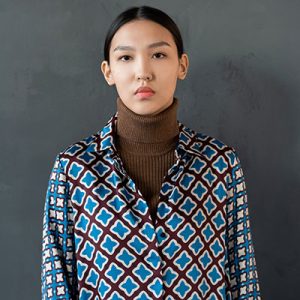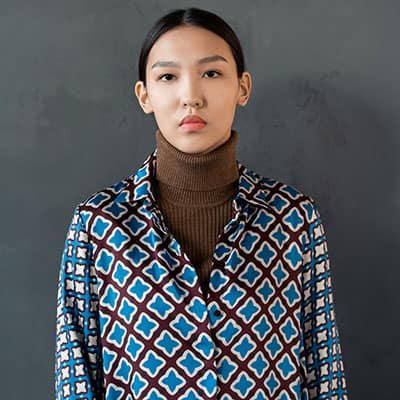 TIP:
Fashion influencers and style icons look so put together because they pay attention to the details of their outfit and they use proportions to their favor. A turtleneck is an easy way to add more depth to your outfit and you shouldn't be afraid to layer pieces together.
3 tips on how to style a turtleneck easily
Watch your proportions. I know I say this a lot…But, proportions are key to making any outfit work, but more so when we are talking about a simple, classic piece like the turtleneck.

Decide your style.

Turtlenecks can have a vintage vibe, a 90's supermodel vibe, or even a chic modern style.

Don't try to do everything in one outfit.

Decide the vibe and style you are going for and keep it generally in that family.

For example, if you are opting for a turtleneck under a shirt and blazer (think 90's supermodel style), don't pair it with super futuristic style shoes.

Mixing categories can work if you are an experimental dresser or very well versed in fashion, but it should be avoided until you've really mastered your personal style.
Don't be afraid to mix oversized pieces with fitted pieces and vice versa.

An oversized turtleneck looks great with a mini skirt, and a fitted turtleneck looks great with a wide-leg pair of jeans or trousers.

Currently, in 2020, I would avoid doing two fitted pieces together, like a skin-tight turtleneck with skin tight jeans, unless you have an oversized layering piece like an oversized blazer or coat.
we may earn a commission from you clicking a link in this post, at no additional cost to you. full affiliate policy here.
How to wear a turtleneck: 10 outfit ideas
1. Turtleneck under your shirt
Turtleneck under a button shirt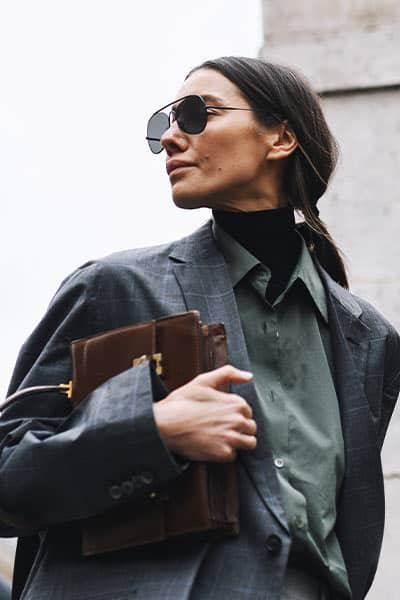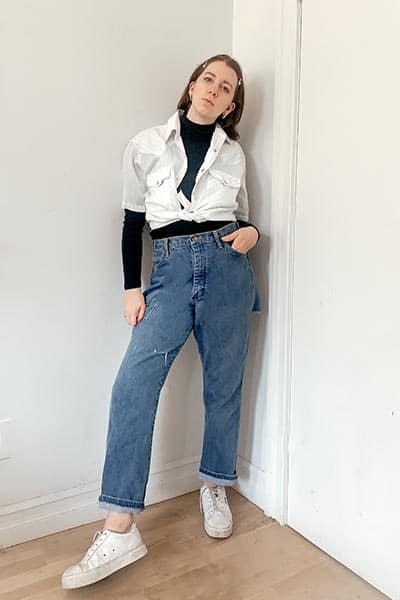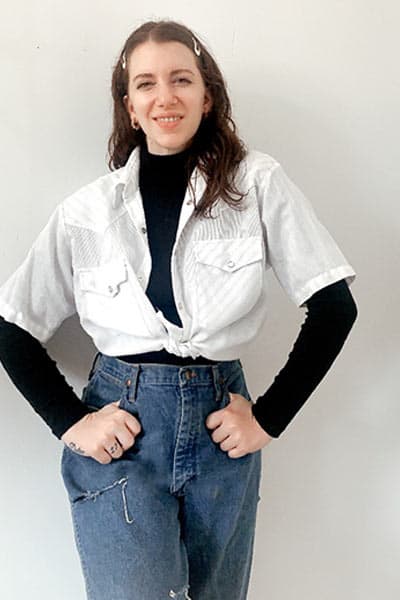 I love this layering style. As you can see if you button your shirt (top photo) it becomes more business casual and if you leave your shirt unbuttoned or knotted in front it skews more daytime. This style can have 90's undertones depending on the accessories, so pay attention to what details are being added. For instance the flip clips, loose jeans, and white sneakers give my turtleneck look a casual 90's vibe, which was intentional.
OR: Turtleneck Under a t-shirt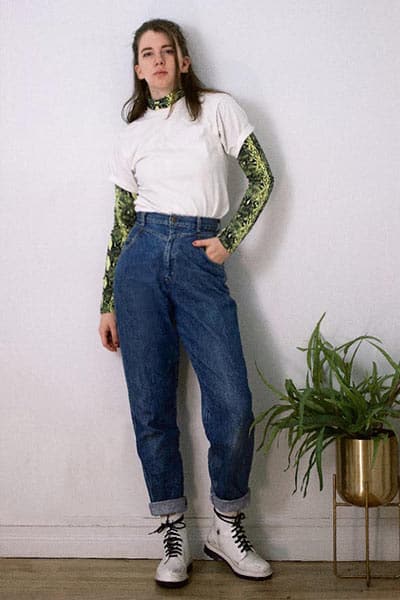 You can also throw a t-shirt over your turtleneck. This is a great hack for when you have a loud print or color that you want to tone down. For more ways to style a white t-shirt, check out this post.
2. Turtleneck Under a Mini Dress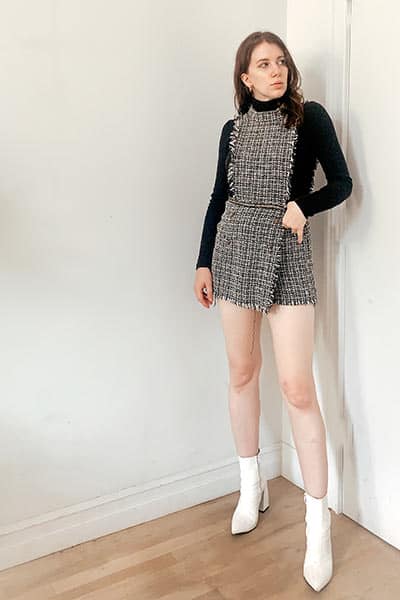 I love how this can add so much sophistication to a mini dress and it can also help transition some of your favorite summery styles into fall and winter. For chillier days consider adding black tights, another go-to item for fall and winter. [what to wear with black tights? Everything you might not know]
3. Turtleneck with a blazer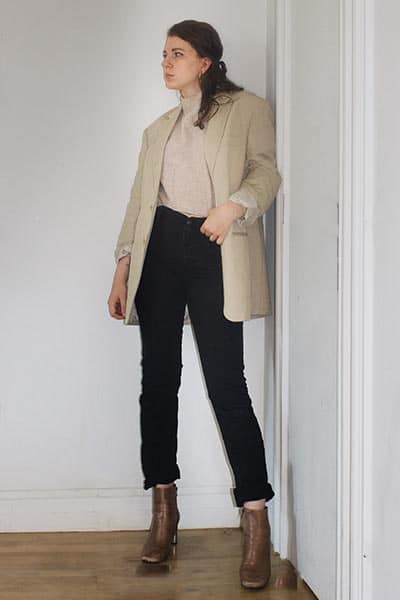 My love of blazers knows no bounds. Check out this post on the oversized blazer for my complete obsession with oversized blazers and how many chic ways you can style them. We are definitely adding a blazer and turtleneck to that list.
For this look, I would make sure you have one form-fitting piece. So if you opt for an oversized blazer with a fitted turtleneck you could add straight leg jeans. But if you have a chunky knit turtleneck with an oversized or loose blazer, try a more fitted pant. You want to make sure part of your figure is visible or highlighted so your outfit doesn't look like it's consuming you. Another way to accomplish this is to tuck in the turtleneck and add a belt to highlight your waist.
4.
Monochromatic Turtleneck Outfit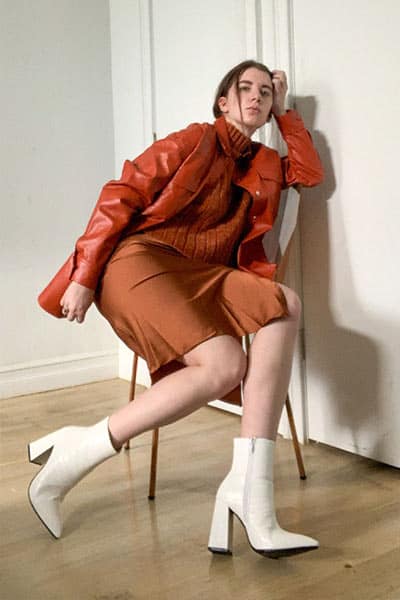 Monochrome is an underrated way to add instant style to an outfit. Whether you want to go with a classic all-black look or a unique amber color, or even a red monochromatic outfit, the turtleneck can help you elevate your look. For more style tips on monochromatic outfits, check out this post.
related: Top Fall/Winter 2020 color trends you might want to have in your back pocket
5.
Oversized Turtleneck with a Slinky Skirt

turtleneck, skirt, heels, bag, hoops
This combination is a great example of how using texture can really make an outfit. A soft knit turtleneck sweater with a slinky silk skirt is the perfect fall evening outfit. Swap out the heels for boots and tights when the weather gets colder.
6.
Turtleneck

with a mini skirt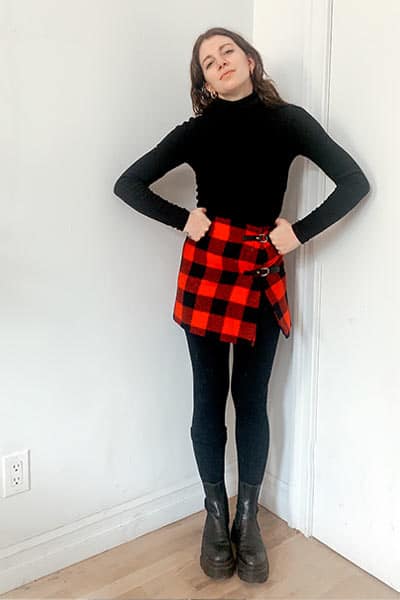 A turtleneck with a mini skirt is not for everyone, but I had to put it on the list because I think we will be seeing more of this silhouette this season. 90's and 2000's fashion trends are huge right now, so this look falls seamlessly into that vibe. Also, tennis skirts had a huge moment in summer and a cute plaid wool skirt is a perfect transition to fall for that popular skirt trend. Don't take this look too seriously and it will be a cute casual turtleneck option.
7.
Turtleneck with Jeans (casual)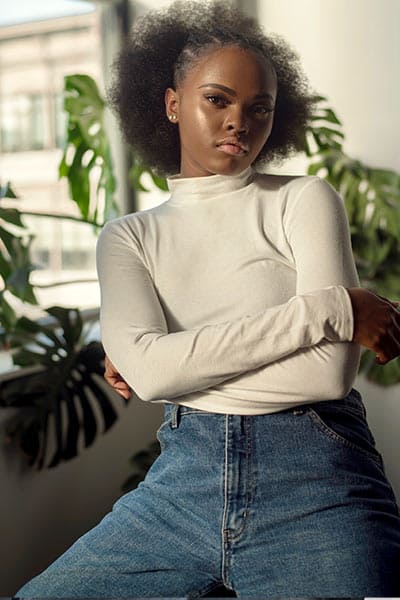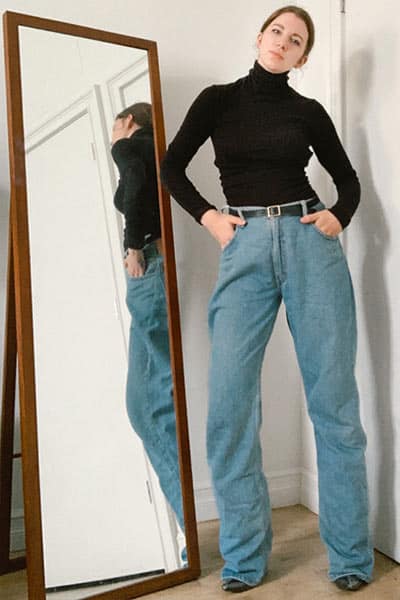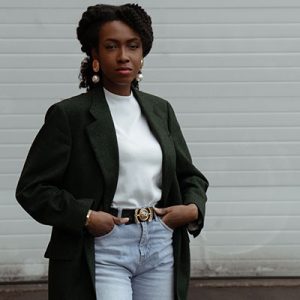 This list wouldn't be complete without this casual outfit formula. And it's kind of a no brainer, a turtleneck with jeans! Just keep the outfit balanced. Avoid pairing a tight turtleneck with skin-tight skinny jeans, or wearing a super oversized turtleneck with baggy pants. For an effortless look, try no-makeup makeup and a relaxed hairstyle.
8.
Business Casual Turtleneck outfit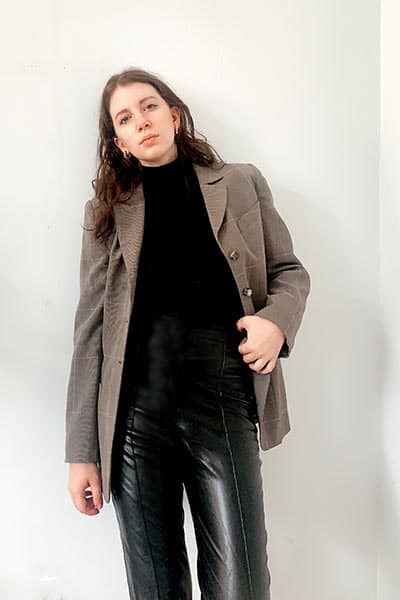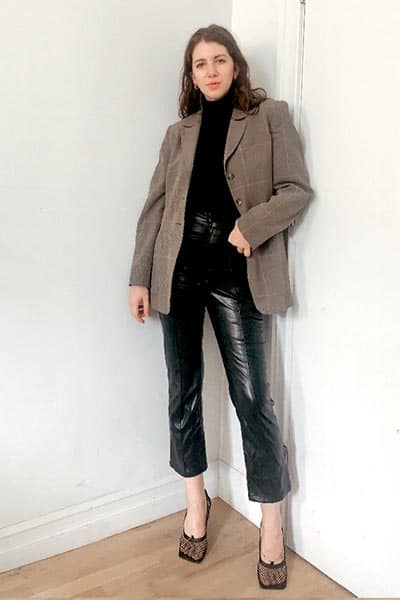 With a business casual outfit, you want to avoid too many fitted items. So opt for a fitted turtleneck with wide-leg trousers, or under a relaxed suit. Don't forget your details; adding a few select accessories can elevate a business casual outfit tenfold. [ related: 7 accessories to level up your business casual look]
9. Under a shirtdress
As mentioned previously, layering a turtleneck under a dress is a chic and fashion-forward way to transition your outfit for the colder months. Now because a fall shirtdress is long-sleeved, the turtlenecks function is more style based. But in terms of styling, this look is easy to pull off and provides a nice change in pace for your everyday look.
10. Turtlenecks with athleisure

Turtlenecks can also help add some sophistication to an athleisure look. We all want to look comfortable AND chic, and adding a turtleneck can make an outfit consisting of comfortable basics way more intentional. For more athleisure outfit ideas, check out this post.
For this look I chose a trendy legging style, the split ankle leggings, and paired it with a simple yet fashionable loose sweatshirt.

My go-to turtleneck
This turtleneck is affordable and comes in a lot of colors.
Another great option is this one that has a slightly finer rib.
Turtlenecks not in style for 2020
One last suggestion on the turtleneck front. Turtlenecks ARE classic and will always find a way to fit into the current fashion schema, however that does not mean ALL turtlenecks work every season.
For 2020 I would avoid turtlenecks with any ruffle details on the shoulder. I've seen a few of these popping up, and while they were very trendy years ago, I personally don't think they will be making a full comeback for this fall/winter.
If you like shoulder details, check out these options instead.

Fall and winter fashion can sometimes distress fashion lovers. There's an innate pull between comfort and style, that seems to overwhelm even the most seasoned fashionistas. But, adding chic layering pieces like the turtleneck with help solve the push and pull between being warm and being stylish.
Now that you have some ideas on how to wear your new favorite style staple, go be the chicest girl on the streets this fall.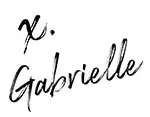 Pin the below image so that turtleneck always has a place in your wardrobe