It's that time of year again! The leaves are falling and the air is getting crisper. It's perfect weather for a new fall wardrobe, but what should you get?
A chic and versatile fall capsule wardrobe is essential for the season. All you need is a few key pieces that can be mixed and matched to create multiple outfits for work, play on the weekends and any other social events. It's easy to enjoy the fall season and all those delicious warm coffee drinks with a flexible wardrobe that makes you feel your best.
What is a capsule wardrobe?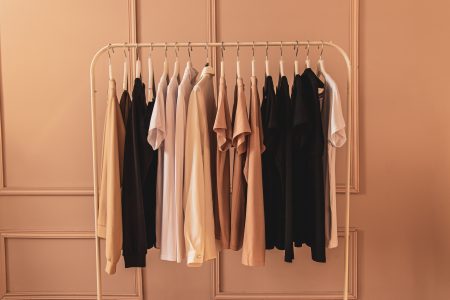 A capsule wardrobe is a planned and limited group of garments for a specific time frame. A fall capsule wardrobe is a collection of clothes for the fall season, typically consisting of transitional pieces that will take you from the summer season into winter. So it consists of some lighter pieces and lots of layering pieces.
Why do capsule wardrobes work?
Capsule wardrobes work because they allow you to streamline your wardrobe. A limited selection of clothing can be more versatile than a closet full of choices. Because of the flexibility and strong foundation of pieces, you avoid having a wardrobe full of pieces that don't mix and match.
A capsule wardrobe helps you hone your style goals for the season and helps you eliminate superfluous pieces that won't be worn regularly. And trust me when I say, a capsule wardrobe does not mean wearing the same outfit every day!
How do I choose what to include in my fall capsule wardrobe?
It's important not to think of your fall capsule wardrobe as consisting of boring, basic pieces. You'll need a handful of trendier items, classic style staples, and a few accessories that can create multiple outfits, so be sure to put your outdated definition of a capsule wardrobe aside.
Here are some main fall essentials you should plan for:
Outerwear – this includes coats, jackets, and heavy layering pieces.
Bottoms – these include pants, jeans, and skirts. These are the building blocks of your fall wardrobe so be sure to get a variety in terms of length and fit. Choose fabrics that can mix well with other pieces you have!
Layers – this includes cardigans, shackets, knit pieces, vests, and more. Fall wardrobes rely heavily on layering pieces, so make sure you have some go-to layers in your closet.
Shoes – it's important to have a good variety of shoes, especially in the fall when there are so many different types of weather! It doesn't mean you need 100 pairs but plan on 4-6 solid shoe choices
Bags – think about how much room your bag will need for all those new books you'll be reading! And be sure to consider how your bag can mix and match with all the other pieces in your wardrobe.
Include a variety of neutrals as well as some statement colors that will provide interest through the season! For instance, start by considering what you'll need for work. Then think about casual outfits or weekend wear.
Just remember that this is meant to be a flexible wardrobe and help you achieve your style goals while avoiding clothing stress. And if you want some inspiration, I've created the perfect fall capsule wardrobe for 2021.
Every season I create capsule wardrobes full of pieces you probably already have and pieces that will give you some new ways to style your basics. I often include pieces from the last capsule wardrobe, as I consider them wardrobe staples.
I'm not encouraging you to go and buy every item on this fall capsule wardrobe checklist, but rather do an audit of your own wardrobe and see where some of these pieces can fill the gaps.
I also make a special capsule wardrobe outfit guide for my email list full of new ways to style these fall pieces. Fall outfit ideas for dressy, casual, and work events, and new ways to layer your fall basics. So, be sure to sign up below to get the free capsule wardrobe outfit guide. (And, you'll get the new one sent to you each season!).
We may earn a commission from you clicking a link in this post. And as an amazon associate, we earn on qualifying purchases. Full affiliate policy, here.
Fall Capsule Wardrobe 2021 Essentials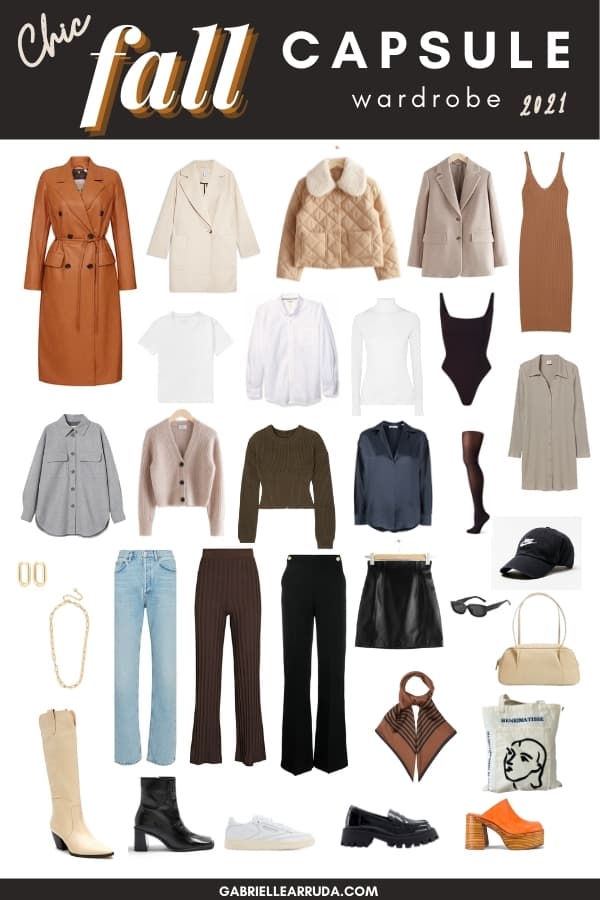 Here are the items I find most versatile for the fall season. Remember we want maximum outfit capacity AND chicness.
optional: silk scarf, baseball hat, tights, wool scarf, and beanie.
So, if you're constructing your wardrobe around "trendy" pieces, what's the purpose of a fall capsule wardrobe?
You're right. However, the idea of being "in vogue" does not have to imply that all your wardrobe pieces become outdated. Instead, it's all about building a strong fashion foundation and integrating fall 2021 styling techniques to get the best of both worlds.
The majority of the components on this fall capsule wardrobe list are things you already have in your closet, and if you buy new, they'll be wearable in seasons and years to come.
In my opinion, being able to create a capsule wardrobe is all about creating fundamental pieces and combinations that you know work. It's not about suppressing YOUR own personal style or fitting yourself into a lifelong uniform.
Fall Capsule Wardorbe 2021 Checklist:
Here's an easy checklist to help audit what your closet currently has and some potential wardrobe gaps.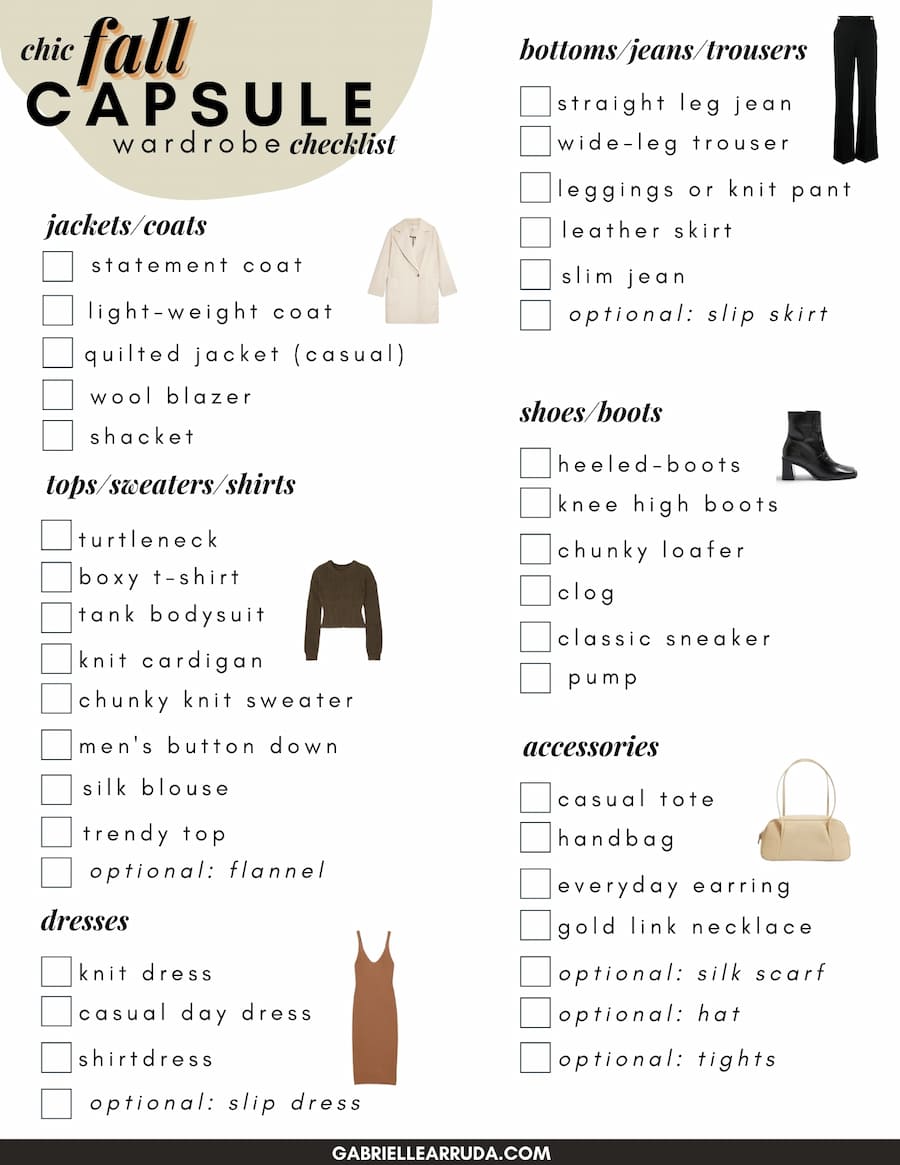 Fall Capsule Wardrobe 2021 Breakdown
Statement Coat
So you may be thinking- a statement coat! For a capsule wardrobe?
However, it's important to consider that a statement coat is not necessarily one with an eccentric print, color, or pattern. Instead, think about a flexible coat that has a bit more oomph to it. It might not be your everyday coat but it's a great rotational outerwear piece.
I especially love this leather trench in the caramel color. It screams fall and can be worn into winter as well. Plus, it has a retro touch that will make it wearable for seasons to come.
Light-weight Wool Coat
You need a transitional coat that will keep you warm in fall and into the early winter months. A lightweight wool coat is great for that.
And this cream option has a classic feel and works with so many different style outfits. Remember flexibility is key for a working capsule wardrobe.
Quilted Jacket
I love this quilted jacket because not only does it hit some of the fall fashion trends for this season (quilting, and shearling trim), but it isn't so overly trendy it will be out of style by next year.
You need a durable, casual coat for fall and this one is perfection.
Wool Blazer
I love a great wool blazer for fall because it can act as your outerwear on warmer days and it's a great layering piece when it's chillier out.
This wool blazer can be dressed down for casual outfits and is a great staple for your office outfits as well.
Want to learn more about business casual fashion? Check out my in-depth guide on what I think is the best way to build a functional office wardrobe.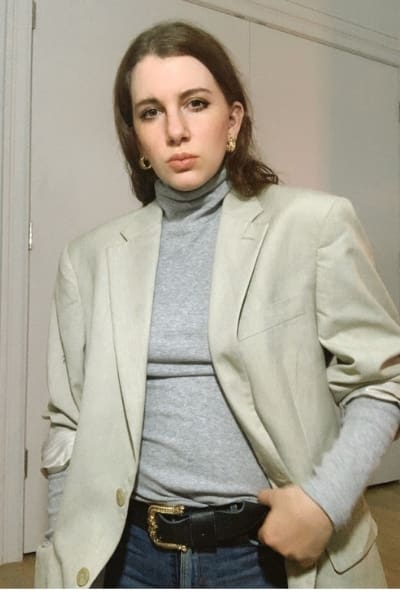 Shacket
Shacket popularity is still going strong. What once might have been a fashion trend, has turned into a wardrobe staple for the transitional season.
The shacket (jacket/shirt fusion) is the perfect layering piece and adds a cool-girl casual vibe to your outfit.
It can be thrown over a knit dress or paired with jeans, depending on your style goals.
Want more outfits around these pieces? Sign up below for my fall capsule wardrobe outfit guide 2021. With over 45 chic outfit ideas for this capsule wardrobe, it'll make getting dressed so easy!
Men's Classic Button Down
I love this chic men's button-down shirt and it is one of my year-round staple items. If you're wondering how you were a men's shirt and still look effortlessly cool and put together here are some resources: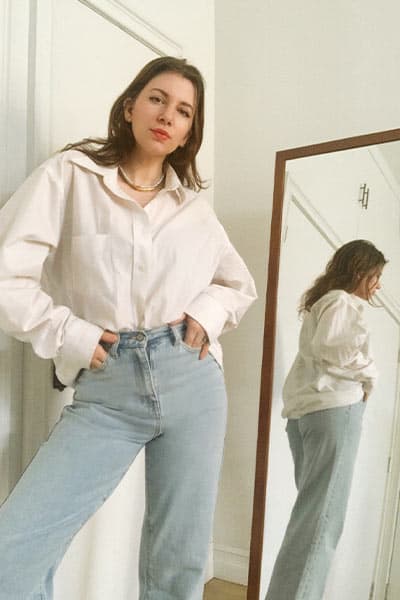 Turtleneck
I think turtlenecks are great for fall because they keep you warm without being too bulky, which makes them a great layering piece.
I also think they give 90s supermodel vibes, which are always encouraged. Simple, elegant, and easy- a fashion no-brainer.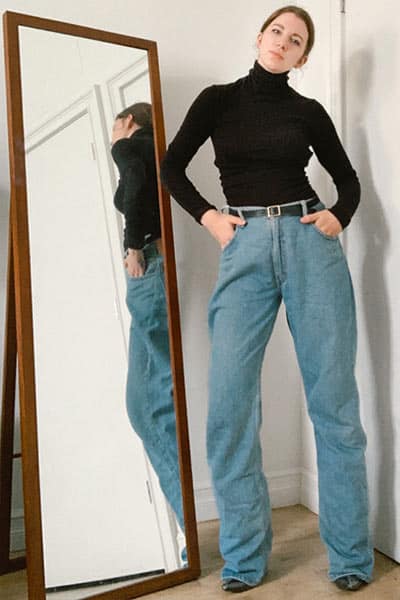 related: turtlenecks, all the style options you never thought of
Bodysuit
If you don't have a bodysuit in your wardrobe, this is your sign to get one. They look incredibly flattering and they avoid any bunching around the waist.
I love the skims brand because the fabric is so soft, and the quality is superb. This means that this bodysuit will be a wardrobe staple for seasons to come.
Classic Tee
I love a good classic tee and they never go out of style. I prefer a boxier cut for my tees as I find they are more versatile and can even be office-appropriate if paired properly.
Knit Cardigan
Fall is all about those layering pieces, and the emergence of cozy knits.
I love this cardigan because it has a slouchy fit, which is so on-trend right now. And the oatmeal color gives us autumnal perfection. I tried to create a very sophisticated color palette for this capsule wardrobe, and I am loving all the tans, creams, and oatmeals for 2021.
It's also great for layering under coats or jackets to keep you extra warm, for when winter rolls around!
Chunky Knit Sweater
I love chunky sweaters for fall because they give you that laid-back, effortless feel. It looks put together without a lot of effort.
This particular sweater has a very classic color and silhouette, but the seaming is trendier; so it's really the best of both worlds.
It works great as a layering piece (over turtlenecks or shirts) or could be worn on its own. Plus, it will transition nicely for winter.
Silk Blouse
Silk blouses are definitely having a moment and should be integrated into your closet ASAP.
I love the simple shape of this one, and it would work for casual daytime, the office, and even nighttime events. It is incredibly versatile.
Straight-leg Jean
Skinny jeans are apparently cheugy (although, if they are your jam, go for it!). But if we are following jean trends, the straight-leg jean is the jean to wear.
They look effortlessly cool with flats or boots, but can also be dressed up for night-out vibes if needed.
And if you plan to dip your toe into the straight-leg jean style, these are my absolute favorites. They make you look tall, lean, and are extremely comfortable.
Wide-Leg Trouser
I love the look of a wide-leg trouser because it's so chic and effortless. I also think they are great for work, but can easily be dressed down with a more casual shoe choice.
The fit on these trousers is perfection, and flattering for almost every body type.
Want to learn to dress better using your body shape? I have you covered, here.
Leggings/ Knit Pants
You could certainly opt for the traditional legging, as they will be a mainstay for your wardrobe. However, if you're looking for more comfy pants options, these are perfect because they still "pass" as real pants.
These trendy, and relaxed knit pants are a perfect touch to your capsule wardrobe. Whether you're running errands on the weekend or grabbing a coffee with friends, they can be dressed up with a more structured top or dressed down with a relaxed sweatshirt.
Daytime Dress
Whether you opt for a shirt dress or the dress I choose (or both) you need an easy go-to dress for the daytime.
Dresses are basically an outfit cheat. Throw on some shoes and maybe a jacket and you are good to go. This dress is neutral enough to be worn to work, shopping with friends, or any daytime activity.
Knit Dress
This is hands-down my favorite option for a flexible "elevated" dress. Not only can it transition seamlessly from day to evening, but it also looks good with practically any layering piece in this wardrobe.
The color screams fall, the silhouette is classic and it's comfortable. Can you say perfection!?
Leather Skirt
You need at least 1-2 skirts in your wardrobe, as they are essential for fickle fall weather. If it's a balmy 70 you can wear them with a pair of boots, and if the temps start to drop, throw on your favorite pair of tights for a chic and warm look.
For this capsule wardrobe, I opted for a leather skirt because it is currently on-trend, but also won't be dated quickly.
Remember these are just suggestions and ideas to expand upon. So if a leather skirt doesn't work with your personal style, you could opt for a slip skirt, knit skirt, or pleated skirt instead.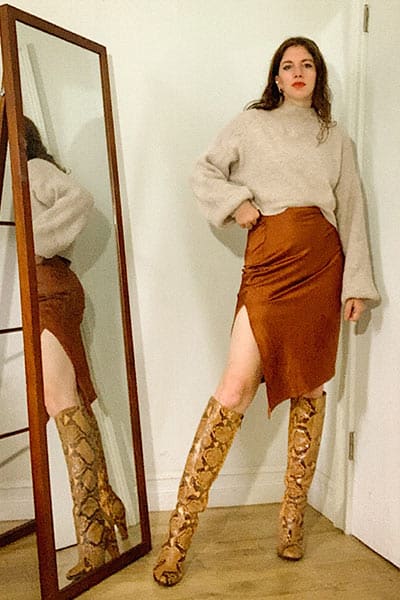 Want to nail down your personal style but not sure how? I have a step-by-step process, here.
Shoes for Fall Capsule Wardrobe 2021
Now, every lifestyle will require different shoe options. But I find the following collection of shoes to be my most worn styles, and are very versatile.
Knee high boots- Western-influenced or equestrian details are great for 2021
Heeled boot
Classic Sneaker
Pump – I like a simple block heel for this option
Loafer- Opt for a chunkier sole for this season
Clog- A solid trend this season that will add a bit of flair to your outfits
Accessories for Fall Capsule Wardrobe 2021
The best part about developing a capsule wardrobe or seasonal wardrobe is a lot of your foundational pieces will carry over. Especially when it comes to your accessories. So you probably won't even need to buy any new pieces, unless you want to expand your options slightly.
Here are my favorite accessories for Fall 2021:
And while I love these classic gold hoops, I love the oval hoop as an additional jewelry option for 2021:
SHOP The Entire Fall Capsule Wardrobe 2021:
Here are all the pieces I've mentioned. I do try to update these regularly with similar options if items become sold out.
Fall Capsule Wardrobe Palette
For 2021 I choose to go with a lot of creams, tans, oatmeal, and some autumnal oranges mixed with my neutral bases.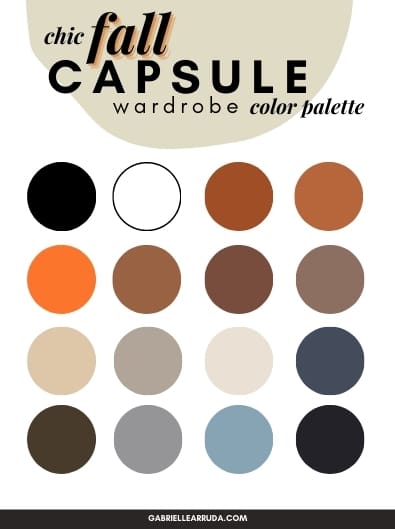 However, if you want to create your own color palette to hone your style, I have a step-by-step article on that, here.

Having a capsule wardrobe is an excellent strategy for so many different reasons. Not only does it help your life run smoother, but you can save money by not buying clothes that do nothing for you when they sit in the back of the closet!
In addition to this, I have found my style has improved with each season and year that goes by. Eliminating the superfluous pieces that just sit there unworn and streamlining my personal style goals.
Having a well-curated wardrobe also makes getting dressed in the morning easier and stress-free! No longer do you have to rack your brain for what items go together, but rather just grab one or two key pieces that work with all of your other options.
And they are especially effective during transitional weather seasons like fall! Have any questions? Feel free to leave them in the comments or sign up below for the capsule wardrobe outfit guide and you'll have a direct way to email me!
Now, go get your hot lattes, your cozy knits and embrace your hot girl fall energy.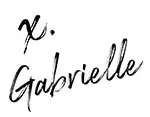 Be sure to pin the below image so you have all your favorite fall items at your fingertips!